5 Best PS5 Skins in 2022 Reviewed [+ How To Put Them]
Since the PS5's debut, several custom PS5 skins have been designed for it. Amid all this, vinyl skin is the most convenient and cost-effective kind of customization.
Skins not only give your console a distinctive, attractive appearance, but they also offer excellent protection. Your PS5 will be shielded from scratches and regular wear and tear over time by good skin.
Applying skins is the ideal option if you currently own a PS5 (black and white color version) and want to give it a fresh appearance. Here, we've compiled a list of the best PS5 skins which hold the power to ensure protection and beautify your gadget.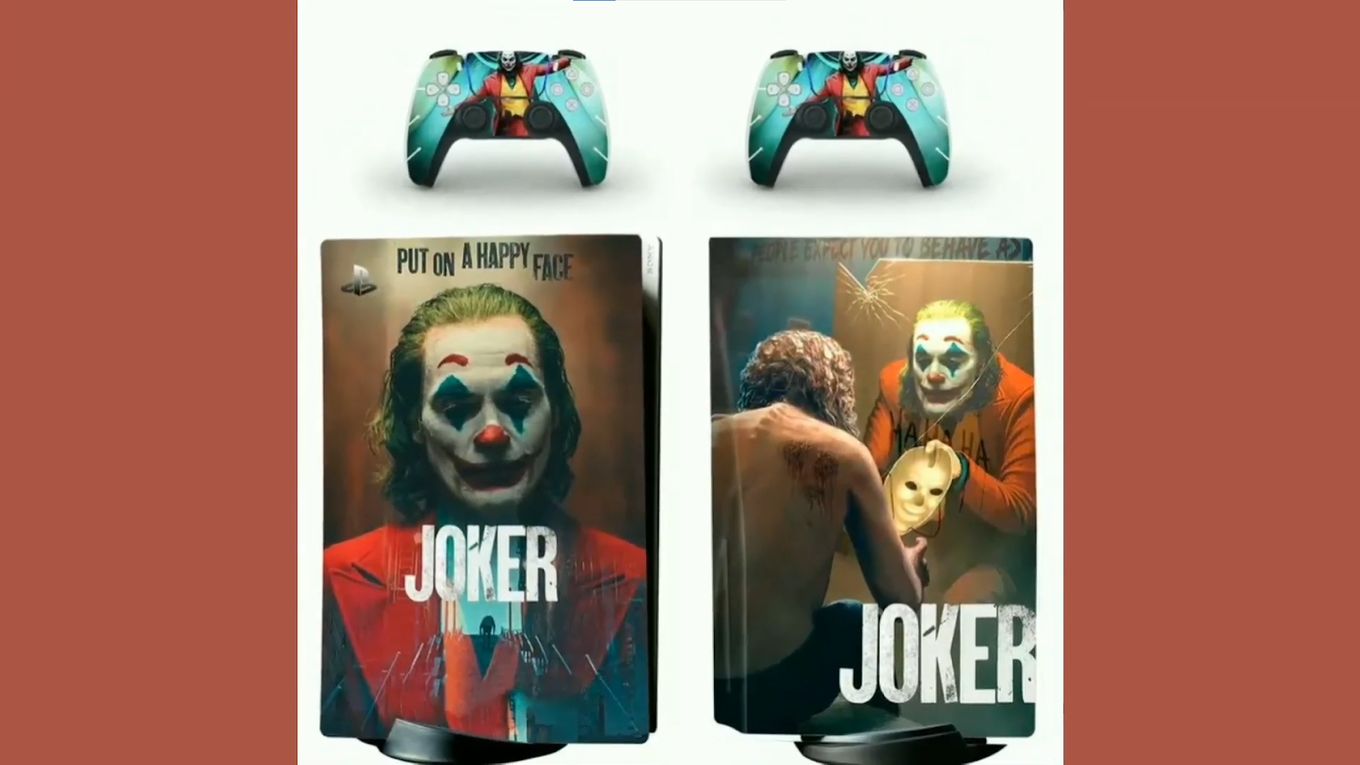 What Is A PS5 Skin?
A PS5 skin is a protective cover for the PS5 console from Sony that adds an additional protection from dust and scratches. It also amplifies the overall gadget's aesthetic appeal. These skins come in various designs and with customization options.
Today, a PS5 skin has become a necessity for all PS5 owners as they don't want any harm or damage to their hefty investment (yes! There's no doubt that PS5 is a luxury gadget). Whether dust, water spill, scratch, or wear and tear, the skin will act like a protective shield cover for your PS5.
5 Best PS5 Skins For You!
PS5 skins are available in multiple colors and designs making it the ideal solution to boost your console's aesthetic and visual appeal. Every guest coming over to your house will instantly fall in love with your PS5 if it's guarded with one of the best PS5 skins.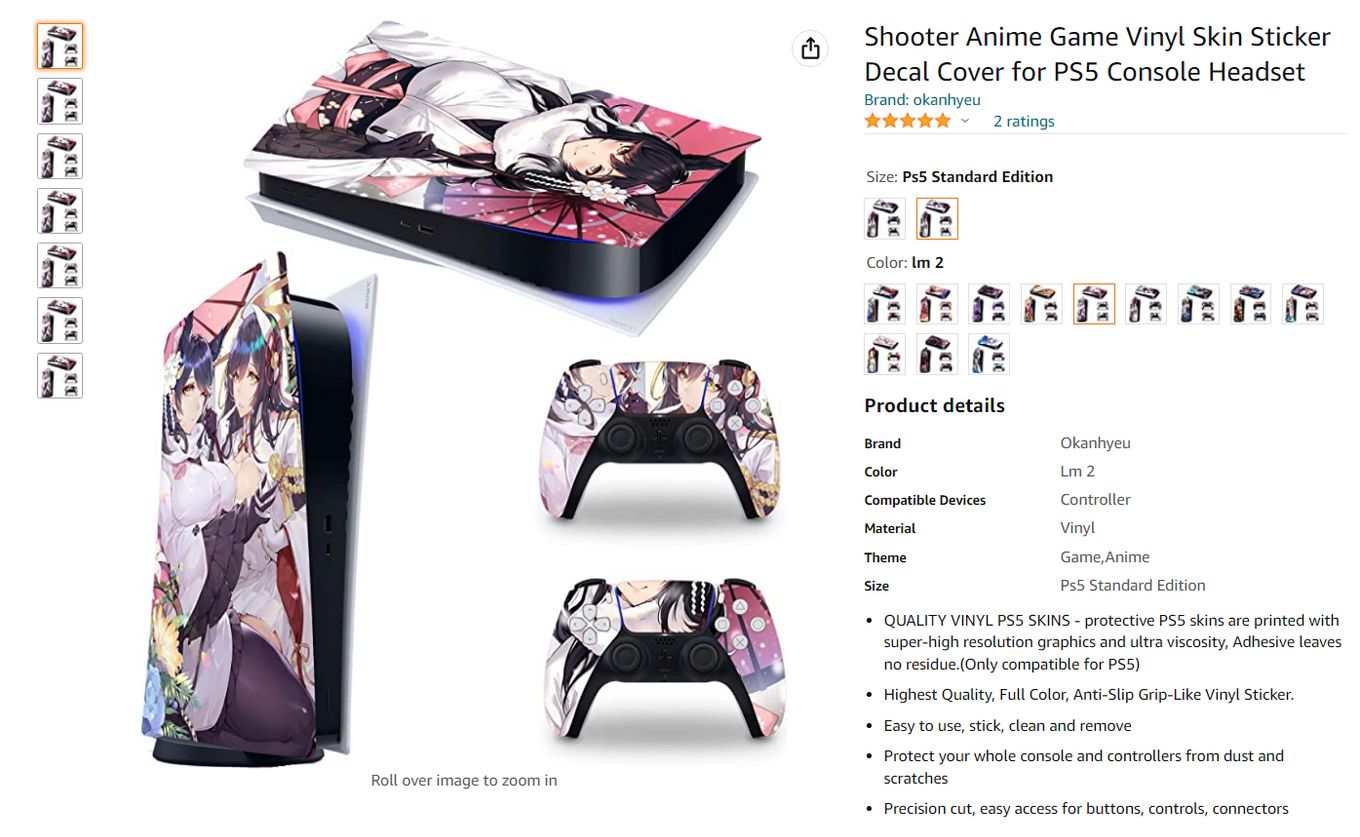 Price: $19.99
Best For: Super high-resolution graphics
Specifications:
Easy to use, clean, sticky, and removal
Easy access to buttons, precision cuts, connectors, controls
Dustproof and scratch-resistant
Top-notch quality, anti-slip grip
Ultra viscosity, HD graphics
If you're looking for a way to make your Playstation 5 console more stylish, attractive, and appealing, this is the right choice for you.
The Shooter Cover anime PS5 skin is one of the best and most popular PS5 skin covers on the market. Besides beautifying your console and giving it a next-level outlook, this skin ensures enhanced protection of the console.
From the brand Okanhyeu, this PS5 skin barely adds any weight to your gadget and gives a whole new visually-appealing look that will set your console apart from the others. The brand also ensures providing simple scratch-resistant property to let your gadget stay in prime stage all the time.
Did you know you can actually [buy avatars for the PS5](> Related article: How to buy avatars on PS5) to customize your account too?
Being one of the best PS5 skins, it features ultra-high gloss inks and an enhanced clear protective later for incredible durability.
One great thing about this brand is that they design all their PS5 skins with a patented removable and repositionable adhesive. This ensures easy and swift installation and seamless removal.
Also, this PS5 skin is designed in a way to ensure easy access to buttons. The product is special and highly likable as everything in this skin is designed according to the users' needs, liking, and design expectations.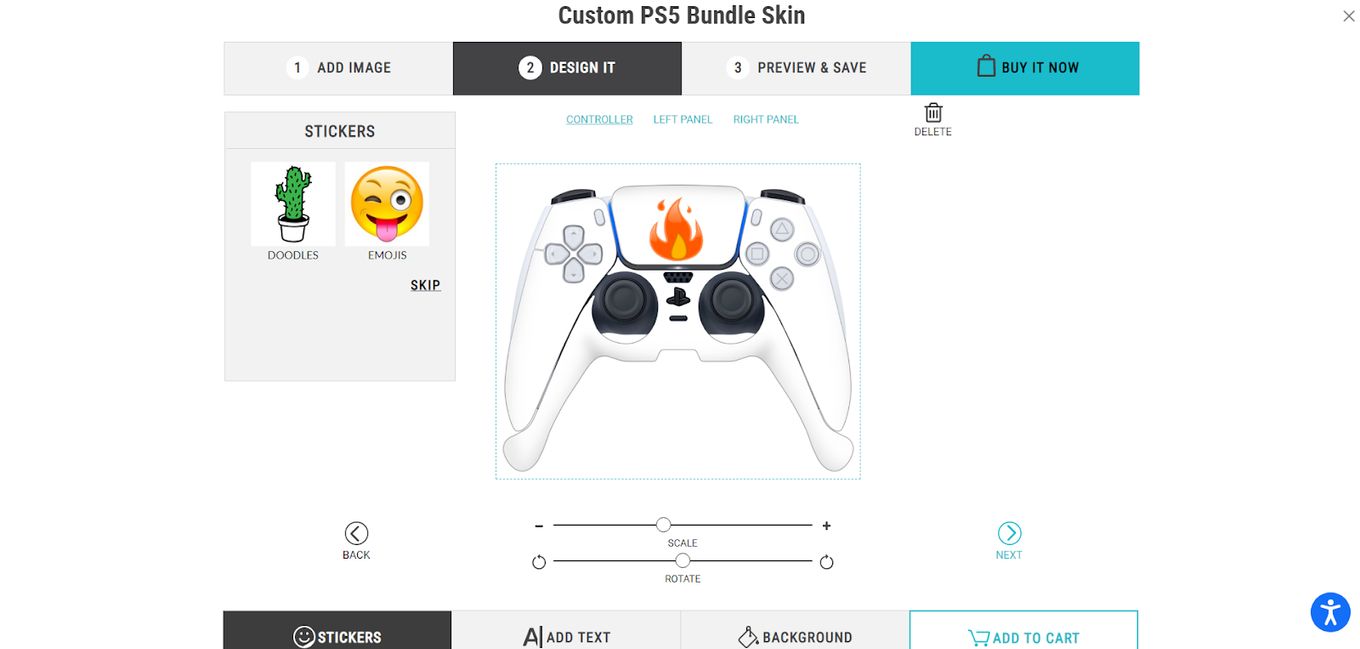 Price: $44.99 (4 interest-free payments of $11.24 available)
Best For: Customization as per your design needs
Specifications:
Customization as per your design needs
Add images from the gallery, Facebook, Instagram, or simply paste an image link
Design the controller and panel with text, sticker, and background designs
Preview your design and save it with a few clicks
Easy installments for the customized purchase
If you have a Playstation 5 console at home and you're considering revamping it, there's no better solution than using a customized PS5 bundle skin. Custom PS5 skins are the new approach to designing and elevating the aesthetics of your luxury console.
A custom PS5 Bundle skin from Skinit is the best choice if you plan on customizing the PS5 skin design. This custom skin lets you design your own skin and takes your gaming setup to a whole new level.
The PS5 bundle skins from Skinit come with a decal for the PS5 controller and console. Also, it is cut with precision to ensure no interruption with any of its motion sensors or buttons.
Related article: How to fix PS5 overheating.
The Skinit customizer lets you add images from your Instagram, Facebook, and gallery, or you can simply copy and paste an image address (link) to upload the image that you want for the design.
Plus, the customizer enables you to add stickers, text, and background effects to design your panel and controller. You can easily preview and save the design in a few clicks.
The final step would be nothing but to place the order, and the best part is that you can buy the customized bundle PS5 skin in four easy installments if budget is a problem for you right now. So, make your own PS5 bundle skin with Skinit's customizer and get something unique and innovative.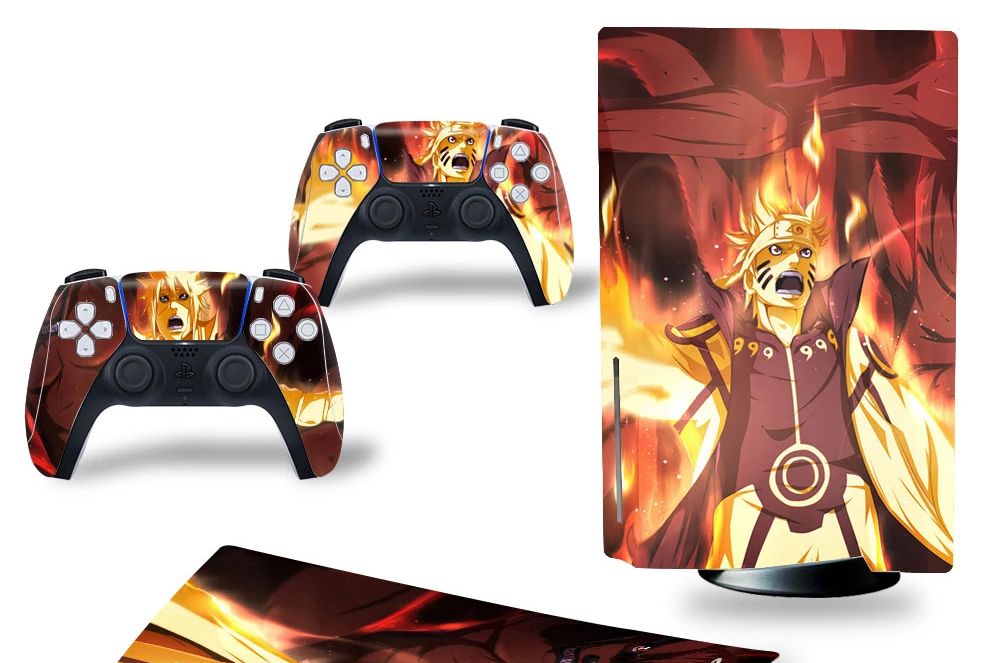 Price: $10.99
Best For: Naruto Fans!
Specifications:
Anti-collision, scratch-resistant
Surface hardening up to 3H
Ultra-thin and flexible
Waterproof, dust-resistant
UV resistant, non-fading
Are you a Naruto fan just like us? Are Itachi, Sasuke, and Naruto one of your favorite characters? If so, this is the right time to show your love and affection towards this anime with a superb Naruto-themed PS5 skin for your console.
The amazing Naruto PS5 disk skin is now available at a reasonable price. This PS5 skin is made of environment-friendly PVC material and removable adhesive. With a product thickness of just 0.02-0.03MM, this skin barely adds any weight to your console.
Regarding the surface treatment effect, this PS5 skin has a smooth, matte, cloth, and leather pattern effect.
The best part about this PS5 disk skin is that it meets all the requirements you may be looking for in a PS5 skin. This product is scratch-resistant, ensures anti-collision, has a surface hardening of up to 3H, and ensures enhanced protection from normal wear and tear.
Do you also have a Nintendo Switch or an Xbox? Check out these beautiful Skins for your Nintendo Switch and these amazing skins for your Xbox.
Moreover, the sense of fashion is super strong, the color pattern is bright and attractive, the color doesn't fade easily, and the skin cover is waterproof and harsh weather resistant.
Plus, the ultra-thin flexibility ensures the product sticks to the surface well. Thanks to its special adhesive, you can easily stick and seamlessly remove it without any glue stain.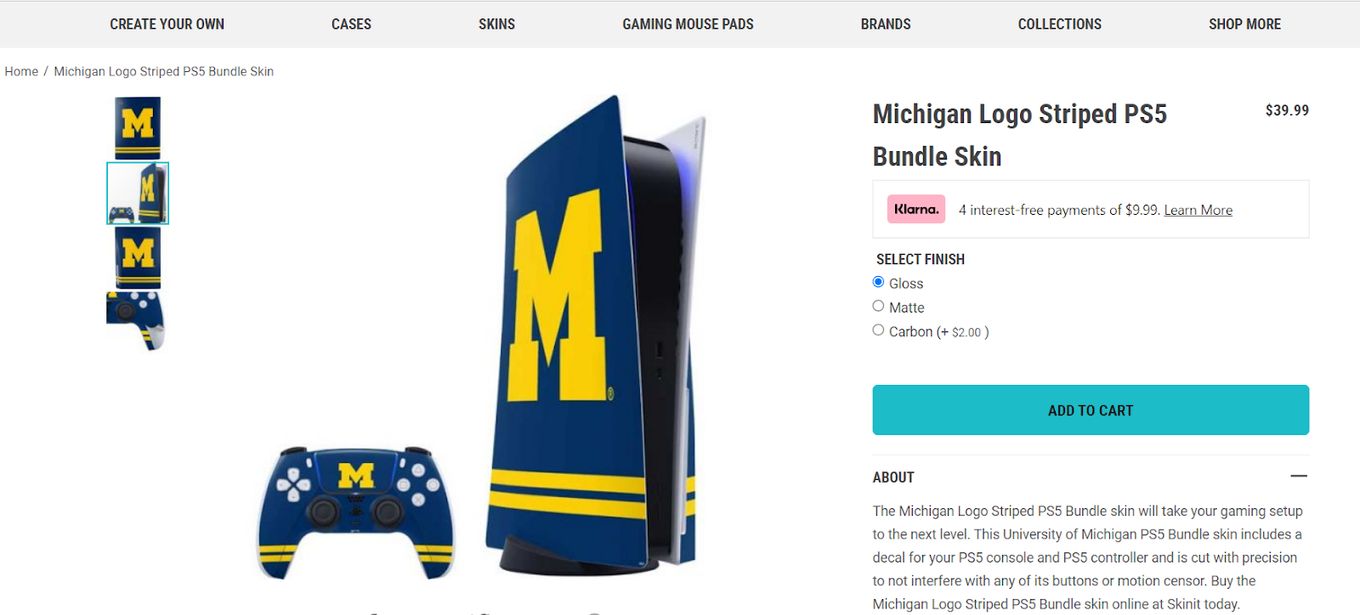 Price: $39.99 (4 interest-free payments of $9.99 available)
Best For: Students, alumni, and aspirants of the University of Michigan
Specifications:
Designed to fit the PS5 console and controller (2020 version)
Designed with best-in-class 3M vinyl
Comes with 1 PS5 controller skin and 1 PS5 console skin
Not compatible with the digital edition of PS5
Sticker made with bold 3D print technology
Are you a student, alumni, or aspiring candidate of the University of Michigan? If so, you'll surely love this Michigan Logo-stripped PS5 bundle skin. This amazing bundle skin comes designed with industry-leading 3M vinyl to ensure enhanced durability and protection.
The skin also comes with a decal for your PS5 controller and console and is cut with precision to ensure no interruptions with any motion sensors or buttons. You can enjoy enhanced access to buttons and controls while using the PS5.
Related article: PS5 Warranty - Coverage & Duration
The blue background with the yellow-colored "M" logo is the ideal way to demonstrate your love, affection, and resemblance with this great American institution.
If you currently reside at the University's hostel and have a PS5, you should buy this skin to amaze all the hostel mates. Also, if you're an alumnus and have a deep-rooted connection (emotional) with the institute, you'll love this PS5 skin.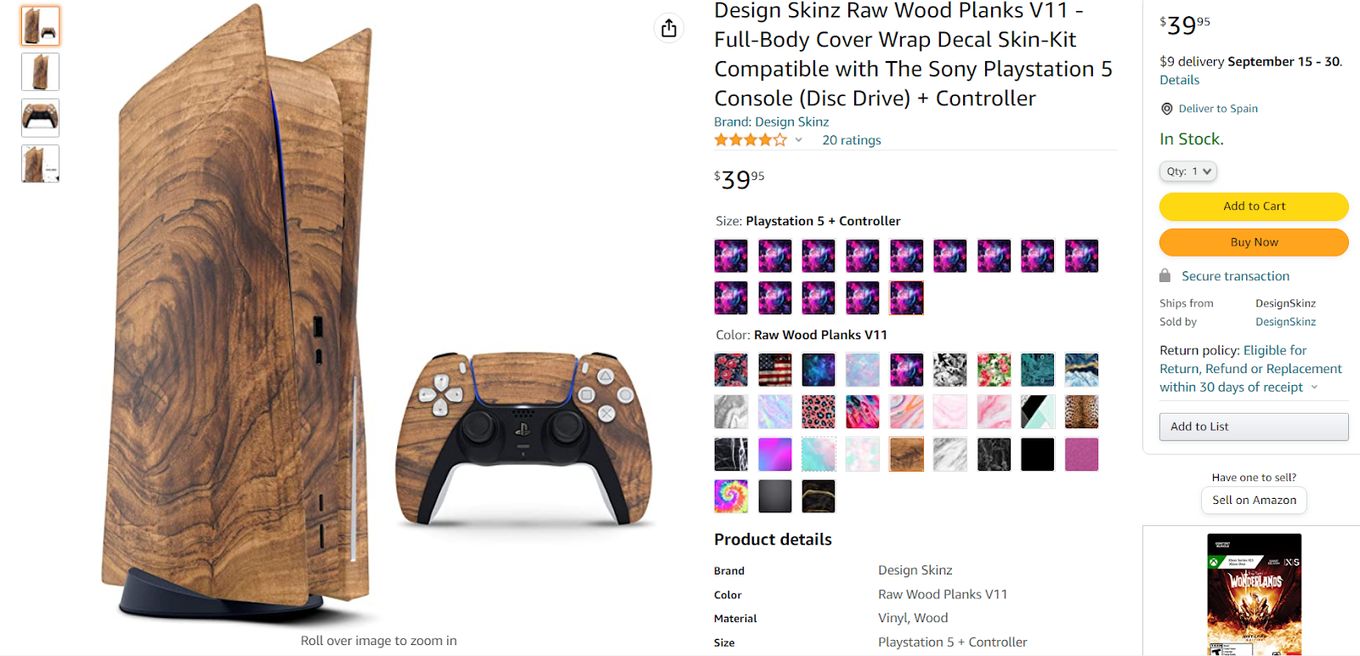 Price: $39.95
Best For: Aesthetic lovers!
Specifications:
Precision fit & Silky soft feeling
Full coverage kit
Premium vinyl decal
Patented air-release adhesive
Crystal-clear lamination layer
The Design Skinz Raw Wood Planks come with a precision fit, ensuring a silky, soft-touch feeling. The matte finish is great, and the skin comes in pieces for the entire console.
Also, the product comes with a protective skin kit to keep the system clean. It is made with premium vinyl to ensure enhanced protection against fingerprints, scratches, and normal wear and tear.
The skin wrap covers the PS5 cut-outs to enable complete usage of all the access ports. Furthermore, every skin ensures premium coverage for enhanced scratch defense.
The best part is that there won't be any air bubbles while you apply the skin on the PS5, thanks to its patented air-release adhesive backing. Also, its crystal clear lamination layer is a bonus to the other features.
How Do You Put Skins On Your PS5?
Step 1: Ensure the PS5 is Clean and Tidy
Sometimes, the skin comes with an alcohol wipe. You can use it to clean it. If it was not provided, use your own.
Learn more about how to clean your PS5 from both the outside and the inside. And if you want to use a skin for your controller too, check out how to clean your PS5 controller too.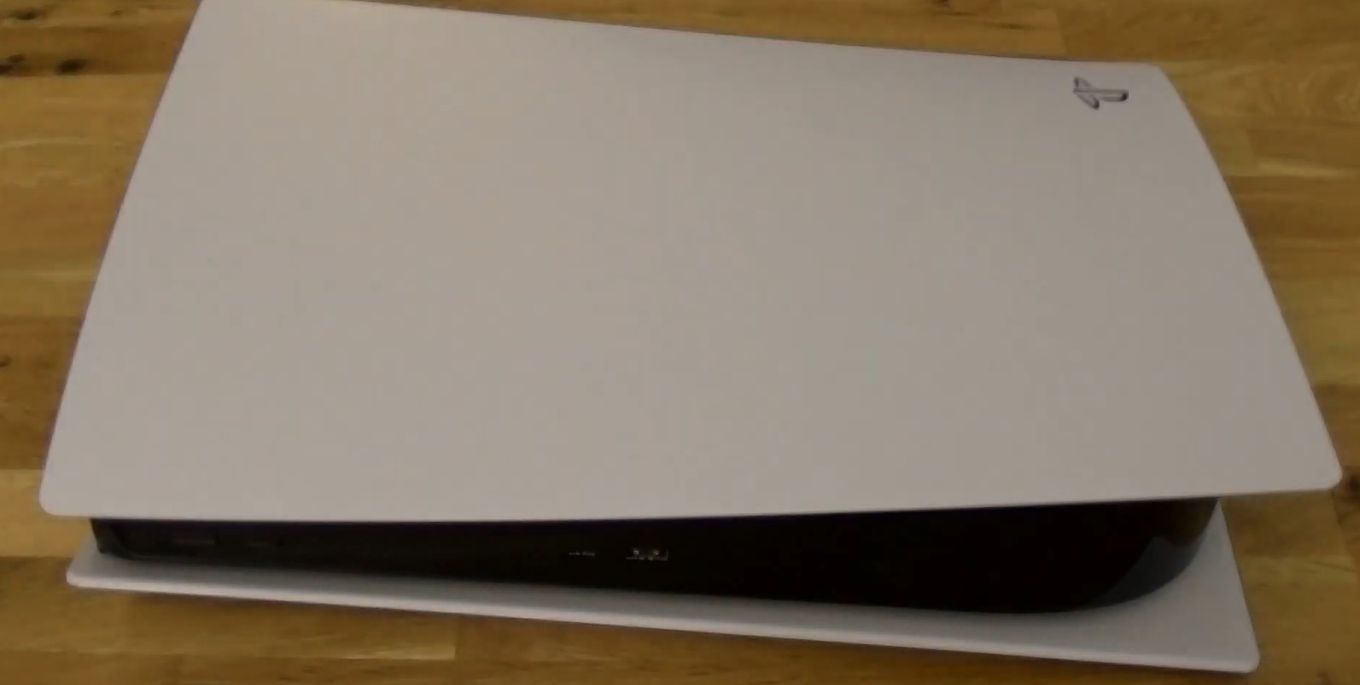 Step 2: Cut The Design Section
Use a pair of scissors to cut the design section away from the remaining material. It will ensure easier application of the front plate.
Step 3: Peel The Edge Off The Backing Paper (Logo Side)
Now, peel the edge off the backing paper. However, ensure to leave this paper on! Why? It gives enhanced control over the skin and prevents it from getting attached to other places
Step 4: Align The Skin's Corner Next To The PS5 Logo
Take time if needed, as the proper alignment, the easier the further steps. Once you do the alignment properly, everything else will automatically fall in place.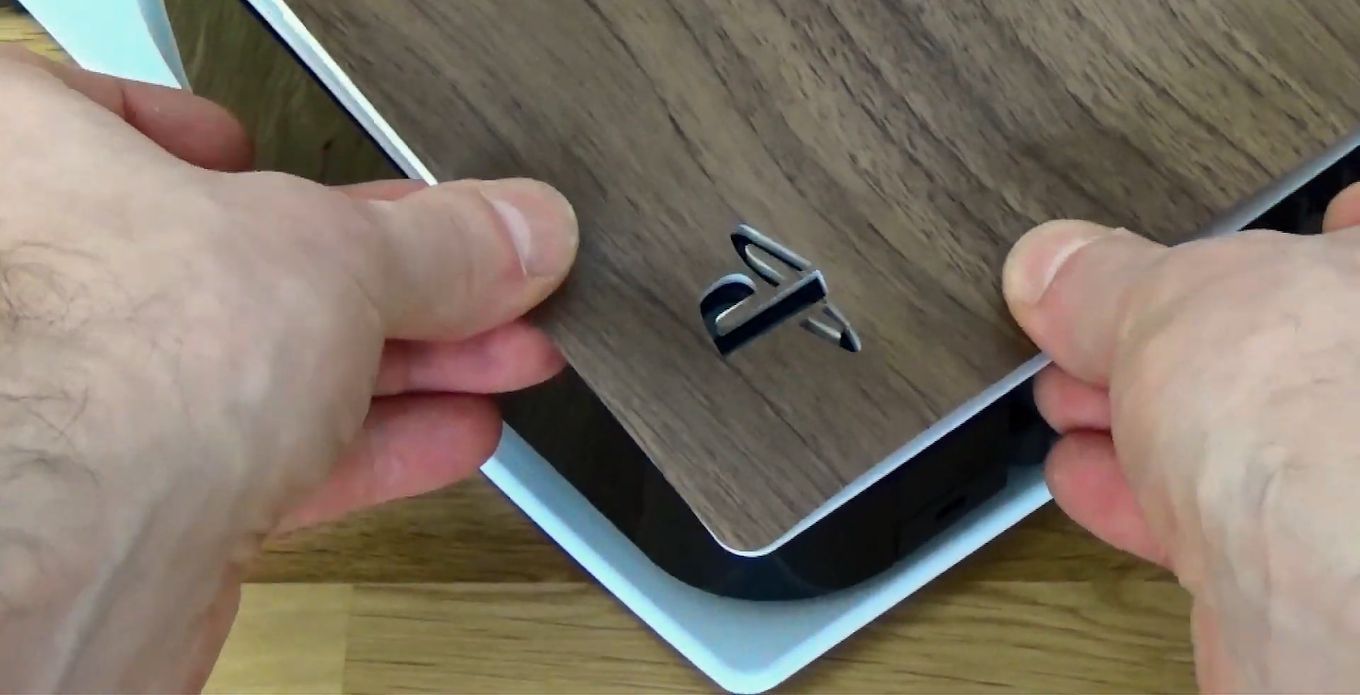 Step 5: Peel The Backing Paper
Peel the backing paper while you work through the process.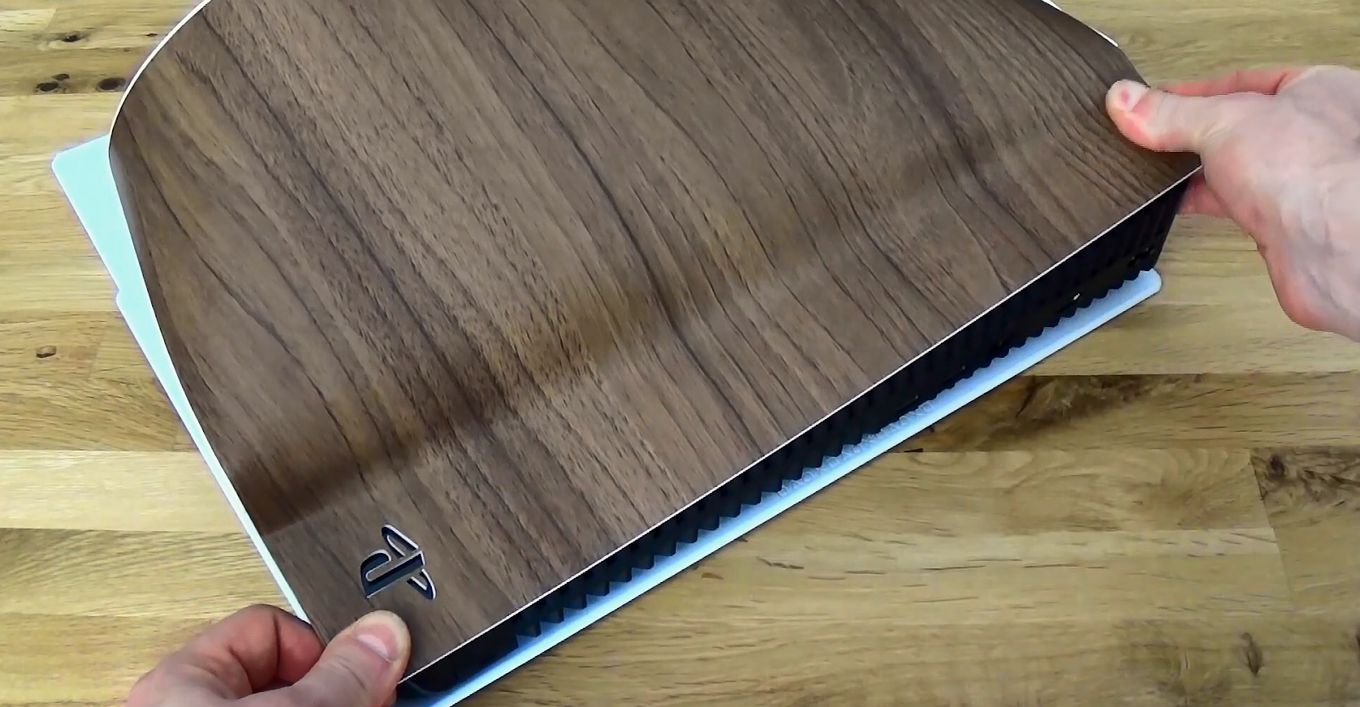 Step 6: Push Out Any Air UnderNeath The Skin With a Sweeping Motion
Use your hands for a sweeping motion on the skin as you work your way down the plate. Apply the motions firmly to ensure pushing out any air underneath the skin.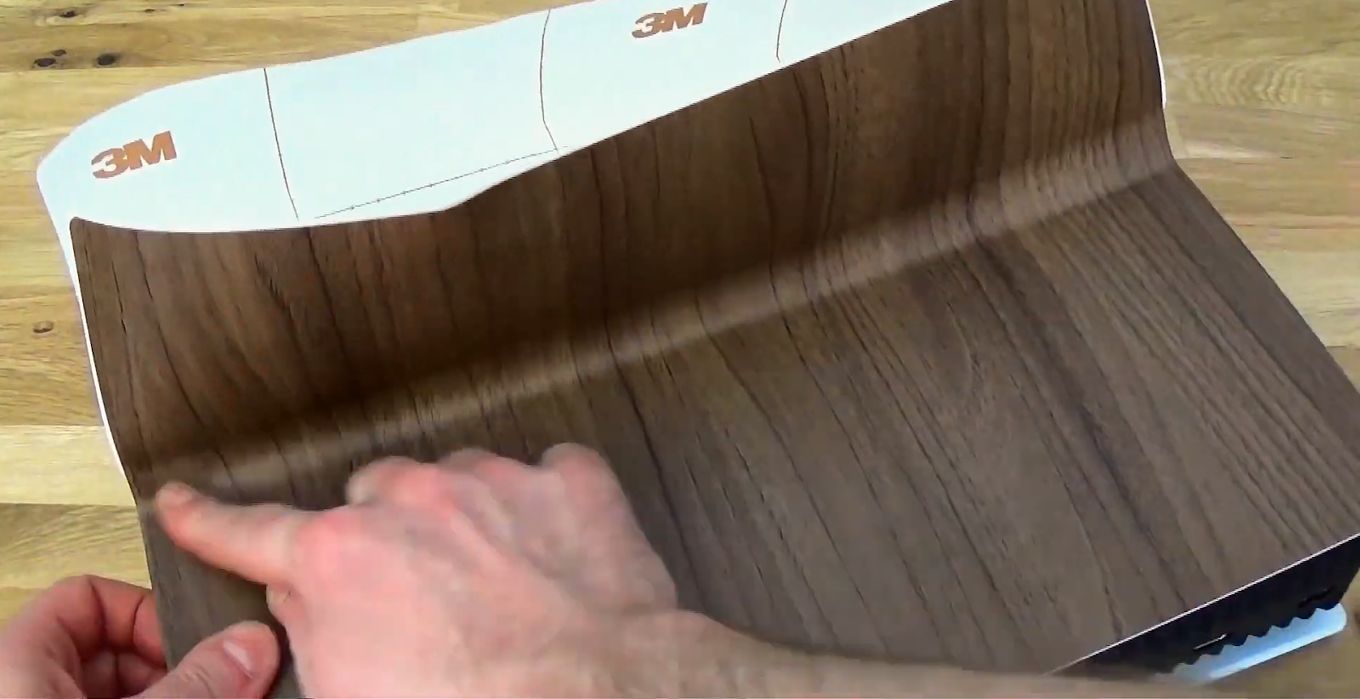 Step 7: Repeat The Steps For the Back Side And Other Parts of The PS5 Model.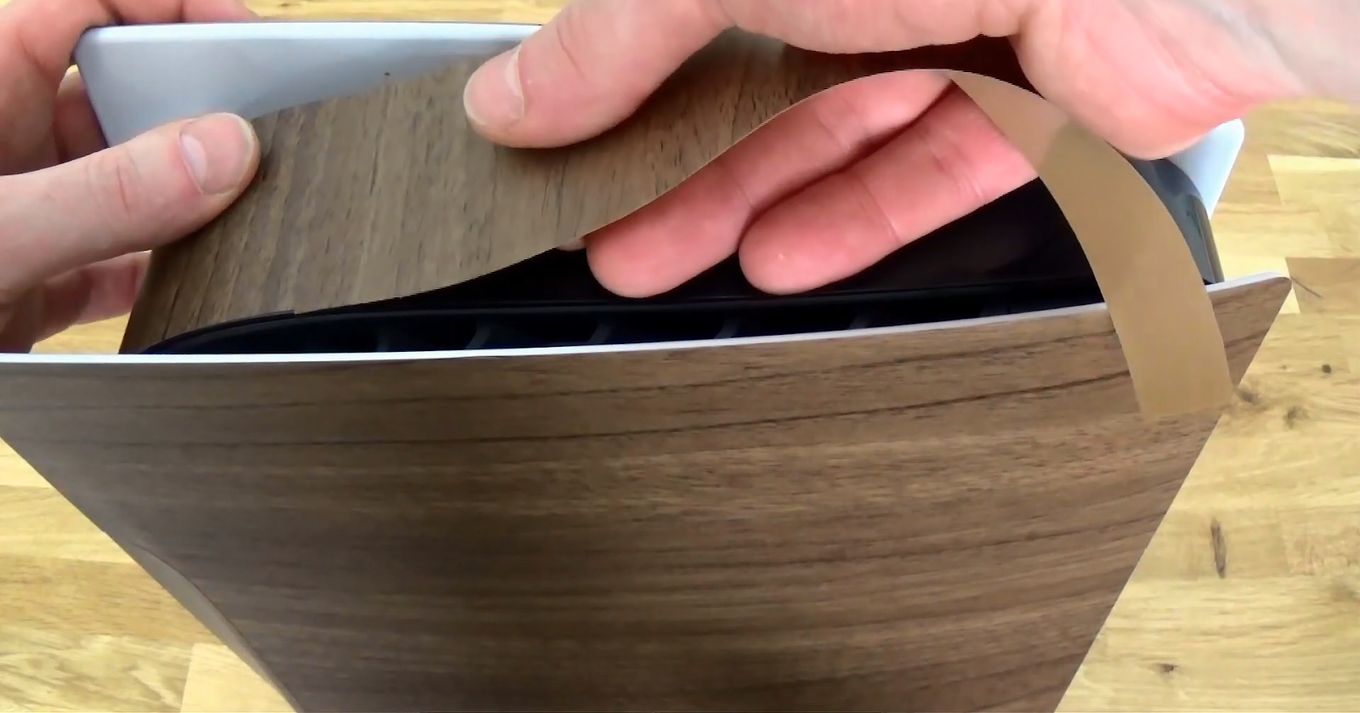 Conclusion: Get the Best PS5 Skin Today!
So, if you're wondering which option is the best, it all depends on your budget and what you want.
For instance, if you really want a unique look, you can go for the custom PS5 skins.
However, if you're more of an anime fan, you can go for the Anime PS5 skins. In the end, it all depends on what you want.
Related Articles
Join 2,000+ readers and learn something new every month!
Get notified about new blog posts, tips, tricks, fullPage.js news etc.
RSS feed