Aside from being the most popular programming language in the world, JavaScript has one of the largest communities of programmers.
The language is widely used, and many developers devote themselves to improving their knowledge of this language to step up their careers or keep up to date with the latest changes.
There are many ways to learn javascript. Some prefer reading JavaScript Books, others opt for online courses, JavaScript podcasts, or Youtube tutorials.
But no matter what you choose, one of the best ways to keep up to date with JavaScript is by hosting and participating in events dedicated to the JavaScript ecosystem, including JavaScript Conferences.
What Is a JavaScript Conference?
A JavaScript Conference is an event where developers, software engineers, and other professionals discuss JavaScript-related topics. Attendees usually network and learn about the latest applications and industry developments regarding the programming language.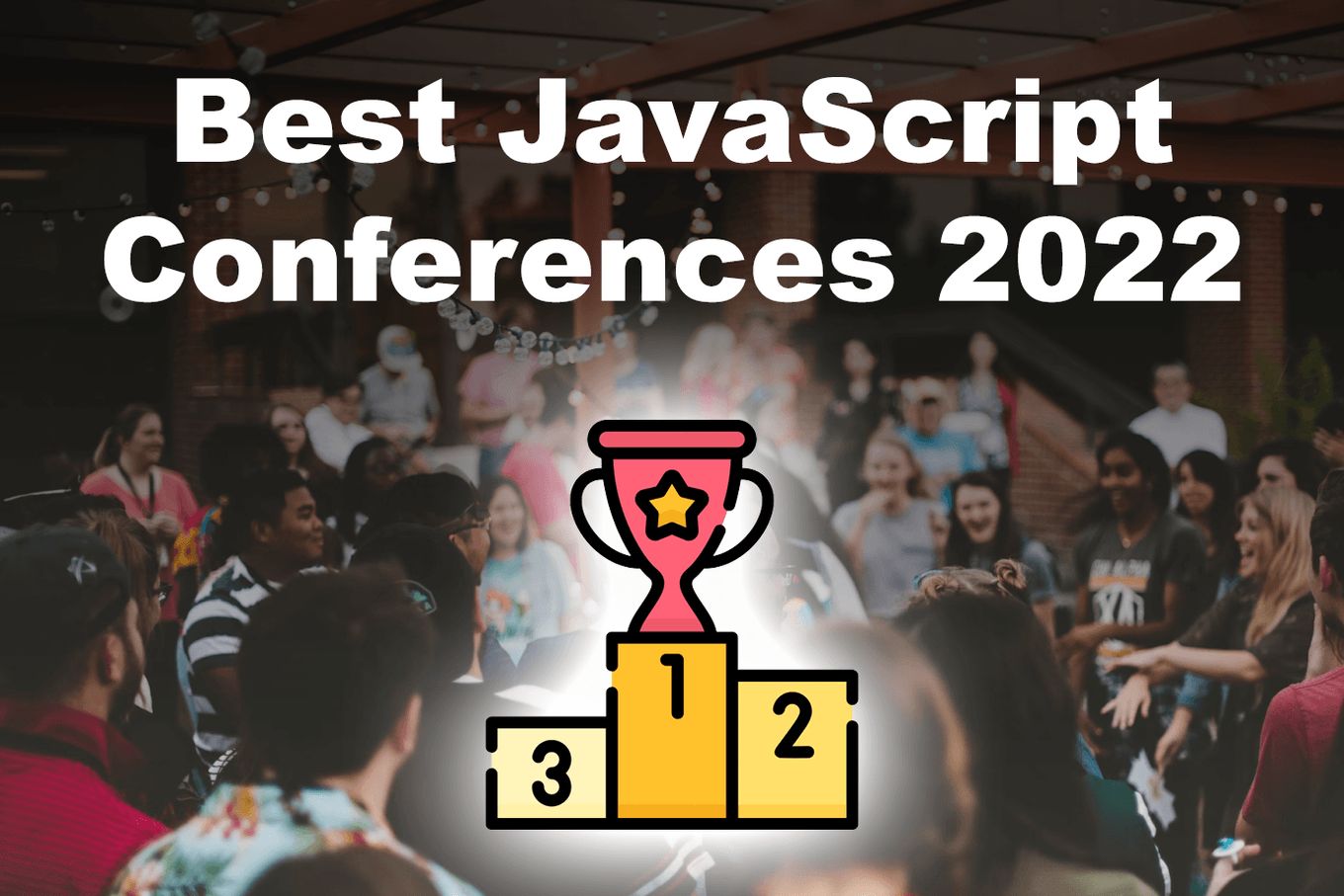 JavaScript is a programming language with diverse applications. The best javascript conferences often devote time to an in-depth discussion of one or two of the many JavaScript frameworks like Node and React. Therefore, at whatever stage you are, you would always go back home with insights and better ways of working.
In this article, we will provide you with details of 10 JavaScript conferences scheduled to be held in 2023.
This list includes Node js Conferences, as well as React conferences, and just general JS conferences too. Let's get to it.
10 Best Javascript Conferences 2023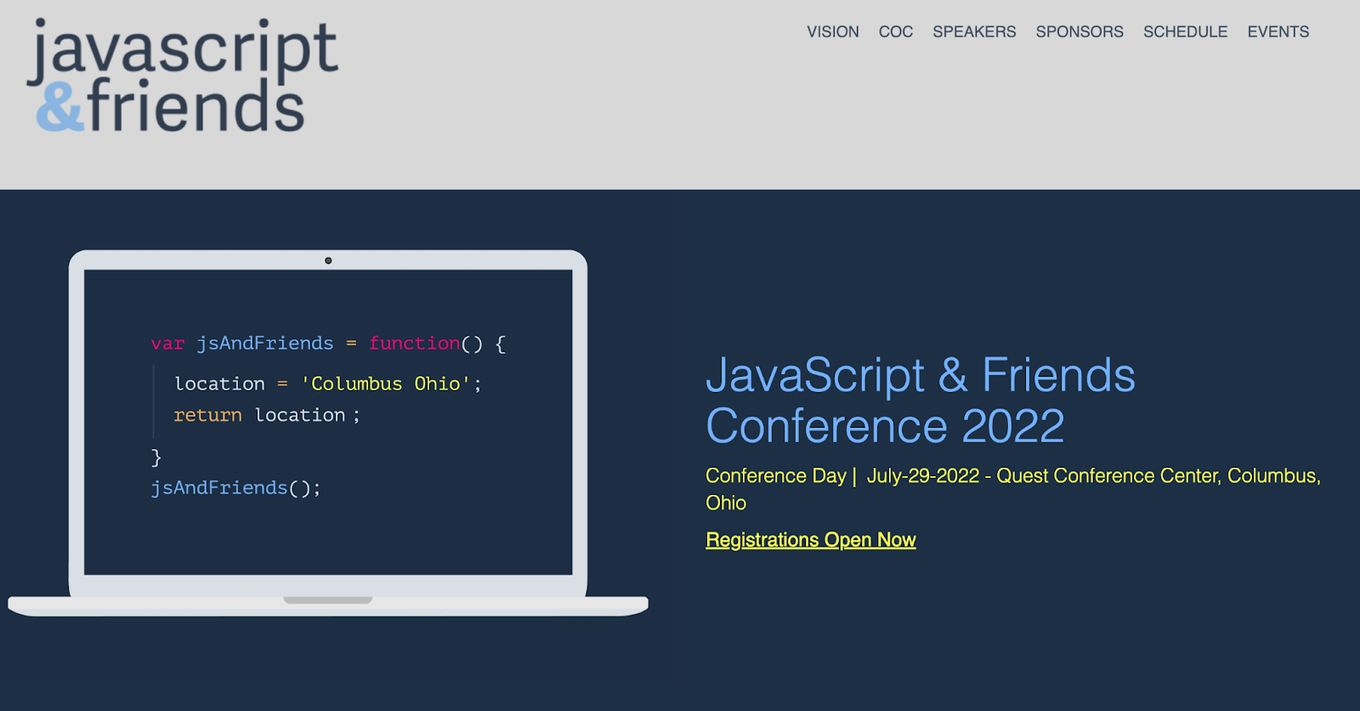 Location: Columbus, OH, U.S.A.
Date: July 29 (2023)
Price: $65
JavaScript and Friends Conference is organized by a group of volunteers and boasts of an attendance of diverse Javascript-interested professionals. They discuss topics like Web Development, Mobile Development, Design, Testing, and also Professional Soft Skills.
Why you should attend:
It's a great opportunity to network and develop new relationships. The small conference size enables detailed discussions among those who register to attend.
Proceeds from the event will be used to sponsor aspiring developers and fund Bootcamp scholarships.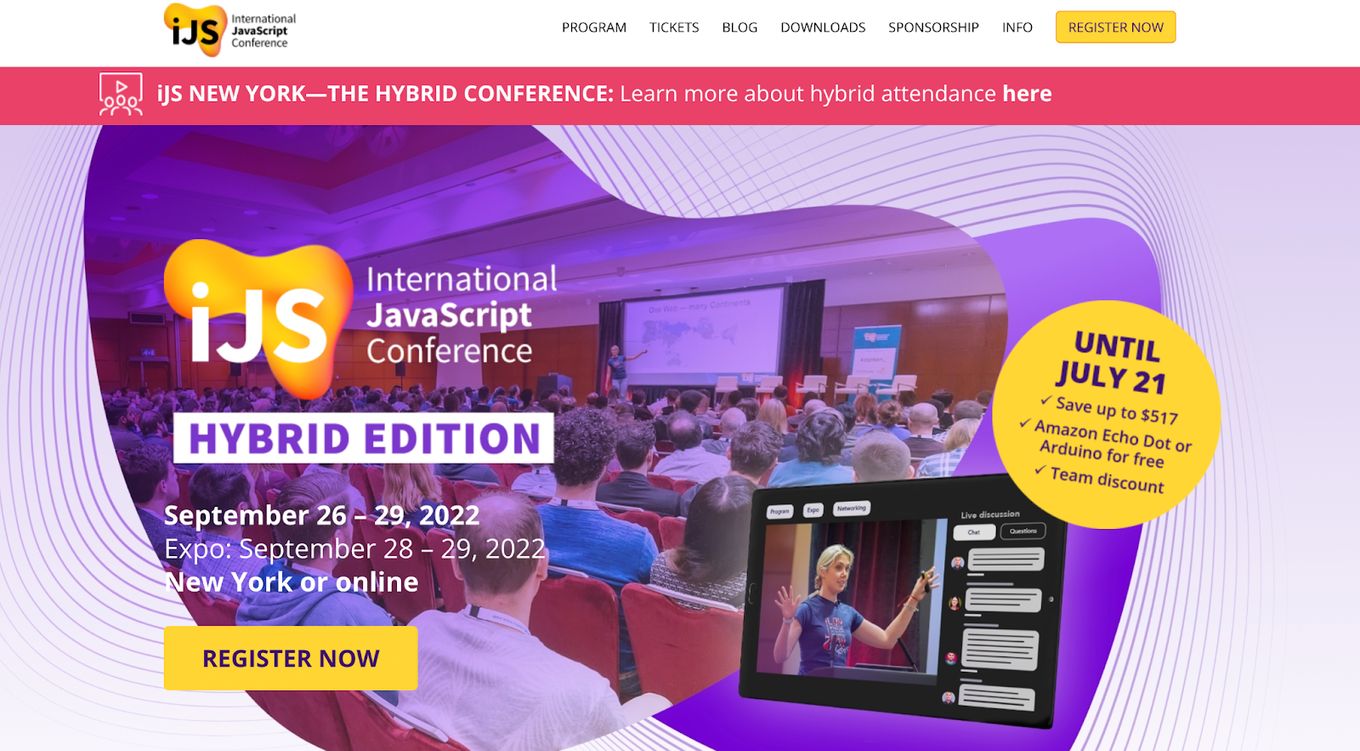 Location: New York, NY, U.S.A. & Online.
Date: September 26-29 (2023)
Price: $512+
International JavaScript Conference is a gathering of international experts on different applications of the programming language. Keynote speeches and talks on the latest innovations in JavaScript are key features of this conference.
Are you interested in knowing more about React? Then check the Best React Courses available in 2022 and these 7 React Books for Beginners & Seniors!
This year's program will be a hybrid version, which means that it will be possible to participate both online and on-site.
Why you should attend:
Live coding classes and workshops that boost your knowledge and skills.
Expert insights on the future of JavaScript and how to tap into it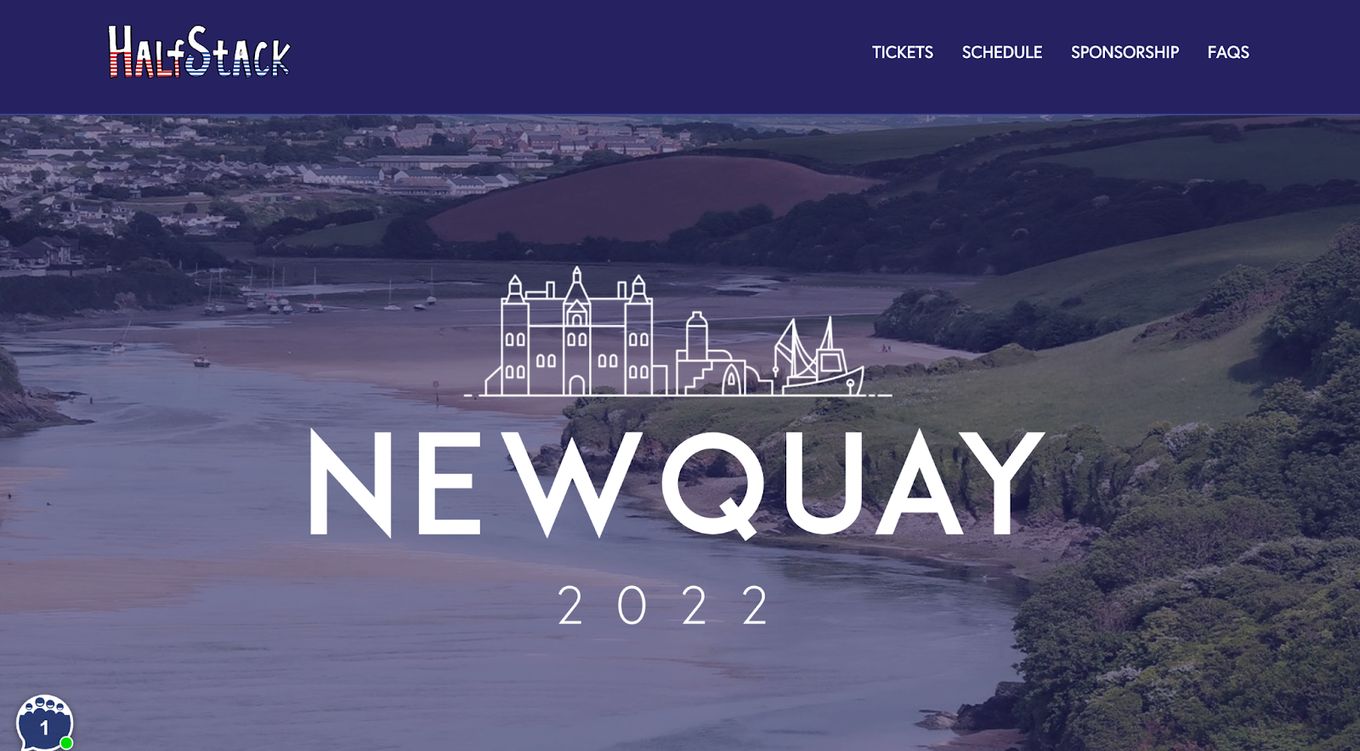 Location: New Quay, Wales, UK
Date: July 1 (2023)
Price: £250
HalfStack is a one-day conference that takes place in a relaxed setting. The discussions center around JavaScript and web development, and front-end development.
Why you should attend:
A great guest experience with fantastic food, drinks, talks, swag, and community
A maximum attendee capacity of 150 fosters stronger bonding and great collaborative sessions
Location: Sandy, Utah (2023)
Date: September 23
Price: $149
This year's edition is the 11th time the conference will be held in the beloved city of Utah. It is a local event for engineers in Utah and its environs. It is a one-day event, and everything JavaScript will be discussed.
Why you should attend:
Opportunity to join a close-knit community of local software engineers.
Insights into the local developer ecosystems and professional etiquette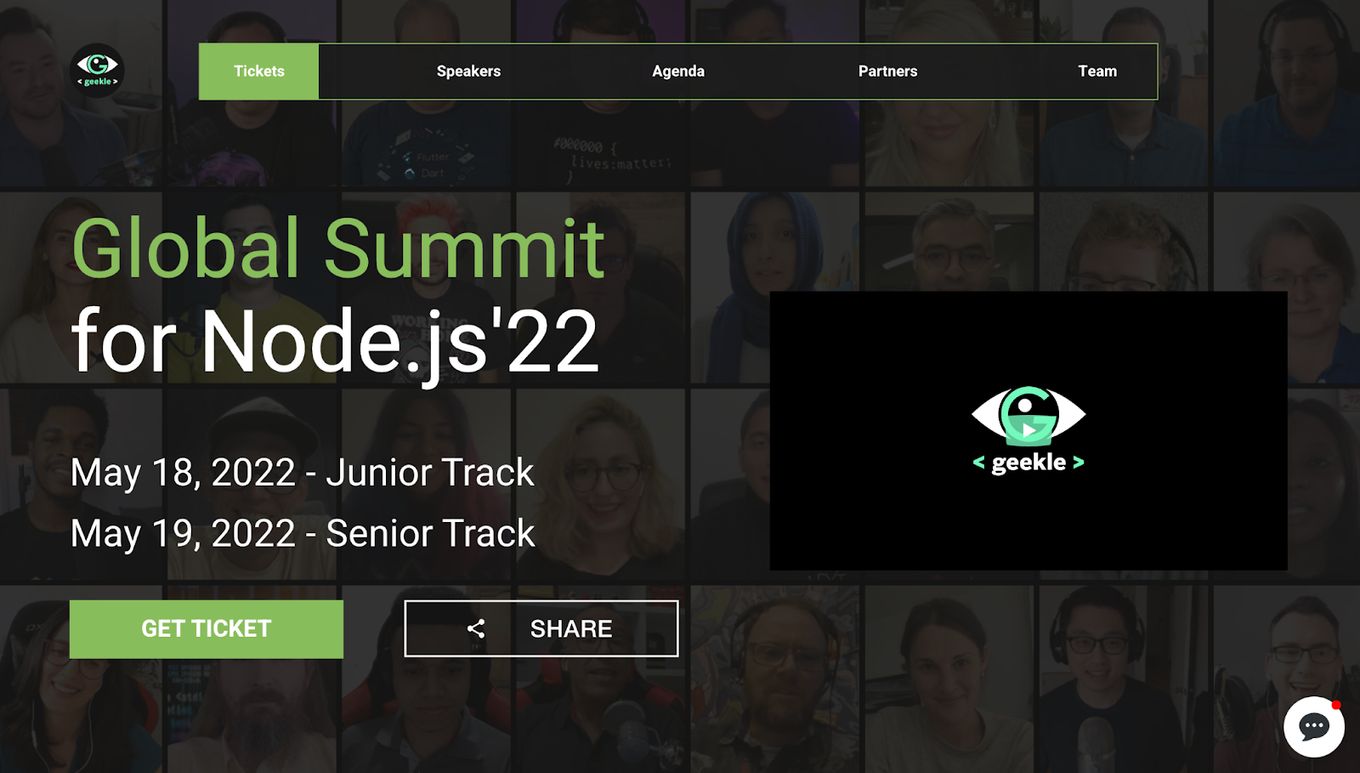 Location: Online
Date: May 18 – 19 (2023)
Price: $500 for senior developers, FREE for junior developers
The Global Summit'22 for Node JS conference hosts Node-leading experts from all over the world that come together to share challenges and tips they have acquired.
Why you should attend:
Opportunity to learn tips and tricks from the best in the world.
Interactive and personal sessions
If you are into Node.js, then you should definitely check out the list of best Node.js conferences for 2023.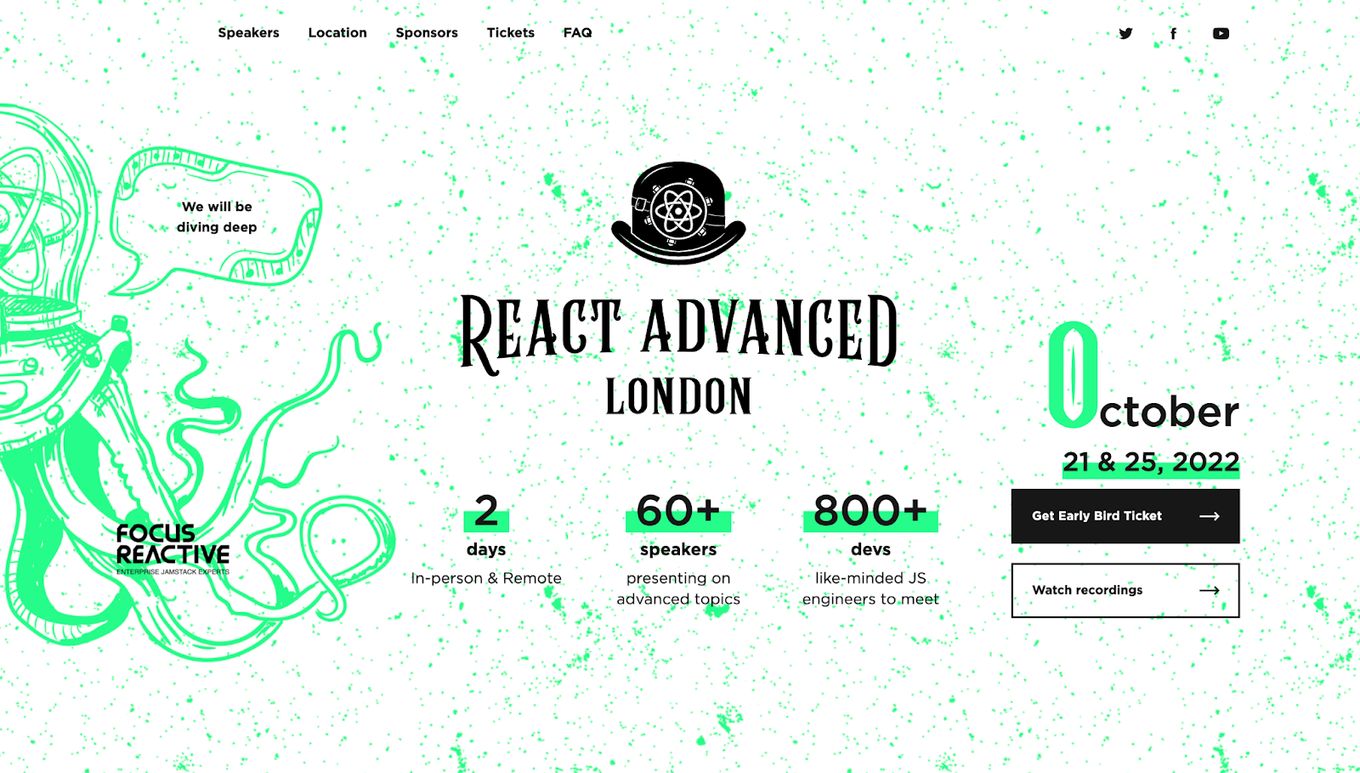 Location: London, U.K. & Online
Date: October 21 & 25 (2023)
Price: £390 for In-person attendance, £17 for virtual attendance
React is the most popular framework in the JavaScript ecosystem. The component-based architecture of React makes it popular with web app developers.
React Advanced features the gathering of the best of professionals in one place to explain all things about the applications and features of the framework.
This year's event is set to feature the authors and core teams from popular projects, including Next JS, GraphQL, and TypeScript. Also, the conference will be held in a hybrid format this year so if you can't make it in person, you get to be part of a global online experience.
Why you should attend:
Hands-on workshops to demonstrate your understanding and get solutions to problems in your use of the React framework.
Fun-filled event with a special session to socialize and network.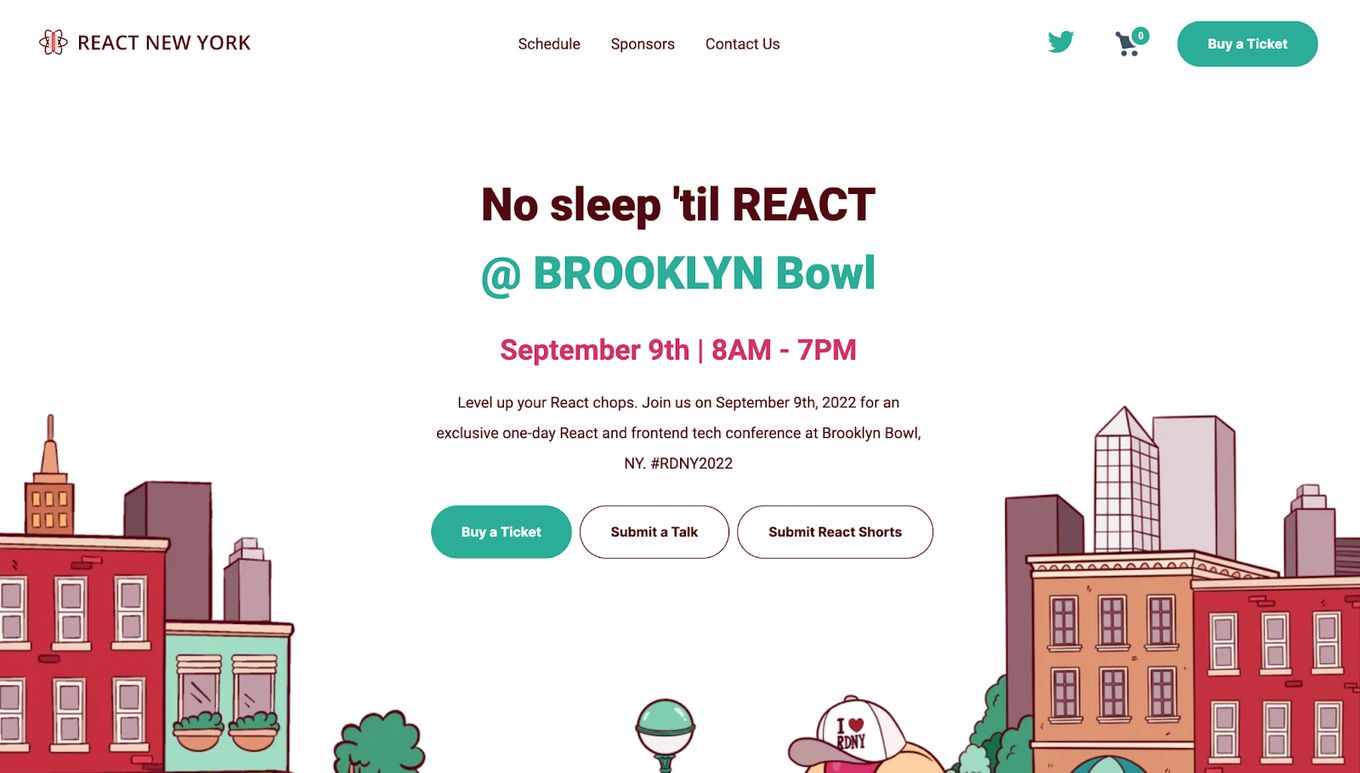 Location: Brooklyn Bowl, New York
Date: September 9th (2022)
Price: $10 for online attendance, $499 for In-person
React New York is one of those specialized JavaScript React conferences with engaging talks with the best speakers from the React community in New York and its environs.
Why you should attend:
Great opportunity to network with professionals in the same locality
Great workshops and learning opportunities (with lots of fun especially if you like hot dogs)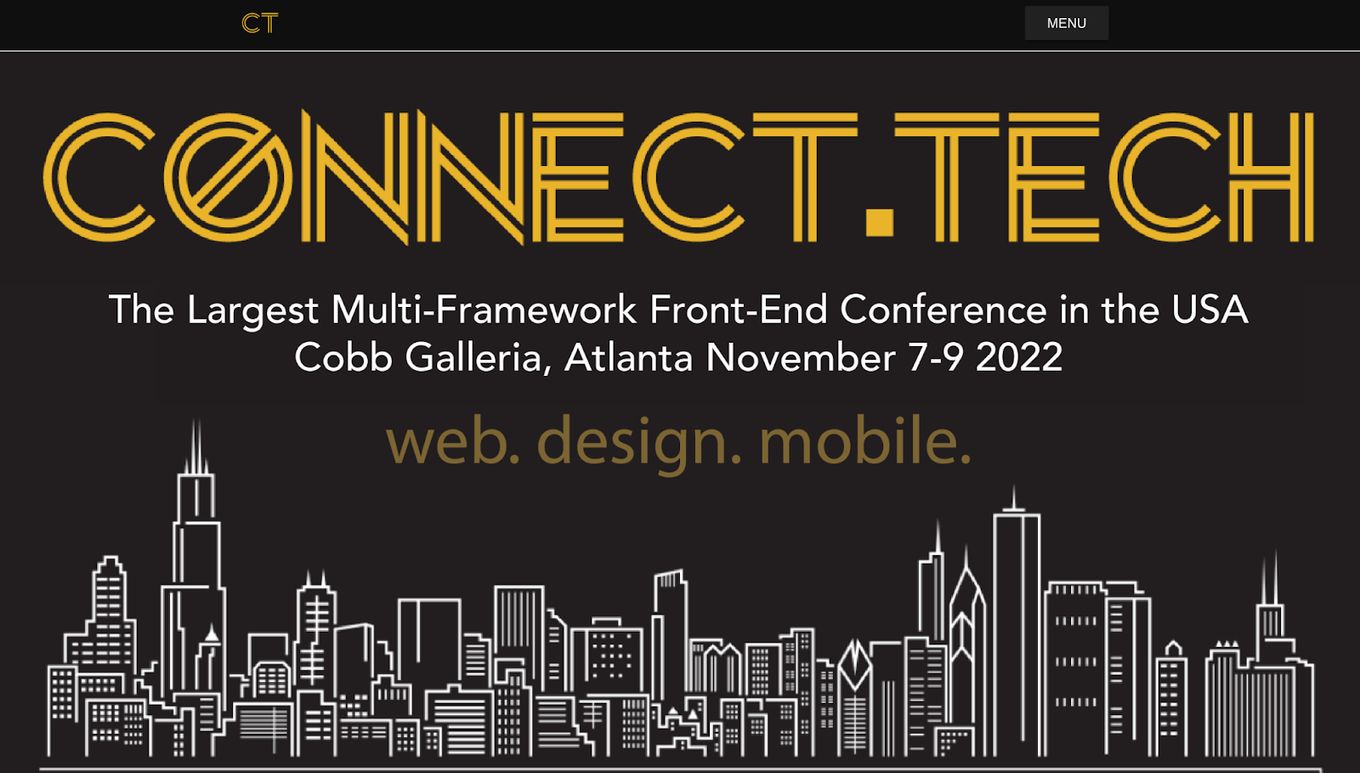 Location: Atlanta, GA, U.S.A.
Date: November 7-9 (2023)
Price: $495+
Connect.Tech is a multifaceted conference. It is a React conference, an Angular conference, a Vue.js conference, a Node JS conference, a UX/Design conference, and a JavaScript conference all at once. All professionals from Web, Mobile, and Design communities are welcomed.
Why you should attend:
Diverse attendance pool and opportunities for cross-industry networking.
Hands-on learning workshops with professional trainers.
Location: (Not confirmed yet)
Date: (Not confirmed yet)
Price: (Not confirmed yet)
JSCamp2021 was held in Barcelona, and it is expected to hold again in 2023. However, it has not been announced yet. Over 1200 developers participated in the last event.
Why Should You Attend JavaScript Conferences 2023?
If you wonder why you should pack your bags and travel miles just to partake in some geeky discussions on a programming language, you should read on.
Time spent at conferences might seem to you like a waste of time as you could spend that same time mastering the language. That's fairly true, but you would be missing out on potential leverages that could multiply your efficiency and shorten your learning curve ten times over.
Here are three reasons you should attend JS conferences in 2023.
To Enhance Your JavaScript Skills
Large conferences often include hands-on workshops and opportunities for project collaborations where groups of people can code, solve problems together, and learn about new developer tools. This is a great way to learn from other coders, observe them while they work, and learn their thought processes.
To Network With Other JavaScript Developers
You can't learn or develop in isolation, especially in the software industry. At JavaScript Conferences, you would meet like-minded people with whom you can network and develop together. You will find yourself interacting with leading JavaScript experts.
More so, not only developers attend these conferences. You also stand a chance to meet employers directly.
To Stay Up-To-Date on The Latest Developments in Language Architecture
Key professionals from every part of the industry meet at JavaScript Conferences. JavaScript is an open standard and as such, these kinds of events are full of insights, tips, and tricks on the best use of the language and future technologies.
Which Javascript Conferences 2023 You Should Attend?
Deciding on which JavaScript conference to attend can be overwhelming, especially because there are so many good ones. You must consider all factors that will determine how you get the best experience from a conference.
Your Budget. Some of these events require that you pay certain fees to get access. Make sure the conferences you want to attend have prices you can afford.
Your Interests and Needs. You check if the theme of a conference, speakers, and sessions are tailored to suit your needs and interests.
Your Location. These conferences are hosted in various locations around the world. However, some are being made virtual. Make sure you confirm the location of a conference and how track to such locations will impact you. This is especially useful to avoid unbudgeted expenses.
Conference Testimonials. A useful tip when deciding which JS conference to attend is checking for reviews and other people's experiences at the conference. It will help you set your expectations. Also, check the conference's FAQs for subtle information you might miss.
How Can You Make the Most Out of a Javascript Conference?
Your decision to attend a JavaScript conference doesn't just yield the desired effects. You should follow with the intent to get the best out of the conference. Without discipline, attending a conference can leave you with no meaningful learning or experience.
Here are three things you can do to ensure you make the most of a JavaScript conference.
Choose the Right Conference and Choose the Right Sessions
Attending a conference that matches your current needs is the first step you need to take. There are so many conferences that you don't have to attend. Take time out to define a purpose and determine which conferences will help you achieve it.
Answering these three questions will help you frame a purpose:
What am I using JavaScript for?
What level of expertise have I reached?
What will I gain from attending this conference?
Also, there are many sessions at a conference, and you necessarily don't have to attend all the sessions. Attending those that will help you reach your goals should be your top priority. You are welcome to attend other sessions if you have the opportunity.
Participate Actively
In a conference, any session you choose to attend, focus on what is being discussed. Note down the important points. Take part in the question-answer session. Engage the panelists.
Eliminate Distractions
You can get distracted easily in public gatherings. JavaScript conferences are no exceptions. There is always something fun to do. Try as much as possible to take part in the fun things while not losing your focus.
Put away your mobile phone while you are at the conference. Be immersed in the whole conference experience. That's how you make the most of your attendance.
JavaScript Conferences: A Great Opportunity for Growth
JavaScript conferences are opportunities for growth for every user of the programming language. Regardless of your expertise level with the language, attending these conferences will benefit you tremendously. You gain exposure that will help you accomplish career objectives and stay on top of new technology trends.