15 Best Teleprompter Software For Mac [Reviewed & Ranked]
In the age of Zoom, web conferencing, and Youtube, more people are forced to face and do more camera work.
Not all, however, are comfortable talking in front of others even if they're using video cameras. Fortunately, there are tools like a teleprompter that can help many people. If you own an Apple device, then you will have plenty of teleprompter software for Mac to choose from.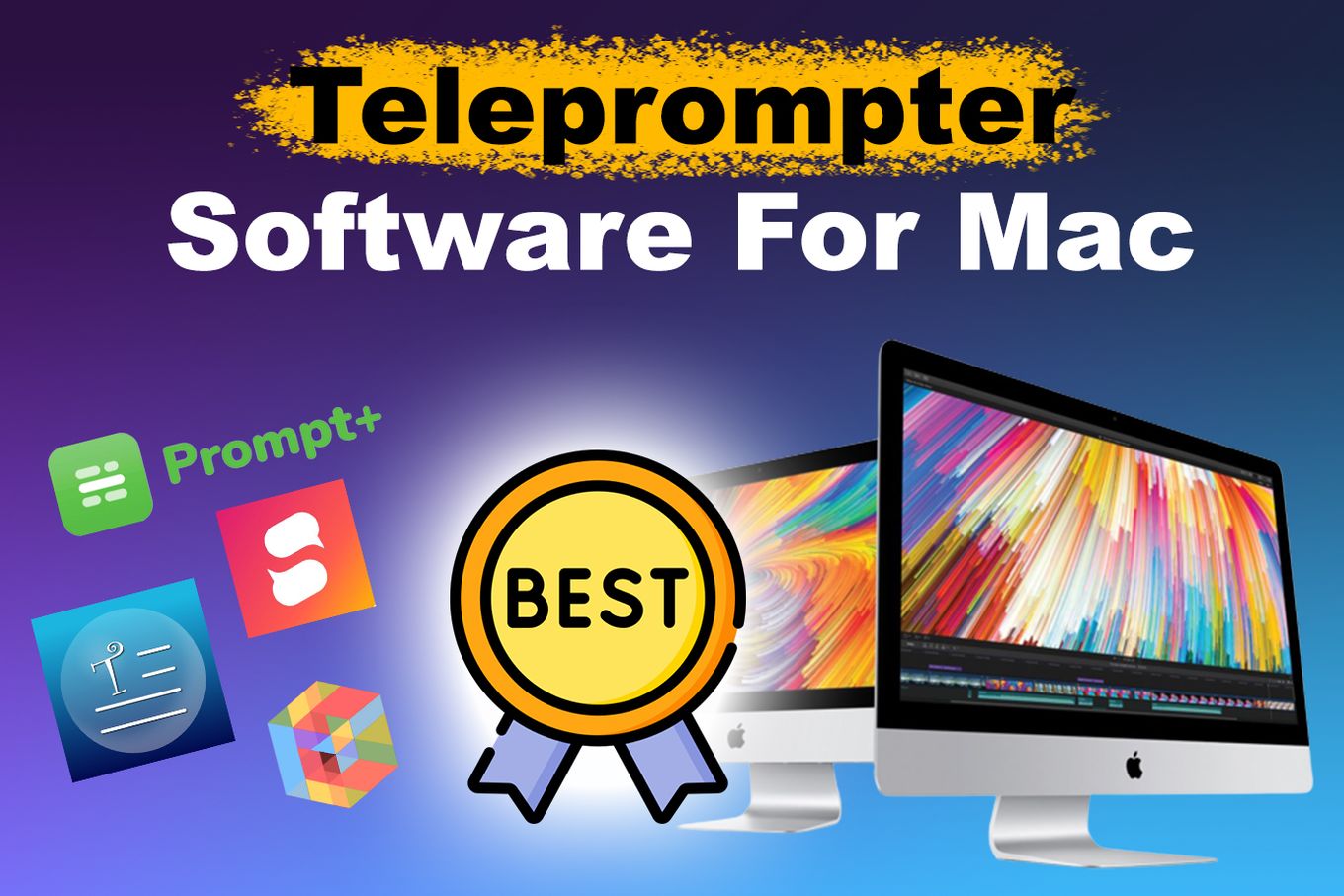 Do you need a Teleprompter for Singing? Then check our list of 15 Top Karaoke Software For Mac
In this post, we will provide a list of the free teleprompter software for Mac, their features, and how much you might need to pay if you want more advanced features.
15 Best Teleprompter Software for Mac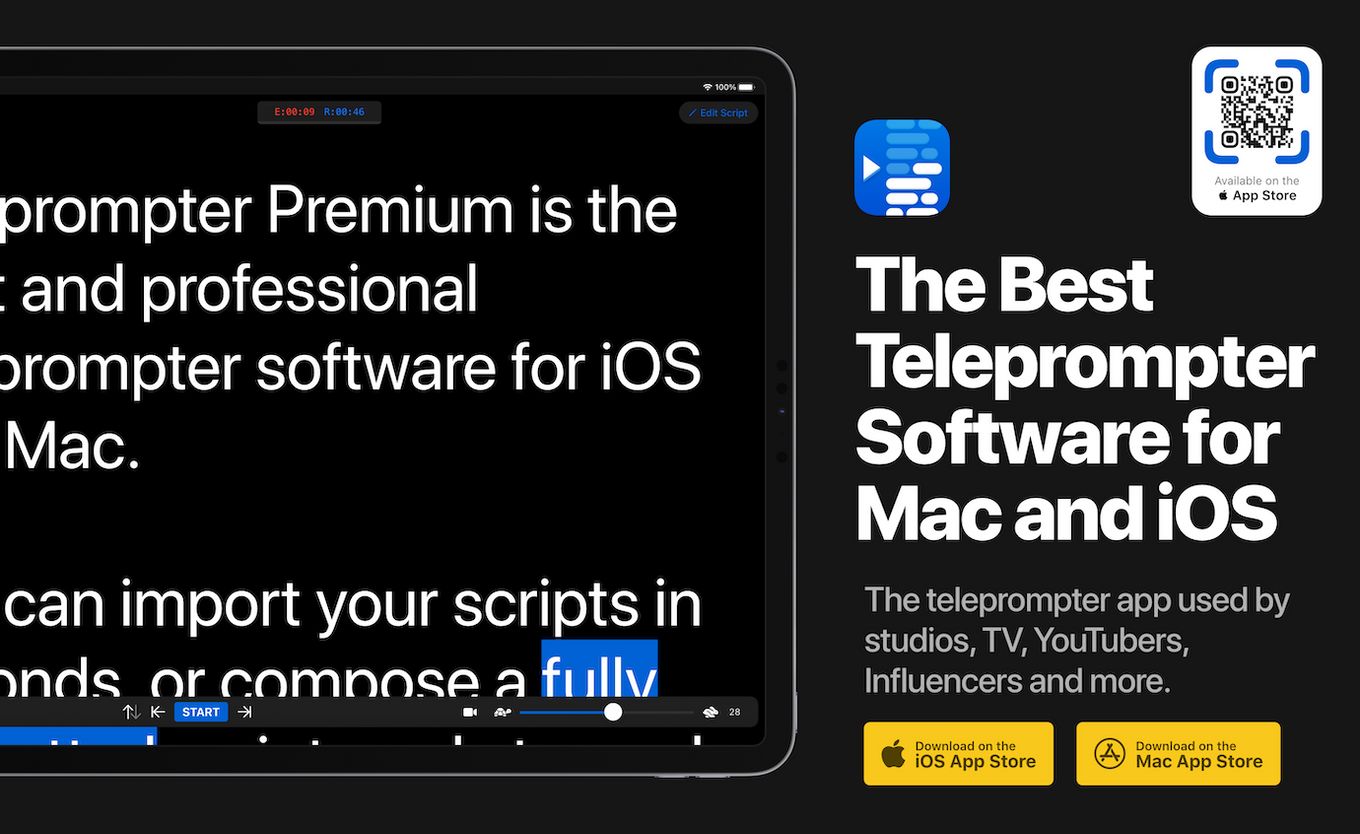 Price: Free or $19.99 per year
Best for: Vloggers who like shooting outdoors or alone.
Teleprompter Premium is easy to use thanks to its intuitive user interface.
It offers different features and functionalities like video recording timers, storage of multiple scripts, and remote control.
Users can also control this app using other means like gaming controllers, keyboards, and foot pedals, among others.
Pros
Easy to use
Video recording
Predicts time
Cons
Many advanced features are only available for paid subscribers
Font can't be changed for individual words
No auto-save when editing the script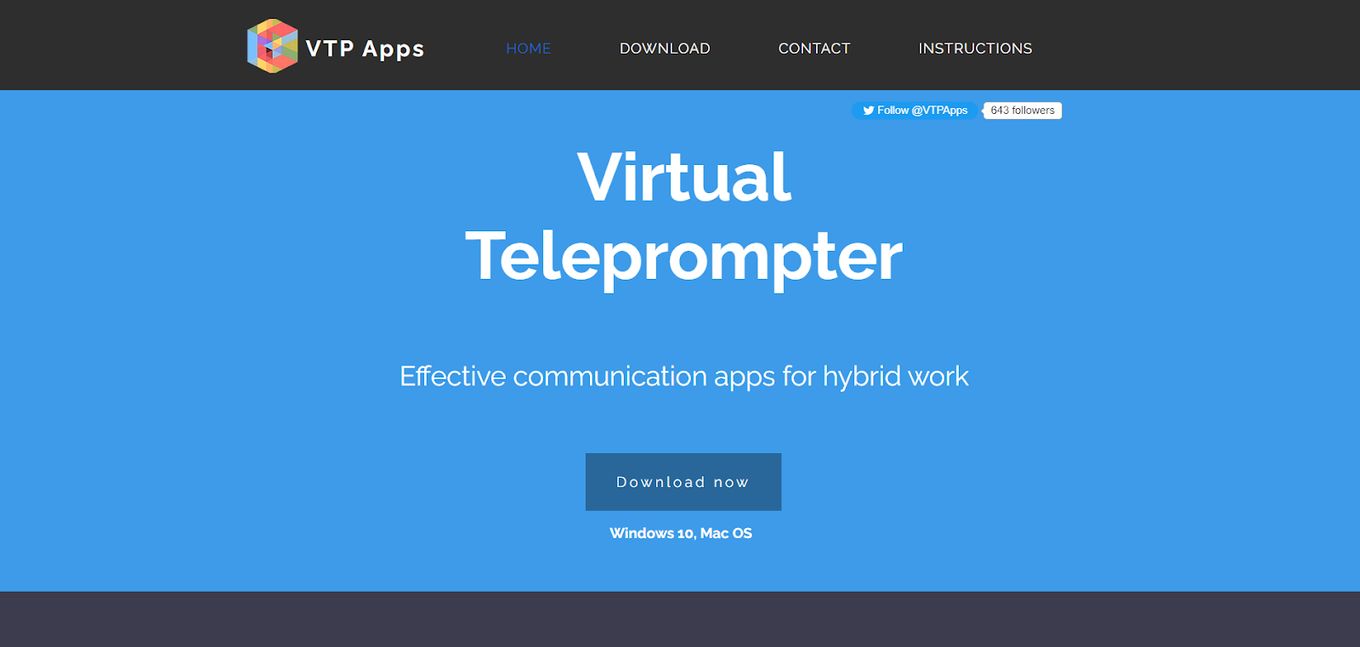 Price: Free or $6.99
Best for: Those looking for an easy-to-use and affordable teleprompter.
Virtual Teleprompter promises to be the ideal companion for your interviews, online meetings, live streaming, and presentations.
Users can adjust the speed, transparency overlay, colors, and font size. It is compatible with all meeting platforms and all Mac OS.
Pros
Easy to use
The paid version is reasonably priced
Customizable
Compatibility with various meeting platforms and all Mac OS
Cons
Text can't be centered
It won't allow you to skip or rewind the text, which can be quite annoying with long texts.
It doesn't allow uploading a PDF, requires copy and paste.
Only allows you to work on one script at the same time.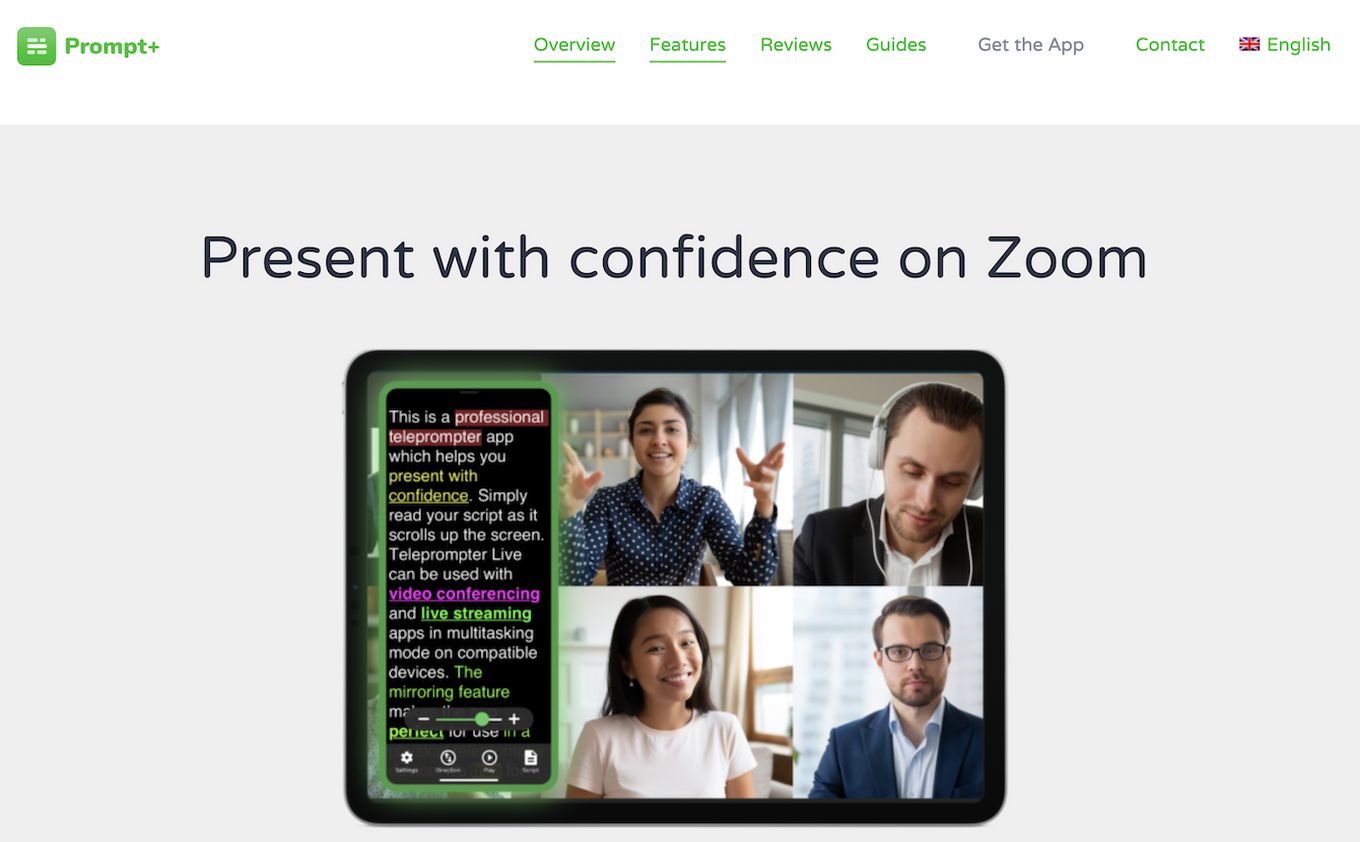 Price: Free or $9.99
Best for: Those who want advanced functionalities.
Prompt+ Teleprompter offers advanced functionalities such as voice recognition, voice control scrolling, and easy importation of scrips from various file formats.
This teleprompter software for Mac has a display clock and lets the user set a timer for time-bound video content.
It can also be used in different video conferencing apps and Facebook Live.
Pros
Advanced functionalities
Display clock
Compatible with different video conferencing apps and file formats
Cons
Free version limits scripts to 750 words
Voice scroll doesn't seem to support external microphones
The prompt window can't be made transparent
It doesn't allow copying and pasting the text into the editor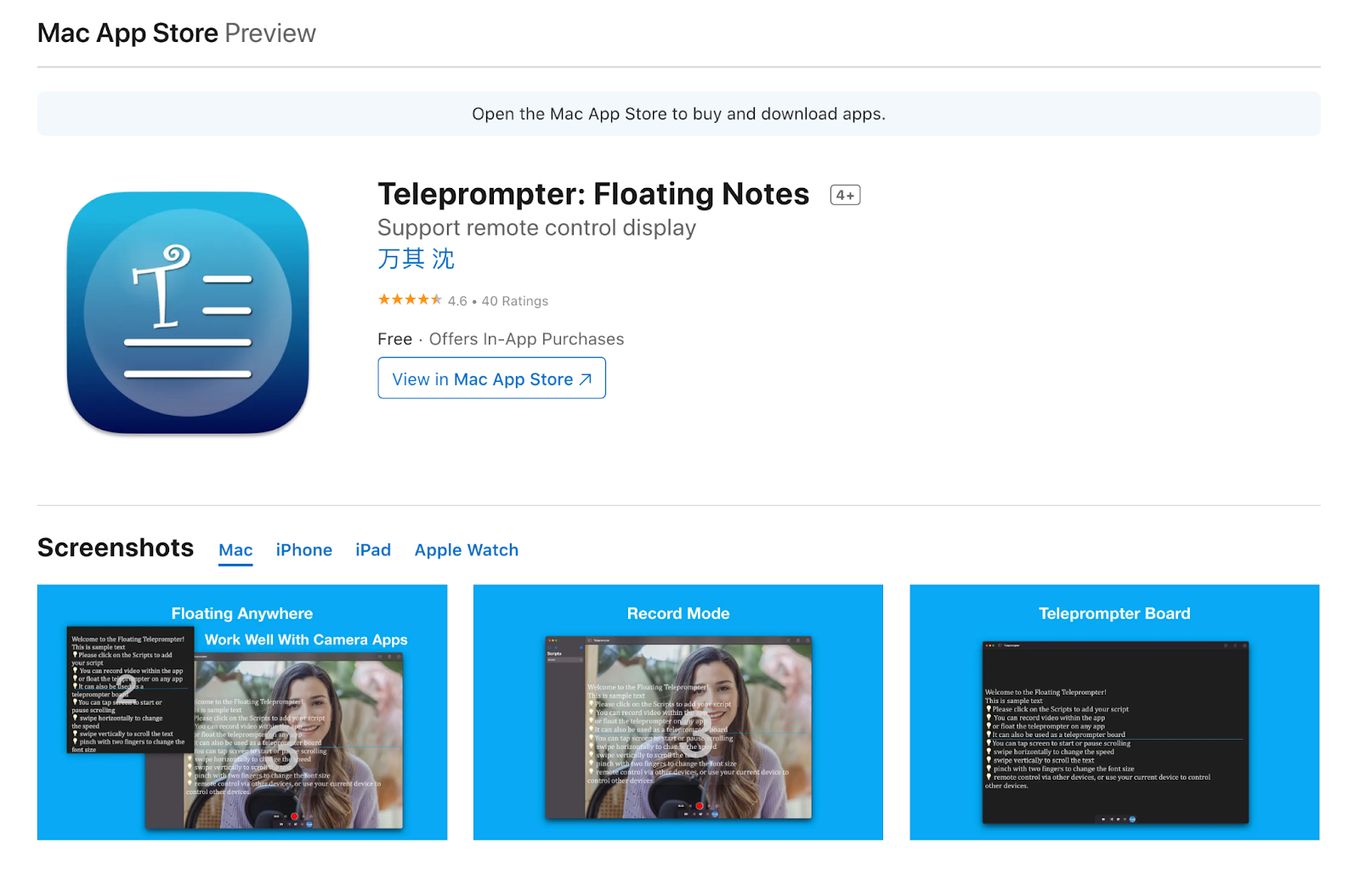 Price: Free
Best for: Beginners
This App is one of the best free teleprompter software for Mac for beginners.
It requires a limited user interface as all settings are on the home screen of the app.
This app also has a floating window which can only be displayed in one window.
Pros
Customizable
Floating window
Cons
Basic features
Video can't be downloaded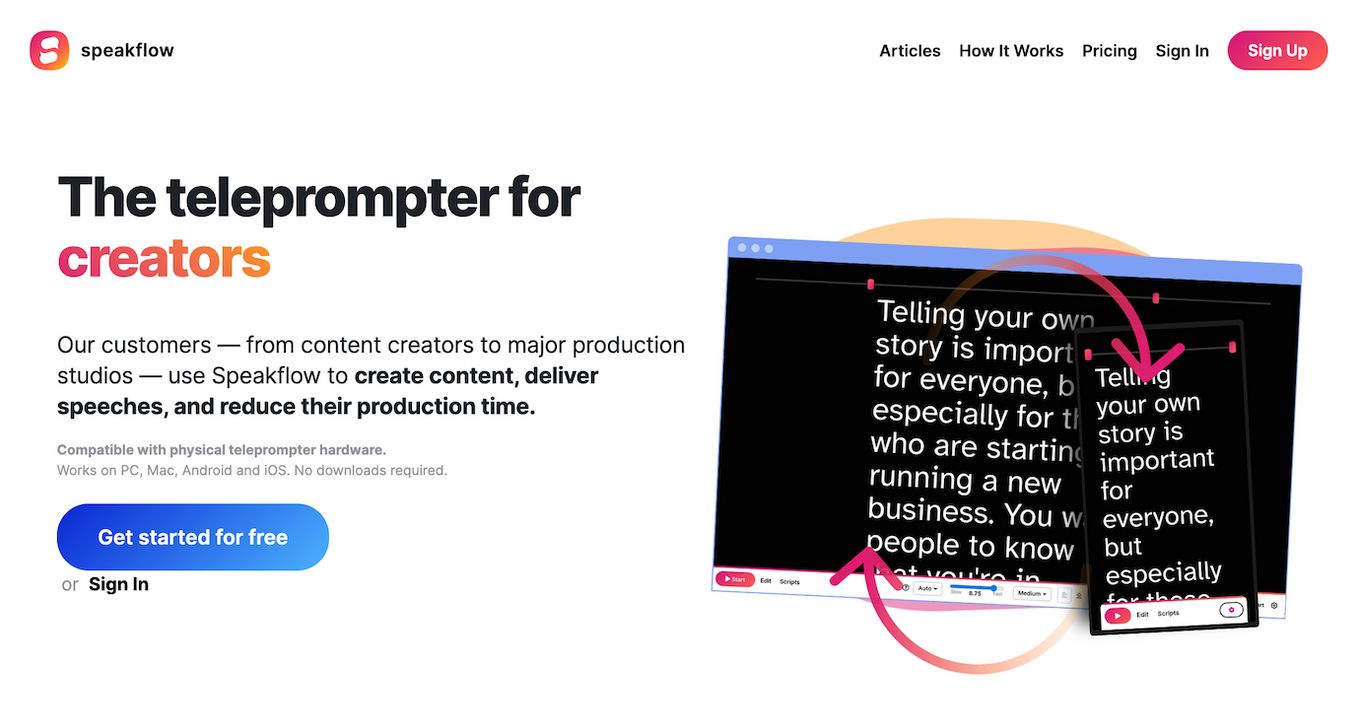 Price: Free or starts at $10 per month
Best for: Those who want a web-based teleprompter.
Speakflow promises to be more than just teleprompter software for Mac that's free but also claims to be the perfect companion for content creators.
This software can be synced to multiple screens and can be combined with teleprompter hardware easily.
It is web-based and lets users either use the auto mode or flow mode.
Pros
No downloads needed
Can be used for recording HD videos
Works across all devices
Auto and flow mode
Con
Limited flow mode scripts allowed in the free version
The "flow" mode doesn't work smoothly
User experience is not the best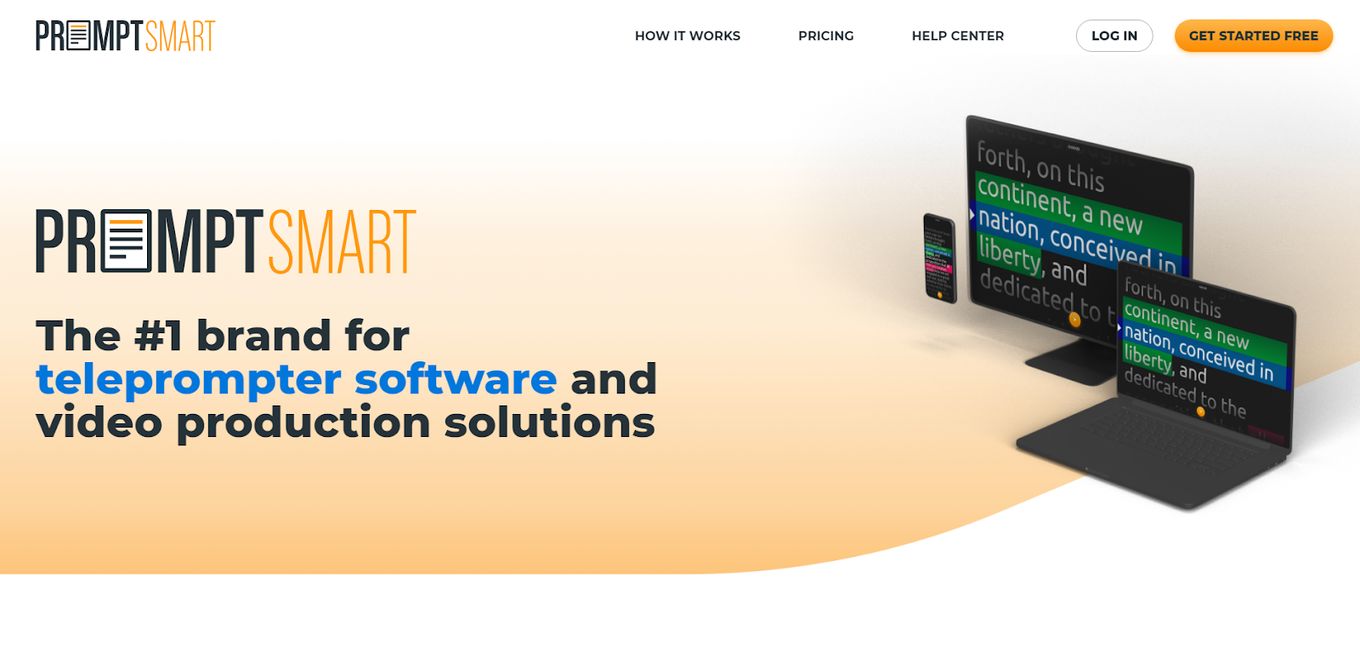 Price: Free or $19.99
Best for: Those looking for an app with video recording camera controls and a teleprompter.
This teleprompter app lets you record both audio and video as it displays the reading text from its teleprompter.
It offers in-app camera controls such as auto-exposure lock, tap-to-focus, and auto-focus lock.
It can display reading text for straight 30 mins and requires an external mic for its voice-tracking feature to work properly.
Pros
Camera controls
Audio and video recording
Voice-tracking feature
Cons
Software updates are slow
5000-word limit
Requires external mic for voice tracking feature to work well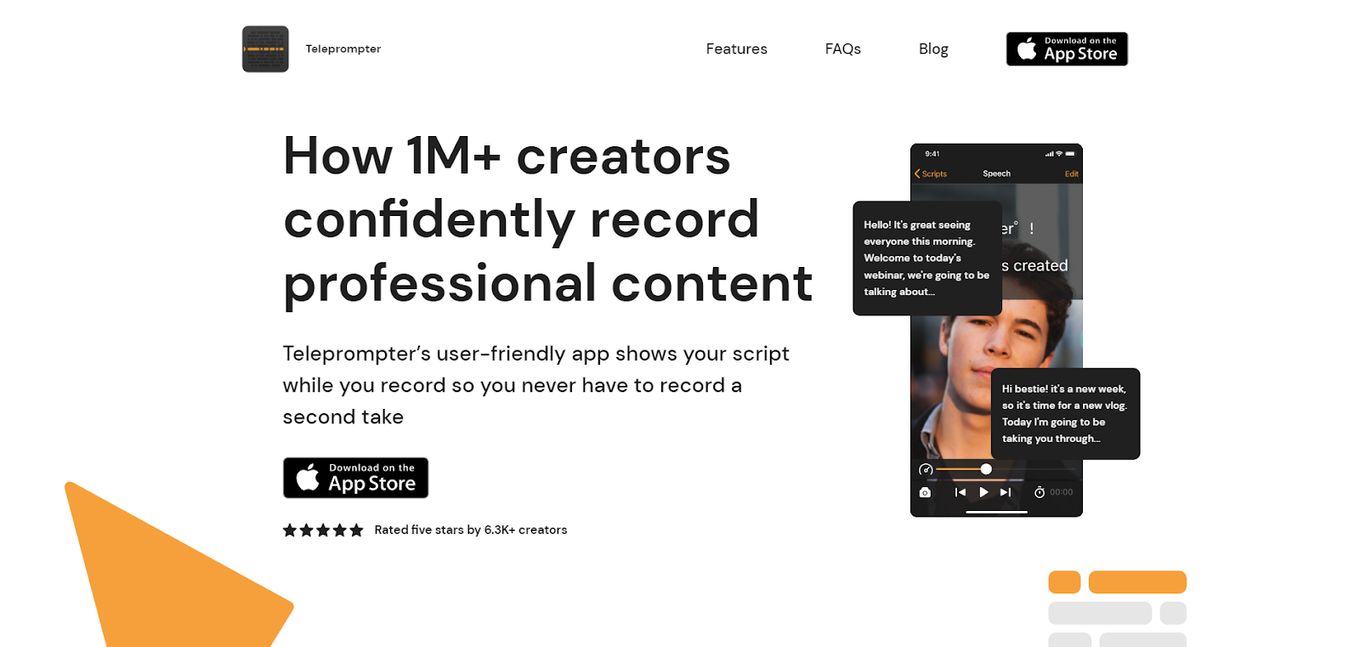 Price: Free or starts at $4.99 weekly
Best for: Novice video content creators
It promises to be a great teleprompter app with video recording functionality.
This app lets users create and edit their script on the app as well as import documents in various formats.
Users can also set the playback speed and time for the playback, and customize keyboard shortcuts.
Pros
Has plenty of features
Has video recording functionalities
Documents in different formats can be imported
Cons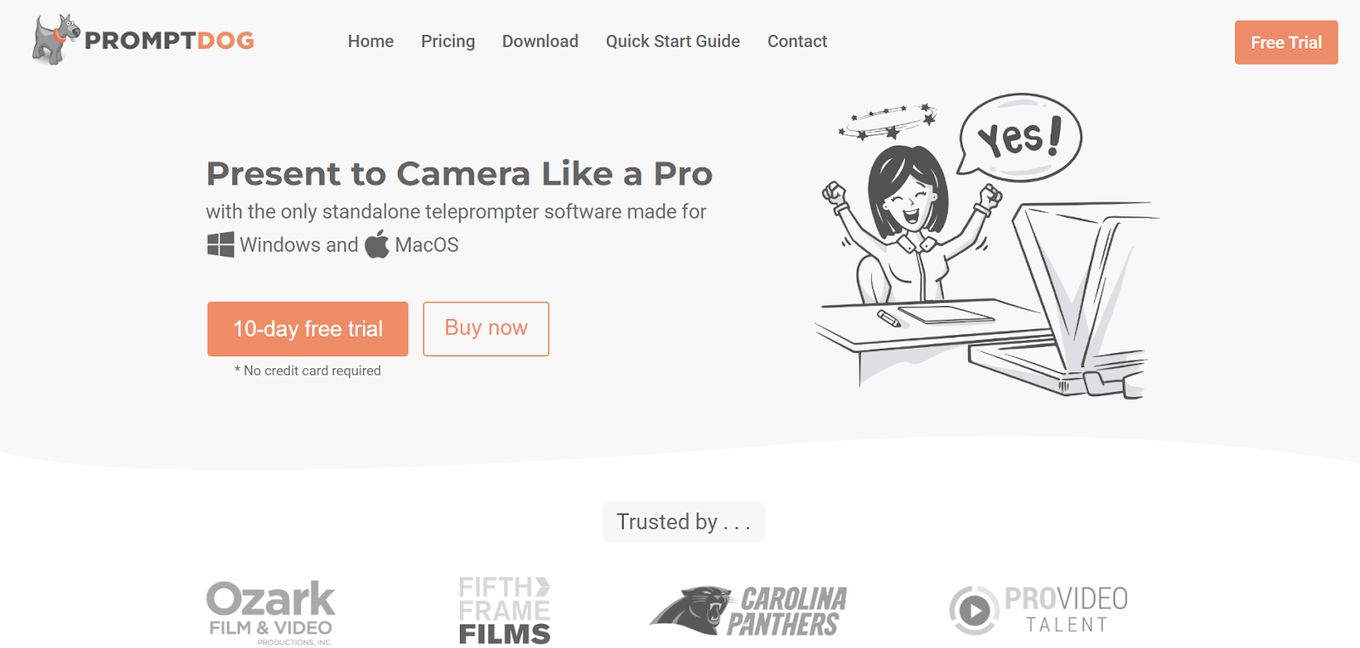 Price: Free or $ 69
Best for: Solo presenters
It's a teleprompter software for Mac that's easy to use with its drag-n-drop feature.
It's jam-packed with features and has keyboard shortcuts so users without operators can still easily use the teleprompter.
Related article: Best Transcription Software for Mac
It is compatible with all professional teleprompter hardware and can even display the text on a tablet
Pros
Easy to use
Affordable paid version
Offers flexible use
Compatible with professional teleprompter hardware
Cons
Downloading can be problematic at times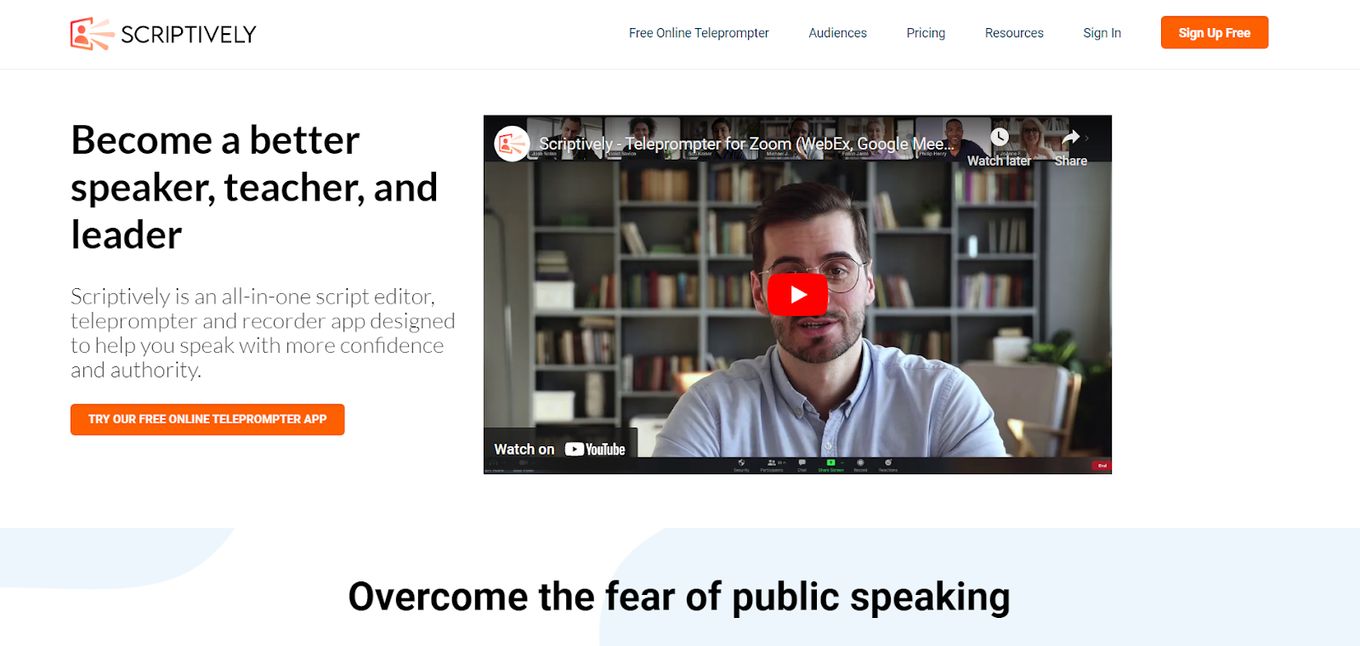 Price: Free or starts at $9.99
Best for: Those who need an all-in-one software.
It's an all-in-one audio and video recorder, teleprompter, and script editor app.
This features storyboards to help users brainstorm their script and audio and video recording as well as view their delivery.
It can sync crops across devices and has speech recognition auto scroll functions.
Pros
All-in-one software
Can be synced across devices
Helpful features for overcoming stage fright and writer's block
Cons
A bit challenging to use for novices
Price: Free or $99.99
Best for: Professionals
It is a teleprompter app for Mac offering smooth scrolling on multiple screens and precise speed controls.
It has a script editor capable of supporting any combination of spacing, colors, fonts, and images.
This gives teleprompter operators a preview of what the on-cam talent will see and provides bookmarks for easy script navigation
Pros
Compatible with common file formats
Can be used with a remote or controller
Precision speed controls and other advanced functionality
Cons
If you need to make any presentations, check out these presentation software for Mac and find the one that fits you better!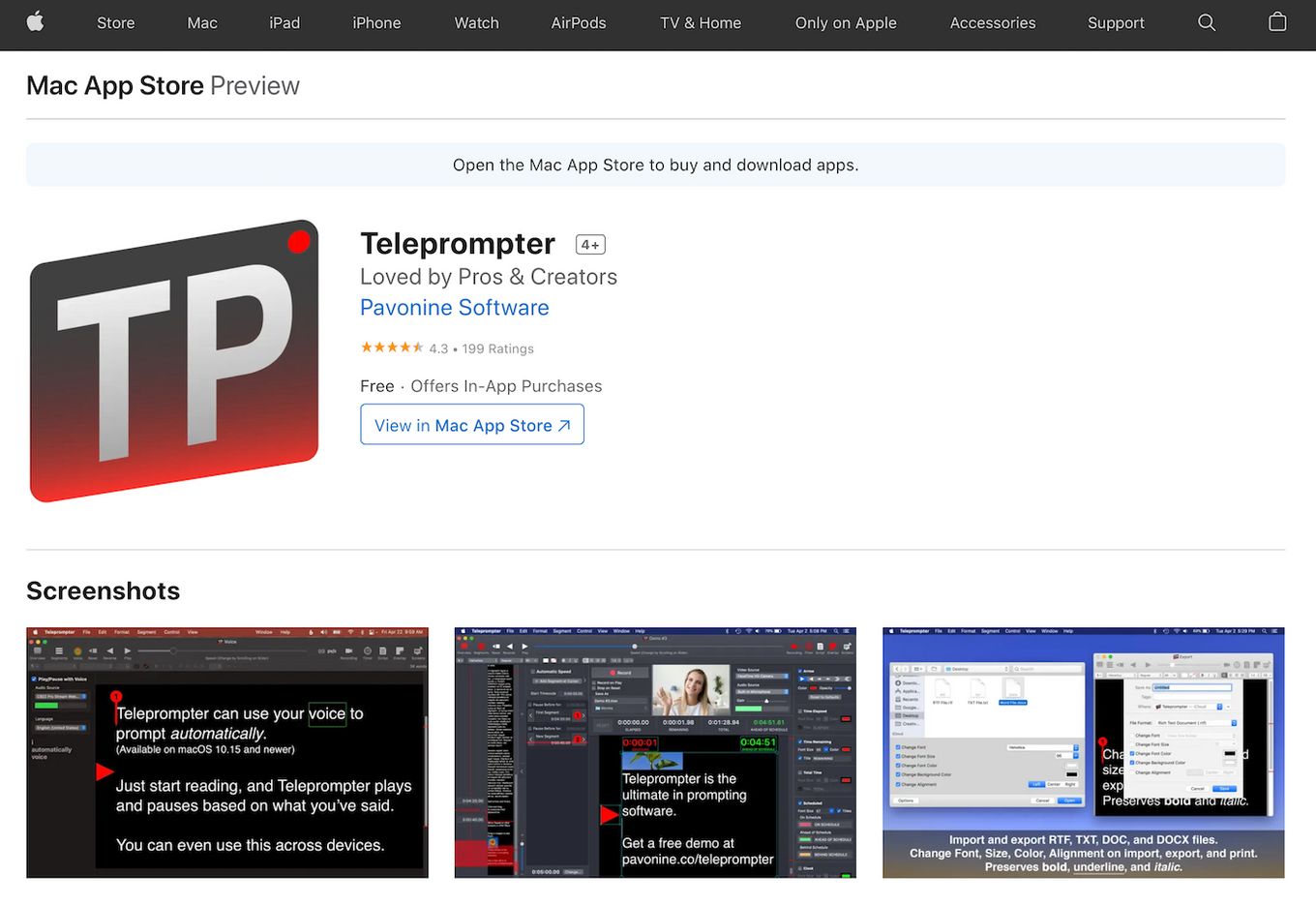 Price: Free or $39.99
Best for: Novices
It's an easy-to-use app, which only requires users to upload their script and play or edit.
It has jam-packed features like mirroring, file importing, customization, and in-app editing.
This free teleprompter software for Mac has a remote control function, which users have to download.
Pros
Plenty of features
Runs seamlessly
Cons
Can be hard to manage windows
Sometimes using the remote is quite challenging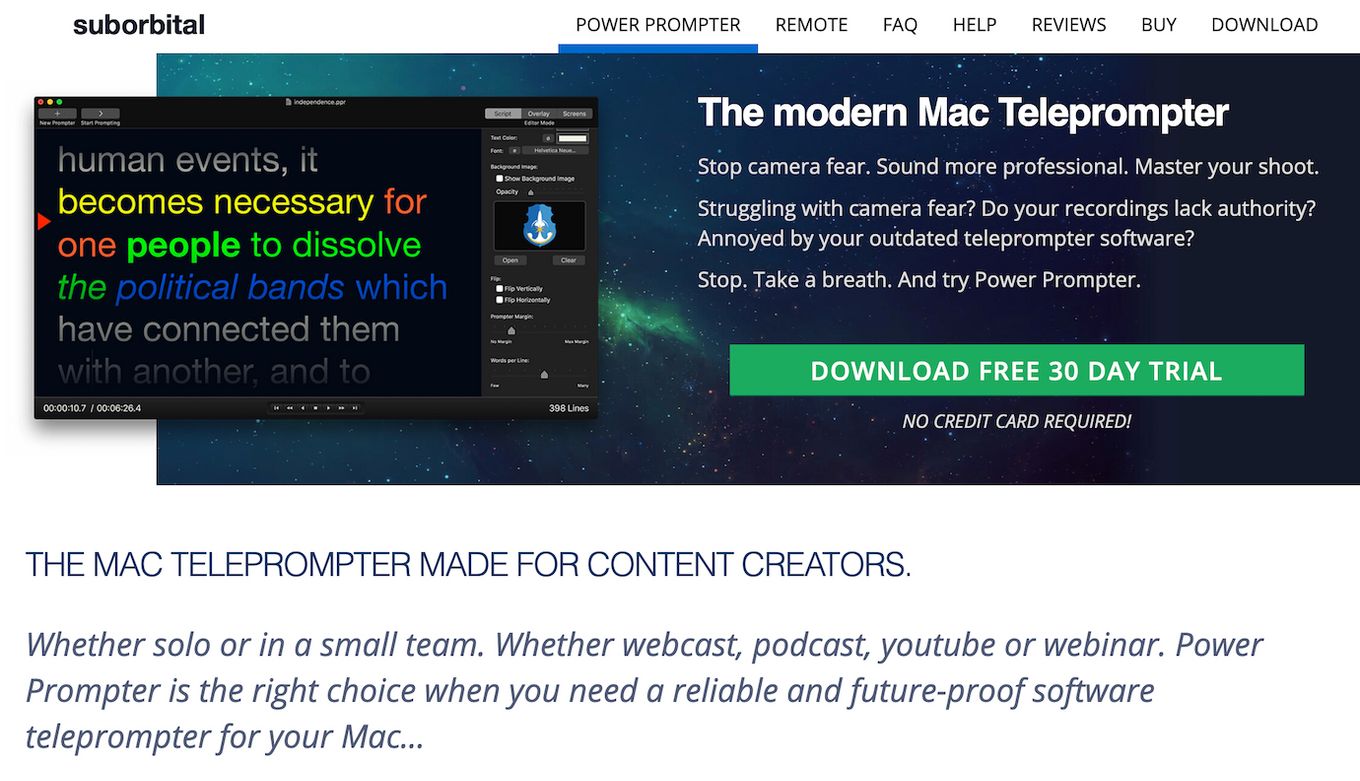 Price: Free or €49,99
Best for: Those who read short scripts.
Power Prompter Express has plenty of functionalities and settings to cater to the needs of both beginners and professionals.
It lets users open multiple teleprompter windows simultaneously and has a whole wide range of advanced functionalities.
The free version has the same features as the paid one except it has a five-minute time cap.
Pros
Advanced functionalities
Free version offers almost all the features of the paid version
Cons
Free Version only has a Five-minute cap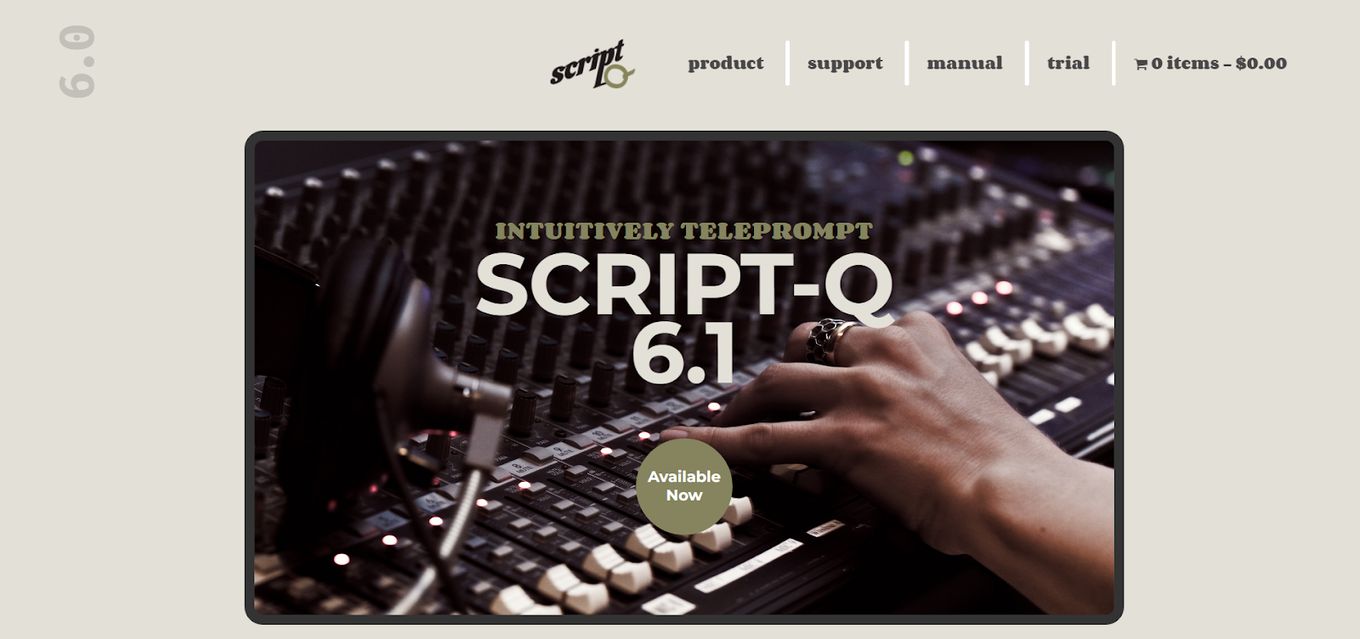 Price: Free or starts at $150
Best for: Professionals
It's one of the best teleprompter software for Mac designed for professional use.
It has many applications like radio and tv production, videoconferencing, and professional presentations.
It has jam-packed features like document importation, dual screen support, a spell checker, and the availability of multiple fonts in multiple sizes.
Pros
Easy to use
Customizable
Can import documents
Jampacked features like text formatting
Secondary screen support
Cons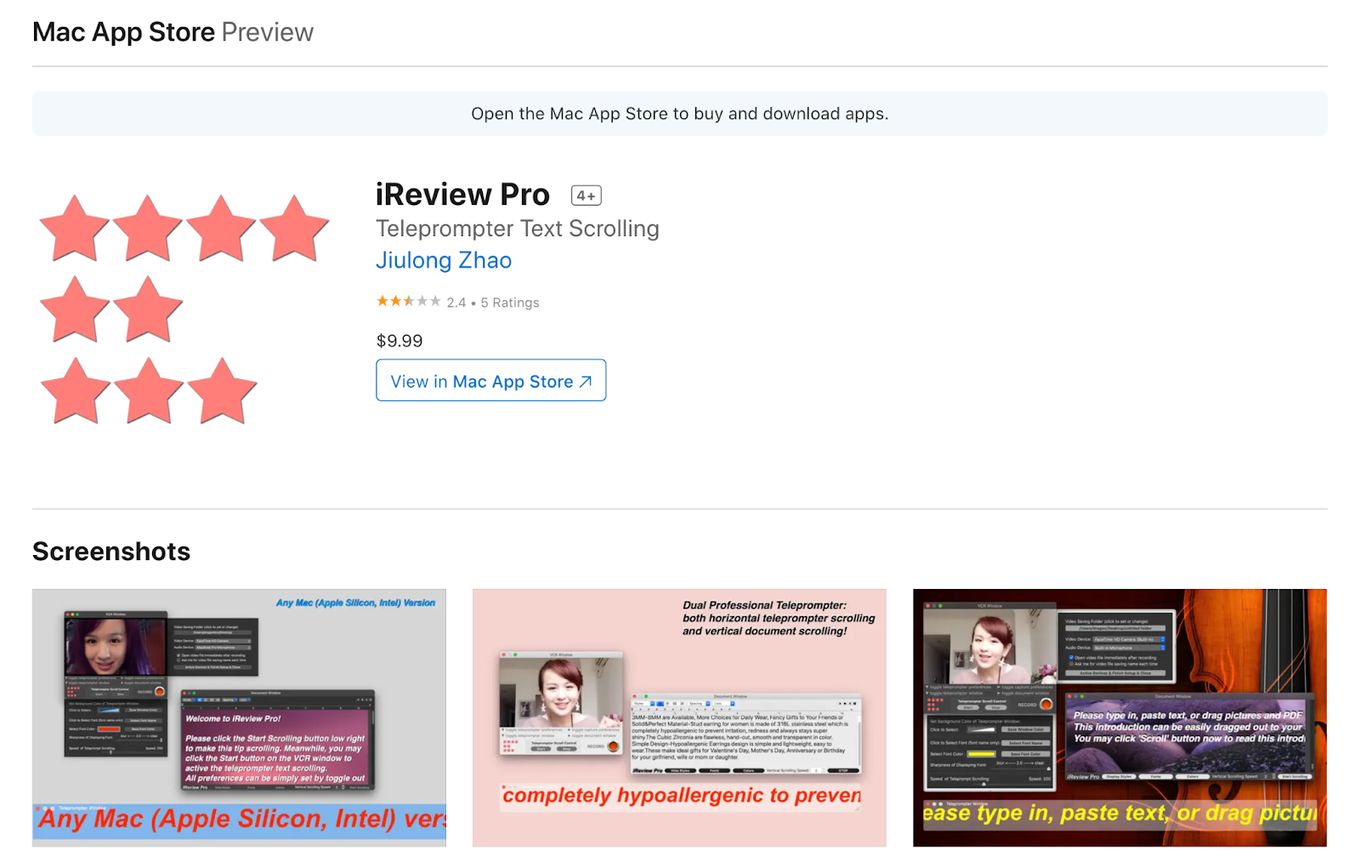 Price: Free or $9.99
Best for: Those looking for a combined video recorder and teleprompter.
iReview Pro is a video recorder that comes with a professional teleprompter.
It offers more than just horizontal text teleprompter scrolling with its picture and vertical document scrolling features.
It also lets users adjust font colors, speed, and blur backgrounds, among others.
Pros
Combined video recorder and teleprompter
Horizontal text and photo scrolling
Customization
Cons
Price: Free or starts at $15 per month
Best for: Those looking for a teleprompter for video conferencing.
Vodium is primarily designed for video conferencing and features on-cam participants such as note-taking.
Its teleprompter is set right below the camera so it looks like the user is looking straight at the camera.
Vodium also has transparency controls so the speaker has a feel of audience engagement.
Pros
Features for conferencing presentation
Transparency controls
Great teleprompter placement
Cons
Pricey paid version
Limited advanced features
Can Word Act As A Teleprompter?
Yes, word documents can be used as a teleprompter. For example, in Microsoft Word, you can change the layout from Print to Web, change background colors, and adjust the zoom control. This way you can use Microsoft Word like a basic teleprompter.
Additionally, on iPad, the Present Mode lets you scroll texts in a similar way to teleprompters.
Does Apple Or Mac Have A Teleprompter App?
No, Apple does not have a teleprompter app. But on your Apple device, you can use the Pages App as a teleprompter. Here's how.
Step 1: Open The Pages App
Step 2: Create Or Choose The Document You Need To Read
Step 3: Tap The Three-Dot Icon
Step 4: Go And Click Presenter Mode
The Best Teleprompter For Mac Depends On Your Needs
There is plenty of teleprompter software for Mac available.
The best one will depend on your skill level and your needs. You may, for example, want a teleprompter with video recording capabilities.
You may also prefer to have an app you can use for constant videoconferencing.
Simply make a list of the features you want so you can easily choose according to your usage.
Related Articles
Join 2,000+ readers and learn something new every month!
Get notified about new blog posts, tips, tricks, fullPage.js news etc.
RSS feed