Top 5 Online Web Design Degrees 2022 [Accredited]
Are you interested in exploring a career in web design but don't have the time to attend a physical college for your web design degree?
If you find yourself in this situation, all is not lost. There are tons of credible online accredited web design degrees that will equip you with the necessary skills you would attain from a traditional web design college degree from a remote location.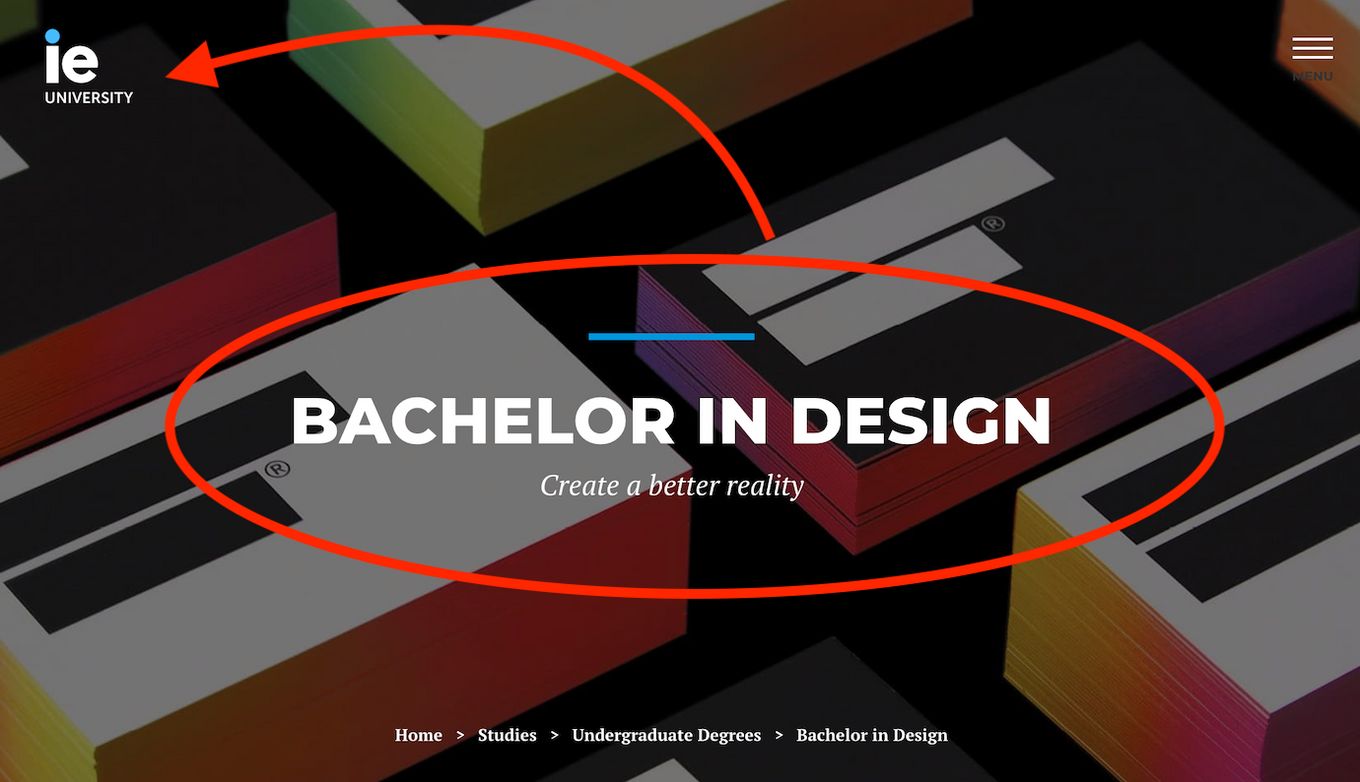 So, if you find yourself wondering what degree you need for web design, and what degrees you could potentially earn from the comfort of your home, read on!
Can I Study Web Design Online?
Absolutely! There are tons of online web design degrees available across the globe. What's even better is that many don't require previous web design experience. The difficulty comes with knowing what online degree courses are worth the time, money, and effort.
Below we've compiled the 5 best web design college degrees we could find with an online option.
The 5 Best Web Design Degrees of 2022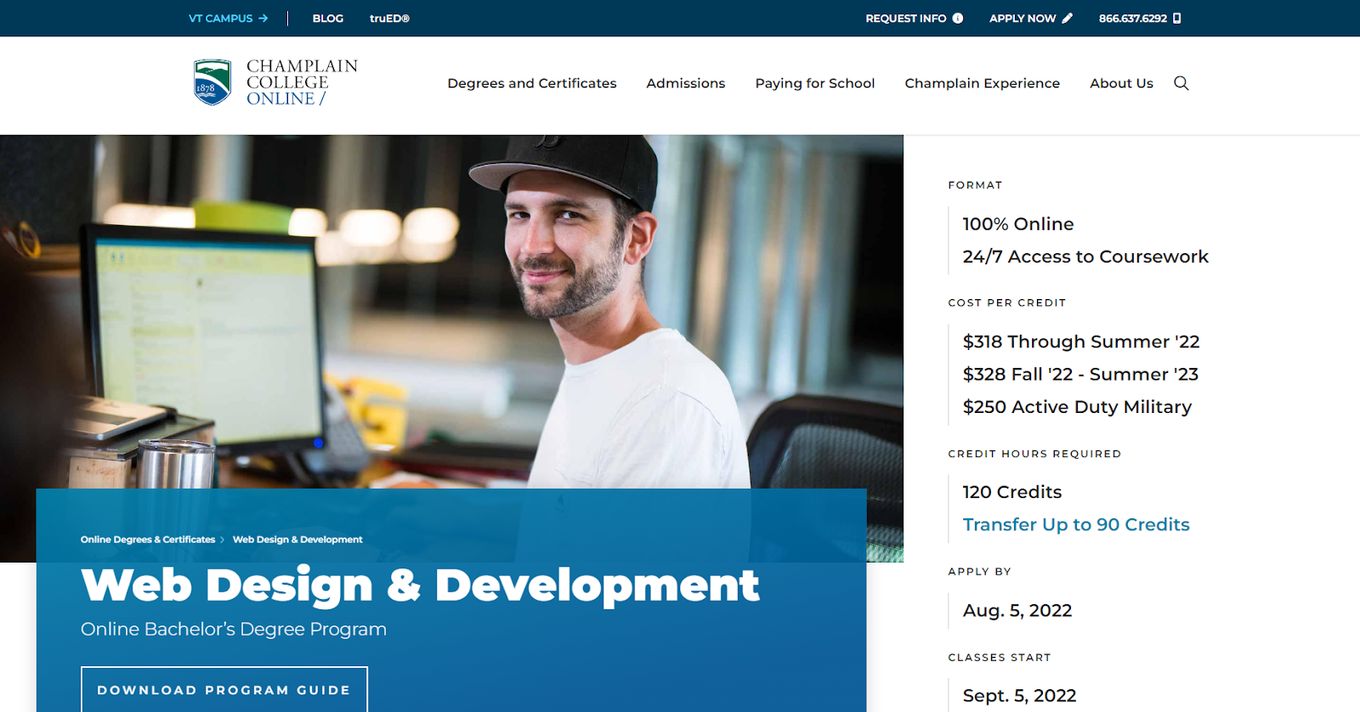 Tuition: $318 Through Summer '22, $250 Active Duty Military, $328 Fall '22 - Summer '23
Online?: Yes
Accredited: Yes
Working professionals can complete a Bachelor of Science degree in Web Design and Development online at Champlain College. Featuring a 100% online format, this degree program is widely acclaimed by publications like US News and World Report, allowing students to take classes when it is convenient for them.
Additionally, students will develop both key technical skills (including a working knowledge of over 32 key platforms, applications, and programming languages) as well as in-demand soft skills, including communication and problem-solving.
Their web design and development program offers an integrated approach that incorporates all aspects of the field including programming, design, e-commerce, and infrastructure. By working with an advisor, you can also specialize in your degree and gain subject matter expertise in Web Design.
Tuition: $318 until Summer '22, $250 Military (Active Duty), $328 Fall '22 semester
Online?: Yes
Accredited: Yes
In a rapidly growing e-commerce and IT sector, ICI offers a web design course that will keep you relevant. In this course, you will learn everything you need to know to create an attractive and practical website. If you choose this course, you will thank yourself in the future as web design becomes more in demand.
Students will have the opportunity to earn a web design degree while interacting with and learning from highly qualified, experienced, and successful professionals. It provides a strong forecast of job and self-employment opportunities in one of the fastest-growing professions.
Tuition: $58,500 (if completed within the normal timeframe)
Online?: Yes
Accredited: Yes
Web Design & Development at Full Sail University is a blend of digital and real-world learning. With this accredited online web design degree, you'll have the opportunity to study online not only in your courses, but also through virtual webinars, and networking with industry professionals.
Their online web degree course makes use of the most popular frameworks and tools in the industry to teach you how to create your designs for an impressive portfolio. Best of all, the entire course can be completed within 29 months.
There are also several scholarship opportunities available to prospective students based on both financial needs and skillset.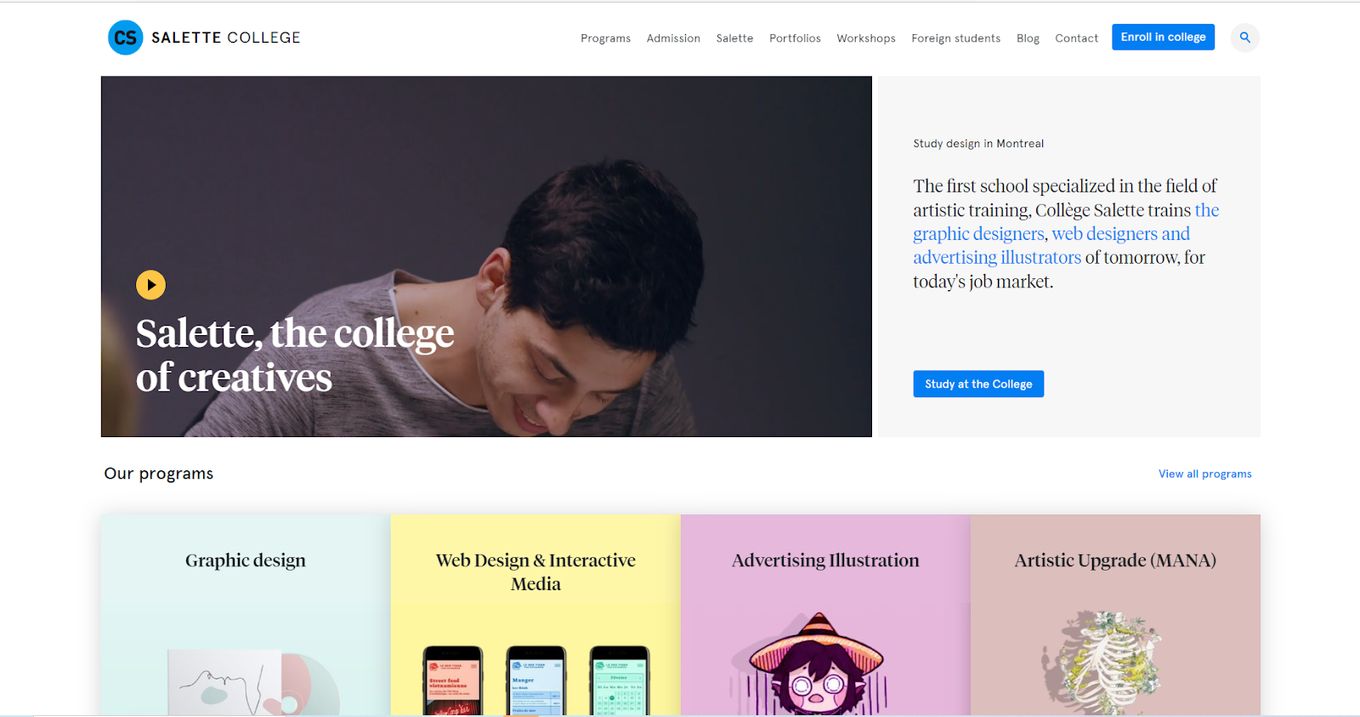 Tuition: CAD 5,000 (for both domestic and international students)
Online?: No
Location: Montreal, Canada
Accredited: Yes
The Bachelors in Web Design & Interactive Media from Collège Salette enables students to apply the principles of design to the latest interactive technologies while covering the various aspects of designing graphical user interfaces for digital platforms and interactive media.
In addition to focusing on the design process, this Web Designer course emphasizes various design, animation, and programming software to realize concepts and produce projects.
Using the skills gained from this college degree you will be able to design a variety of different websites and work with devices like tablets and smartphones with various operating systems.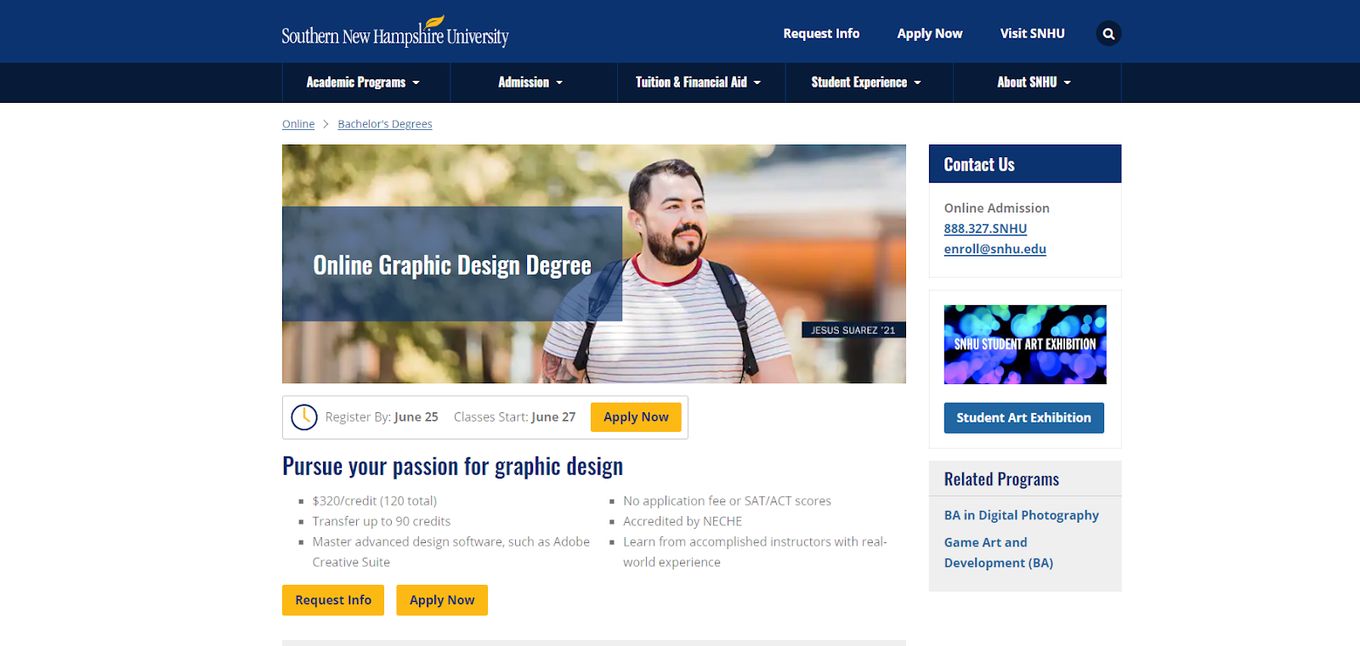 Tuition: $320/credit (120 total)
Online?: Yes
Accredited: Yes
Southern New Hampshire University offers a Bachelor of Arts in Graphic Design that allows you to major in Web Design. This is an online graphic design degree that combines accessibility and flexibility with professionalism, and supportive instructors. Online classes are available 24/7 and are offered six times a year over eight weeks.
Within this graphic design degree, you will gain experience using a variety of software and platforms that have become the standard in the web design industry. These include but are not limited to: the Adobe Suite of Programs (Lightroom, InDesign, Dreamweaver, Premiere Pro, Flash Pro, After Effects, and of course Photoshop).
Is a Degree in Web Design Worth It?
Yes, especially if you are looking to take on web design as your main career. Sure, it may not be a hard requirement to start in the field, but having a web design degree will add credibility to your portfolio when you seeking a job.
Now it is possible to learn web design on your own, and get a job without a web design college degree but though that's cheaper, it's not its caveats. The difficulty in learning web design is that you end up with theoretical gaps in your knowledge and take on the habits found in source material found across the internet.
Many web design degree programs also feature internship/co-op opportunities allowing you to get on-the-job experience that will teach you far more than you could learn on your own, and make the prospect of landing a job after you graduate much better.
Can I Earn An Online Web Design Degree For Free?
No, you cannot earn a web design degree online for free, but there are many free online courses from trusted sources that will teach you the art of web design. While these courses won't award you with an official college degree after completion, they will allow you to learn the skills needed to compile an impressive portfolio.
Top Online Platforms to Learn Web Design for Free
Some of the popular online platforms for web design include: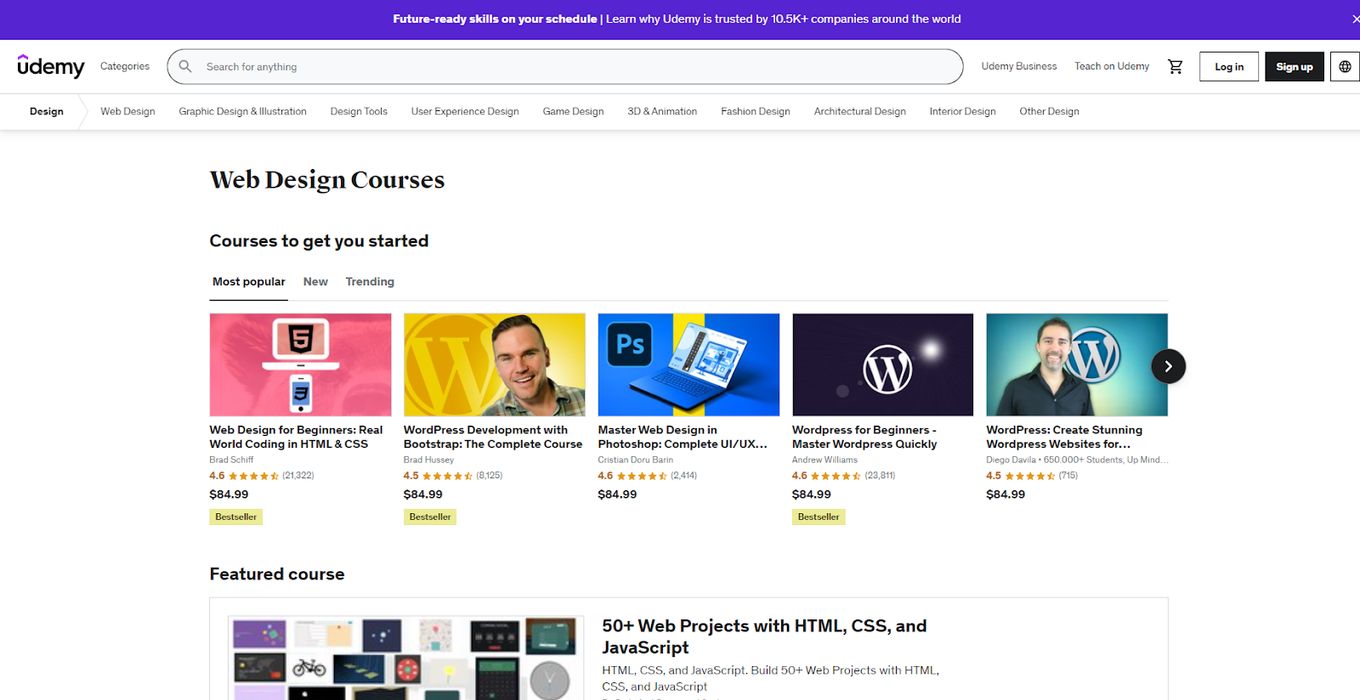 Udemy is a popular e-learning platform in most technical and creative fields. They currently offer over one hundred thousand courses all with different instructors and learning paths so that each student can find a course and instructor that gels with them, You can find a wide variety of online web design courses on Udemy ranging from free to under $100.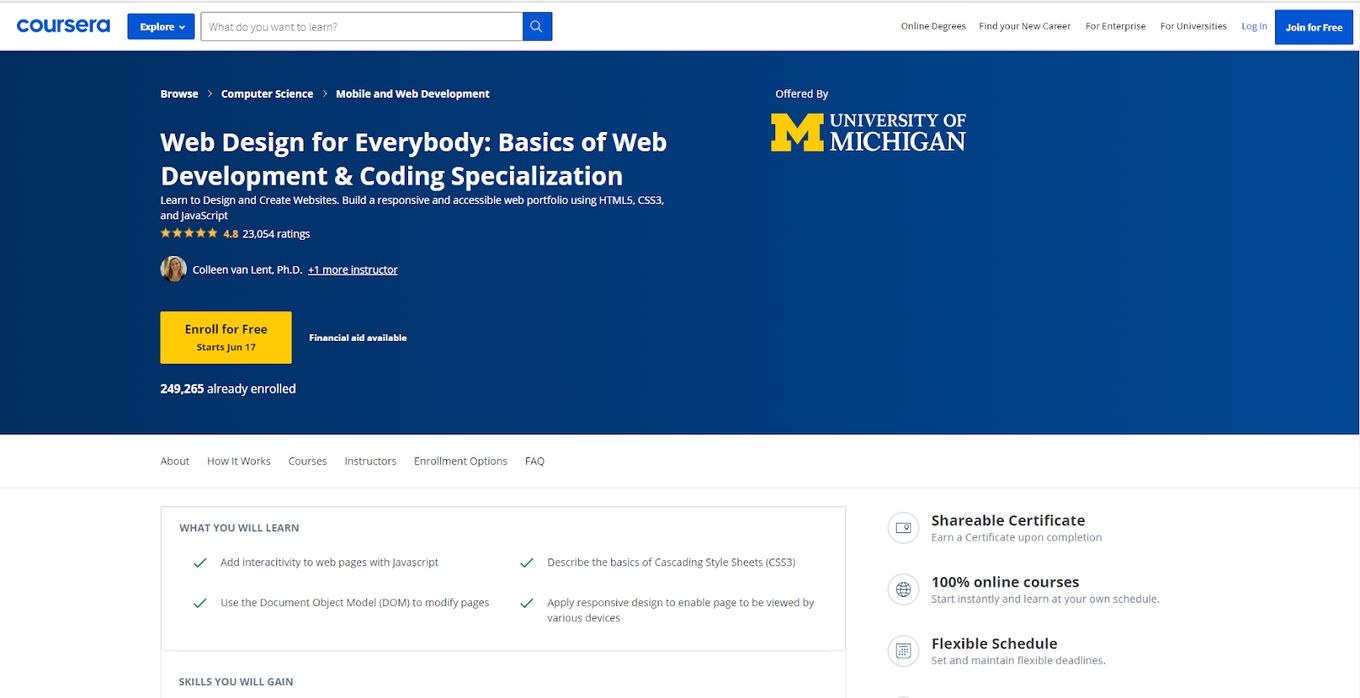 With Coursera, anyone can learn online and earn the skills needed for their career while studying through a wide variety of top-notch universities and companies without having to attend a specific college. Many of their courses are offered for free and will even award you a shareable certificate upon completion.
This specific beginner-friendly web design course from Coursera takes you through over 100 hours of video lectures on different aspects of web design, and development.
What Degree Do You Need for Web Design?
There is no specific degree that is best for web design. Having a formal degree isn't even a hard requirement to enter a career in web design. Many companies, however, do see it as an asset for their designers to have some form of training in web design or a related field.
As such, exploring a degree in web design, web development, or even graphic design could aid in you diversifying your portfolio, and appearing more desirable to potential employers. The level of the degree you decide to take (Associate or Bachelors) depends largely on your specific personal and financial situation.
Interested in learning how to launch a career in web design without a web design college degree? Check out our step-by-step guide to Become A Web Designer in 2022 With No Degree!
How Long Does It Take To To Earn A Web Design Degree?
A traditional degree at a bachelor's level will typically take 3 - 4 years to complete, an associate degree will take about 2 years to complete, and an accelerated online degree program can be completed in a matter of months. It depends on the level and format of the college you opt to attend.
If you need to get some kind of certification as soon as possible, then opting for online courses is a great way to go.
They'll provide you with the flexibility to complete them at your own pace and time. Ideal for those who want to get a certificate on the side at the same time they work full-time somewhere else.
Note however that some jobs might require you to own a degree. Although nowadays, and especially with design and coding skills, proving what you are capable of doing is more important than a title.
Final Thoughts - Should I Pursue a Web Design College Degree?
A web design degree isn't a hard requirement to get started as a web designer. However, it can help you to diversify and further improve your portfolio, and help you stand out among other candidates when applying for jobs with reputable firms. But this decision depends solely on your specific circumstances.
This said I'd say that you can get the necessary skills to work as a web designer by practicing and doing online courses.
Once you get your basic skills you can start promoting yourself by creating a good web developer online portfolio.
Traditional degrees will take way longer and might not be suitable for everyone. Due to money, location, or time constraints.
Some "old-fashioned " kinds of jobs still require the traditional university degree for their web designer positions. But I'd say those are becoming the exception, especially on skills like design or coding.
It's easier to prove your knowledge by doing a practical interview than with a piece of paper that says how good you are.
Related Articles
Join 2,000+ readers and learn something new every month!
Get notified about new blog posts, tips, tricks, fullPage.js news etc.
RSS feed