Interior design is all about creating meaningful, powerful, and sensual experiences for ourselves and our clients. Interior design is more than creating luxury interiors of residences or choosing the right cushion color for your living room. It is about creating experiences that address, protect, and respond to the need of humans.
Subconsciously and consciously, interior design can have a huge influence on our lives. Comfortable homes, aesthetic and inclusive public places, and functional workspaces are the sole work of interior design.
As an interior designer, you are aware of the importance that visual aesthetics and functionality hold. Similarly, in an interior design website, visual aesthetics and a functional user interface are the way to go to create a website that is both beautiful and easy to maneuver.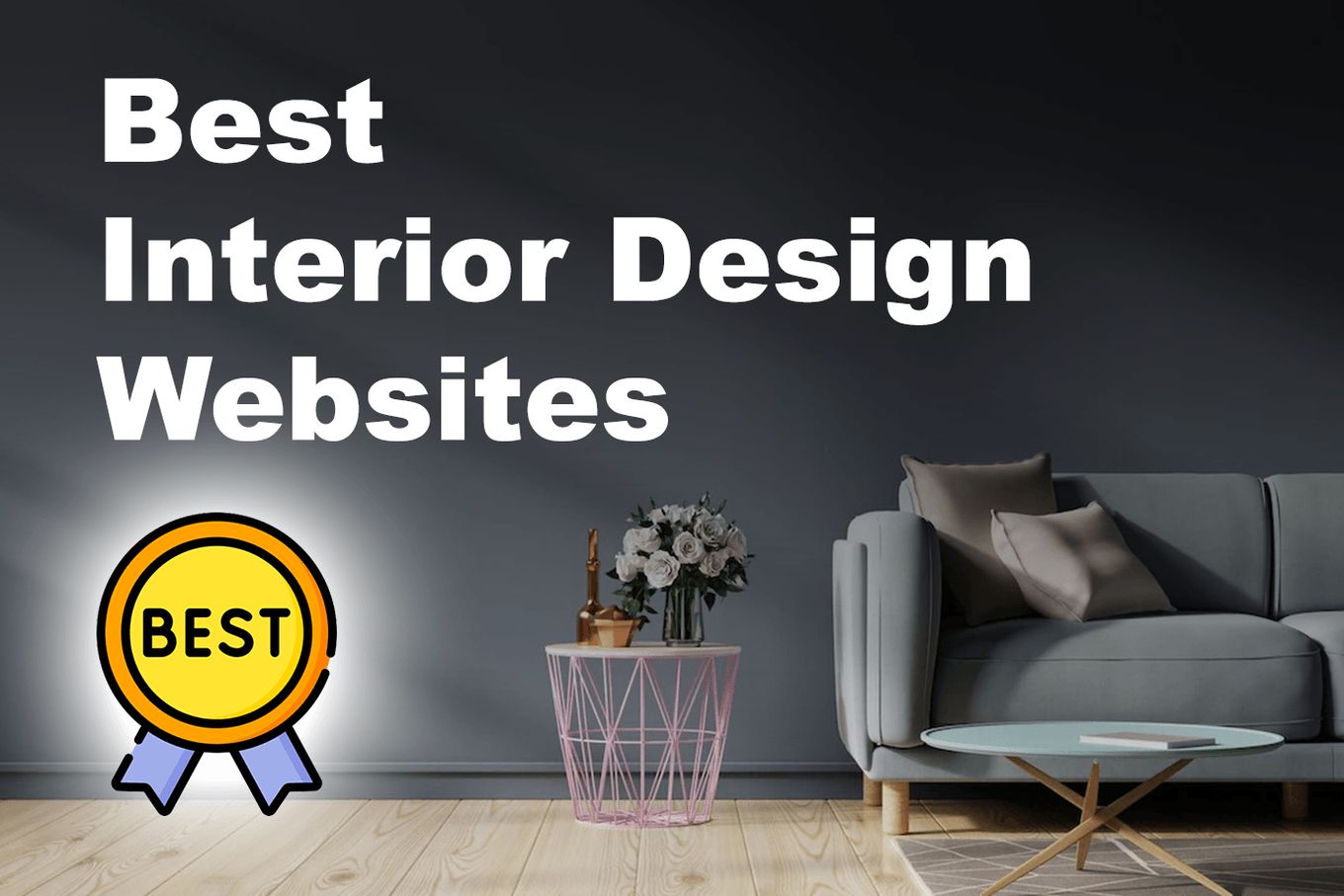 This is why it is essential for every interior designer to not just have a website but to have the best interior design website to flourish their business and attract clients to their company.
What is an Interior Design Website?
An interior design website is a portfolio for your clients to gauge your aesthetic and the kind of design eye you have. A great interior design web will convince any visitor that you are the right choice for them by showing them your aesthetic, your attention to detail, and your sense of style.
7 Best Interior Design Websites
If you are an interior designer looking for inspiration or ideas to create your own interior design best website, this article is the right place for you. Mentioned below are some of the most beautiful and functional interior design websites online!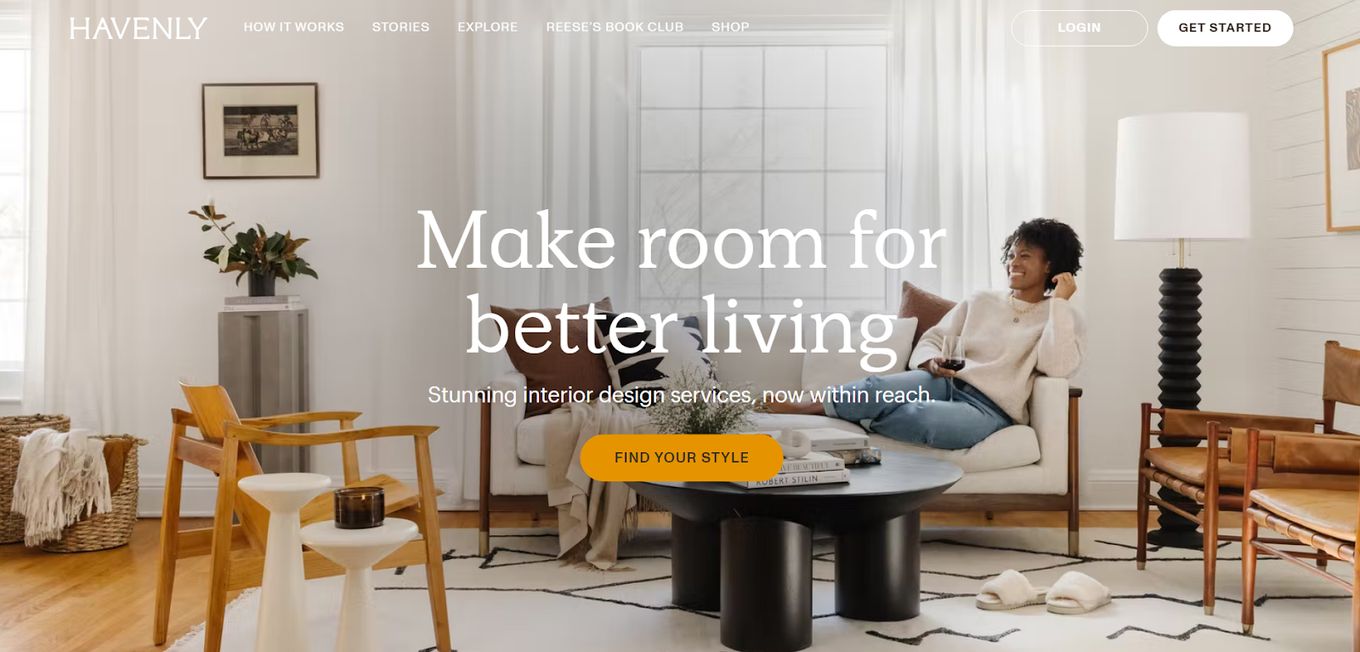 The website design for the interior design firm Havenly is, in one word, jaw-dropping. From the retro modern aesthetic of their spaces, sharp, beautiful photography, and simple user interface to the great one-liners everything fits in together to make a beautiful website come to life.
The best thing about this website is how at home it makes you feel. It makes you want to hire them for all your interior design needs, especially since they mention so fondly creating a space that you dream of!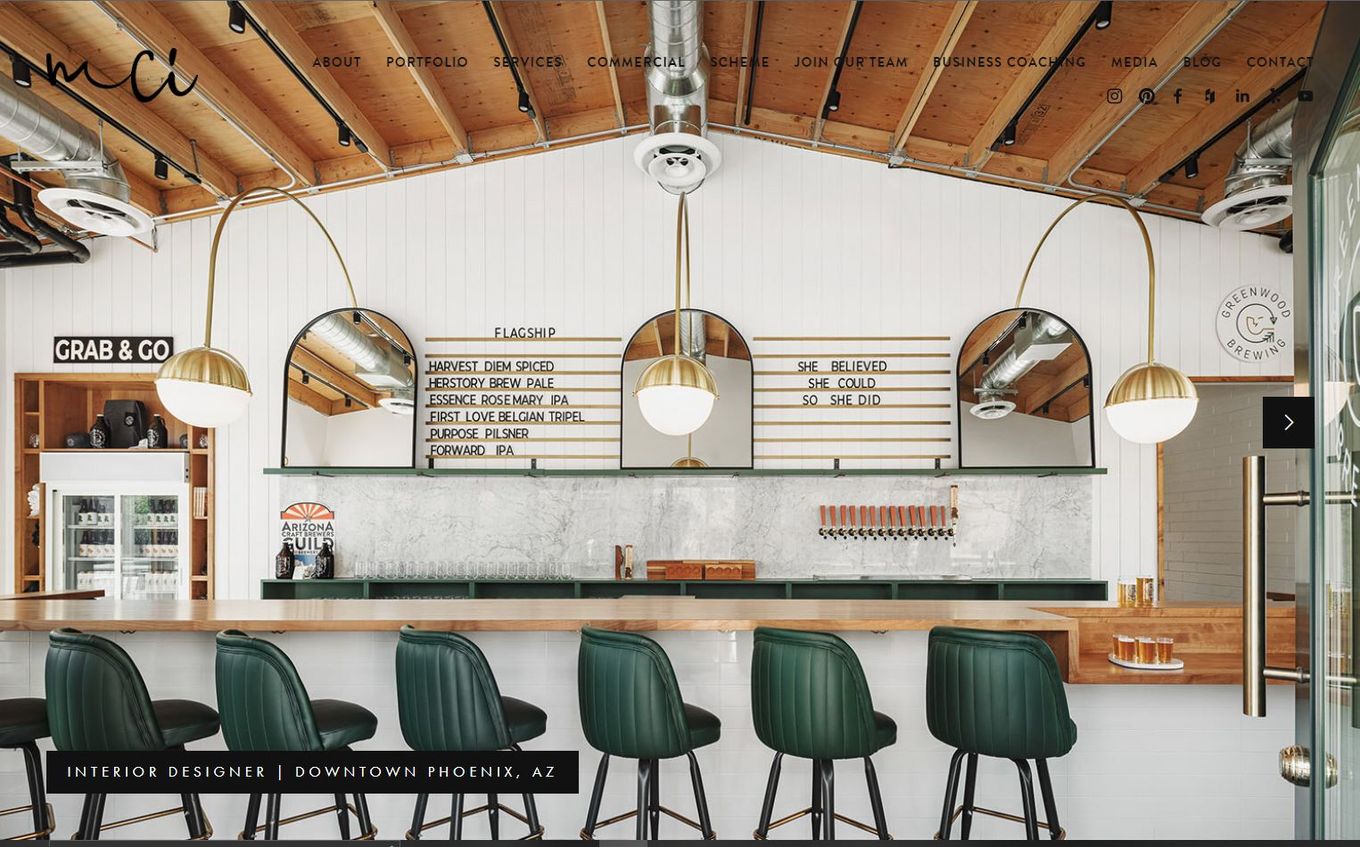 The Mackenzie Collier Interiors website design is extremely straightforward, simple, and functional. There is little to no text, and the entire website is a stunning portfolio of their past designs. It is effective and lets their clients immediately decide whether their style is for them or not.
The website hosts clear, sharp photographs, along with a minimalistic black font for buttons that guide you to the appropriate pages and give you details about their social media handles. Overall, it is an excellent website and proof that simple doesn't have to mean boring or bad.
If you like the full-screen effect and you want to design a similar website, then you must check out this scrolling component.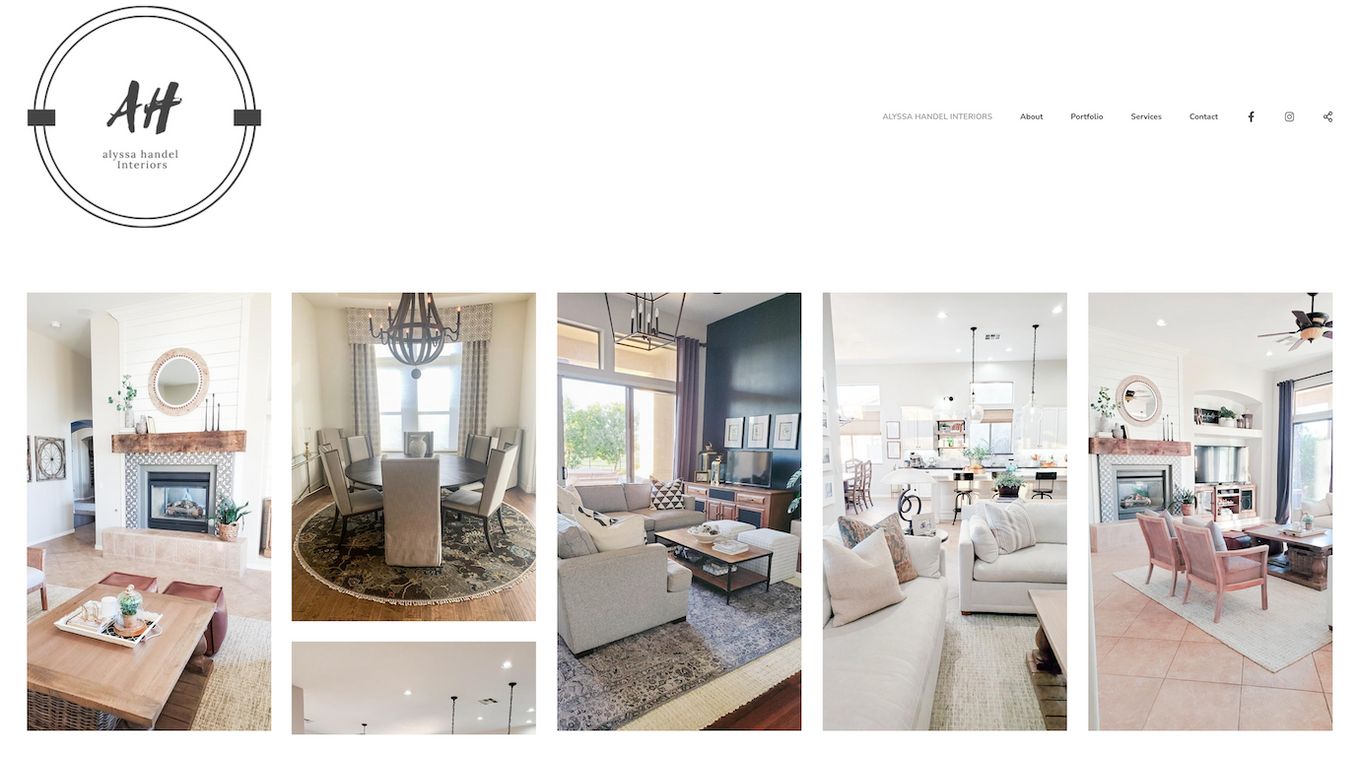 Clean, sleek design, sharp, high-resolution images, and lots of whitespaces. This is what makes this interior design website look elegant, modern, and truly professional.
The clean design paired with simple text and detailed information makes the entire process of navigating her site super easy for the user.
It contains a great gallery where visitors can see her work in high resolution and quickly navigate the whole collection.
It meets all the checklists for a top-quality website for an interior designer. It's visually pleasant and contains all visitors expect. A contact form, an about paper, social links, and a complete list of the services she provides.
Her website has been made using the Pixpa web builder. So if you want a similar page you'll have it super easy! Just create an account and choose a template.
A few simple lines on the website's front page are so well curated that they are enough to immediately explain the brand's motto. Everything from the color scheme, interior design, photography, typography, and layout of this interior design website is perfect.
Although the website uses minimal color itself, the beautiful photographs of their past designs are full of rich taupe colors that make the website look bright, colorful, yet coherent.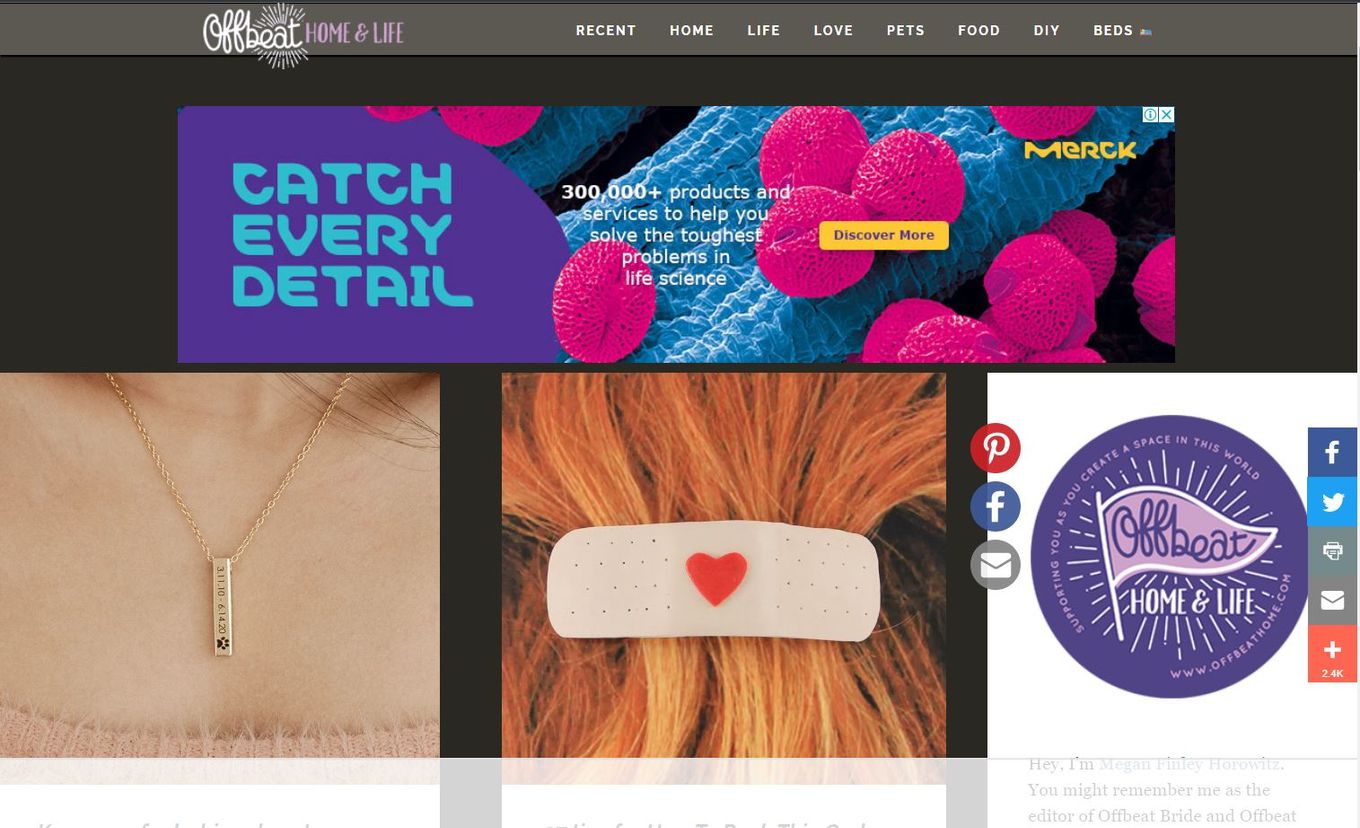 Offbeat home is one of the interior design best websites because it expresses the personality of its brand openly through its website design.
From the funky, graphic logo to the fun layout and non-conventional typography, everything about this website screams warm, preppy, and eclectic.
One great thing about this home decor website is that it doesn't make the user feel intimidated through its elegance and clean fonts. Instead, it makes them feel right at home!
This elegant display of creative, inspiring, and high-resolution photos with minimal font makes the overall website design extremely appealing. All of the projects featured on their website are organized in proper layouts with easy information access.
The consistent color scheme and the effective use of whitespace prevent the website from looking too cluttered or busy.
Overall, the website design for this interior design website portrays the aesthetic of the brand through their design quite well.
The design of his website is quite easy on the eyes. It uses bright, big fonts, beautiful interior photographs, and a great organization of all the past projects to make the user feel welcome in the best way possible.
The great use of negative space in this website design ensures that the text stands out and is well separated from the images on the website layout.
How to Make the Best Online Interior Design Website?
A good interior design website is stylish, inspiring, professional, and informative to your audience. It should truly portray the essence of your company and should resonate with your style of interior design. In simple words, it should be beautiful but also easy to use by your audience.
There are a few things you can do to make your website one of the best online interior design websites:
Plan Your Content. This is important so that you know what you want to demonstrate on your website before you design it.
Create a Portfolio. This page of your website convinces your audience about your professionalism and convinces them of your potential to do the job.
Use Client Testimonials. There is nothing that convinces your new clients about your work ethic than your past customers. Their testimonials will make your website credible and authentic.
Use Brand Colors. This is important to make your website look coherent and stunning.
Mention The Services You Provide and Your Social Media. It is always a good idea to mention the services your firm provides on your website so users can avoid going through the tedious process of contacting you.
Create a Stunning "About You" Page. Often companies design great websites but forget to add the most important page: the contact us page.
Convey The Essence Of Your Design Firm Through your Web
The interior design websites featured in this article are some of the best designs based on their aesthetic, elegant design, font readability, and user-friendliness. These websites are great for gauging the work, professionalism, and creative style of the interior designers you are looking to hire for work.
But if you are an interior designer or a design firm looking to revamp your website design, this is the right place for you! Everything you need to know about a good website design is present in all of these websites.
There is one thing that you must remember, though; your website design will only be effective if you take the essence of your firm and manage to convey it through your website design.
Related Articles