The JavaScript world is an ever-changing landscape that keeps most people constantly playing catch-up. But not to worry, through podcasts, JS experts are always ready to assist you.
This list discusses 16 of the best JavaScript podcasts you will find today. We cover all type of podcast: javascript podcast for beginners, advanced or experts.
If you are here because you love JavaScript, don't miss these 10 Amazing Javascript Books for Beginners & Seniors or how to learn JavaScript.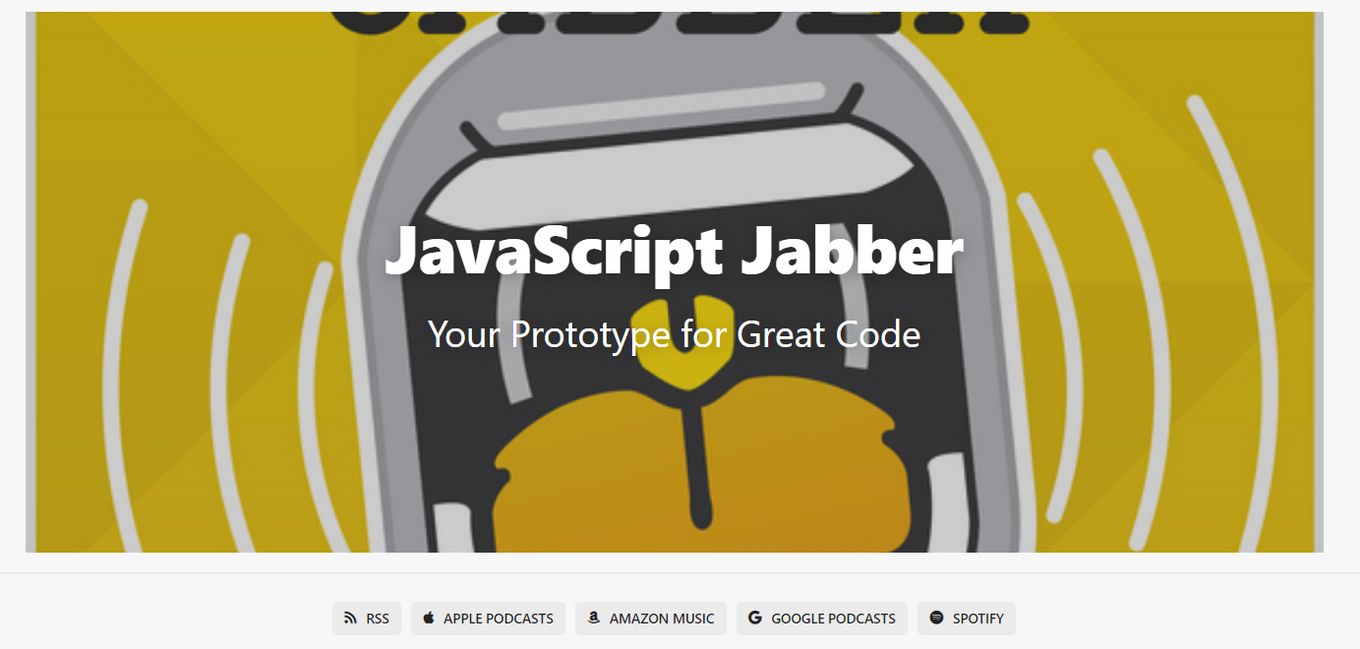 Level: Beginner, Advanced, Expert
Audience: People interested in understanding the potential of the JavaScript ecosystem, including all its features, plugins, and libraries.
JavaScript Jabber is a podcast that posts weekly JS-related content. Its hosts include Charles Wood, Steve Edwards, Dan Shappir, AJ O'Neal, and Aimee Knight.
Apart from its regular hosts, the podcast also invites guests to discuss the JS ecosystem. The topics discussed include mobile, ModeJS, and the JS language features. Access these JavaScript podcasts today on Apple Podcasts, Spotify, and Amazon Music.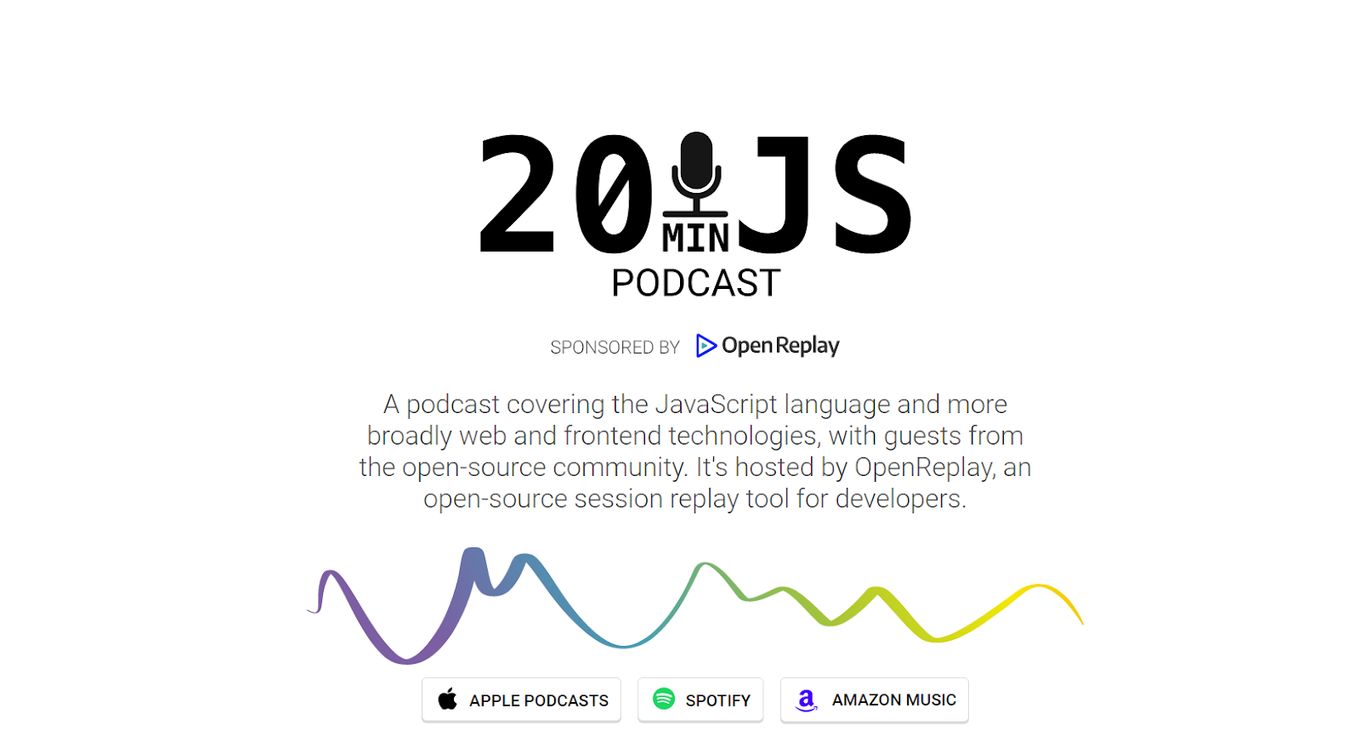 Level: Beginner, Slightly Advanced
Audience: People starting in the JS sector would like a space to learn as they go.
This podcast is hosted by Fernando Doglio, a data engineer at Accenture. The podcast covers the JavaScript programming language and other web-based and front-end technologies. Guests include open-source community members such as Christian Clausen.
He believes this is what is needed to keep the community growing.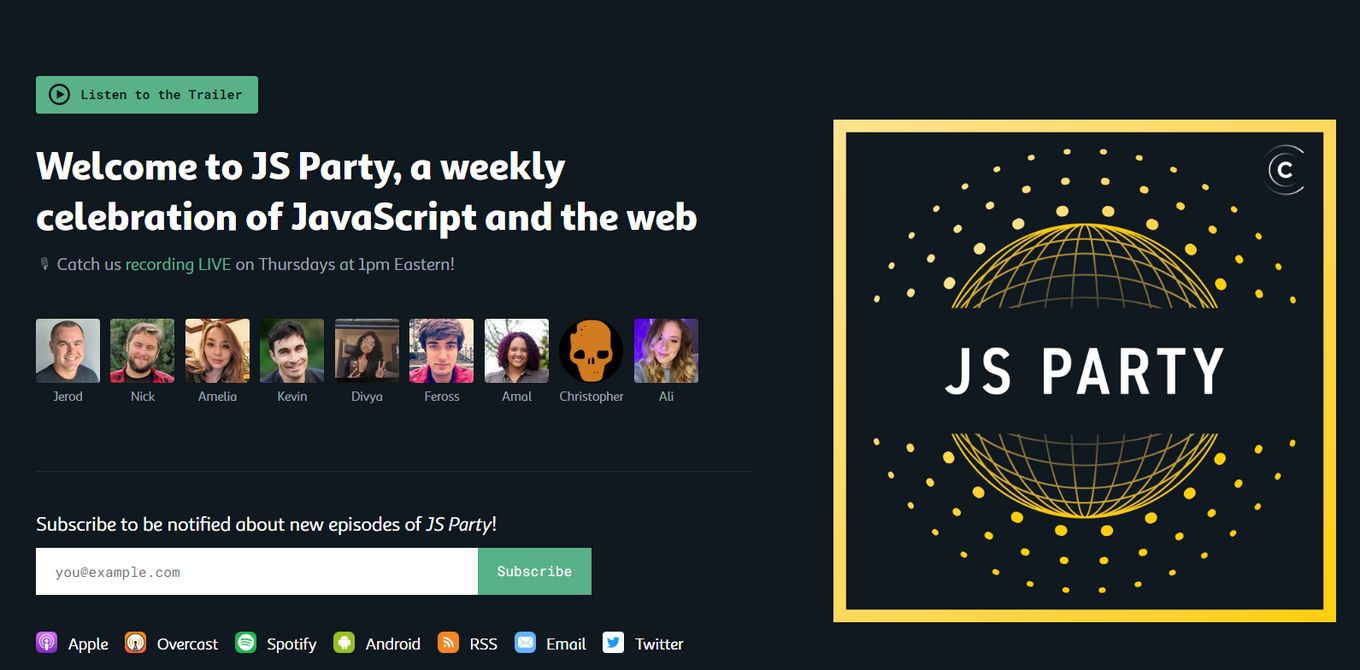 Level: Beginner, Advanced, Expert
Audience: This podcast can accommodate people from different levels since it offers adequate and varied content.
The Changelog podcast covers several tech-related topics with guests every week. Its hosts invite people, including innovators, leaders, and hackers in the software community.
They recently hosted Greg Foster and Tomas Reimers, the two co-founders of Graphite. Graphite is an open-source code review dashboard and command-line interface (CLI) designed for engineers that want to ship faster and stay unblocked.
Level: Beginner, Advanced, Expert
Audience: Those that need to have an in-depth understanding of different aspects of JS, including plugins, and frameworks, among other features.
JavaScript-Software Engineering Daily is informative on so many levels. Some of the topics the podcast has talked about so far include React, CLI productivity, and PHP.
If you are interested in React, then check the Best React Courses Available in 2022
The JavaScript podcasts are made a success by a whole crew, including Jeff Meyerson, its founder, and host. Alex DeBrie is also a host of the podcasts. The podcasts are available on Apple Podcasts, among other podcast platforms.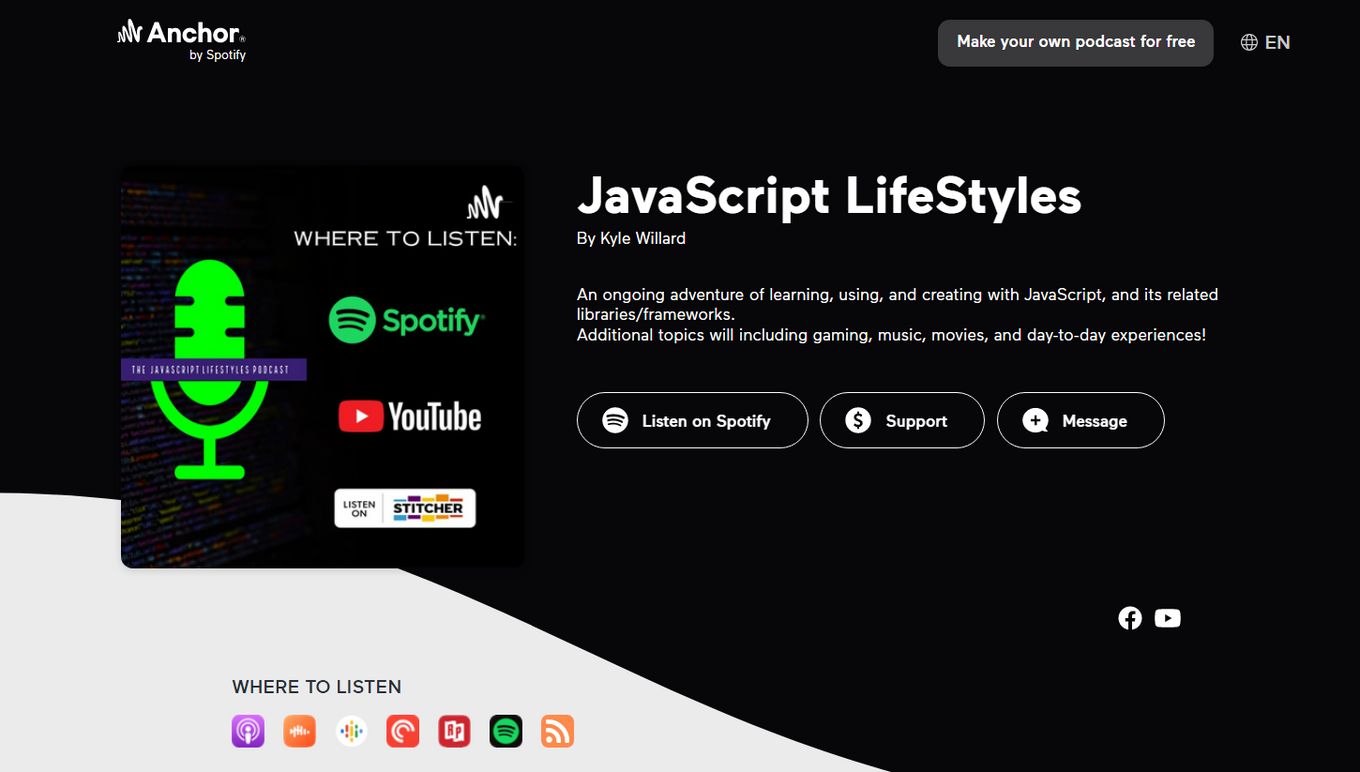 Level: Beginner
Audience: Those who want to learn JavaScript and other aspects of it. These aspects include resume building and how to build portfolio projects.
While JavaScript Lifestyles is a relatively new podcast, the author, Kyle Willard, has put a lot of thought into the content he posts. His podcasts revolve around the basics of software engineer or developer will need to know and do as they get started. His topics include JavaScript front-end libraries and frameworks.
You can listen to the content of this insightful podcast on Spotify, YouTube, Apple Podcast, and other platforms.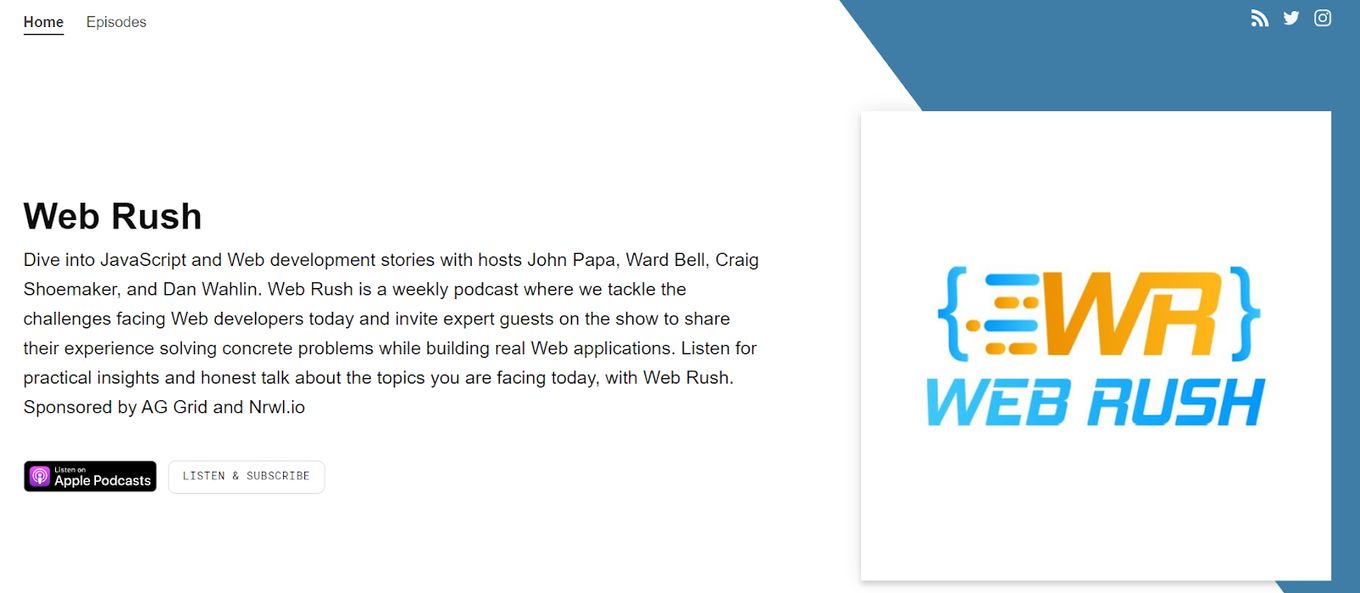 Level: Beginner, Advanced, Expert.
Audience: This podcast is for those interested in going past the basic Java Script content.
Hosts on the Web Rush podcast include John Papa. Join him and his colleagues during their weekly podcasts and listen to their discussion on the challenges facing the coding and development community.
You also get to hear expert guests share their career experiences, provide practical insights, and talk honestly about the discussion topics. This podcast is available on Spotify, Apple Podcasts, and other platforms.
The content is for people with all levels of knowledge because every episode is significantly different from the next.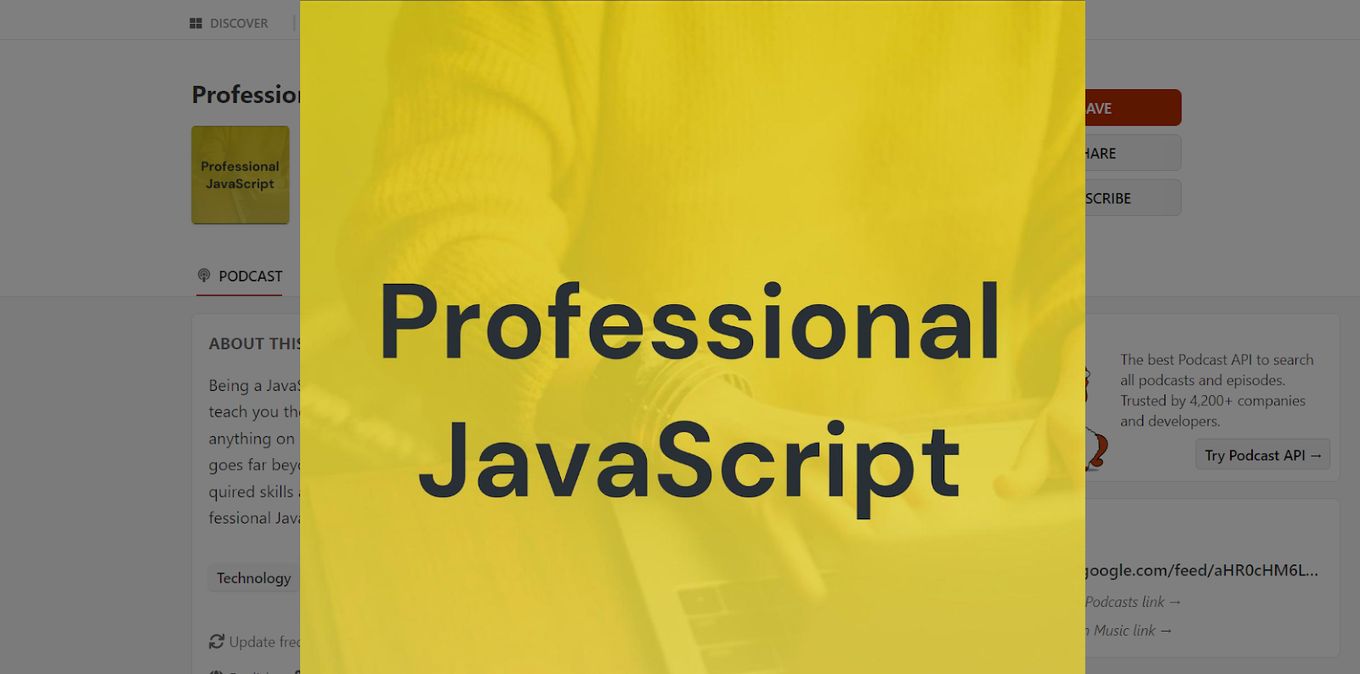 Level: Beginner
Audience: Those that need a platform to learn the basics of JS.
This is a JavaScript tech-related podcast by Michael Mangialardi. According to the podcast's host, JavaScript development is much more than just a to-do list.
His content goes beyond the typical JavaScript ecosystem because he believes that the job includes more than coding. Michael shares his insights biweekly to help others in the journey of becoming JavaScript developers. Check it out to see whether you might be interested.
The podcasts are available on several podcast platforms, including Listen Notes, Apple Podcasts, Podbay, and Spotify.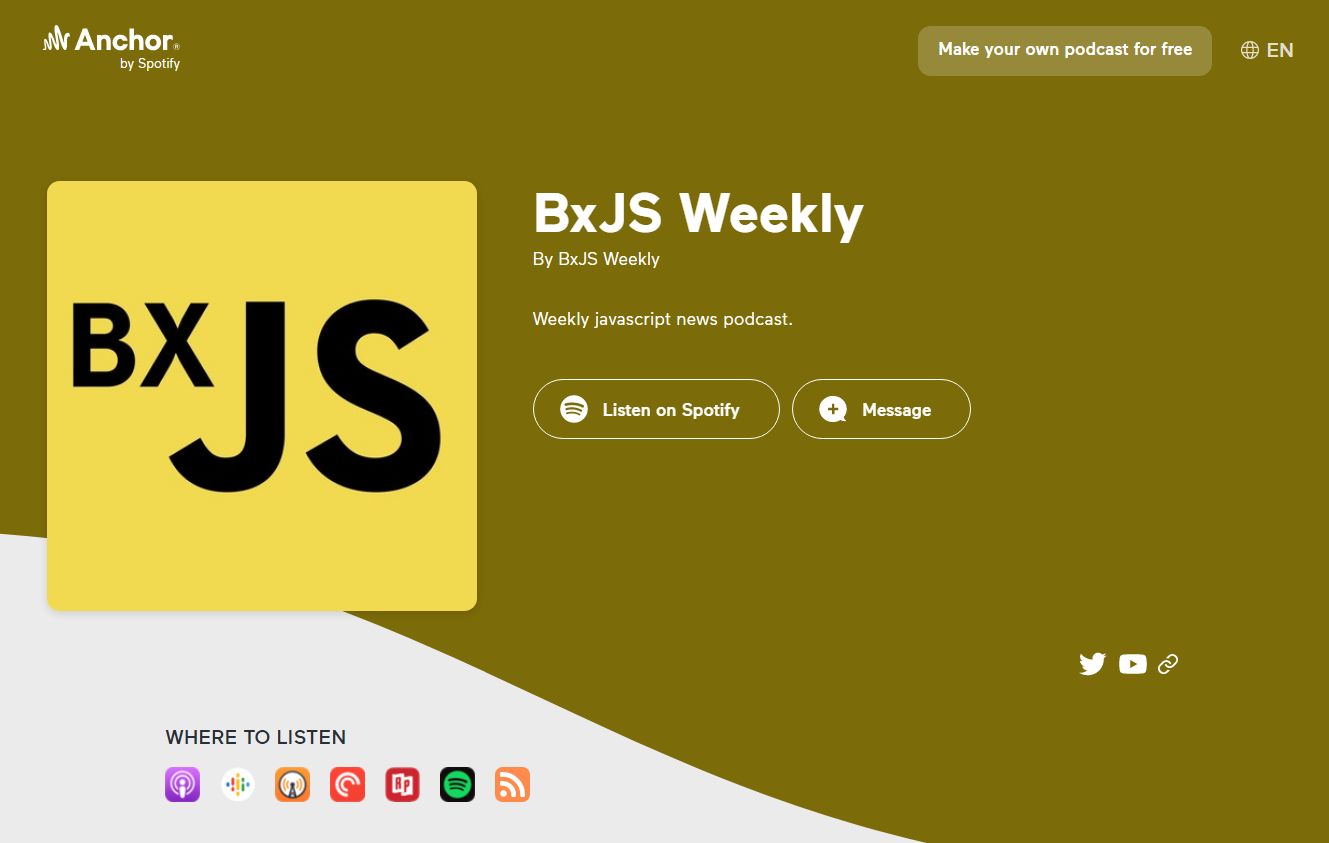 Level: Advanced, Expert
Audience: Those who have already mastered the basics required to succeed in JavaScript coding, among other related areas.
BxJS is a podcast that aims to help intermediate and expert level JavaScript developers by sharing essential information. Click here to see the various topics, which encompass everything from open source projects to GitHub.
Tim Ermilov created the podcast to teach people different things about how they can build products using JavaScript. The podcasts are accessible on Apple Podcasts, Spotify, Twitch, GitHub, and Castbox.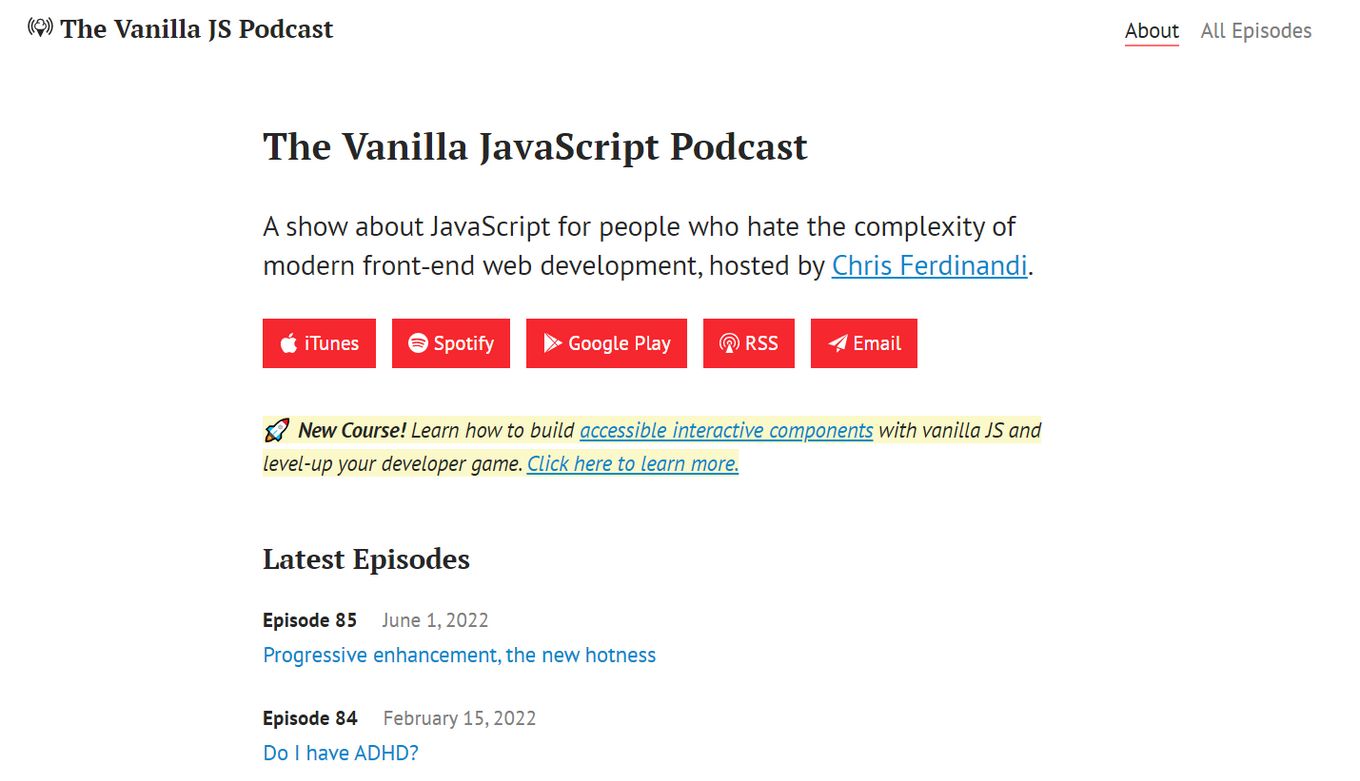 Level: Beginner, Advanced, Expert
Audience: The general JS worker since the podcast has varied content, from simple in the first few episodes to complex in the later ones.
Vanilla JS is an all-around JavaScript podcast that discusses many JS-related issues, including frameworks, development, and techniques such as CSS-in-JS. The author, Chris Ferdinandi, discusses these topics by himself in brief and straightforward podcasts.
These podcasts can be found on SoundCloud, Listen Notes, Google Podcasts, and Apple Podcasts, among other platforms.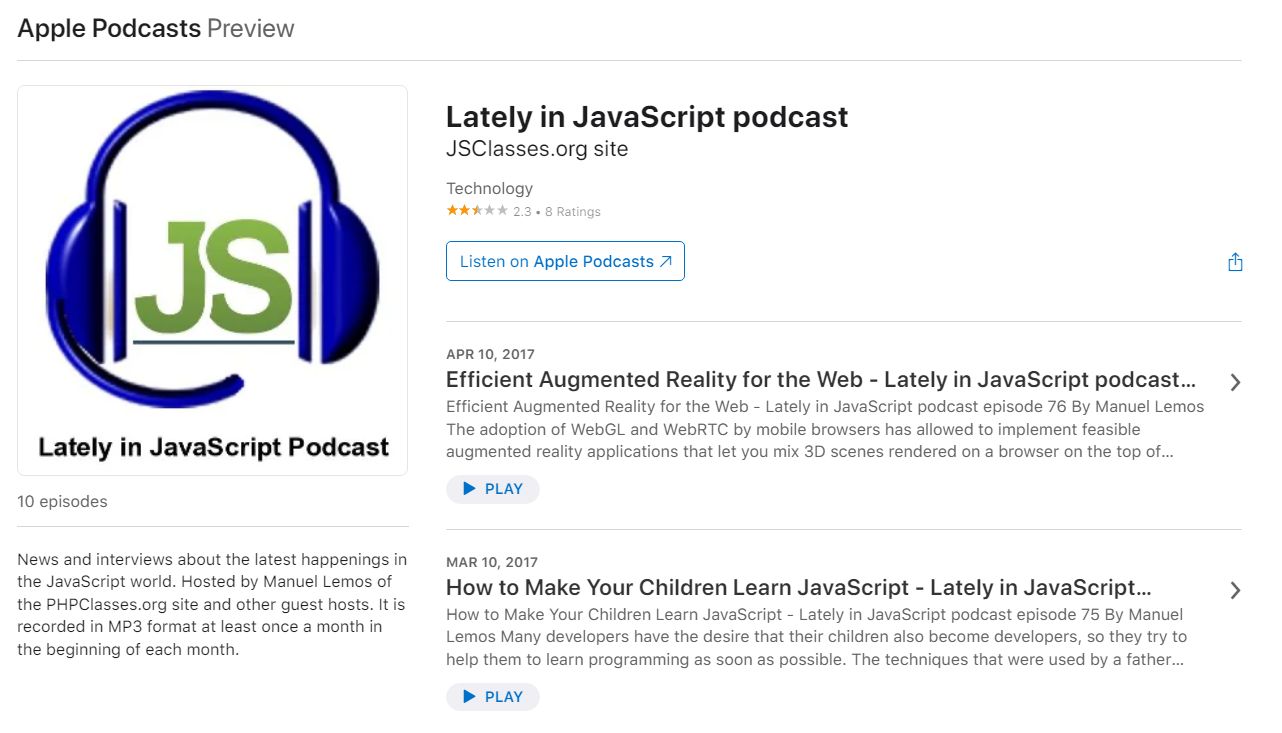 Level: Beginner, Advanced, Expert
Audience: Everyone in the JS community. You could be a programmer, a software developer, or a career web developer. Everyone needs help and guidance sometimes.
This podcast is the product of the passion of Manuel Lemos and other guest hosts that are interested in everything JS.
The podcast is recommended to every person on any level. This is because its content revolves around the latest interviews and news in the JS community.
Manuel releases the podcasts at least once every month at the start of the month. The available podcasts are in MP3 format.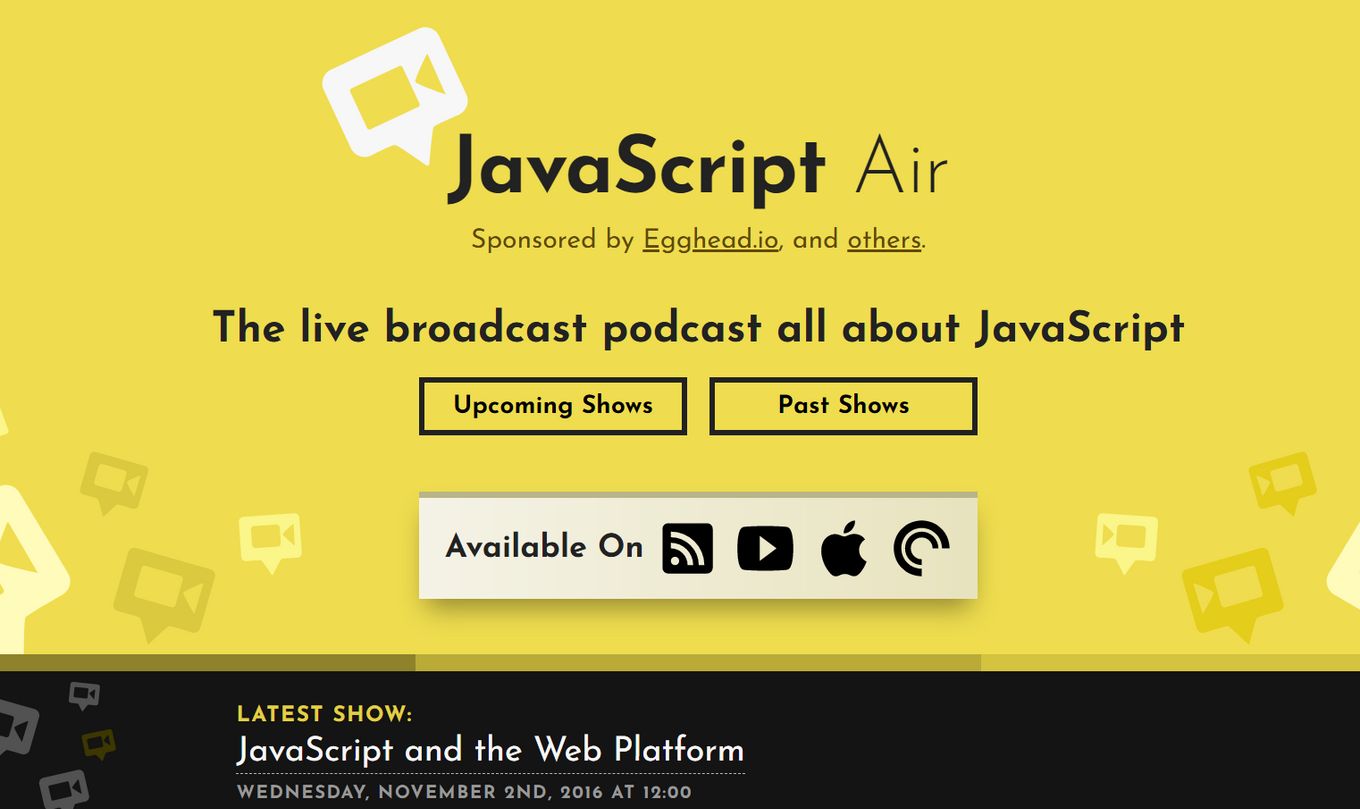 Level: Beginner, Advanced, Expert
Audience: Those that need to go back to understand the basics and complex aspects of JavaScript.
JavaScript Air was a podcast built around JS content and was hosted by Kent C. Dodds. Unfortunately, the team moved on to other things in 2016, but their content is still available.
While the podcast isn't active anymore, we believe its content is helpful to many people in the JavaScript community, especially JavaScript beginners.
The podcast discusses other topics, including progressive web apps, debugging, and the past, present, and future of JavaScript, among other topics.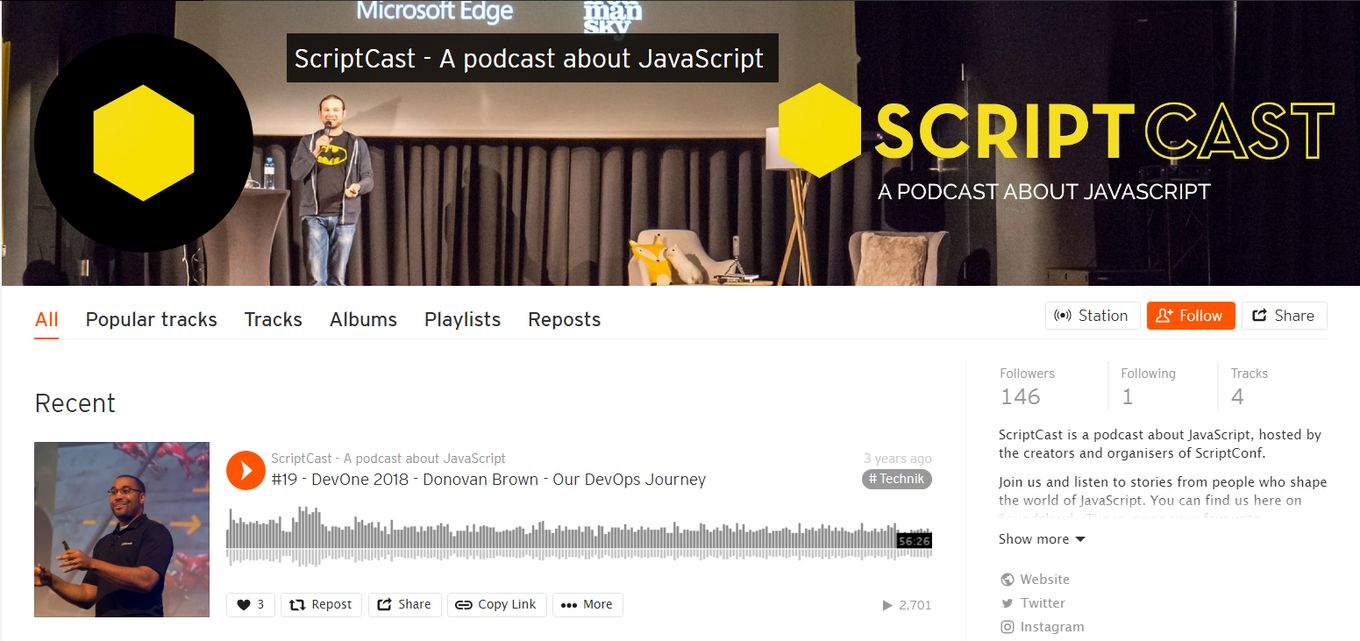 Level: Beginner, Advanced, Expert
Audience: People in the JavaScript community are eager to learn more about their passion and everything around it.
This is a podcast that discusses JavaScript and everything within its scope. It is hosted by the organizers and creators of ScriptConf. The first edition of these podcasts was published in 2017, with Stefan Baumgartner and Harry Roberts as the main hosts.
The podcasts consist of stories narrated by experts in the JavaScript community. You can find this podcast on iTunes, SoundCloud, and other popular podcast platforms.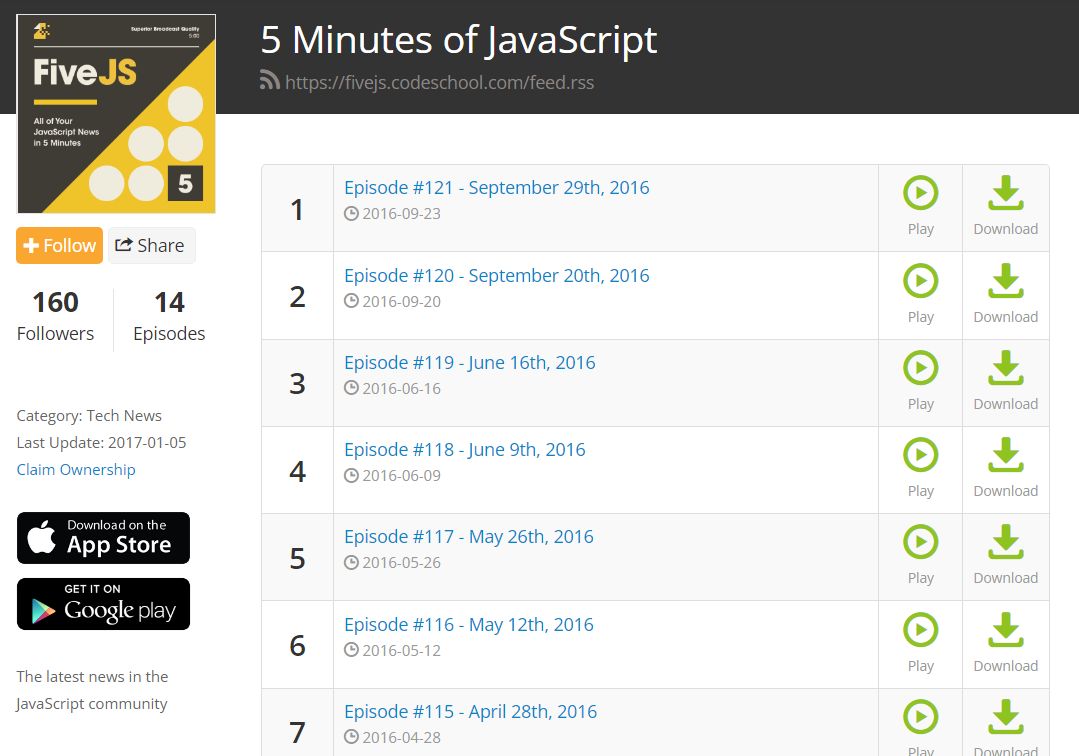 Level: Beginner, Advanced
Audience: Those that would like to have a different take on the same subject. They could use these podcasts for reference or learning.
While this podcast isn't active anymore, the creator, James Q. Quick, has shared valuable content through his already-released library. The content included in the podcasts ranges from beginner to intermediate since it is helpful to people at these levels.
Other than James, the podcast also has guest hosts that discuss JS-related topics, including Sergio Cruz, Carlos Souza, and Nick Wronski.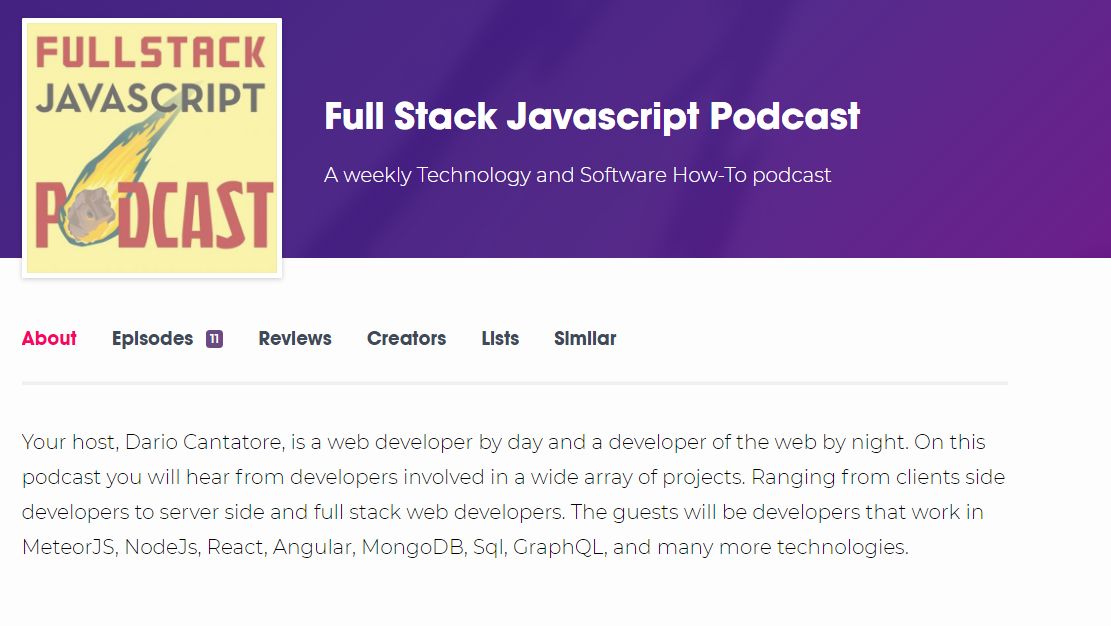 Level: Beginner
Audience: Those interested in joining the JavaScript community but have no way of getting involved.
The Full Stack JS podcast is an example of a podcast that isn't active anymore but has ideal content in its library. It was hosted by Dario Cantatore, a web developer who is passionate about his work.
The podcast also had guest hosts involved in different JS projects ranging from full-stack web, client-side, and server-side developers.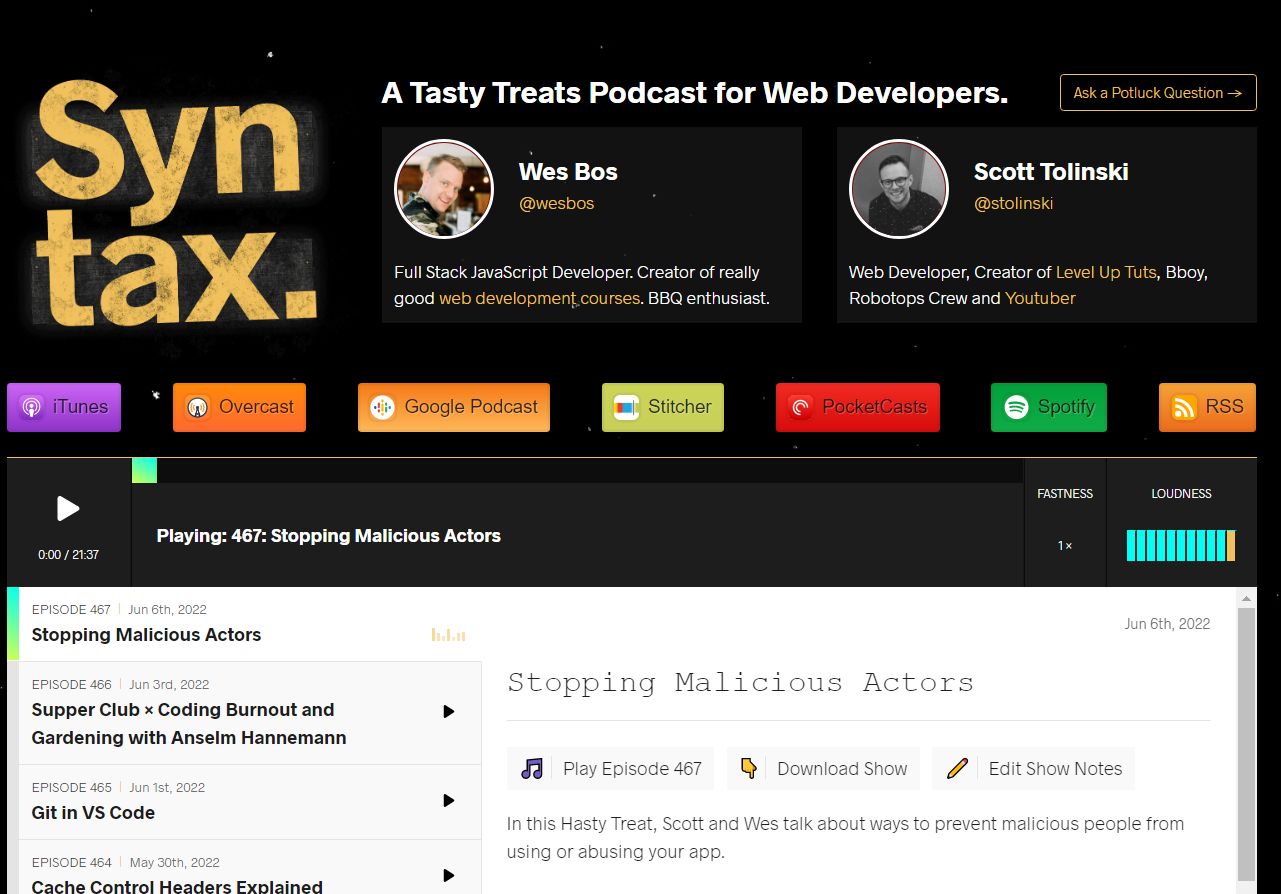 Level: Beginner, Advanced, Expert
Audience: Those interested in joining the JavaScript community.
While this podcast isn't focused on JavaScript content, it offers a wide variety of material for the listeners. Its hosts, Wes Bos and Scott Tolinski are two career developers that have dedicated themselves to contributing to the community.
As such, the podcast is active and gets multiple videos posted. The team produces up to 12 JavaScript podcasts per month. You can access these podcasts on iTunes, Google Podcasts, Overcast, and the original website, among other platforms.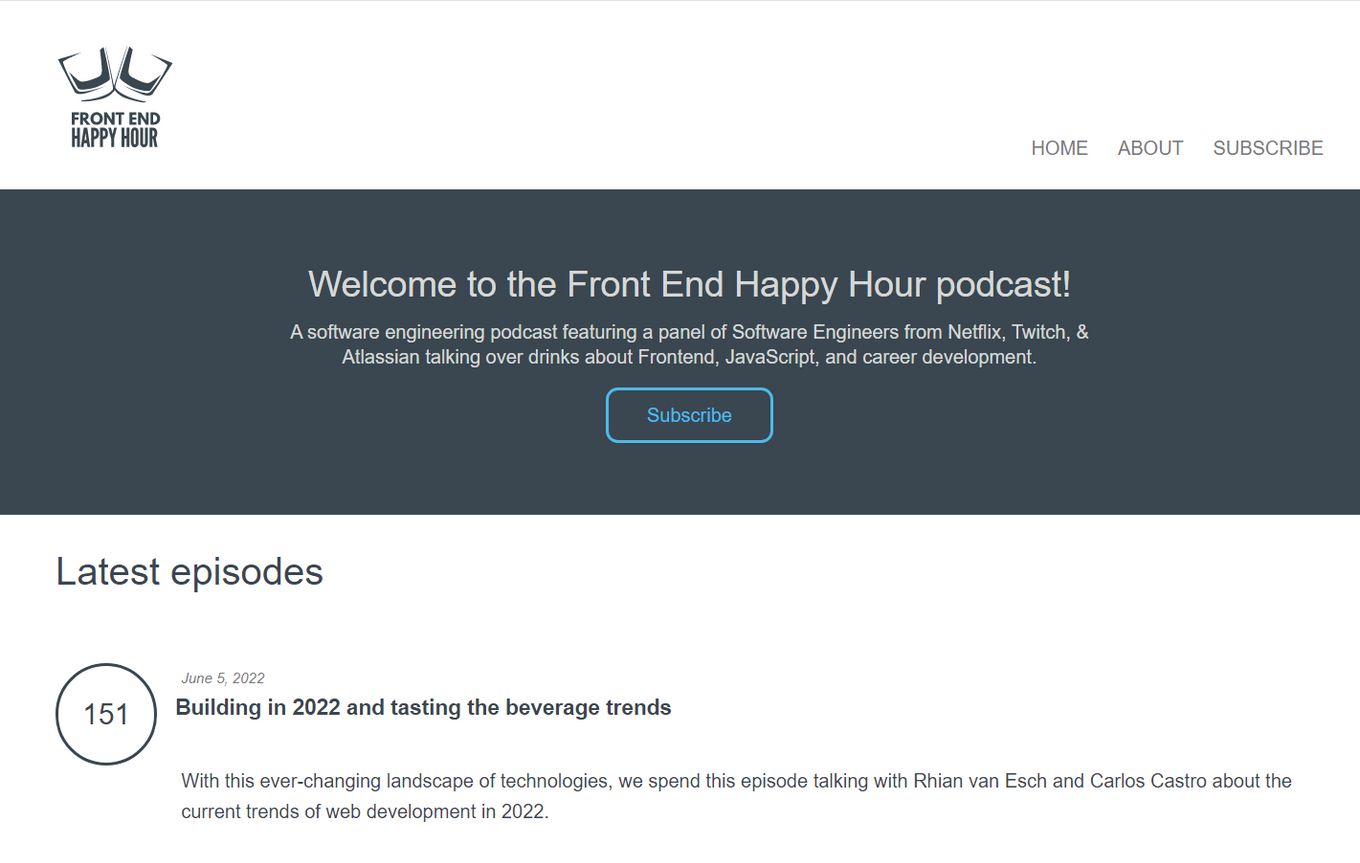 Level: Beginner, Advanced, Expert
Audience: deal for those who want to get updates on the trendy and modern things-for instance, cryptocurrency.
This podcast is focused on software engineering topics, including JavaScript. The panel of engineers that hosts the podcast also discusses career development and front-end development.
Which is the best JavaScript Podcast?
There might be no straight answer since different JavaScript podcasts discuss different parts of JS. There are also beginner, advanced, and expert level podcasts to match the skills and understanding of the listener.
Gauge yourself with varying levels of JavaScript podcasts today to understand where you lie.
Related Articles