How To Add a Sliding Gallery in WordPress 2022 [Easy Steps]
A convenient and user-friendly website allows the user to have the ultimate experience while navigating through the pages. To make a site more thrilling, a website owner can deploy the Jetpack WordPress plugin that allows you to create a sliding photo gallery on WordPress websites.
There are several plugins that you can use to create a WordPress gallery slider, but we will focus on the Jetpack gallery slider.
However, before we get into it, let's recap what a WordPress sliding gallery is.
What Is A WordPress Gallery Slider?
A WordPress gallery slider is a tool for showing many photos in a slideshow fashion. Instead of just adding pictures or other images to a blog post or page, you can deploy a slider, embed it in your content, and allow your readers to click or swipe through the slides.
This saves space on the page and makes displaying your material much easier for your visitors to see. It also enables you to organize your photographs and other information in the manner you like.
Using a WordPress gallery slider to create collections of pictures or a sequence of slides that guides visitors through a presentation or narrative is a terrific way to use it.
Why Have A Sliding Gallery in WordPress?
First off, a page full of images will appear cumbersome and unappealing to the user. However, with a sliding photo gallery, a user can scroll or click on the pictures on a page without going to other pages or posts to see them.
Besides saving page space, page sliders allow one to arrange the images in a specific order, much like a presentation, making them more meaningful and helpful to the interested visitors of the page.
Let's see now how to add a sliding photo gallery using the default Jetpack plugin.
If you are looking for a testimonials slider, get inspiration from these examples of testimonial sliders.
How To Put A Sliding Gallery In WordPress With Jetpack
The older WordPress installations did not have any slider feature that came pre-installed. Thankfully, the recent installations come with the jetpack plugin installed and ready to be used. This makes Jetpack the standard tool for making sliding galleries in WordPress websites.
However, if your WordPress doesn't contain the Jetpack plugin, you can install it by visiting the plugins page on your WordPress dashboard. Just look for "Jetpack" and click on "activate". Instructions to add the plugin are also available if it is not available on the list of plugins.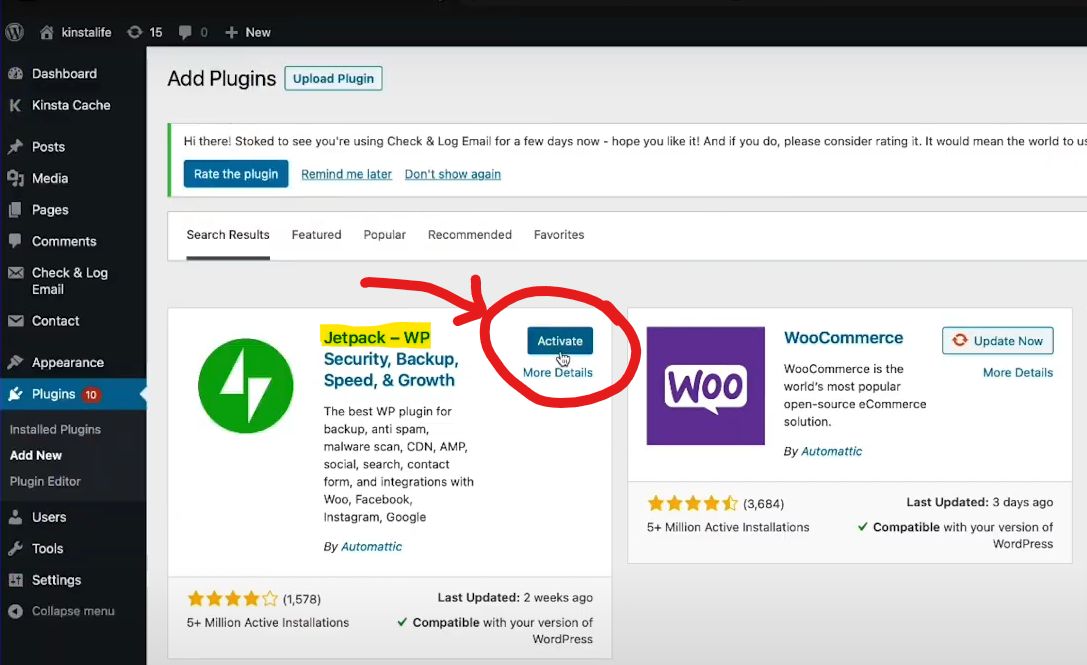 1. Make sure Jetpack is activated.
Start by logging into your site's dashboard and activating Jetpack. Once you are sure it's active and running you would be able to continue with the process.
2. Create a new page or post and add the media
Create a new WordPress page or post

From the edit toolbar, click the "Add Media" button.
3. Create the Sliding gallery
First, upload images on the web directly to the media panel so you can add them later to your gallery slider.

Click on "Create Gallery" to create a new gallery for your page and select the photos already in your Media Library and use them in your gallery slider.

Click on the "Create new gallery" button at the bottom right corner.
4. Configure the WordPress Sliding Gallery
In the dropdown menu of the Edit Gallery screen that comes up next, choose "Slideshow" from the menu.

Click on the insert gallery button after examining that all other settings are correct.

Click "Update" in the Edit Page panel. The image slider will now be added to your page or post.

To verify that the action is successful or see what it will look like, you can test it by clicking on the "Preview" button in the top-right corner of the page.
With these steps, you will have successfully created a basic slideshow displaying the selected images in your WordPress gallery. Your post or page on your website or blog will be good to go with the Jetpack slider making you the basic gallery slideshows.
Add a Slider to WordPress Using an Alternative Plugin
If you want more than a basic slideshow of images for your website, there are other purpose-built slider plugins.
Check this article about 10 Amazing Slider Plugins for WordPress and How to Choose the Best One.
These slider plugins create sliders that are attention-grabbing and appealing to the eye of the users. Smart Slider 3 is one such plugin packed with loads of features that are easy to use, and yes, it offers a free version that WordPress owners can use to create more fancy sliding galleries.
Other slider plugins available for use include:
fullPage.js for WordPress
MetaSlider
Toolset
Transition Slider
Social Slider Widget Pro
GS Logo Slider
Supsystic
Woo Product Slider and Carousel
Final Thoughts
These WordPress plugins offer free and paid versions, and WordPress owners can examine them to decide which ones are most suitable for their line of work. For instance, Woo Product Slider and Carousel are best for showcasing products and ratings.
Before choosing one, test a variety of sliders to find out what is most impactful for your specific needs.
Related Articles
Join 2,000+ readers and learn something new every month!
Get notified about new blog posts, tips, tricks, fullPage.js news etc.
RSS feed