7 amazing one page websites to get inspired
One-page websites are a growing hit. You've probably encountered one: a somehow simple, yet beautiful website that flows smoothly, with all information available in just a few scrolls. No clicking here or there to open another page. No going back to the home page, and all that going to this page and that page, that, If you agree with me, may take some time to load.
Yes, there are still many websites that can't be contained in a single page website, that's why you need to weigh if a single page or a multipage website is what you need. But its direct-to-the-point and minimalist approach make many, even myself, a fan of one page websites. And ah, those mesmerizing effects and animations. I get you.
Now, let me show you 7 amazing one page websites to get you inspired to make one for you or your business.
KitKat: a one-page website that makes you hungry!
The treat itself is already appealing to me, but the creative content has brought the advertisement to the next level. Describing the chocolate in terms used for technology / latest gadgets is a very cool move. The call-to-action is clear: you have to buy one. It also has page breadcrumbs! Well, they literally used breadcrumbs pictures in this case, to easily navigate within the page. It is so satisfying to scroll through. Whoever did this has a brilliant mind, which makes me hungry at this time of the night while I am writing this article.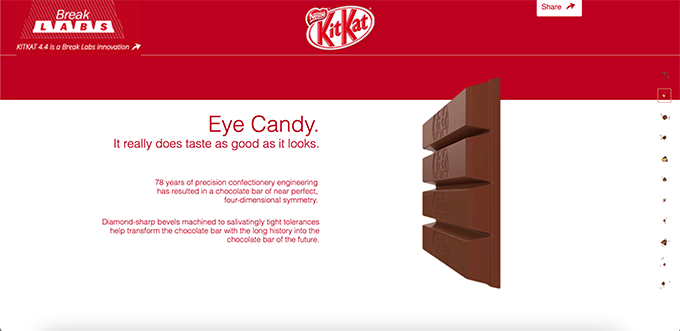 Entertaining layout and animations; satisfying images; effective promotion of branding
Covid Piñata one-page: seeing the bright side of life
This was built by some very witty people. It actually does not have a specific call-to-action, but it sure does its intended purpose — provide entertainment, and somehow make things a bit lighter in this pandemic through their own little way. It used bright colors, amusing animations and upbeat music. It also contains a link to WHO websites on Covid guidelines as well as links to share to various social media platforms.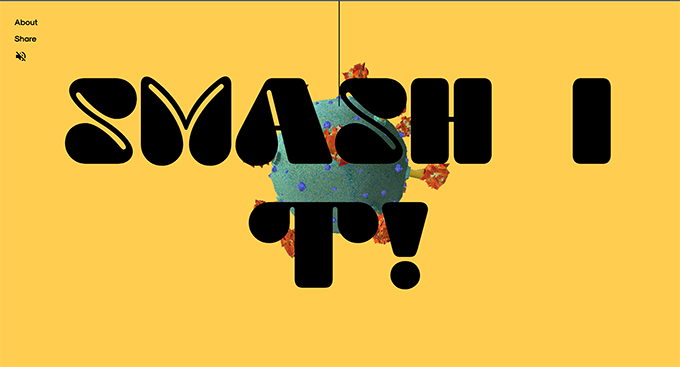 Clean and attractive design; eye-catching; entertaining
PLAYsentations one-page web: how to come to the point with style
This website is simple and direct. It contains important information about the announced event like the date and time and a few descriptions. Before the event, it had an RSVP button. If you check the website now, you will notice that they have replaced the RSVP button with a link to watch the recorded video of the event. It also contains links to Social Media accounts and an interactive picture that goes well with the event theme.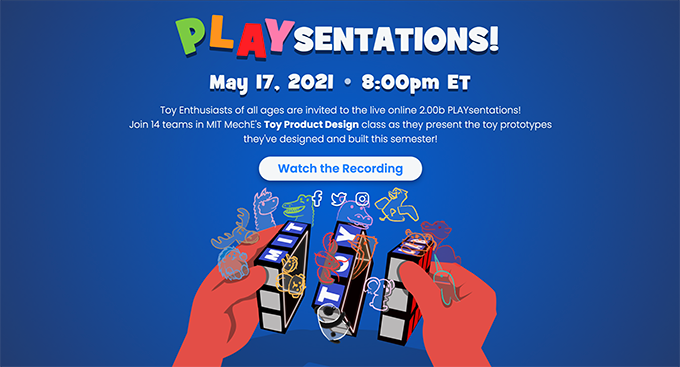 Straightforward; no navigation needed; eye-catching theme and design
ForHumanRights: creating a single-page web for your advocacy campaign
For Human Rights is an advocacy website. The colors used -red text against a white background- strongly emphasize the campaign and its details. It does so effectively for the text to be an easier read. Even the animation in which the letters will washout when you scroll through, and only the item where the pointer remains opaque, sure goes well with the message they are trying to convey (making human rights visible)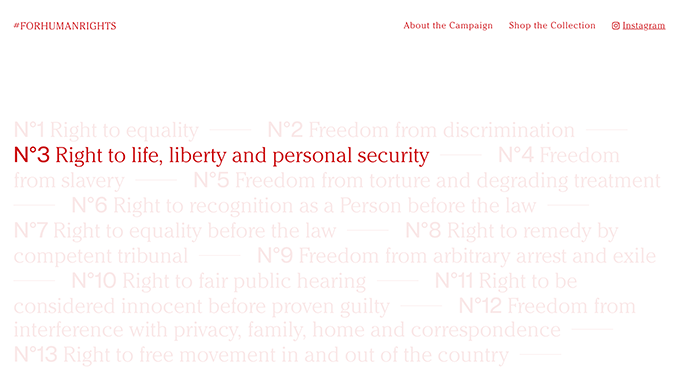 Smooth navigation flow; straightforwardness; emphasis on website purpose; also, an effective call-to-action banner at the bottom of the page
Shoma Bazaar or how to empower a one-page site with animations
Magazine-styled with eye-satisfying hover effects and transitions that encourage the visitor to keep scrolling. They have maximized the use of a one page website by providing seamless navigation: it seems like you are browsing through a magazine or a brochure! The animations give an elegant feel that blends well with the product. The important details were lined up in a carefully thought-out hierarchy, ending with clear CTAs. It also includes a page navigation menu.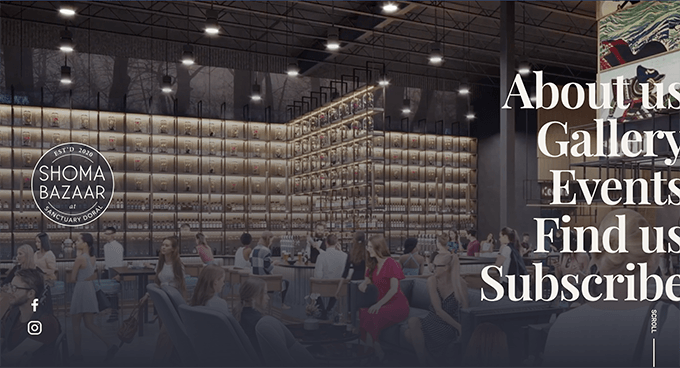 Elegant design and transitions; hierarchy of information; easy to use menu-button
BRNDMKRS one-page: simplicity doesn't mean bad
A clean and straightforward website. The colors give you lively, active vibes. The call-to-action appears both at the top and at the bottom of the page, in bright and highly noticeable color. It also makes great use of font sizes to catch attention.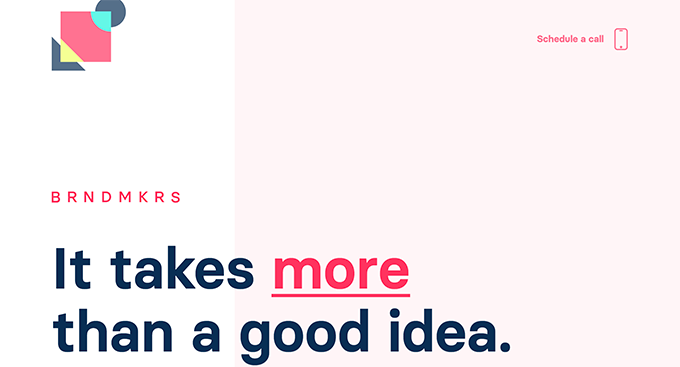 Clean and straightforward; clear CTA; lively color palette
The Rafaël: catchy and fluid one page website
I've seen this website before, and I find it very catchy. There is an arrow pointing down, gently nudging you to follow through. But before doing that, hovering over the house, the colors will change as if it becomes occupied. There is also a "schedule a tour" Call-to-action at the top of the page. Included is a map and description of the neighborhood and the other important details. At the bottom of the page is the Contact Form. Another plus is an Accessibility Toolbar at the bottom right for people that might need a little help in viewing the website, like changing the contrast, font size, or typeface.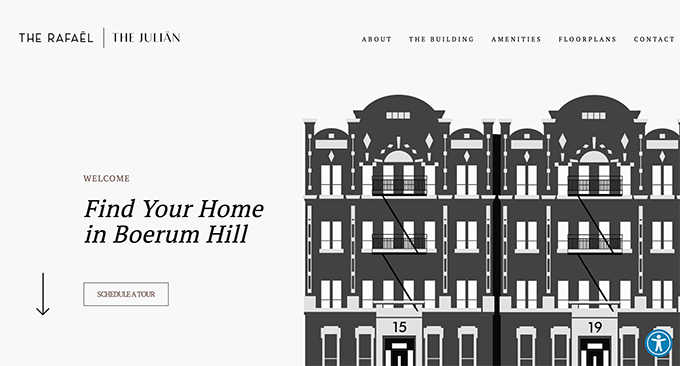 Fluid navigation; mesmerizing transition effects
Conclusion
There are many ways to get creative in making a website, and using a one page website is one way to do so. Combining design and practicality, you can create an effective one-page website.
FullPage.js offers another way to make your single page website stand out with satisfying transition effects. Just take a look at the samples of the extensions library: aren't they perfect for creating your own one-page website?
Join 2,000+ readers and learn something new every month!
Get notified about new blog posts, tips, tricks, fullPage.js news etc.
RSS feed