7 Amazing Interactive Websites [+ How To Build Yours]
Interactive websites are websites that allow users to interact, communicate, and respond to various types of content. These websites provide information in an engaging manner, allowing users to input data, make changes, and see results in real-time.
In addition, they have features like links, forms, and widgets that provide in-depth and search-intent information about the brands' products and services.
In this article, you will learn how to make interactive websites. We will show you the best examples of interactive websites as well as some of the best websites with interactive maps.
7 Best Interactive Website Designs For You
Here are the top seven websites to inspire your imagination: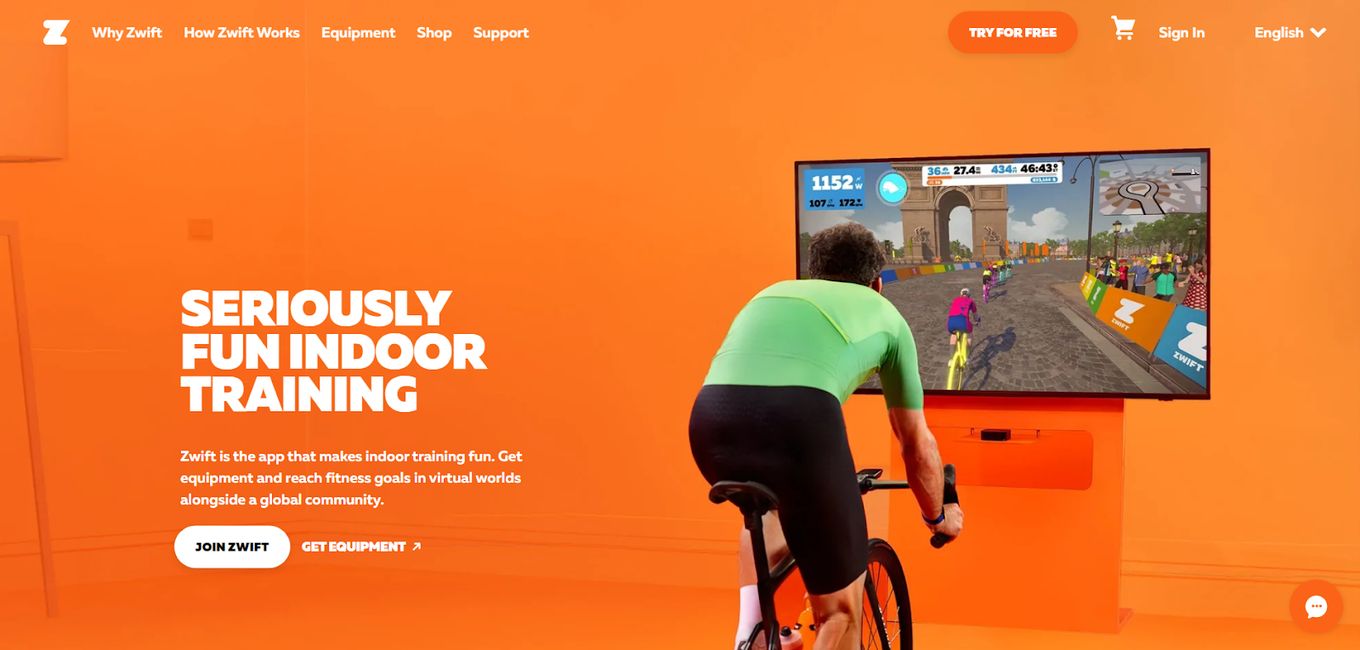 Zwift is a virtual fitness app that offers users an exciting gaming experience in a 3D environment. It allows users to choose from various workouts and challenges, like running, cycling, swimming, and gym equipment.
Plus, you can race against other users worldwide and compete for points, prizes, and glory.
Designing a Zwift platform requires careful consideration of critical elements such as the game mechanics and user interface. First, choose a game GUI with 3D elements replicating the Zwift website. Then, use drag and drop to create menus and buttons for new games and chat support for participants.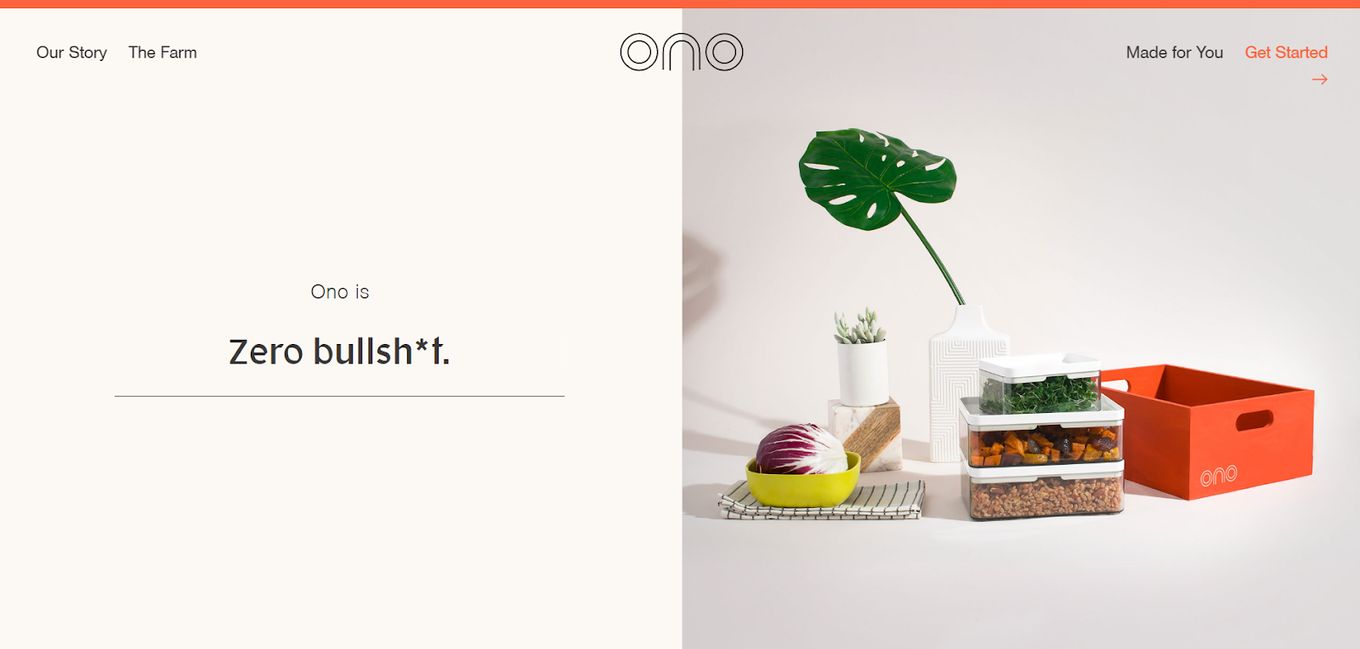 ONO is a meal delivery service founded by Stephen Klein in 2018. This website allows you to order food from your favorite restaurants and have it delivered without stepping outside your house.
ONO provides an easy-to-use, zero-waste interface consisting of contrasting earthy tones and a split screen. However, what we loved most was its large fonts for the links leading to search filters like cuisine type, price points, and locations. To design a website like ONO, use container widgets for the split-screen feature and the contrasting themes.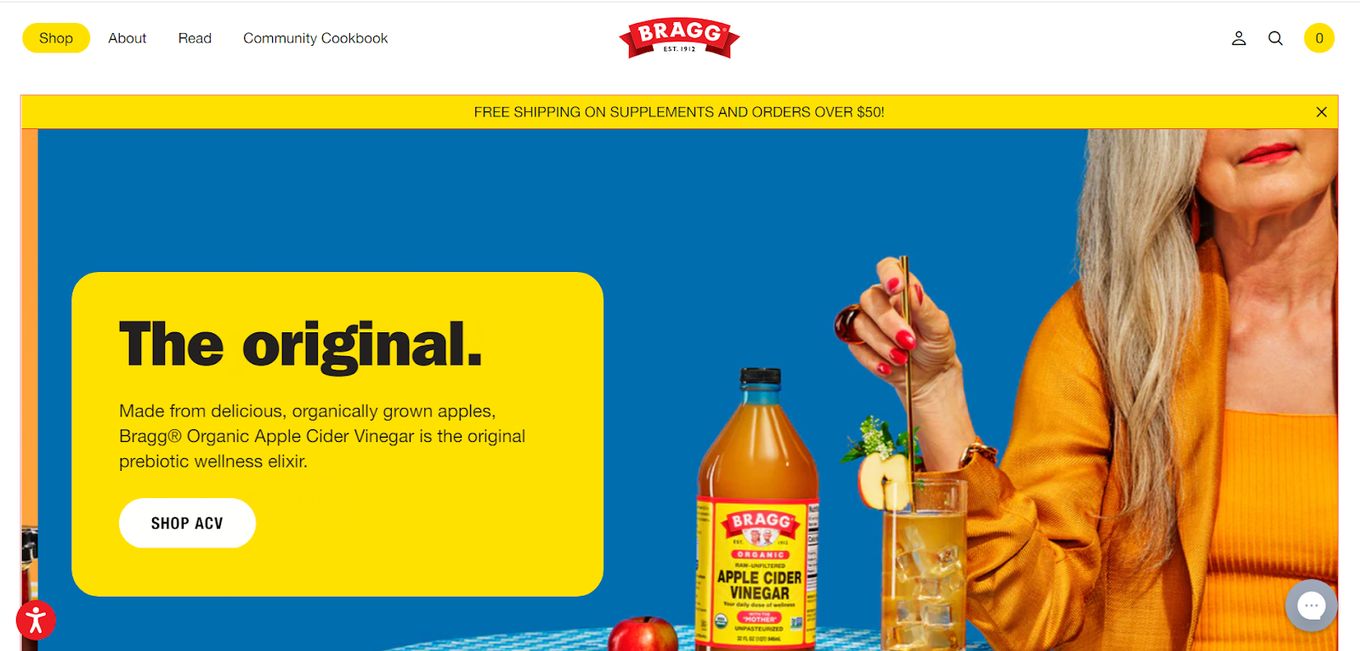 Bragg.com is a website for organic and non-GMO food products. It comprises recipes, meal plans, and other information on weight loss and healthy living. Bragg offers numerous tools, including Bragg live filters for videos, a search function for products and information, and a simple interface that supports both mobile and other PCs.
To create interactive websites like Bragg's, use the HTML video embed feature to add a video to your website's background. Then use a custom template to add the search tabs, menus, product pages, and themes.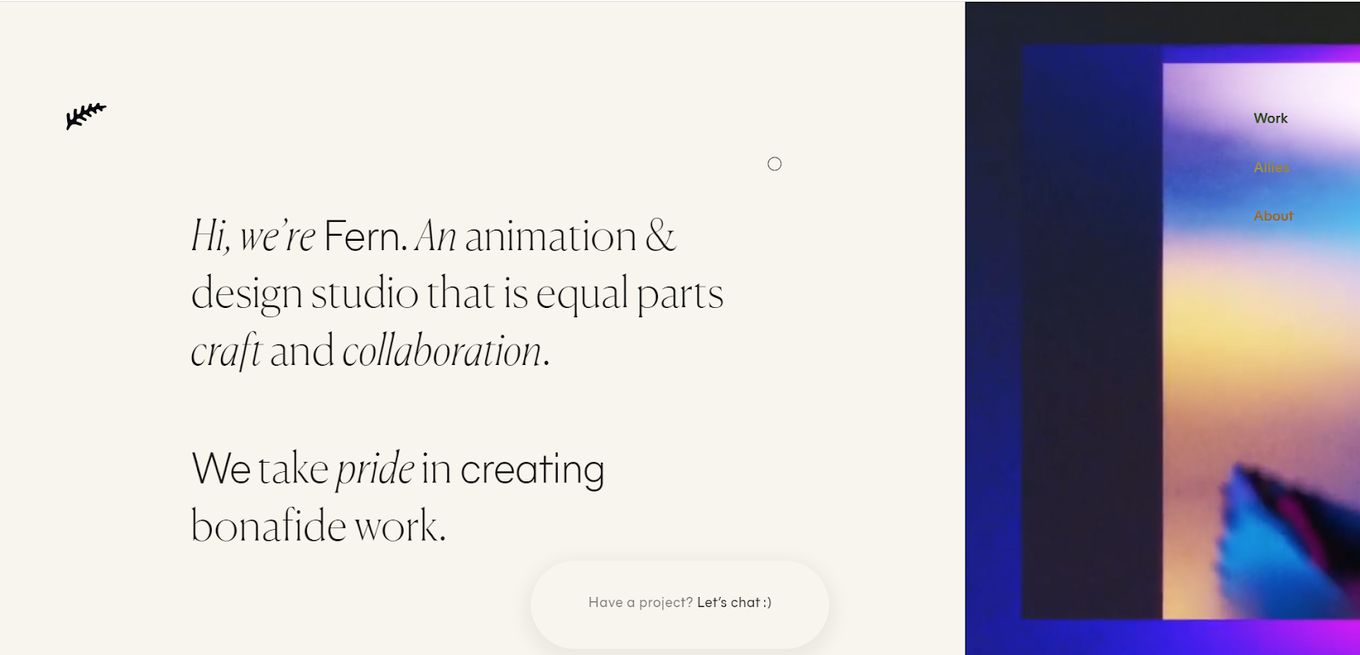 Fern is an online marketing platform for building a personal brand, growing your business, and increasing revenue. This website features a free website builder with a drag-and-drop editor for custom designs.
It also features social media integration and management tools that allow you to post on various social platforms. In addition, Fern has deployed the power of link building to create an engaging and fun platform for effortless growth.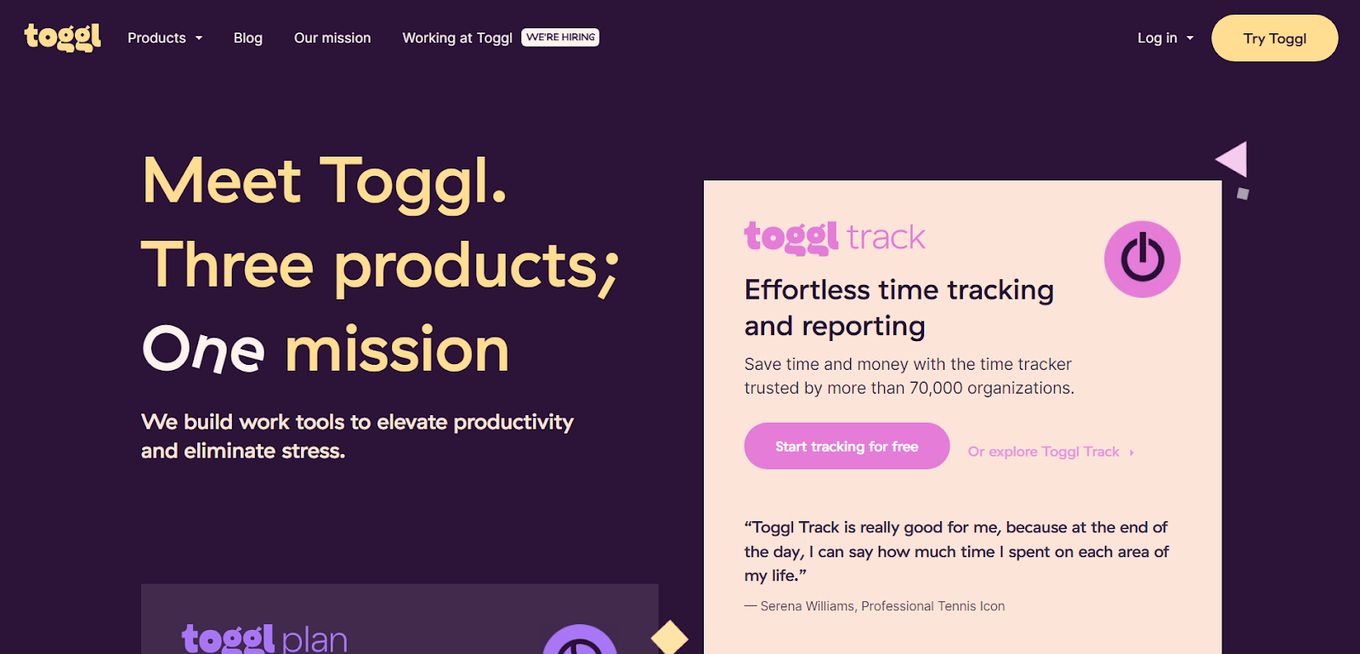 Toggl is a cloud-based time tracking service that helps teams monitor their productivity. It records your work hours and frees up your time so you can focus on what's important. Additionally, Toggl collects data directly from the hardware you install it on to help you track and evaluate your progress.
To create a website like Toggl, use the public API documentation to create a list of team members. Then create a time tracker system using PaaS and MbaaS platforms.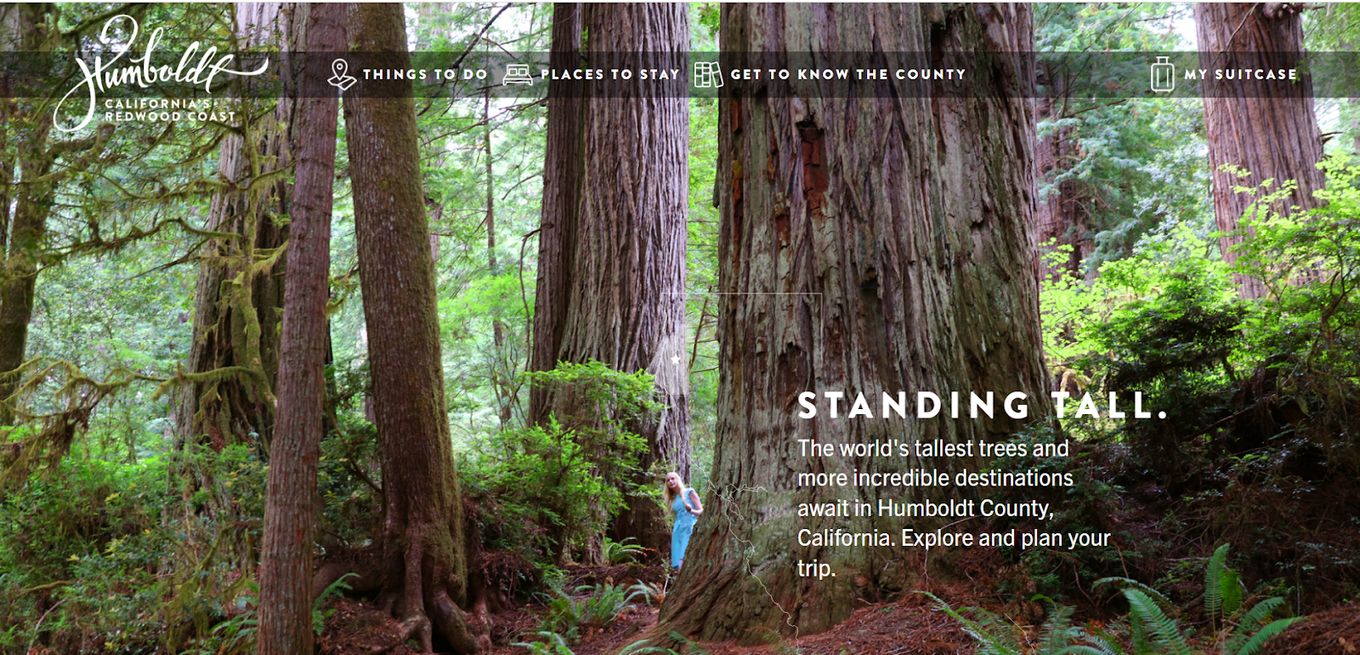 Humboldt is a travel website detailing scenic beauty and tours across the City of Humboldt, California. It has a searchable database for hundreds of hotels in the area and interactive maps with directions to all locations. Visitors can also view a vast list of attractions and events throughout the year.
To build interactive websites like Humboldt, choose a template for a travel blog. Use split widgets to add images related to your destinations. Use bright and vibrant colors for the theme, with a scenic blue-sky background or theme.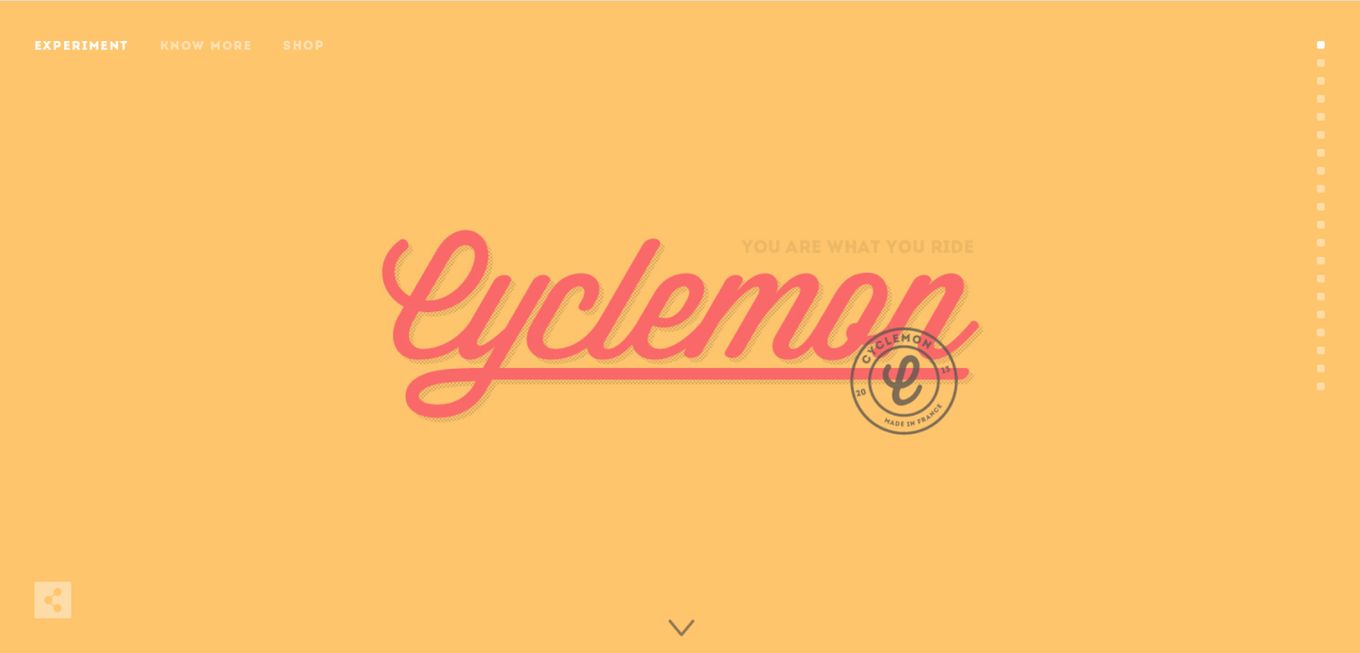 Cyclemon is an online store that sells bicycles for adults and children. This site has bikes for everyone, from vintage penny-farthing designs to modern foot scooters. Cyclemon uses a spinning wheel loading animation to introduce visitors to its numerous carousels.
It also captivates by using various backgrounds and themes for every product page as you scroll.
5 Websites with Interactive Maps
Are you stuck on choosing the best way to include a map on your website? These five websites with interactive maps will boost your creativity and help you begin on the right foot.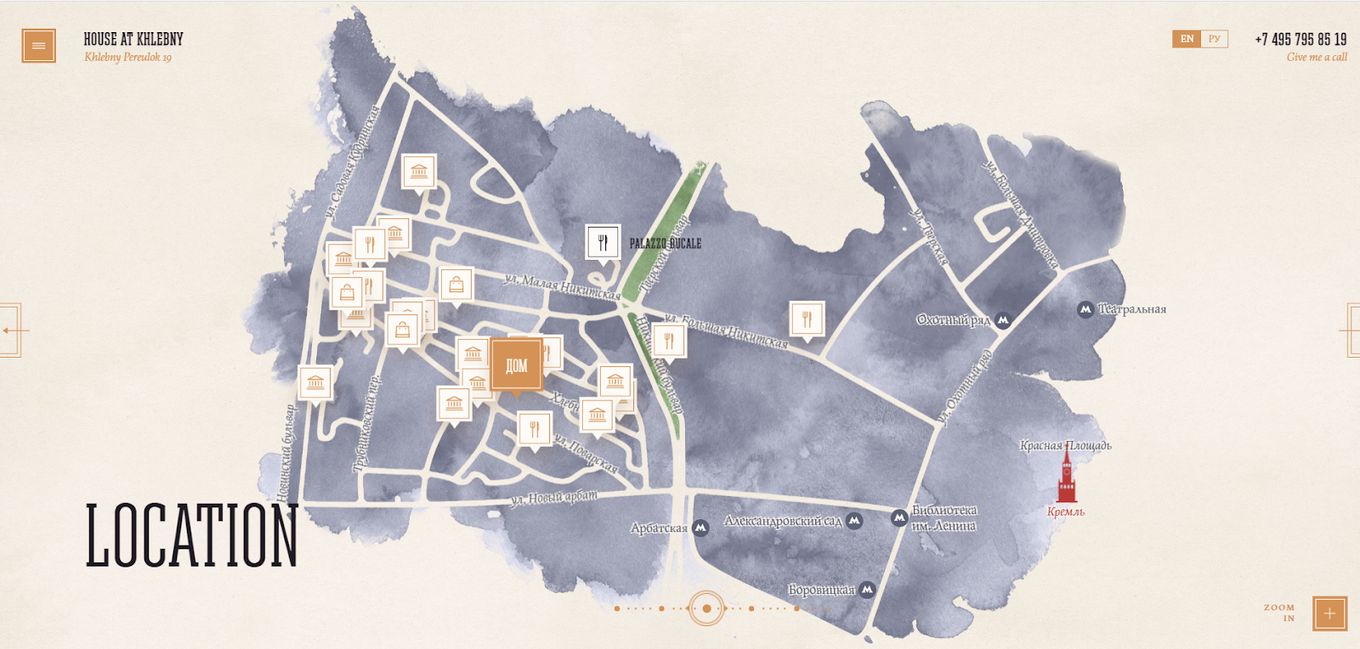 House at Khlebny uses an artistic map to tell the story of high-profile architecture in Moscow's neighborhood. The map includes sidewalks, apartments near the house, schools, driveways, and a snap of the actual house. You can use the "arrow and zoom-in buttons" to access more detailed elements of the house, including its brief history.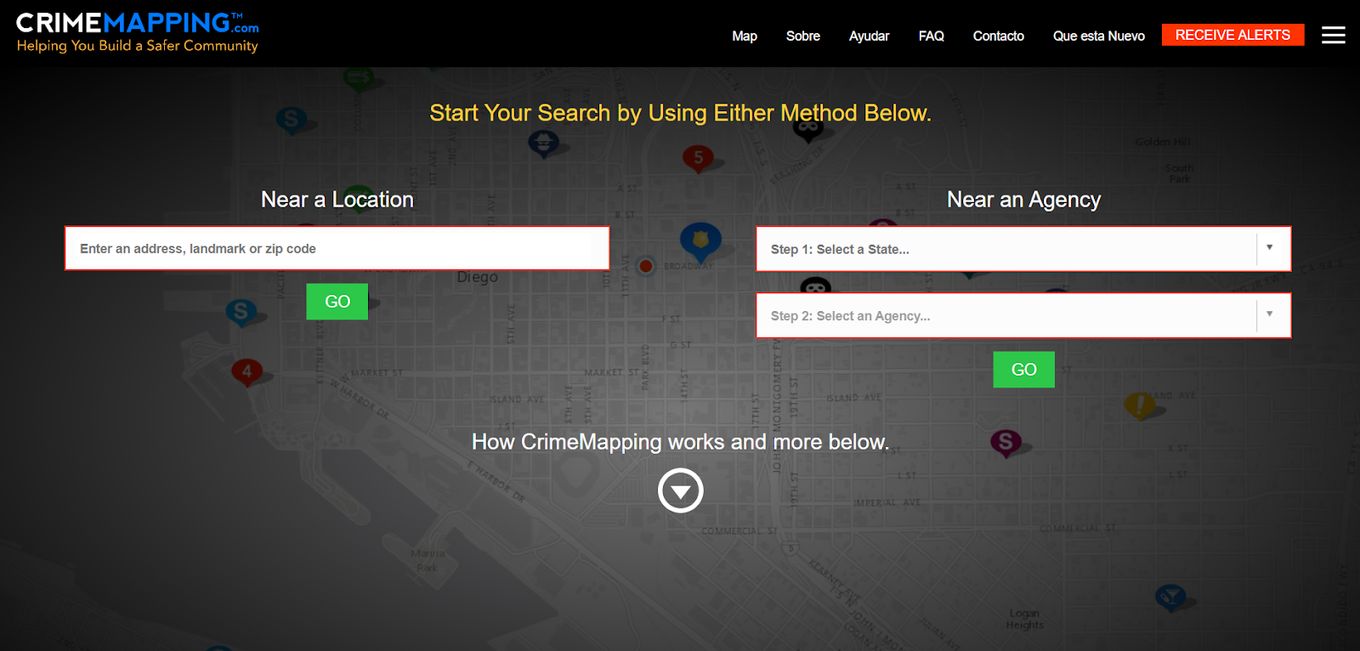 Crime mapping is a heat map view of various parts of the globe. The map provides details about the location of each incident, including address, street name, latitude and longitude coordinates, time, and date of the incident. There is also an option to view all incidents or select one from a dropdown list.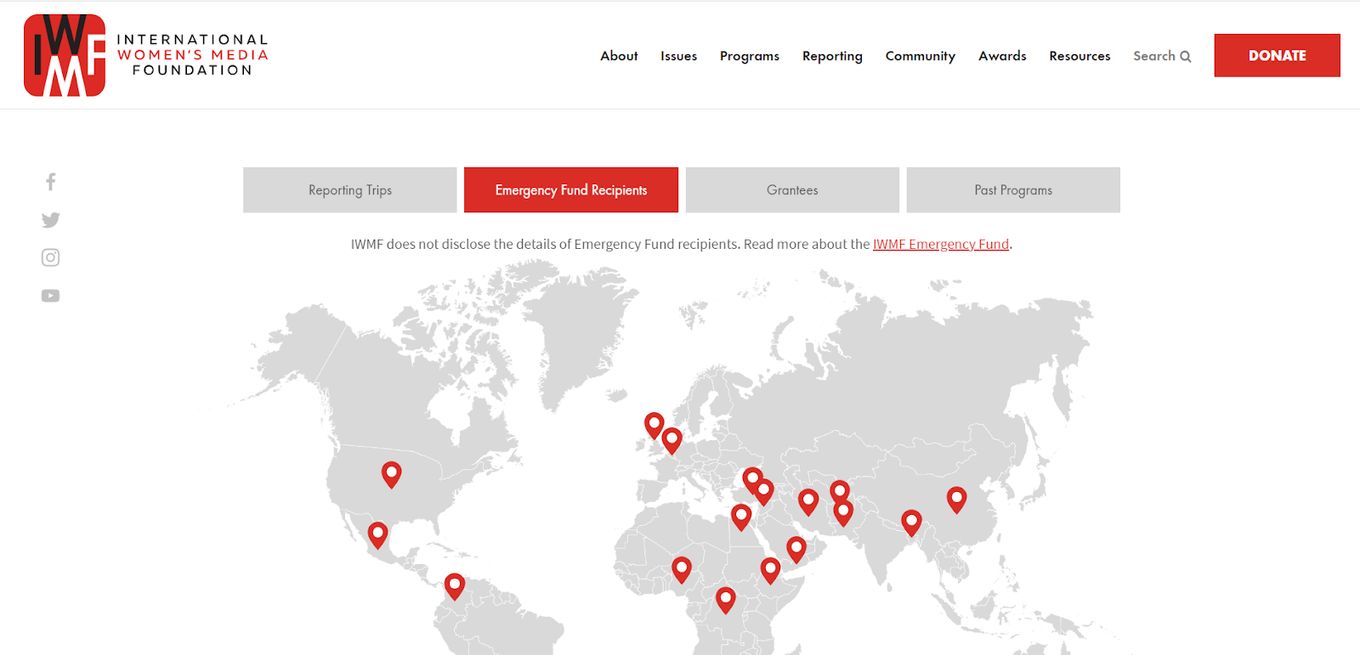 IWMF tells the story of women journalists from countries across Africa and America. The website uses Google Maps icons to highlight countries under membership most simply and classically. All you need is a Google Map API key, and you're ready to have a map like theirs.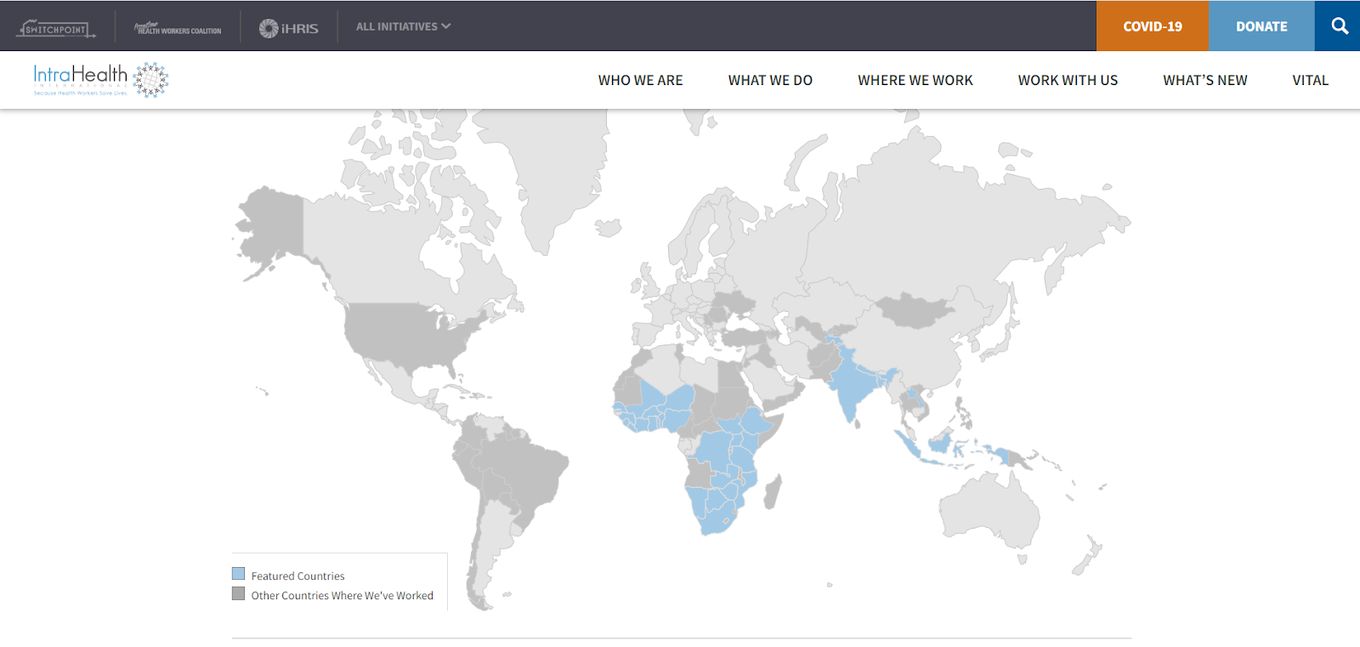 IntraHealth uses two colors as an interactive feature: dark grey and sky blue. The colors highlight two groups of countries. The dark grey-colored areas are those where the company has previously worked.
The sky blue-themed areas are countries they are currently working in. The website also includes the names of countries in sky blue to help readers learn about them at a glance.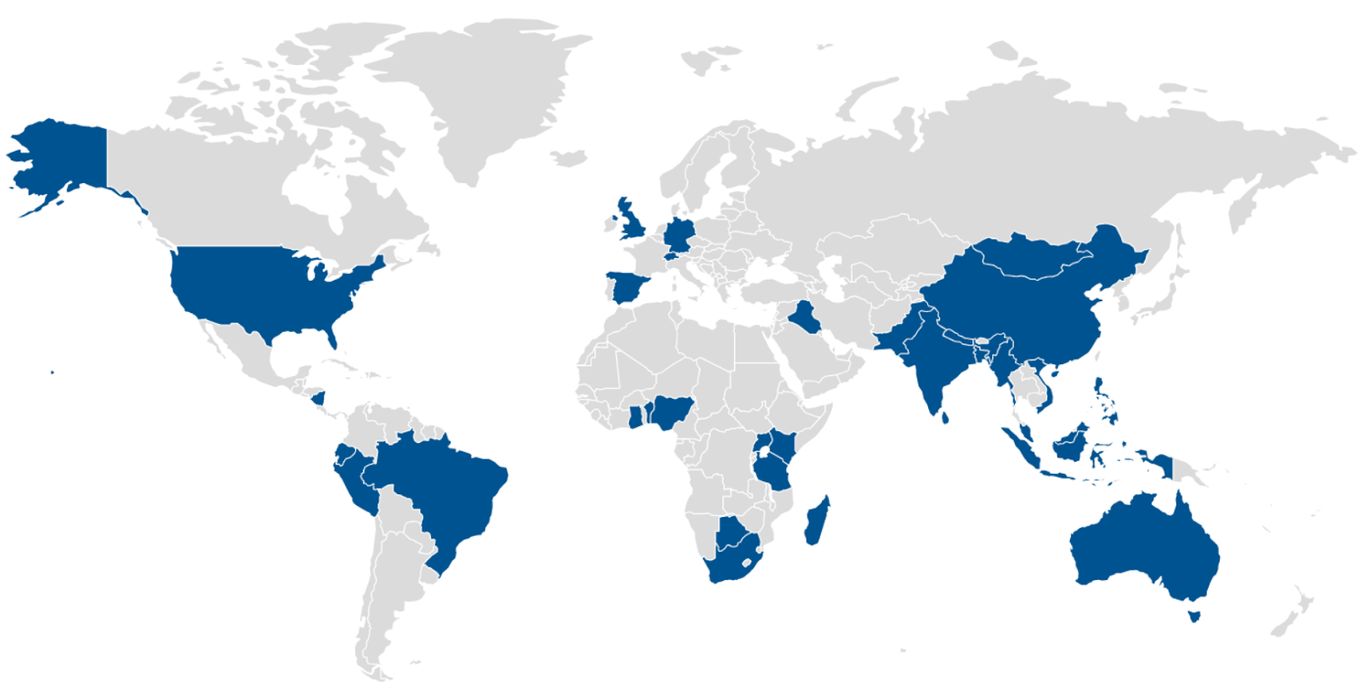 The Duke Global Health Institute's website comprises a long-range camera shot and an ariel view of various facilities globally. It also details the countries they currently operate in and the teams in each country. This vibrant site shows a close-knit team that cares about global health and knowledge-sharing.
How Do You Build Interactive Websites?
To build an interactive website, ensure the information on your site is organized in a way that makes sense to visitors. Below are five tips to help you make interactive websites from scratch:
1. Add a Loading Animation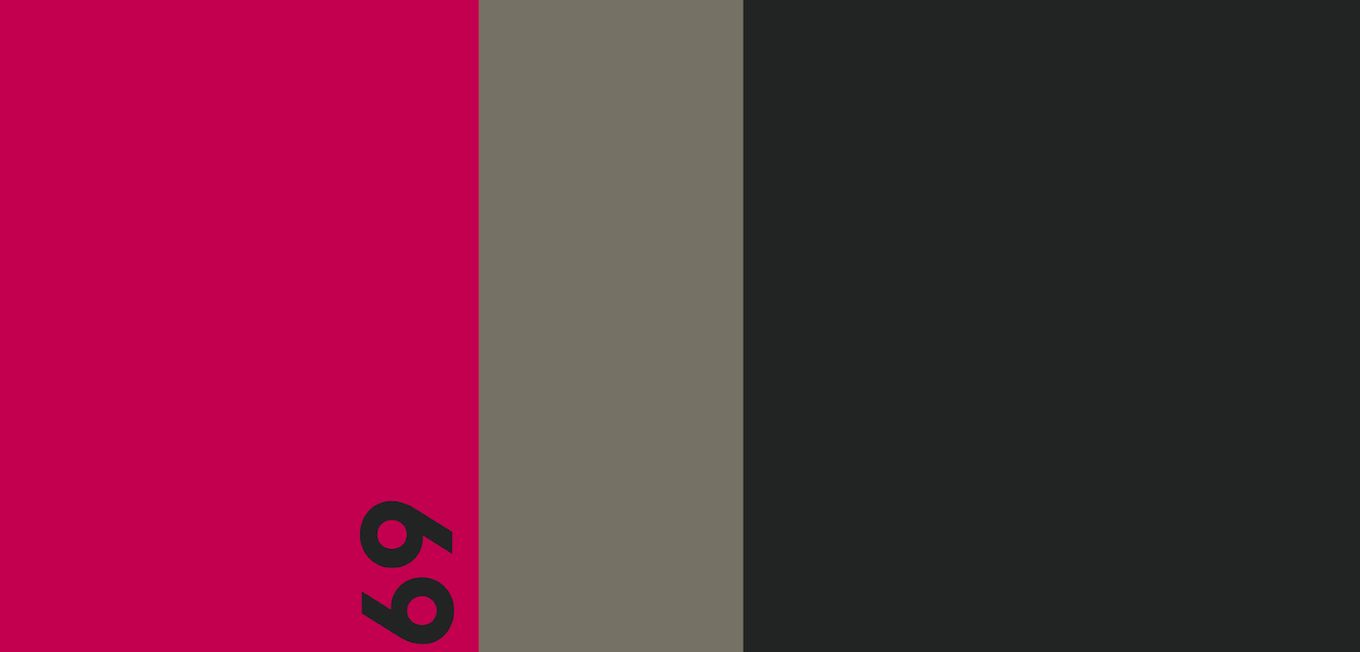 This is the best way to get your web visitors excited while waiting for a page to load. You can do this in numerous ways, but if you want to get creative, here are two tricks that work: use GIFs and other visual elements to show when the content loads or downloads, such as a loading bar or spinning wheel.
Add one of these 20 Amazing CSS Progress Bars to your interactive site!
Add audio cues like sound effects to inform users how long they have to wait to see the loading content.
2. Add Scrolling Effects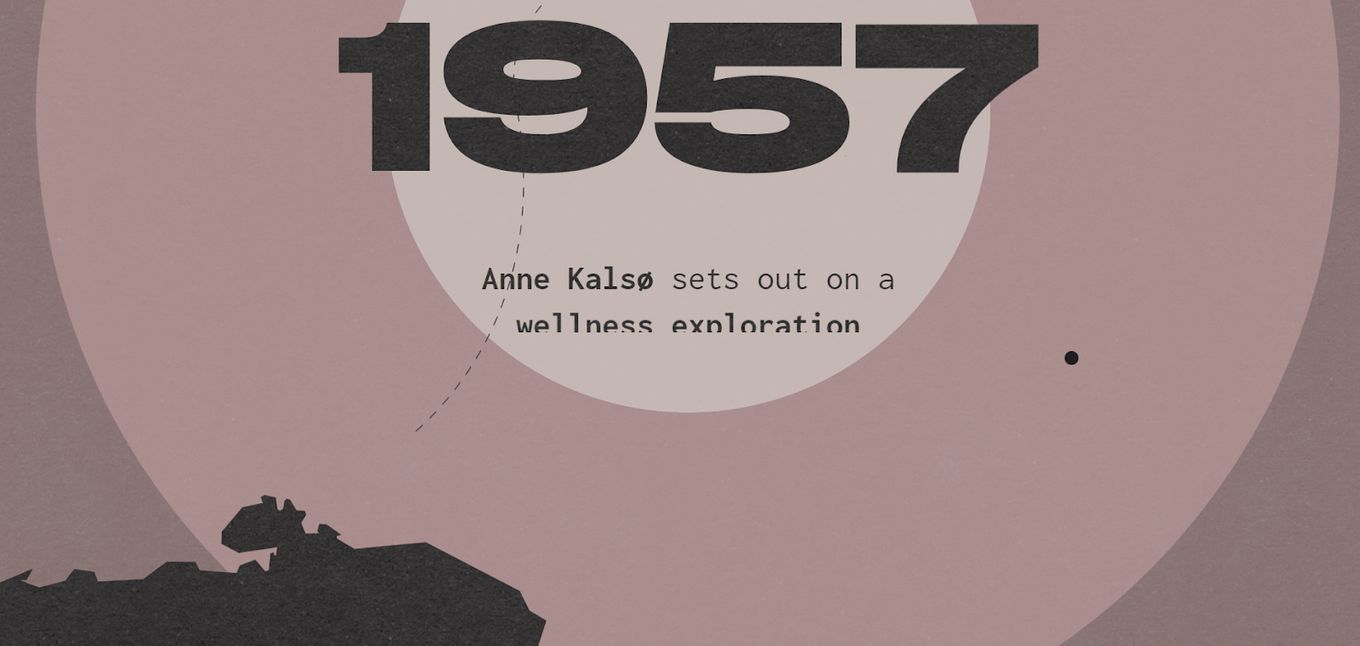 Interactive websites look good and are fun to scroll through. Create a clear roadmap for your pages using navigation keys or sticky navigation. Optimize the pages for both mobile and PC usability.
Check the Best 15+ Scrolling Animation Websites to get inspired!
However, you can hide a navigation bar that takes up too much screen space, especially on a mobile device. Allow users to scroll at their preferred pace by not limiting page speed. Finally, ensure the information is relevant, readily accessible, and has a clear call to action.
3. Add Hover Animations
Hover animations are CSS classes that appear when the user hovers over an element or links in your website. These visual and fun types of content can capture the attention of web visitors and keep them for as long as possible. Examples of hover animations include:
Websites with interactive maps
Websites with the company's overview on the sign-up page
Websites with full-screen images of the brand headquarters or site
Website pages with Amazon-like animations of product images
4. Include Videos
Videos add interactivity and engagement to websites, especially those with lots of text-heavy content. You can use videos as your website's primary source of information rather than text alone. Here is how to make interactive websites using videos:
As clickable links within articles or posts
To show off a feature or product
To show off a section of your site (such as a FAQ page)
5. Add Carousels or SlideShows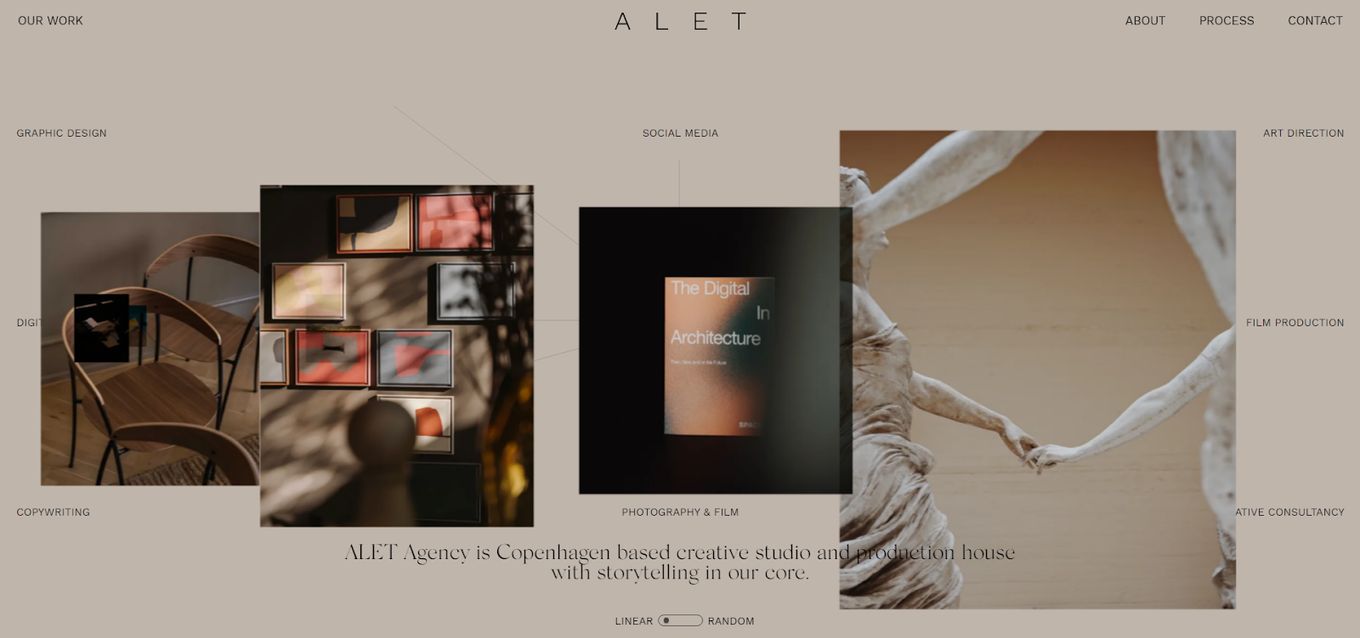 A carousel is a slide show of images that move around on a page. For example, interactive websites use carousels to display large images, like photos or artwork. These slides are engaging and informative and can help keep your audience on your site longer.
Learn the Basic Rules for Carousel Website Design.
Use an inline carousel for pages with only two or three images. This carousel allows visitors to focus on one image at a time without having to scroll back and forth through multiple pages. Use an infinite loop carousel for pages with multiple images. This carousel allows visitors to scroll until they click out of it or close the browser window.
Core Features of an Interactive Website You Must Consider
There are popular features most people look for in a website. But several others can be implemented on a website to enhance its utility and interactivity.
Quizzes. Use them to give your website users a chance to test their knowledge of a particular topic.
Surveys and Forms. Add surveys and forms to gather information about your website's users' like or dislike.
Visual Resources. Videos and images add visual aesthetics to your website. Use them to make your pages appealing.
Testimonials. Add reviews and testimonials to boost consumer trust in your brand and product line.
Map with Locations. Show off a list of locations where customers can find your product or services using maps.
Live Chat Button. Integrate a live chat button to allow new visitors to reach out to you conveniently at their point of needs
Social Media. Add links to your or brand's social media channels to increase reach and run social media campaigns.
Interactive Websites at a Glance
An interactive website blends responsiveness, creativity, and unique appeal. Your website should look pretty, be easy to use, and have a real purpose. Luckily, these suggestions on how to build interactive websites are what you need to get started.
You may want to keep this post open when you start designing your site so that you have some ideas to draw from.
Related Articles
Join 2,000+ readers and learn something new every month!
Get notified about new blog posts, tips, tricks, fullPage.js news etc.
RSS feed