20 Beautiful Teacher Website Examples [Get inspired]
Are you looking to engage and connect with your students and their families in the best way possible? Then you should consider creating a teacher website! Thankfully, creating one shouldn't be much of an issue as there are numerous teacher websites already on the internet where you can draw inspiration from.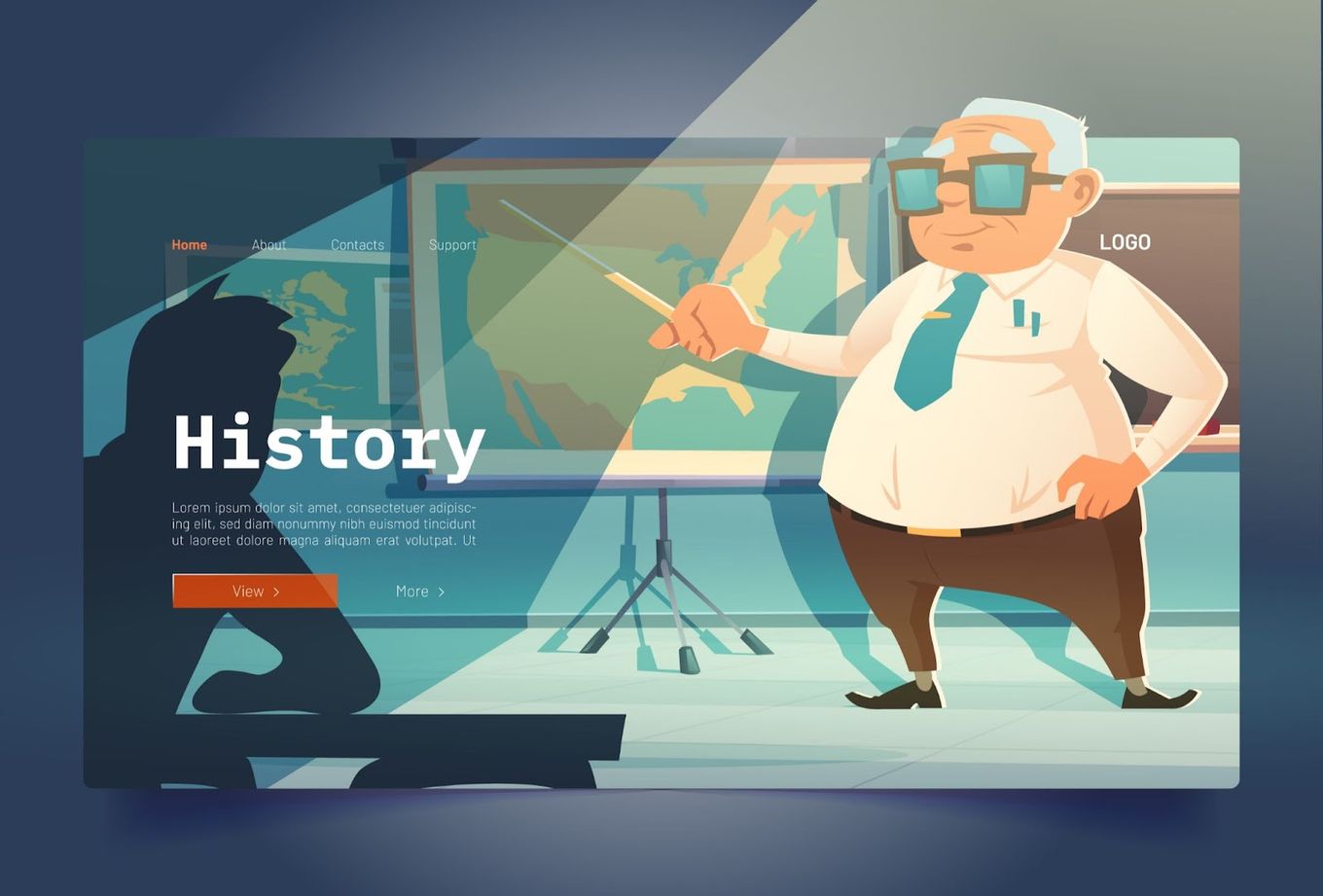 With the continual advancement of technology and remote teaching rapidly becoming the new normal, having a teacher's website is a brilliant strategy to enjoy a considerably fair quota of the growing industry.
Whether you are a part-time or full-time teacher looking to build your side hustle or a more efficient way to deliver course materials using a teacher website, the teacher website examples explored in this article will help you with amazing design ideas and inspiration to get your website live and running in no time.
Top 20 Teacher Websites for Inspiration
Check out our list of the best 20 teacher website examples for inspiration, guiding you on areas to focus on when designing or redesigning yours, too.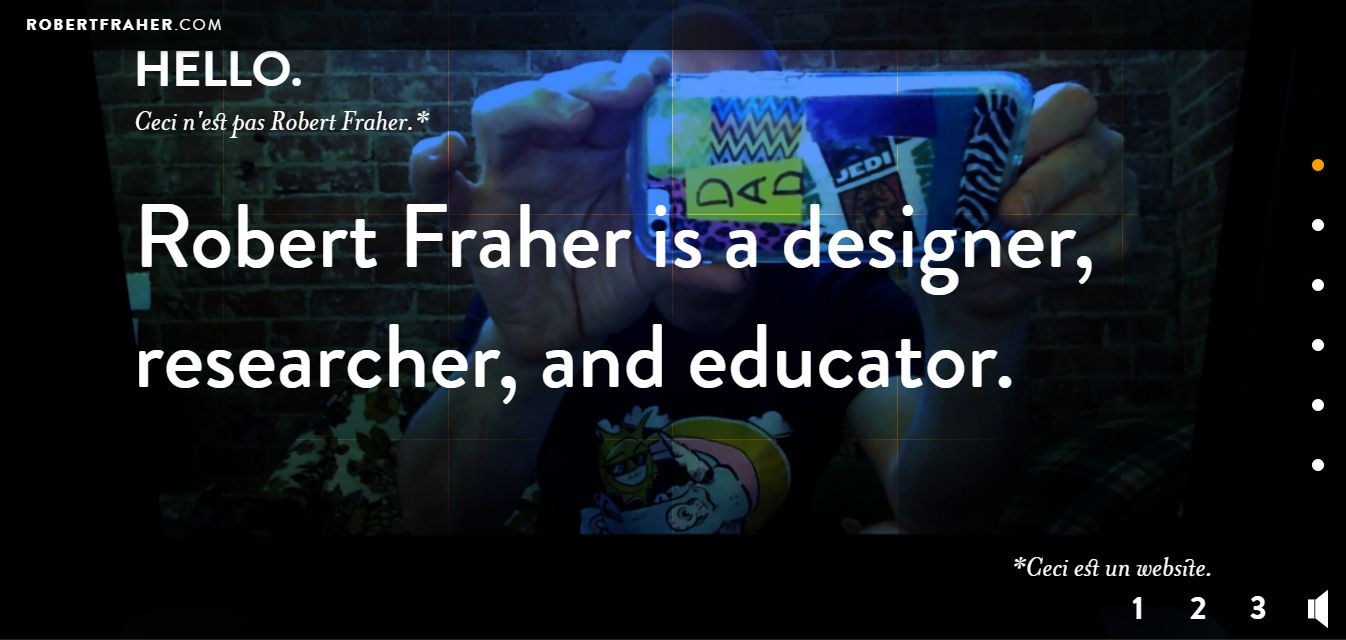 Modern art is easily recognizable, and the Robert Fraher website, right here, is one! As the first option on our list of the best teacher website examples for inspiration, visiting Robert Fraher feels just like visiting a modern art digital gallery.
The combination of solid photos and illustrations as the site's background alongside its unique scrolling effect and navigation pattern makes this teacher website stand out from others on this list. It makes navigation quite intuitive and extremely simple,
With a full-screen design, you can easily display your course details as media content, establishing an immersive experience for your visitors without the risk of distracting them.
If you like the kind of full-screen navigation used by the page, you have to check this scrolling JavaScript component; fullPage.js is super easy to use and it's also available for both Elementor and Gutenberg WordPress builders. Check it out!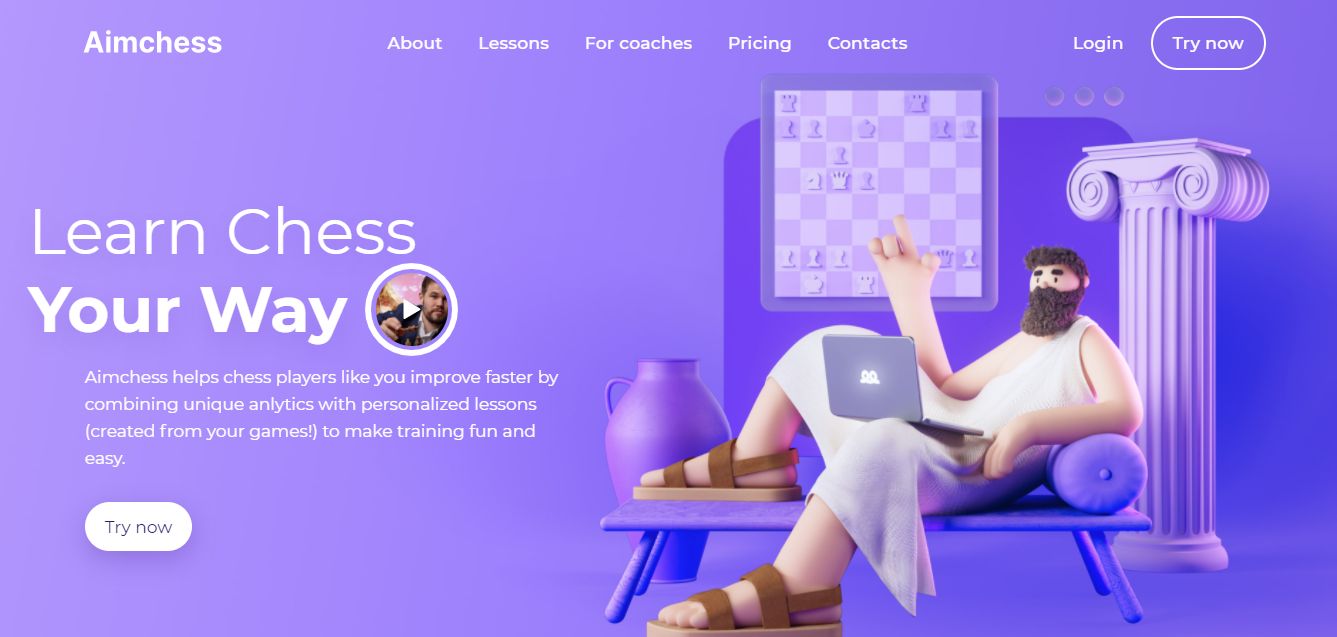 Aim Chess is another teacher website worthy of mention. Specifically designed for teachers of the chess game, Aim Chess features an amazing color scheme that integrates brilliantly with the site's typography.
As a one-page website, Aim Chess also uses scrolling animation effects that make visitors remain engaged with the site's content and ultimately interact with the perfectly-placed call to action buttons.
Replicate this scrolling animation website by learning how to create CSS Animations on Scroll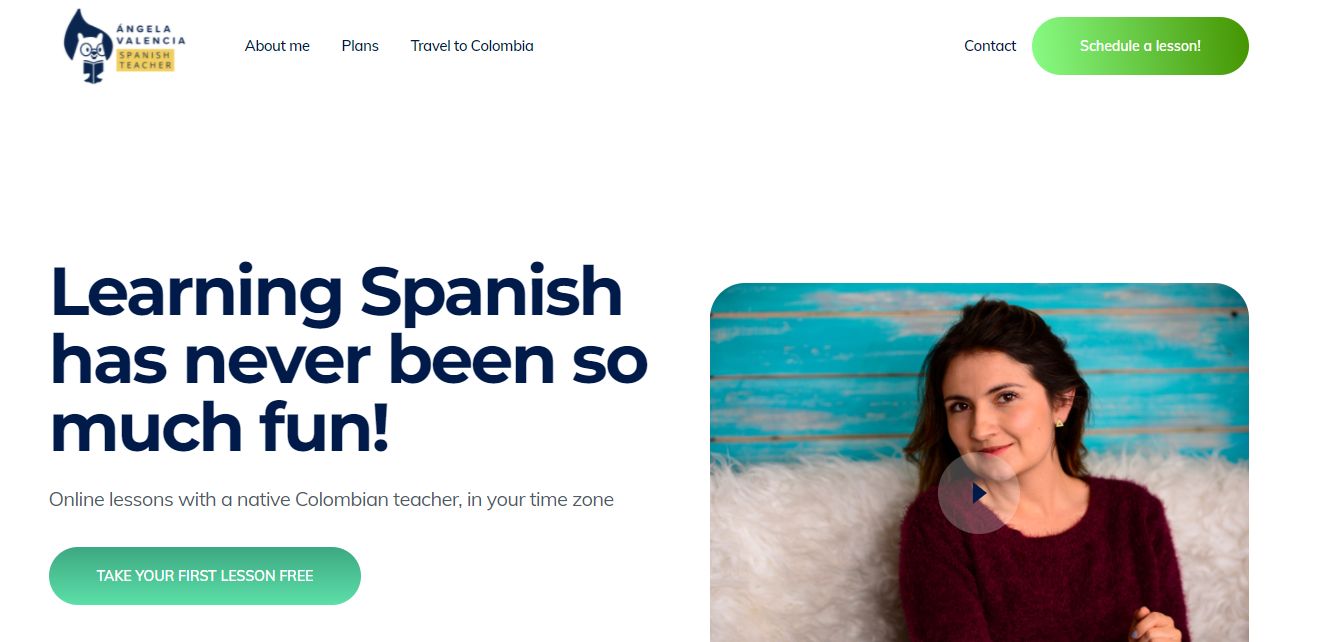 The Angela Valencia teacher website features a minimalistic design, including a perfect combination of whitespace and multiple shades of green. This website focuses on their past successes. This is an approach to get visitors to trust Angela's teaching expertise.
Create your own minimalistic teacher website design with one of these 10 minimalist WordPress themes
The design elements included on this website have clear CTA buttons, a calendar to schedule classes, a pricing section, testimonials, a track record, and a contact form.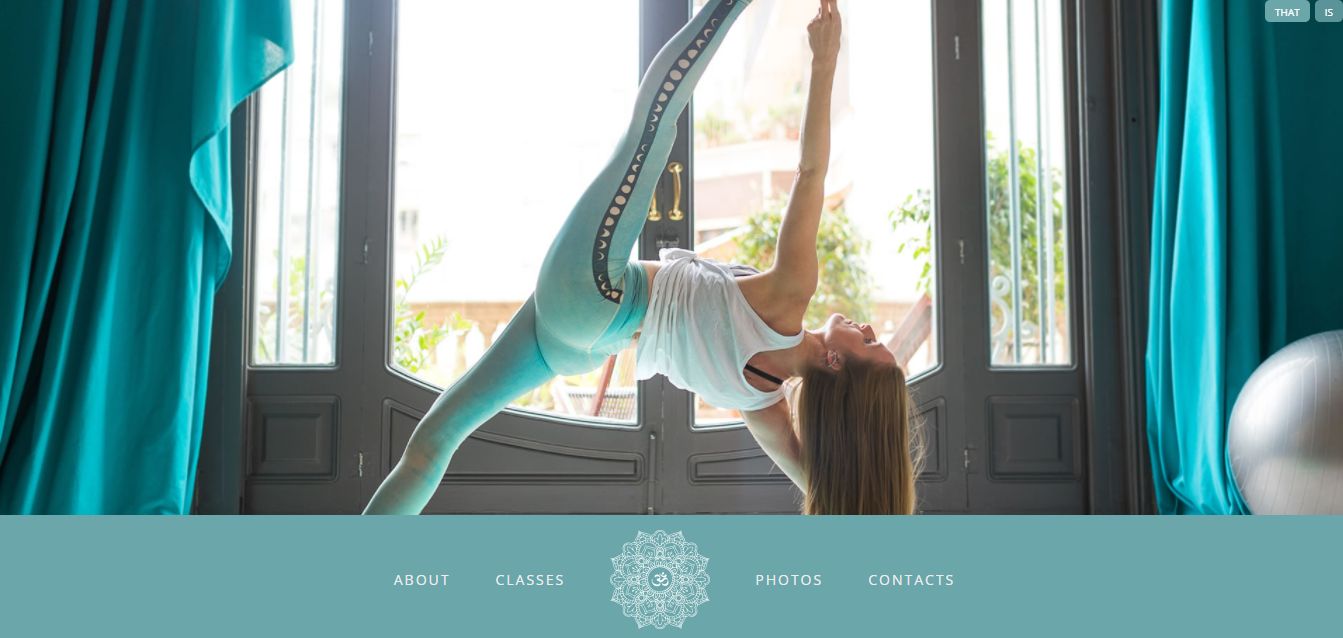 Aina Yoga explores a colorful layout featuring a perfect combination of high-resolution training images and textual content. These images were rightly placed, such that they prepare the mind of visitors for what is to expect from their classes.
The sticky menu bar used on this teacher website also ensures easy navigation, allowing your potential students to find what they seek as quickly as possible.
At the top of the homepage is a hero image that fades into the background as you scroll further down the page, creating a parallax-like scrolling effect. This teacher website also has strategically-placed CTAs, so users can take action very quickly.
If you are considering using a template, check out these amazing templates for teachers.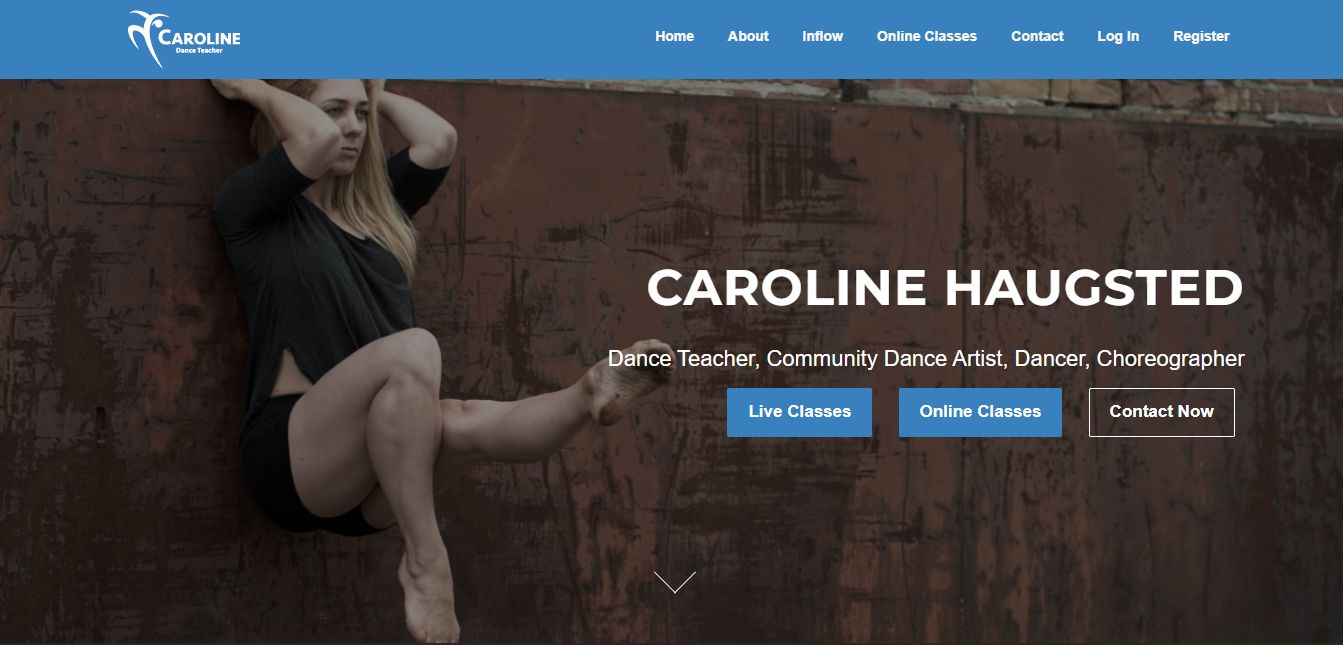 What's unique about the Caroline Dance Teacher website is its explorative use of videos. Like the Type Yoga website, this approach is typically used to prepare the mind of visitors for what is to expect from their dance classes. It also establishes credibility, as the visitors can see for themselves different training sessions you've had in the past and how brilliant they were.
Each video has a call-to-action button for further engagement on the website. Towards the end of the homepage is a contact us form that makes it easier for your visitors to reach out to you for further information or inquiries. The unique scrolling effect employed also enhances the overall user experience on the site.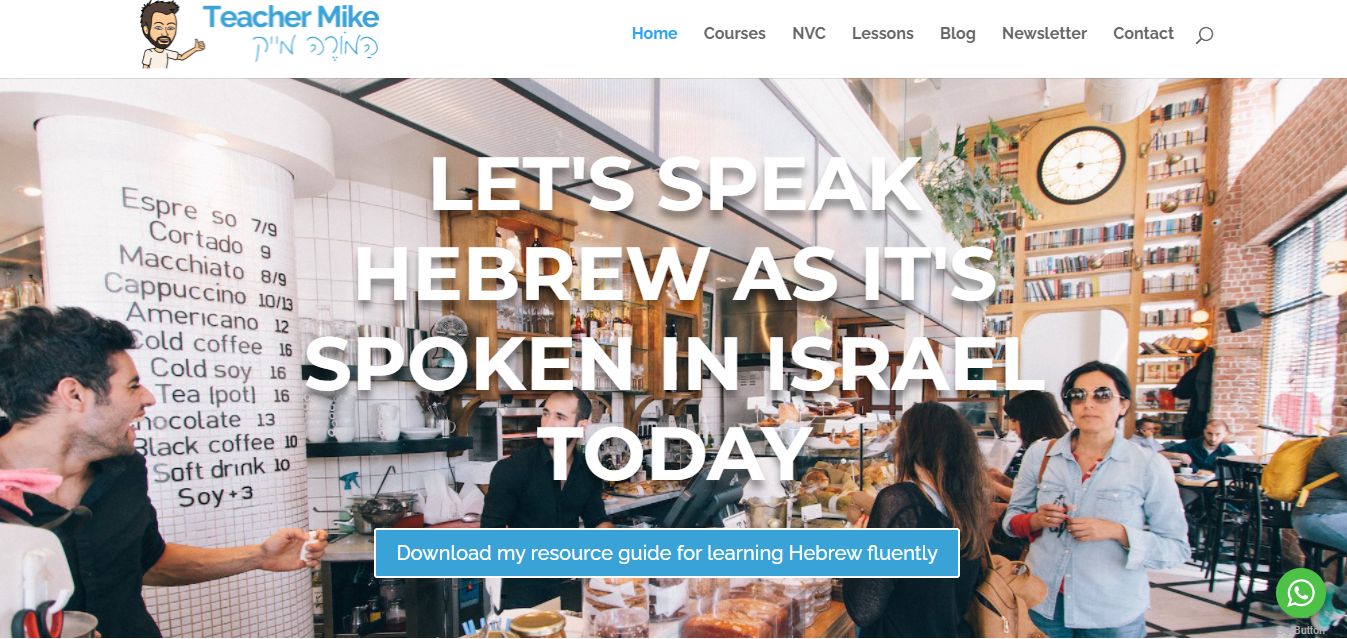 The Teacher Mike website is dominated by textual content. However, the brilliant layout employed eliminates the risks of boring visitors until they take favorable actions on the site.
The included sticky menu bar ensures easy navigation; the testimonials section towards the bottom of the homepage allows you to establish your credibility. The footer section of this website contains the teacher's details and a call-to-action button to subscribe to his newsletter, aiding lead generation, and ultimate conversion.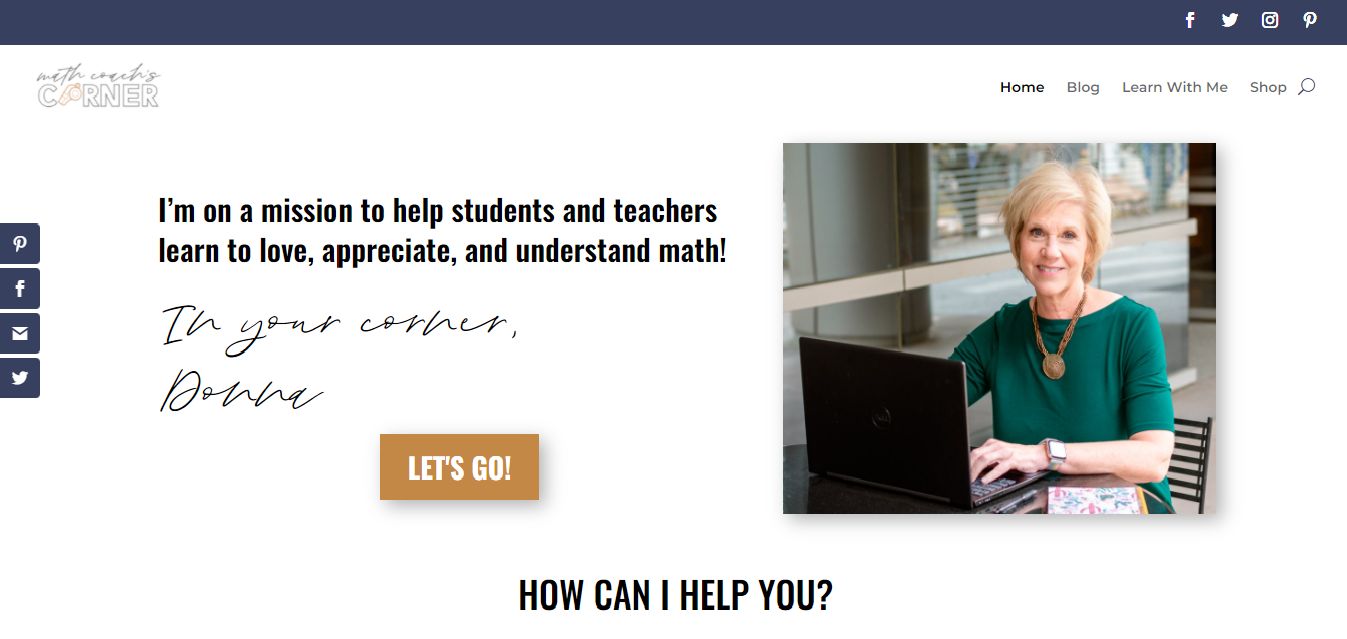 What we like about this website is its extremely simple and minimalistic yet action-driving layout design. 7th on our list of the best teacher website examples for inspiration, the Maths Coach Corner website explores an abundant use of whitespace blended with an amazing color scheme and stylish typography to aid user engagement on the site.
This teacher website also includes social proof, linking their social media platforms to make their visitors reach them easily and also portray how credible they are. The Maths Coach Corner website proves that, truly, less can be more.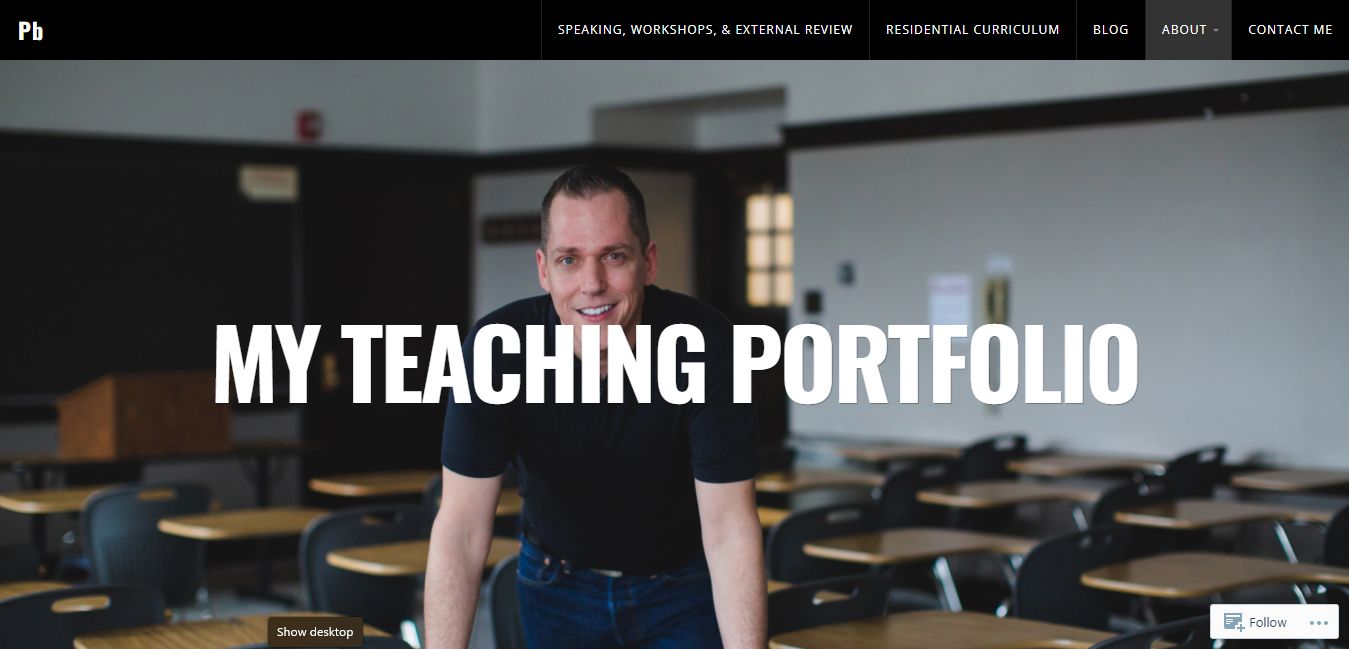 Another on our list of the best teacher website examples for inspiration is the Paul Gordon Brown website. Like other top teacher websites on this list, this website features a minimalistic design with only black and white colors.
The implemented layout carefully details Paul's journey as a teacher, establishing credibility and trust in the mind of his visitors. UI elements that made Paul's website stand out include bold font, brilliant use of whitespace, use of hero image, the testimonial section, etc.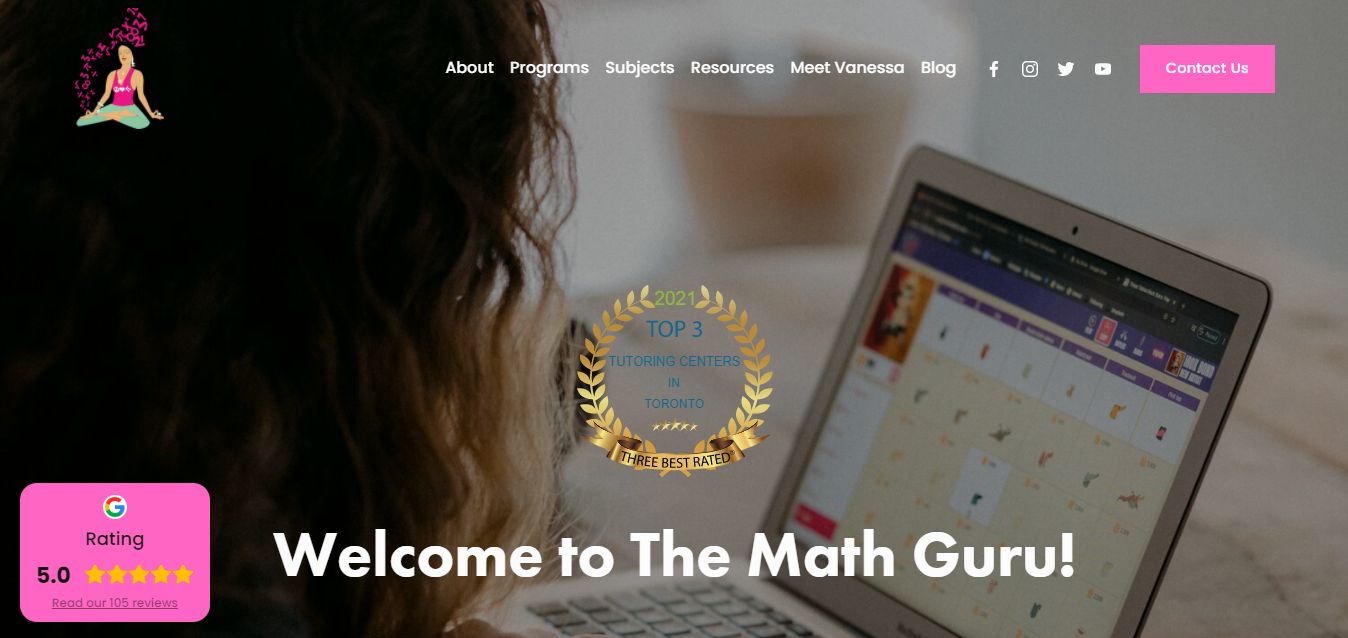 Math Guru has a funky layout that makes mathematics very interesting. Featuring a perfect color blend of electric blue and Barbie pink alongside an interactive hero video and clever use of whitespace, this teacher website was designed to create a welcoming effect on visitors, preparing them for the best learning experience possible.
The website also includes a testimonial section that establishes the credibility of Vanessa, the mathematics teacher. The implemented dropdown menu ensures easy navigation, allowing visitors to find what they seek very quickly.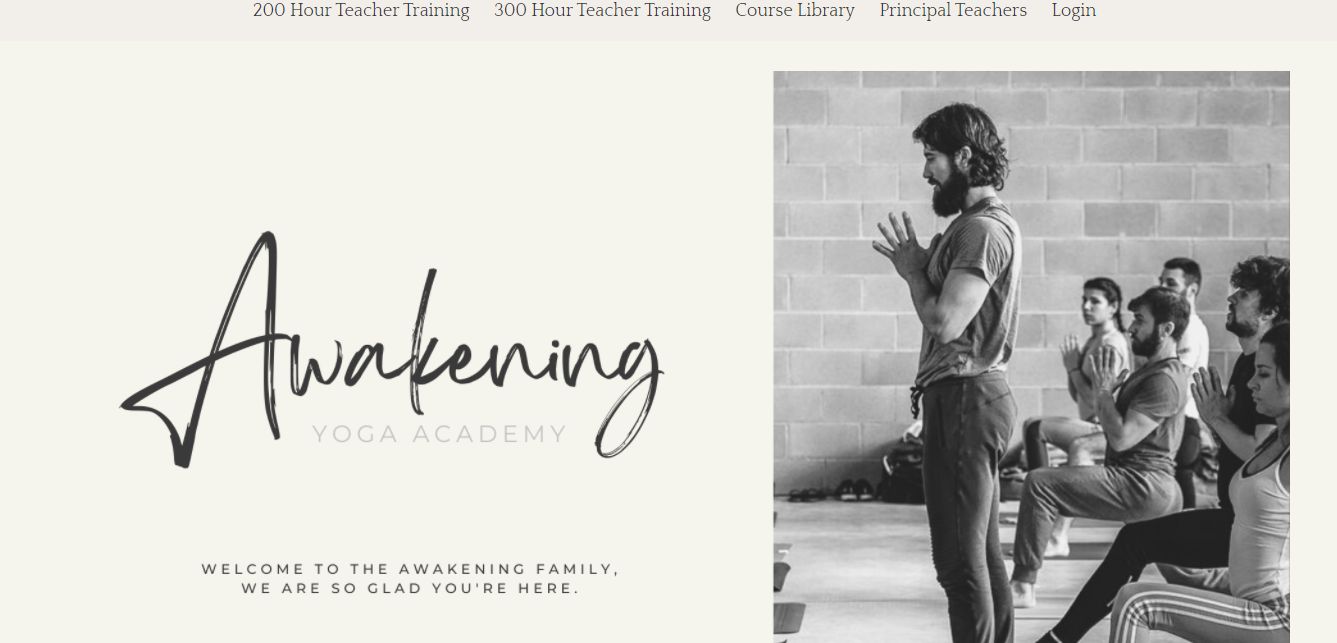 Another option to consider on our list of the best teacher website examples for inspiration is the Patrick Beach website for teaching yoga. Patrick features an intentional design, using feature boxes to direct his visitors to the most important part of the website so they can take favorable actions.
This website's layout leads visitors to the teacher's offerings, including his meditation guides, yoga workshops, yoga classes, etc., without appearing too pushy. This strategy ensures higher lead conversion rates.
The stylish typography, subtle use of parallax scrolling effect, and perfect color blend help make the website interactive, improving the site's overall user experience.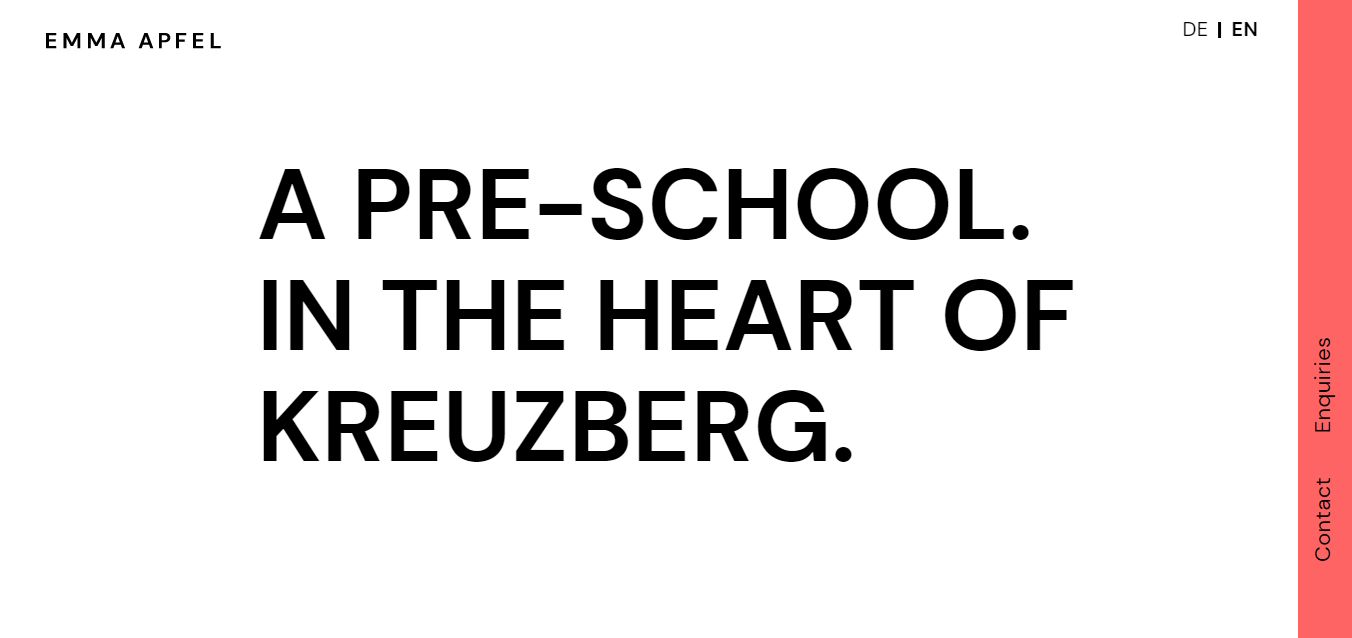 Emma Apfel features a sleek, one-page, minimalistic, yet modern design. The interactive full-screen video located at the top of the site welcomes visitors, engaging them immediately after landing on their page.
Perfect for pre-school children teachers, Emma Apfel offers a brilliant image slider where you can detail your subject offerings, class experience, etc. The brilliant navigation system employed alongside the subtle on-scroll text animation and use of whitespace creates an amazing feeling on visitors, keeping them engaged until they take favorable actions.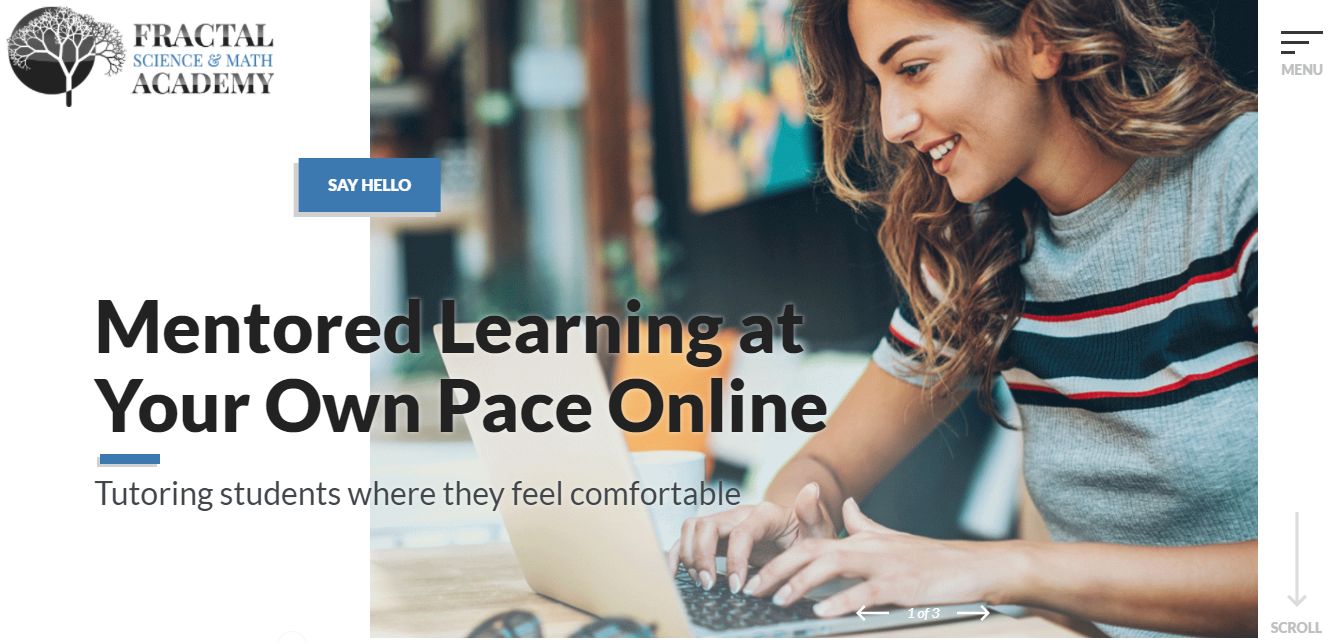 This is another academy website whose design can be modeled by teachers, too. With bold typography, well-placed CTA buttons, and an amazing color scheme, the Fractal Academy website creates a welcoming effect on visitors, encouraging them to look even deeper into the website for their course offerings.
Although featuring a relatively busy design, the website isn't distracting. The hamburger menu included at the top right corner of the page alongside the sticky dropdown menu ensures easy navigation. (Check how to create a hamburger menu here.)
A major part of this site features the testimonials of other students, establishing the academy's credibility.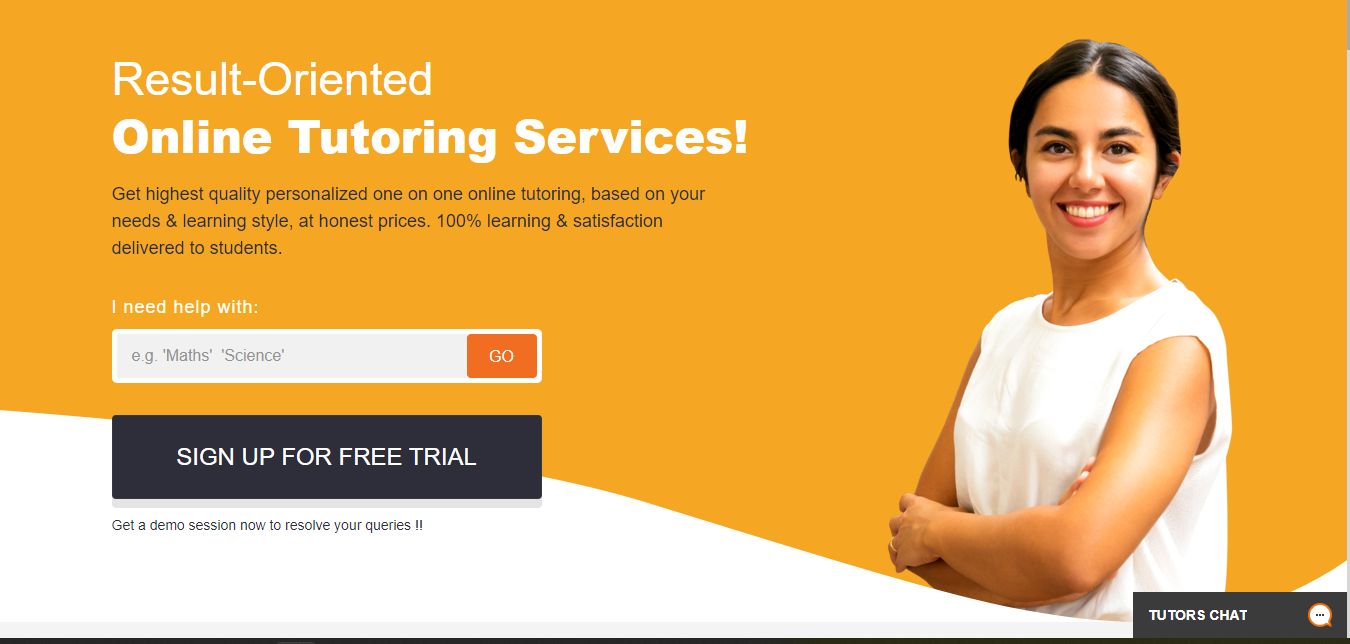 Tutor Eye is a professionally designed, playful, and fun website with a lively color pattern and graphic designs. Using multiple infographics, the Tutor Eye website illustrates their course offerings near the top of the page, making visitors quickly find what they need.
Most parts of this website were used to establish credibility, including the testimonial section. Tutor Eye also features a sticky chat box to allow visitors to connect with an academic counselor for help. It's also a strategy to generate leads for retargeting.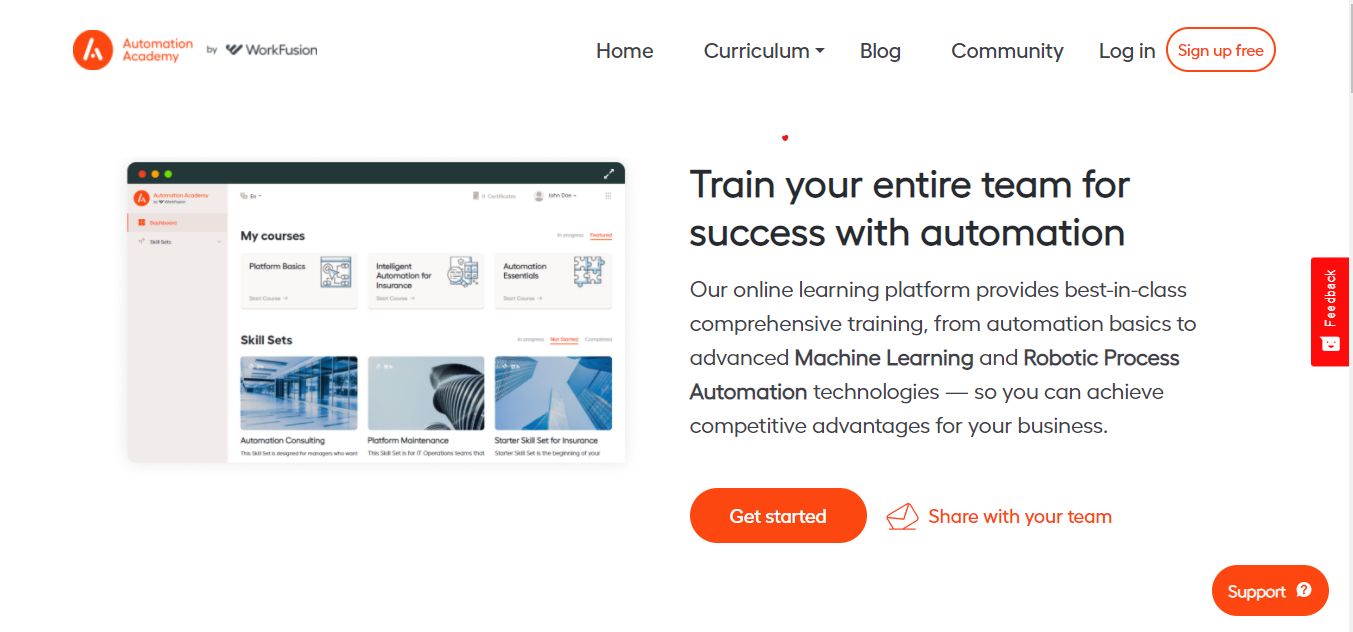 Automation Academy is a beautiful, well-structured, user-friendly teacher website design example. This website's layout highlights course syllabuses, course progress, and recommendations.
Automation Academy's website has an overall minimalistic design with a blend of dominant textual content and custom illustrations, making it an elegant and welcoming learning platform for its visitors.
The simple interactive tabs, quick-access icons, and attractive textures and colors included in the design are also worthy of mention.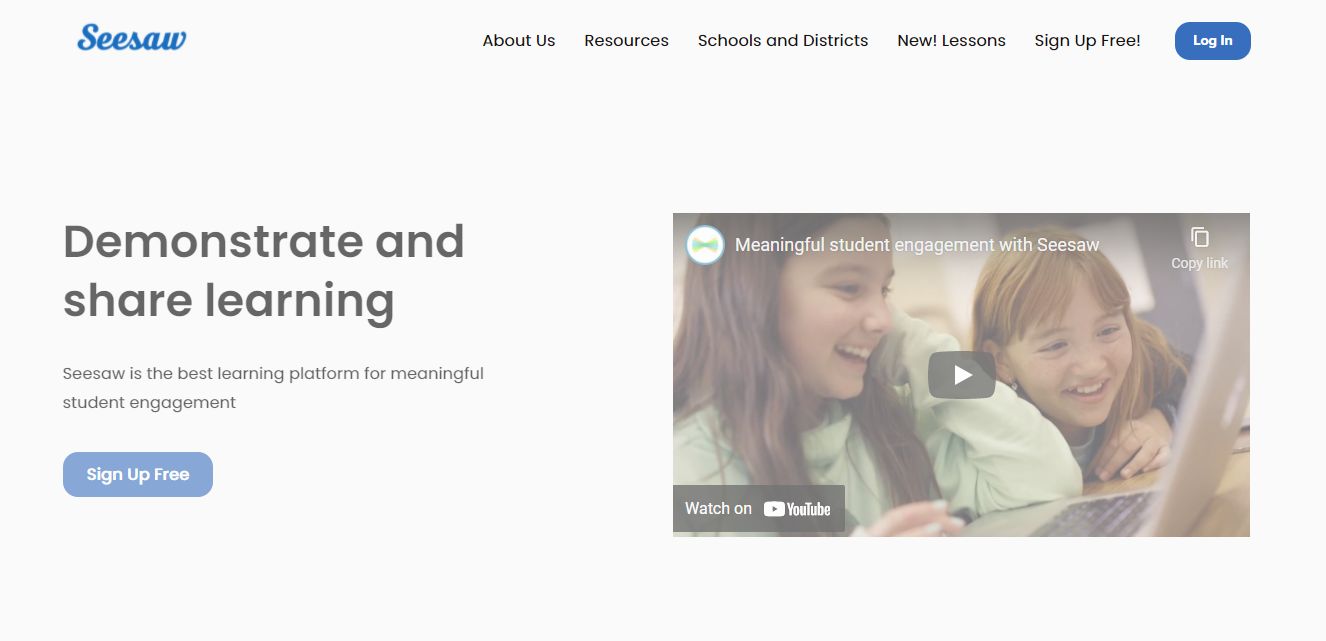 The Seesaw teacher website design also features a minimalistic design with the dominant use of whitespace and simple typography.
From the top teacher website examples explored in this article, you must have noticed the use of a clean and minimal yet modern design. This approach is particularly used to prevent possible distractions, ensuring your visitors focus on the site's content and not risk missing the included CTA buttons.
This article details other top minimal website examples for inspiration.
Seesaw is also easy to navigate, plus a detailed footer section directs visitors to where precisely they need to be other than the homepage.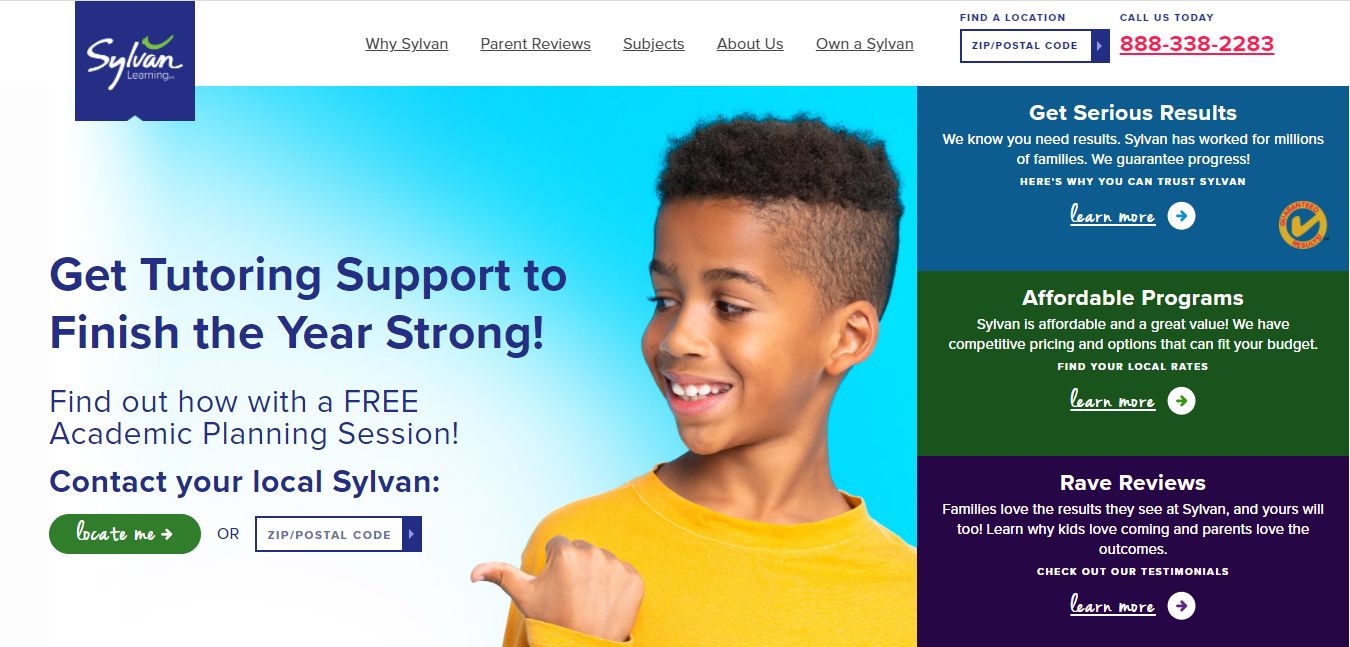 Sylvan Learning uses its brand colors to drive its website's design and overall theme. Although colorful, the site design portrays moderation, ensuring their content isn't all over the place, distracting their visitors.
This teacher website employs colors to distinguish categories. Their layout, although simple, works efficiently. With a sticky menu bar containing all the pages, easy navigation is confirmed, making prospective students find what they seek quickly and effortlessly. The Sylvan Learning website also features a nice blend of whitespace and photos.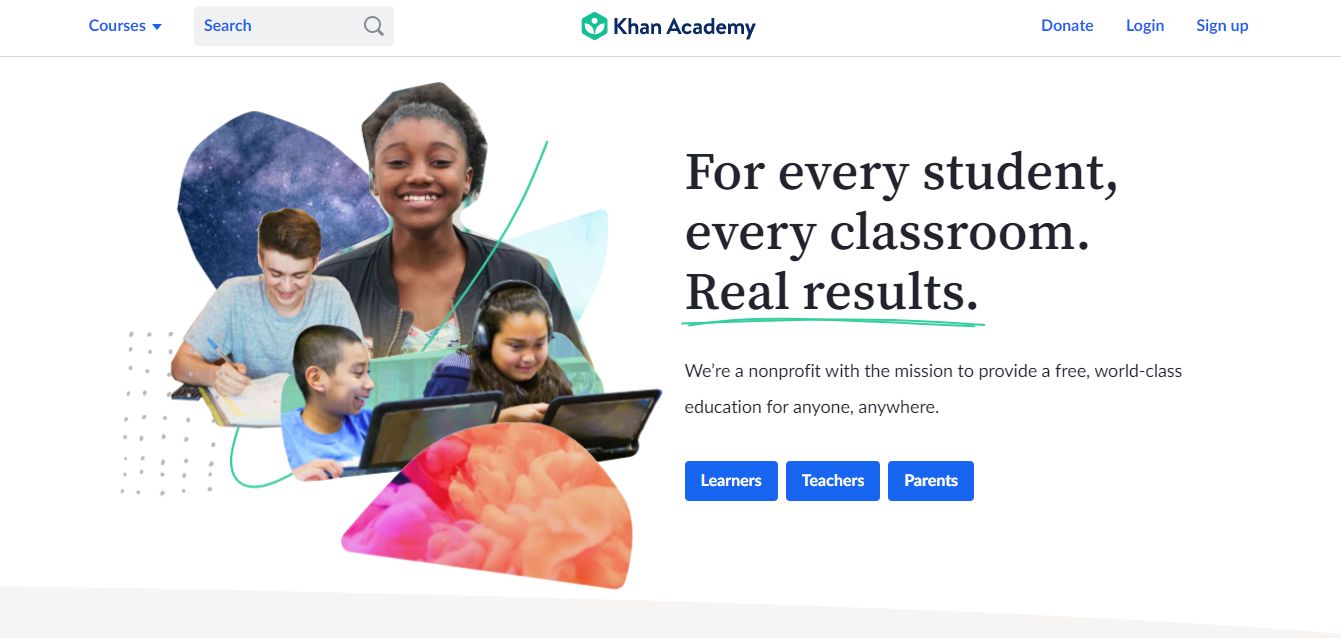 Although an education website for both students, parents, and teachers, Khan Academy features UI elements that you can take inspiration from when designing a teacher website. This includes the use of interactive videos, clear and straightforward navigation, subtle animation effects to enhance user engagement, etc.
The Khan Academy website also features rightly-placed call-to-action buttons to make your users or visitors take favorable actions.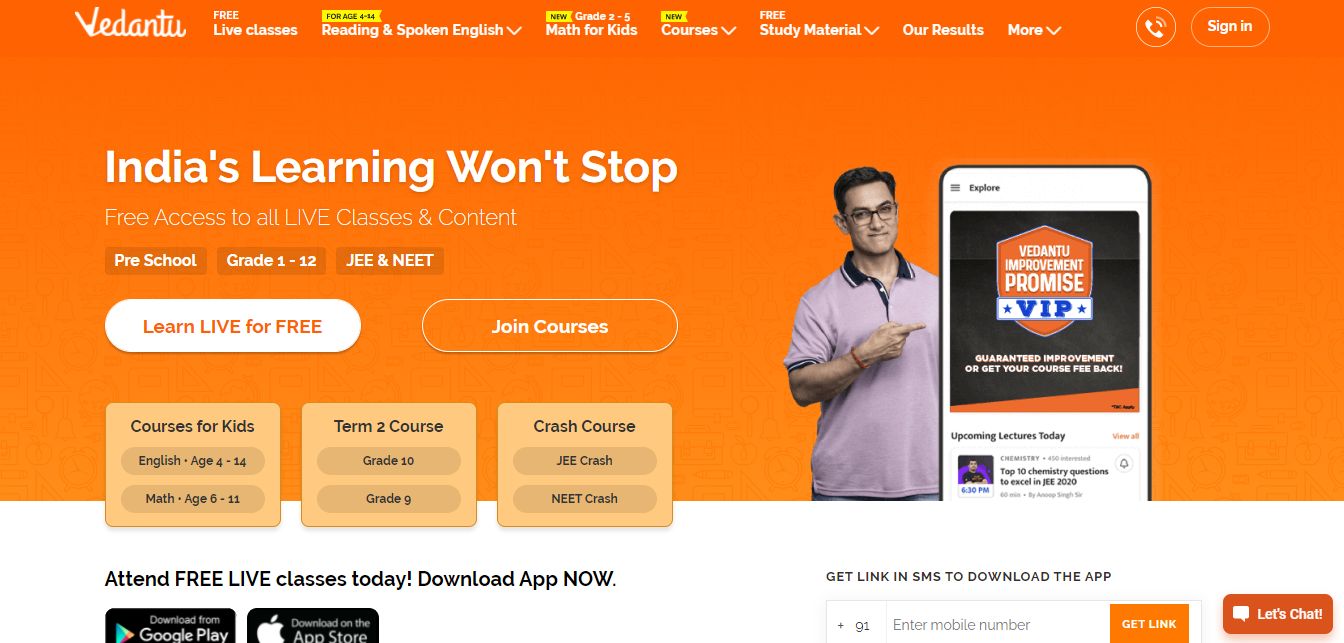 Vendatu teacher website was designed to prompt prospective students to make a favorable choice and take subsequent actions.
Vendatu features a layout showing their offerings, including their class sessions, exam courses, etc. This teacher website also includes well-connected and amply-placed call-to-action buttons to allow visitors to make decisions quickly.
This teacher website has also been designed to establish credibility, featuring sections like achievement, testimonial slider, etc., to make potential students trust their teaching capabilities.
Are you considering including a testimonial slider for your WordPress teacher website? You should check out our list of top testimonial slider examples for WordPress that you can use.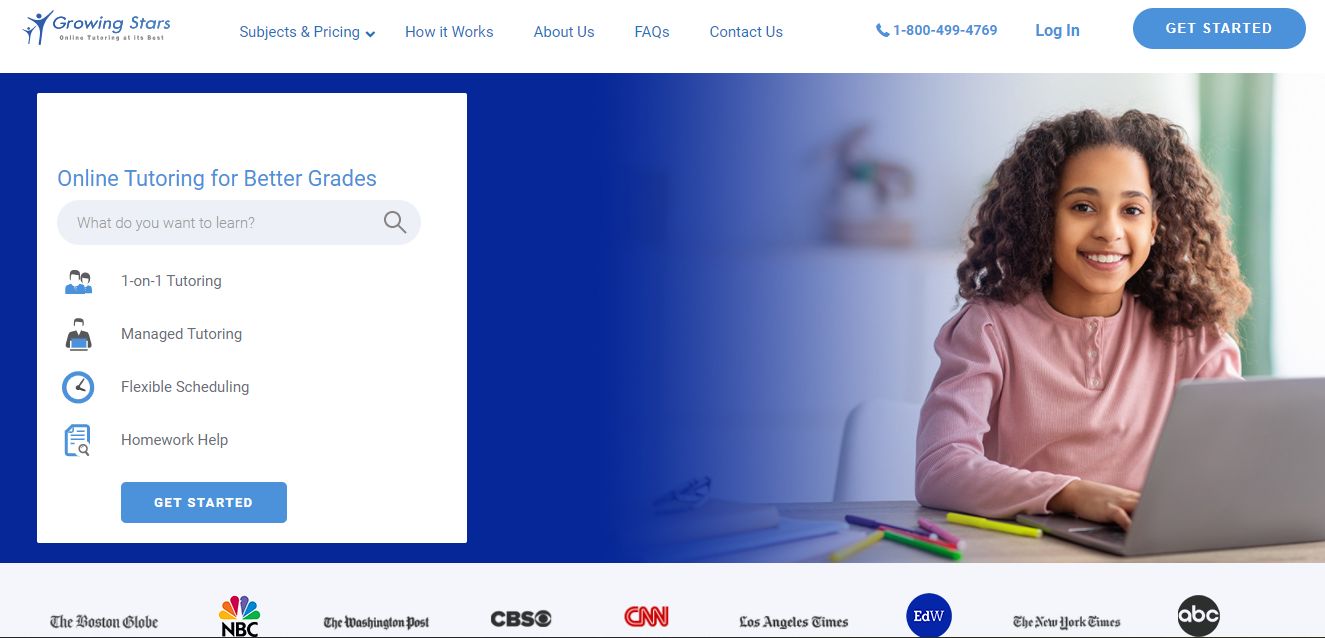 The 19th website on our list of the best 20 teacher website examples is the Growing Stars website. Growing Stars portrays seamless navigation, simplicity, and a clean design. If these are elements you desire in your teacher website, then you should consider looking at this example.
The loveable UI elements about this website design include classic vector icon designs, clear call to action buttons, a search bar just above the fold, and others.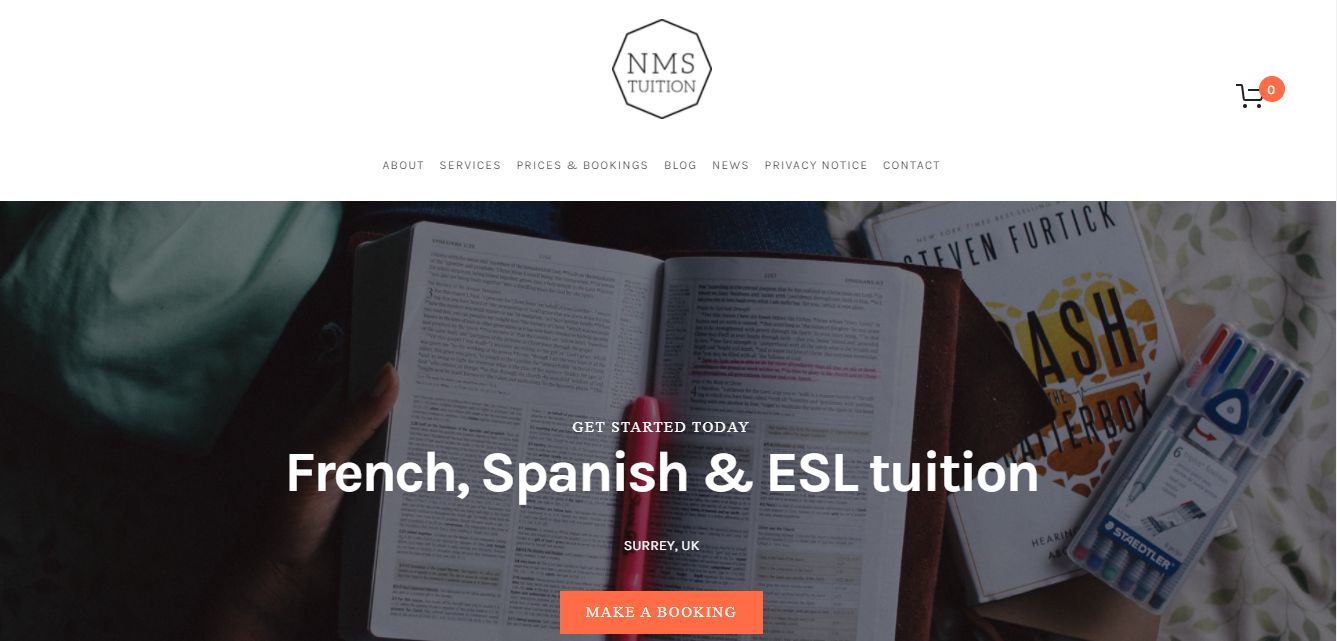 The Tutor in Surrey website proves that a combination of stock images and parallax scrolling effects can produce an amazing web design for teachers. With loads of whitespaces, this minimalistic website features multiple call-to-action buttons, a testimonial section, and a menu at the top of the page to ensure easy navigation.
The contact details included on the site make it easy to reach the tutor for further inquiries. The website also has a section where the teacher carefully demonstrated her skills and expertise without risking a monotonous user experience.
Why Do Teachers Need A Website?
Because regardless of your teaching level or experience, having a website is a valuable career boost. Here's a list of reasons why teachers need a website:
It will Help You Connect With Other Teachers: A website gives your expertise and skills as a teacher a digital showroom, letting you share your thoughts with the world and, in the long run, connect with individuals with similar minds.

It is An Opportunity to Build a Brand: Building a website is a crucial aspect of branding. Therefore, designing your website is an essential prerequisite for whether you plan to continue teaching forever or start selling digital courses.

It's an Alternative Source of Educational Resources: Do you have students who enjoy conducting research? A teacher website will let you create in-depth content and compile multiple educational resources, including PDFs, videos, etc.

It helps You Earn A Side Income: Finally, having a website as a teacher can serve as a source of extra income aside from your full-time teaching job. A few ways to earn via your website are creating online courses, hosting digital classes, etc.
What Should A Teacher Website Include?
A typical teacher website layout provides syllabus information, including learning resources, host self-learning courses, and more. Here are a few essential elements teacher websites should include:
Courses: Your website should contain a section that details information about the courses or subjects that you offer.

About Page: People want to know who the teacher is and what's their experience and previous studies. Having an about page or even a public CV will help you present yourself as someone with authority on the topic.

Testimonials: Include a testimonial section on your teacher's website to portray your credibility. Over time, it has proven to build a solid trust base with your prospective students.

Photos of the teacher/s: People tend to trust you much better when they get to see your pictures. If you are a teacher of a group of teachers, seriously consider adding your pictures (or even videos!) to the website. This will make your visitors more comfortable and provide them with much more trust.

Contact Form: This allows your potential students or their parents/guardians to contact you directly for further information or inquiries. It is also essential for lead generation and contact follow-up.

Plans and prices: If you provide different plans for students, make sure to provide them with the specific information for each plan as well as the prices. Make it easy for them to get the information they need.

Resources: Giving away free resources to your visitors is a way to gain their trust and to position yourself as an authority on the topic. From blog posts to guides, e-books, external links, videos, online courses, etc. Try giving them anything that can provide value to them.
Conclusion On Teachers Websites
Having read to this point, you must now better understand why you should have a website as a teacher. Thankfully, you do not need to worry about creating the best website, whether or not you have prior knowledge about coding or web development.
The top 20 teacher website examples explored in this article will help you find the best inspiration to design or redesign your website as a teacher this year.
Related Articles
Join 2,000+ readers and learn something new every month!
Get notified about new blog posts, tips, tricks, fullPage.js news etc.
RSS feed