Are you a UX designer (AKA User Experience designer) or have been working as a product designer? – Maybe you already have a design portfolio or could be thinking of getting one done. Either way, you will need some inspiration with where to get started.
It doesn't matter which category you fall into, both beginners and experienced professionals should probably have their own UX design portfolio website. Several are the reasons to have a professional portfolio.
In this article, I will inspire you with some amazing and successful UX design portfolio websites and hopefully get you started on building yours or even changing up your existing design portfolio.
But first, let's go through some finer details about UX design portfolios.
What Is An UX Design Portfolio?
An UX Design Portfolio is an online website portfolio which showcases your finest work and tells the story of you as a designer.
The idea is to show people (potential clients) who you are and what your work looks like, and give them a better understanding if you fit their requirements.
You can think of it as a virtual gallery for people to explore your work online.
The Goal Of Your UX Design Portfolio
Every aspiring or veteran designer should have their own portfolio: it is good to keep track of the work you have completed. It is a powerful thing to be able to show off successful work your clients are happy with.
The main focus for your UX design portfolio should be to tell a story of your journey and the work you have completed. That's why it is common to see HTML&CSS Timelines in these kinds of portfolios. You want people to not just learn about your work but also to learn about you as a person. Introduce yourself and allow people to understand the work you do.
Your portfolio should showcase all your available skills. Each client will want something different and thus, you must display a wide range of skills to appeal to a wider client pool.
10 Inspirational UX Design Portfolios Examples To Get Excited About
Let's now take a look at some amazing UX design examples for you to learn from, each one will show off a particular design, different designers will use a different style.
Brittany has been very clever by designing her website with a completely different UX approach. This way, not only she surprises visitors with the snap scroll effect, but also states that she is willing to try new user experiences and that she is not close to new things.
Check out fullPage.js component if you like her design. It creates the snap scroll effect that Brittany has decided to use on her page. Available for JavaScript as well as for WordPress and Webflow.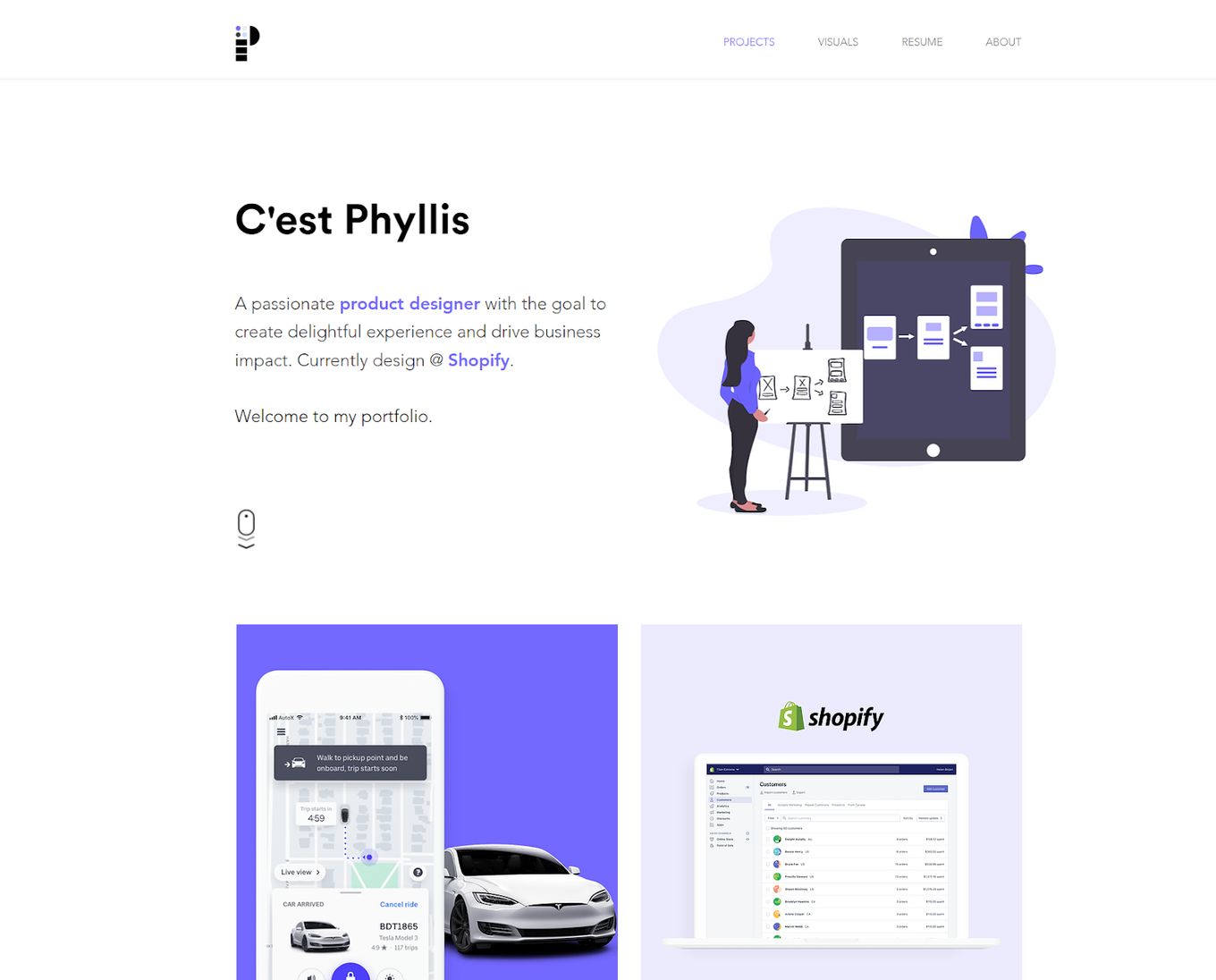 Phyllis Liu, based in USA Seattle and has worked for major companies like Facebook and Shopify. This one quickly showcases work and makes it easy to see what she has done.
This UX design example uses a single column layout (check out other website layouts) and it helps to keep the user focused on the key information and images.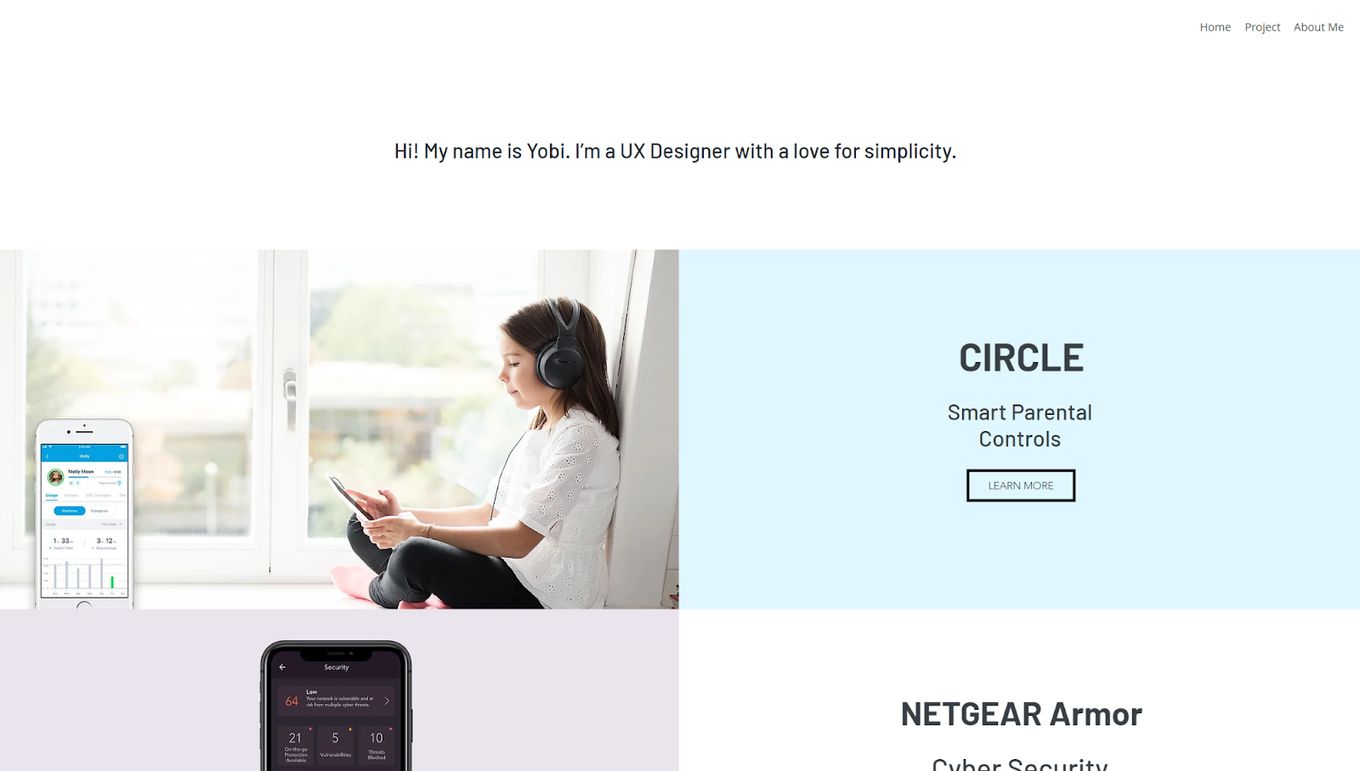 This UX design example is great because the designer gets straight to the point: she introduces herself and tells the user the key focus of her work and design. The website layout is using a very flat design, minimalistic and very clean, relating back to what she said she works on.
Each row is showing off work the designer has done, a main image on the left and a small amount of text to quickly explain more about the project that she worked on.
It has an easy structure to follow, the readers won't get lost, so the design choice here really works.
If you want to build your own portfolio as a UX designer, check out our article on what are the best websites to build your graphic design portfolio.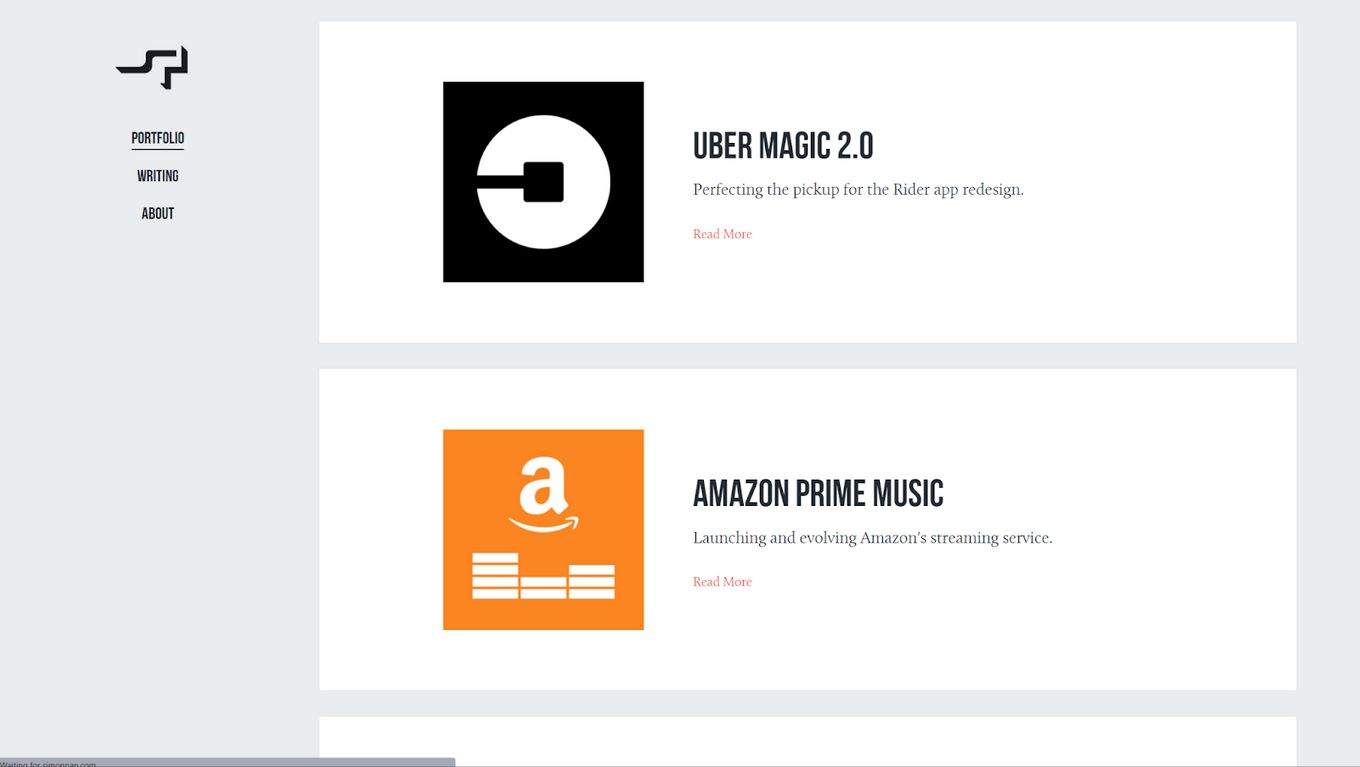 Simon Pan, a product designer who has worked with companies like Uber and Google. His UX design portfolio shows off his work by using a flat design and easy-to-follow cards in a single-column layout.
The work being encapsulated inside cards with lots of white spaces makes it an easy structure to follow. It features a clean, minimalist design, which makes it easy to consume all the information.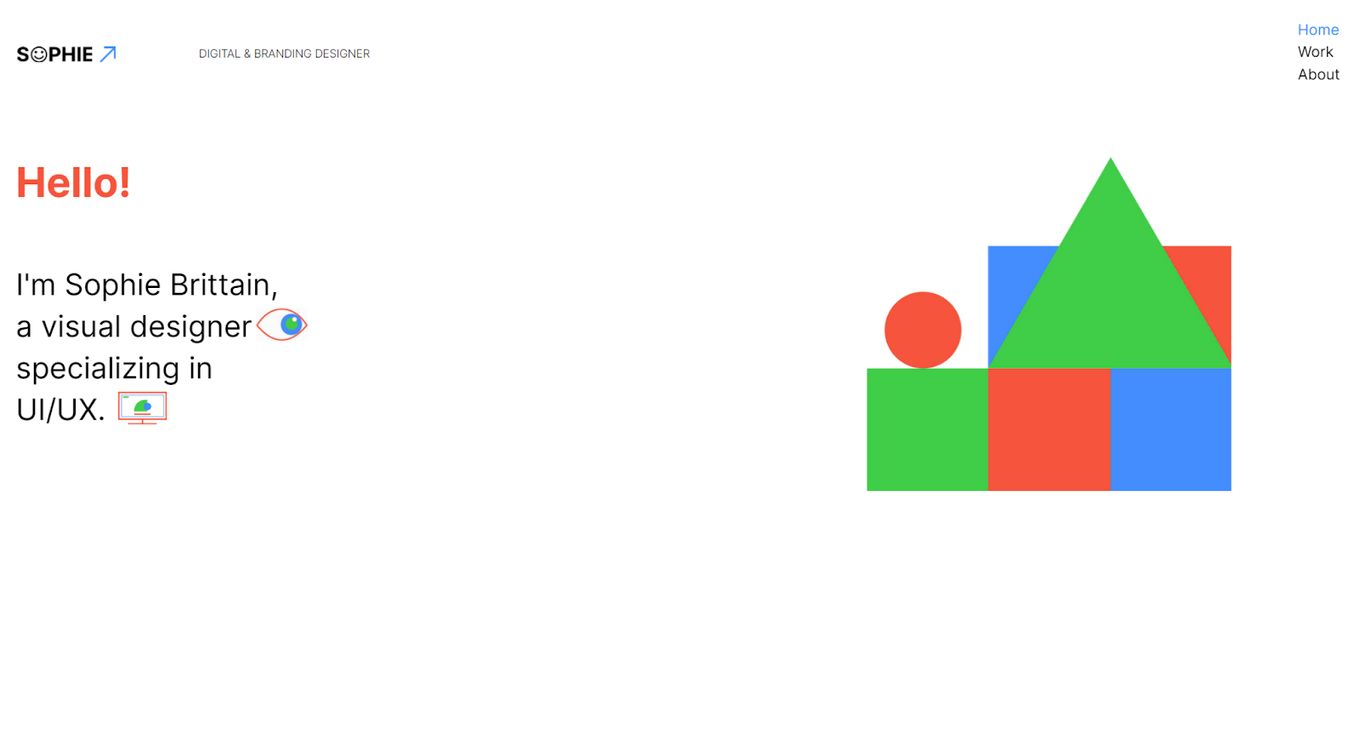 A designer focused on UI/UX, Sophie Brittain uses an extremely minimalist approach to her UX design portfolio.
The design looks inviting and is not noisy, making it seem intriguing to see what else is around. She uses a brief introduction and as you scroll down, gets into the work she has done using an interactive element.

A bit different from what we have seen so far, this UX design example uses an interactive element to show off her work. If you are interested in learning more about this slider, I wrote an article explaining why website slider designs are great and when you should use them.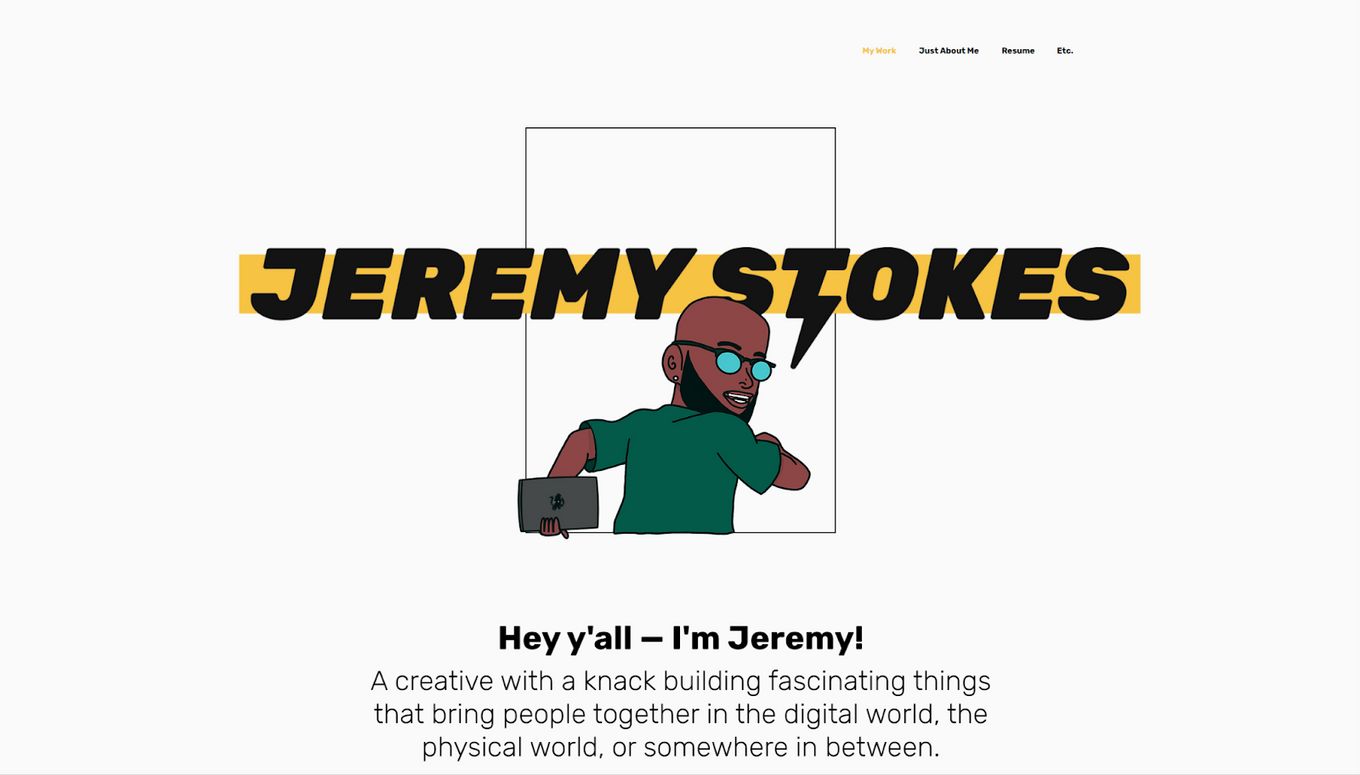 Jeremy Stokes has worked for companies like Google and Duolingo. His UX portfolio design starts off with a bold introduction using a cool graphic of himself.
The design layout is clear and the structure makes it very easy to follow. The website works as a storybook as you scroll.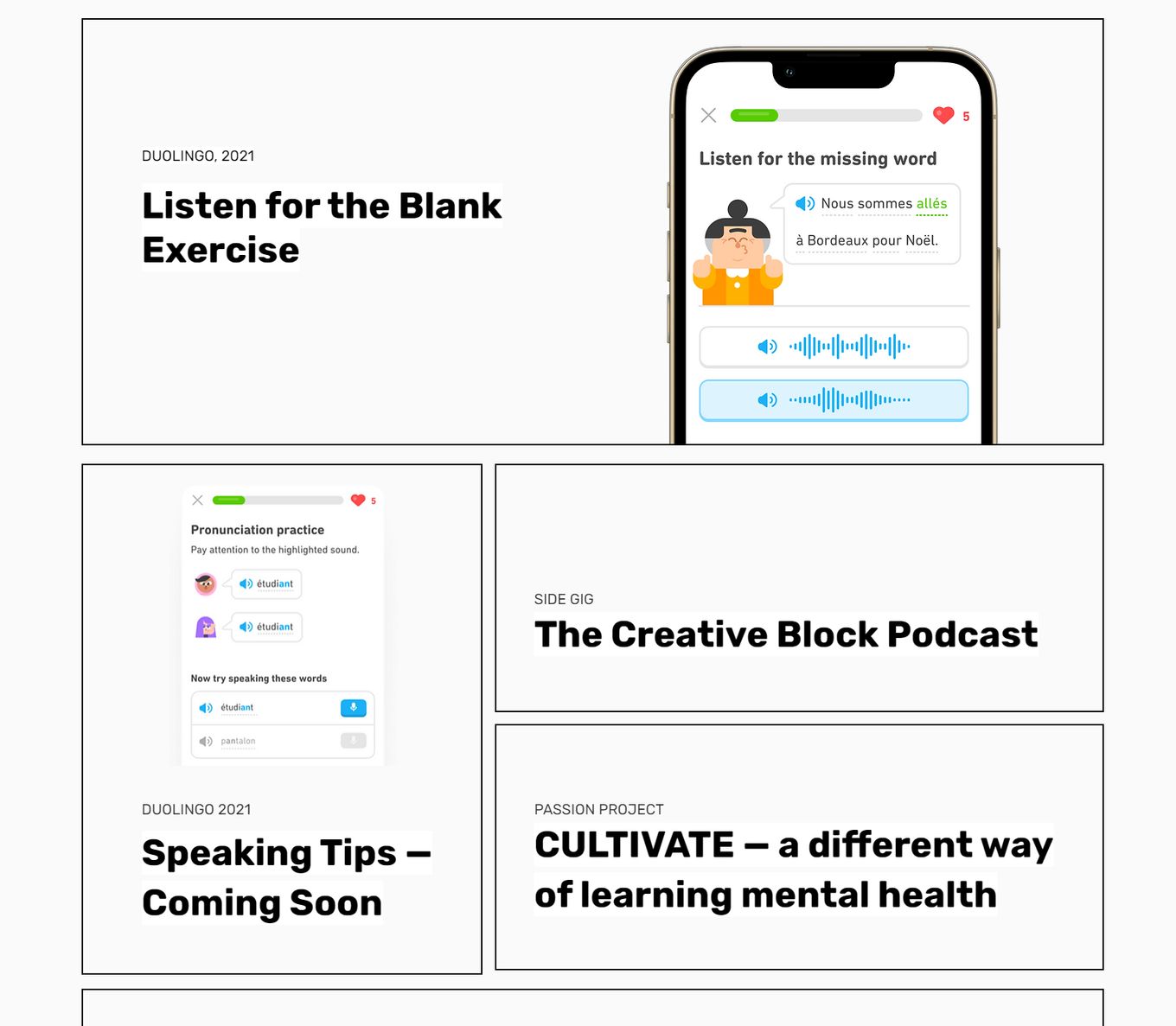 As you can see, the layout uses a minimal design but the definitive lines make the work stand out much more. The use of symmetry is appealing to the eye and helps guide the user.
Are you designing interfaces for video games? Then you need to check these game design portfolios too.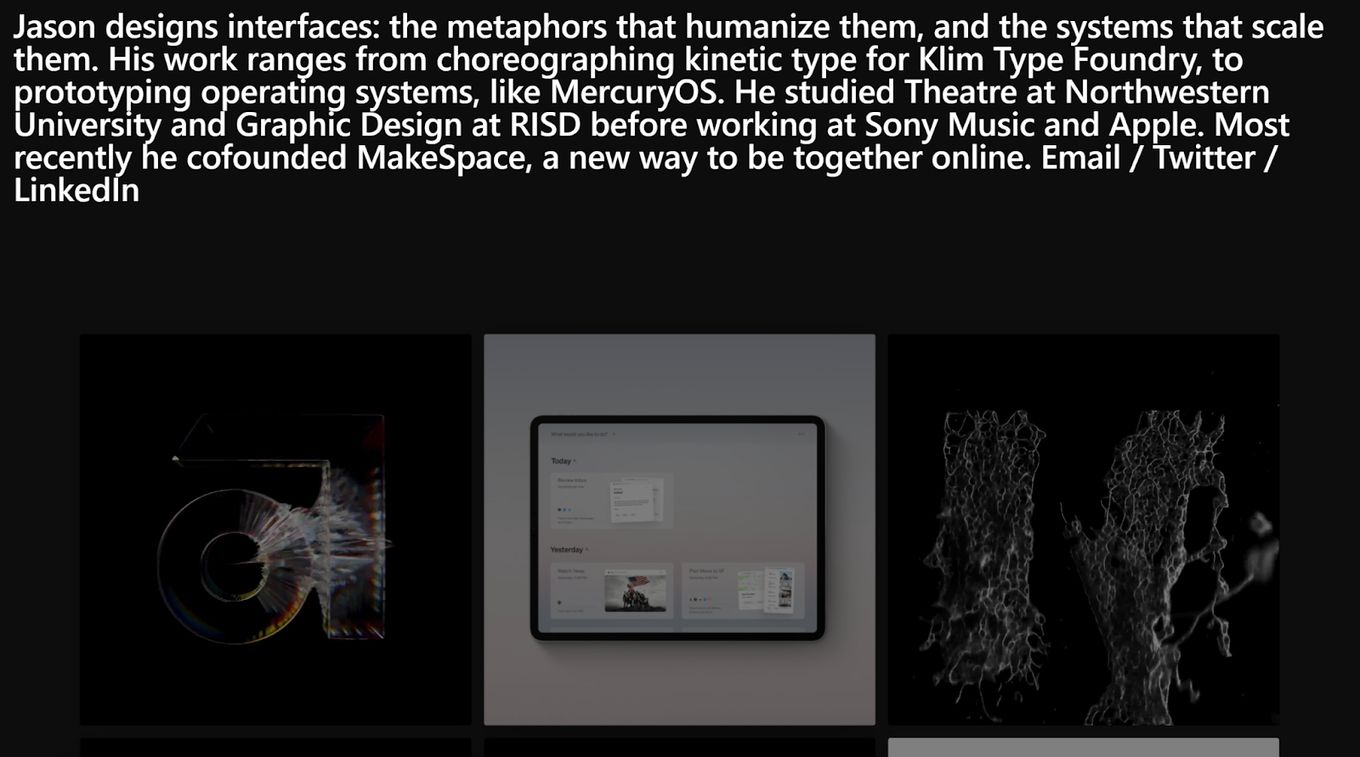 Formerly an actor, turned designer, Jason has done work for the likes of Apple and Sony. His design starts off with a bold introduction and really just gets straight to the point.
Right away we can easily understand what he does, the type of work he does and a little information about himself.
The design itself uses a lovely dark theme which is based on an asymmetric grid to show off the work he has done.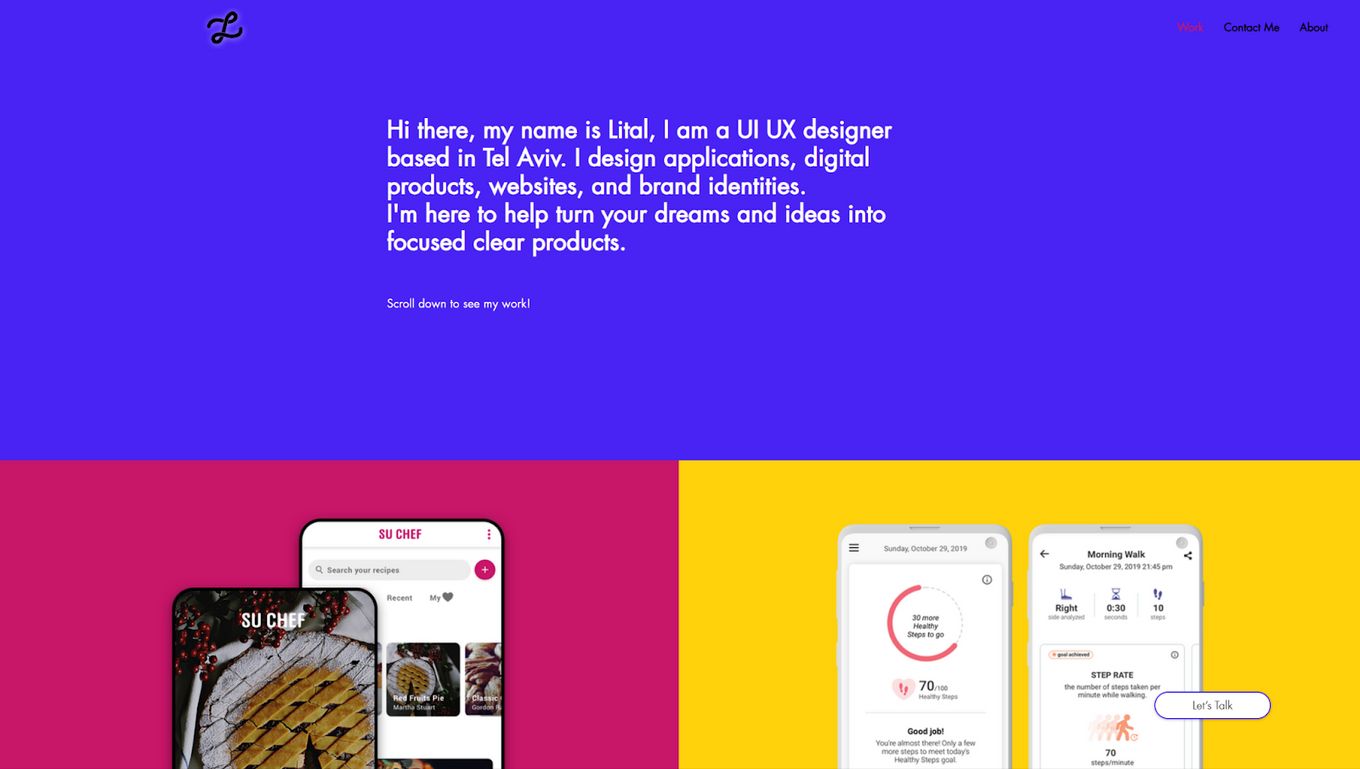 Lital Karni has an impressive design which uses bold, bright colours structured with a block layout, using the full width and height of the screen.
The layout is kept minimal and is very easy to navigate. The design makes it easy to get in contact with the header bar having links to contact her. But also has a floating "Let's Talk" button always in view.
The short but informative introduction is easy to read and then gets straight into the work that has been done.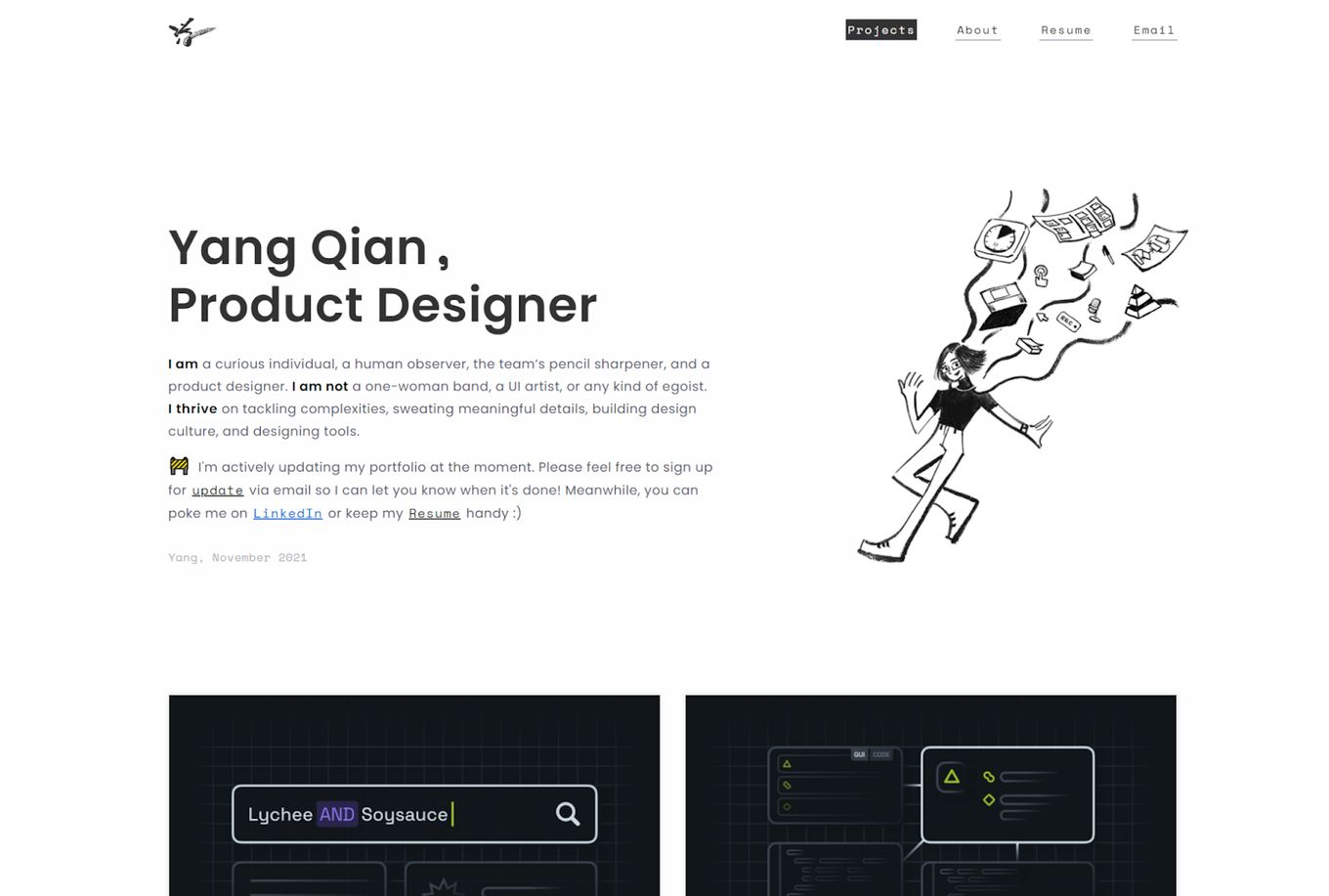 A product designer that uses a minimal design for her UX design portfolio, mainly a black and white theme, helps appeal to the masses and makes her work items stand out more as they will always seem more inviting.
Another great user experience design example of a quick and snappy introduction, no clutter, just the information that something would want.
The work items use a two-column grid-like layout and they are displayed as a card UI. She also makes it really easy to get in contact with email links throughout the website.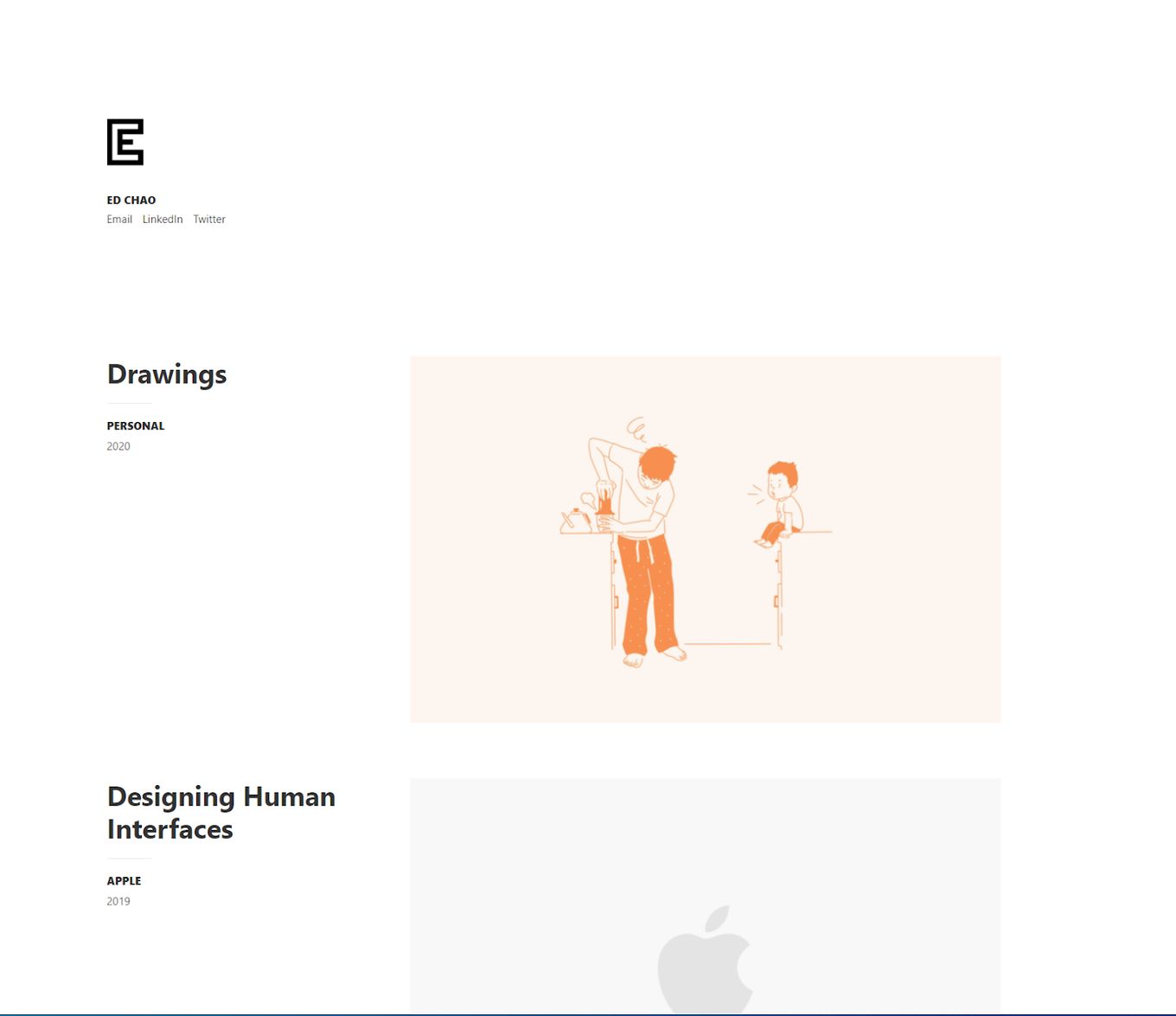 Ed Chao has a lovely flat design theme going on and uses simple text and images to showcase his work in this UX design portfolio example. The layout is simple to follow using a single-column layout.
Overall, clutter-free and only the vital information someone would want.
One thing that is great about this design is the links are simple and he makes it easy to reach all of his social media links, no additional page navigation is required.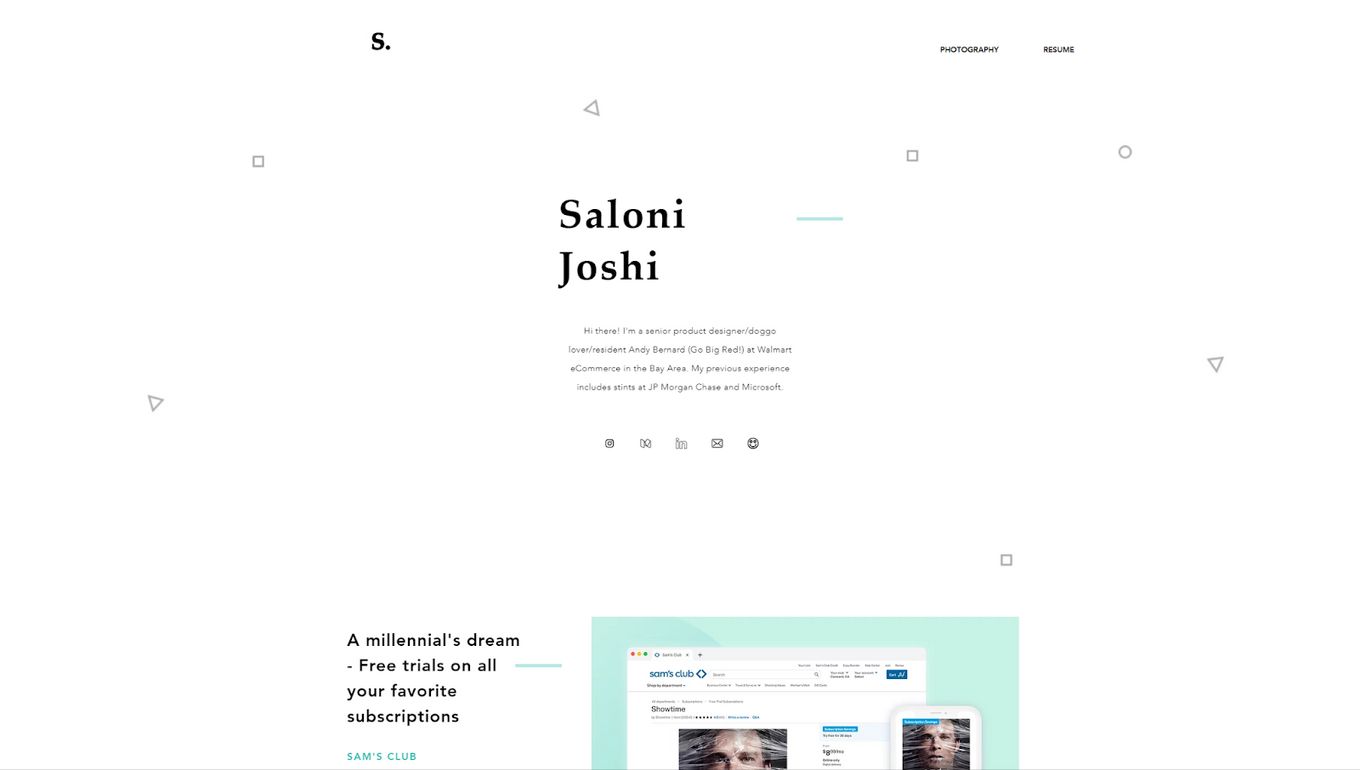 This UX design portfolio by Saloni Joshi is minimalist and uses an easy-to-follow single-column layout, something which is very popular with design portfolios as they are effective.
A simple but elegant theme, the colours are subtle and will easily appeal to most people. A quick introduction and then straight into the showcase of work.
The time to value for this one is quick, a user doesn't have any clutter to get through before seeing the real value, which is the work being presented.
Final Thoughts – Key Points
The websites chosen should have something for everyone. The main goal of a UX design portfolio is to show off your work but also tell a story. Show people who you are and what your work is all about.
Key points to consider from all these UX designs portfolio examples are:
Make it easy to navigate. Keep it simple and to the point.
Include all your social links on the first page: make it easy for people to get involved with you.
Use large images or drawings to show off your work. Aim your design around putting your work in front of people, because at the end of the day, that is what they will want to look at.
A good tool to create your UX Design portfolio could be fullPage.js. This JavaScript library allows you to create full-screen websites that will include all the features we have just mentioned to show off your work: easy navigation, large background images, telling a story, etc. Check it out!
Related Articles