27 Examples of Web Developer Portfolios for Inspiration
Getting a job as a web developer requires some skills, but if you do not have a portfolio... how will you showcase those skills to the world?
Below are the top twenty (20) web developer portfolio examples that you can reference when seeking the right inspiration to build or improve your already existing portfolio. Because we know that having a professional portfolio is very important and it can mark the difference, we have selected what we think are the best developer portfolio examples in 2023.
[Updated the 20th of March 2023]
Ideal for responsive one-page portfolios with both horizontal and vertical sliders. It uses the fullPage.js component.
Lokkee is a passionate programming freelancer with top-notch experience in the web app and desktop application development. This includes full front-end design, brand identity, graphics, illustrations, etc.
Lokkee's web developer portfolio makes great use of fullPage.js JavaScript component to create a beautiful full-screen experience that also serves as a way to prove his front-end skills.
If you are looking to build a portfolio with beautiful visuals and a few texts, you should consider using the fullPage.js fullscreen carousel. It will give your page a modern touch and will for sure be a different portfolio that will catch the viewer's attention.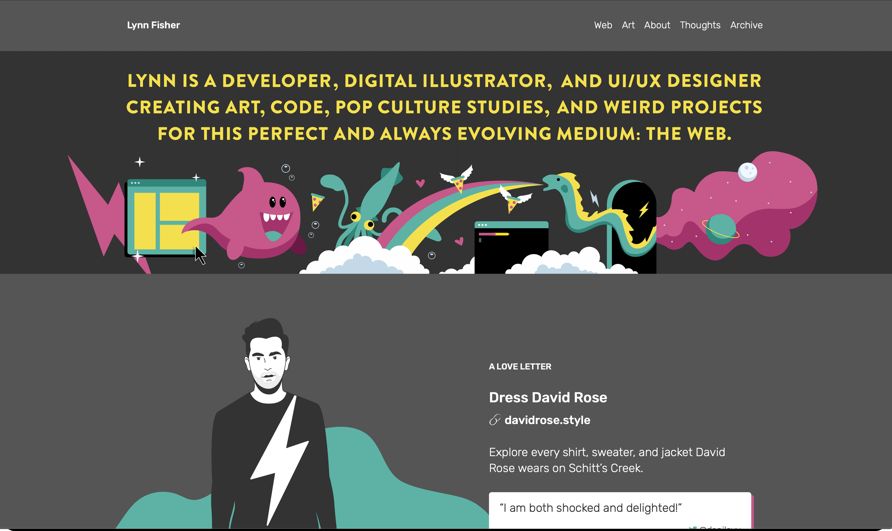 In handy if you have many media and texts to include in your developer portfolio website.
Lynn Fisher is a digital illustrator, web developer, and UI/UX designer. Her portfolio changes yearly, which is a major feature that piqued our interest. All previous iterations are available on her "archive page."
Her web dev portfolio includes "cliffhangers" to her past web work and art projects. She's done it irresistibly that almost every visitor would want to engage these buttons to view. She also allows her visitors to choose between the light or dark theme, which is also worth considering.
If you want to start building your own portfolio you should check out the best portfolio web builders. Ideal to show off your no-code skills or to set up something beautiful and fast in no time.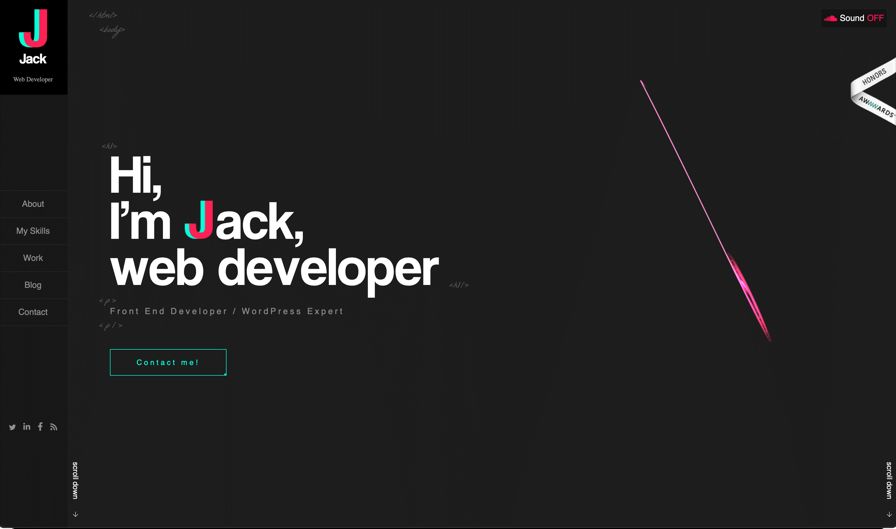 Recommended for developers with mastery of animation.
Jack is a WordPress expert and front-end developer with about 10 years of experience. How did we know all of these? Via his portfolio!
Jack's portfolio is exhaustive informative, letting his visitors know everything and anything that needs to be known, especially about his skills and how he infuses them into helping clients smash their goals. This web dev portfolio has a blog page containing tech articles.
Jack explores seamless animation, with color combinations that work just perfectly – you would love it at first sight!
Recommended if you want to create a simple yet modern portfolio.
Fifth on our list of web developer portfolio examples is Cory's website. The simple yet eye-catchy design and brilliant choice of words employed for this portfolio make it an excellent example to draw inspiration when creating your portfolio.
Cory has a unique heading created with a pixel design image. The website has a modern look, thanks to the background animation of an orbiting planetoid representing outer space Cory has included in the portfolio's design.
Cory's intro copy is excellent: although relatively short, the use of simple but memorable words encourages visitors to continue scrolling down the page.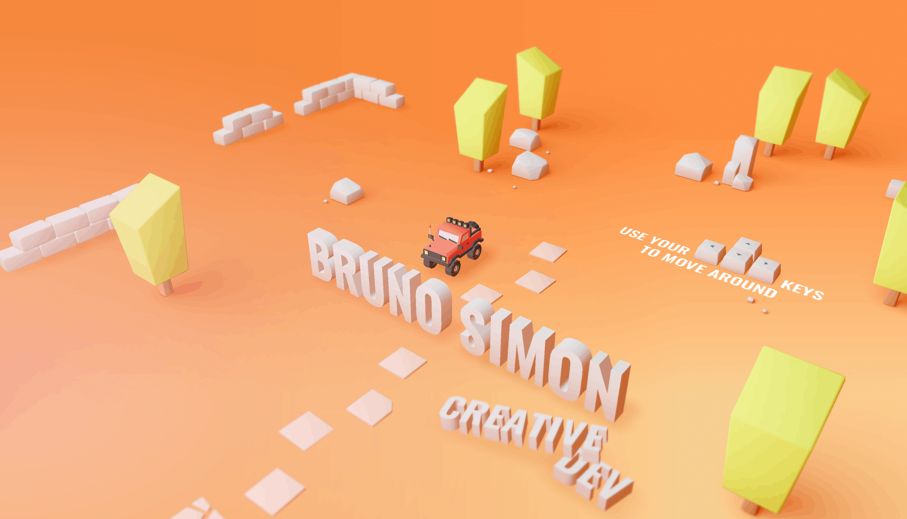 Ideal for web developers who fancy 3D animation and want to amuse their visitors.
Bruno's portfolio is the perfect description of aesthetics. His developer portfolio website is very interactive: a 3D setting where visitors can navigate with a jeep to various sections of the website. Bruno implements an excellent mastery of 3D animation to create a brilliant navigation system for his web dev portfolio, helping his visitors have a great user experience.
However, while the idea may seem perfect, it may be somewhat tiring and distracting. It may also be relatively difficult for potential clients who aren't really "oriented" to navigate the portfolio quickly. Nonetheless, if you fancy interaction and want to amuse your visitors, then you can draw inspiration for your developer portfolio web from this design.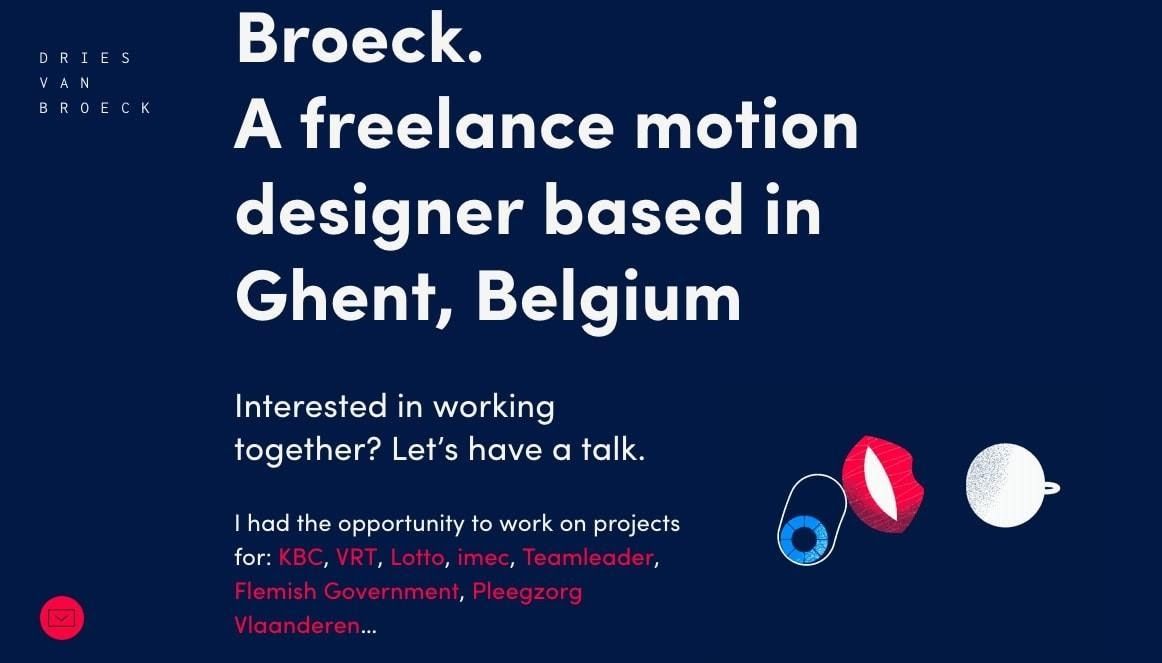 Recommended for web developers who have lots of text to include in their website.
Dries Van Broeck is a motion designer. And this reflects in his web dev portfolio's design. Dries' website is carefully designed, highlighting all important details, including the bright prompt text highlighting the author's bio, the carousel, the small animated icons, etc.
Dries undoubtedly displays an expert level of design and development skills with his portfolio. His portfolio stood out for us because of the dynamic interactive effects it has on visitors, thanks to his appropriate use of animation and colors.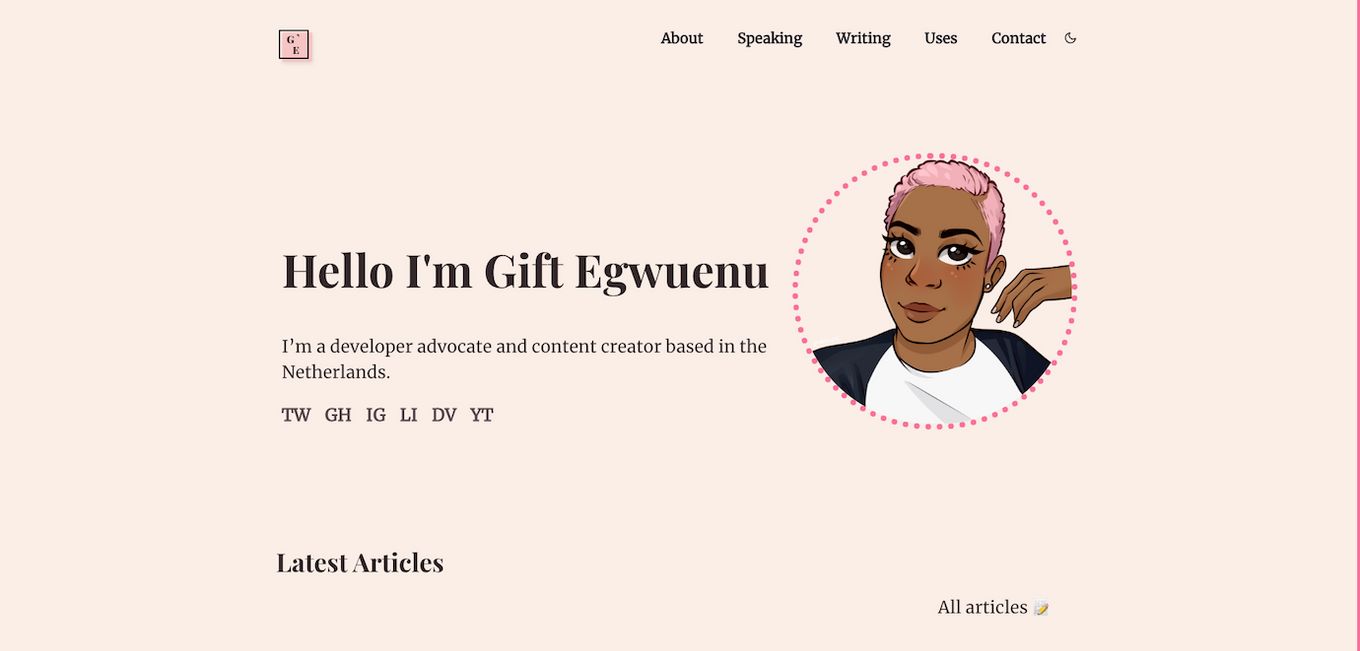 Ideal for developers who have more texts than media to include in their web developer portfolio.
Gift is a Netherlands-based front-end developer and content creator. Although simple, with straight-to-the-point details, Gift has also made her developer portfolio website beautiful and elegant.
The interesting thing about this website is its ease of navigation. It is also less distracting, including only a few animations and colors to catch visitors' attention. Gift has also included a resource section on her portfolio where visitors can stay up-to-date with her as a content creator. The portfolio also allows visitors to switch between light and dark themes.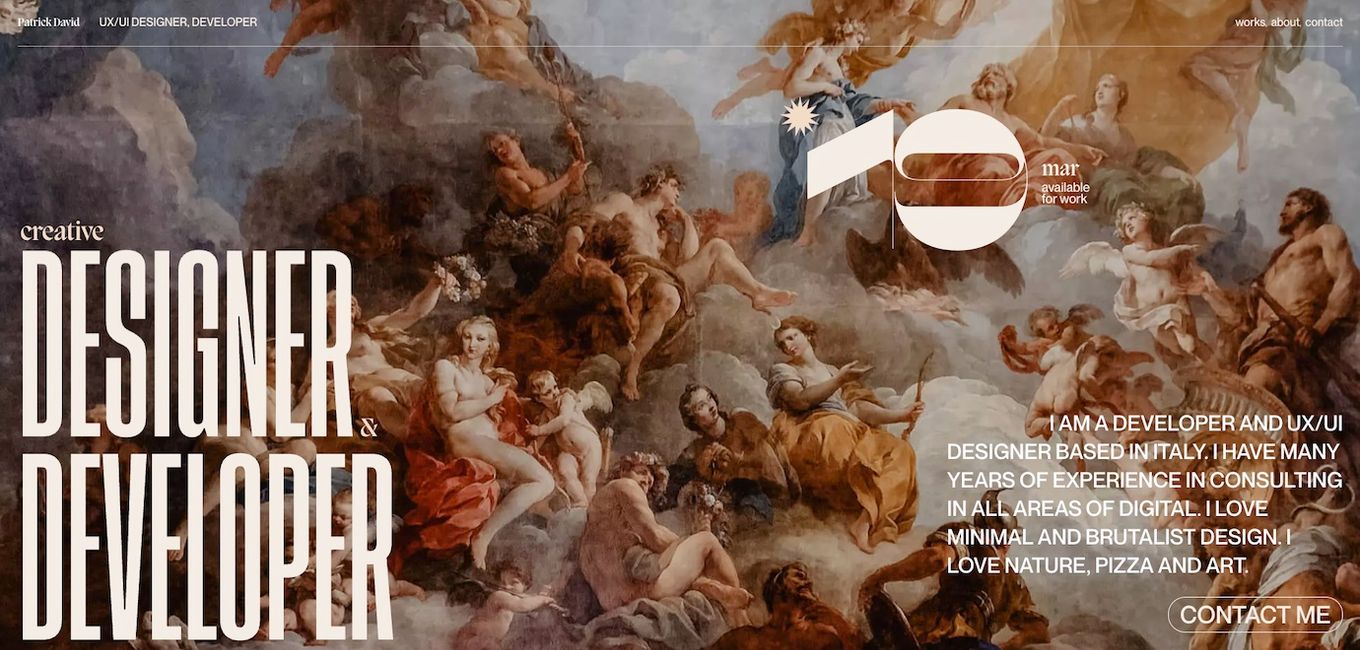 Good for web developers who prefer a text-only portfolio.
Another web developer portfolio to draw inspiration from is Patrick David's portfolio. David is a web designer and front-end developer. He uses bold and big fonts in his portfolio. David masters the art of combining his big and bold fonts with the strikethrough chic effect, making his one-page portfolio portray confidence and originality.
If you like this one-page portfolio you may be also inspired by these 20 examples of one-page websites. They are not designed especially for web developers, but you know the quote: inspiration and creativity have no limits...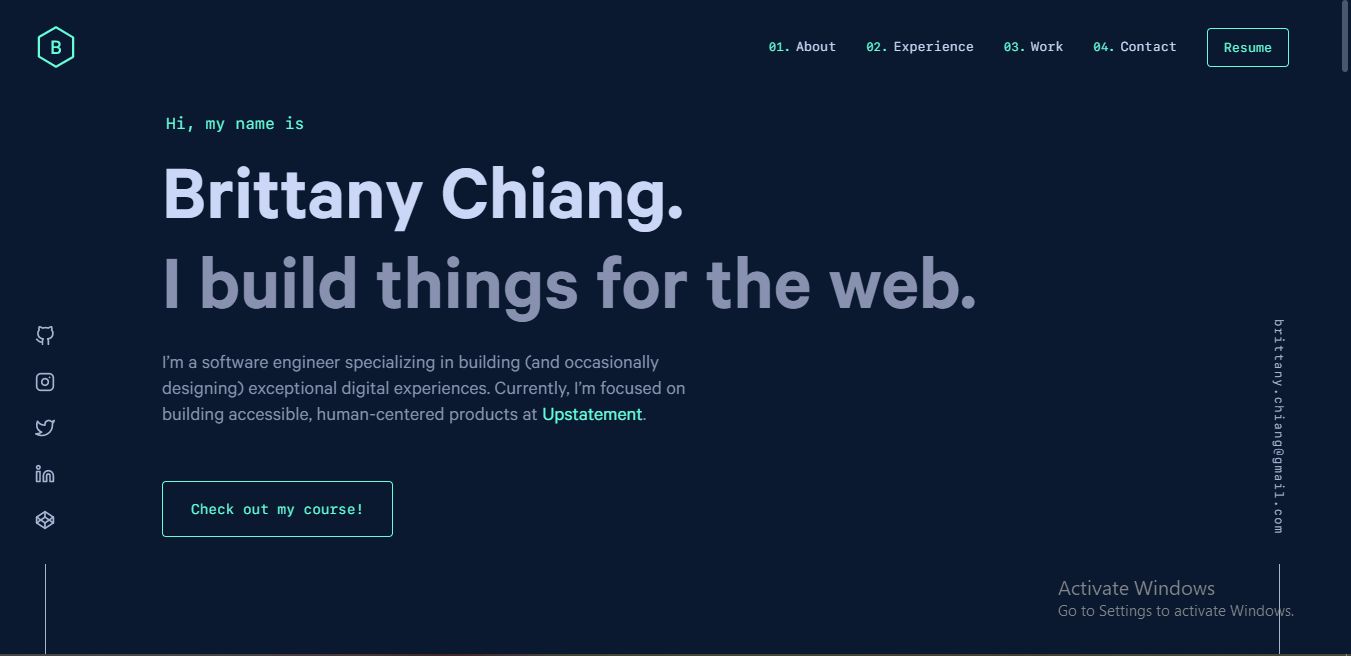 For web developers with great mastery of color combination.
Brittany uses a brilliant, dark-schemed, one-page web developer portfolio. The portfolio's design pays attention to every detail on the page. Although simple, the design is eye-catching: the consistent color scheme eliminates possible distractions, helping visitors have a great user experience on her website. The sticky header also aids easy navigation, helping visitors visit every part of the one-page website easily.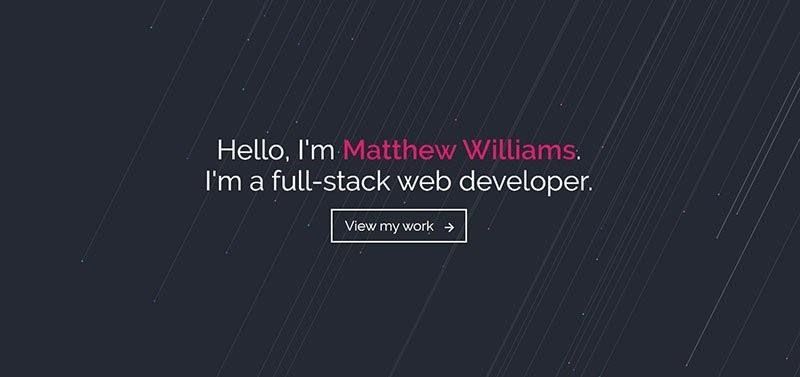 Suitable for front-end developers who fancy attractive interface.
In the middle of our list of top 20 web developer portfolio examples for inspiration is Matthew Williams' website. Matthew explores a clean yet stylish black background. He's included a short but captivating introduction at the start of the page, which preps his visitors for what to encounter in his portfolio.
Recommended for those developers who have a great mastery of 3D animation.
Malte's web developer portfolio website was designed to quickly catch the interest of any visitor, thanks to the animated elements of chemistry and physics incorporated into the site's design. Although seemingly abstract, the website offers a deep sense of mystery that somehow grabs the attention of a typical web user, encouraging them to continue scrolling down.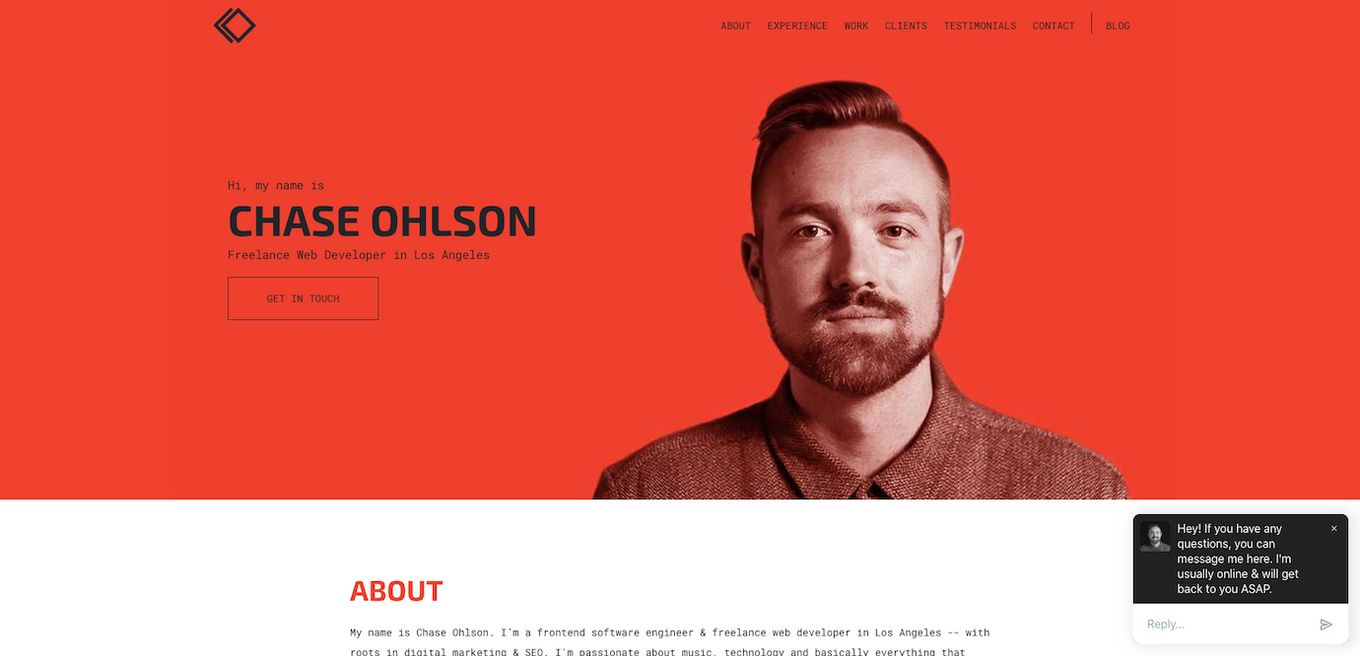 Perfect for web developers who want a basic simple portfolio.
Chase's developer has a single purpose and that is to describe himself and his work.
He didn't complicate himself. There are no crazy animations, transitions, or designs. He uses a basic layout to describe himself, his work, and his skills.
If you are looking for something simple and functional, you can take Chase's portfolio as your example to follow.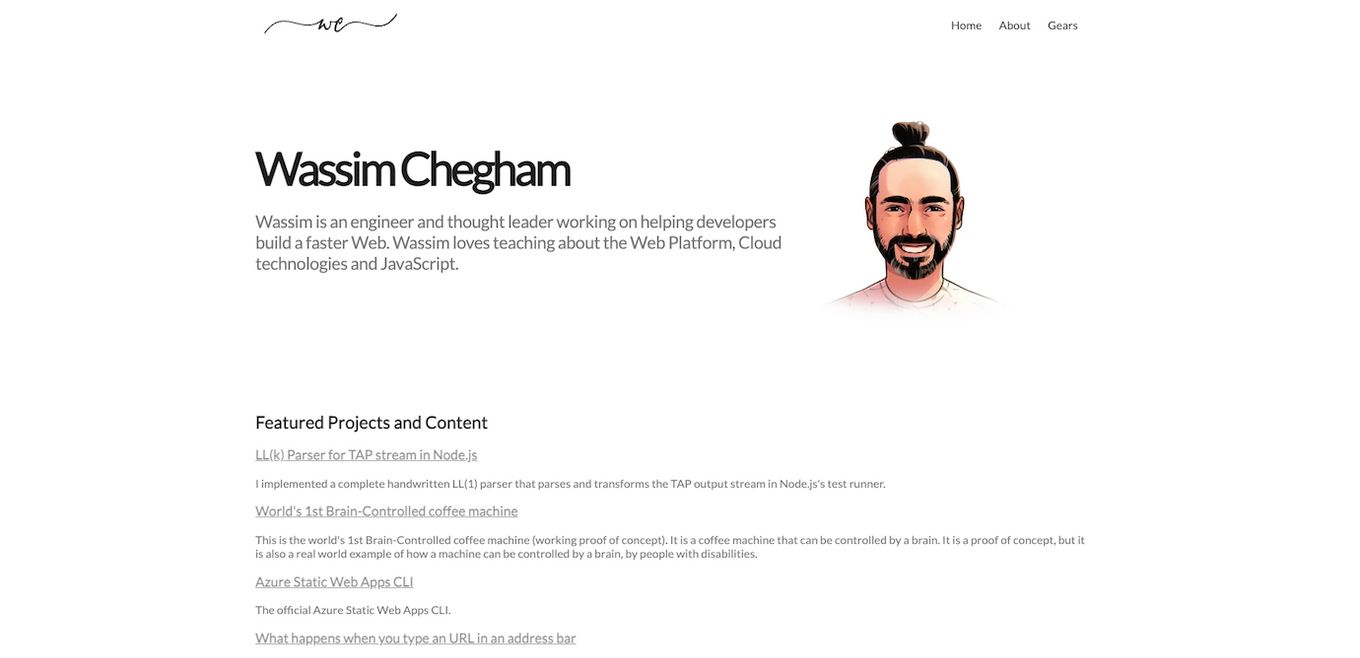 Wassim kept it very basic but his page still looks good and clean.
The only color you'll see on his page is his own avatar. The rest uses a plain grey background with black or grey text.
He keeps everything pretty minimal and makes sure the visitor focuses more on the content than on the visuals.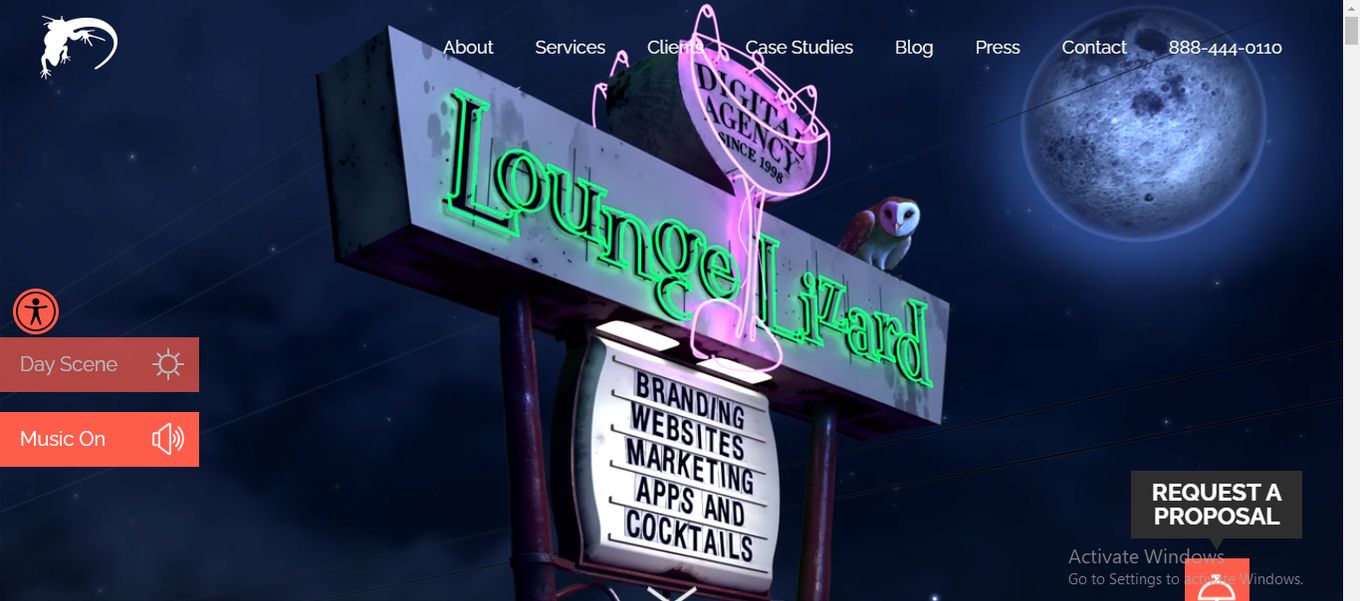 Recommend establishing your brand identity as fast as possible.
Another web developer portfolio example you can draw inspiration from is the Lounge Lizard website. The portfolio of the New York-based design company features an unconventional yet professional design. Their portfolio is an excellent model for web developers who are keen on establishing their brand identity and reputation as quickly as possible on their website.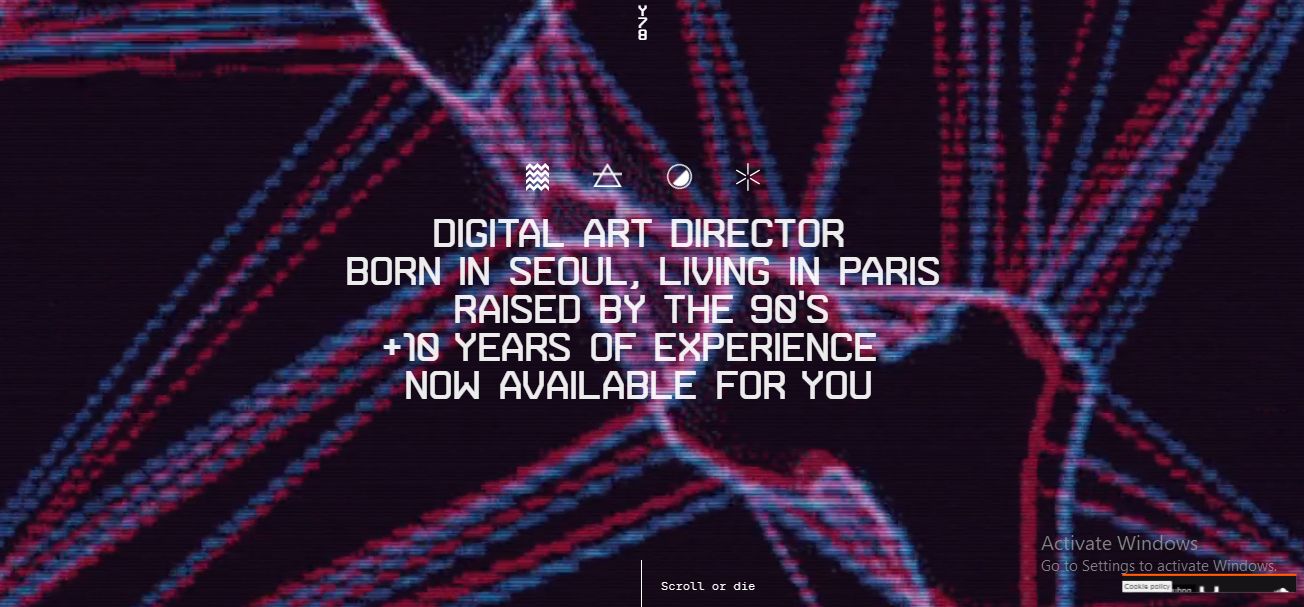 Ideal for web developers with many media and text content to include in their portfolio.
Although old-fashionably designed, with a 1980s theme, Yul Moreau's web developer portfolio example is perfect for driving user engagement, thanks to the creative use of visuals. The one-page website features seamlessly embedded images, videos, and scroll effects, contributing to the unique atmosphere it offers users.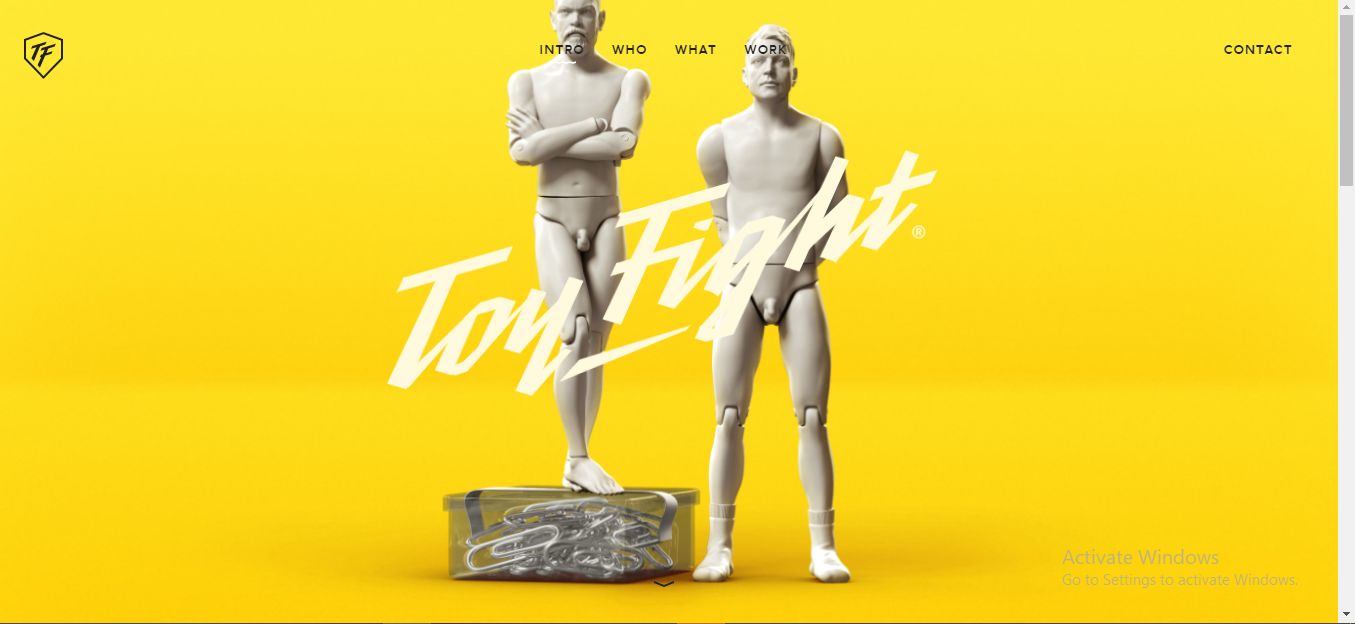 For web developers who want a simple yet artistic portfolio website.
Toy Fight's portfolio features a combination of eye-catching color schemes to grab the attention of users quickly and keep them engaged for a longer period on the website. Exploring a relatively simple design, Toy has also included an easy-to-navigate menu to help visitors have a great web experience on their site. Toy Flight's web developer portfolio example is recommended for web developers who want a simple yet artistic portfolio.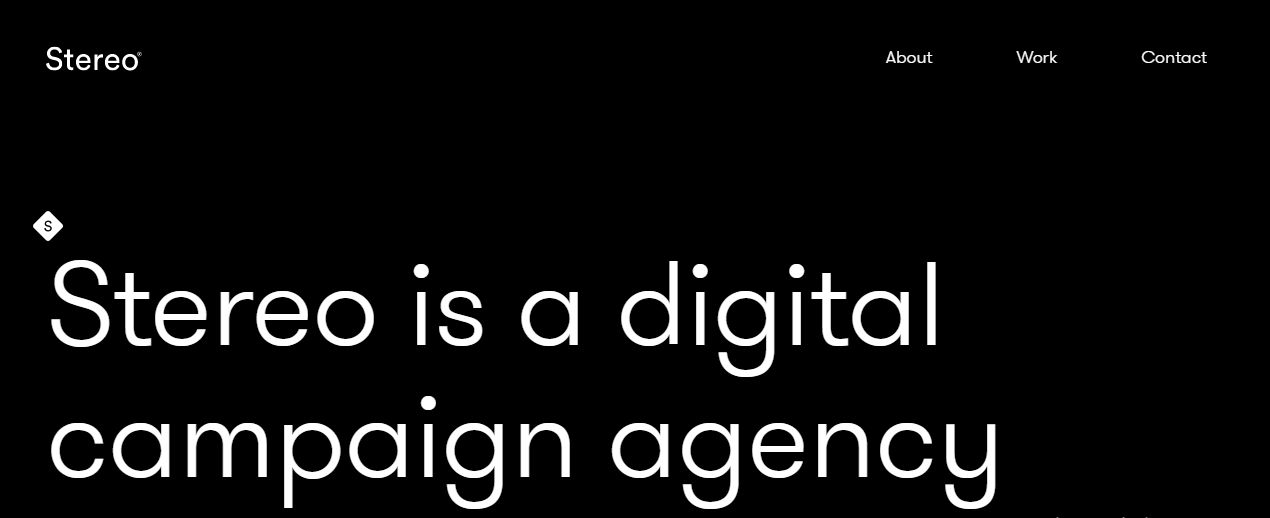 Useful for web developers with a lot of content to fill their portfolios.
Stereo has plenty of information, but would hardly bore any visitor thanks to the colorful yet straightforward themed images and videos embedded in the portfolio website. This portfolio focuses on deepening the emotional relationship consumers have with the brand. Web developers with a lot of content to fill their portfolios would find this portfolio useful for inspiration.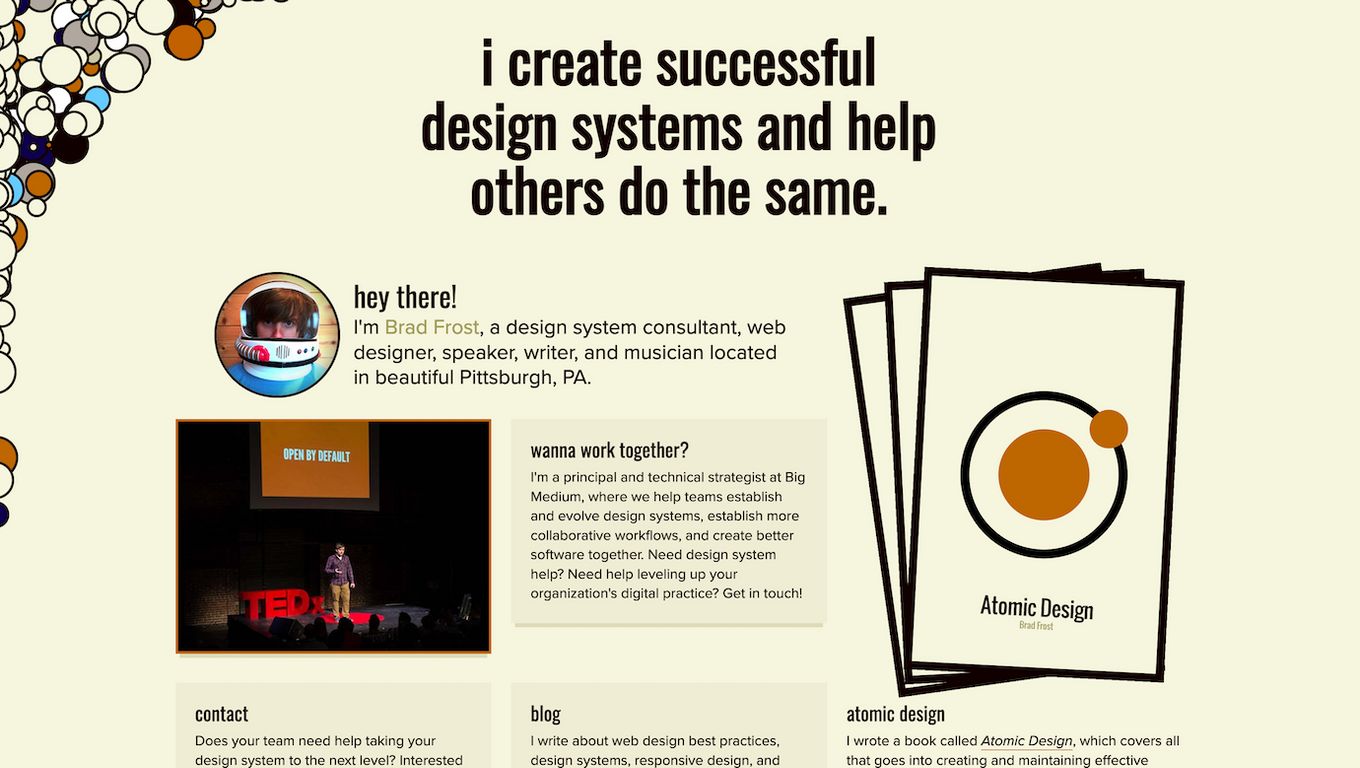 Portfolio example of a well known web developer.
Brad Frost is a very well-known web developer and his portfolio is a great example of how to keep things simple and concise.
On the landing page, he uses a simple paragraph to describe himself and then has a small menu with the basic sections of the site. Blog, contact, music, and hiring.
Because he's the author of a book Atomic Design, he displays it on the landing page as one of his main achievements.
His contact page is very complete and contains links to the main social networks , some developer-specific ones such as Github, and Codepen, and some generic ones like Spotify, Youtube, or Last.fm.

For web developers with numerous projects to showcase.
Tim's web developer portfolio, MyPoorBrain, is simply easy to navigate. And that's its special catch! Tim uses a card-themed website layout and animation effects to engage visitors easily and help them have a great user experience.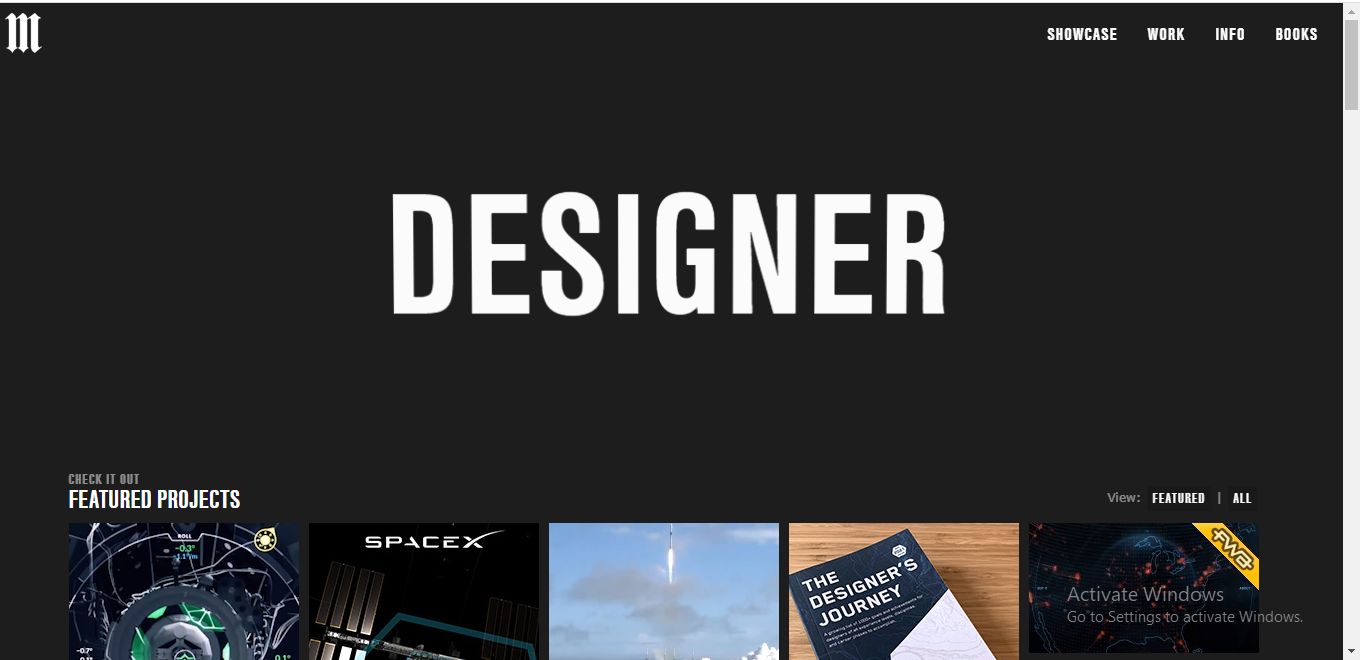 Ideal for web developers with plenty of projects to include in their portfolios.
Shane's portfolio is a slickly designed website featuring an interchangeably black and white solid background plus a carefully chosen card-themed presentation of his previous project that creates an attention-arresting effect on visitors. Hovering over these cards causes them to somersault, showing the project's name in the process. This effect is entertaining, making users even more interested in scrolling further down the page.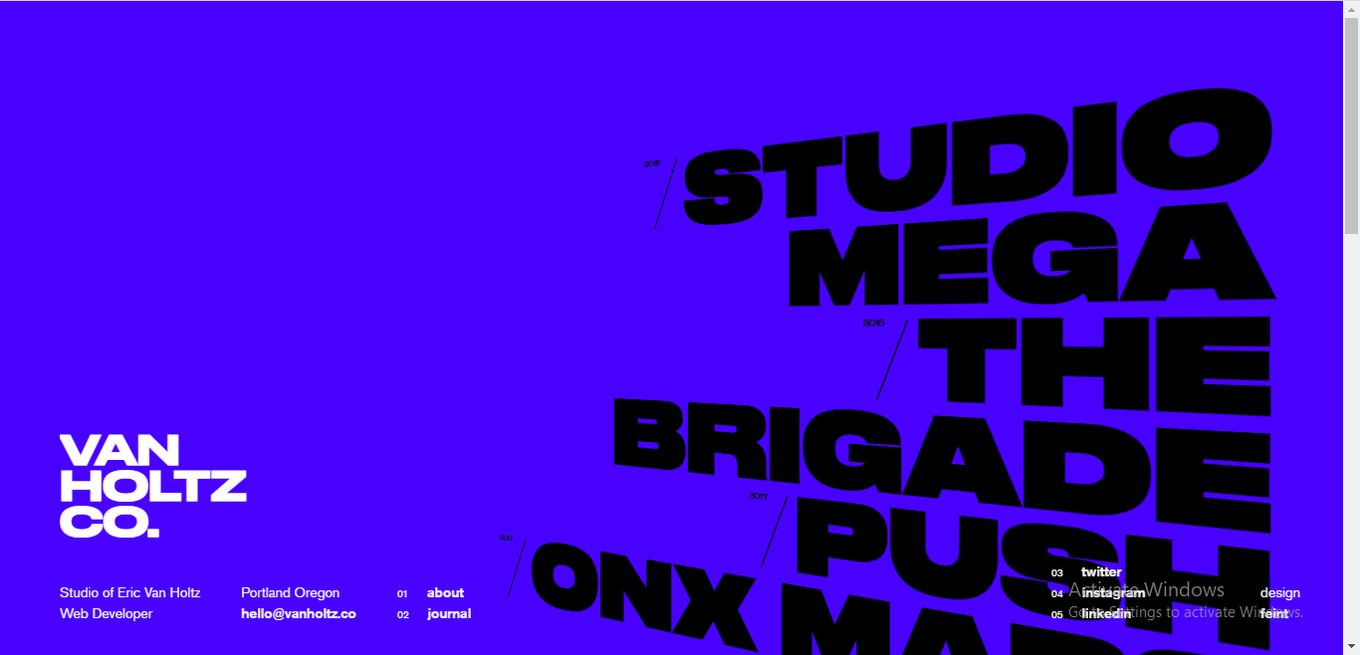 For web developers with many projects.
Like Shane's, Eric's web developer portfolio website is a good source of inspiration for developers with loads of projects to include in their portfolios.
However, Eric has animation effects in his portfolio's design. The homepage features a distinctive fusion of massive, bold font on a solid purple background. These effects combine to make the website as visually appealing as possible, luring visitors even deeper into other sections of the website.
Example of a portfolio with clever animations and transitions.
Oriol Cervantes is a Barcelona-based Front End Developer and his portfolio makes it clear.
His portfolio displays a beautiful taste for design and he smartly combines animations and colors to create a truly unique portfolio. Oriol is brave with the use of colors and is not afraid of using many.
It uses the fullPage.js component to achieve the stunning fullscreen scrolling effect that, in combination with the other animations, it gives the page a new touch.
He shows his skills in two categories and separates "full-stack development" and "design".
To showcase his work, he uses a different section per job and uses a horizontal slider to show us pictures of the final products.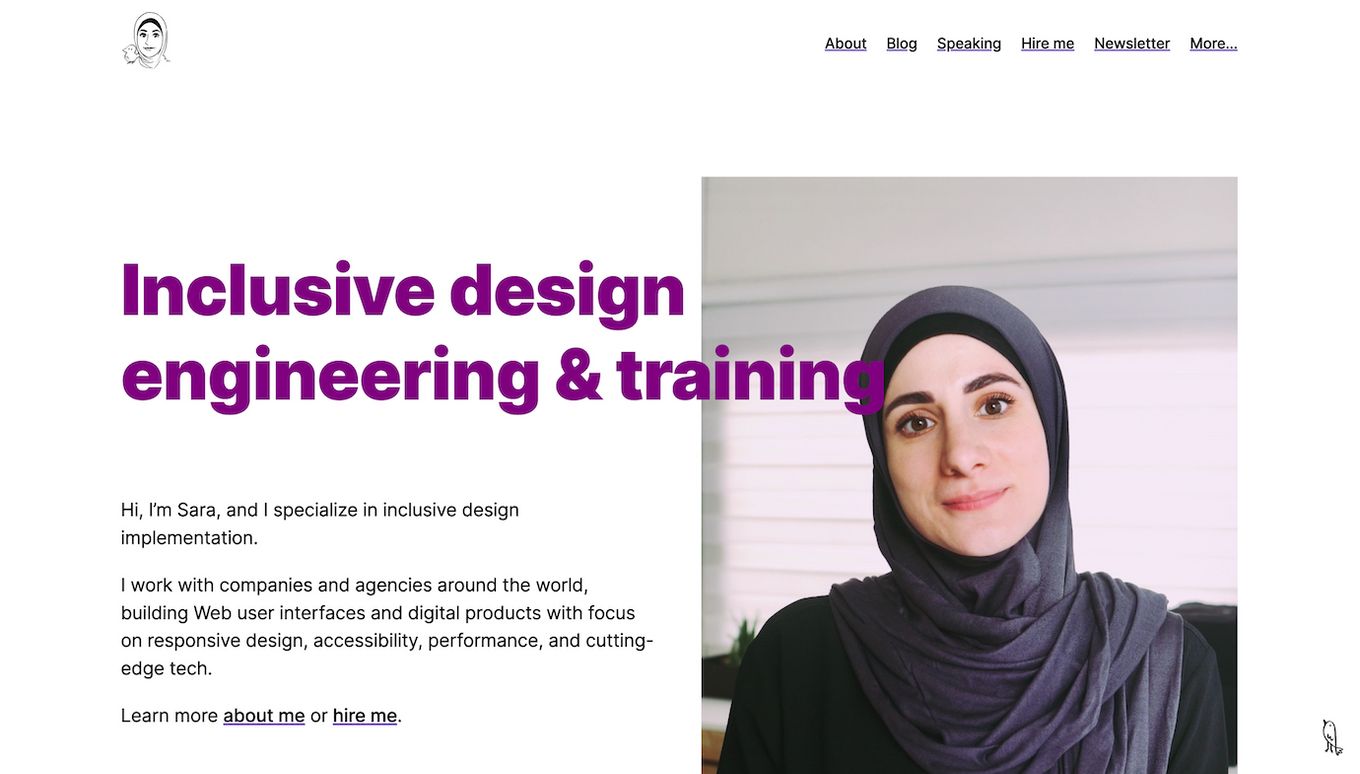 Example of an accessible portfolio of a well-known web developer.
Sara is another great web developer who has collaborated with companies like Netflix, Codrops, Smashing Magazine, and ESLint.
She's also very popular on Twitter and has spoken at plenty of events for web developers, postcasts and interviews.
Her website is nothing out of the ordinary but it does one thing pretty well: it's straight to the point and easy to navigate.
As a web developer focused on accessibility, Sara's website knows that the most important thing about a website is being able to communicate the message to everybody in the best and simple's way possible.
The page contains exactly what you would expect from a well-known developer. The compulsory "about page", a blog, a hire me section, a speaking page with future and previous events, and links to her social networks, podcasts, and interviews.
It's also interesting to find a section dedicated to "endorsements" that contains quotes of people talking about her. Quite a nice idea to sell yourself!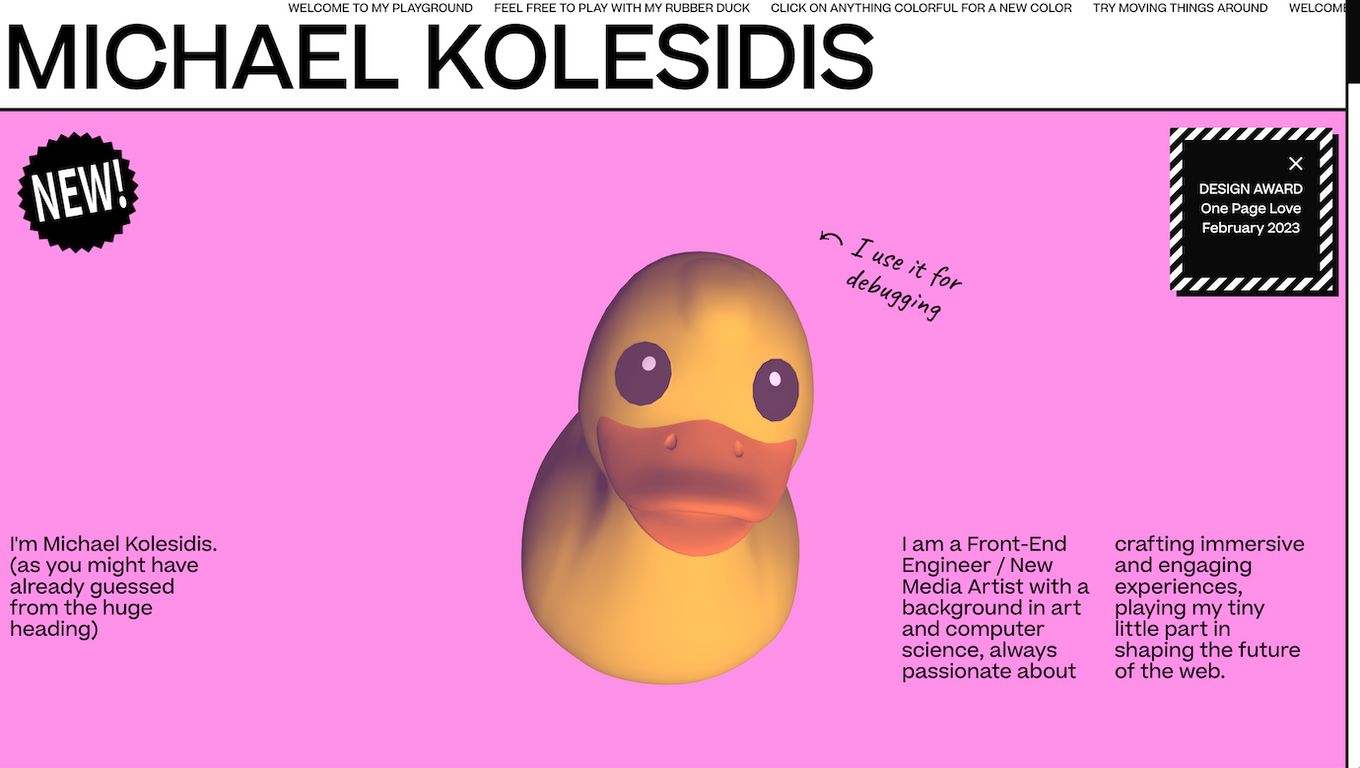 Example of a brave portfolio using brutalism style.
If you are looking for "different", then Michael's portfolio is a great example of what "different" looks like.
His website design is probably considered "brutalism", although he calls it himself "frivobrutalism". A design that is not afraid of expressing itself in a totally unconventional manner. It's a great technique to shock visitors and create a deeper mark in them.
He uses plenty of colors, large fonts, text shadows, filters, and "old" animations to create a such unique style. He also chooses to use very informal language as part of his identity brand.
Apart from this, his portfolio contains a collection of works as the main element, an about me section, a contact page, a list of awards, and something a bit less common: an "about this website" section.
You can access the source code of the website and download it from his Github repository.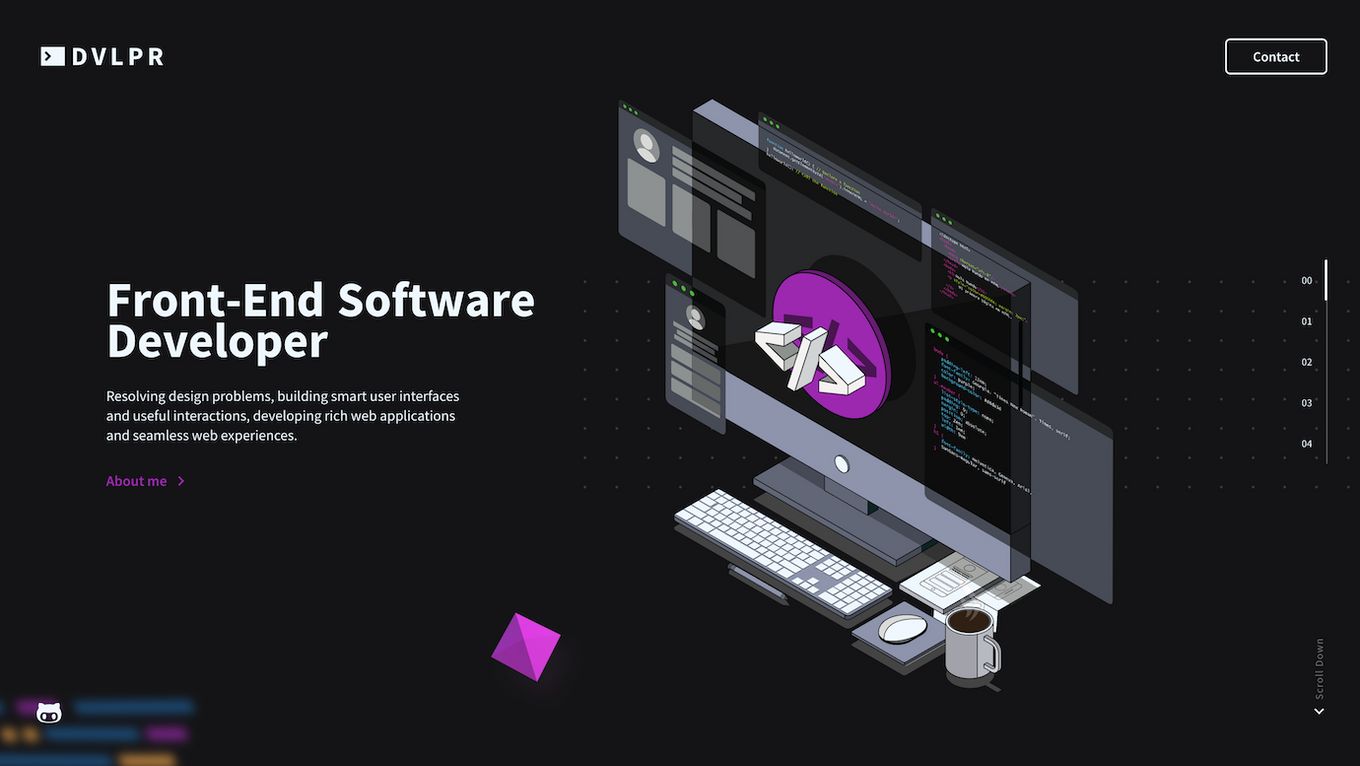 Simple yet beautiful full-screen portfolio.
Todo is a front-end web developer and he created a website to show off his development and design skills.
His full-page navigation and taste for design make his website stand out from the rest. He's telling the visitor that he knows what he's doing and that he knows how to create beautiful websites.
The page follows a one-page design that visitors can navigate by scrolling up and down.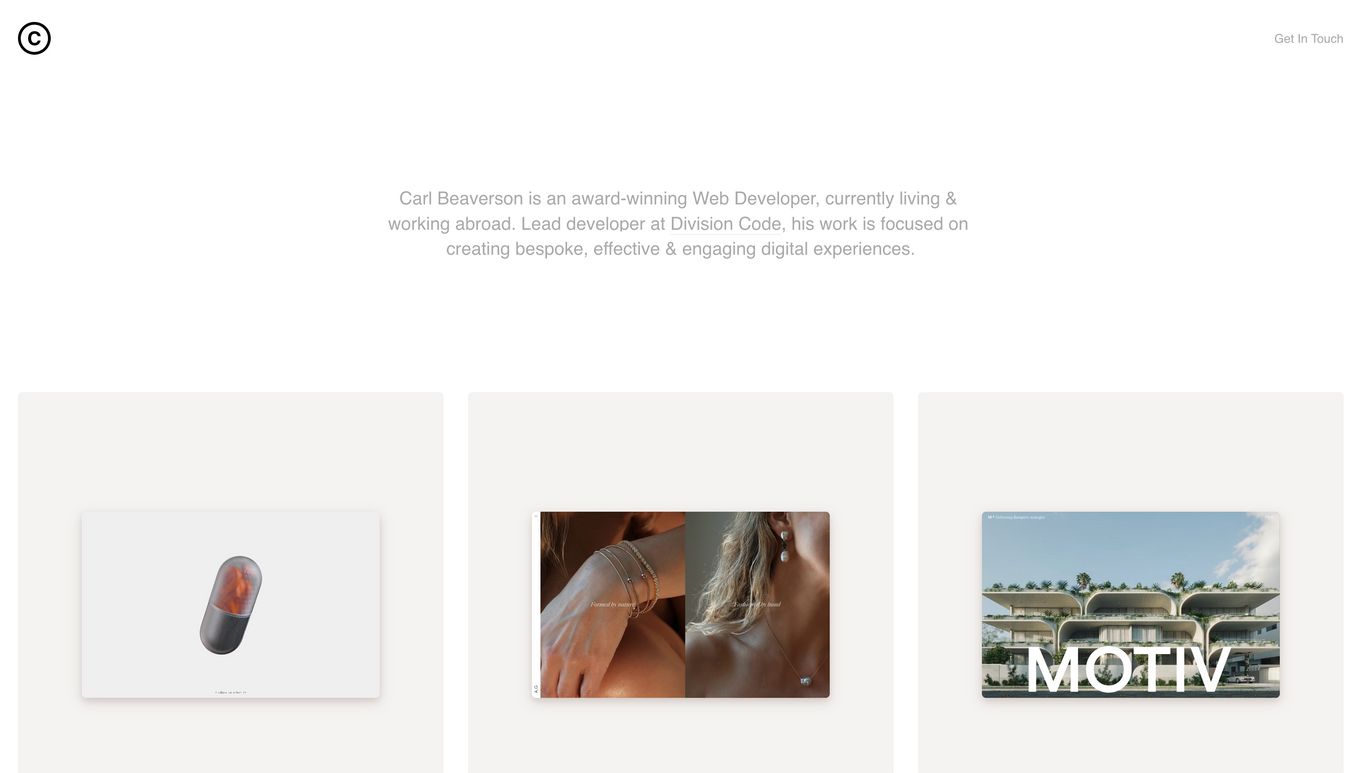 For those looking for a minimalist portfolio.
If minimalism is your thing, Carl's portfolio won't disappoint you. Carl is an Australian web developer
It's not so common to find portfolios like this one among web developers. At fist glance, you might think it's a designer's portfolio or even a photographer's! But nope! It's an elegant and beautiful portfolio displaying the final products of his work as a web developer.
The design couldn't be more simple. A picture per project containing a link to the final website.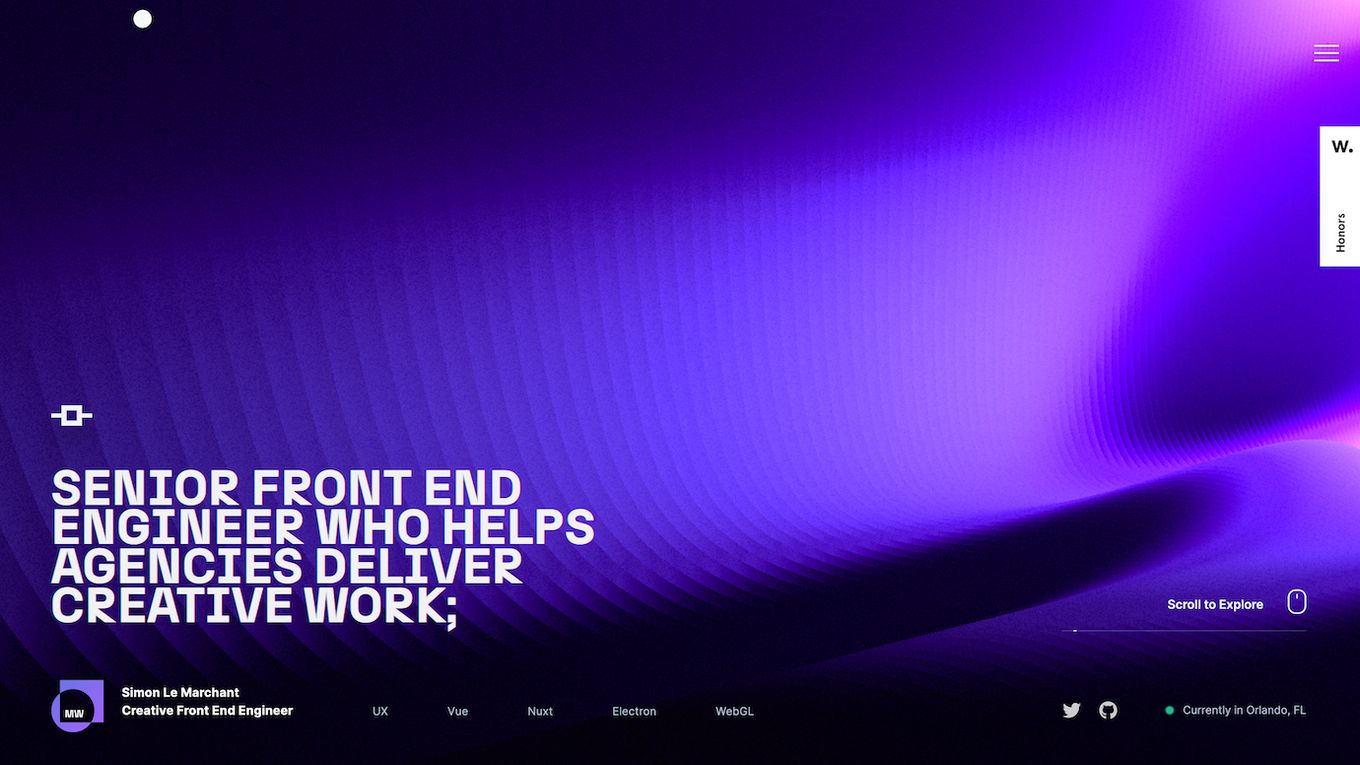 Example for those who want to impress visitors and provide detailed information.
Simon is a senior front-end engineer and his portfolio showcases his skills in a great way.
The first thing you'll notice is that it's full of animations. From the top menu to the backgrounds or even the way to navigate the page horizontally.
His website drives you to his work through beautiful experiences becoming its own example of what Simon is capable of.
Each of the projects on the page is explained with a great amount of detail, including system architecture graphics, videos, and pictures. This is a great way of showcasing your work and showing off your skills and knowledge on the topic.
What Makes A Good Web Developer Portfolio
To have a good portfolio as a web developer you should try to include the following information:
About Me
Every portfolio should include a page or section that talks about who you are. Here you can include your professional description, the name of companies or projects you've worked and hobbies or passions. Try to use natural language without sounding too formal. Tech people like informal and fun stuff.

Projects
There's no better way to show what you are capable of than naming your biggest achievements. These can be projects on previous jobs, side hustles, or a combination of both. Add here whatever you've done that serves as a way to show your skills as a web developer.

Contact Page
A portfolio is not a portfolio unless you have a contact page. It doesn't have to be a contact form. It can be just sharing your email or adding links to your social networks. What's important is that you provide an easy way for people to contact you.

Technologies
Make sure to add the technologies you've worked in or the ones you have experience in. Languages, frameworks, CMSs, management tools, etc. Anything that can help people identify if you are a good fit for their company or their projects.

Link to Github
If you have an active Github account (which you should do), make sure to add a link to it somewhere visible on your page. You know what Linus Torvalds said: "Talk is cheap, show me the code!" Make sure you have things on Github that showcase your skills with certain technologies. They are your best CV.

Relevant Links
Your portfolio as a web developer is more important than your CV. Take the chance to add anything that you think can be relevant for others to get to know your skills.

Add links to youtube tutorials you've done, events where you've been a speaker, scientific papers where you've contributed, important pull requests on open-sourced projects, online interviews, podcasts where you've participated, etc. This is your exposition. Own it.

Hobbies
Don't be afraid of adding a touch of personality to your portfolio. After all, we are all humans and we want to work with other human beings. If you have any hobbies feel free to share them. If you like photography, share your pictures. If you like soccer or basketball and you've won some competitions, add it too.

Accomplishments
If you've done anything that can be considered extraordinary, share it. Awards of any kind, popular repositories, side hustles that went viral or turned into small products or services, books you've written, your GitHub contributions, courses you've taken, etc.

Blog
If you can find the time to write a bit every month, this will enhance your portfolio quite a lot. Create posts about web development sharing your discoveries and struggles. The more you share the more they'll see you as an expert on the topic and the better you'll learn things.

Social Networks
Aside from Github, if you are active in any other social network like Twitter, Facebook, Instagram, Pinterest, or Youtube, feel free to share your links so they can get to know you better.
Closing Thoughts
We hope you have drawn inspiration from the top 20 web developer portfolio examples explored in this article. Besides, we publish a few articles and guides weekly; do not hesitate to subscribe to our mailing list to stay up-to-date with our publications.
Related articles
Join 2,000+ readers and learn something new every month!
Get notified about new blog posts, tips, tricks, fullPage.js news etc.
RSS feed