10 Best Web Developer Portfolios Templates [2023]
A portfolio website is very important developers. It serves as a digital business card, and even more! An online portfolio is a great way to display and showcase your achievement and web developer skills.
Check out these 9 Unbeatable Online Portfolio Examples
A web developer portfolio website is where you can lay out your education, relevant work experience timeline, as well as personal projects. You may also include documentation, source code, hobby-related stuff, a gallery or your contact information and links to your social media profiles.
So, the question here is not if you need a dev portfolio website. It is clear you need one. The question is: being a developer, is it acceptable to use a portfolio template instead of creating my own personal website?
Do Web Developers Need a Portfolio Template?
There are templates for almost everything nowadays, from landing page templates for Boostrap, to photography website templates, and web developers are not going to be different.
Even with the ability to create a website from scratch, a web developer can benefit greatly by using a portfolio template.
Saves you time
A web developer portfolio website is indeed important, and it could be the gate pass to landing a dream job, hitting a big client/project, or investor for your business or start-up. But the time you spend building it can be used to invest in yourself instead, for example. Knowing where to invest your time is very important. Not all web developers will have to prof they are good at making a portfolio website.
You'll get a good design
If you are not a web developer with a great taste for design, using a template will make sure you get a proper design for your site. Let's face it, not all web developers are good at design. In fact, it's quite rare to be good at everything. So, if for example, you are a back-end web developer using a template will very probably make your site look much better.
You can modify it
Using a template doesn't mean you can't adapt it to your needs. You can decide to use a template as a starting point to save some time. Then, you can choose the good parts and remove or modify the things you don't like or need. And while doing this, you'll also learn how to read other developers' code and perhaps even learn a bit about the process.
Being a web developer and using a portfolio template is not a problem at all. In fact, it can be beneficial in many ways.
10 Web Developer Portfolio Templates
In order to save your precious time, we have made a selection of 10 web developer portfolio examples that you can choose to make your own:
Price: starting at $59
Type: WordPress template
Designed as a multi-purpose theme, Ultra Theme is a WordPress theme from Themify that includes a skin especially for web developers and designers portfolios,
It comes with more than 60 pre-designed skins and demos that you can import with a single click. Ultra Theme uses the Themify builder and includes also 12 builder addons such as countdowns, skills progress bar, [timeline](https://alvarotrigo.com/blog/html-css-timelines/], counter, contact form, maps, pricing tables, slider Pro and Typewriter.
On top of that, it provides "smart layouts", animated colors, image filters, and Woocomerce integration. And if you want to make your site stand out, you will be able to use the full-screen scrolling options. A great way to showcase your profile and make it beautifully simple at the same time.
Themify makes use of fullPage.js for the full-screen feature. If you want to use this feature in other themes you can use the fullPage.js plugin for Elementor or Gutenberg.
It also includes the Skills Progress Bars that we as developers tend to use to showcase our level in different programming languages or technologies. (If you are interested in progress bars, check out these 20+ great progress bars)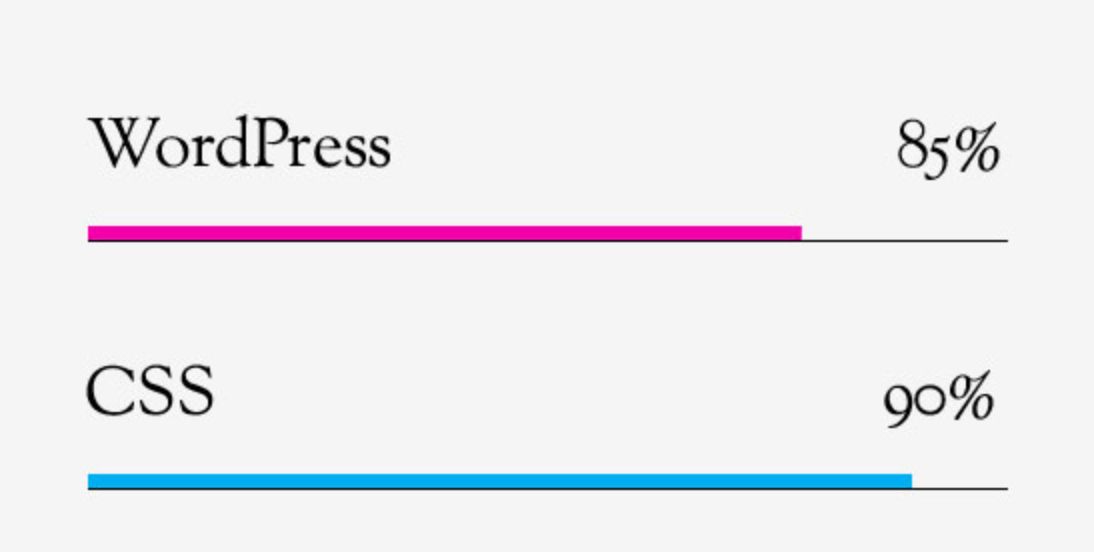 Having said this, Themify is almost always a great choice if you are looking for a top-quality WordPress theme. Definitely something to consider for your portfolio!
Features
60+ pre-designed skins
17 Header/Page styles
5 Single Post Layouts
6 Header Background Options
Over 600+ Google Fonts
15 Pre-set Colors
Toggle-able Elements
Full screen scrolling
Animated colors
Image filters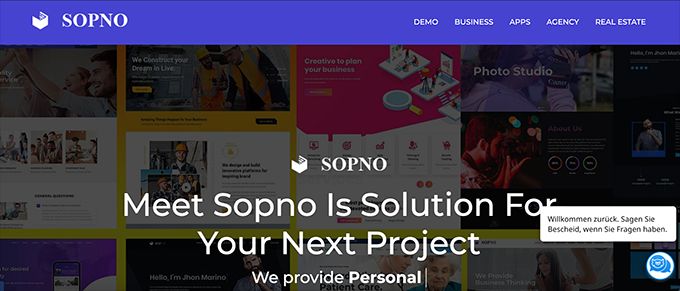 Price: starting at $22
Type: HTML 5 template
Sopno is a Multi-Purpose HTML5 Bootstrap Template. It is not limited to the creation of web developer portfolio websites; it can also be used in different projects in different niches and industries. The package includes 25+ ready-to-use Homepages & 100+ HTML Templates.
Features
Fast, Lightweight & Powerful
100+ Home Page Demo
500+ Inner Page Demo
30+ Diferent Website Templates
100% Responsive (Floating Menu on Mobile Devices)
Smooth Transition Effects
Cross Browser Optimization
Customized Slider
Simple client-side routing (page-based)
Unlimited Sidebars
SEO Optimized
Detailed Documentation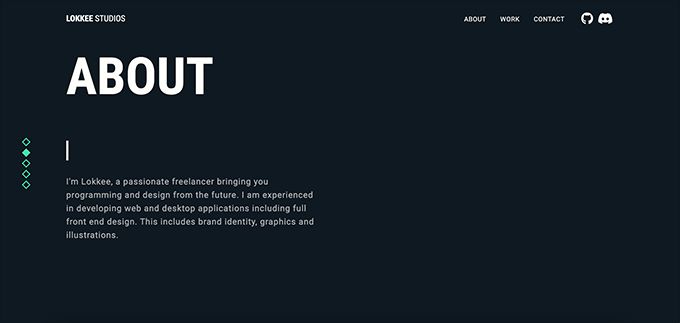 Price: free!
Type: HTML 5 template
This web developer portfolio example is openly shared on Github by Lokkee, a java developer and graphic designer. It uses SCSS, HTML and JavaScript.
LoKkee studios have decided to use the fullpage.js plugin to create a one-page website with smooth transitions between each section. The result is a fancy website that pleases the visitors' eye.
Features:
Fullscreen scrolling website
Customizable
Button hover effects (See our curated list of button hover effects)
Web App Manifest
Open Graph Metadata
Custom build of Modernizr
Google Universal Analytics tracking code included
Detailed Documentation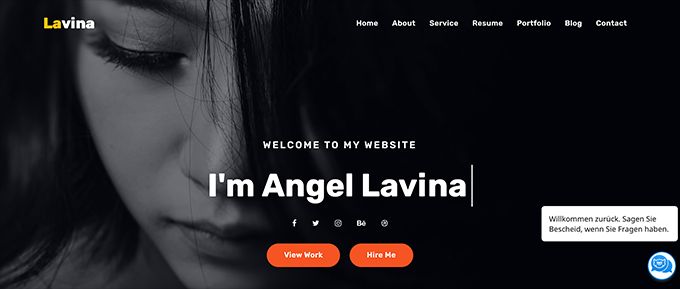 Price: $19
Type: HTML 5 template
Lavina is an HTML personal portfolio template. This is perfect not only for web developers and designers but for another creative niche. It is made with the popular framework Bootstrap 4. You can organize and effectively present yourself, your profession, and your work using this beautiful portfolio template.
Something that web developers will find really useful is the skills bar feature. Ideal to showcase your qualification in different programming languages or technologies.

Features
Easy to Customize
SEO Friendly Content
Clean & Commented Code
Cross-Browser Compatible
Working Ajax Contact Form
Detailed Documentation
Price: $49
Type: HTML 5 Template
Particularly made for freelancers and coders, this web developer portfolio HTML template can help you create a professional online portfolio to impress. It was made entirely with HTML, CSS, and JS. Not only is the design minimal, clean and attractive, but it is also completely responsive.
Willy Wonka is a one-page HTML template that aims for simplicity. With full screen animations, this developer portfolio includes modern animations, phpmailer integration, and documentation of usage.
Features:
Responsive
Retina Ready
Accelerated Mobile Pages (AMP)
Themes Bundle
One Page Templates
Parallax effect
CV template
Blog template
Contact Form
Forum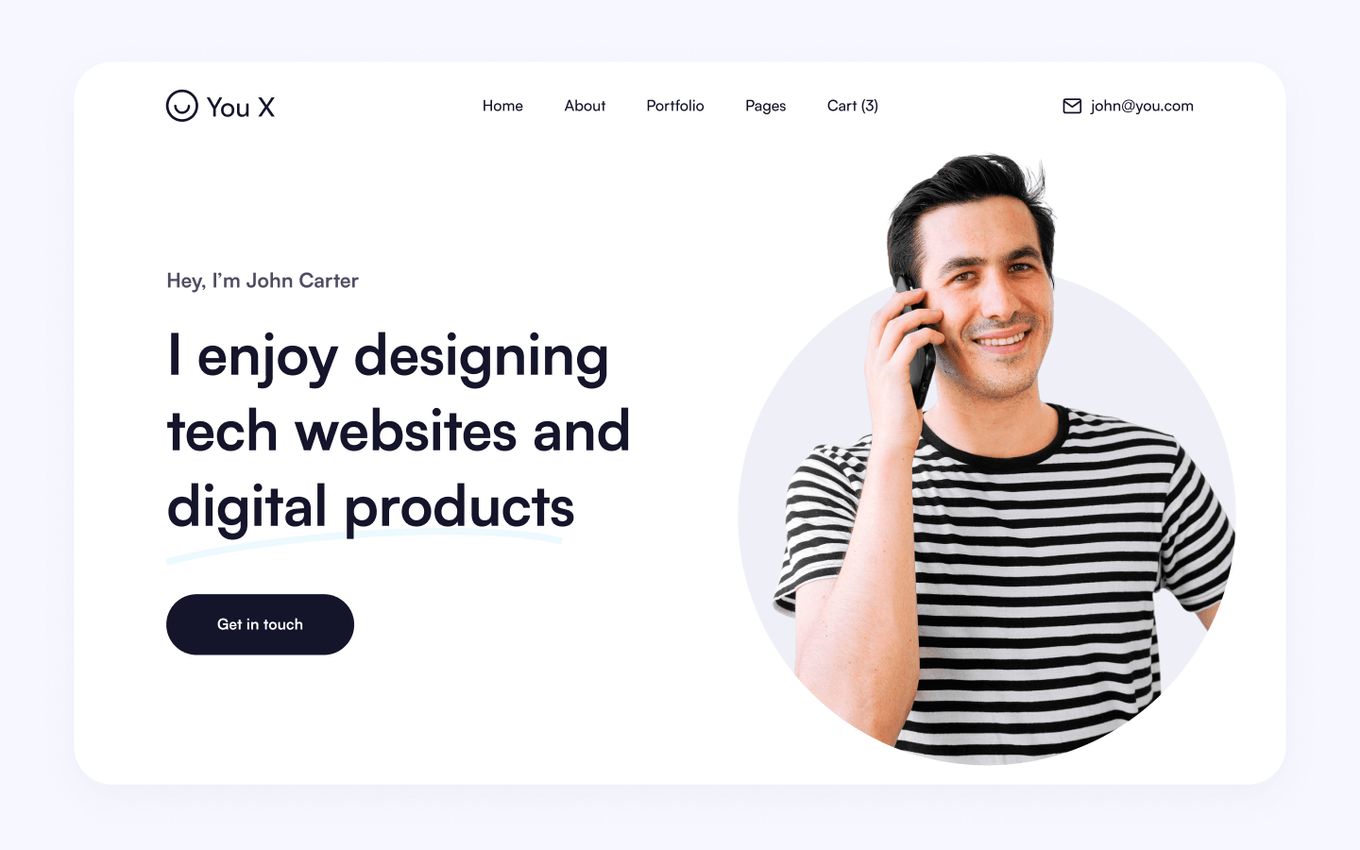 Price: $79
Type: Webflow template
This template is specifically designed to showcase web developer and designer skills. With a beautiful and modern look, You X uses light colors, sliders, white spacing, and subtle animations to give a professional look to your website.
Features
Modern look
Responsive (navigation + slides)
Retina display ready
Forms
CSS Grid
Content management system
Ecommerce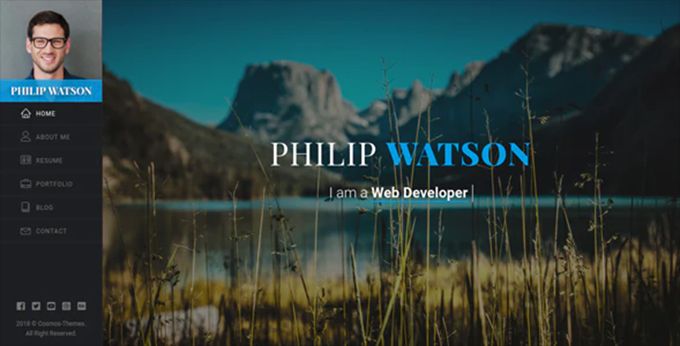 Price: $25
Type: HTML 5 template & WordPress template
Simple, clean, and professional. This resume template is really eye-catching for creating a web developer portfolio. It can also be used by Photographers, Artists, web designers, illustrators, and more. It has 36-page transitions and 6 color schemes to choose from.
Features
Clean And Creative Design
Bootstrap
Responsive
Cross Browser
36 Page Transitions
2 Layouts (Dark/Light)
6 Color schemes
Portfolio/Blog Masonry Grid
3 Portfolio Types(Ajax, Image, Video)
Single Blog Page
Google Map Ready Page
Font Icons (Font Awesome 5)
Linear Icons
Owl Carousel 2
Magnific Popup
Regular Updates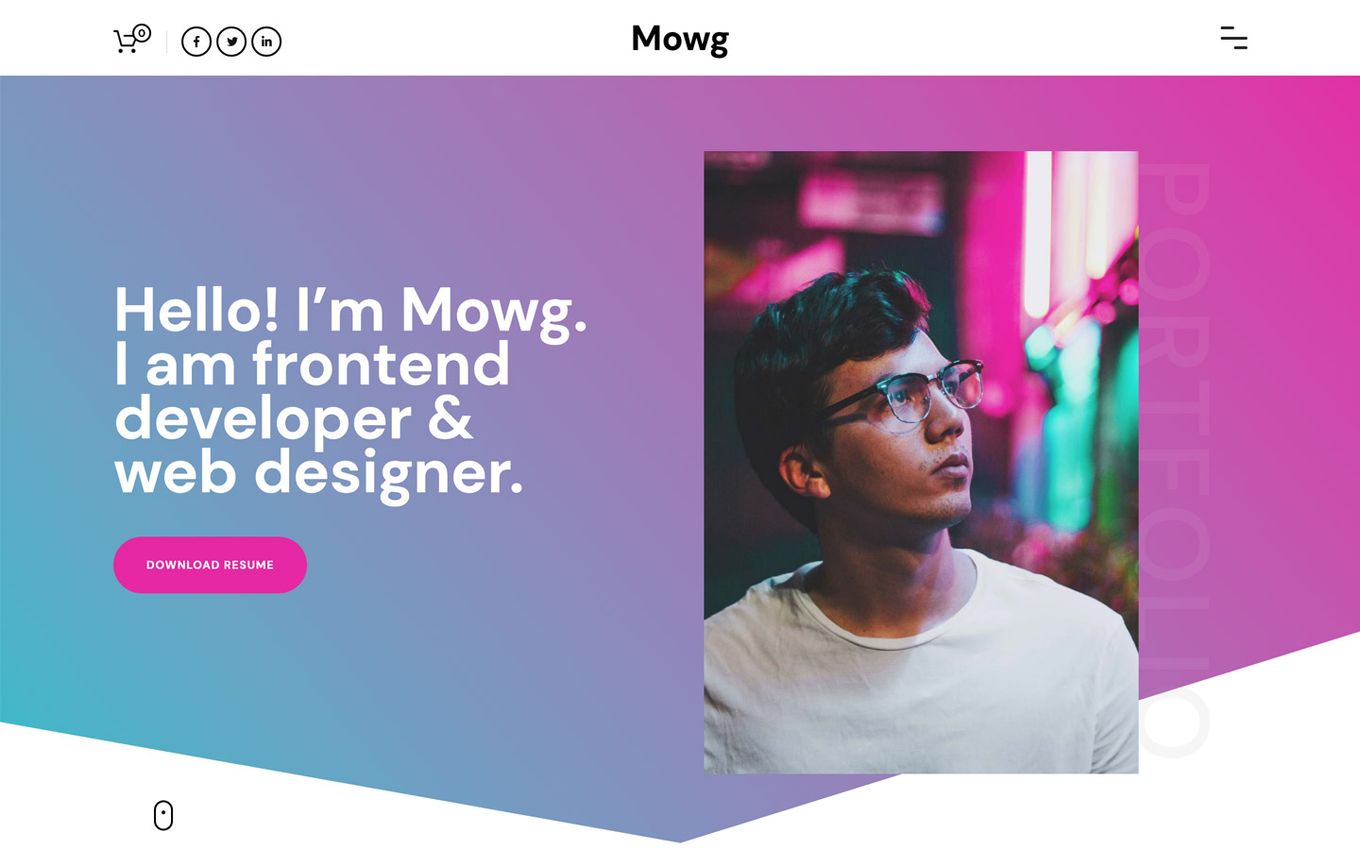 Price: $79
Type: Webflow template
Mowg is a template oriented to those Fron-End developers and designers who want to show their web developer skills in a modern and colorful way.
It combines straight lines with rounded ones and uses white spacing to create a clean look.
It includes elements like skillset bars, work history, previous jobs, and pricing.
Features
Modern look
Responsive (navigation + slides)
Retina display ready
Pricing component
Content management system
Ecommerce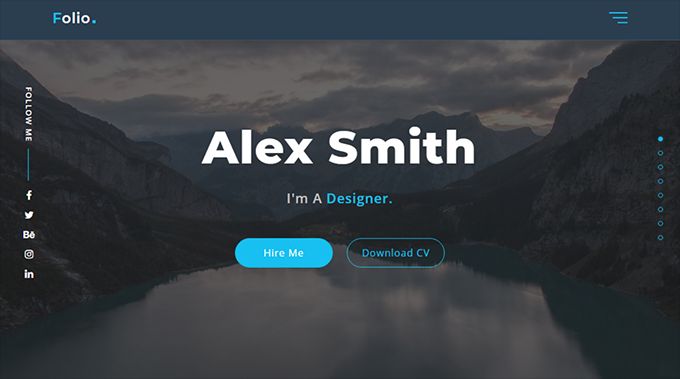 Price: $12
Type: HTML 5 template
Folio is another web developer portfolio template that can creatively showcase your work. Aside from web development, it can also be used as templates for resumes, freelancers, photographers, artists and more. It is easily customizable, with codes well-organized and documented.
It uses fullPage.js JavaScript library to create a beautiful and modern full-screen sliding effect.
Features
Clean & Elegant Design
Smooth Snap Scrolling
Bootstrap
100% Responsive (Mobile Menu for Small Devices)
Google Fonts
Font Awesome Icons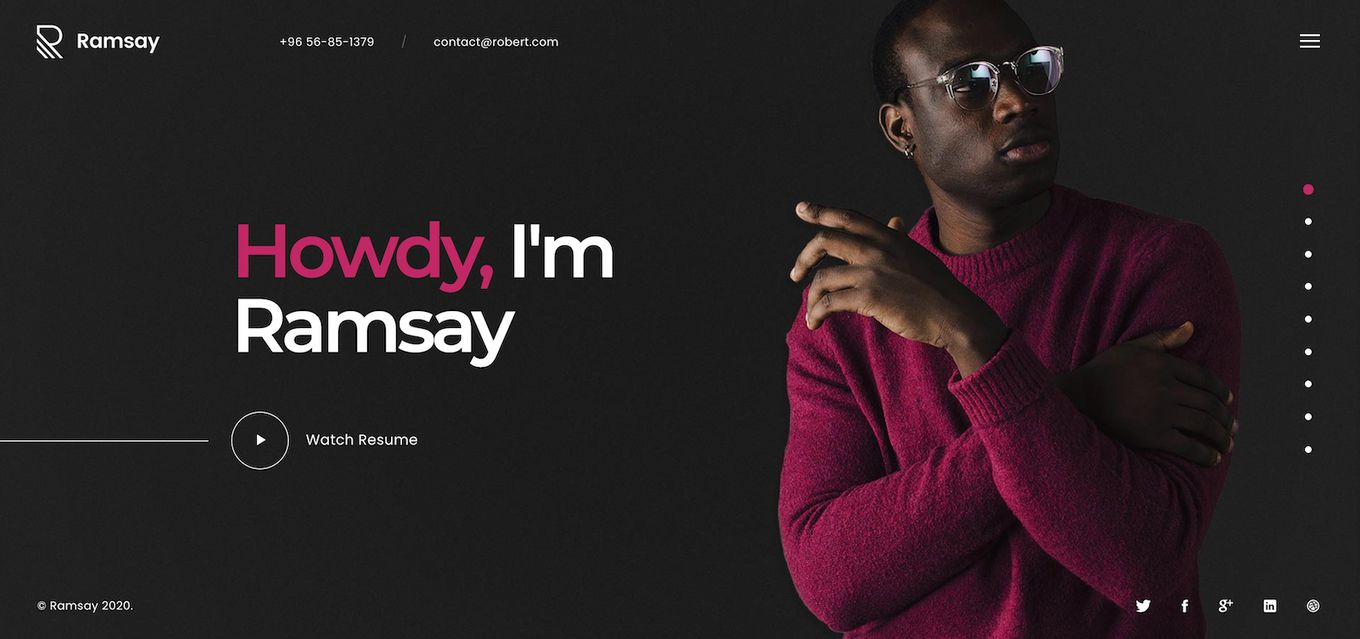 Price: $49
Type: WordPress Template
A lovely portfolio template for any web developer to showcase their CV and Resume. It uses a full-screen design to create a simple yet effective and visually appealing website. Ideal for front-end developers and designers who want to impress visitors.
Features
Responsive
Gallery
Fullscreen snap scrolling
Forms
Elementor Page Builder
Gutenberg Optimized
50+ Ready Widgets
2000+ Google & Typekit Fonts
1000+ Pixel Perfect Icons
SEO Optimized
Multilingual Ready
From Scratch or From Template: it is up to you!
These web developer portfolio templates come in different shapes and forms, and just like everything else, your purpose, goals, and preferences should be taken into great consideration.
Whether you decide to use a web developer portfolio template or you want to create your portfolio from scratch I hope the list inspired you and gave you an idea of how you want your portfolio to look.
Just remember this:
Using a web developer template for your portfolio is ok. It can be justified and can be a wise move in many cases.
Related articles:
Join 2,000+ readers and learn something new every month!
Get notified about new blog posts, tips, tricks, fullPage.js news etc.
RSS feed