9+ Unbeatable Online Portfolio Examples [To Get Inspired]
Unlike other professionals, creatives compete in different ways. They don't solely rely on their application letter and interview performance. Their portfolio is what has the most impact on their job application or client proposal. Several reasons prove the importance of a professional portfolio.
Due to the changes brought by technology, a hard copy of your portfolio is no longer the best way to entice potential clients or employers. The competition is now all about how great your digital portfolio is.
In this article, we've compiled the best portfolio examples for graphic designers, photographers, and freelance writers.
What Is an Online Portfolio?
An online portfolio is created by or for designers, photographers, and the likes. It showcases their previous works that speak loud about their creative skills. It comes in different forms - a shareable folder, blogs, one-page websites, multi-page websites, job experience timelines, etc.
Digital portfolios serve a wide range of purposes, such as increasing your presence and visibility, attracting paying clients, and boosting one's chances of getting hired in a job they're applying for.
Who Should Have an Online Portfolio?
Professionals who benefit from showcasing their works include creatives like architects, graphic designers, web developers, interior designers, photographers, videographers, and writers. Even if you aren't a creative professional, nobody's stopping you from building your web portfolio if you think it will give you an advantage.
If you're planning to create a portfolio website, take a look at the portfolio examples below. Check what makes them outstanding and use them as inspiration.
List of the Best Digital Portfolio Examples
It's quite a challenge to make your portfolio attract attention since there are already many out there. It seems like every color, effect, shape, and size has already been used. However, with proper design and element choices, you can still make yours shine.
To help you create a digital portfolio that stands out from the crowd, we've listed the 9 best portfolio examples you can use as inspiration. Each of these beautifully crafted portfolio websites is designed for specific goals and needs of different creative professionals.
Take a look at these mind-blowing examples.
Online Portfolio Examples for Graphic Designers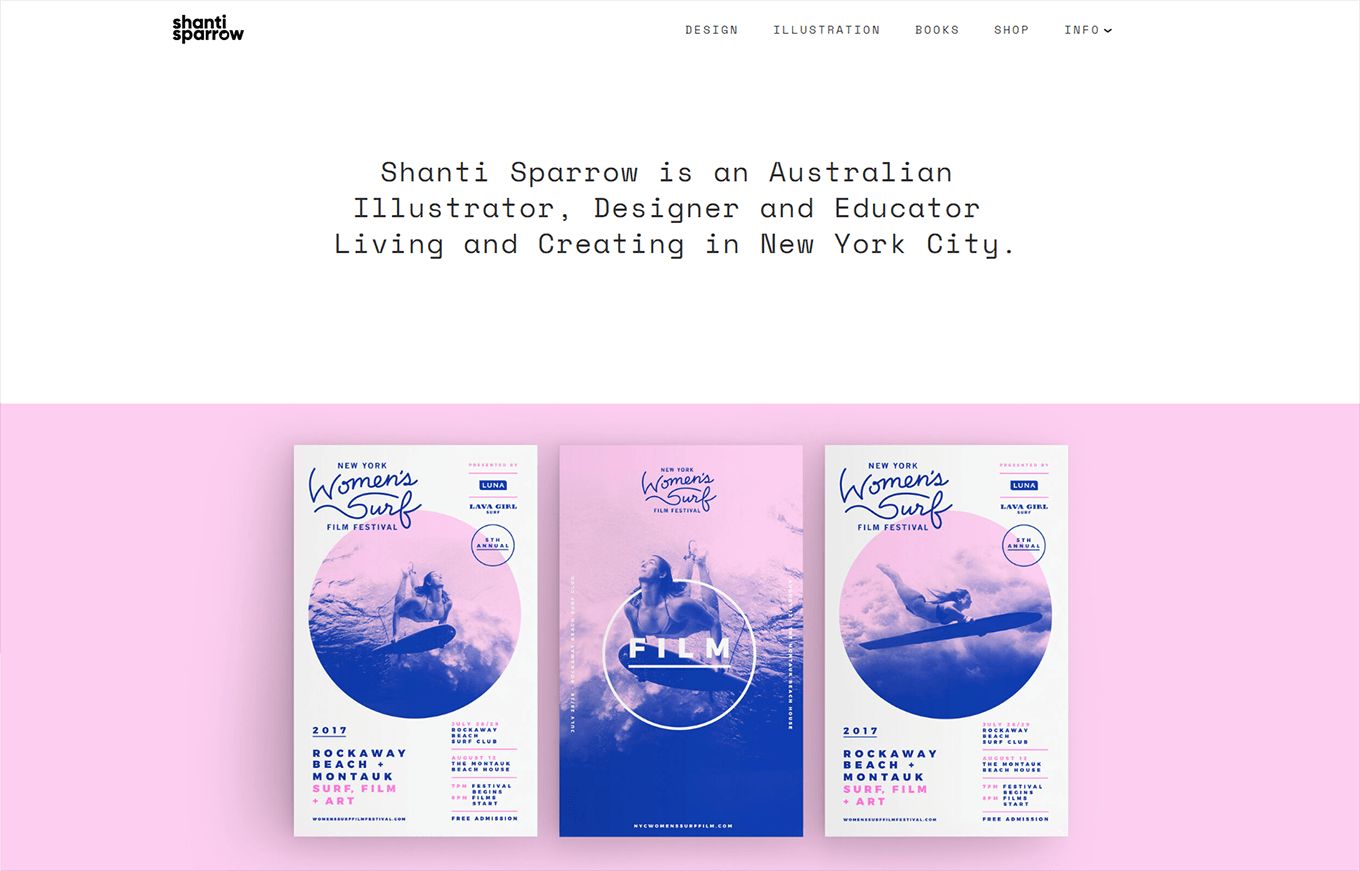 Design: Fun and Playful
Shanti rocks an online portfolio design that highlights her works' strongest points. Since she usually likes to play with colors and patterns, she made sure to showcase her works in plain boxes - making her bold designs stand out.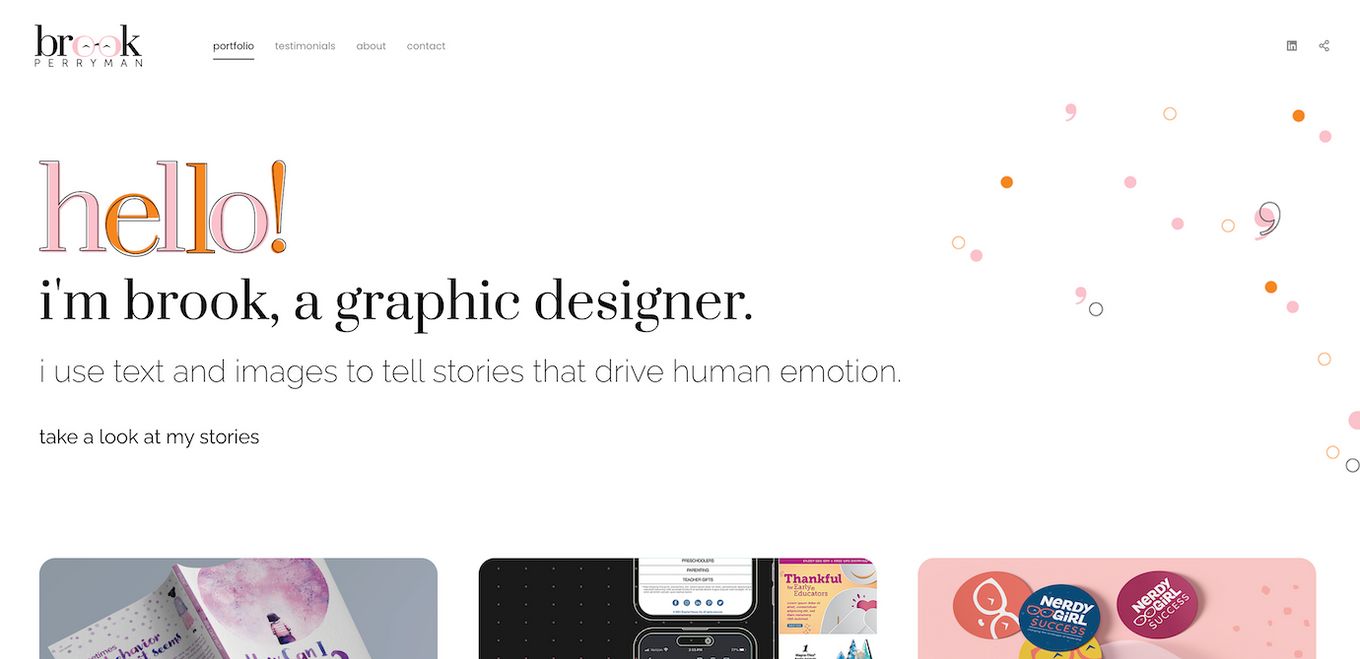 Design: Modern, fun and juvenile
Brook Peryman's portfolio has a colorful design, but it's easy to navigate through.
The portfolio is a perfect example of a well-implemented portfolio. It's fully responsive and uses a beautiful design, but apart from that, it contains everything an online portfolio should have.
Throughout the portfolio, you can learn a lot about the artist and his graphic design range, which makes it easier for potential clients to find what they need on the website.
The layout is clean, simple, and straightforward.
The subtle scale-transform transition as you hover over each category is another great touch that demonstrates Brook's attention to detail.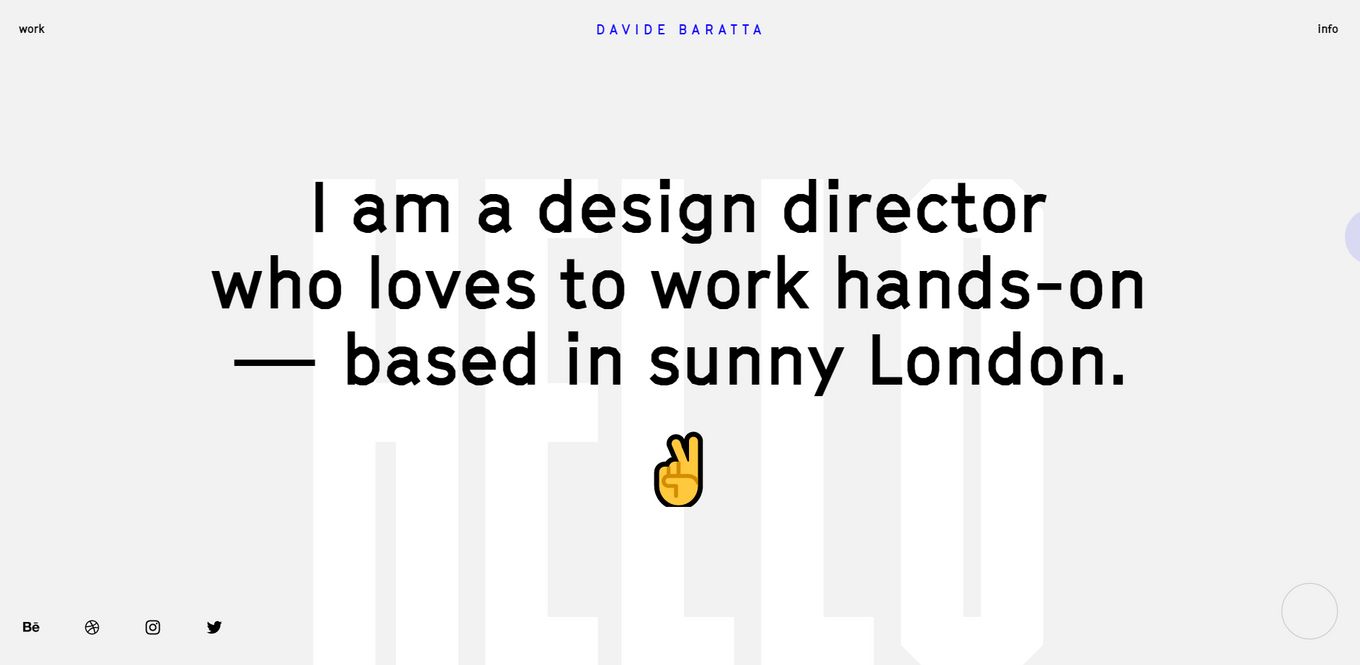 Design: Contemporary
Davide Baratta is a London-based design director that redefines how portfolio websites should be. His website is one of our favorite portfolio examples in this list as it has a unique interface. Instead of scrolling down, you'll need to scroll horizontally by dragging with your mouse. Once a certain work catches your eyes, you can learn more about it by simply clicking it.
If you're interested to create the scroll horizontal effect, check how to scroll horizontally with JavaScript.
4. Brian Winston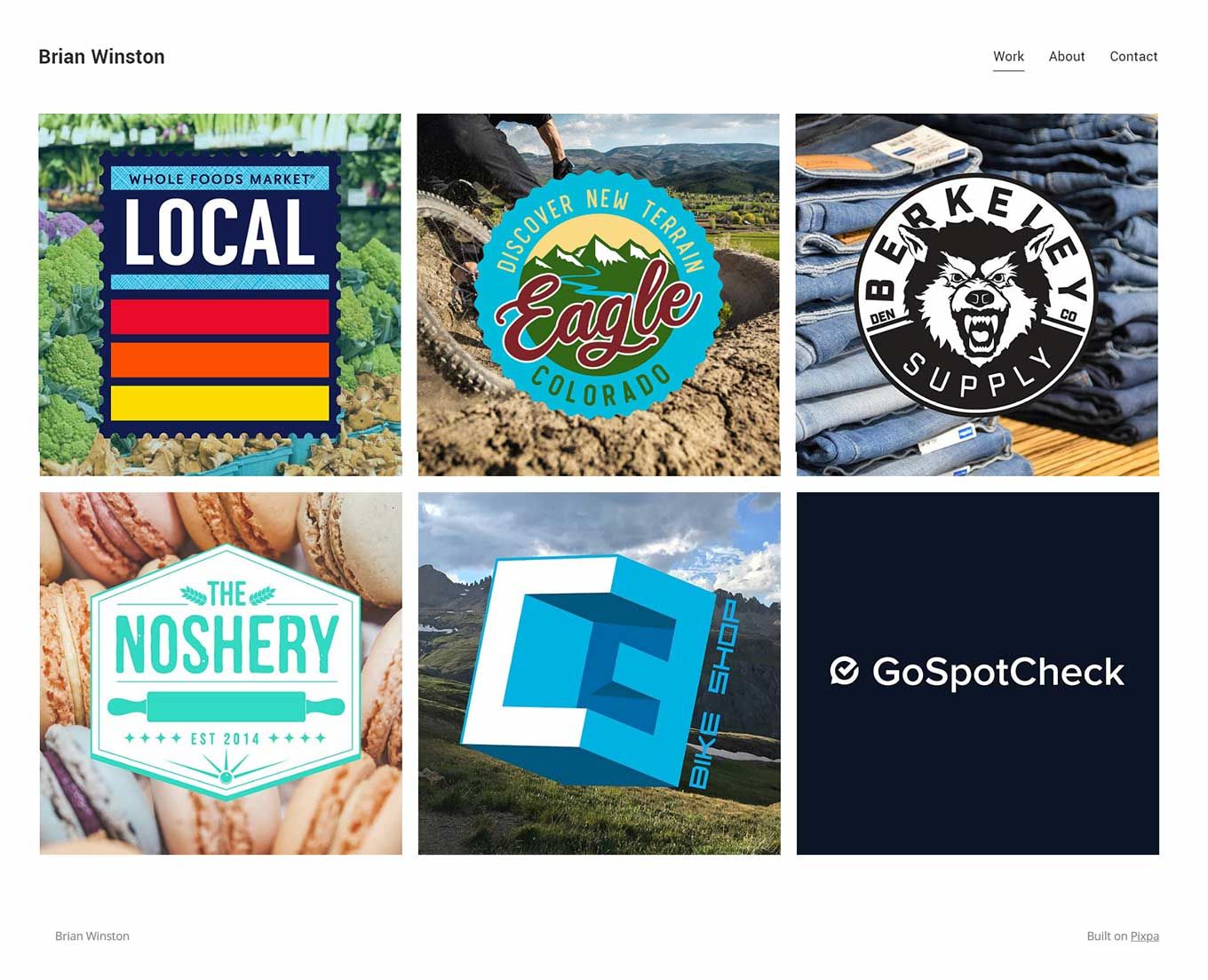 Update: Website not available anymore.
Design: Minimalist
Brian's web portfolio shows off a minimalistic aesthetic. It's very easy to navigate due to its simplicity. When it comes to UX/UI design, this website scores high.
Web Portfolio Examples for Photographers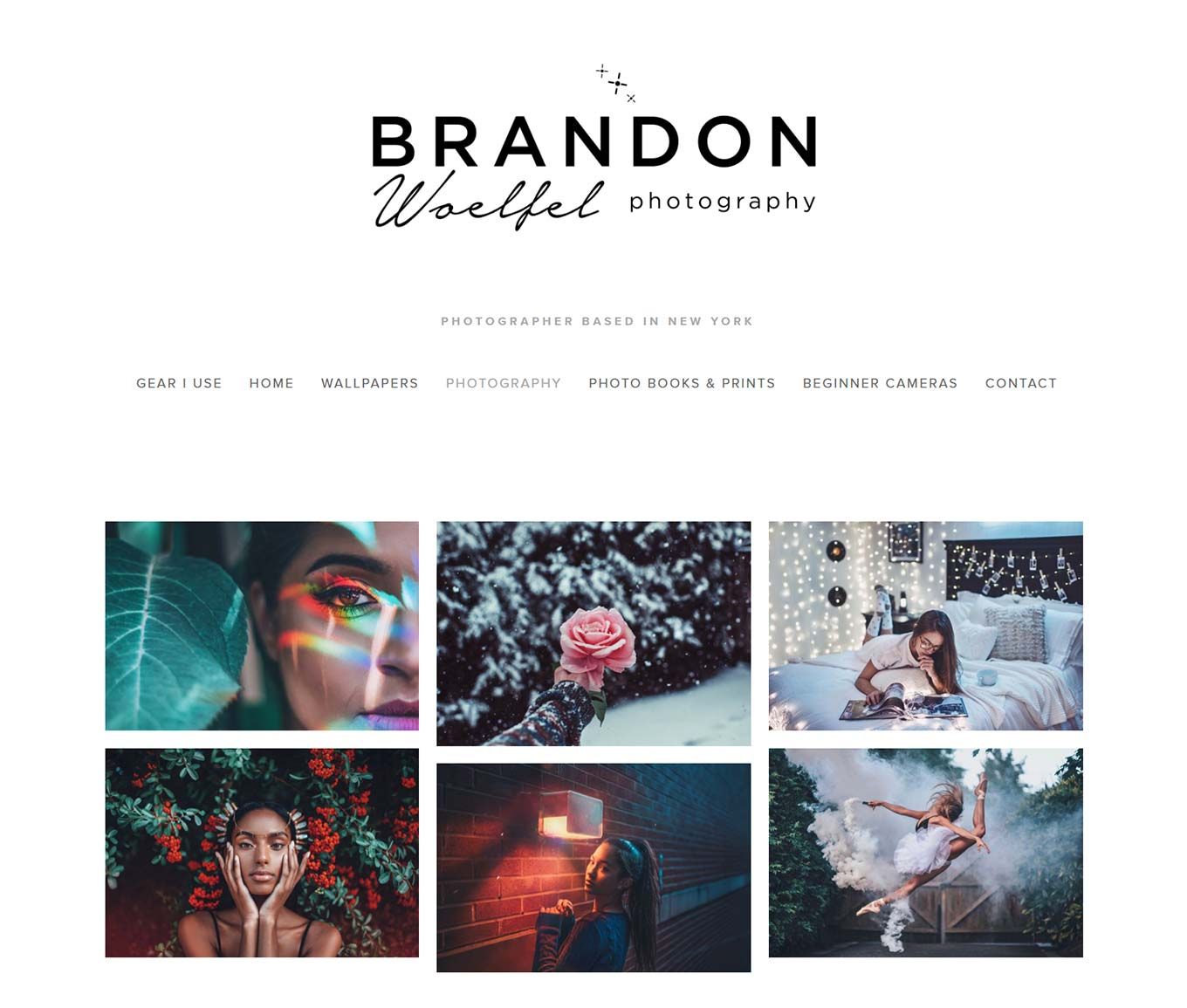 Design: Minimalistic; Black and White
Kicking off the list of digital portfolio examples for photographers, we bring you the super clean photography website of Brandon Woelfel. Its black and white website complemented his vivid photos - making his works shine even more.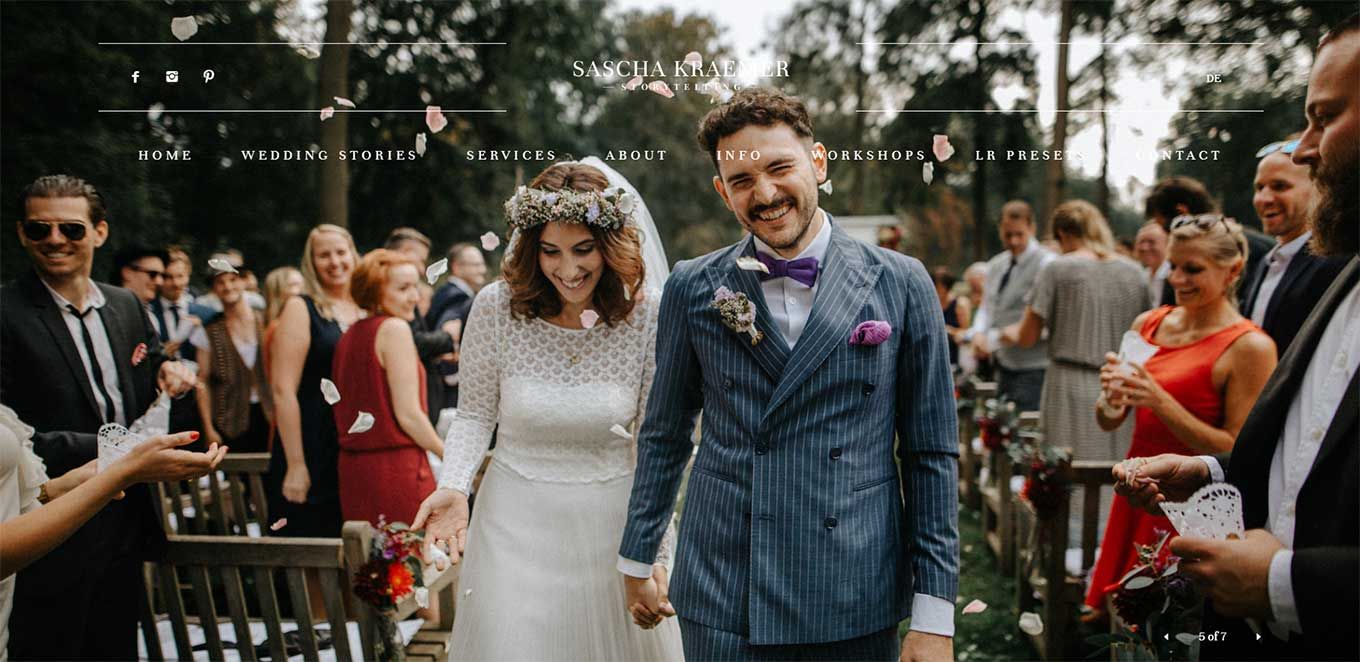 Design: Modern
When discussing beautiful photography online portfolios, Sascha's website is a great reference. It uses a muted color scheme that perfectly fits her wedding photos. She also uses fading sliders to showcase some of her best works.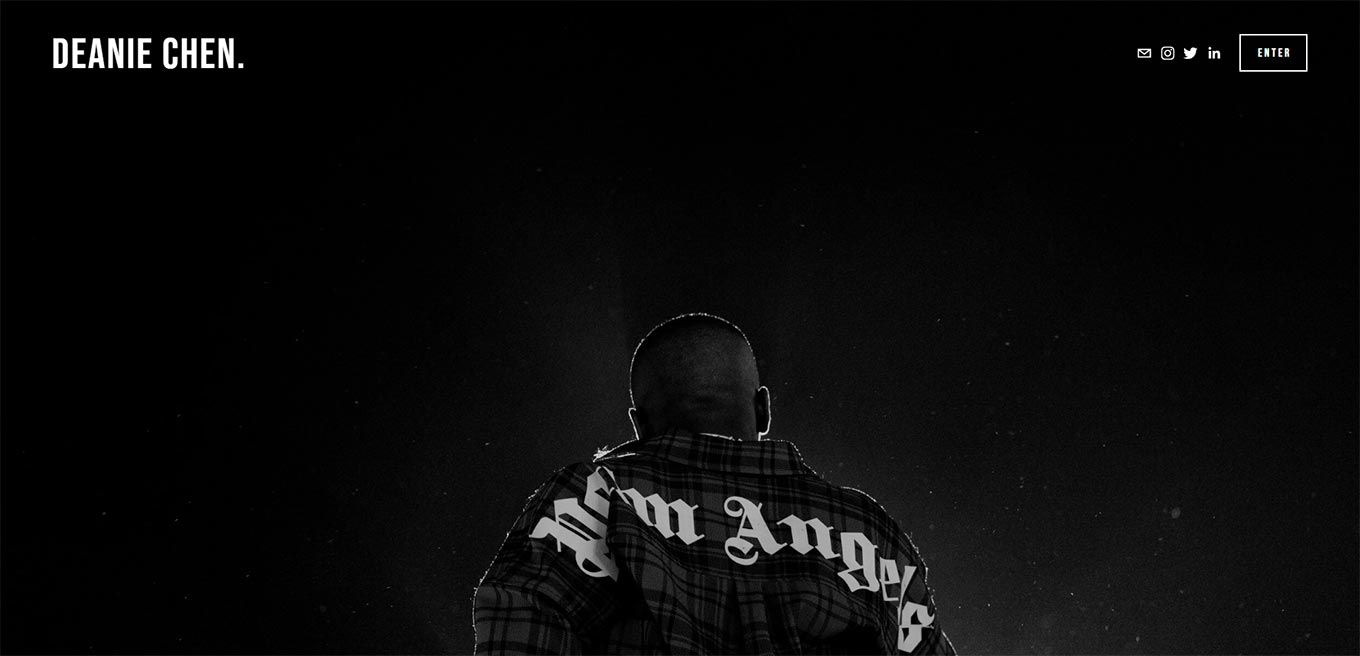 Design: Minimalist; Black and White
Photography is not a one-fits-all industry. Each photographer has his own specialty - wedding photography, portrait photography, etc.
Deanie highlighted what kinds of photography she excels in through her web portfolio. She has different sections for each. Her website is simple yet stunning - just like how her photos are.
If you are interested in more, check out our complete list of Photography Portfolio Examples
Digital Portfolio Examples for Freelance Writers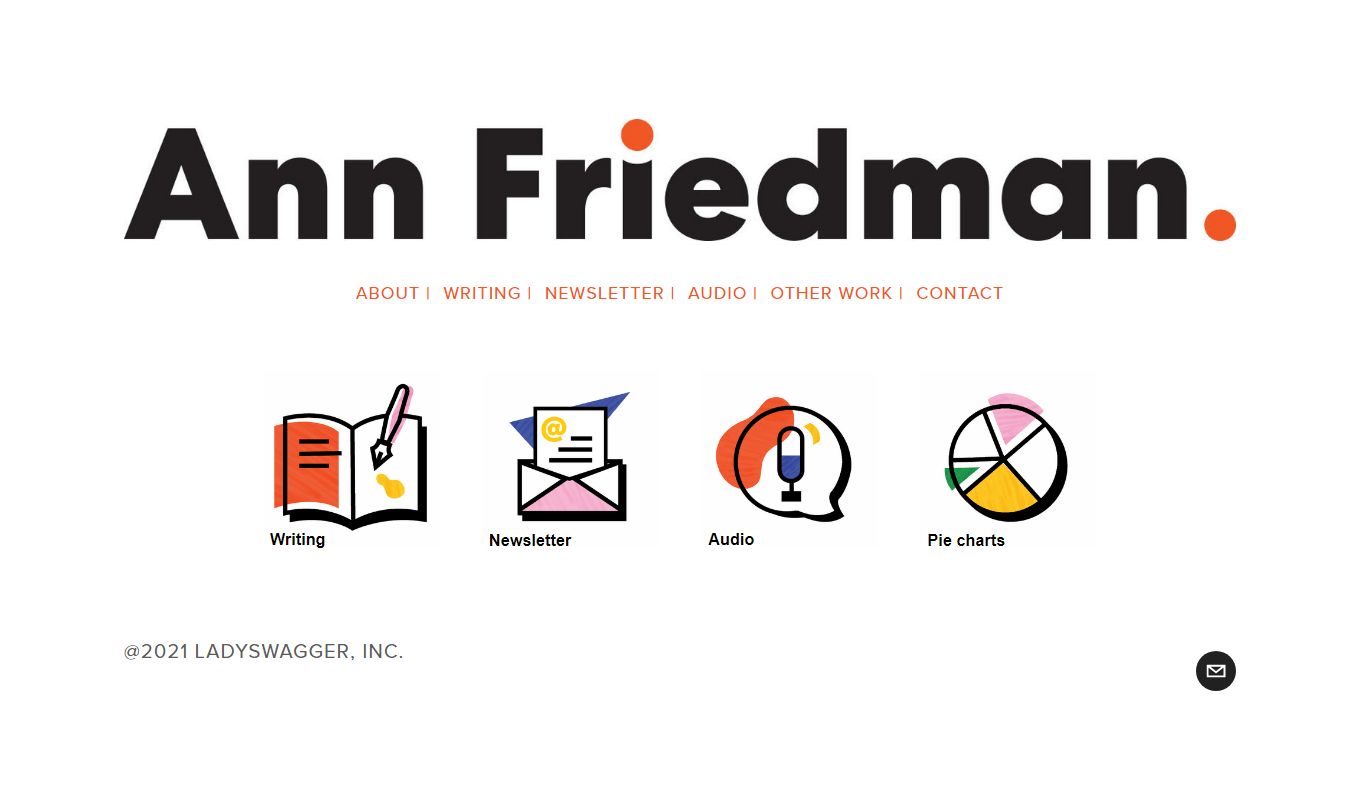 Design: Playful
Ann Friedman's site is one of the most outstanding online portfolio examples for writers. It uses playful elements that provide a superb experience for her site visitors.
On her website, you can see not just her writing portfolio. She also displays other works, such as her speaking engagements and podcasts, which prove how well-versed she is with words.
If you are a writer specializing in copywriting, then you have to check our list of great copywriting portfolios.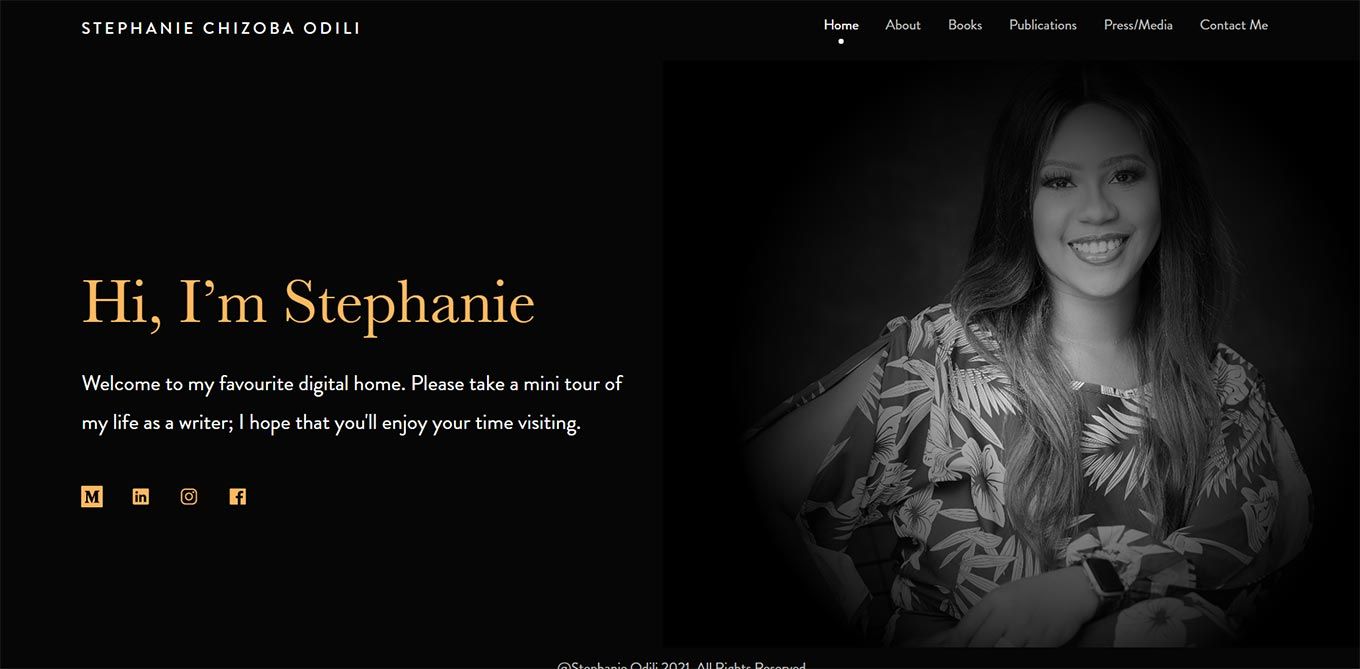 Design: Classic
As a writer, one of the most effective ways to build your reputation is to compile all your works and showcase them all together in a beautiful web portfolio.
Stephanie sticks with the classic web design. Her homepage is definitely a show-stealer which features a dark background and her monochrome photo.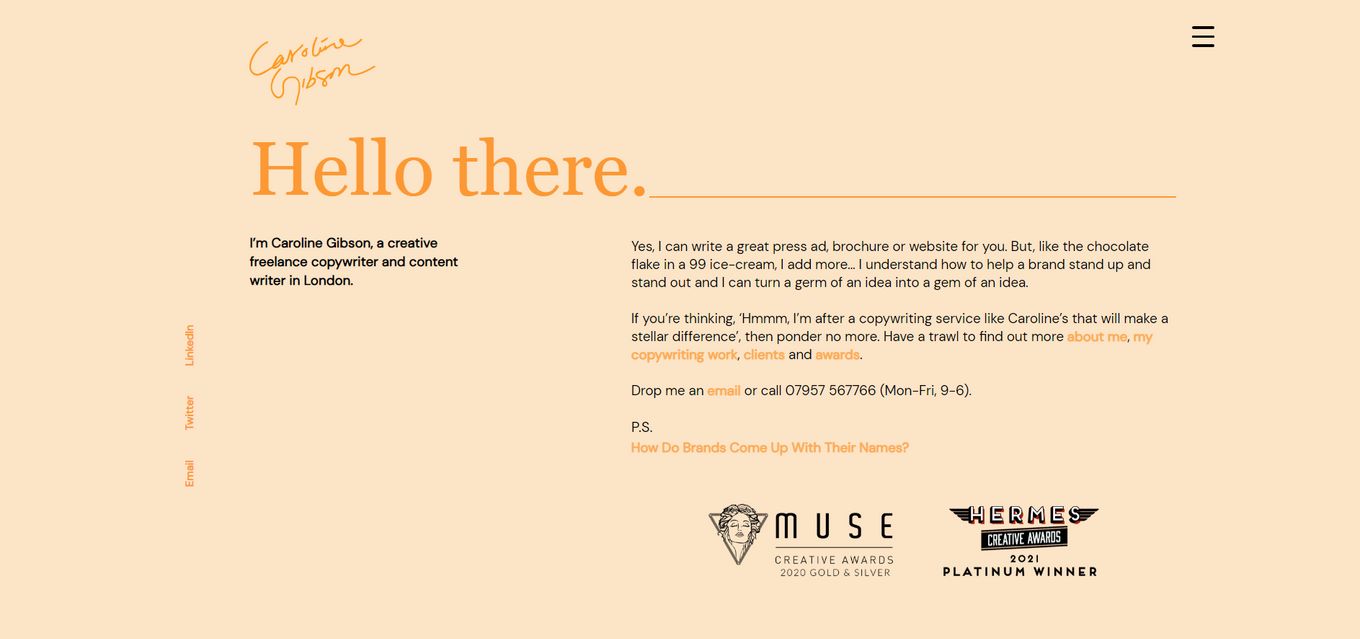 Design: Chic
Caroline's writer portfolio site stands out with its changing background color. While her homepage rocks a bisque or soft tangerine color, her About Me, Services, Portfolio, and other pages sport different soft colors.
Another thing that makes her portfolio unique is the lack of images on her website. It's quite difficult to make your site shine without any image. However, Caroline's online portfolio made it possible.
Create Impressive Online Portfolio
Building a beautiful website like the online portfolio examples above shouldn't be difficult! Gone are the days when developers need to write overly complicated code to create impressive effects.
For example, to create a visually appealing web portfolio, you can use components like fullPage.js. It's ideal for one-page websites and very easy to use. It has different extensions that will surely make your portfolio stand out from the crowd.
If you want more examples or you are looking for templates, check out this Web Developer Portolio examples and the best web developer portfolio templates.
Related Articles
Join 2,000+ readers and learn something new every month!
Get notified about new blog posts, tips, tricks, fullPage.js news etc.
RSS feed