Chromium browsers take a larger cut of the market share in the internet space. Since there are so many of them, there is always a lot to choose from. In the following section, we highlight some of the best Chromium-based browsers to help you narrow the scope of your decision. Let's get to it.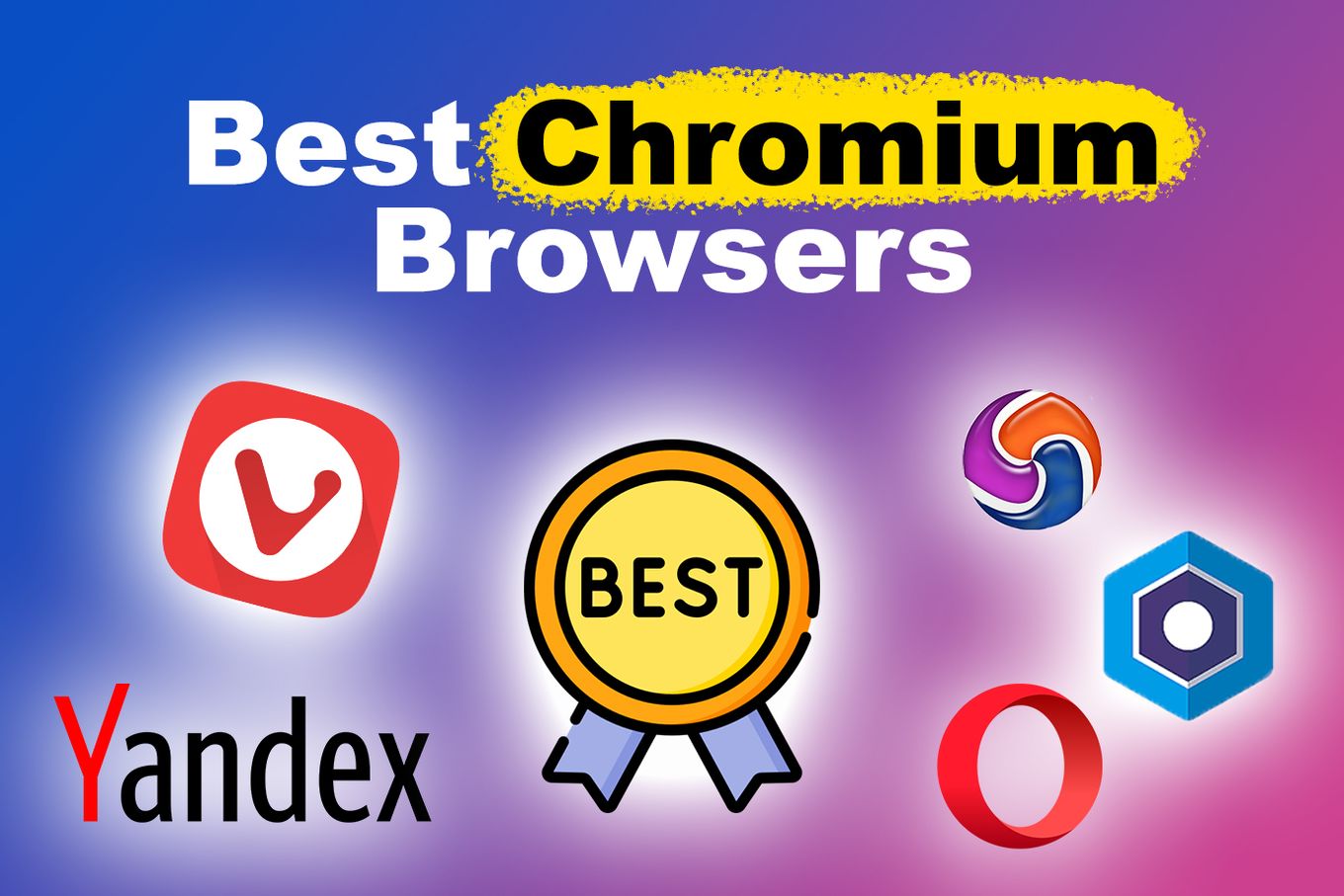 What's A Chromium-based Web Browser?
A Chromium-based web browser is a browser based on the open-source Chromium project. The Chromium project is Google's open-source project that provides the code for the web engine that powers its Chrome browser.
Asides from Chromium, there are only two other active web engines that power web browsers: WebKit (powers Apple's Safari) and Gecko (powers Mozilla Firefox). These two web engines lack widespread usage compared to Chromium.
Check out more open source web browsers.
Best Chromium-Based Browsers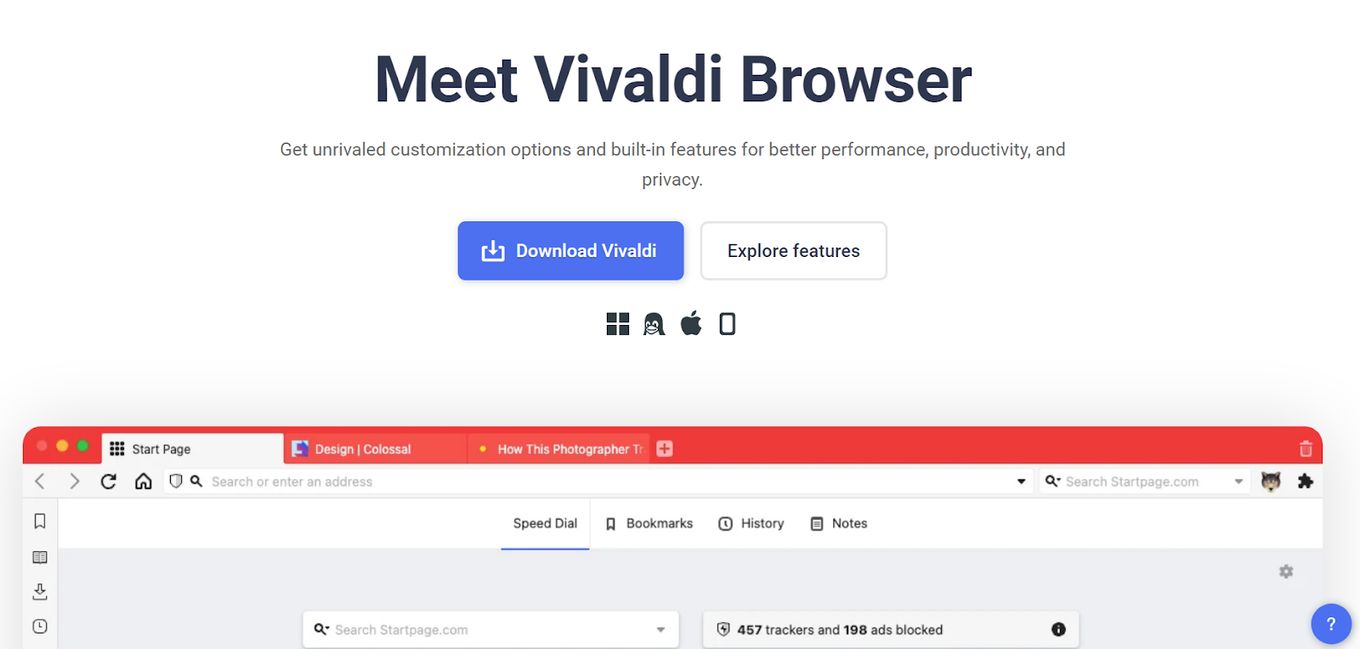 Price: Free
OS: Windows, Mac, Linux, Android
Best For: Everyone looking for a highly customized and private internet experience
Vivaldi is an out-of-the-box customizable web browser; it is the most customizable Chromium web browser. It ships with lots of features and aims to make you require no browser extensions to get your best internet experience.
Even though it is built with Chromium and supports all Chrome extensions, you will find that you do not need many of those extensions you would normally use in Chrome or other browsers.
Vivaldi's interface is feature packed and very accessible. Most of its features are accessible from the browser home screen with just a click of a button. It has an excellent tab management scheme you can customize to suit your options.
In addition to the great user experience, Vivaldi is also dedicated to making sure your data is as private as possible.
Pros
Extremely customizable
Low memory use
Full-featured browser window
Cons
No iOS support
High memory usage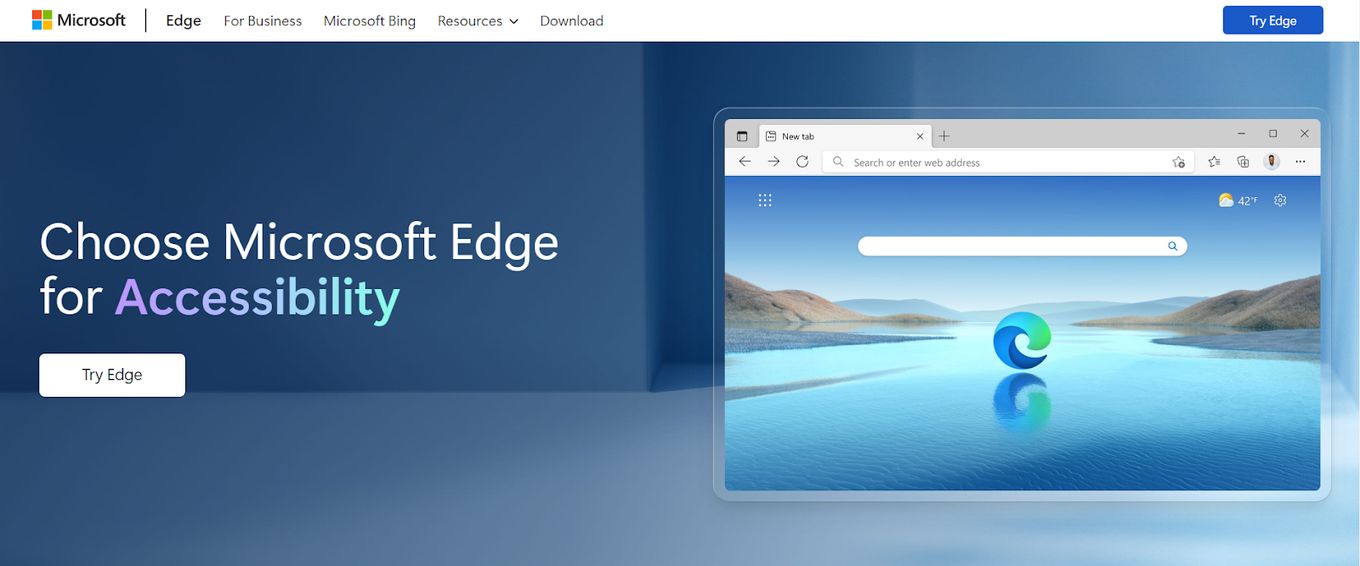 Price: Free
OS: Windows, Android, macOS, iOS
Best For: Professionals who want to increase productivity.
Edge is Microsoft's replacement for their legacy browser, Internet Explorer. They switched their web engine from their in-house software to Chromium in 2020 to make it competitive in an internet world dominated by Chrome.
It supports all Chrome extensions as well as its custom-made extension in its Edge store.
Microsoft Edge ships by default with a Windows PC and is one of the best chromium browsers. It is featured-packed and has the best context menu among its peers.
Its browser window is also easy to navigate and allows little customizable features like dark mode and tab arrangement.
Pros
Low memory use
Immersive reader and PDF mark-up tools
Device Sync
Cons
Limited security features
Fewer extensions than competitors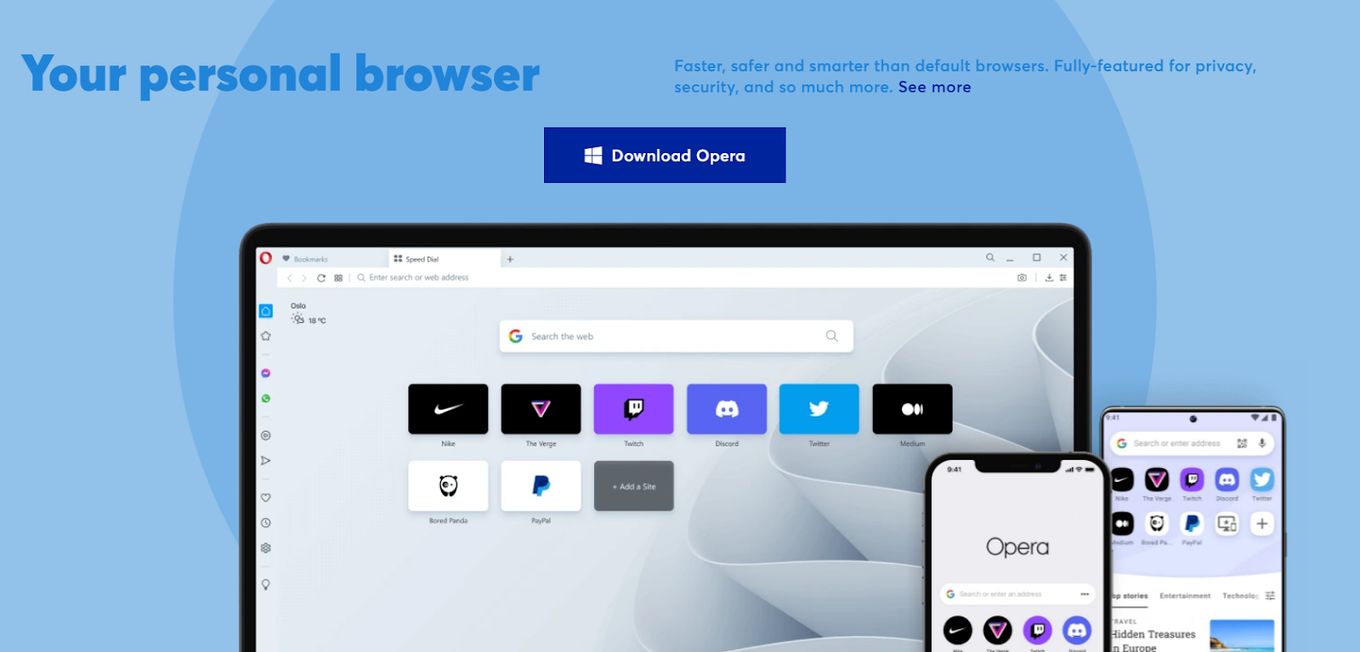 Price: Free
OS: Windows, Mac, iOS, Android, Linux
Best For: Everyone looking for a customized experience on the internet.
Opera is a web browser with a history as the innovator of many features of modern web browsers.
It switched its web engine to Chromium in 2013 yet it still retains its status as a feature-rich and highly customizable browser. Some users consider it one of the best chromium browsers for iOS.
Are you using Linux? Then you have to read what are the top Linux web browsers.
Opera's user interface is clean and has a Quick Tile section to enable access to frequently visited sites like Google and Facebook.
The browser also has social media apps such as WhatsApp and Instagram integrated directly into its interface.
Pros
Built-in VPN and proxy service
Integrated social sharing apps
Customizable interface
Cons
The interface can be over-packed with unnecessary features
May not work with some websites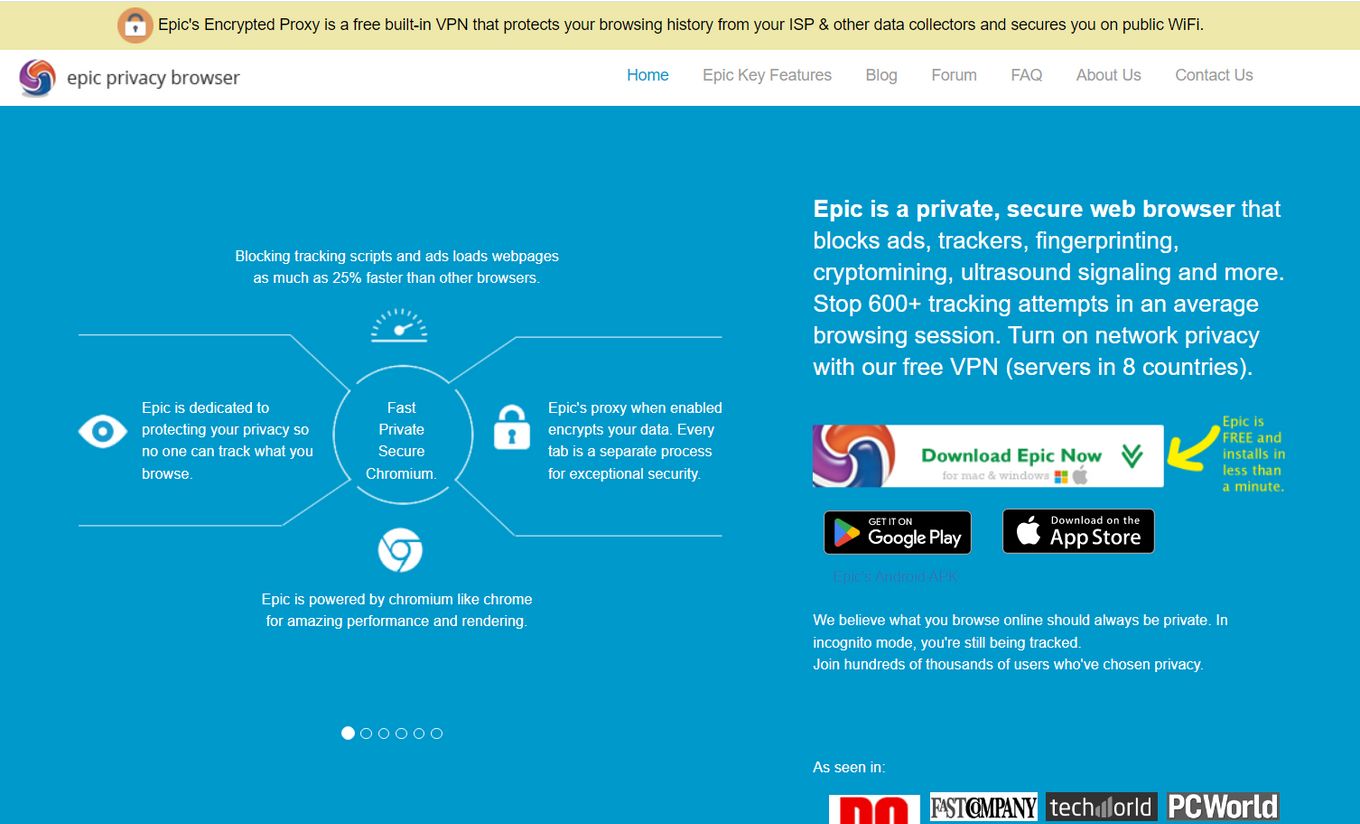 Price: Free
OS: Windows, Mac, Android
Best For: Everyone looking to surf the internet privately.
Epic is a user privacy-centric browser based on Chromium. It runs by default in what other browsers call Incognito Mode or Private Browsing.
This means it doesn't keep your browsing history, caches, cookies, and every form of user data that might be collected during a browsing session.
These aggressive privacy-enforcing capabilities make Epic one of the best Chromium browsers. The developers claim it blocks more than 600 tracking attempts in a single browsing session.
The browser also has a built-in proxy service that hides your IP address every time you access the internet.
Pros
Baked in VPN/Proxy service
Isolated Tab Browsing Environment
Comprehensive ad and tracker blocking
Cons
Lacks support for many web extensions
Slow Speeds
Difficulty Browsing in multiple tabs at once.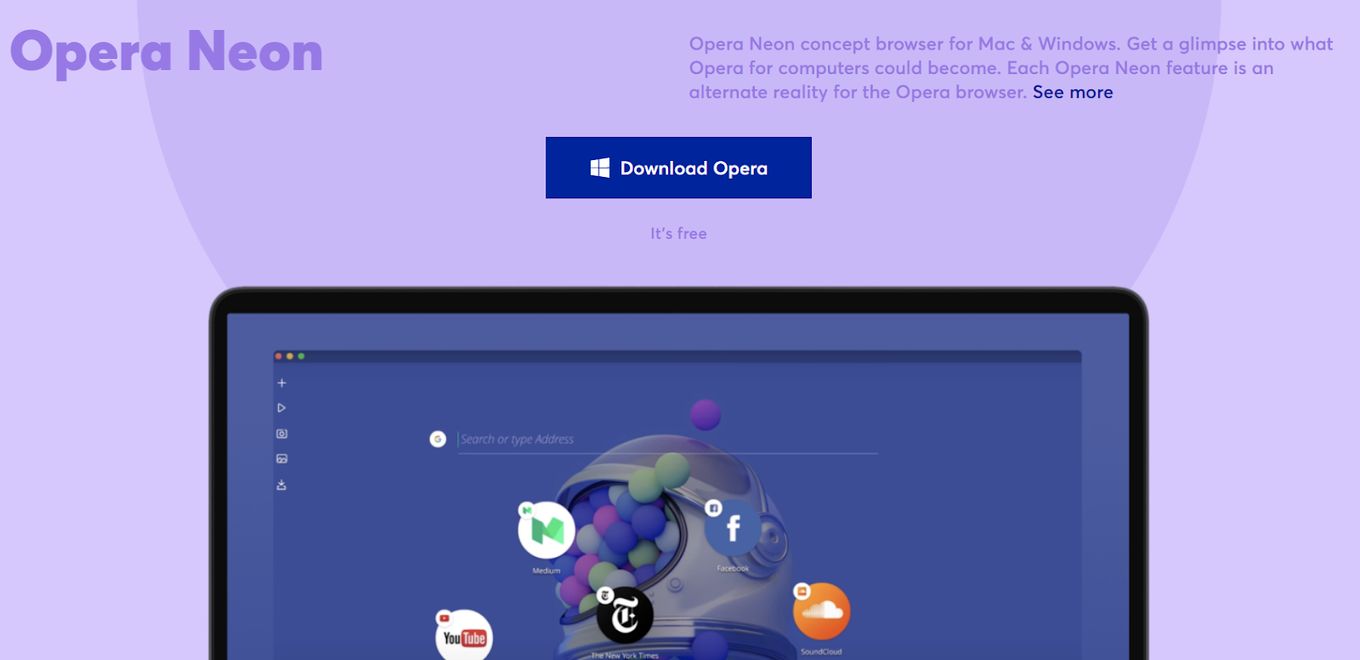 Price: Free
OS: Windows, Mac, iOS, Android
Best For: Anyone that desires a unique browsing experience
Opera Neon is an experimental browser developed by the makers of Opera. Though it was built on Chromium, its user interface is different from the other browsers including Opera.
Although its features are experimental and crash often, the browser is available for public use. Opera Neon also lacks some basic features of modern browsers like syncing across devices and compatibility with web extensions.
However, it packs in lots of different features that don't exist in other browsers. Some of these features include a split-screen and dedicated media player. Its user interface looks more like a desktop screen than a typical browser screen.
Pros
Sleek User interface
Graphic animation effects.
Cons
Unstable and it crashes often.
No Mobile Support
Lacks Security Updates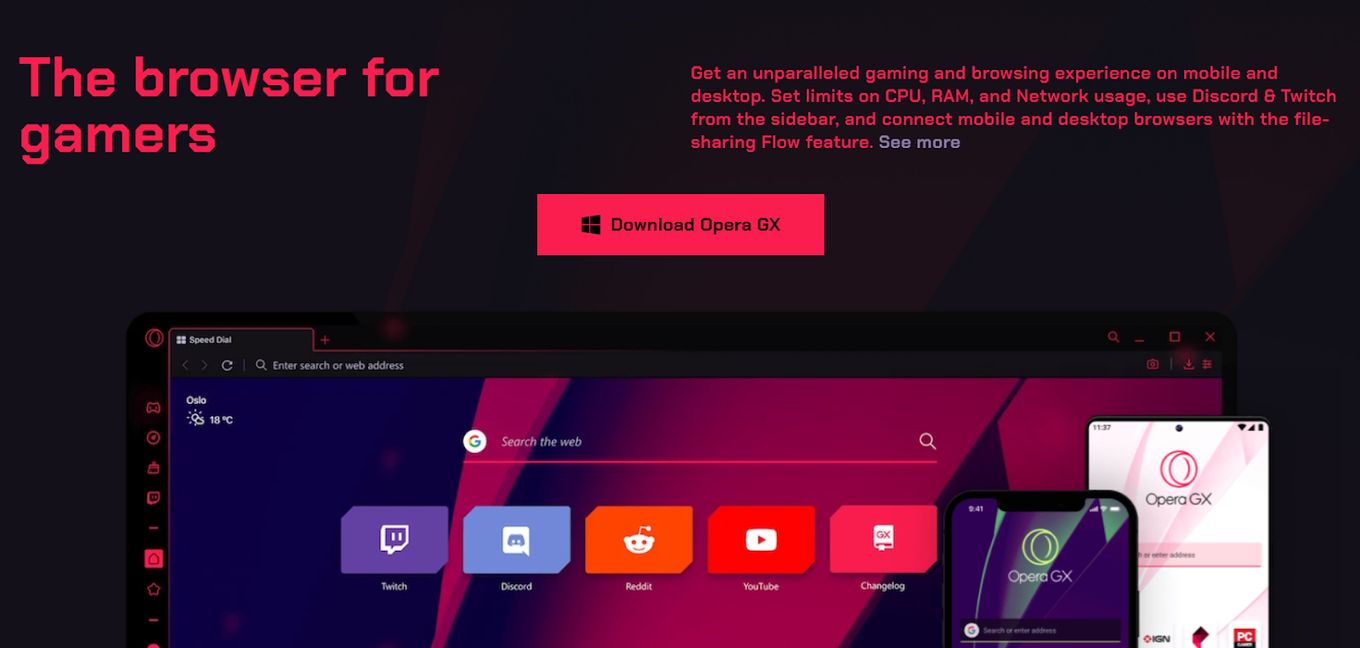 Price: Free
OS: Windows, Mac, iOS, Android
Best For: Gamers; professionals and enthusiasts
Opera GX is another specialized browser built by Opera. The web browser was developed for gamers to get the best of their internet gaming experiences.
It packs in dedicated features for gaming like its GX corners and interface display.
Opera GX allows you to personalize many aspects of its UI right from installation. It boasts a huge collection of wallpapers and also allows you to add your custom wallpaper to fit your gamer aesthetic.
Animations, sounds, and graphic effects are also parts of its interface's delights.
Pros
Adaptive usage of RAM and memory space
Quick access to gaming-related information
Built-in adblocker and VPN
Cons
Certain features might be difficult to access
Privacy issues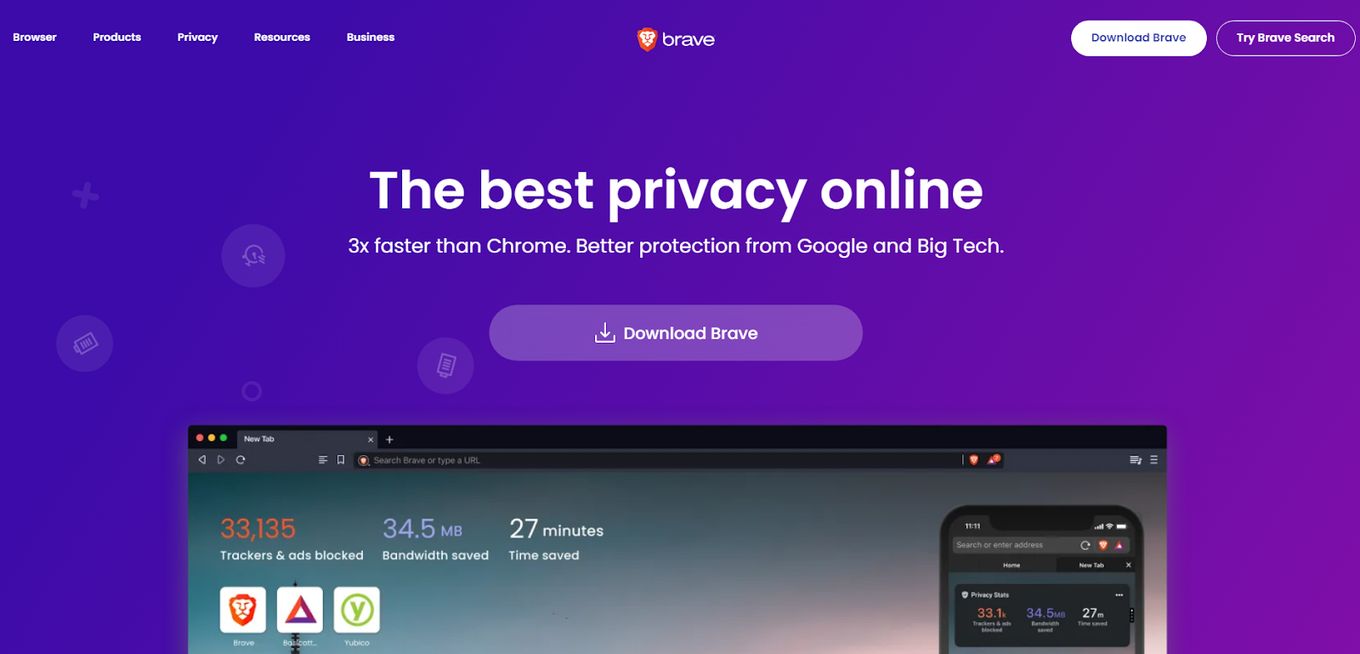 Price: Free
OS: Windows, Mac, iOS, Android
Best For: Privacy-conscious internet users
Brave Browser is another privacy-centric browser and is one of the best chromium browsers for iOS.
It has a minimalist interface similar to Chrome. However, it is heavily focused on browsing the internet privately. Brave does not allow ads but instead operates its internal ads system based on Web 3 technology.
Though it supports extensions from the Chrome Webstore, Brave Browsers come with a lot of features that make installing an extension unnecessary.
This allows the browser to use system resources effectively. It also strengthens the privacy wall of the browser and reduces access to third-party agents.
Pros
Privacy-centric
Built-in ad and tracking blocker
Built-in crypto wallet
Cons
Internal Ads can become spammy
Reduces content creators' revenue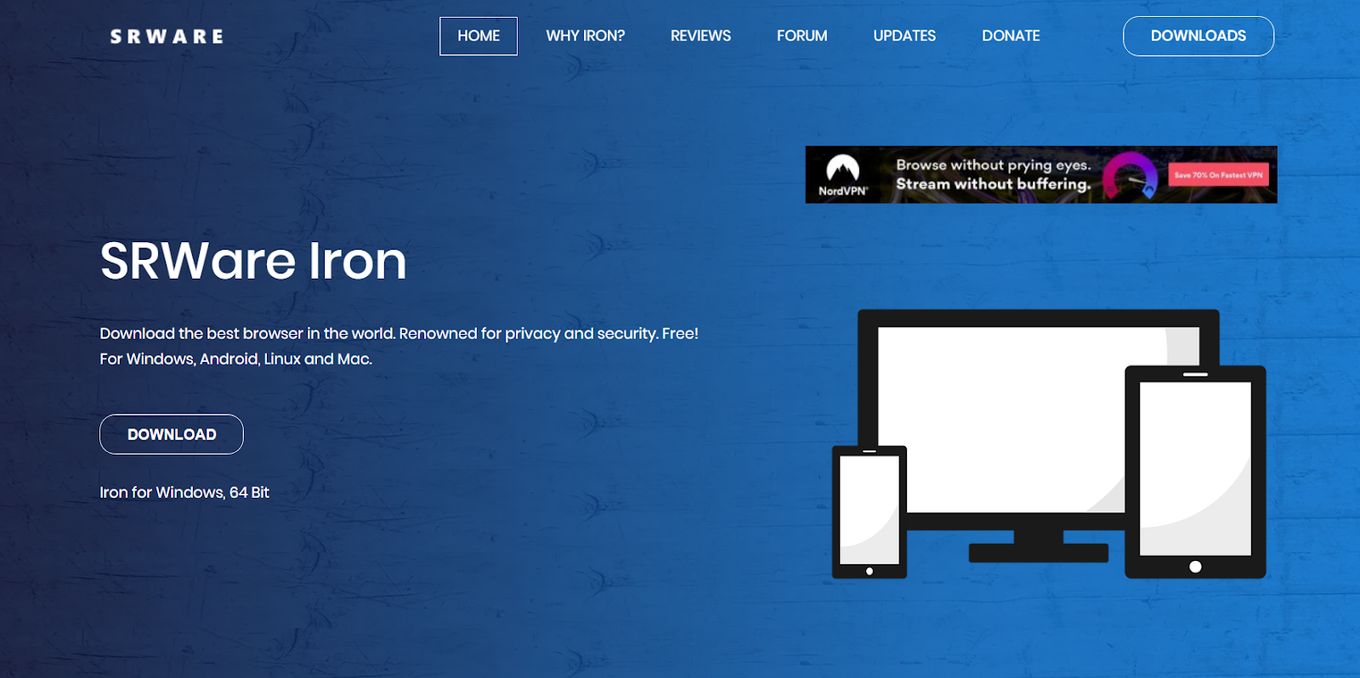 Price: Free
OS: Windows, Mac, iOS, Android, Linux
Best For: Anyone who wants to browse the internet privately
Iron Browser (or SRWare Iron) is another popular web browser based on Chromium.
The browser offers Chrome's features but removes every form of connection to Google.
This means the suggestion feature in Chrome is not present in Iron Browser. It also eliminates usage tracking (URL and RLZ) by Google.
Pros
No usage tracking (URL and RLZ tracking by Google is disabled)
Free from bloatware
Cons
Unstable and crashes often
Slow security and performance update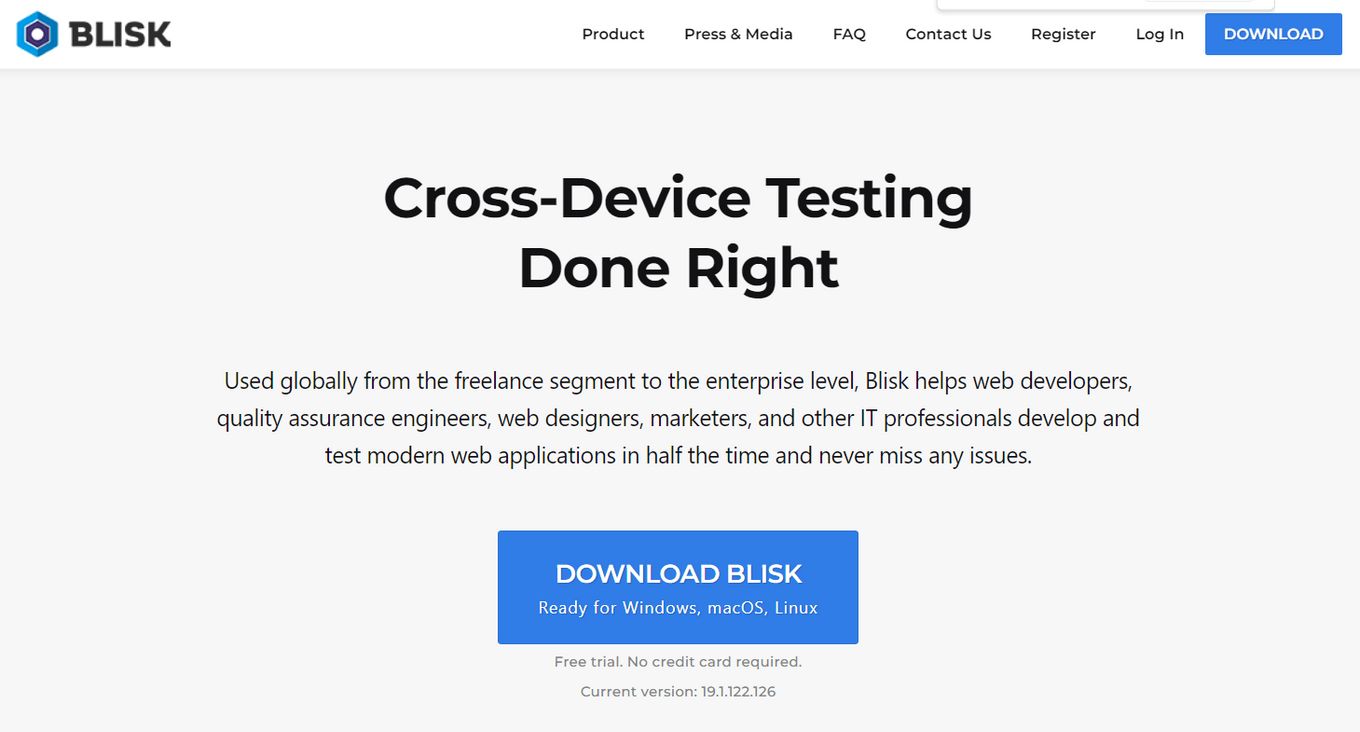 Price: Free trial or starting from $9.99/month.
OS: Windows, Mac, Linux
Best For: Web designers and developers, UI/UX professionals
Blisk is a specialized browser based on Chrome.
It was designed to help web developers simulate the browsing environment of their potential users. Some of its extensive features include Chrome-like DevTools, emulators for various devices, and more.
Blisk is free to download, however, it charges a license fee for individuals and teams who want to use the product.
Pros
Enables Collaborative work
Comprehensive testing and debugging tools for web development
Allows Integration of design tools like Sketch
Cons
Requires a license fee to access premium features
Specialized and unfit for general use
Lacks mobile support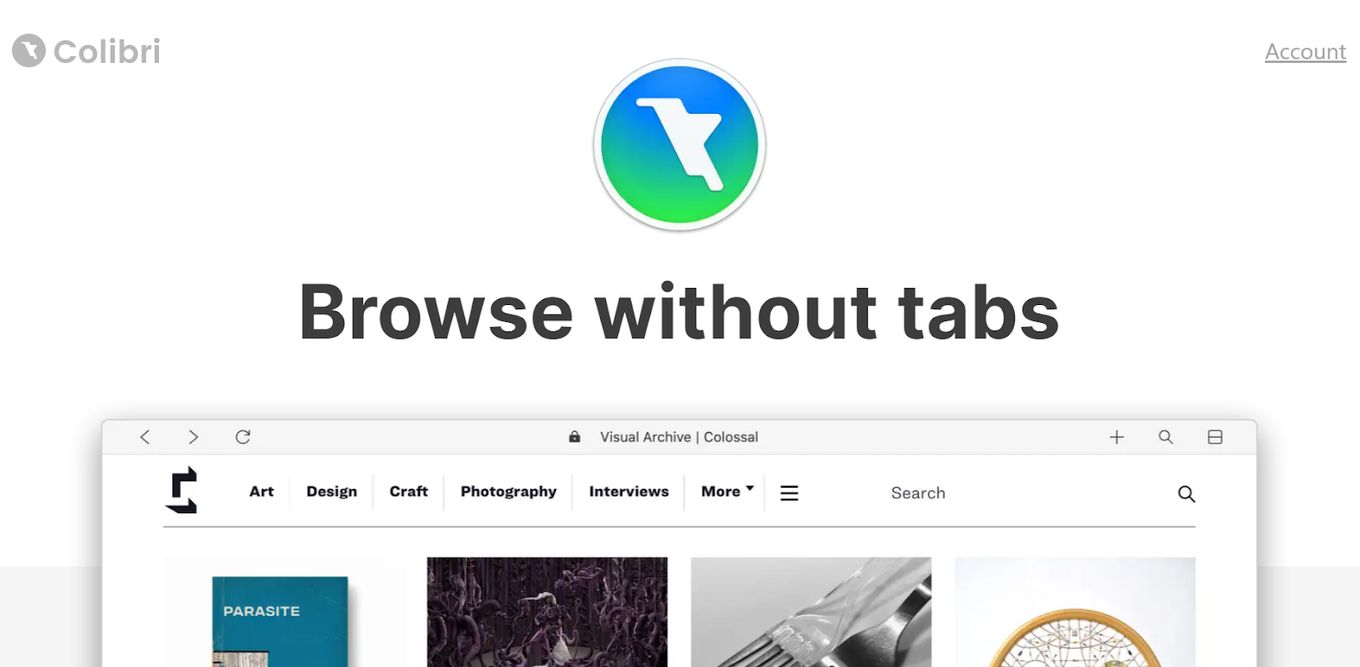 Price: Free
OS: Windows, Mac, Linux
Best For: Anyone who wants to increase their productivity
Colibri browser is a chromium-based browser and offers a radically different approach to doing its job.
It only allowed the creation of a single tab in one browser window. Colibri makes you create multiple windows if you have to use multiple tabs.
This is good for people inundated with switching between multiple tabs during a browsing session.
Colibri has a simplistic interface and lacks common browser features like bookmarks and shortcuts. In place of these features, it offers a new way of organizing your browsing with its Links and List features.
Pros
Uses low memory space
Clean and minimalistic interface
Cloud sync
Cons
There is no history feature in the browser
There are no tabs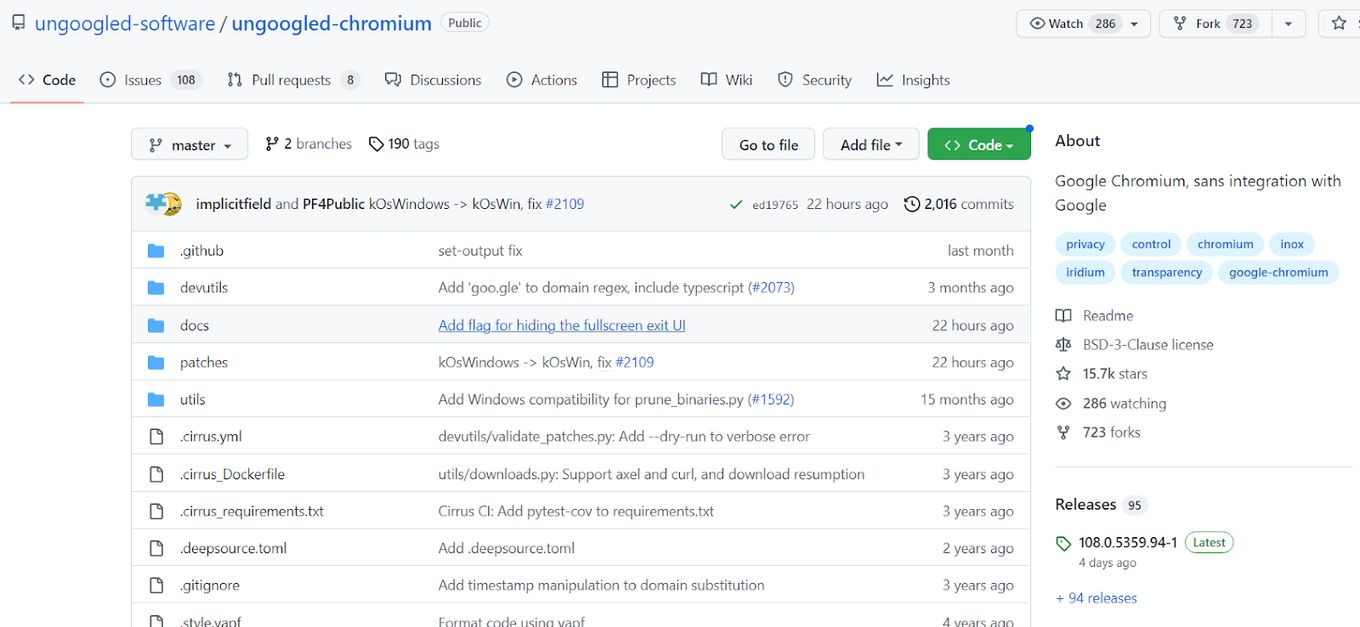 Price: Free
OS: Windows, Mac, iOS, Android
Best For: Everyone looking to access the internet privately.
Ungoogled Chromium is just as the name says: a Chromium browser stripped of all forms of Google-related code.
It has the same set of features as the regular Chromium version. However, it doesn't allow direct installation of the extensions from the Chrome web store.
Ungoogled Chromium doesn't come with a preset search engine. It allows you to choose your desired search engine.
Pros
Enhanced privacy
Does not track or collect your data
Cons
Lacks extension support from the Chrome web store
Requires a bit of programming knowledge to use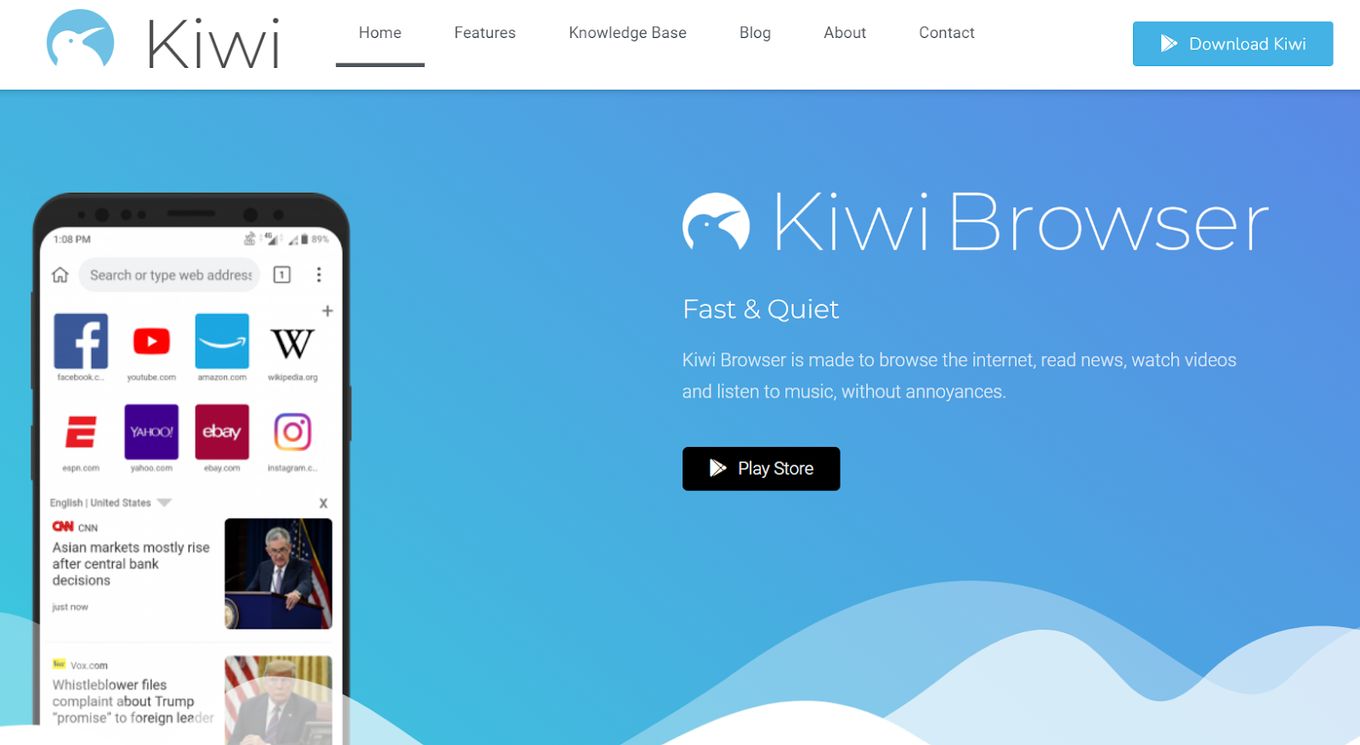 Price: Free
OS: Android
Best For: Regular internet users
Kiwi is one of the best chromium browsers on Android devices. It looks and works similarly to Chrome.
However, it allows more customizations than Chrome allows. For example, it allows you to move the address/search bar to the bottom of the display.
Pros
Built-in ad blocker
Allows extension on mobile
More customizable interface
Cons
Lacks desktop version
Pro version is expensive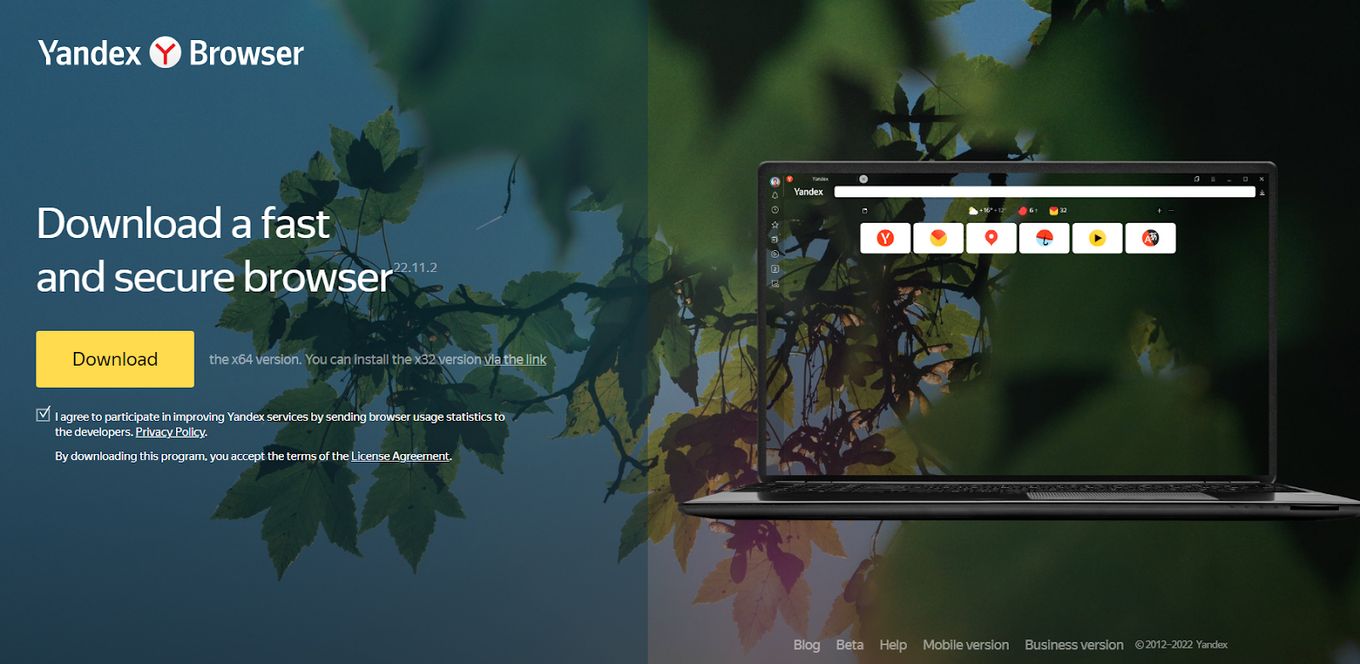 Price: Free
OS: Windows, Mac, iOS, Android
Best For: Anyone looking to browse the internet, especially in Russia.
Yandex browser is not popular globally but it is the second most popular browser in Russia.
The browser is based on Chromium and offers everything Chrome offers except that it is in the Russian language. The default search engine is Yandex instead of Google even though you can adjust that in its settings.
Yandex browser has a clean minimalist interface like Chrome and uses Opera's turbo technology to boost connections when they are slow.
Pros
Great user interface
Access to Chrome Extensions
Cons
Takes up lots of memory space
Russian Language barrier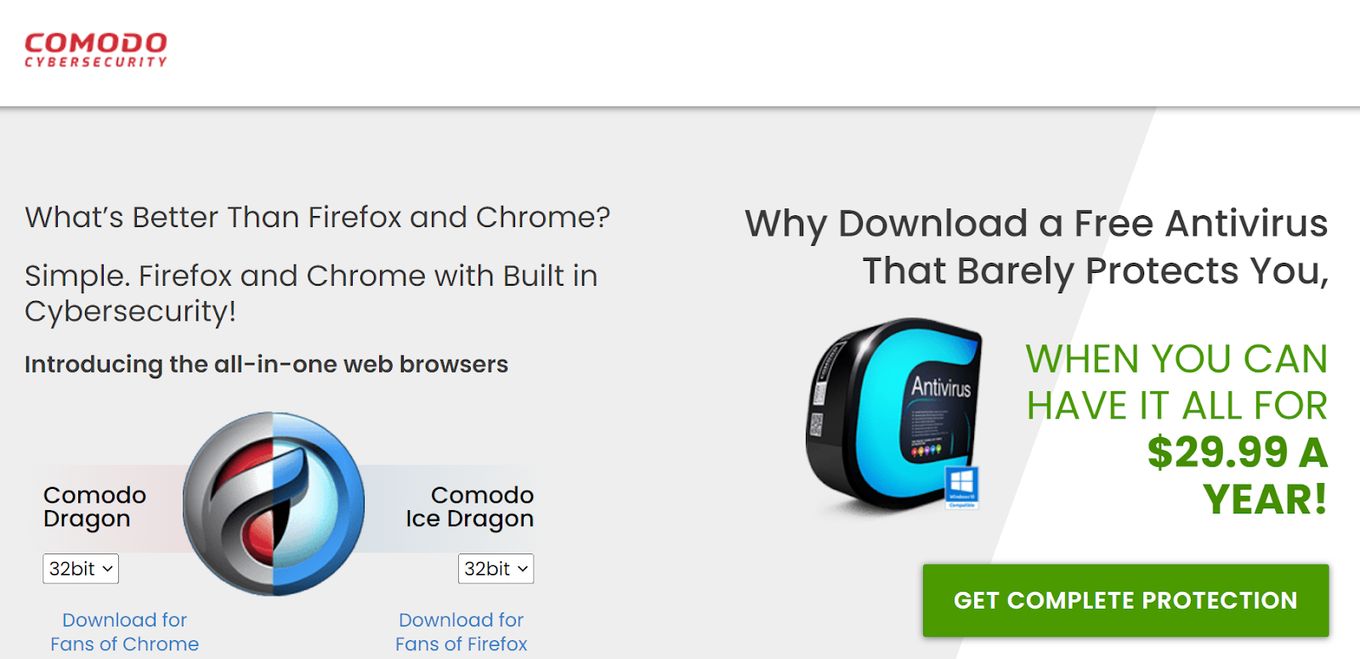 Price: Free or $119.88
OS: Windows
Best For: Regular internet users
Comodo is an established name in antivirus software development. Comodo Dragon is another of its offerings. The web browser is chromium-based and offers better security and enhanced privacy features.
Comodo Dragon has the same features as Chrome. However, the makers disabled access to all default Google services.
Interestingly, the browser works well with extensions from the Chrome Web store and allows the use of Google accounts.
Pros
Uses domain validation technology
Uses web inspector to prevent a malware attack
Cons
Infrequent performance updates
It's not as private as a browser like Opera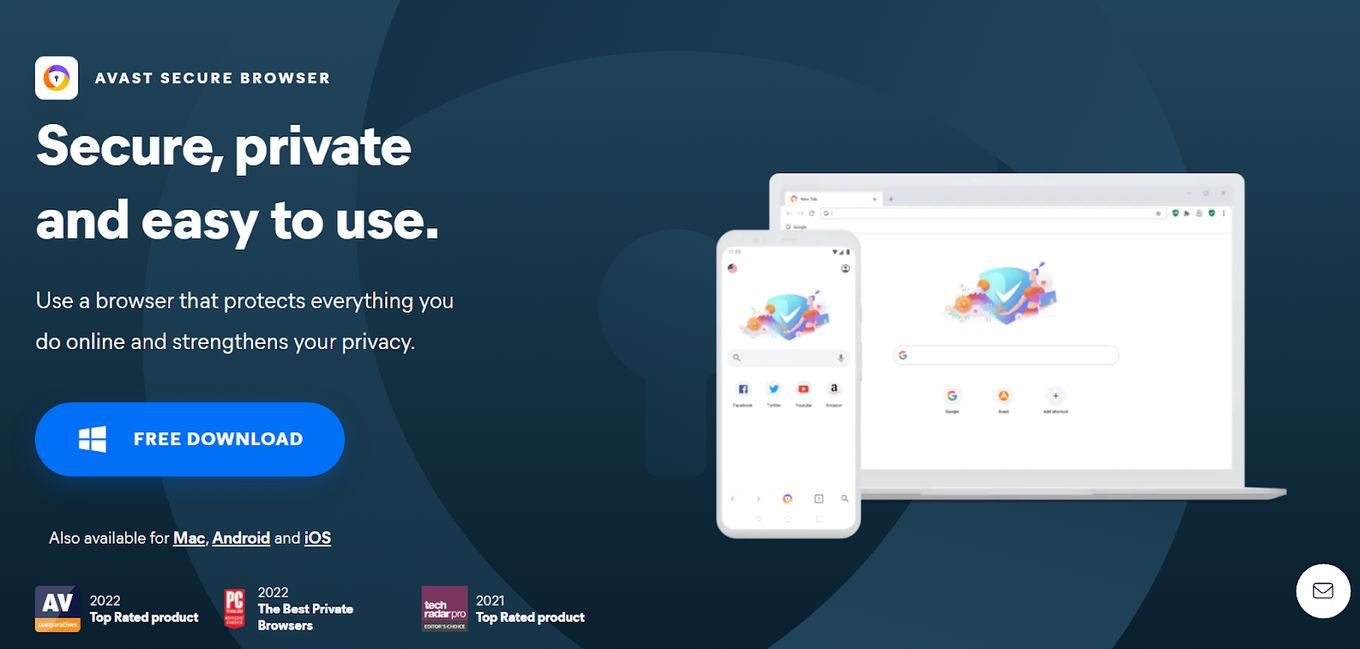 Price: Free
OS: Windows, Mac OS, Android, and iOS
Best For: those looking for security and privacy
Avast Secure Browser, like Comodo, was built by the creators of Avast antivirus to offer top-tier privacy and security.
This chromium-based browser protects user data and information by offering anti-fingerprinting, anti-tracking, and anti-phishing features. You can also get more functionalities with the Avast add-ons store.
Avast ships with an automatic ad-blocker which significantly reduces your payload and speeds up your browsing experience. The User interfaces are also similar to those found in other popular browsers.
Pros
Performs well with anti-phishing
Competitive browser speed
Cons
Limited personalization choices
Key security features are paid features
Why Are Browsers Based On Chromium?
Because Chromium has all the necessary parts of a web browser built and tailored to modern internet standards. This is because it is an open-source project, and is constantly updated to fulfill every internet access requirement.
Also, most web developers build third-party software (extensions) for Chrome and this extends to Chromium too.
As such, support for other kinds of web engine software is limited. They will also lack access to the extensive infrastructure built around the Chrome browser.
Building a web engine to power a web browser is a challenging and time-consuming process. Thus, adopting a Chromium-based web browser has become a popular alternative, rather than building one from scratch.
What Is The Difference Between Chrome And Chromium?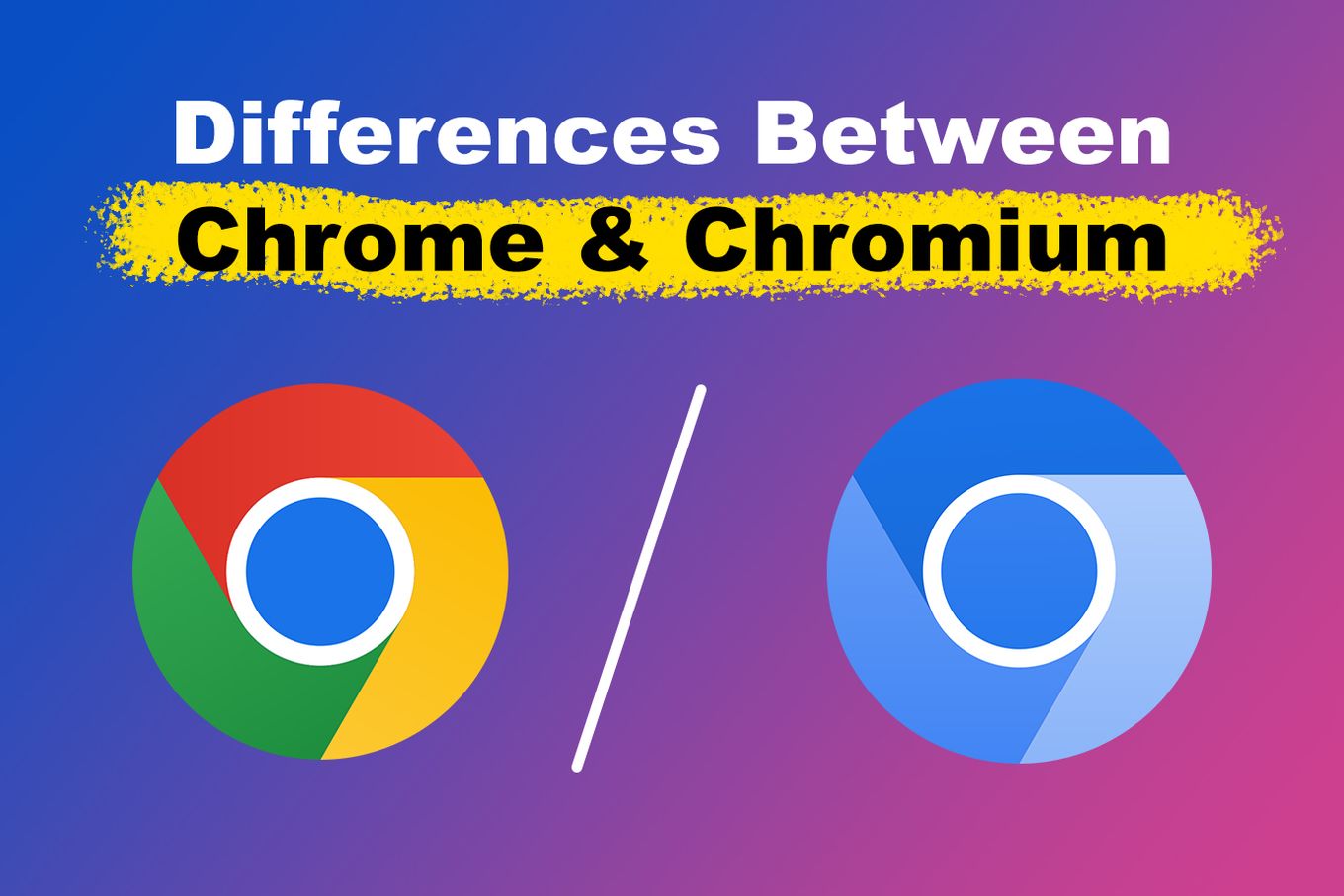 Chrome is a web browser developed by Google whereas Chromium is an open-source software project also initiated by Google. The Chrome web browser is built on Chromium, as are many other popular browsers. However, Google added more proprietary code to the chromium source code to create Chrome.
Disadvantages of Chromium
It doesn't have native support for Adobe Flash and codecs such as AAC and H.2604.
It lacks automatic feature updates and crash reporting.
If you need support for Flash, check out what web browsers support flash.
Advantages of Chromium
Chromium doesn't track or keep user data.
It is more suited to advanced, more technical, users.
It serves as the web engine that powers most of the popular web browsers.
Related Articles