9+ Fastest Web Browsers For Mac [Reviewed & Ranked]
In this day and age, when Macs perform tasks at the speed of light, it is only appropriate for Apple lovers to have the fastest web browser as the default browser on their Mac. When you can have fast, why should you settle for less?
This article will look at fast web browsers for Mac and their specifications to give you a chance to see and decide for yourself which of the fastest and most efficient web browsers for Mac is best suited for you.
Also, check out the list of 9+ Best Web Browsers for Mac, if performance is not everything you care about.
Top 10 Fast Web Browsers For Mac That You Must Try!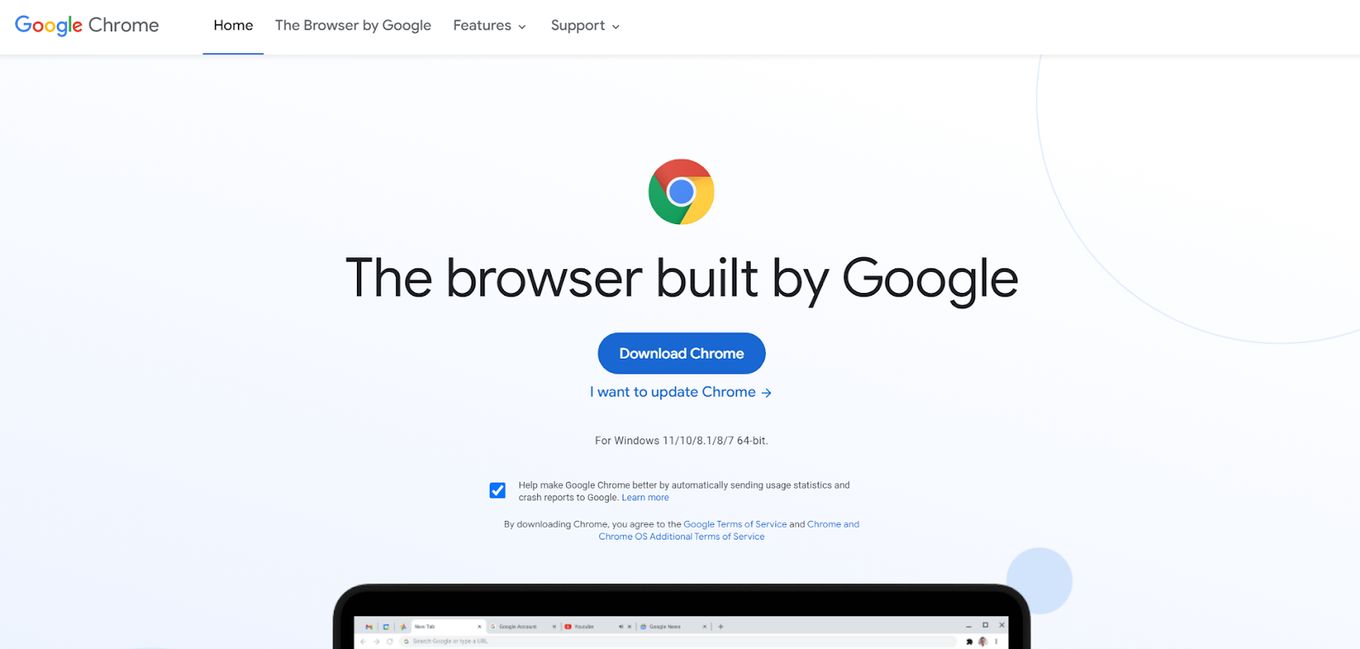 Price: Free
OS: macOS, Windows, Linux, Android, iOS.
Best for: Everyone looking for safety, productivity, and speed.
It comes as no surprise that Google Chrome is one of the top fastest web browsers for MacOS. Google Chrome, a cross-platform web browser, has risen in popularity and has continued to rise in popularity among Mac users.
Chromium announced in March 2022 that it has reached a new maximum speed.
They've reached a score of 300 in speedometer, an online tool used to measure the browser's performance.
A score of 300 has never been reached before on speedometer by any other web browser. So this confirms their own claims and ranks Chrome as the fastest web browser for Mac.
Related article: Mouse Pointer Not Showing in Chrome
Basic features:
It offers an immense library of easily obtained and installed extensions that allow users to increase productivity, reduce distraction, source content and customize the browser.
Chrome supports parental control.
It supports multiple languages.
Users can search and navigate from the same box.
Pros:
Chrome has a swift loading speed, thereby making it one of the fastest browsers for Mac.
Multiple tabs are easily managed by Chrome on macOS without any hitch.
Dark mode, website translation, unit conversion, Chromecast compatibility, picture-in-picture videos, accessible media controls, tab organization, and more are some of the features that Chrome features.
Chrome excels at multitasking, making it an excellent choice for users who require a great deal of organization.
Google Chrome employs advanced security measures to make sure users do not visit websites that are infected with malware.
Cons:
Chrome is not without flaws, and bugs do sneak in from time to time.
Google Chrome uses a significant amount of CPU, which may cause the user's entire Mac to slow down.
Using Google Chrome can result in shorter battery life than what users get with other browsers.
Because Google's entire business model is built around collecting and trading user data, Chrome is not so good with privacy compared to its other counterparts.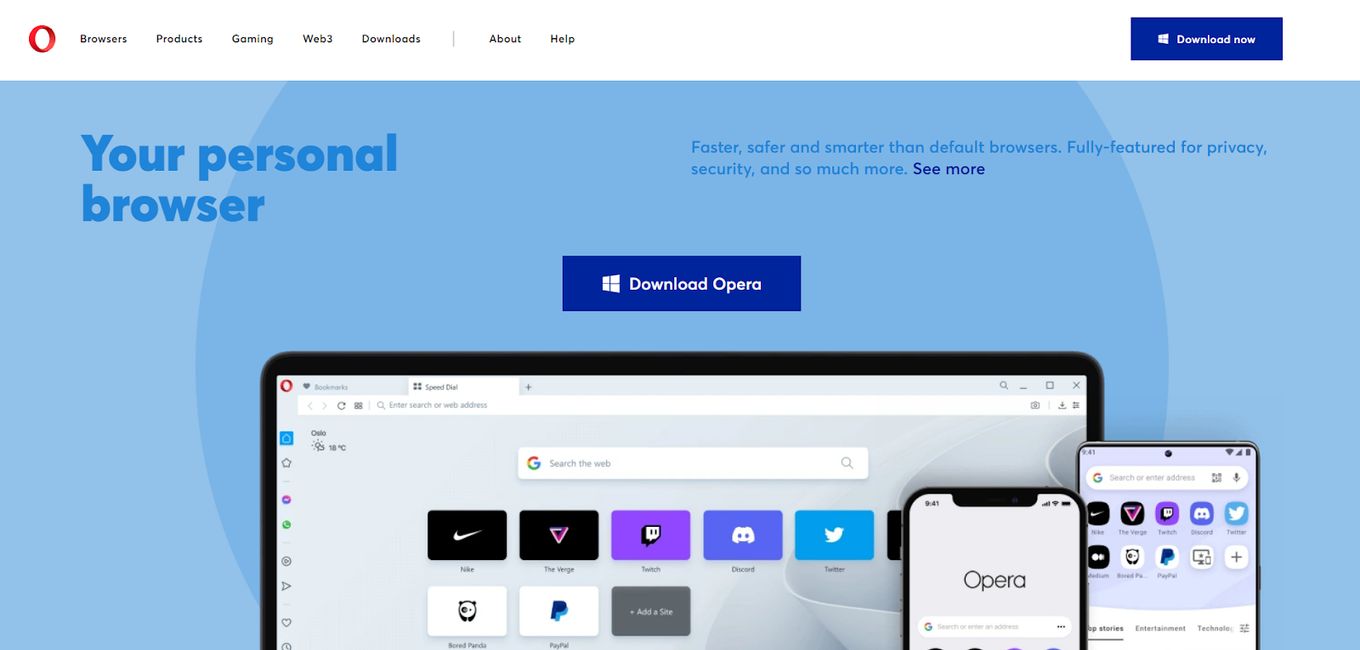 Price: Free
OS: Windows, macOS, Linux, Android, iOS.
Best for: Collecting content
With over 300 million users worldwide, Opera is one of the fastest and most secure web browsers that is also Mac-compatible.
Opera has a lot to offer if you are seeking a web browser that is not just fast but also protects your online privacy and minimizes the need for other apps on your system. Opera offers users plenty of features.
Basic features:
A built-in ad blocker that speeds up and eliminates distractions during browsing.
The built-in Free VPN service allows users to enjoy a high-quality free VPN while browsing torrents without worrying about security.
The built-in Turbo feature compresses data to increase internet speed.
Opera comes with a built-in Crypto Wallet for saving and spending various cryptocurrencies.
Opera includes sidebar chat windows for popular instant messaging apps.
Pros:
Opera is quick, light, and easy to use.
The browser tools in Opera keep user info private and confidential
Opera offers effective data synchronization capabilities.
Unlike the tracker blockers in some other web browsers, the ad blocker in Opera removes adverts from the websites.
Cons:
It can be challenging to locate the extensions that Opera comes with.
Opera is not always compatible with older websites.
The side of the Opera window is lined with various social network icons, which is wonderful if you want to always have rapid access, but it also makes it more difficult to concentrate online.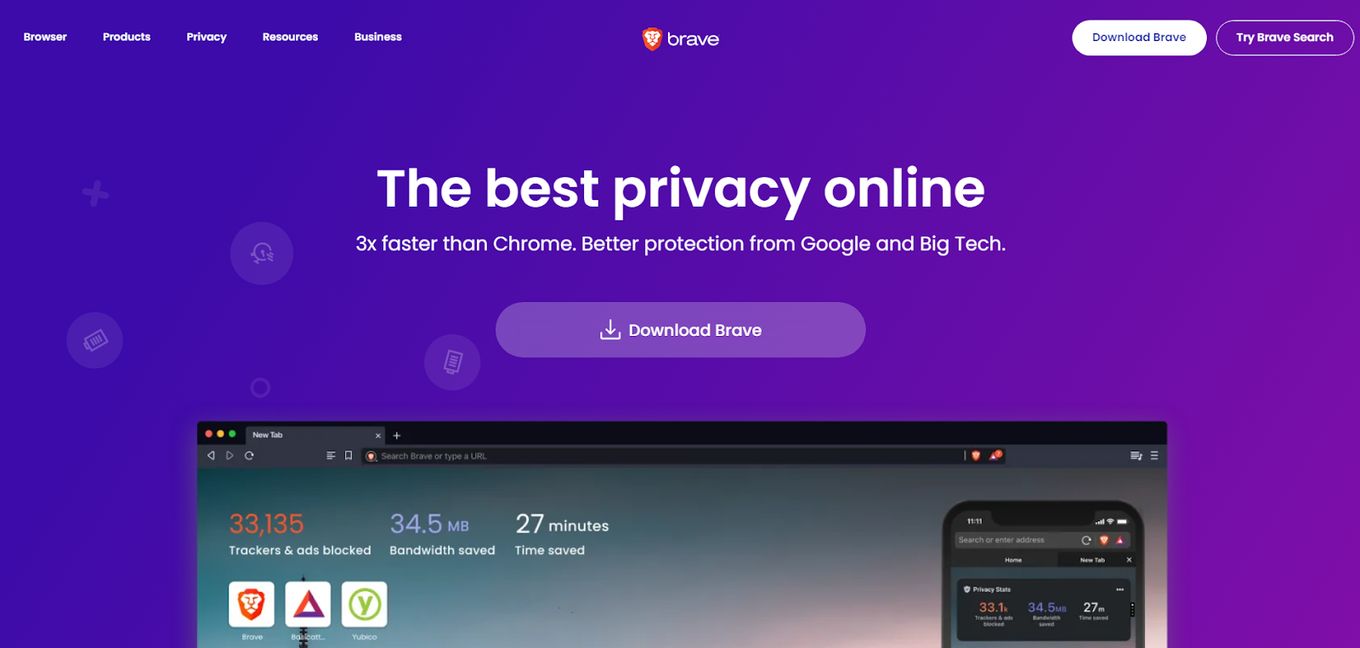 Price: Free
OS: Windows, macOS, Linux, Android, iOS.
Best for: Privacy-conscious users
Brave browser is a web browser that resembles Chrome in both appearance and functionality but offers more online privacy protections.
Brave prioritizes privacy above all else, but it does it without sacrificing speed or power usage. Brave is a fast, feature-rich, and secure browser for personal and professional use.
Basic features:
Distills Page Function, which clears the page of extraneous information and makes the text easier to read.
The "Private Tabs with Tor" feature, provides a truly private browsing experience along with enhanced protection
Brave web browser comprehensively shows users what is being blocked on their browser.
Pros:
Brave can be relied on to protect users from online ads, trackers, and other malicious content.
Brave saves the user's battery life by using less power.
By default, Brave is designed to block ads and trackers.
Cons:
While being one of the fastest browsers, it lacks some extensions, plug-ins, and add-ons.
Brave takes up a huge amount of space, and this can cause the computer to slow down.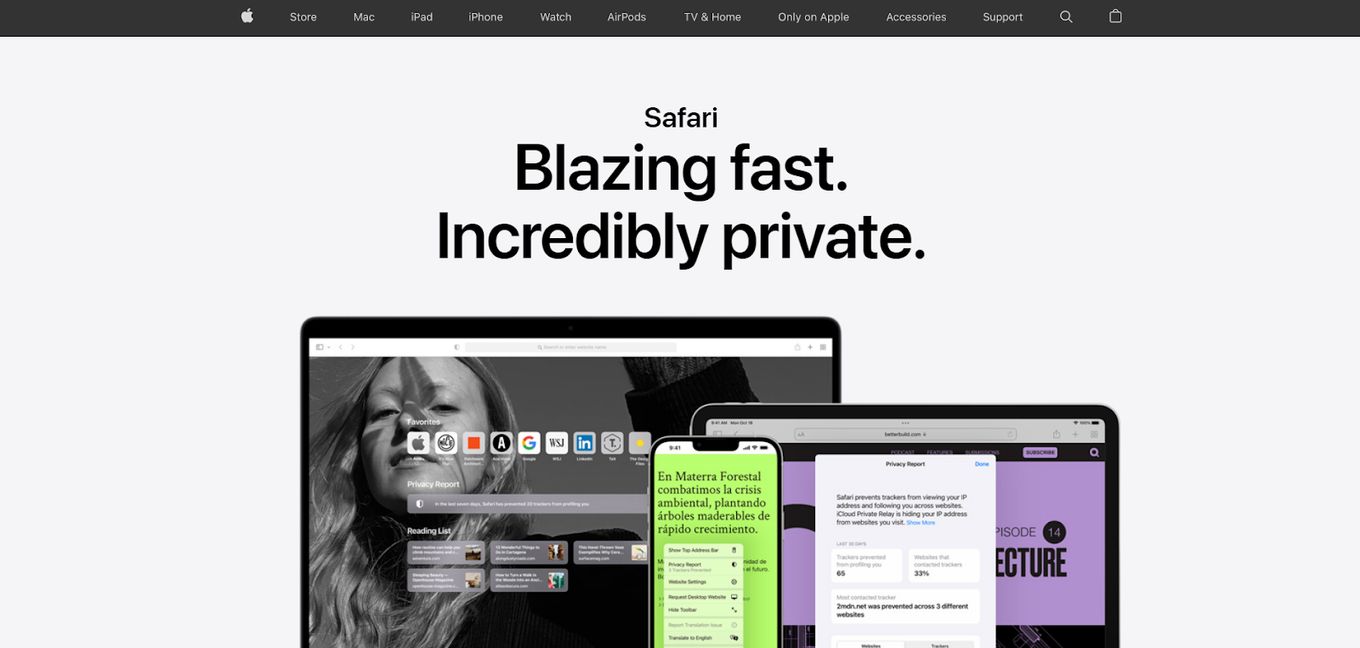 Price: Free
OS: macOS and iOS.
Best for: Those who use multiple Apple devices.
The built-in Mac browser, Safari, is one of the fastest web browsers. For years, Apple's Mac computers and Safari browsers have worked in tandem. It's a solid app that's perfectly suited to macOS.
Due to Apple Safari's built-in nature and ability to provide users with a personalized browsing experience, it is a greatly preferred browser for Macs.
Apple Safari has an increasing number of extensions that allow users to enhance its functionality.
Basic features:
Intelligent tracking prevention from hackers
Fingerprinting defense
Protection from harmful sites
Private browsing
Integration of Apple Pay into the browser.
Pros:
You can easily pass windows and tabs between your iPad, iPhone, and Mac.
Apple Safari automatically blocks ads and trackers, warns users about unsafe websites, and thoroughly tests all extensions to ensure users' Mac security.
With Safari, users typically experience longer battery life and less CPU drain.
Cons:
Users with an Android phone and a Mac system will lose out on a lot of great Safari features because Apple Safari only works on Apple products.
although Safari has a very high-quality extension library, it is far too limited in comparison to other browsers.
Users have very limited control over the interference of the browser.
It's not truly and evergreen web browser
Related article: Best Web Browsers For Mac.
Price: Free
OS: Windows, macOS, Linux, Android, iOS.
Best for: Power users and privacy protection.
Mozilla Firefox remains one of the most efficient web browsers for MacOS despite being one of the oldest web browsers.
It prevents the use of third-party tracking cookies to obtain your personal data.
Its navigation and customization capabilities make it one of the most user-friendly browsers for Mac users.
Basic features:
Low-Weight and consumes less ram.
The navigation is intuitive.
It contains embedded memory, so if you accidentally shut down your computer, it will remember the Internet page you were on and offer to retrieve it for you.
Ability to sync login and bookmarks.
Integration of ad and script blocking that speeds up webpage loading times.
Removes autoplay on embedded videos.
Pros:
Firefox offers top-notch protection for your Internet browsing activities.
It offers great network security, a simple user interface, and a variety of add-ons for personalized browsing.
Mozilla's tracking protection stops websites from following you around the web and collecting data that can be used to serve ads.
Cons:
Mozilla Firefox has a slow startup time.
Unlike Chrome's extensions, Firefox add-ons are not easy to navigate.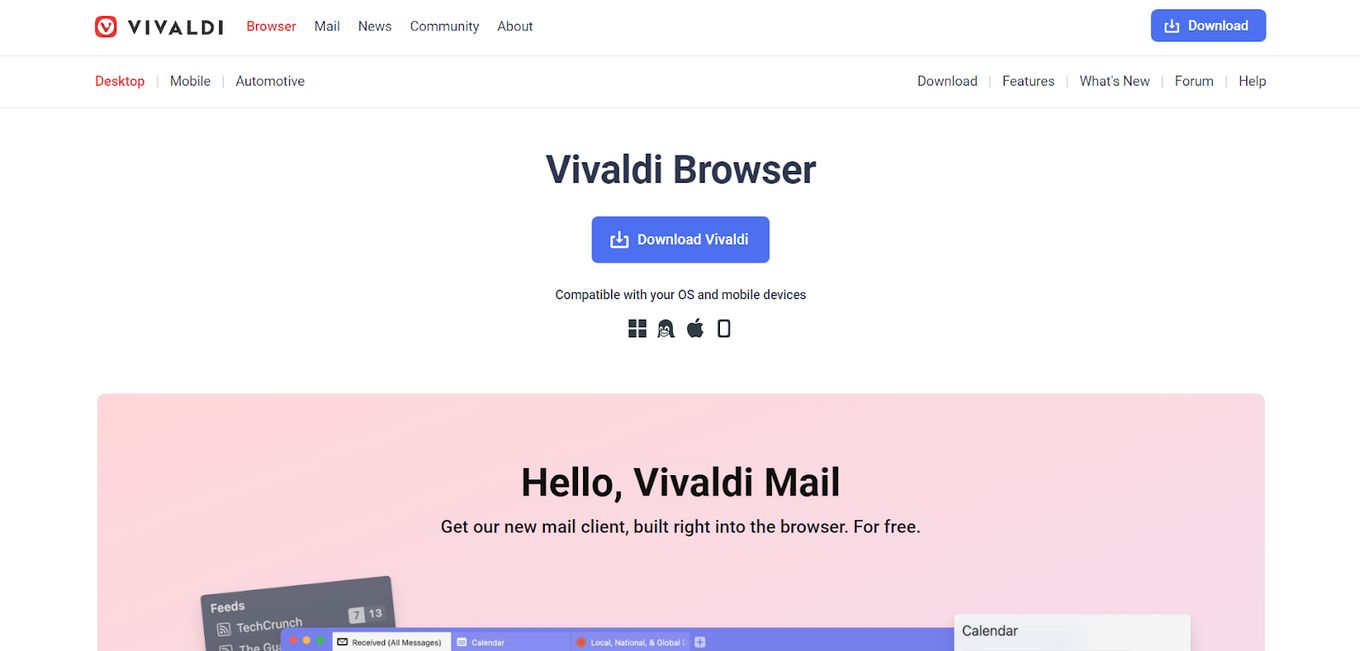 Price: Free
OS: Windows, macOS, Linux, Android.
Best for: Power users.
Vivaldi's primary focus is to provide the best user interface possible as it allows users to customize almost every button and aspect of the web browser.
Vivaldi, besides being a fast web browser for Mac, is also ideal for power users who are very clear about what they want and how they want it to operate.
Basic features:
It includes tracking prevention and ad blocking to protect users from cybercriminals.
Vivaldi includes Tab stacks and mouse gestures, making it one of the easiest web browsers to use.
Compatible with Chrome extensions.
Easy to download and Install, Its simple installation process does not ask you to download third-party software.
Pros:
Straightforward installation procedure.
Reader View improves the readability of content.
It offers a sidebar with options like notes and screenshots so you can access these without leaving the browser.
Vivaldi promptly bans any offensive or vulgar adverts.
Cons:
Vivaldi tends to consume the majority of the system resources.
Passwords, settings, and bookmarks cannot be synced online.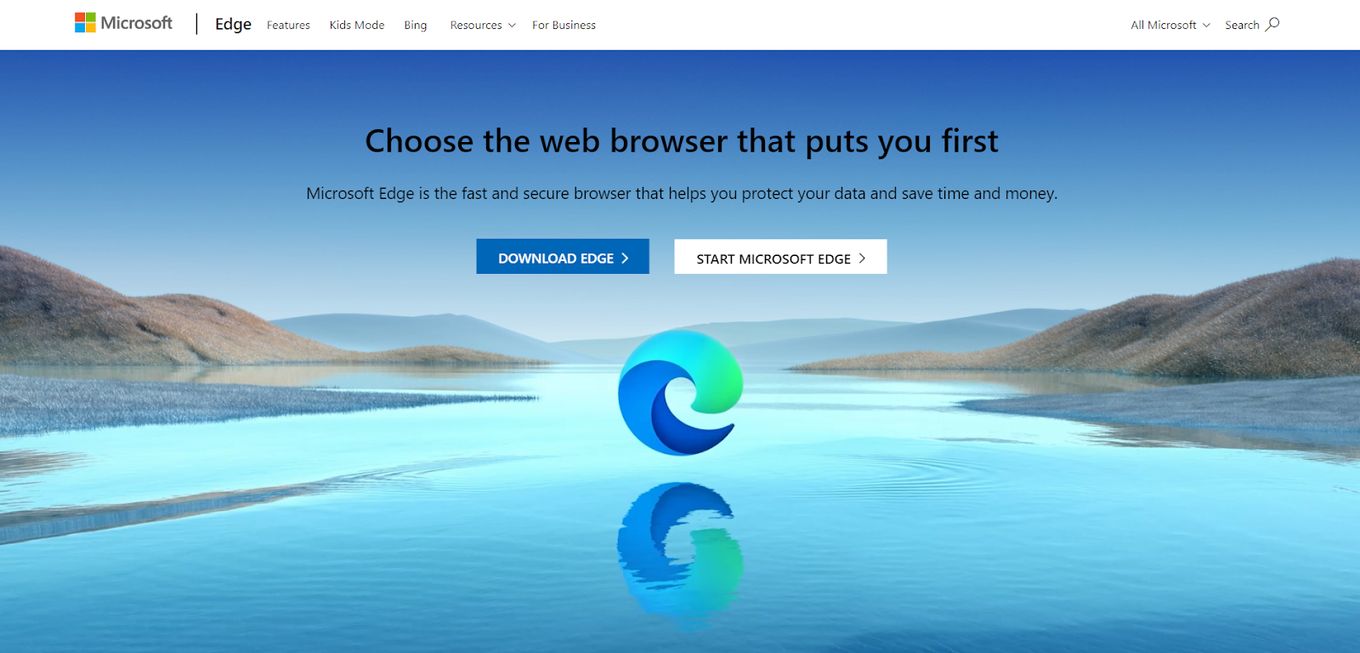 Price: Free
OS: Windows, Linux, macOS, iOS, and Android.
Best for: Everyone who needs clear privacy tools.
Edge chromium, which is one of the most efficient web browsers for Mac, is based on the engine that powers Chrome, which makes it faster to use. Furthermore, Edge is now available for Mac users, with a plethora of features and security.
Check out more Chromium-based web browsers.
It contains an Internet Explorer mode that makes browsing through outdated websites easier. It can be said to be one of the fastest and best web browsers for Mac, thanks to its enhanced functionality.
Basic features:
It supports the Chrome web store for extensions.
Includes Immersive Reader feature, which enhances readability.
Improved organizing features, such as the ability to create collections for websites.
Pros:
Users' saved information is kept secure.
Edge Chromium respects users' data privacy.
Edge includes a password manager that stores user information for websites and online accounts.
Edge automatically searches for coupon codes when users buy something online to help users find the best deals.
It allows users to earn rewards points while waiting for Bing search results.
Cons:
Edge still uses Bing as its default engine.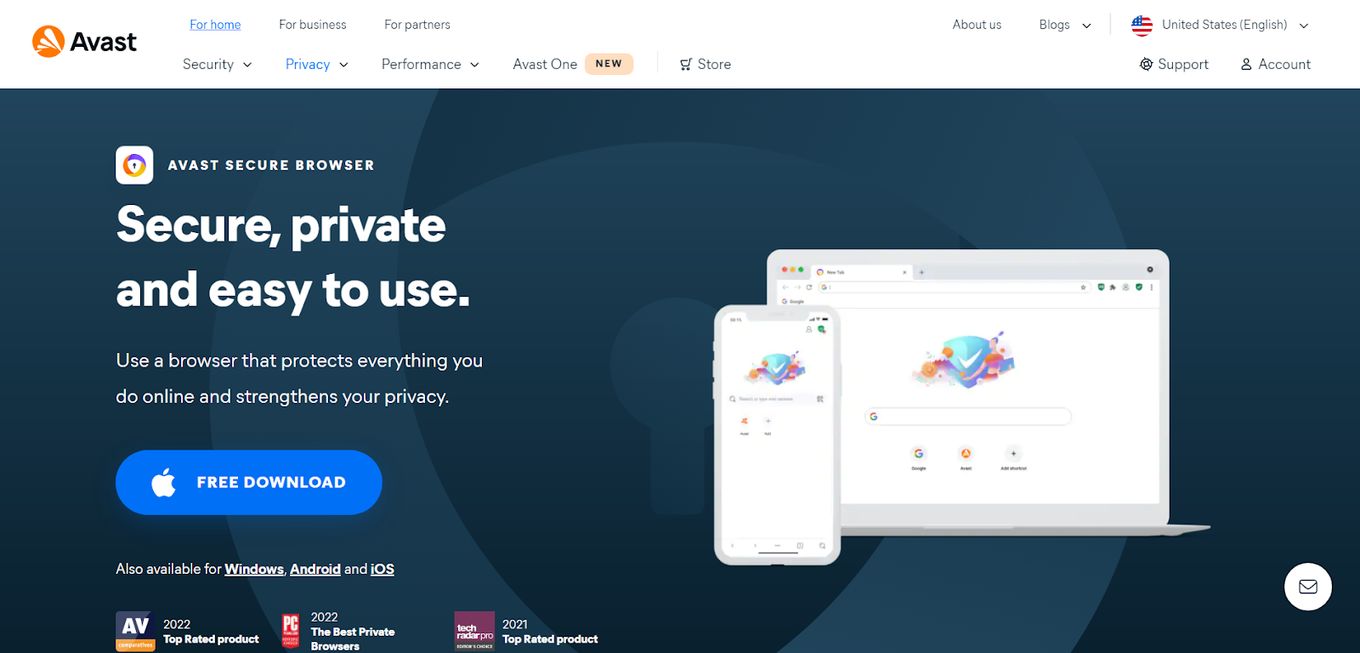 Price: Free
OS: Windows, Android, and iOS.
Best for: Home users.
Avast Secure Browser is fast, secure, and privacy-friendly. It contains the feature to protect users while surfing the internet.
Basic features:
Avast Secure Browser compels websites to use encryption and blocks malicious downloads automatically.
The Avast software includes several useful features, such as a download manager for downloading HD videos from YouTube.
Pros:
To save users from having to type their passwords each time they log in, the Avast password manager generates strong passwords for users and keeps all of their passwords.
Users can view Geo-blocked websites anonymously, thanks to its integrated VPN.
It is useful for accessing shopping and banking portals because it has dedicated modes.
Cons:
Avast is not available on the Mac App Store.
Certain security features require a premium subscription.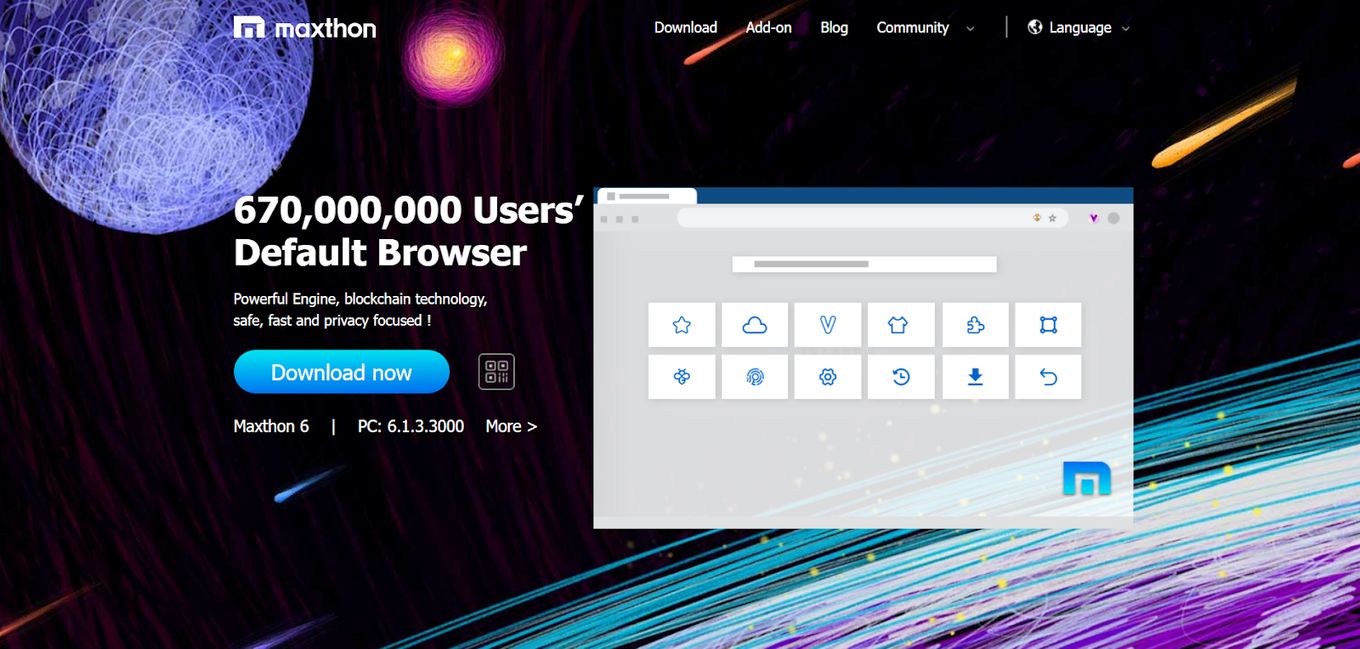 Price: Free
OS: Windows, macOS, Linux, Android, Windows Phone, iOS.
Best for: Power users.
Maxthon truly is one of the fastest and lightest web browsers for Mac. Despite its light size, it does not sacrifice performance; and it provides an exceptional and fast browsing experience.
Basic features:
Simple sync options with the ability to access bookmarks from anywhere.
Mathon does not slow down the system while running, and it maintains the PC's optimal functioning condition.
Maxthon is cloud-based and thus independent of operating systems as well as the device itself.
Pros:
It speeds up the internet connection and tries to open the web page faster.
Sharing files is easy because it offers seamless synchronization across a range of operating systems.
Users can download videos from YouTube and Facebook right from the browser itself.
Cons:
It does not provide a diverse set of extensions.
Some features are missing in Mathon such as voice interaction commands and open-source development.
Maxthon has not been updated in a while.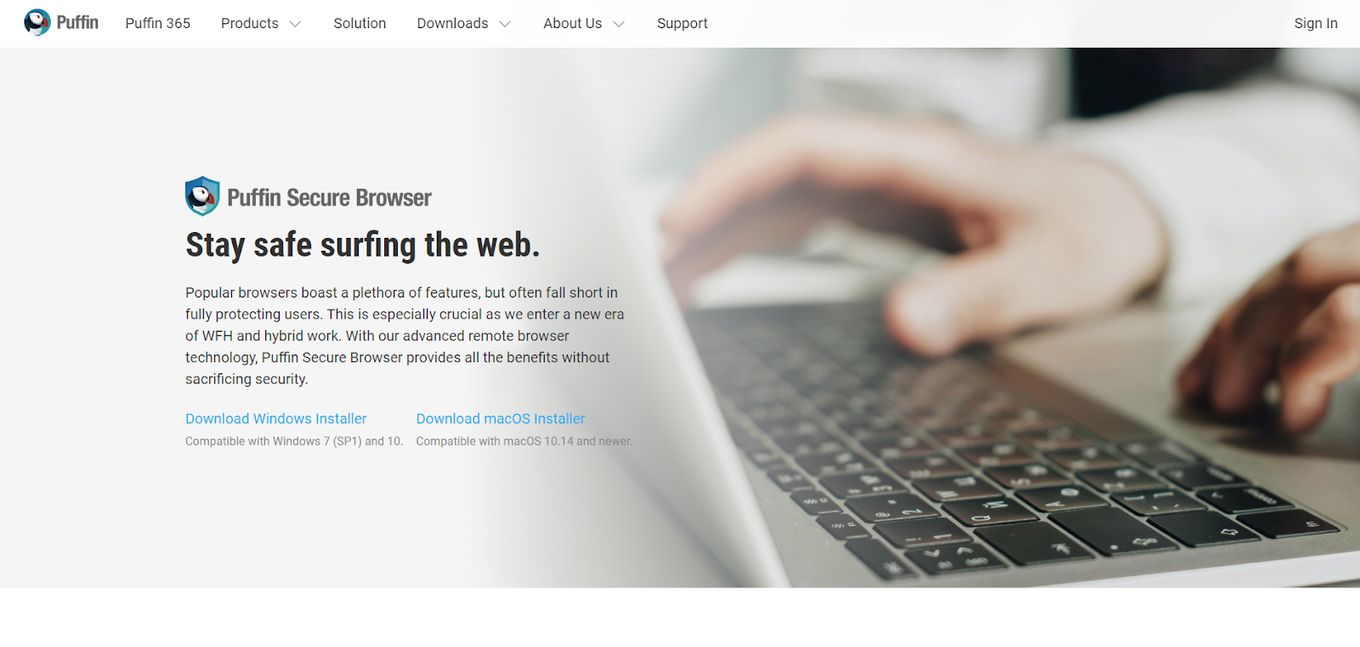 Price: $20
OS: Android, iOS, Windows, macOS, Linux.
Best for: Security-focused users.
Puffin web browser is an excellent option if you are looking for a macOS browser with speed and security features.
Puffin loads web pages faster than some other web browsers, and it can accomplish this by loading content with resources.
Basic features:
Puffin removes memory-intensive material and displays just the components of a webpage that are necessary and deserving of being indexed.
It consumes less RAM.
Puffin for MacBook provides constant protection against cyber threats and vulnerabilities for user data and devices.
Pros:
Puffin's zero trust architecture ensures that no hacker can access your Mac.
It is easy to navigate.
Less CPU usage and fewer system resources are required.
Cons:
Not enough extensions.
Puffin is blocked in some countries.
Inadequate cross-device synchronization.
How To Measure The Performance of a Web Browser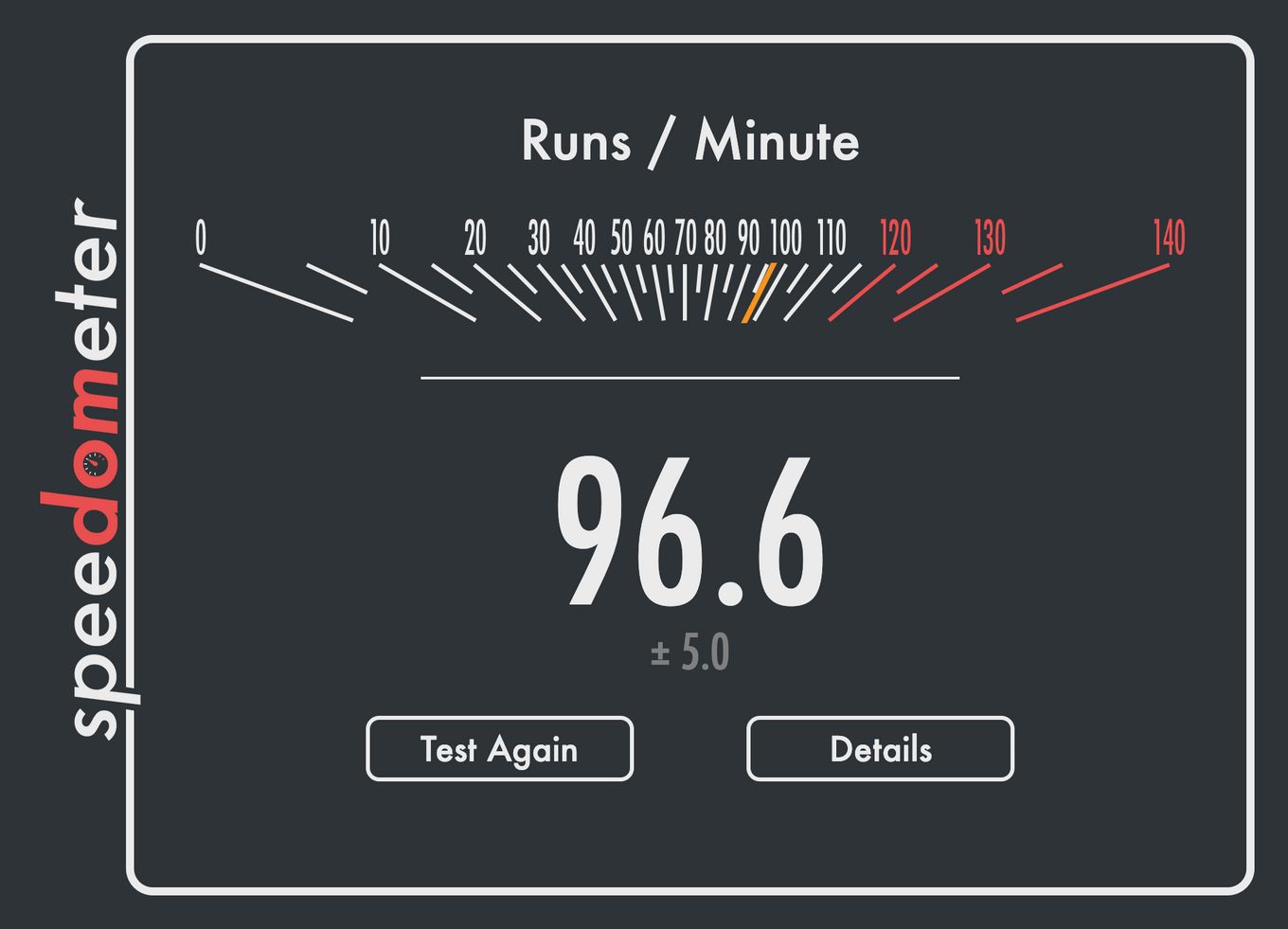 There are tools out there such as Speedometer or speed-battle or JetStream that provide ways to measure the performance of a web browser.
Each tool will very probably measure different aspects of the browser.
Some will measure the JavaScript execution speed, others will measure CSS rendering, DOM selection speed, page loading times, CPU usage, or cache performance.
There isn't a perfect tool to measure browser performance, and depending on the page or web application you want to use, some might be faster than others in different web browsers.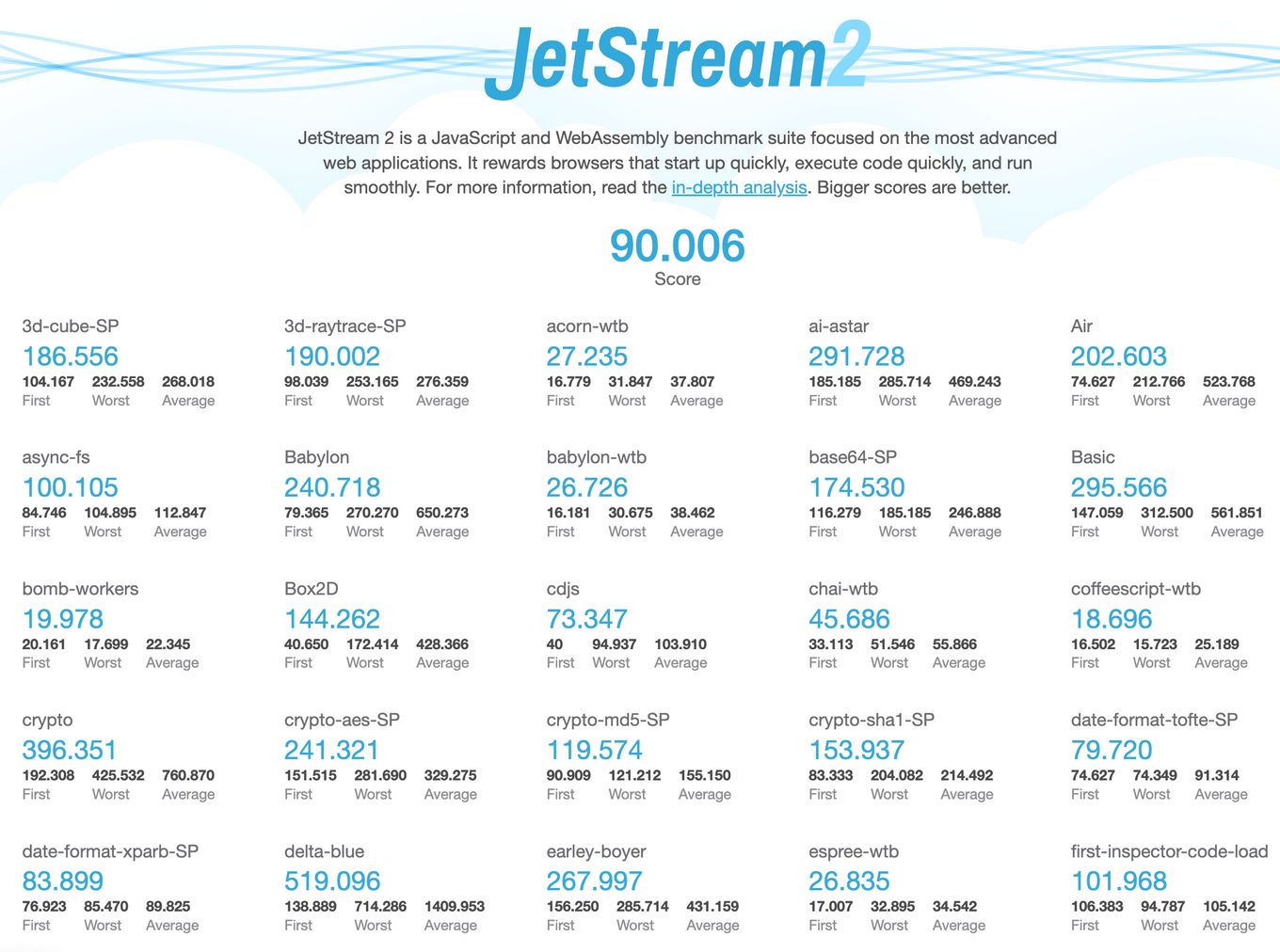 Because each website or web application uses different resources, there's no way to say which web browser will always be the fastest in every circumstance.
However, as a whole, tools like the ones mentioned above will give an estimate of which browser will be the fastest in general.
Why Finding the Fastest Web Browsers For Mac?
Fast web browsers allow users to be productive, efficient, and effective.
Productive. Being productive means having the quality of production in abundance. The fastest the web browser, the most productive you become.

Efficient. We all want to do things well, successfully, and without waste or, in one word, efficiently. A fast web browser translates into efficiency, as you will reduce the time spent on your tasks.

Effective. You don't want only to be efficient, but effective. Effectiveness is the ability to produce a better result, one that delivers more value. A fast web browser will also help you achieve a better outcome.
How Do You Choose The Most Efficient Web Browser Mac?
The choice of the fastest web browser for macOS depends on your needs as a user. In addition to speed, the web browsers listed above have different features. Therefore, the fastest web browser with the features that best suit your needs as a Mac user should be your default browser.
Related Articles:
Join 2,000+ readers and learn something new every month!
Get notified about new blog posts, tips, tricks, fullPage.js news etc.
RSS feed