The PlayStation 4 (PS4) offers a wide range of games, but players may sometimes want to customize their gaming experience to their liking. This is where mods come in handy. Mods can enhance your gaming experience by providing access to new characters, maps, or gameplay mechanics.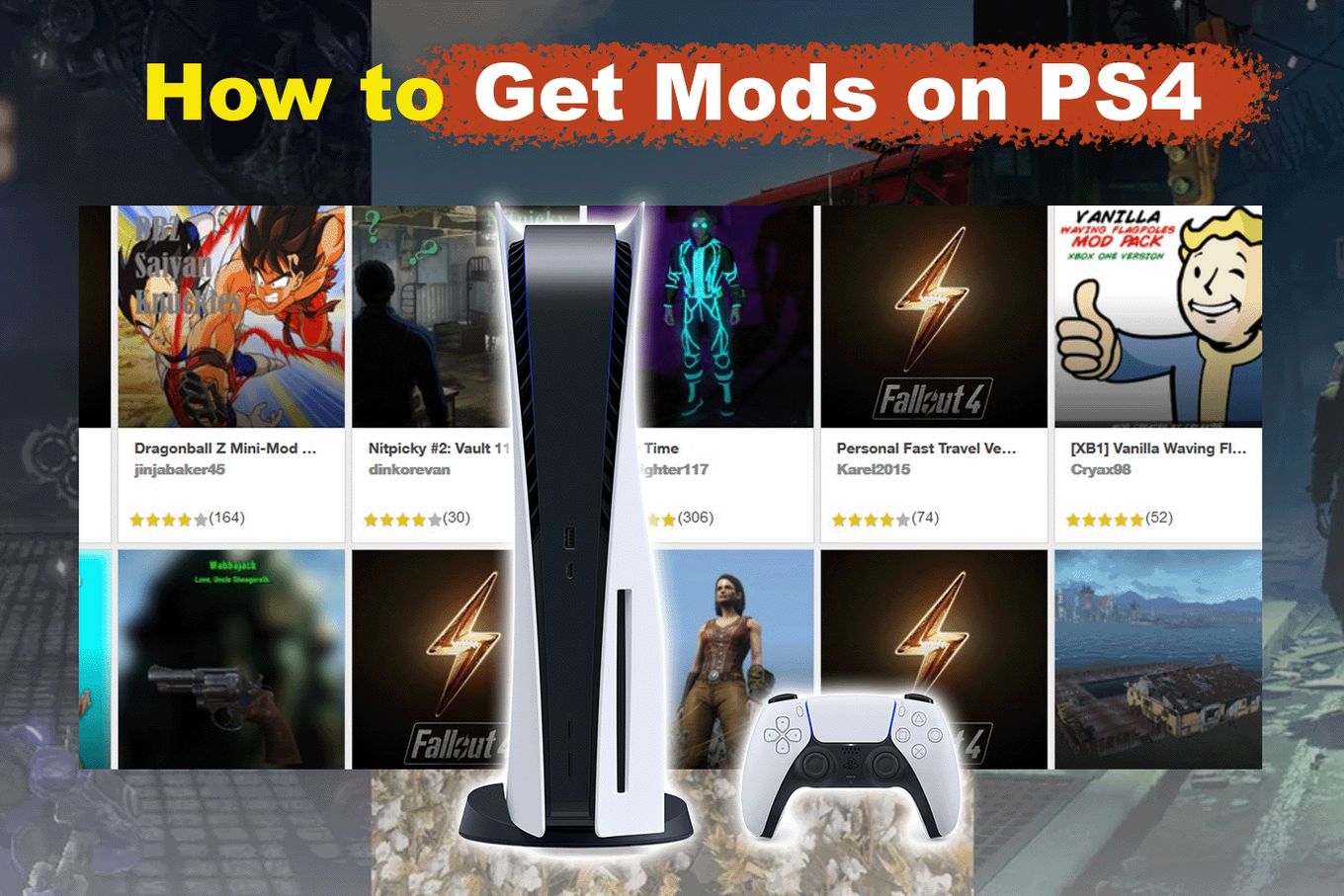 While it may be more challenging to get mods on PS4 than on other platforms like PC, it is still possible with some effort.
Whether you are an experienced gamer or a newcomer, join us as we explore how to get mods on PS4. We will also explain what "Mods" mean on PS4, how to get mods for all games on PS4, and more. So fasten your seatbelt.
What Does "Mods" Mean on PS4?
"Mods" on PS4 are modifications or user-made changes to a game that can be added and used on the PS4 gaming console. These modifications can range from minor tweaks to gameplay mechanics, weapons, additional quests, or even entirely new game modes.
However, the game's publisher or developer ultimately decides whether or not mods are allowed in their game. While some games like Skyrim and Fallout 4 have built-in support for mods on PS4, others do not.
Players need to download and install mods through official modding platforms to use them. Unofficial mods can only be used if you jailbreak your PS4.
How to Get Mods on PS4 [2 Ways]
To get mods on PS4, you can use the official modding tools or do Jailbreak. However, this can be tricky. Jailbreaking is considered illegal and comes with various potential risks. Moreover, you can only use modding tools on specific games. So, it's essential to proceed with caution.
Here is a more detailed explanation:
1. Get PS4 Mods Using Official Modding Tools
To get mods safely on your PS4, it is highly recommended to use the official modding tools like Bethesta Skyrim Mods provided by the developers and publisher. Official modding tools are specifically designed to guarantee game compatibility and create a secure and stable modding environment.
Additionally, modding tools allow players to modify games, add new content or change the gameplay mechanics. You can use official modding tools on Fallout 4, Skyrim, and Minecraft.
These games support the modding tools and can be accessed through the games menu or downloaded from the Playing Station store, as discussed later in the article.
2. Get Mods Doing Jailbreak on Your PS4
Jailbreaking refers to removing limitations enforced by the manufacturer on the PS4 firmware, which allows you to run unauthorized software and make changes that you couldn't do otherwise.
While it can allow you to install mods and other customizations, jailbreaking comes with potential risks that can void your warranty.
Additionally, you can't play online multiplayer games such as Skyrim. Also, you risk permanently damaging your console if you don't correctly follow the process. To some extent, it is illegal and may mean your console will not obtain updates and support.
Warning! While you can get mods on PS4 by jailbreaking, we do not recommend jailbreaking your PS4 as it goes against the principles of Sony. Furthermore, you risk being banned from the PlayStation Network!
How to Get Mods for All PS4 Games Doing Jailbreak?
There are only a few specific games that support official mods. If you want to get mods on all games on PS4, you will have to jailbreak. Only jailbreaking will let you install as many mods as possible on any game you want.
However, jailbreaking PS4 violates Sony's contract terms and can lead to getting an IP ban, risking security, or voiding the warranty. So, we don't recommend jailbreaking PS4. But if you decide to do it, you will need:
Requirements:
A USB drive with 1GB of free space.
Another USB drive formatted as exFAT.
PS4 System Software Version 9.0 (or lower)
WinRar or any other extraction program.
Win32DiskImager or any other software to create bootable pen drives.
Important! At the date this article was published (May 2023) there wasn't any custom firmware to jailbreak a PS4 with a version higher than 9.0. If you have a PS4 with a 10.01 or 10.50 software version, the following steps may not work.
Step 1. Check That You Have a PS4 With 9.0 Software Version
Go to "Settings > System > System Information" and look for "Software Version". If your firmware is 9.0 you can proceed with the next steps.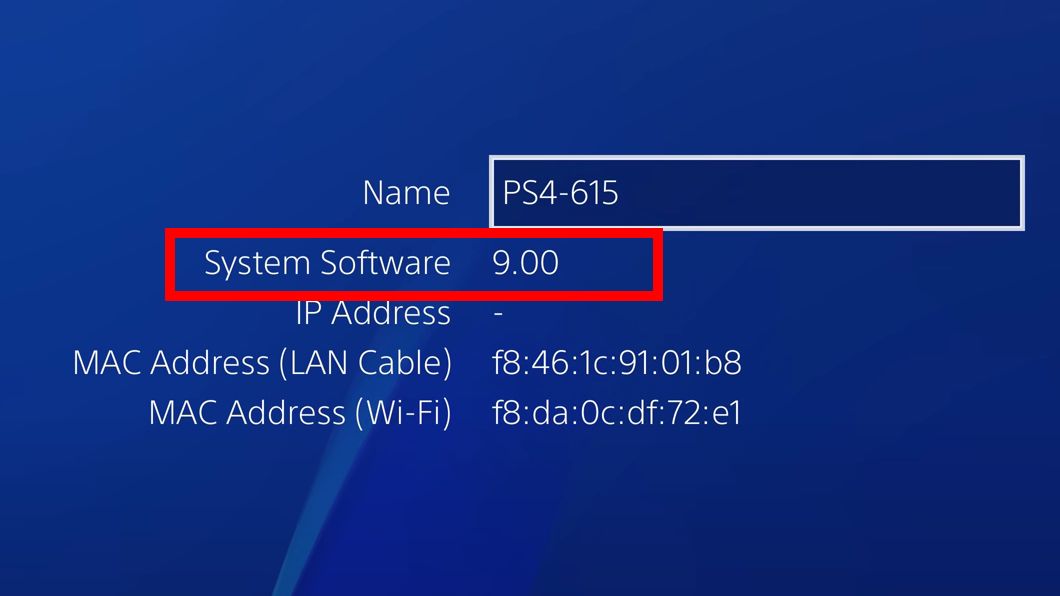 I Have a Higher Version (10.01 or 10.50).
If you have a higher version than 9.0 you will have to stop here. There aren't valid exploits to jailbreak newer firmware versions.

I Have a Lower Version.
Then you can update your firmware to version 9 and continue with the next steps.
Step 2. Prepare a Bootable USB to Jailbreak Your PS4
Insert an empty USB of 1GB into your PC.

Download this PS4 9.00 Kernel Exploit. Click on "Code > Download Zip".

Download Win32DiskImager to convert your USB into a bootable pen drive and open it.

Alternatively, you can use other free software such as Rofus, WiNToBootic, PowerISO, or balenaEtcher.

Load the "exfathax.img" file from the previously downloaded exploit folder.

Click "Write" and confirm the action.
Now you have a ready bootable USB that you can use to jailbreak your PS4.
Step 3. Jailbreak Your PS4
Connect your PS4 to the internet & launch the web browser.

Close the opened window and delete frequent pages.

To close all windows, press the Options button and then "Close Window".

To delete frequent pages, press Options again, select "Delete All" and confirm it.

Clear the browsing history.

Press the Options button, and select "Browsing History". Press Options again and then "Clear Browsing History".

Delete all cookies and website data.

Press the Options button while you are on your browser and select "Settings" There click on "Delete Cookies" and then on "Clear Website Data".

Enter "gamerhack.github.io" URL in the address bar of your browser.

Click on "9.00 FW v3.0 | Auto" firmware and wait until install the offline cache.

Close the web browser.

Go to "Settings > Network" and disconnect from the internet.

Turn Off "Automatic Downloads".
Go to "Settings > System > Automatic Downloads" and uncheck all the options.

Open the web browser again and wait until it asks you for the USB.

It will load the same page you opened before.

Insert the bootable USB into your PS4.

Once the pop-up notification appears, click "ok".

The USB pop-up notification may say that your USB file system is unsupported. Do not worry, that is normal. Just ignore it.

Remove your USB after the "Jailbreak Done" message. Then press "Ok".

You will be redirected to a new part of the website in the browser.

Load "GoldHen v2.4b13" custom software.

A pop-up notification should appear in the left-upper corner of your screen confirming the installation.
Now you are ready to install new mods!
You can verify the jailbreak was successful by going to "Settings > System > System information". You should see HEN 9.0 firmware in "Software Version".
Step 4. Install Extra "Mod" Packages
Download a mod .pkg file from any website.

Copy the .pkg files into a new USB formatted as exFAT.

Warning! Do not use the previous USB that was used to jailbreak the PS4. It has to be a new one formatted as exFAT.

Go to "Settings > GoldHen > About GoldHen > Debug Settings > Package Installer".

Make sure the package source is set to "USB" or to "All".

Install the .pkg mod.
How to Modify a PS4 Game Without Jailbreak
You can use the official modding tools to modify a PS4 game without jailbreak. Despite the limitations, these tools offer various options to personalize your gaming experience.
Few games can officially and legally be modified. For example, you can get mods for Skyrim or Minecraft (like Pixelmon, Crazy Cat, or RLCraft)
How to Install Mods on Minecraft PS4?
To get mods on Minecraft PS4, basically, you will have to add a mod to a Minecraft world on your computer and host the world via LAN to use it on your PS4.
Requirements:
A computer with Windows 10 or 11.

Minecraft Bedrock Edition installed on your PC and on your PS4.
Getting mods on Minecraft PS4 can be challenging, but it is possible in a few steps:
Step 1. Connect Your PS4 and your PC to the same Wi-Fi network.

Note: This step is very important. If you don't do it you won't be able to load the mod on your PS4.

Step 2. Download the mod you want on your PC.

Select a mod, scroll down, and click on "Download Resource".

Step 3. Double-click on the downloaded file to open it with Minecraft.

This will install a world with the mod on your PC Minecraft.

Step 4. Load the new world on your PC.

Step 5. Launch Minecraft on your PS4.

Step 6. Click on "Play > Friends" and select your world under "LAN Games"
You can also pay for a Realm subscription to use mods on your PS4. On your PC, upload the world with add-ons active to your realm. Then launch Minecraft on your PS4 and open the add-on enhanced world on the realm.
How to Get Skyrim Mods on PS4?
To get Skyrim mods on your PS4, visit Bethesda's official website and create an account. Bethesda is the platform that hosts mods for Skyrim and other Bethesda games. Follow these simple steps:
Step 1. Create an account at Bethesda official website on your PC.

Step 2. Add to your Library the mods you want by clicking the "download" button.

Step 3. Open Skyrim on your PS4 & select "Mods".

Step 4. Select your mod & click the "Enable" option.

Step 5. Go back to reload the game with the mod.
Summary on Mods on PS4
Modding is one way to improve your gaming experience and customize your game to your desire. It can be challenging to get mods on PS4, but with a little effort, you can get them.
All you need to do is to understand how to get the mods using official modding tools or jailbreaking.
However, remember, modding can only be done on specific games, and each game may have a slightly different modding tool.
That said, before jailbreaking, consider the potential risks involved, noting that it's not highly recommended. So, stick to the official modding tools when possible.
References
Related Articles