When playing Roblox, you don't want to let a roast get into you. Instead of sulking in one corner, you should start thinking of what savage good roasts for Roblox you can use as good comebacks for bullies!
In this article, you'll find over 80 examples of good roasts for haters in Roblox. What's best is that they'll be grouped according to when is the best timing and who to use these roasts for. But first, let's see the meaning of "roast" in Roblox.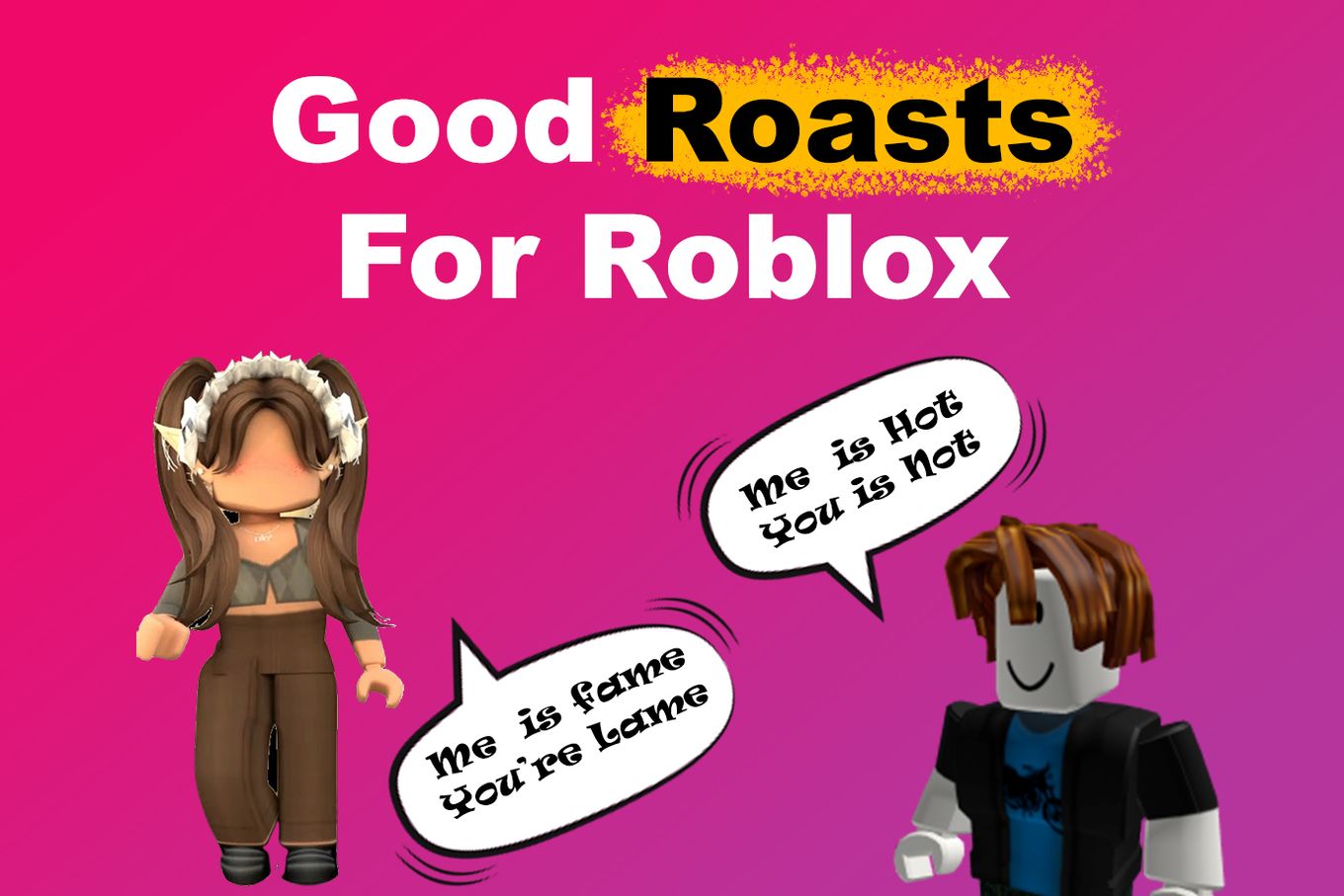 Be careful with how you use these roasts, you don't want to get banned on Roblox!
What Does Roast Mean in Roblox?
Roasting is a Roblox slang that is commonly used by gamers these days. It means humiliating another player in a way that appears to be comedic. It is considered a form of black humor.
When roasting, players make fun of others by throwing light insults or shades with a bit of reality to make it appear funny and insensitive yet impactful.
Some people roast simply for fun purposes, such as just poking fun at real-life or online friends. But be aware that some players roast others to tear down another person's confidence, such as bullies who victimize others.
If you see yourself getting picked on by a bully, you'd probably want to ignore this player or give him the best Roblox comeback ever.
If you want to be way more direct, check out How to Cuss in Roblox and say some bad words without getting caught by Roblox filter.
What Are Good Roasts for Roblox?
Since you're looking for good roasts for Roblox, you're probably here not just to know its definition, but to find sizzling good roasts for Roblox.
Roasts you can use in rap battles or savage roasts for regular entertainment to spice up your gaming experience!
Well, you just hit the jackpot! Here you'll find the best examples of good roasts for haters in Roblox. Remember – the perfect roast is not just all about the line, phrase, or sentence itself.
Timing is also considered!
How to Roast Bullies in Roblox?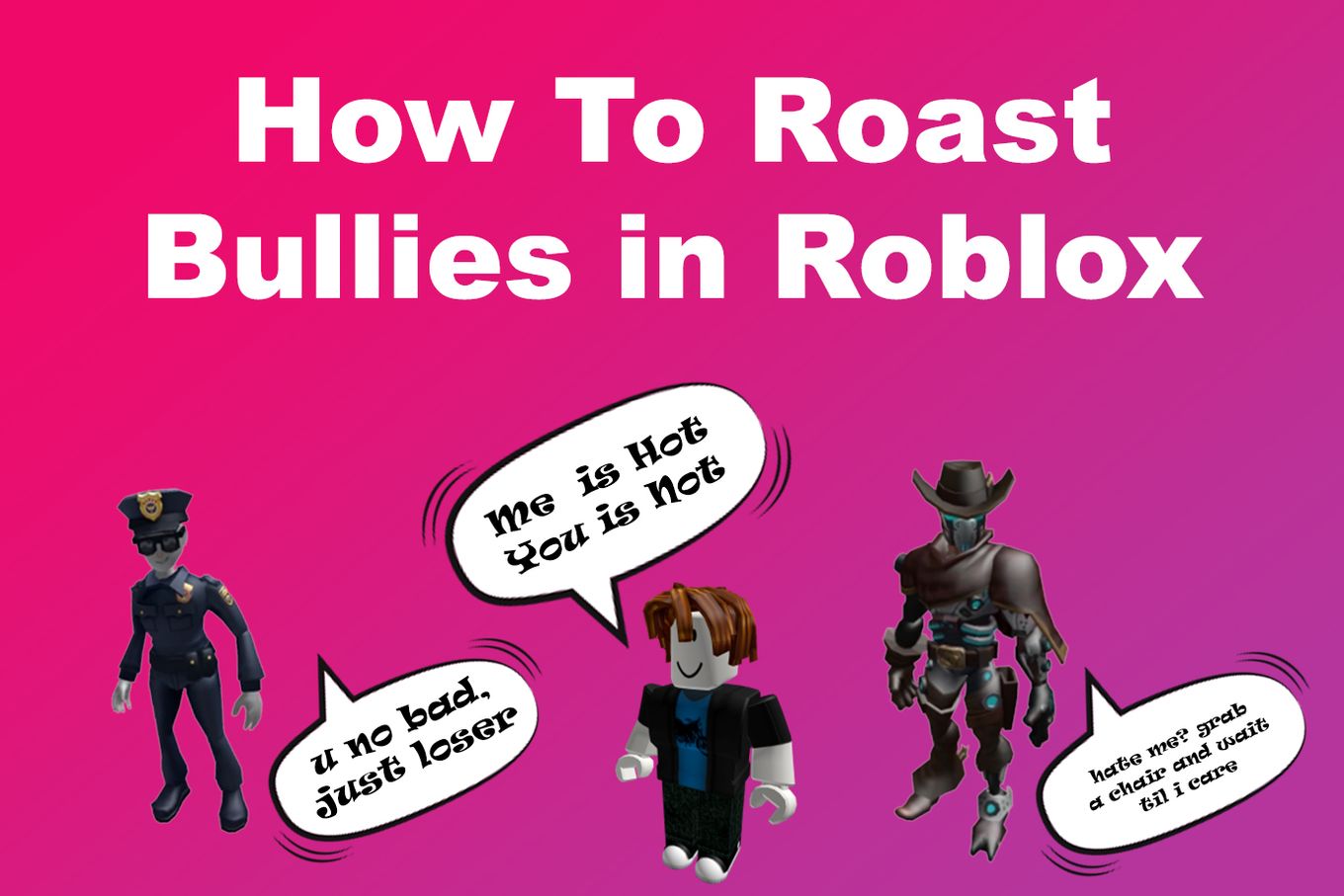 You can roast a bully in Roblox by giving him the best comebacks for rap battles! Act unbothered by this bully. And when the timing is right, pull the best revenge by throwing the most savage roast perfect for the situation.
Below are some of the savage good roasts for Roblox that you can use for your haters. Tame some of these good roasts for toxic Roblox players and own them:
do i look like i care
u big smartn't
ur ugli
im stuck between idk, idc, and idgaf
u no bad, just loser
boy u think u funny but look at ya hairline be looking like the mcdonald symbol
sori if i luk interested, im not
hate me? grab a chair and wait til i care
speek english
well u look lyk a piece of ugly
minecraft is better anyweiz
ur parents must hav been happily married before dey hav u
you am has very much not brain cells
If someone says that your avatar looks ugly, say: "Yay! Was trying to look like u today"
i didn't ask u to speak
can u make ur roasts less boring?
ur insult is the same as ur roblox skills – veryyy verryyyy veryyy bad
is dat how much u envious of me? u keep talking about me
didn't know retards can play roblox too until i met u
ur avatar looks pretty though… pretty ugliii
got nothing better to do so u roasting ur #1 idol, mate? come i will giv u some autograph
another player hu knows nothing roast
Do u think dis hurts my feelings? D only thing dat hurts is my eyes when im looking at u.
u want to be on my level? climb, loser!
thanks love
What Are Savage Roasts for Boys in Roblox?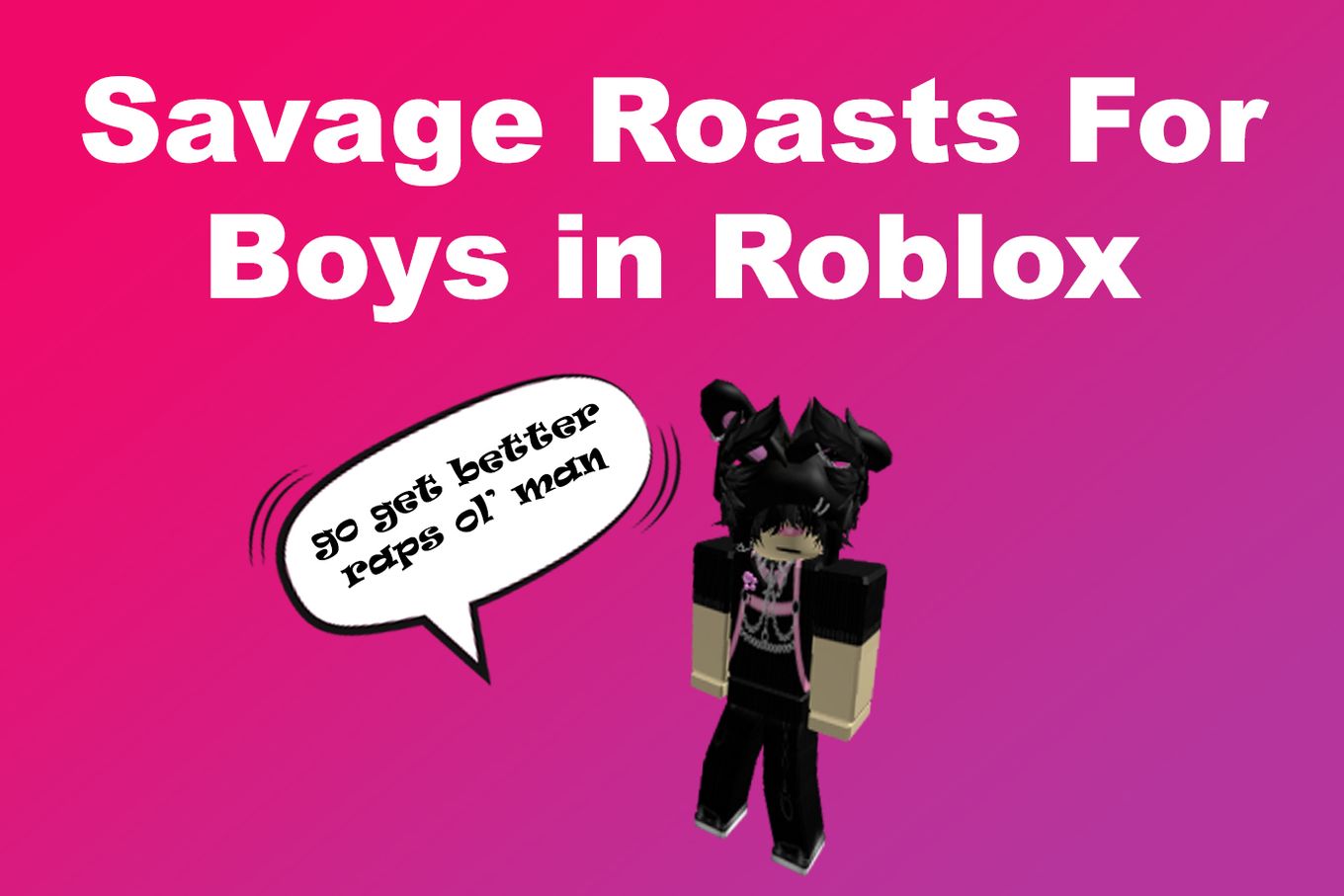 Online games are dominated by boys – not by a big margin though. So, don't be surprised if there are more boys participating in Roblox rap battles!
And because of that, if you intend to go party by roasting in Roblox, you better prepare a long list of savage good roasts for Roblox that you can use against boys (some can be used for girls, too!):
go get better raps ol' man
go get a life man
real heroes r d 1s hu hav to listen to u all day long
ur head is so bald i use it as a mirror
sell ur brain its unused
i strongly believe u can do better raps if u practice more
I wud say gud gme but u wud hav to know how to play d game first
think u can beat me? keep dreaming
Ur mom be wit' me tonight, ensure imma stepfather ayooo
bro is failing
ive been called worse things, like my name from ur moms mouth
if ur brain was made of dynamite, u wudn't even be able to blow ur nose
giv me a minute – im tryng to think of an insult dats dumb enough for u to understand
i keep thinking u cant get any dumber, but then u lyk to prove me wrong
this wil b d first n last roast of d night as weve already used up ur entire vocabulary
How to Roast a Girl in Roblox?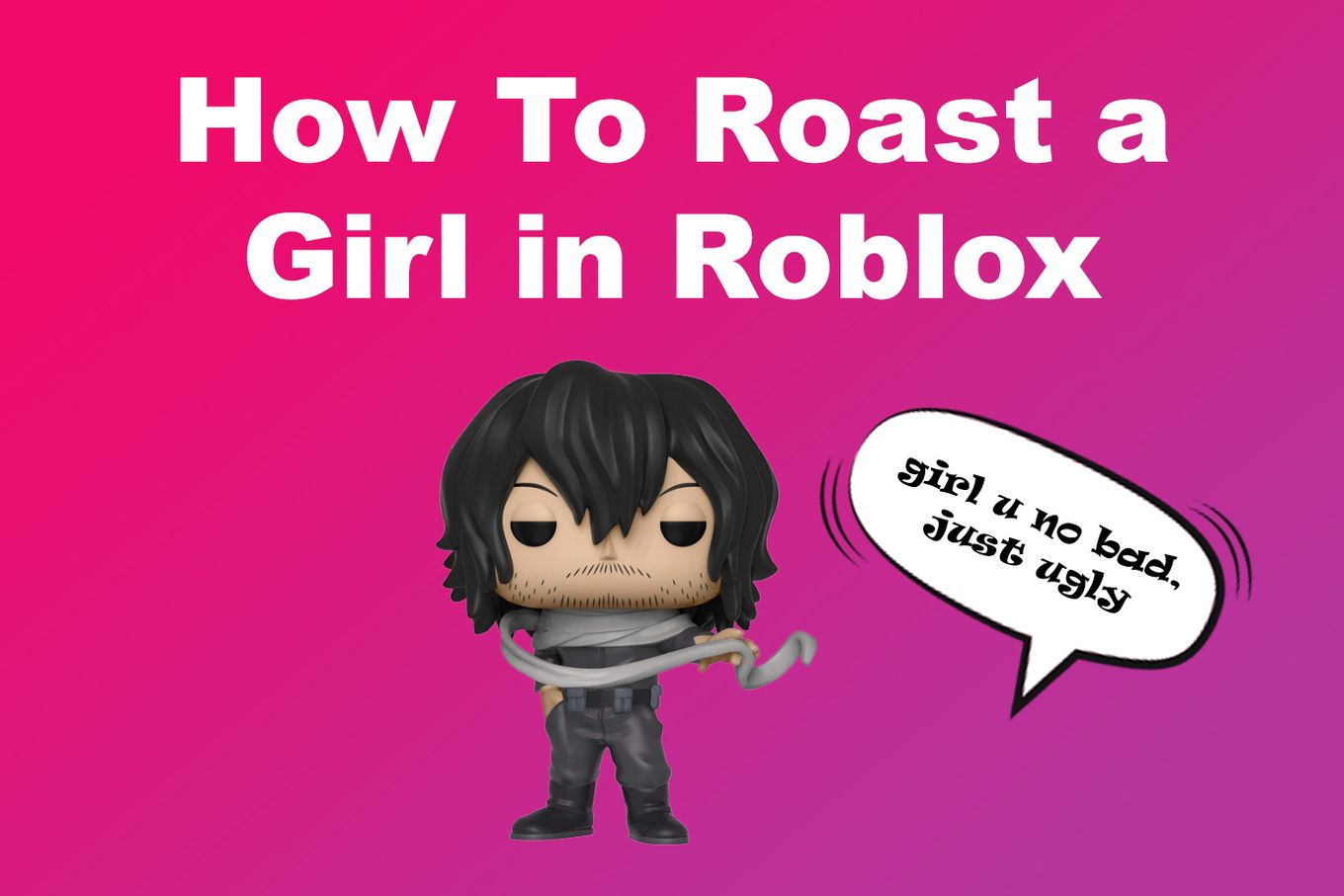 One of the best ways to roast a girl in Roblox is to comment on the physical appearance of her avatar (or even the player itself). Girls are usually sensitive when it comes to aesthetics. So, targeting their beauty will surely land a bullseye on their ego.
To give you an idea of how you can guarantee a win in a rap battle with a girl, here's a good list of savage roasts you can roast:
girl u no bad, just ugly
r u as ugly as ur avatar
maybe u shud try eating makeup to be pretty inside out
whoever told you to be yourself gave you terrible advice
girl u luk lyk u got plastic surgery but it went wrong
u so ugly dat u cant get boys in d real world or roblox
bet u mom so ugly coz u r so ugly
thats why u single
u aesthetic barbie wanna be
im not an astronomer, but im pretty sure the world revolves around the sun, not around u
u so fat dat d only letters u know in the alphabet are KFC
my name must taste good coz its always on ur mouth
if i wanted a dog, i would have bought u
if i had a face like urs, id sue my parents
99% of ur beauty can be removed wid kleenex
If you want to improve your avatar and make it look way cooler, take a look at these 15 top Roblox avatar ideas or these other 27 cool Roblox avatars.
What Are Good Roasts for Kids in Roblox?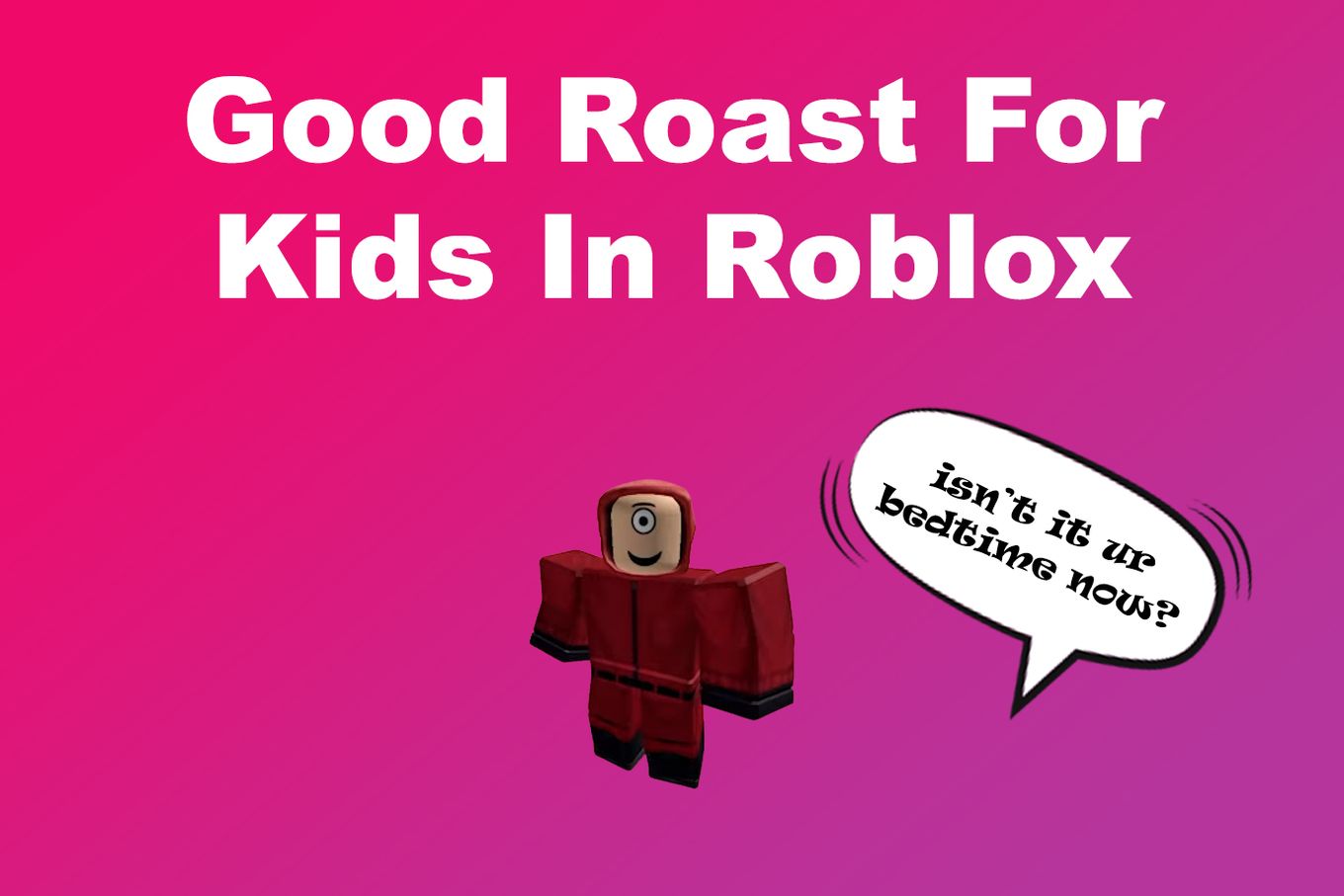 And while you're having a great time preparing for your savage Roblox rap battles, don't forget that there is a huge percentage of kids in Roblox.
So, here are the top 15 good roasts for Roblox that you can use for kids:
ur parents hate u
ur six
ur adopted
i wud rap but i decide to be good wid kids
When you win against them, say: "need more practice kid"
u hav such a beautiful face for a pile of garbage
teachers probably sigh when they hear they have u in their class for the school year
do u fail at school just like how u fail at rapping?
u r a fart sprinkle on a rainbow cupcake
dont speak when ur mouth is full
better not chime in when adults talk
isn't it ur bedtime now?
i bet even ur parents dont like u
who let u out of ur cage?
zombies eat brains so ur safe
What Are Clean Roasts for Friends?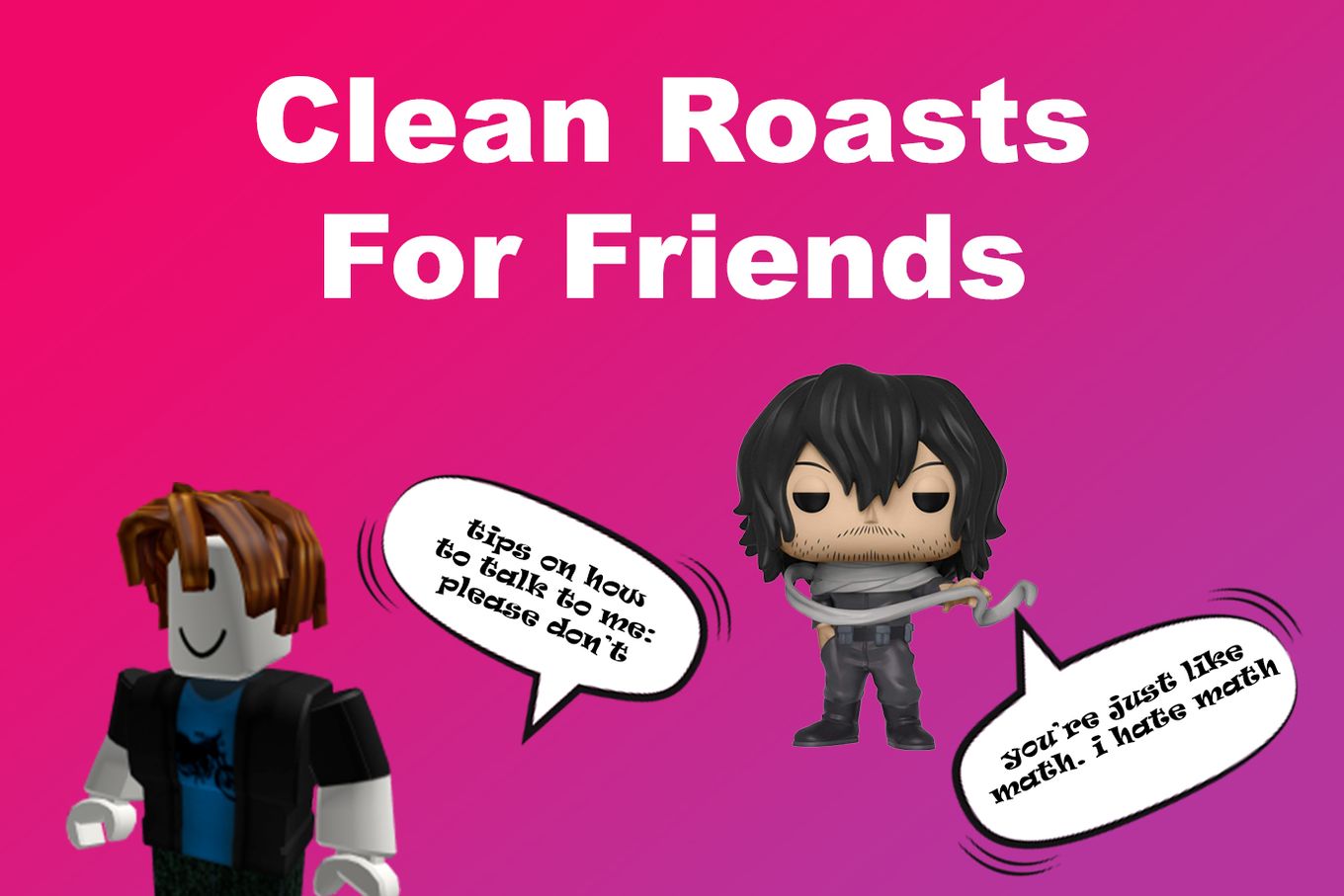 I know you love your friends, but hey, who says you can roast them? When playing Roblox with friends, roasting each other can be a good way to strengthen your bond.
Well, that is if no one is a butthurt!
So if you and your friends are in for a nice rap battle in Roblox with each other, here are some good roasts for Roblox:
did u know ur parents paying me to be ur friend?
if ur as ugly as ur avatar in real life, i wud stop being ur friend
i wud like to say that u know how to play this game, but clearly u don't
even in roblox, im ur only friend
i shud get a reward for being ur friend
most know u as my bestfriend, but gonorrhea doctors know ur patient zero
if laughter is the best medicine, ur face must be curing the entire world
we're bestfriend. im the best, ur the friend
bestfriends look a like. but ur just a replica of me
you're just like math. i hate math
trying to delete negativity is more difficult when u realize its coming from the people close to u
you do realize we're just tolerating you, right?
u'r like a software update. whenever i see u, i think "not now"
tips on how to talk to me: please don't
you sound better wid ur mouth closed
Throw Good Roasts on Roblox!
You throw a good roast not just by thinking of a savage and witty line, but by also making sure that it is the appropriate roast for the player and for the situation.
This means that it needs to have the perfect combo of wit and timing.
The lists of roasts for specific types of players are great references for you! Use them at the right time. The more you participate in these Roblox rap battles, the more you get natural in composing your own creative, fun, and savage roasts!
Related Articles