9 Beautiful Mailchimp Landing Page Examples [You'll Love]
Mailchimp's landing page templates are a fast and effective way for businesses to boost their signups and spread the word about their products and services. Furthermore, the MailChimp builder gives enough flexibility to allow conversion optimization.
Published Mailchimp landing pages are easily shareable on the web and in any other Mailchimp campaign, which immediately drives traffic - this helps grow audiences and promote services and products.
What is a Mailchimp Landing Page?
A Mailchimp landing page is an independent web page that is specifically created to advertise or market a campaign. It is the page where a visitor will land after clicking on a link in their emails or on an ad from Google, YouTube, Bing, or other similar places on the web.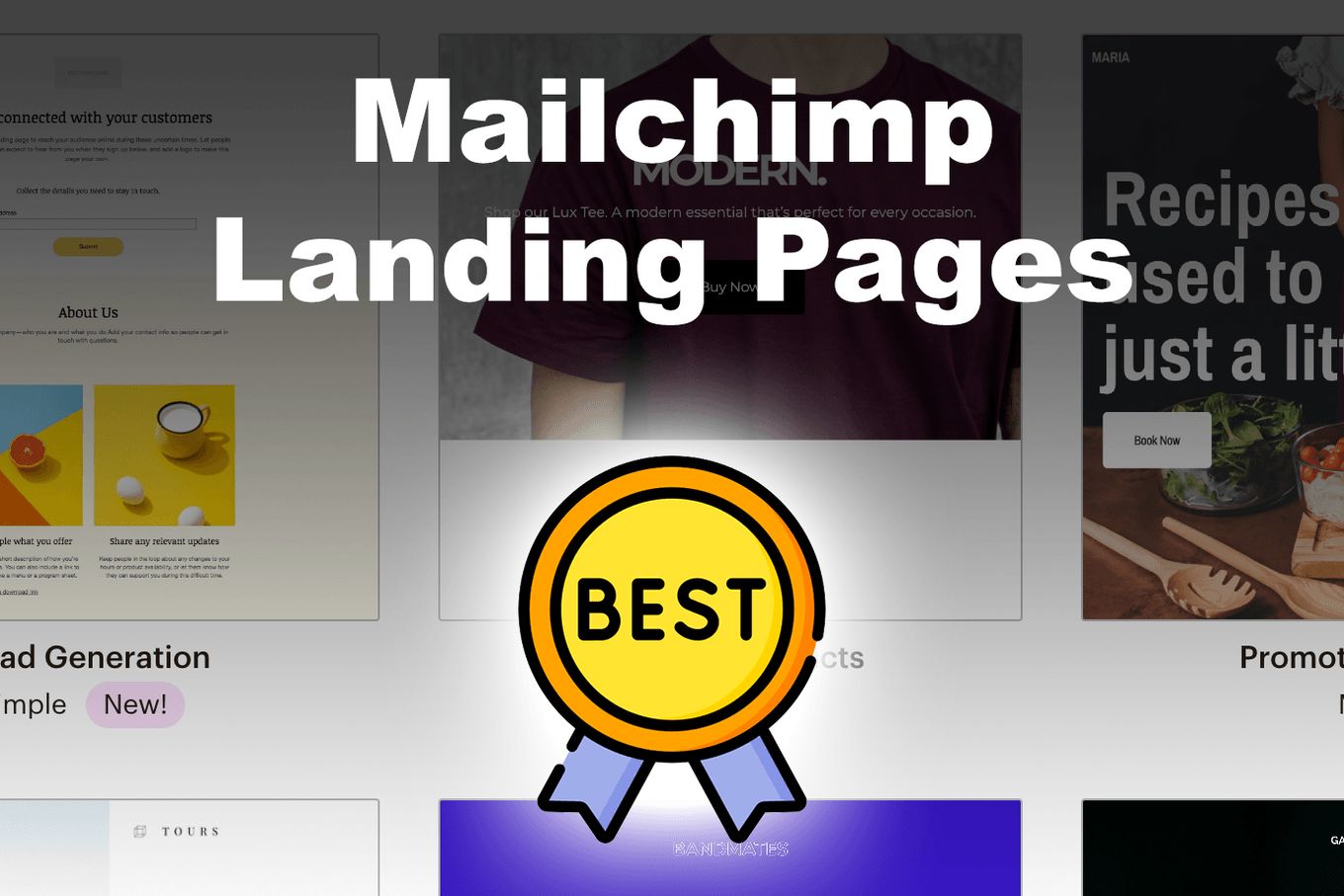 Unlike websites and homepages, Mailchimp landing pages are customized for a particular offer or campaign. They usher visitors towards a specific call to action. In short, Mailchimp landing pages are designed for conversion.
Let's look at the nine best Mailchimp landing page templates for design inspiration.
The Top 9 Best Mailchimp Landing Page Examples
All of the following templates are available to you from Mailchimp. If you are wondering how to use them, we cover it later on in the article.
1. Wild Country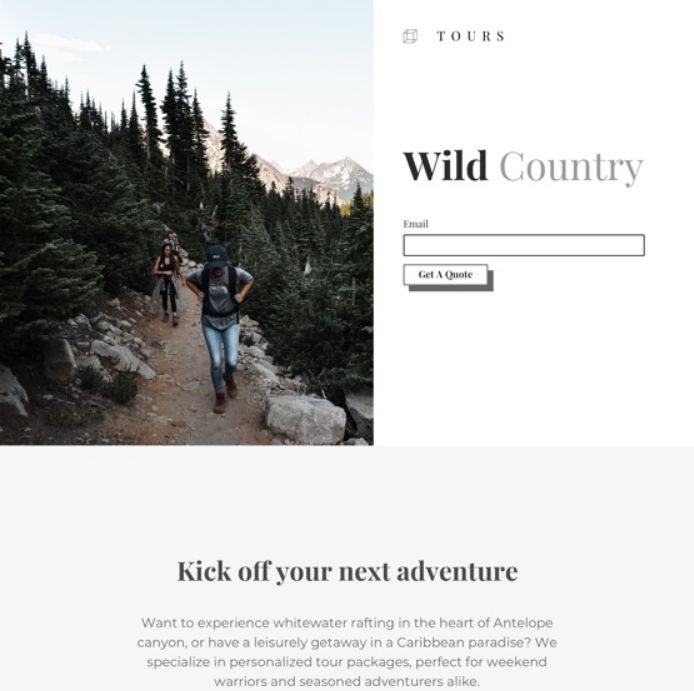 This Mailchimp landing page example is suitable for companies whose services help people plan their adventures.
Related article: 17 Free & Paid WorPress Landing Pages Themes
From relaxing getaways at the beach, sporting events, cooking classes, or whatever adventurous service or product you have to offer, the call to action is pretty direct, which motivates visitors to sign up to receive additional information on the packages offered or even request a price quote.
2. Bandmates - Email Landing Page Example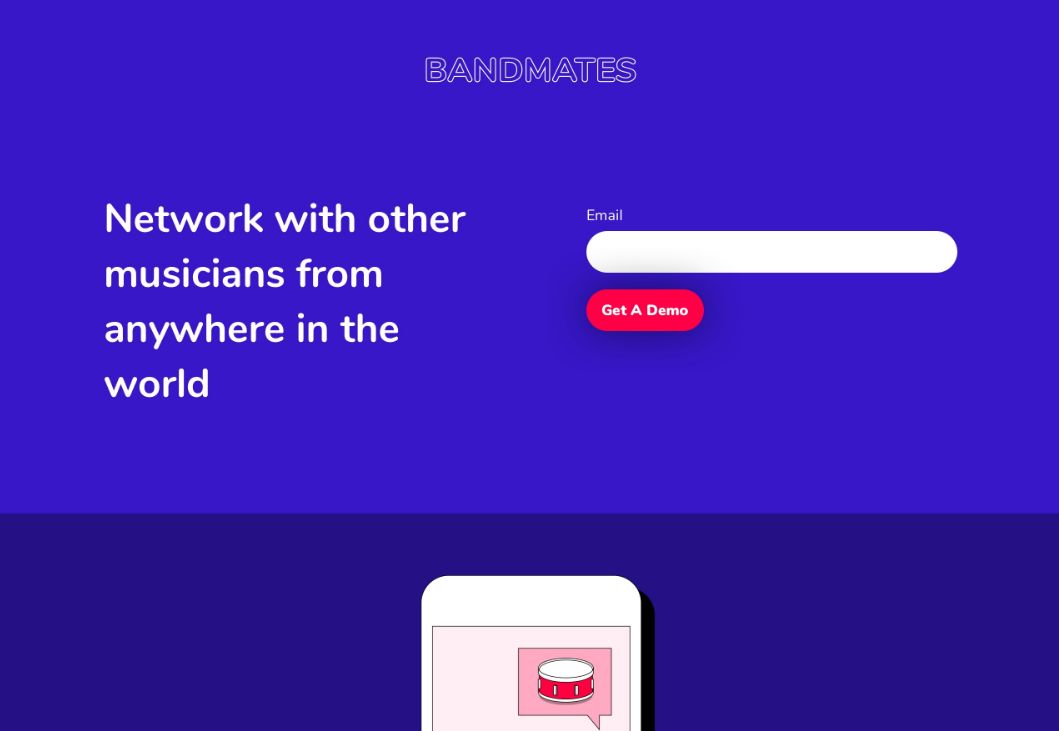 The Bandmates email landing page is a great way to introduce people to your products. For instance, you may have created the newest must-have app, service, software, or even a networking opportunity for artists worldwide. How do you get the word out?
The Bandmates Mailchimp landing page template is an easy way to highlight the benefits of your product and encourage visitors to sign up for updates and notifications.
3. Gardenhause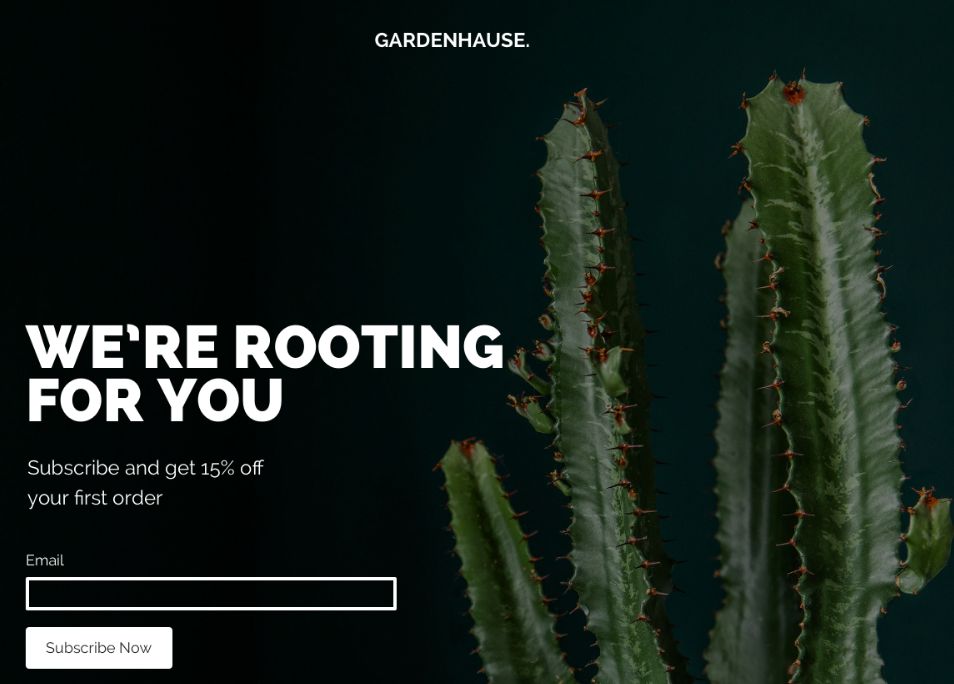 The Gardenhause email landing page example is a rich design inspiration for any e-commerce business seeking to increase sales and grow their list of subscribers. The template allows sharing of customer testimonials, offers discounts to the new signups, and adds enticing product imagery.
If you have a gree-related business, potted plants, or gardening, it's easy to jump on this one. It's also customizable to suit any other company.
4. Modern - Mailchimp Landing Page Example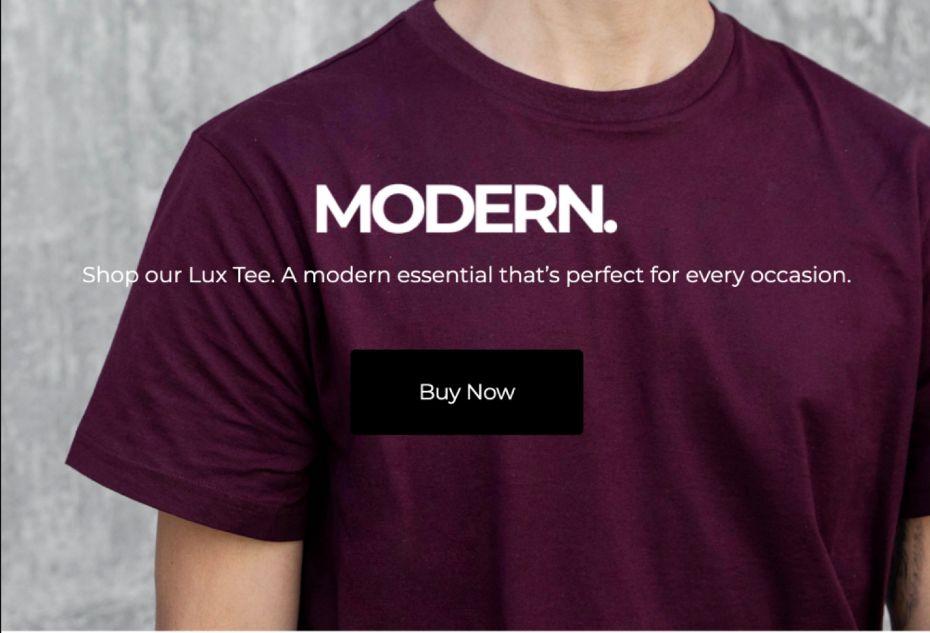 Modern is a simple, direct template that can easily be customized to suit any purpose. While a couple of Mailchimp landing page examples may feel limited due to their somewhat specific sample content, the Modern landing page template is more flexible.
Related article: 10 Squarespace Landing Page Templates
The template has an editable image background, text, image, button, and image + text content block.
5. Booking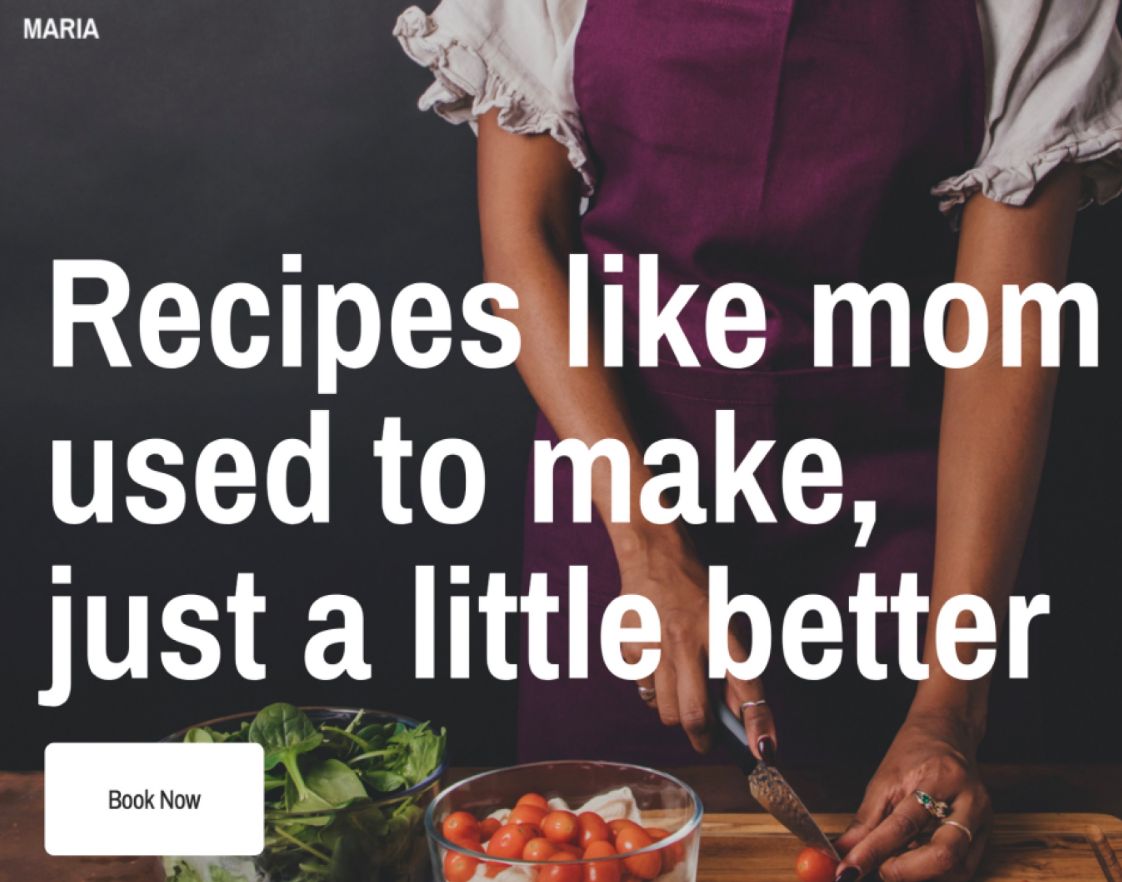 If your services or products require booking, then the Maria Mailchimp template is one of the many classic Mailchimp landing page examples you should try. It is not to say that the same cannot be exchanged for any other kind of product or service by swapping out some photos.
It's a flexible, simple design that allows businesses to promote their popular products. The call to action is readily visible to any visitor, and a quick guide to the offer completes its purpose.
6. Beautiful template to display products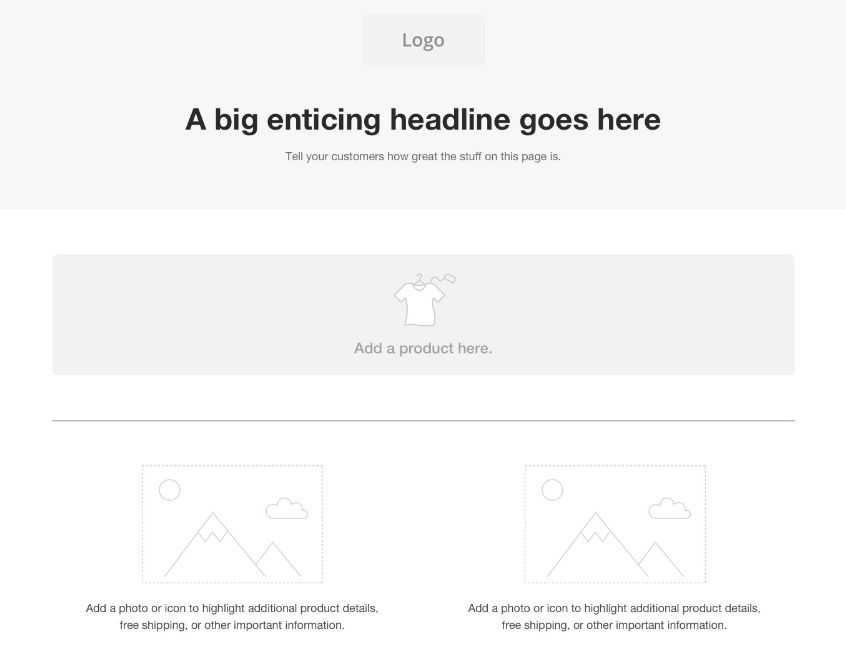 If your goal is to entice your visitors with your array of products, then this beautiful Mailchimp landing template will serve you best. The template allows you to show all your products in one place. It's easily one of the best landing templates when having a sale. This template is a prime lead generator if you invest in a great photographer for your display.
7. A Straightforward Template to Promote Products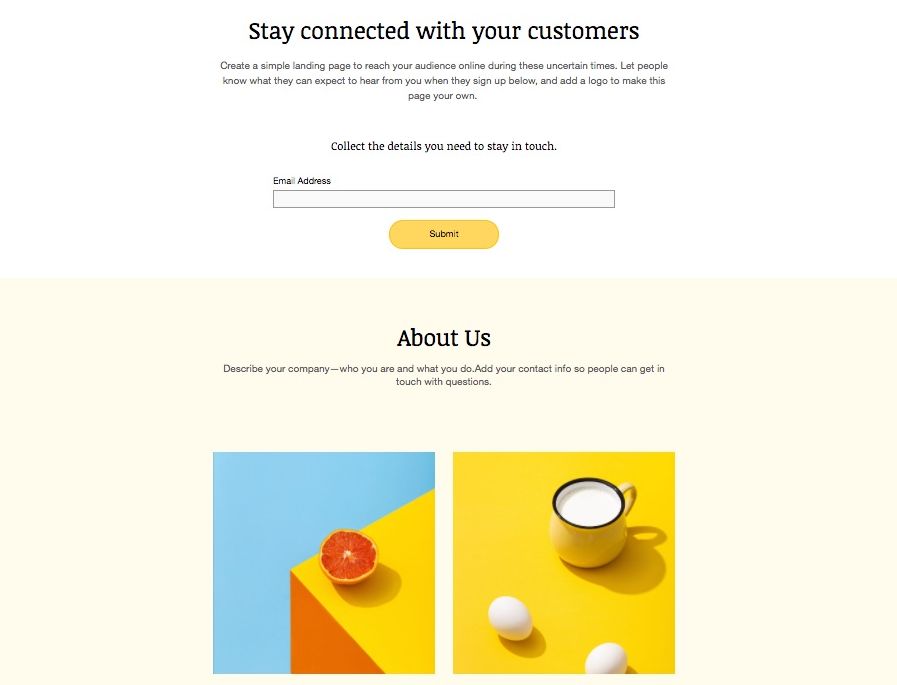 While there are multiple Mailchimp landing page templates to pick from, sometimes this straightforward template to promote products is all you need. It's a simple design that lets your product image speak for itself. The design is quite flexible, and you can build almost anything based on this template. It's a general-purpose landing page template.
8. Lead Generation - Simple Email Landing Page template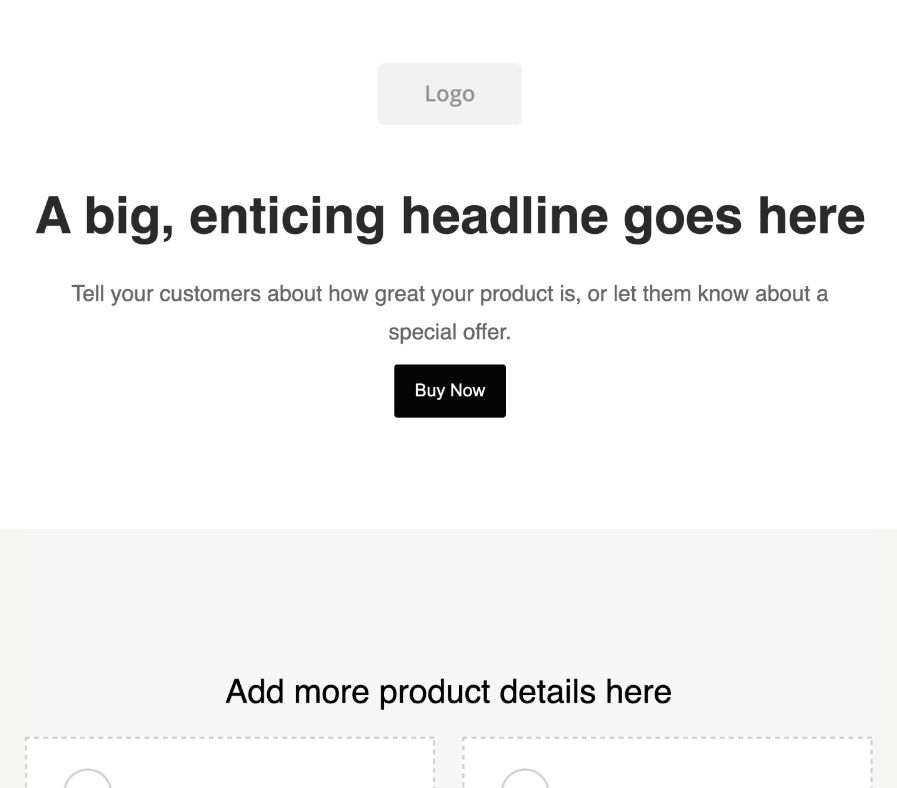 This is amongst the best email landing page examples to try when you need some inspiration. The themed lead generation template has placeholder images and text that you can use. You can also use the drag and drop editor if you'd like to add your content. There's also a call-to-action sign-up form to get you those leads.
9. Grow your list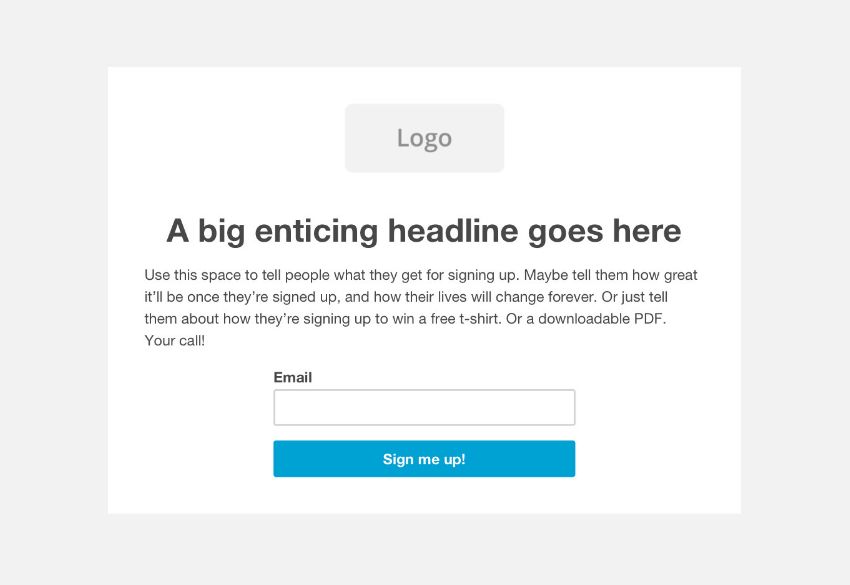 The primary goal of this template is to encourage every visitor to sign up, so the content block "sign up" is the attention grabber. When using this option, consider offering potential subscribers a free contest entry, download, or any other bonus your business can offer.
Why Do You Have To Have An Eye-Catching Mailchimp Landing Page?
A landing page is highly focused and targeted on a single specific outcome. The goal of a landing page is to promote a predetermined action through a targeted message to connect with a visitor and persuade them to take action. Here's why you need an eye-catching Mailchimp landing page:
To Showcase Your Products And Services. Landing pages offer an excellent platform to showcase and promote your products to new and existing customers. Especially when you have an offer running or wish to promote a specific product or service.
To Grow Your Potential Audience. Lead conversion is the goal of any eye-catching Mailchimp landing page. You get to collect emails and other valuable information that helps you connect with and even convert visitors to loyal customers.
To Build Your Brand And Create Awareness. Mailchimp landing pages reinforce your brand by creating consistency in your website's style, tone, and appearance. Templates that allow customer testimonials dramatically boost your credibility too. The strong brand identity helps in re-marketing where the users recommend your business to friends.
To Boost Your Sales And Profits. Like web pages, landing pages can offer you valuable insights that you can use to double down or re-direct marketing efforts. Mailchimp landing pages with a smart call to action will quickly push a visitor through the sales funnel and secure a sale and a potential recurring customer.
To Keep Sending Reminders To Your Audience To Stay Connected. Well-designed landing pages offer concise and direct digital marketing, which is an excellent way to keep your audience connected without bombarding them with too much information.
How Do You Make A Beautiful Mailchimp Landing Page?
Step 1: Create

To get you started, create or sign in to your Mailchimp account if you already have one. Click the 'campaigns tab", then click on the 'create campaign option.' You'll be prompted by a pop-up window to select one of the five options. Choose 'Landing page' to proceed to the next step.
Step 2: Select a Mailchimp Template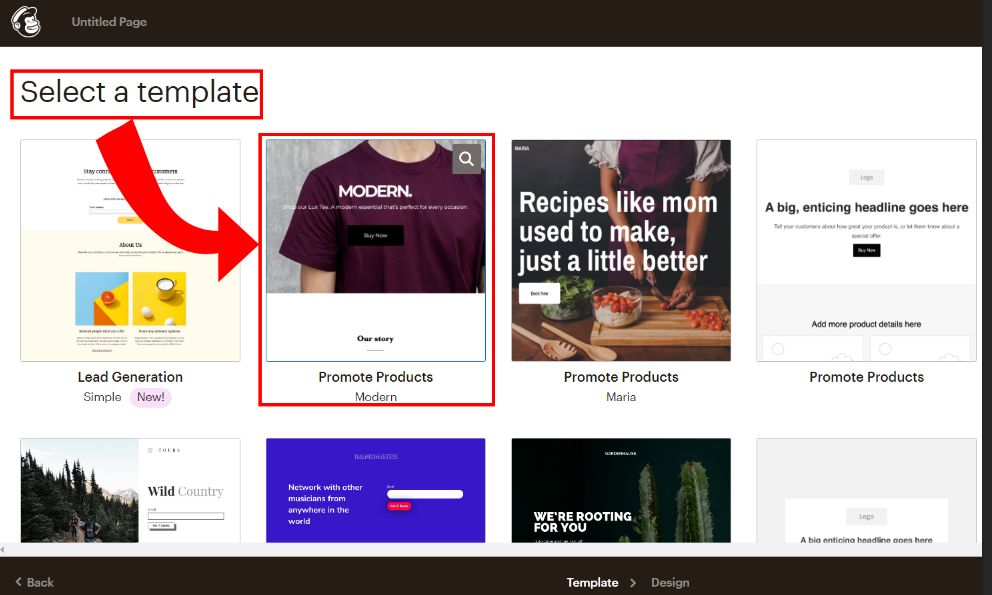 The next step will be selecting a template for your landing page. Consider the purpose of your landing page when picking a template to help you choose the one that suits the purpose best. Once you have selected a template, you'll be directed to the drag-and-drop Mailchimp landing page builder.
Step 3: Design The Mailchimp Template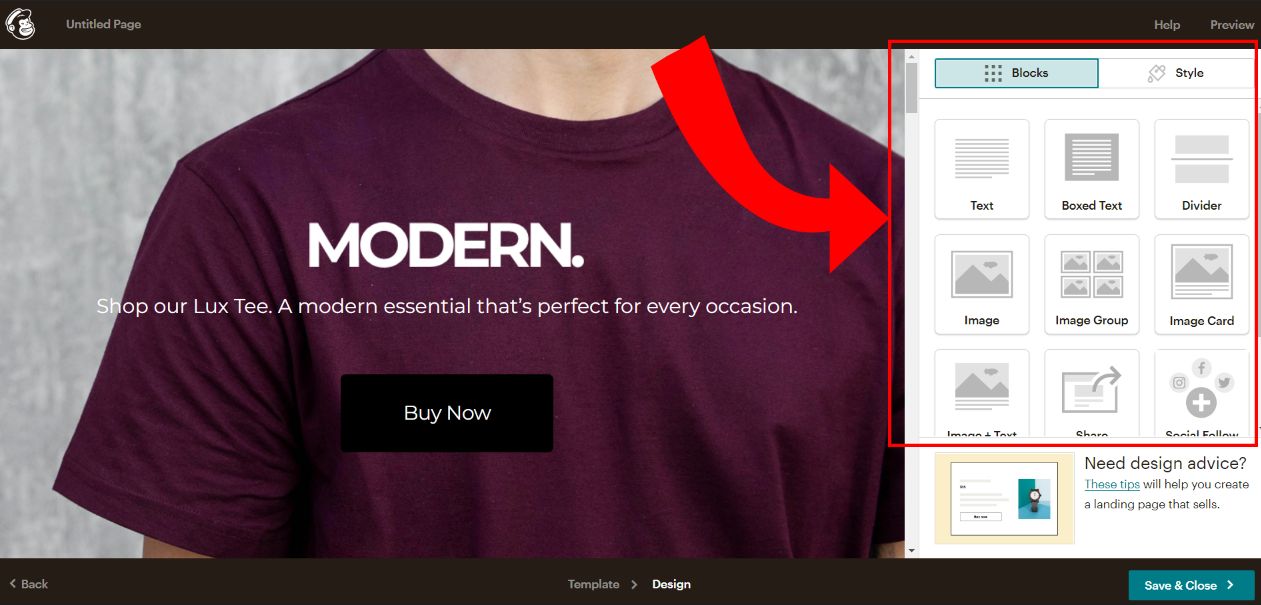 The landing page builder will present you with an array of options to customize your landing page. You'll be able to edit text, add buttons, images, products, and even payment options. You can tweak the individual images and colors in the design panel too. Once you achieve your desired design, click the 'save & close' option to be directed to the overview page.
Step 4: Overview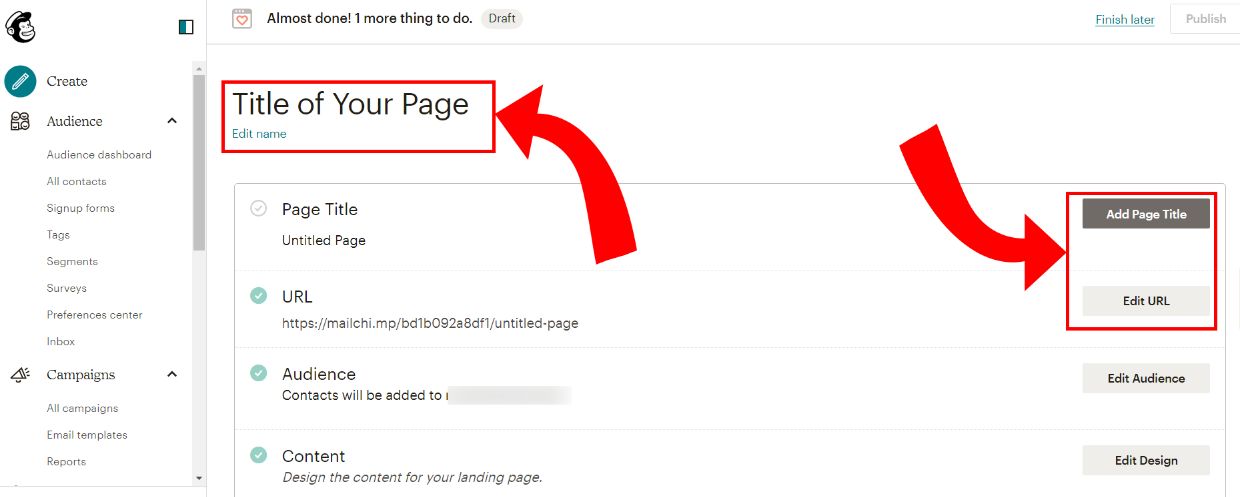 The first step in the overview stage is to provide a title for your landing page - this is what will appear in your browser's title bar. Once you're done, decide on what URL you want on your landing page.
Your URL should be something that suggests what your landing page is about. You are free to create a standalone page with the Mailchimp domain or use the paid feature in Mailchimp to create a landing page for your personal website's domain.
If your business has many stores, then this is the point where you select the store that you want visitors and contacts on your landing page to be added to.
Step 5: Tracking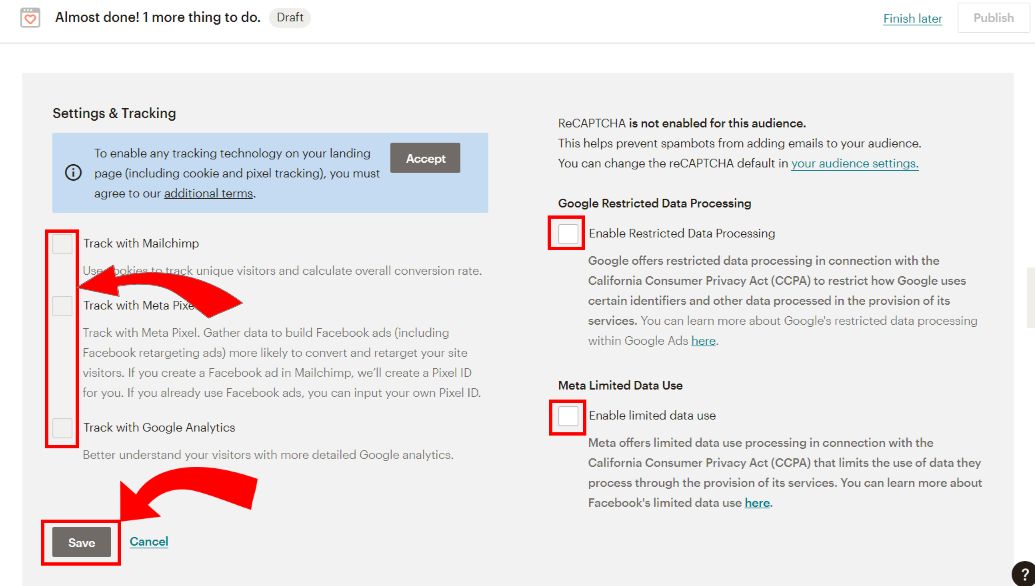 The final step will be setting up how the landing you just created will be tracked. You'll find the options in the settings & tracking option (by scrolling down on the same page). Your choices include Google, Facebook, and Mailchimp's tracking method.
Every tool will allow you to enjoy slightly different benefits. Once you have chosen how you'd like to track your results, click on the 'save' button, then find the 'publish' button, and voila! Mailchimp will notify you with a link to the landing page you just created and all your sharing options.
Conclusion
Aside from its solid marketing abilities, the Mailchimp landing pages are an excellent platform for beginners. Its email marketing templates are a vital tool for digital marketers today.
Use the templates to encourage visitors to take action, such as using a service, entering a competition, or even signing up for an event or webinar.
While these are the top 9 best landing page templates, Mailchimp has unlimited landing page templates you can choose from. The designs are modern, well-designed, and all mobile responsive.
Try these Mailchimp landing page templates today!
Related Articles
Join 2,000+ readers and learn something new every month!
Get notified about new blog posts, tips, tricks, fullPage.js news etc.
RSS feed