A Philips Roku TV sound that's not working can be frustrating, especially if you're just about to watch a new episode of your favorite show. What adds to this frustration is when you don't know how to fix your device.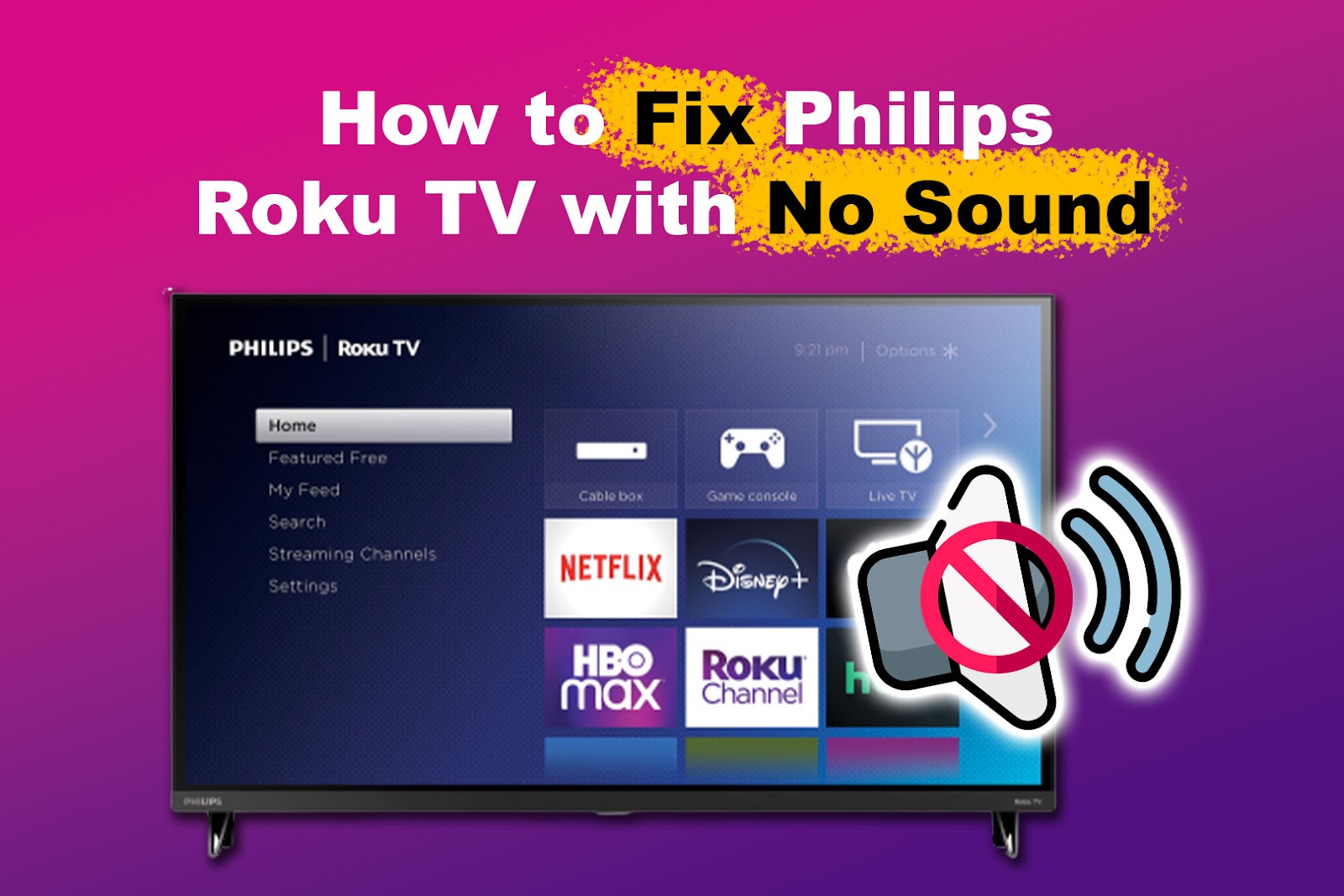 This article will help you discover why your Philips Roku TV has no sound. We'll also provide easy-to-follow solutions to this issue.
Why Does Your Philips Roku TV Have No Sound?
There are a few reasons why your Philips Roku TV can end up without sound:
Incorrect Speaker's Settings.
Philips TVs have a feature called Speakers Easylink, which is accessible if your HDMI-CEC is on. This feature causes sound to mute when you turn the TV on.
Low Volume Settings.
Sometimes, your TV does not have an audio problem. Instead, you might have accidentally turned the volume low.
Incorrect Audio Settings.
If you connected speakers to your TV via HDMI, selecting the wrong HDMI port in the settings can cause it to have no sound.
Faulty Cable Connection.
Wired connections such as HDMI or speaker cables can be loosely connected or damaged, thus leading to the no sound problem. These issues prevent a seamless sound transmission, resulting in your TV's sound loss.
Internet Connection Issues.
An unstable internet connection makes it difficult for devices to fetch data online. This can cause your Philips Roku TV to experience sound delay or complete audio loss.
Cache Overload.
Using your TV leads to cache data overload. This can lead to sound issues, as your TV can no longer process all the accumulated data.
Outdated Software.
An outdated Philips Roku TV software may have bugs and other issues that interfere with its sound.
How to Fix a Philips Roku TV With No Sound
You can try the following solutions to fix a Philips Roku TV without sound:
Solution 1. Check HDMI and Other Connections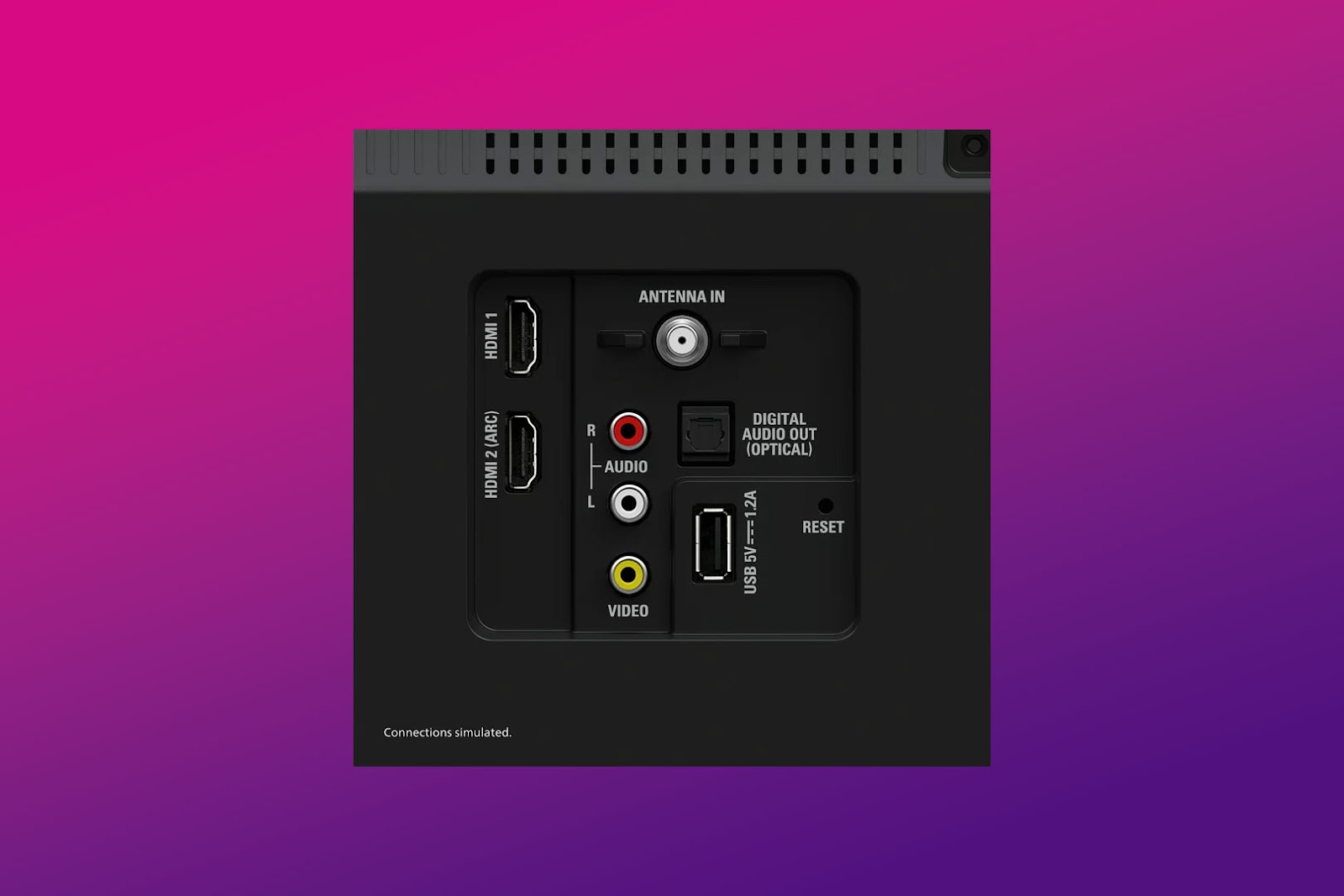 Loosely connected or damaged HDMI and speaker cables can cause your Philips Roku TV to have no sound. A faulty or dirty port can also contribute to this problem.
To verify if the external speakers are the issue, unplug them and check if the TV speakers have sound. If they have sound, connect the external speakers to a different port. If they still have no sound, it's time to replace their cables with new ones.
Solution 2. Restart the TV
Besides fixing the Philips Roku TV sound issues, performing a restart will sort out other problems like bugs and glitches.
Here's how to restart a Philips Roku TV that has no sound:
Step 1. Access the TV's "Home Page".
Step 2. Go to "Settings".
Step 3. Scroll to "System".

Step 4. Select "Power > System Restart > Restart".
Learn how to restart any smart TV system through Roku's Official Website.
Solution 3. Reset Audio Settings
Resetting audio settings can clear off old sound settings that might be causing the audio issue on your TV.
Here are steps to reset Philips Roku TV audio settings:
Step 1. Go to "Settings".
Step 2. Scroll to "System > Advanced System Settings".
Step 3. Choose "Factory Reset > Reset TV Audio/Picture Settings".

Step 4. Press the `Play/Pause` button three times to reset.
Solution 4. Switch Audio Output Settings to PCM
Another audio setting you can try is switching to PCM mode. PCM audio converts analogue to digital audio while replicating the analogue audio signal as similarly as possible.
The PCM audio format is uncompressed. So, unlike compressed audio formats that lose some audio data in the compression process, PCM is lossless. This results in excellent audio transmission quality, thus reducing sound issues.
These are the steps to switch to PCM audio output on Roku TV:
Important! PCM is referred to as "Stereo" in the Roku system.
Step 1. Press the `Menu` button on the remote.
Step 2. Scroll to "Settings > Audio".
Step 3. Select "Digital Audio Output".

Step 4. Choose "Stereo".

Step 5. Unplug & plug in your Philips Roku TV.
Solution 5. Factory Reset Philips Your TV
If the above methods fail, it is time to factory reset your Philips Roku TV. You'll lose all customized settings and other saved data after the reset. Your TV will return to its original settings, including all the sound features.
Here's how to factory reset your Philips Roku TV:
Step 1. Press the remote's `Home` button.
Step 2. Access "Settings".
Step 3. Select "System > Advanced System Settings".

Step 4. Choose "Factory Reset".
> Learn more on factory resetting your Philips Roku TV from Roku's official website.
Solution 6. Update Your TV's Software
A software update will refresh the audio settings, plus other Philips TV malfunctions like picture issues.
Here's how to update your Philips Roku TV:
Step 1. Press the remote's `Home` button.
Step 2. Select "Settings > System".
Step 3. Choose "System Update".

Step 4. Click on "Check Now".
Your Roku TV will proceed to check if there are updates available. Follow the TV instructions if your Philips TV has software updates available.
Solution 7. Contact Customer Support
If none of the solutions works, your best bet is to contact Roku customer support for professional help. They can help you answer and solve all the sound-related issues on your Philips TV.
You can also contact Philips directly at 833-978-3323 for better communication. This is ideal if you suspect a hardware problem is causing your device's audio issue.
Does the Philips Roku TV Warranty Cover Sound/Audio Issues?
Yes, the Philips warranty covers sound problems. You are eligible within 24 months after purchase if the sound error was caused by a manufacturer defect. Note your warranty will be void if Philips proves that the damage was caused by an incorrect usage of the device.
If you've misplaced proof of purchase or bought from an unknown retailer, your warranty period is assumed to have started three months from the indicated manufacture date.
If the warranty claim is successful, Philips will repair your TV. They may provide you with a new TV if the damage is severe.
Get more details about your device's warranty from Philips' Official Page.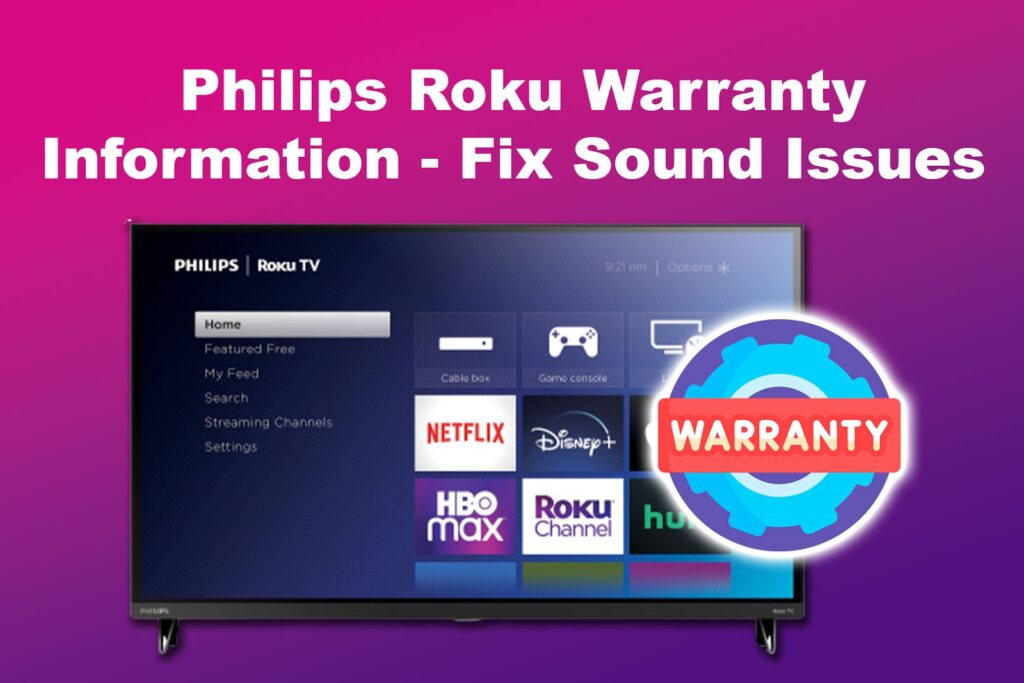 How to Prevent Philips Roku TV From Having Audio Issues
Keeping your software updated can prevent issues with Philips Roku TV audio. TVs running on an outdated system might experience certain malfunctions due to bugs and glitches. Having your TV up to date will improve the overall TV's performance.
You can ensure your Philips TV is up-to-date by accessing "Settings > System > System Update > Check Now". Performing the update will also fix various bug issues and offer new features.
Conclusion
Unfortunately, Philips Roku TV sound issues may be unavoidable, but different troubleshooting methods exist to fix the audio problem.
Resetting the audio settings to default or switching the audio output to PCM stereo are reliable solutions. If unsuccessful, perform a factory reset or update your firmware. You can contact customer support when your Philips Roku TV has no sound.
Related Articles