20 Amazing Wedding Website Examples [2022]
Over the years, much has been said about what weddings mean, how the invitations should look, how the announcement will be presented, and more.
The following wedding website examples are inspirational, not just because they indicate our digital age, but the expanded canvas couples now have to showcase everything they would like about their wedding.
Gone are the days when pieces of paper had to be sent all over the country; we hope these wedding website examples will give you ideas on what to do for your website.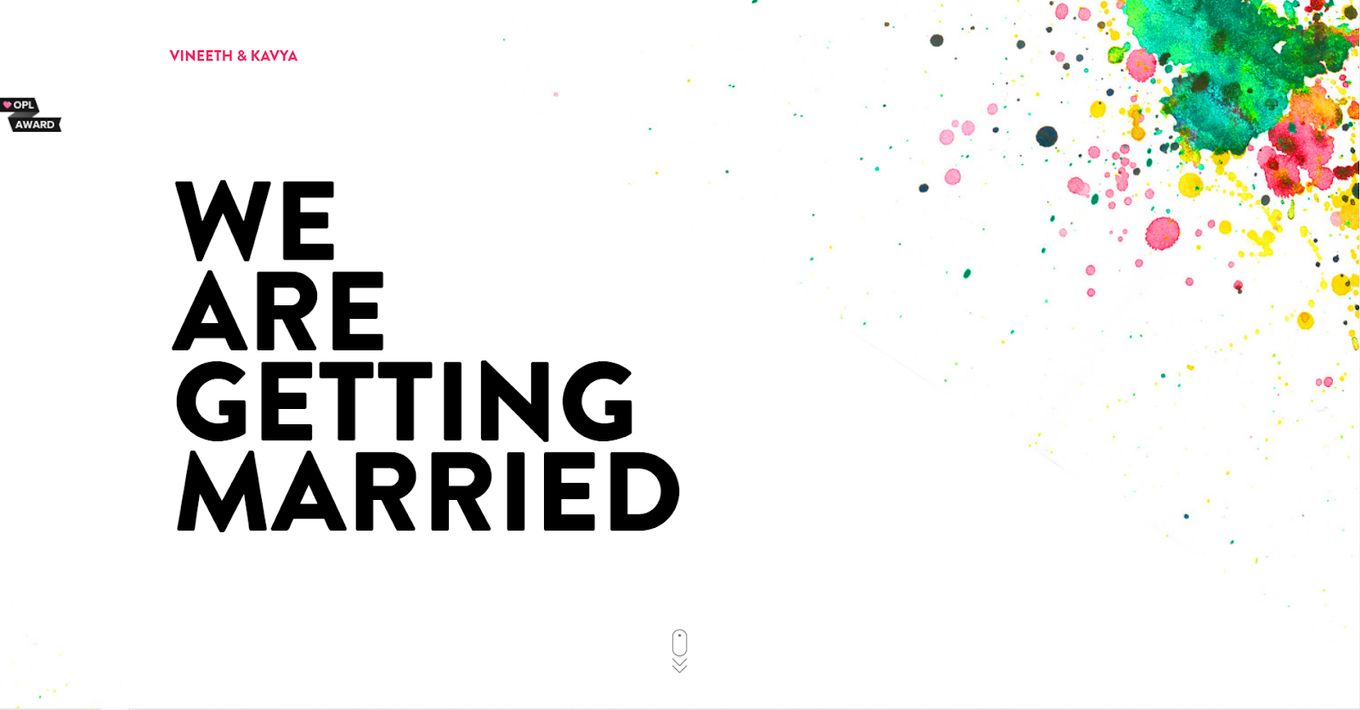 Vineeth & Kavya's website is rendered in a full-page format. It declares, at the very top on a white background with artsy color splotches, "We are getting married!" Keeping with the color theme, it introduces Vineeth and Kavya in artistic color before showing the date.
It then finishes with an invitation to join, a hashtag for Instagram posts, and a slot for friends to leave comments.
The scrolling effect of this page uses this full-screen scrolling component called fullPage.js. It is an easy-to-use JavaScript library also available for WordPress through the Elementor and Gutenberg plugins.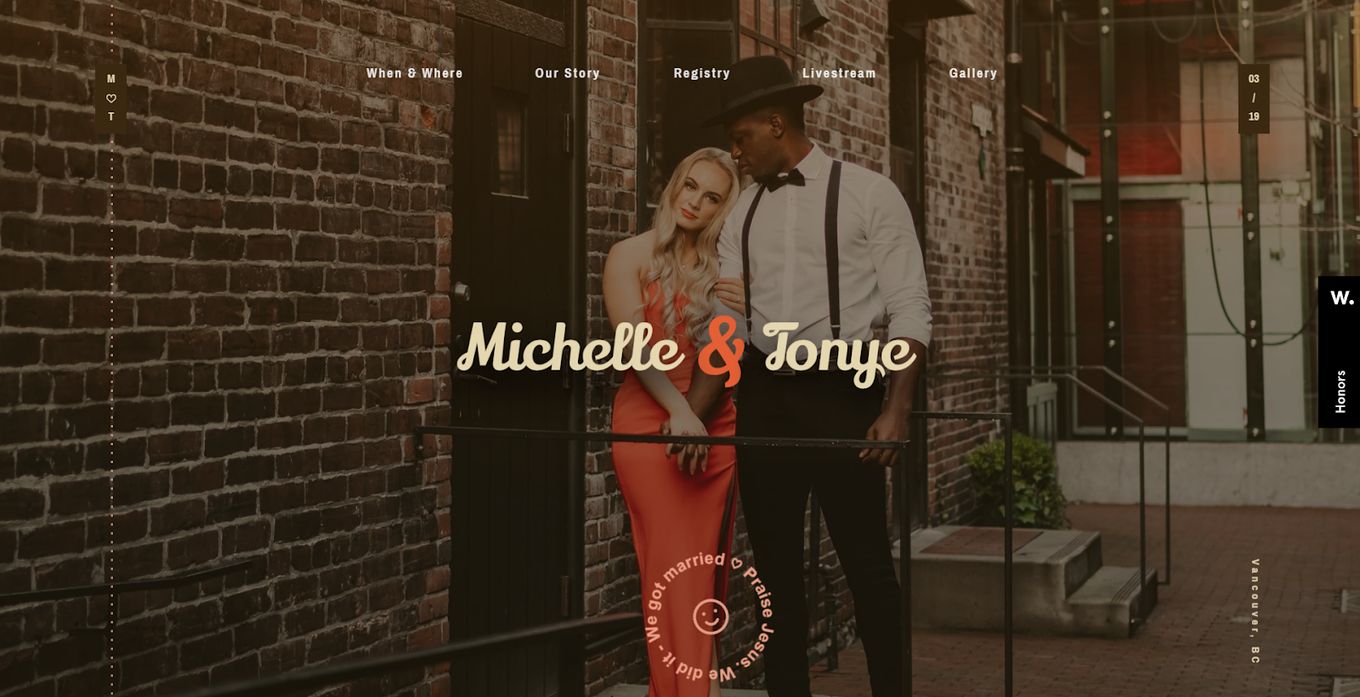 Michelle & Tonye's wedding website example showcases the lovely couple front and center on the homepage. Up top, visitors can navigate to the dates, venue, the couple's backstory, a registry to bless them with a gift, a live stream link for the event, and the gallery to show off the big day.
Not only does this offer convenience for guests, it feels warm, inviting, and most importantly, easy to view.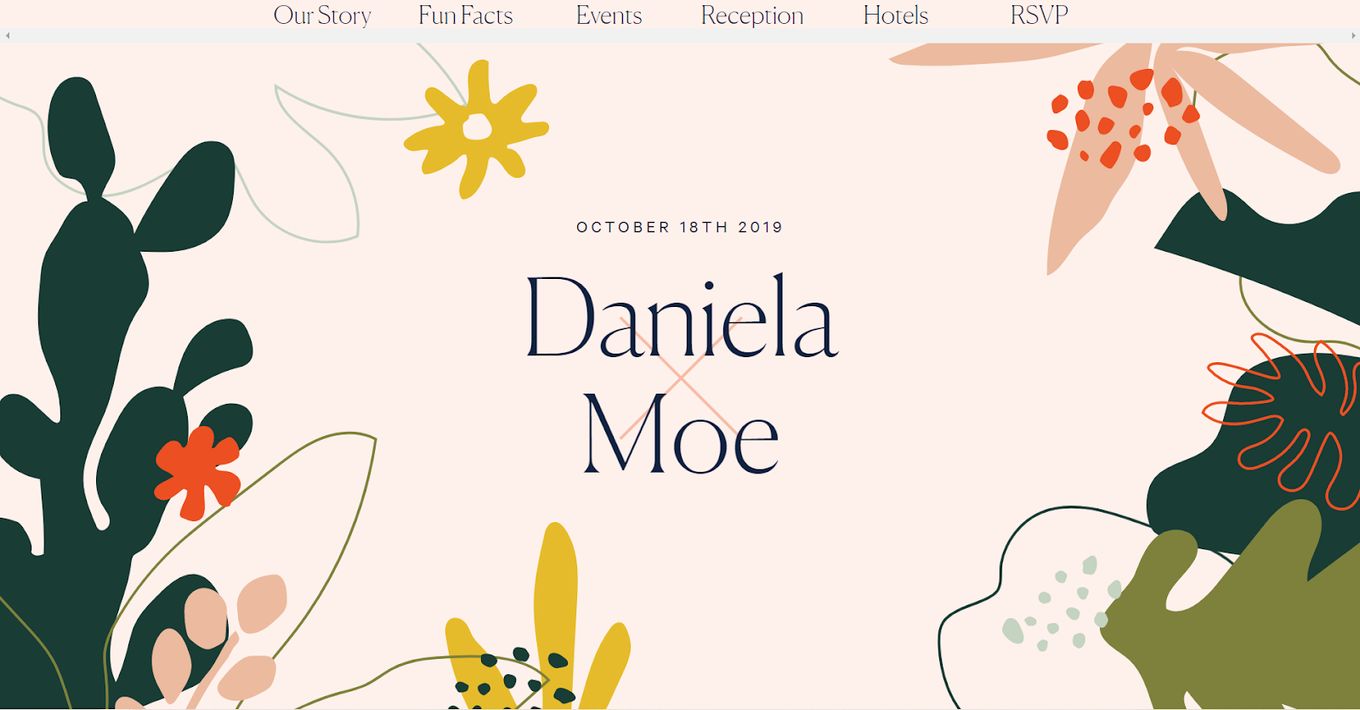 Daniella & Moe's approach presents the most intimate vibe of all the wedding website examples here. The website design is inspired by plants, which the plant-loving bride illustrated. The website, on the other hand, is credited to the groom.
It starts with their story, fun facts presented using fun questions, a list of the pertinent events, the reception, hotels, and an extra page to RSVP. The couple misses nothing.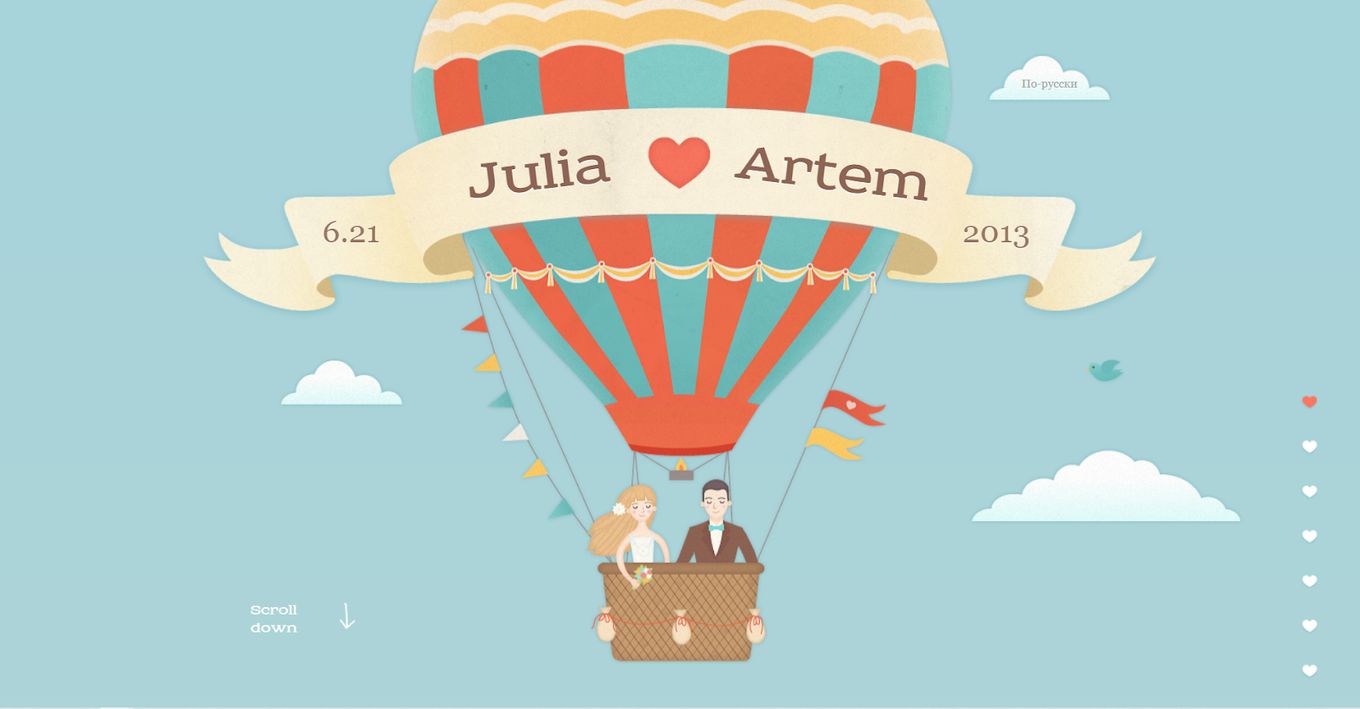 Julia & Artem's website tells a story. It is the most straightforward wedding website 'our story' examples we have seen, launching us and an animated hot air balloon into a story of how the couple came to realize they never wanted to be apart.
It is presented in pleasant colors with little hearts, nice clouds, and the data in a banner up top. Text animations appear every time the user scrolls down.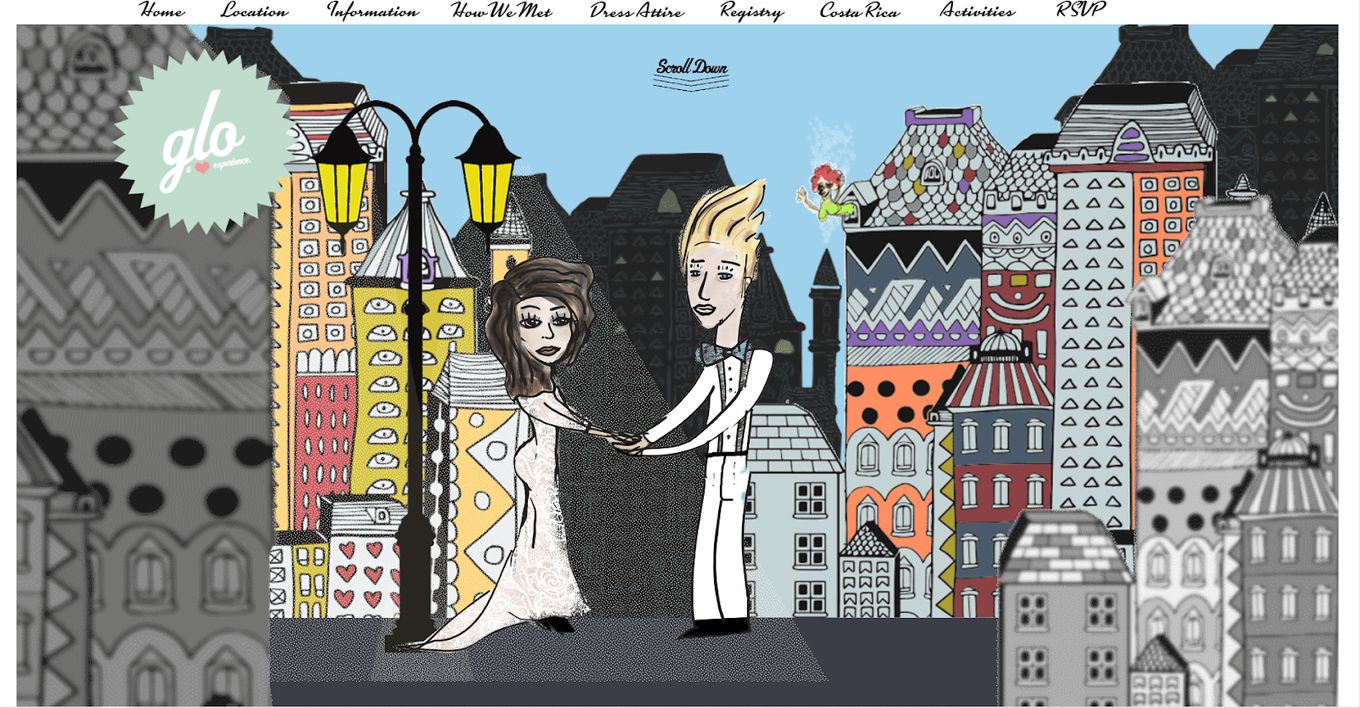 This couple has one of the funniest "our story" examples that I've seen among other wedding websites. It introduces us to the couple's plans for the day. It's a trip to Costa Rica with multiple locations to visit, a list of all the festivities, fun little pieces of advice, and more. The couple embodies what you imagine millennials might do, and it works.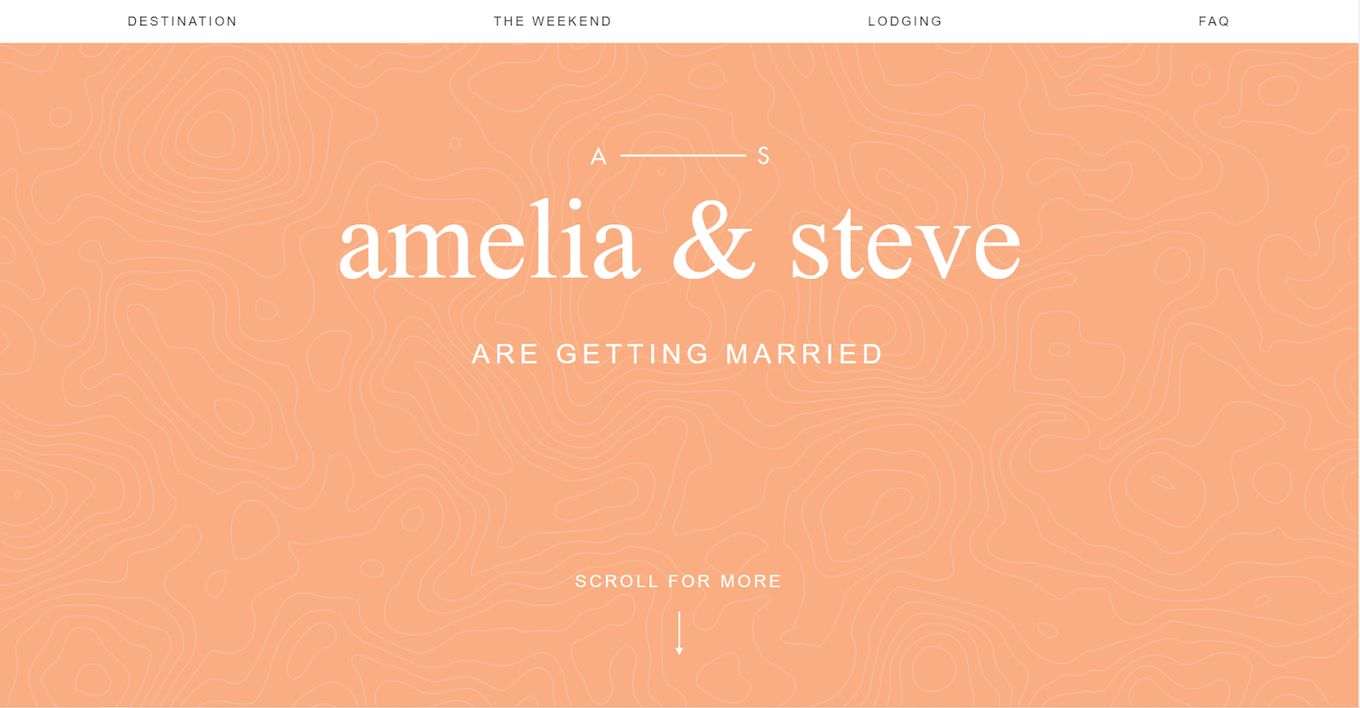 Amelia & Steve's one-pager is the definition of completion. It starts at the top with the couple's names, who's invited, when the wedding would be, and where it would be.
It then segues into a beautiful description of the venue, with convenient descriptions of each transportation option to take, the schedule of each day of the event, and details on each activity. Anyone would be tempted to gatecrash this just from the excellent presentation.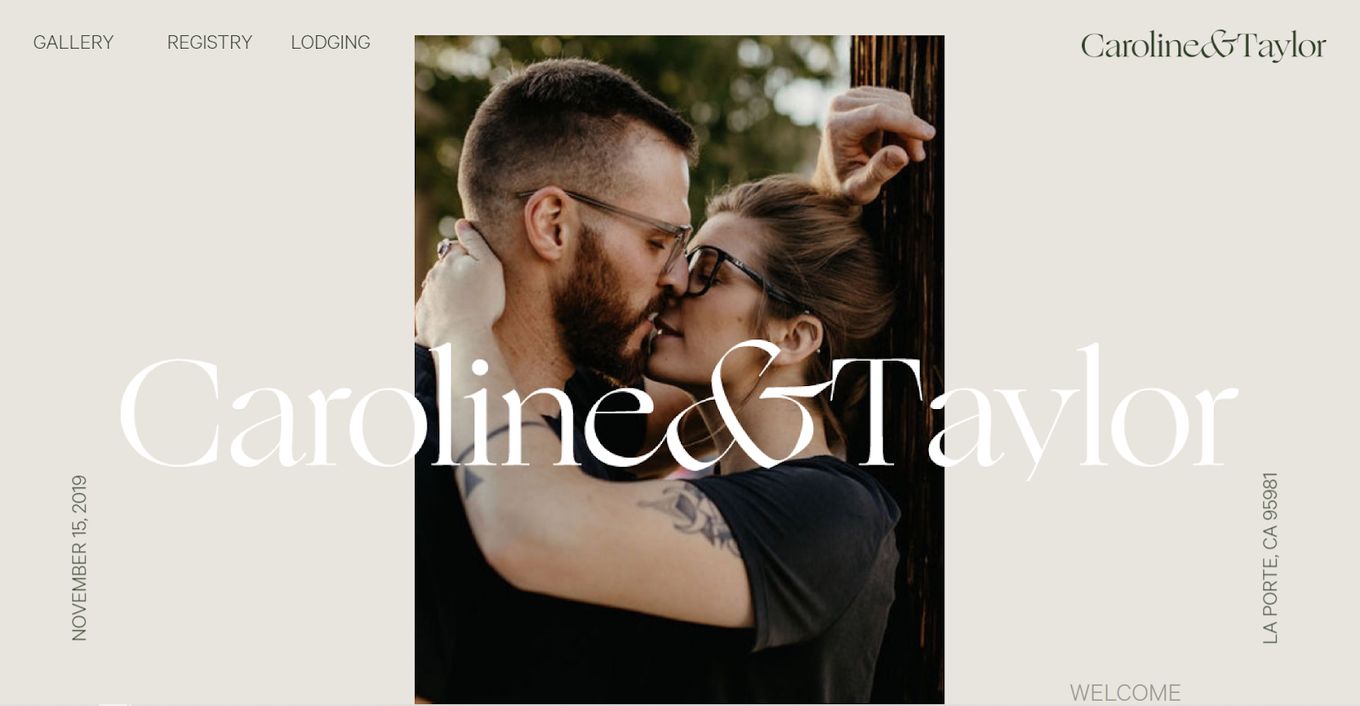 Caroline and Taylor are a cute couple, and their scrolling animation website reminds us of that more than other wedding website examples we have seen. In between candid photos of the couple in various locations and outfits, visitors are presented with details about the location, a complete schedule, places to enjoy when there, how to get there, and a registry for gifts.
Ankush and Richa's website is presented as a card. Clicking on it opens a full-page image slide display showing Ankush and Richa. It invites guests to celebrate, introduces the family through a bio made of images, and gives a clear schedule of the day. There are instructions on how to get to the venue and a reminder to bring only love and happiness, no gifts.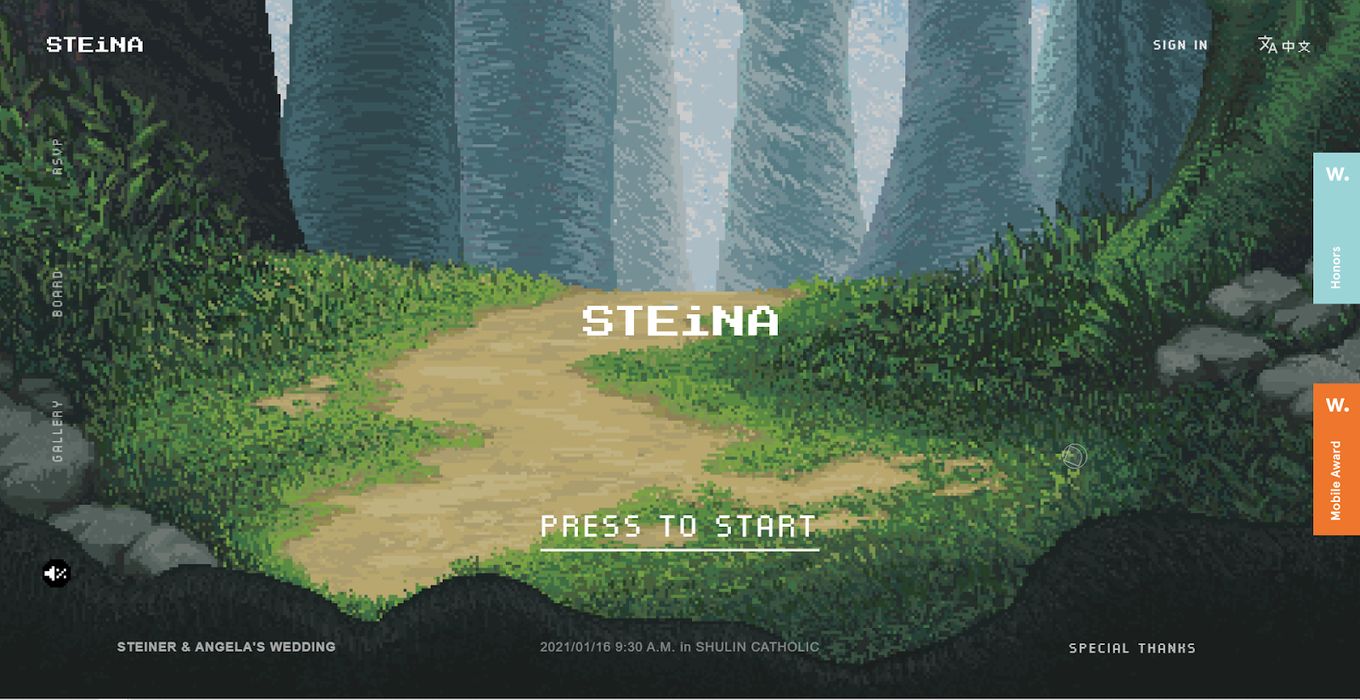 The website is a journey that starts with a loading screen, creating anticipation for what it's about to show. Visitors get to choose if they want to hear music, and once that's done, it opens up to take them on a journey that has to be seen to be appreciated. Of all wedding website examples here, this is the only one that turns the experience into a game.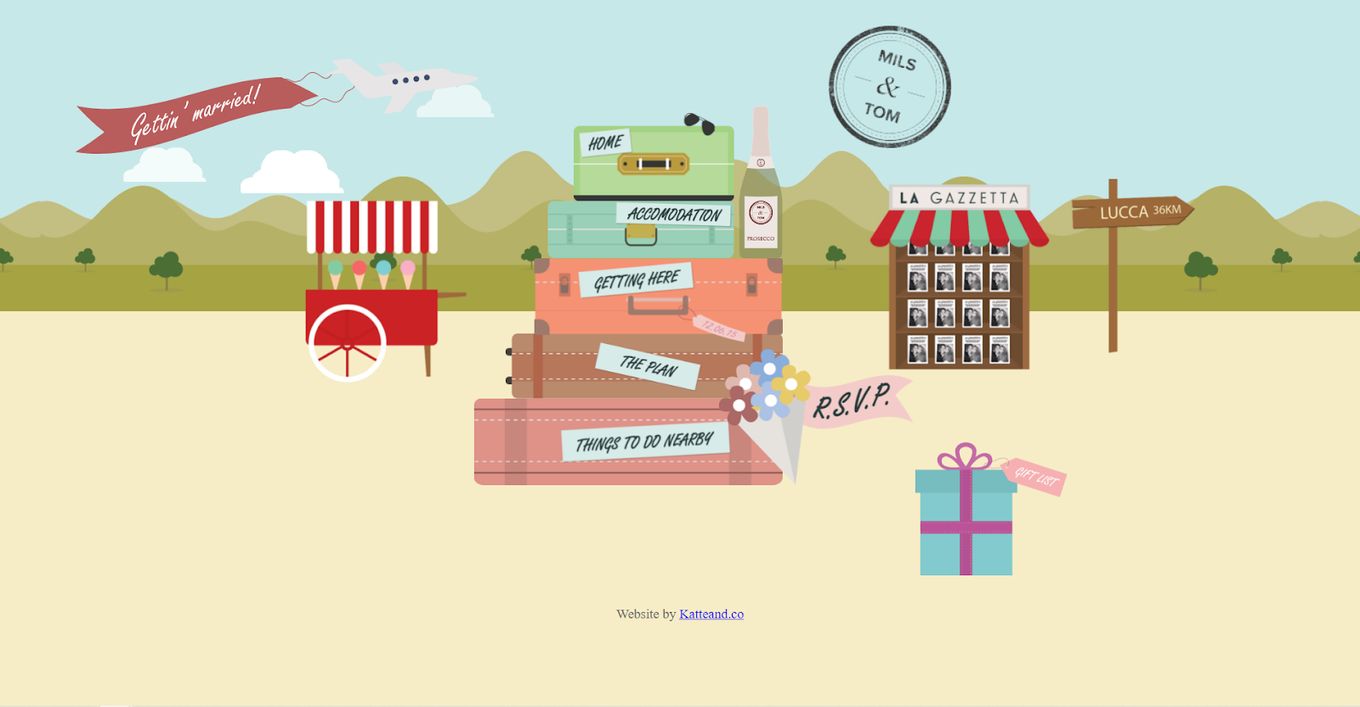 Mils and Tom's website sets the standard in simplicity. Instead of a full-page scrolling design, the website is just the homepage with neat graphics depicting bags stacked to the side. They each have a sticker that, when clicked, leads to details for directions, accommodation, the plan, and fun things to do while there. There is also a bouquet to click on to RSVP.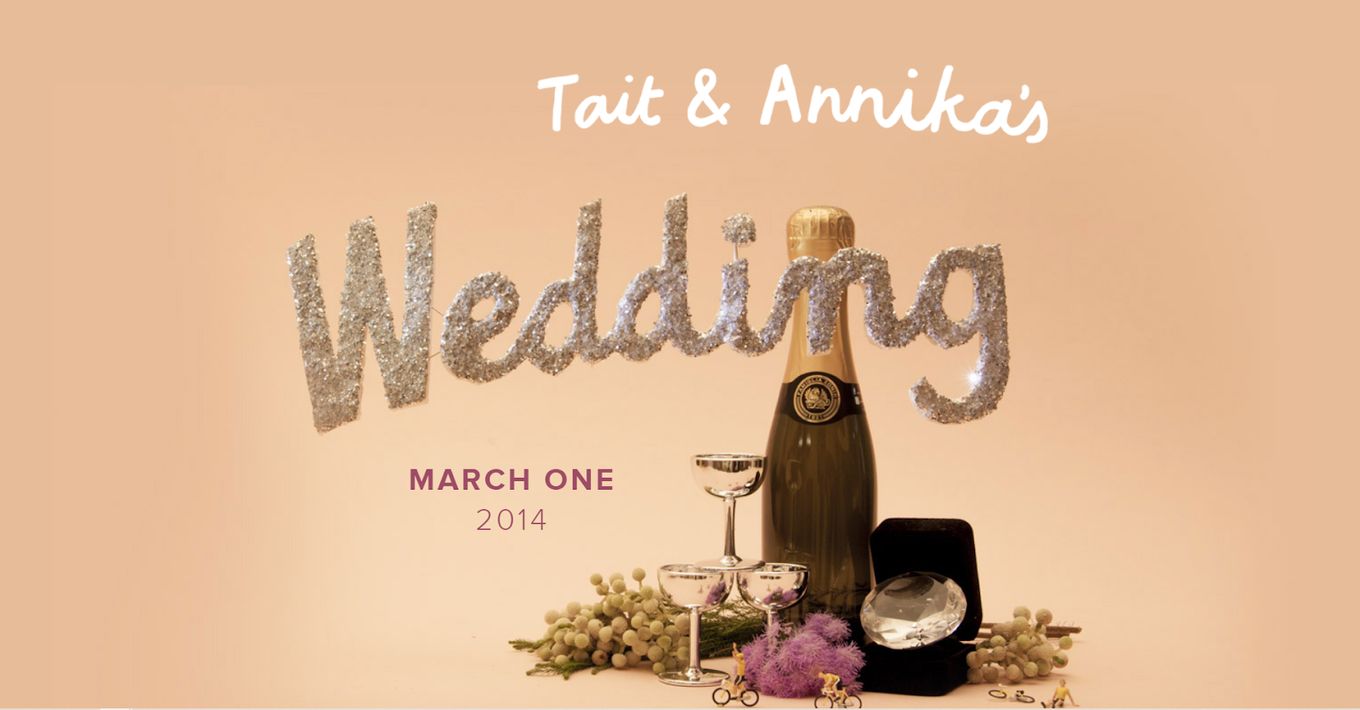 Taita & Annika's stylistic and word choices blend well together to craft an invitation that informs and comes across as easygoing and chill. Visitors want to feel comfortable when attending events, and this website succeeds at that. There are details on the schedule and a reminder not to bring gifts, thanking the guests before they arrive for their presence- the greatest gift.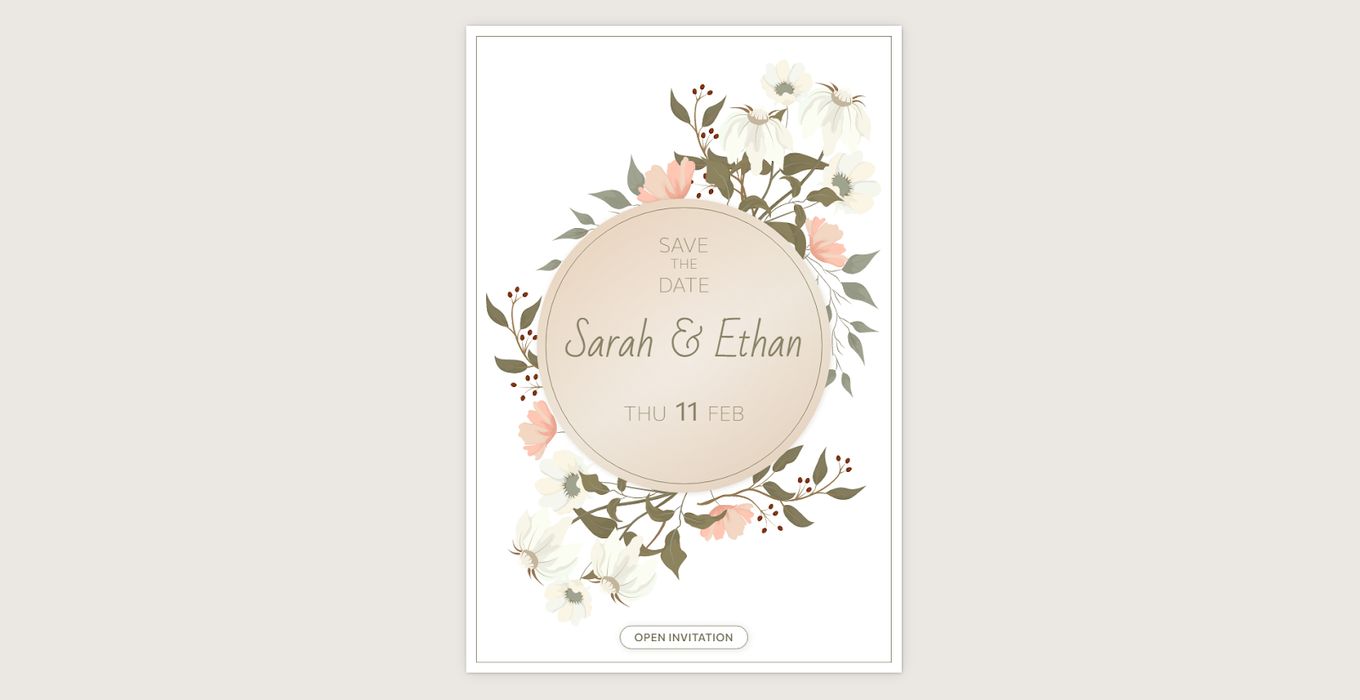 Sarah and Ethan's wedding invitation feels like receiving an invitation in the physical mail. It is a great way to recreate the experience, much like how eBooks recreate the experience of reading a book, getting its message across in two steps- one to open the invitation and receive the details and another to RSVP.
13. Dan & Christine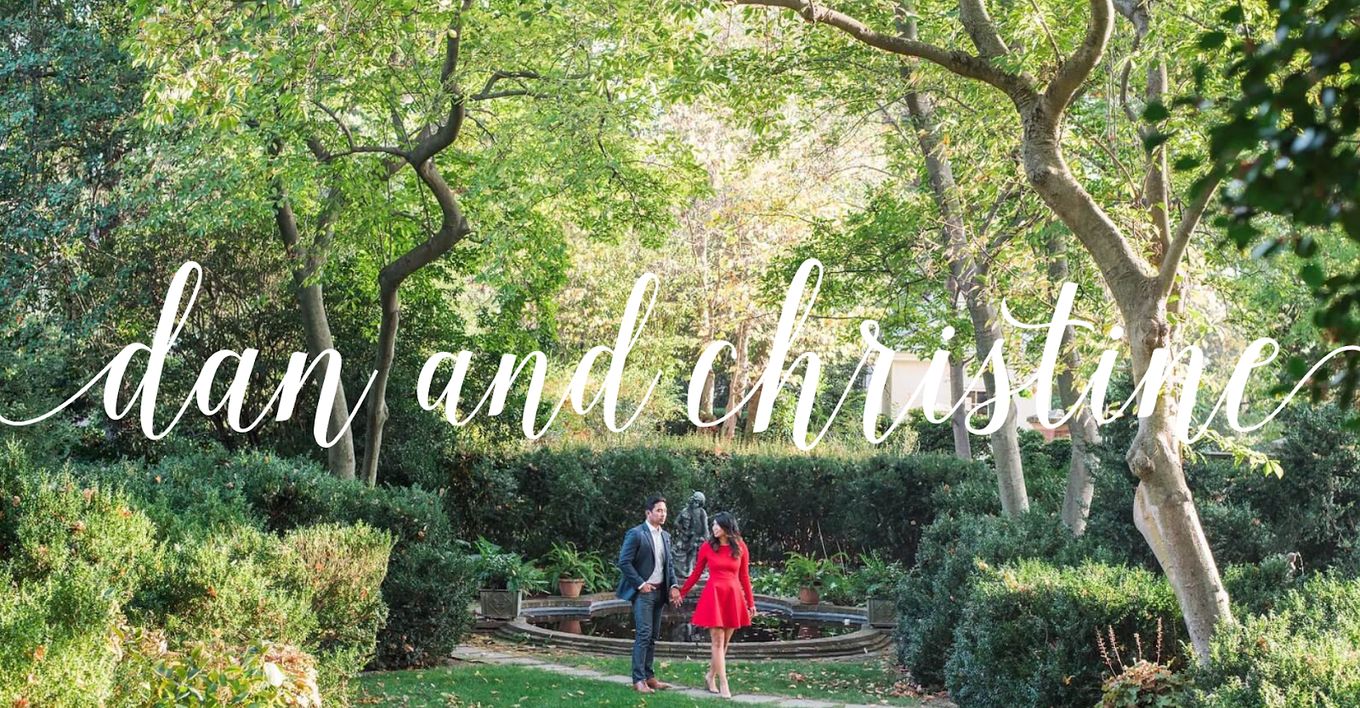 Dan & Christine stands out as one of the best wedding website examples that does everything by the book. It opens with a fullscreen image of the couple in a green and charming location, before launching into an intro of the couple, a timeline of the relationship, venue & date details, a schedule of the events, parking tips, travel tips, a map and so much more.
A timeline is a perfect resource for a wedding website. Add it to your website select one of these 15 HTML & CSS Timelines Jamie & Dan stand among wedding website examples of what to do with just one page. It doesn't go on for very long but packs in all the essential information anyone would need when planning to attend. There are instructions on how to get to the hotel, the venue, and details to aid in planning. When looking for something simple that also skip nothing, this is it.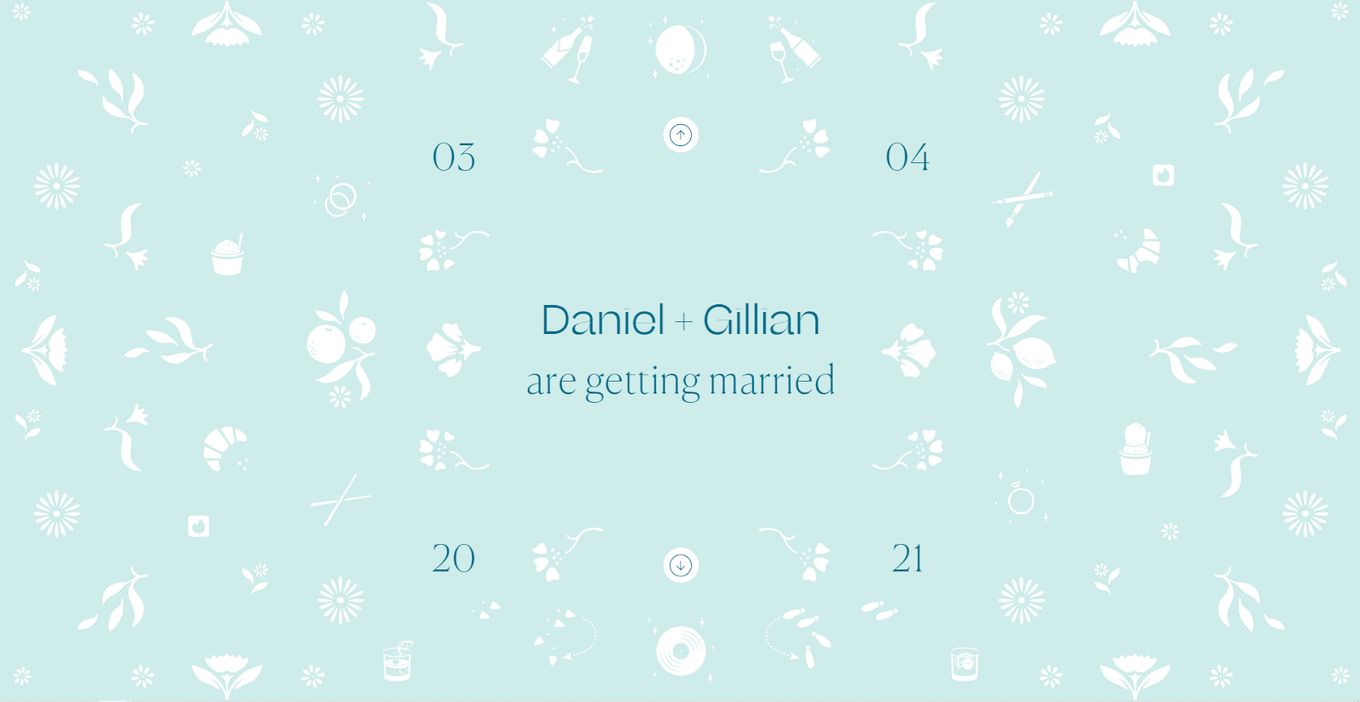 Daniel and Gillian's wedding website example looks and feels like a wedding invitation card, complete with the edge line decorations. There is a subtle arrow to click on that changes the text like a slideshow, bringing up details on the venue, information on the date, parking, and accommodations. Nothing is missed, even though the site doesn't change much.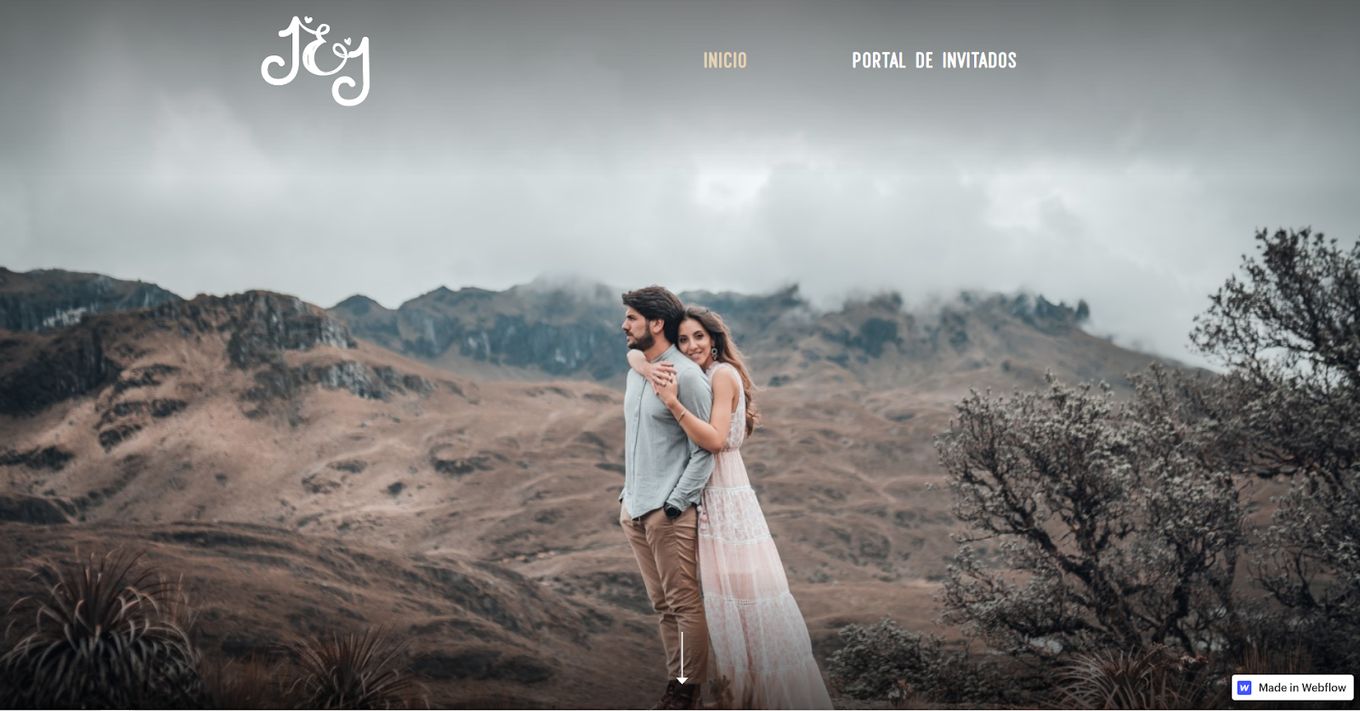 It's not just the couple's names that are beautiful, but the site too. Using pictures that speak of nothing but happy moments, the couple guides visitors on an information journey that tells them when the wedding is taking place and how happy the couple is.
It then launches into a short but lovely history leading up to the wedding day. It is one of the best examples we've seen for the 'our story' section of a wedding page.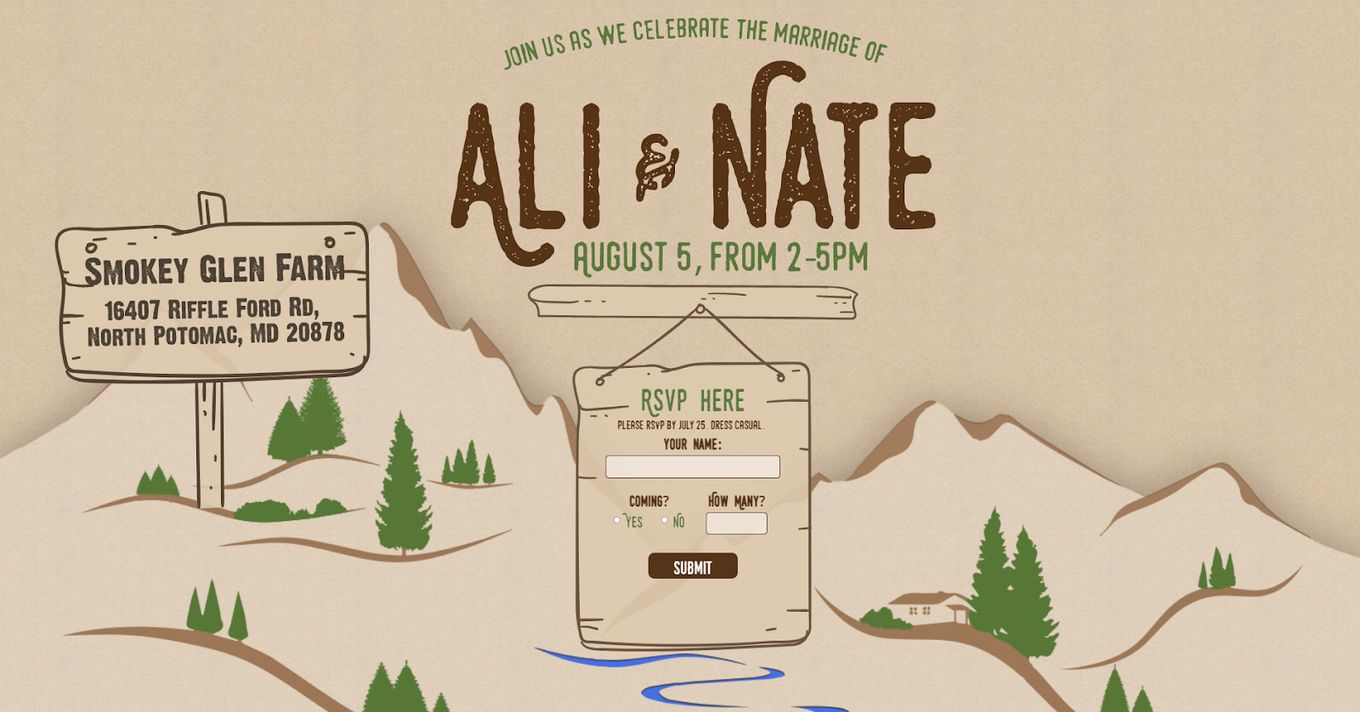 Ali & Nate's wedding website example is one of the simpler ones. All it does is offer a place for guests to RSVP while proclaiming the date and revealing the venue. It is as simple as an invitation card if printed on only one side, but it gets the job done. For this couple, simple is the best way to go.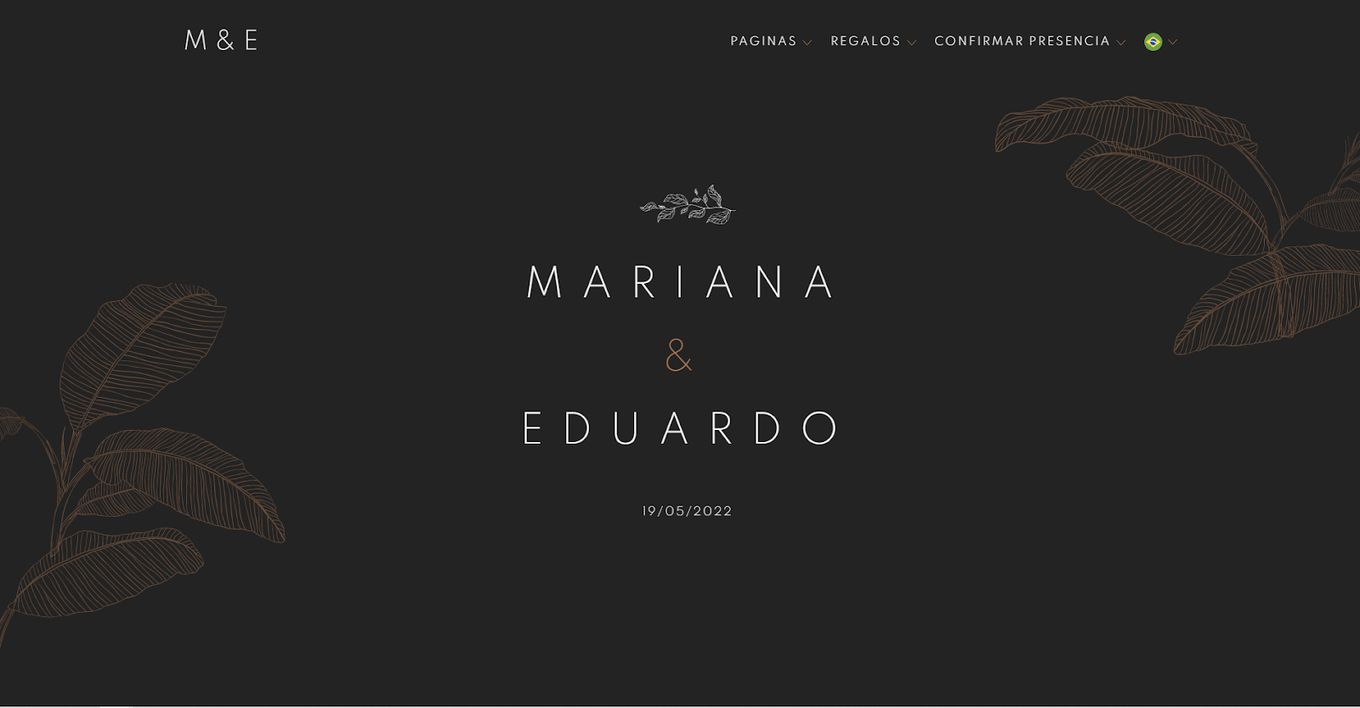 At the time of writing this, the couple's wedding has not taken place yet, so we got to watch the clock count down, an addition that many guests would appreciate and have an easy time checking. It feels like a proper website, complete with a highly populated menu that offers way more detail than any website we have seen so far. It truly feels like a rich experience.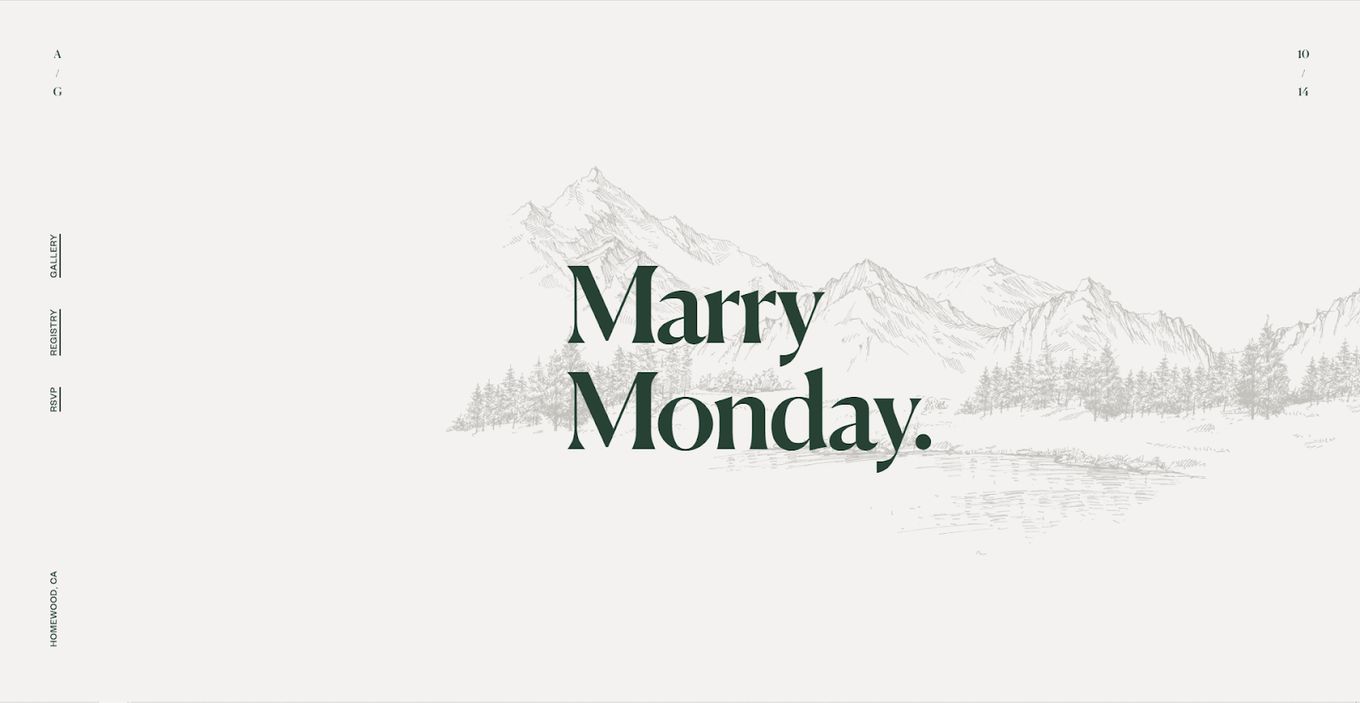 Veley and Ross's wedding website example opts for a quiet and unassuming invitation that utilizes white space and subtle artwork. What it doesn't have in vivid detailing on itself, it more than makes up for with a section on places and things to do while in the venue area, using links that lead to fun and exciting destination suggestions.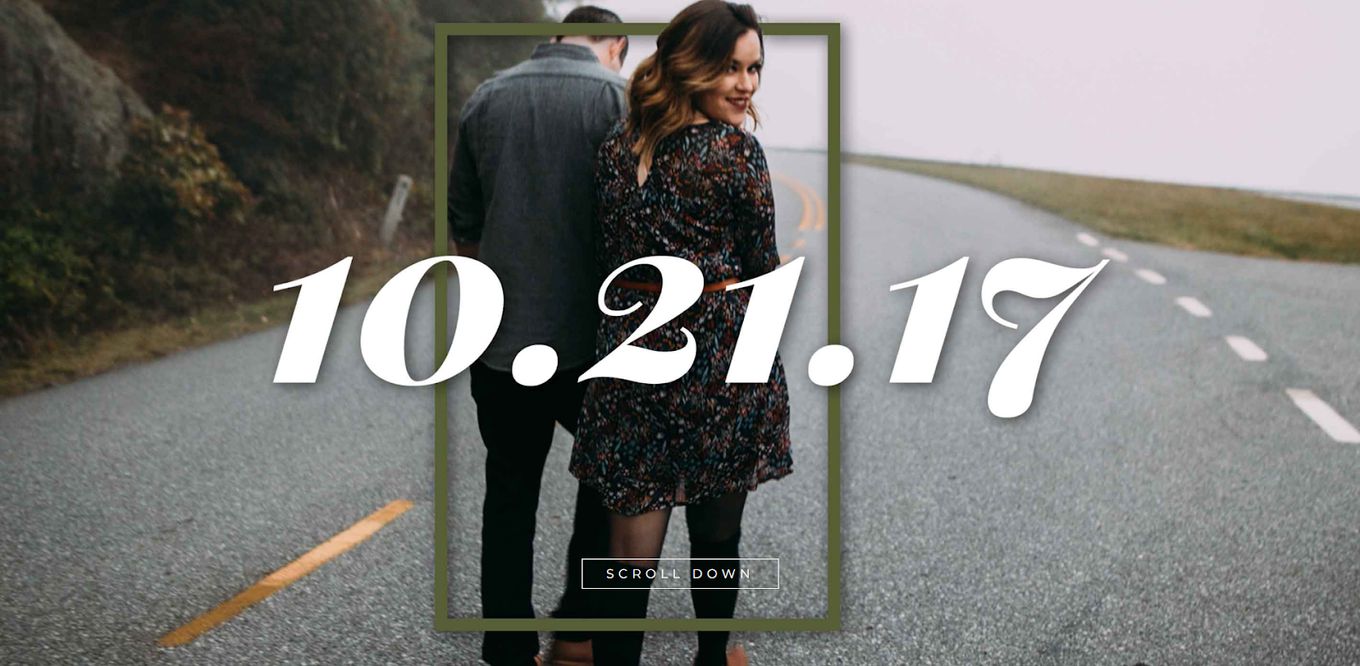 This website has the navigation game down pat! It divides the one-pager format into smooth transitions from one chapter to the next. Each chapter feels like a story making this stand out as one of the best wedding website examples we have seen. It offers information about the day, the lodging, a place to RSVP, and a warm introduction to the couple.
What Should A Wedding Website Contain?
A fully-fleshed wedding website homepage should contain:
Personal Details: "our story", the party, the gifts, and even a candid gallery.
Wedding Details: who gets married, when, where, the schedule, and contact information.
Guestlist Details: information about children, plus one and RSVP.
Location Details: dress code, transportation information, and lodging.
Catering information: consider allergies and eating disorders. And make sure to provide options for them to choose from.
Hotels information: some guests might come from other cities or countries. Make sure to provide them with a list of recommended accommodations and to try to get some good deals on those.
Other Details: the timeline, safety measures, virtual wedding information, catering, entertainment, etc.
What Makes A Good Wedding Website?
These are the elements that make a wedding website stand out:
Amazing pictures. Make sure to add high-quality pictures, they can be fun and original or professional ones.

Casual or fun vibe. You will be inviting your close friends to the celebration. Make sure to be as real and as human as possible. People know you and they want to hear you speaking to them as you would in normal life. Add a touch of humor if possible.

Add all the necessary information. There's nothing more frustrating than having a website that doesn't serve its purpose. Make sure to add all the elements stated in the previous point.

Have a beautiful and modern website. Do not try to do it yourself. Hire a web developer or purchase a template. You do not want to go cheap here. You only get married once! (or at least, that's the expectation!)

Provide a way to confirm attendance. This is essential for any wedding website and will save you a lot of calls and emails.
Related Articles
Join 2,000+ readers and learn something new every month!
Get notified about new blog posts, tips, tricks, fullPage.js news etc.
RSS feed