Smart TVs are very popular and pretty much every home will have one somewhere in the house. Apple TV is not a Smart TV, but it can turn an older TV into a Smart TV.
Apple TV is a digital media player that enables you to cast content on your TV. It is a very popular video streaming platform,
The AppleTV device comes with many apps and features, notably being able to browse the web – but it may not seem as apparent as you think, normally you think of a web browser but there is more to it than that…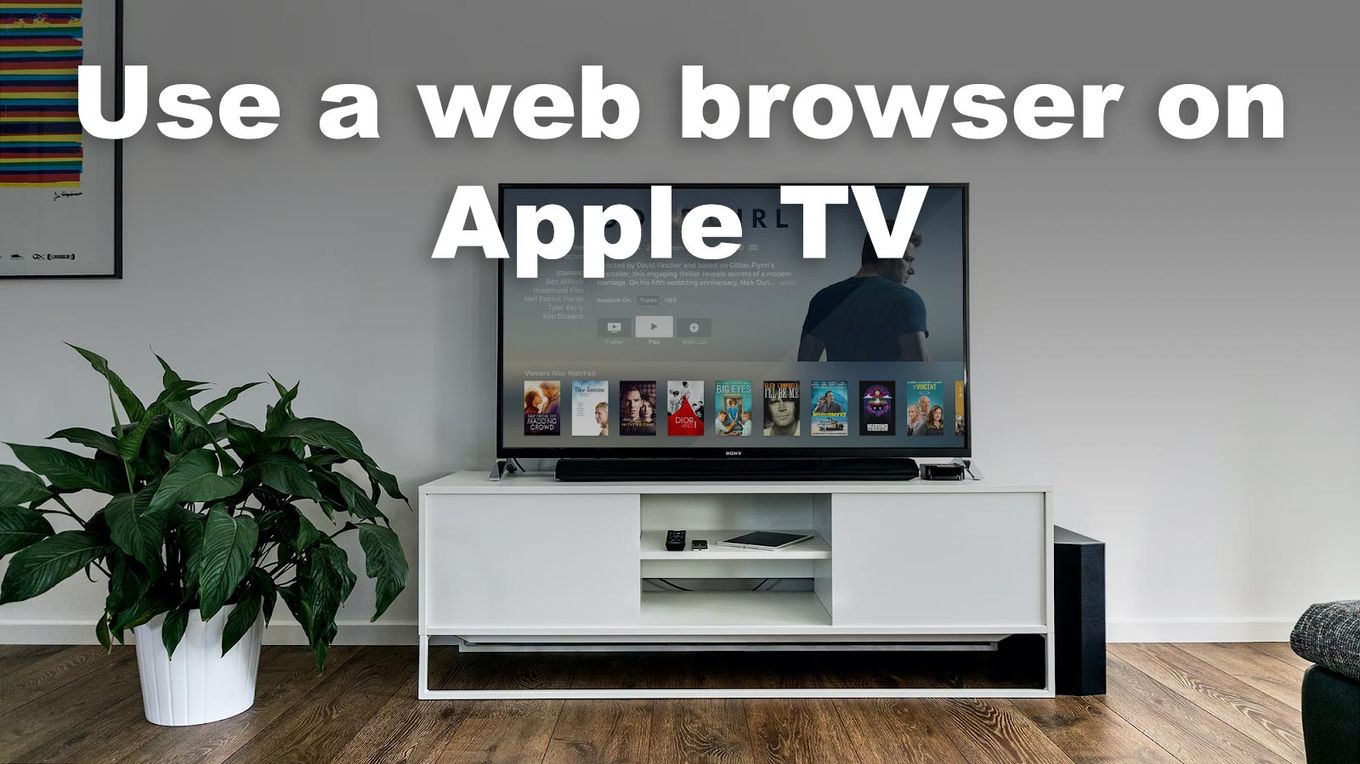 In this article, we will be exploring how you can browse the web with your Apple TV, just as if you were using an Apple TV web browser, and understand the differences compared to other smart TV platforms and why there isn't specifically a web browser for Apple TV.
Is There A Web Browser On Apple TV?
No, there is no web browser on Apple TV. You cannot use safari on the Apple TV or Google Chrome because there isn't one available on the device. You simply cannot install one at all.
But do not panic! I wouldn't have done this article if there weren't other methods to surf the net, would I?
Can I use Safari on Apple TV?
No, unfortunately, Safari web browser doesn't come installed on Apple TV and there's no easy way to install it. The easiest way to get Safari on your Apple TV is by using Airplay to cast the screen from an Apple device such as an iPhone, iPad, or any Apple computer.
If you are a tech person and want to play a bit with the code, there's a way to actually install Safari on your Apple TV, however, it won't be for everybody!
Why Is There No Browser On Apple TV?
Because Apple TV is just not designed to work with a browser. The device could run a web browser but Apple wants users to utilize their phones to connect and cast/stream content to the device itself.
Therefore, we can say that there are 2 main reasons:
It is just not convenient to browse the web via a web browser on your TV. The remote is not intuitive and it is hard to navigate with it, so the next best thing is to use your phone as the remote and the Apple TV as the display.

You can cast the web browser of your phone on your AppleTV. A browser is not made available because you can use your phone to Google things and then cast that content to the device through the Apple Mirroring feature – something which we will learn about later in this article.
So the whole idea is to use your phone as the remote and you can pick and choose content to cast to your Apple TV device. It is clear that Apple wants you to use the native apps that come with the device itself.
How To Use A Web Browser on Apple TV
So, we now understand there isn't an actual web browser for Apple TV and we understand why Apple wants users to get a better experience by using the apps provided to them and focusing on users utilizing their phones for easier navigation.
So with all this knowledge, let's go through some of the ways you can cast/stream content to your Apple TV device as if you were using an Apple TV web browser.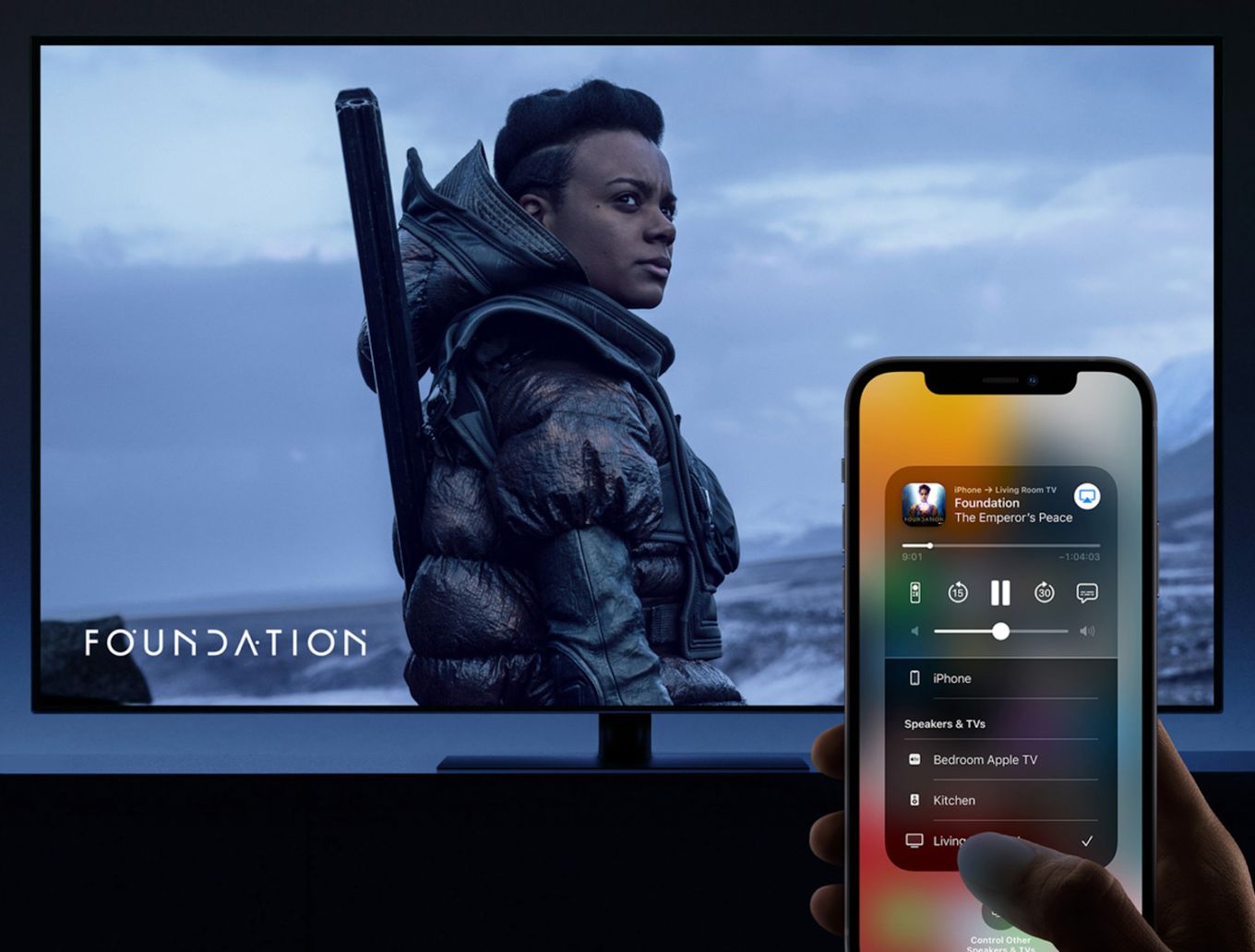 Airplay is not a web browser and it is not an App that you can download, it is called Apple AirPlay – some of the examples we will be showing, later on, are basically using this feature in the background.
AirPlay is just Apple's native casting/streaming feature you can use within apps such as YouTube or Netflix etc. You just have to find the AirPlay icon and then select your Apple TV and cast content in a few taps, easy as that.
How To Use AirPlay With Your Apple TV
Here are the simple steps you need to follow to start using AirPlay with your Apple TV via an iOS device:
Connect your iOS device to the same WiFi network. Both your iPhone or iPad etc. need to be connected to the same network as the Apple TV.

Find a video or web page you want to cast. Then look out for the AirPlay icon and tap it.

Tap the AirPlay button. Then you will see a menu that shows your compatible casting devices, hopefully, your Apple TV.

Choose your Apple TV and cast. Your Apple TV should show up in the list of compatible streaming devices, find the correct name like "Living room TV" and select it.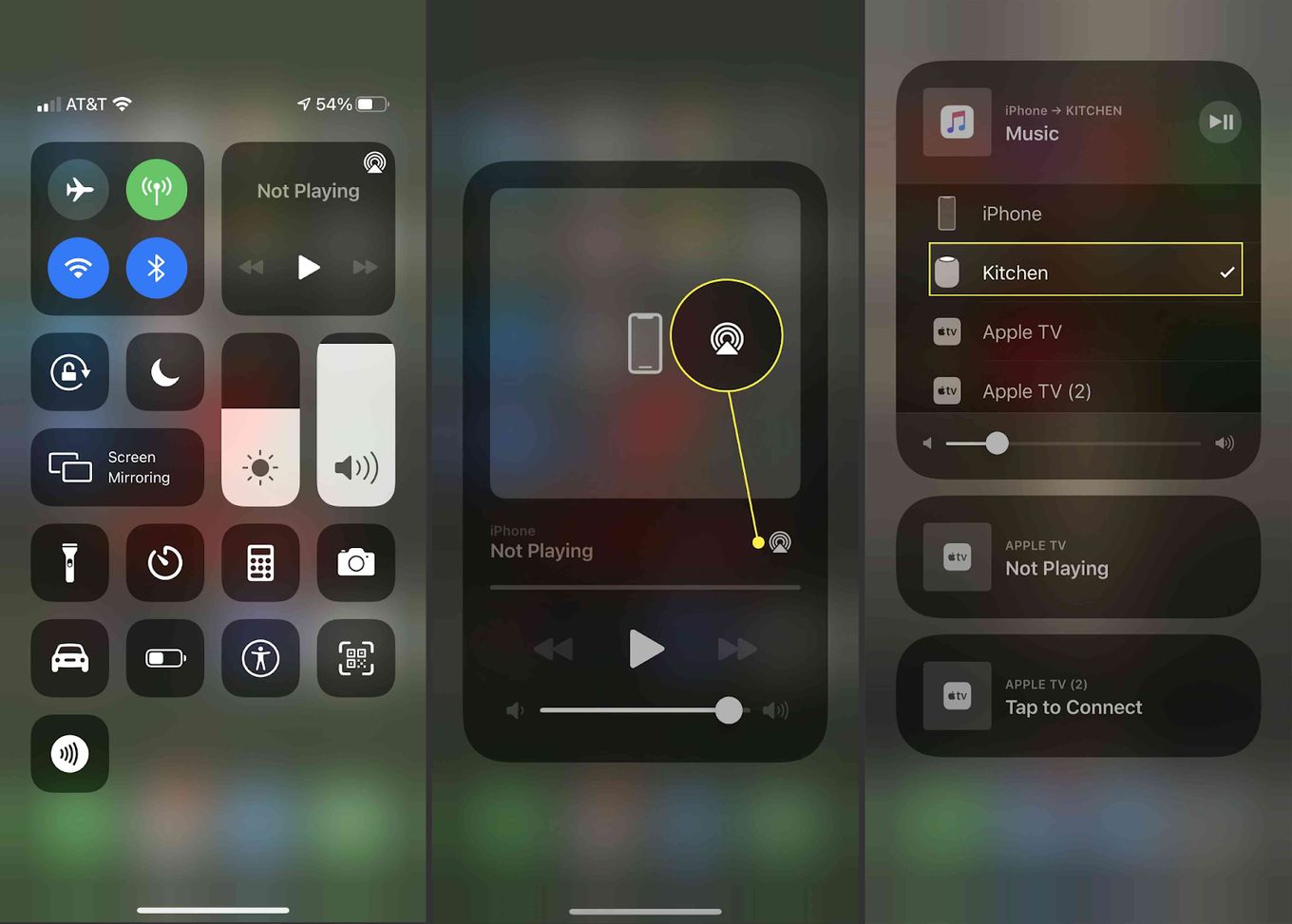 Look out for the AirPlay icon above in the apps on your iOS device, you can cast from many different apps like your Photos, the web browsers, YouTube and other streaming services, etc.
By the way, if you are not a fan of Safari, check out what are the best web browsers for iPhone so you can stream your content in the best way.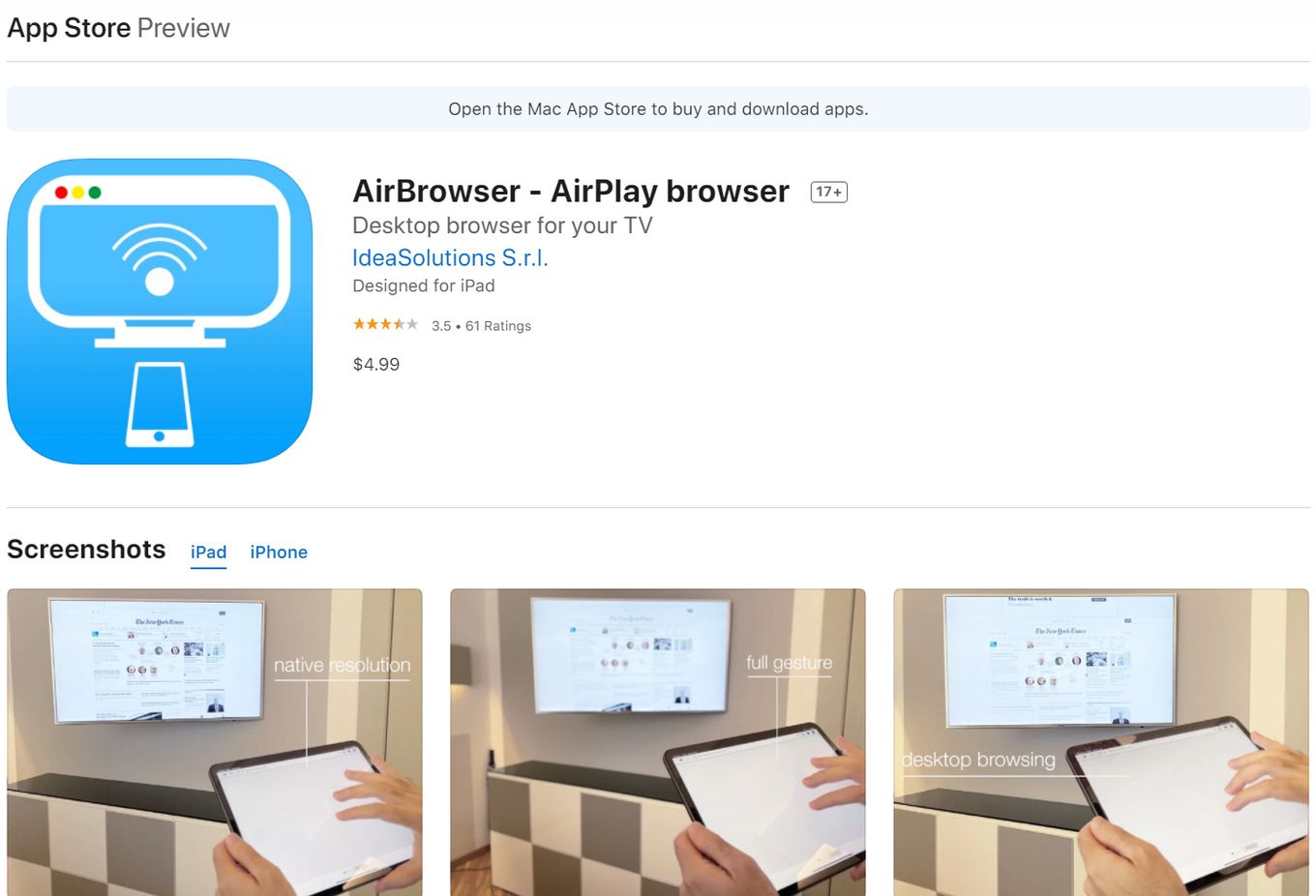 A fast and efficient way to use your iPhone or iPad to wirelessly connect to your Apple TV.
As with the other options, this one has a free trial so you can see how it works before you buy it. It has support for gesture control, pinch, and zoom and you can easily do common things like bookmarking and have multiple tabs open.
The touch on your iOS device can act as a pointer on the Apple TV and it will be just as if you were using an Apple TV web browser.
If you have a Mac, it's probably time to improve your setup! After seeing these beautiful Mac Setups you will for sure start changing yours.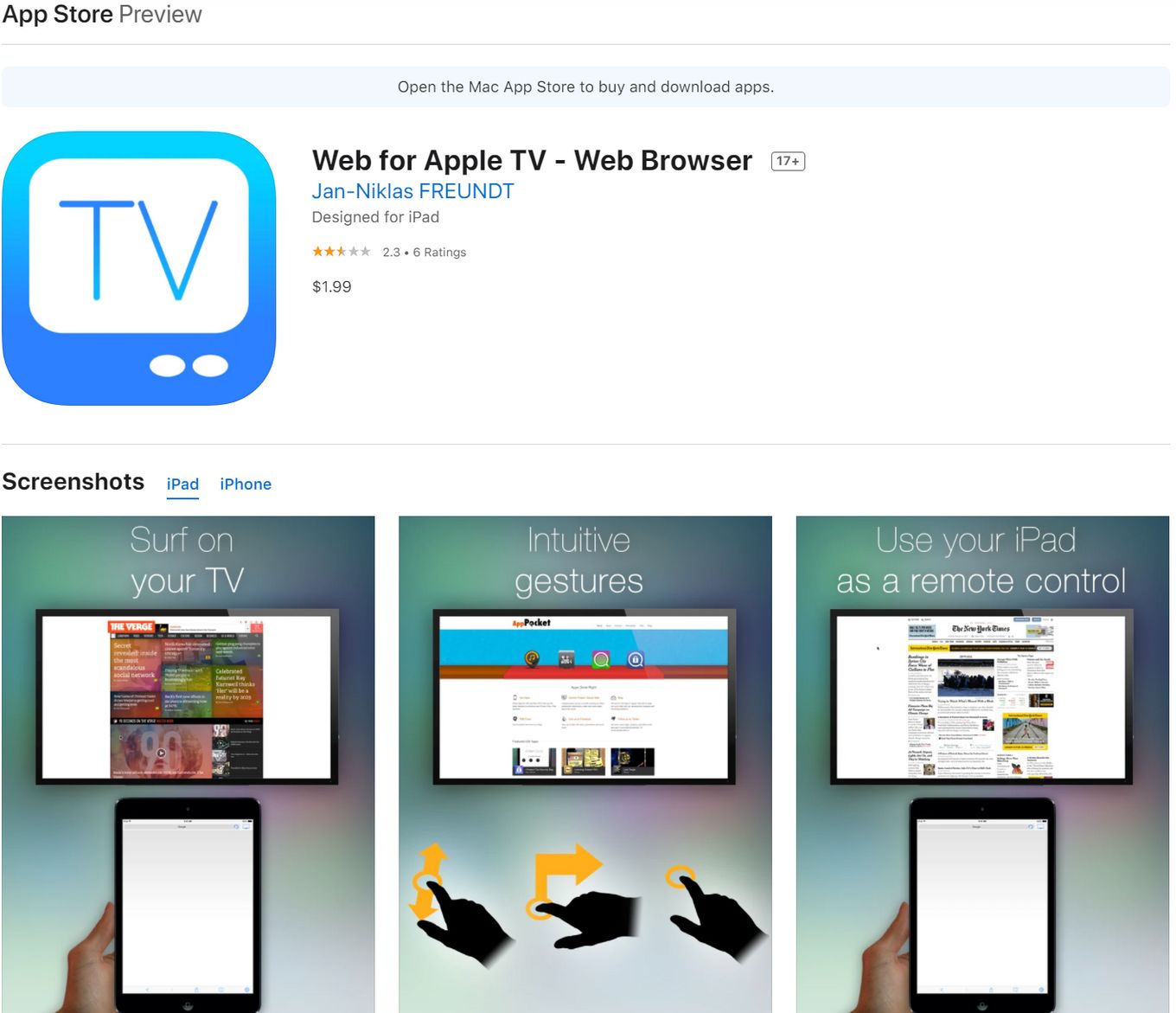 This iOS app is also installed onto your Apple device like an iPhone or iPad and turns your phone into a fancy smart controller for your Apple TV.
Another app that lets you take over your TV, this one has more advanced gesture control and better support for the iPad.
With this app, it is easy to cast videos and web pages onto the big screen and use your phone as if it were a web browser for Apple TV.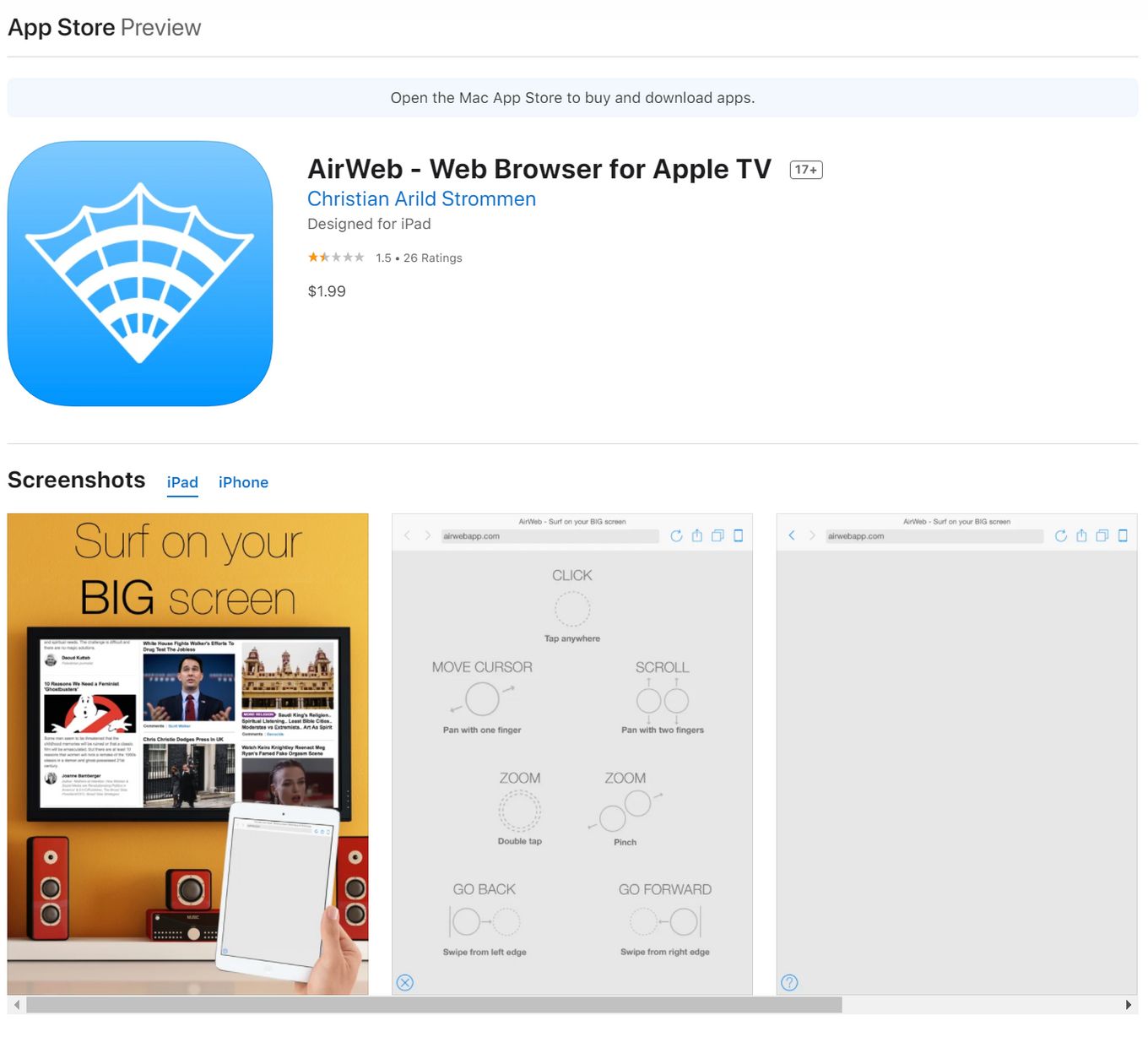 An app that you can install from the Apple app store on your iPhone or iPad device.
You can use AirWeb for a smooth and frustration-free experience on the web via your Apple TV.
AirWeb will allow you to use your iPhone as the remote control and cast the browser to your Apple TV. As long as your Apple device supports AirPlay Mirroring, then you will have no problems using this app. Turning your TV into a web browser for Apple TV from your phone.
5. HDMI cable to mirror the screen
If you don't mind using a cable or need faster response times, using the good old HDMI cable is still a way to get Safari (or any other web browser) into your TV without the need for the Apple TV.
In fact, it's a way not only to get a web browser on your TV but also to mirror anything else you want from your device. From a movie to photos, email, etc. It will duplicate the screen of your device and show it on the TV.
Ideal when casting heavy files such as movies, where the WIFI connection might have trouble transmitting so much data in real-time.
If your external device doesn't come with an HDMI connection, you can use USB-C to HDMI adapters.
Is Google Chrome Compatible With Apple TV?
No. The official Google Chrome web browser cannot be used as an Apple TV web browser. This is because Apple does not want its users to install a web browser, the whole idea is to use the built-in casting features via AirPlay.
However, Google Chrome has its own Google Chromecast device which can be used to cast content to your TV and even use your big screen like an Apple TV web browser. You can cast from the Chrome web browser via your phone or computer.
The Chrome web browser has built-in support to cast content directly from a supporting device to the Apple TV.
If you want to cast content from your Mac computer, you might want to check the best web browsers for Mac.
Clearing Up Any Confusion With Apple TV And Web Browsers
At first, it may seem very confusing or weird as to why the Apple TV doesn't have an official Apple TV web browser but once you understand the reason, it all makes sense.
A web browser is useful on the TV but the traditional TV remote is not intuitive and easy to navigate with, hence why Apple has refused to include an Apple TV web browser support and instead, focus on their AirPlay casting feature.
So, I hope this article clears up all the confusion and sets you in the right place with the 4 different methods you have, one of them should fit your needs.
Related Articles