10 Best Medical Website Design [Examples]
Are you designing a healthcare website and need the inspiration to ensure a near-perfect end result? This article carefully reviews the best medical practice website designs that you should consider.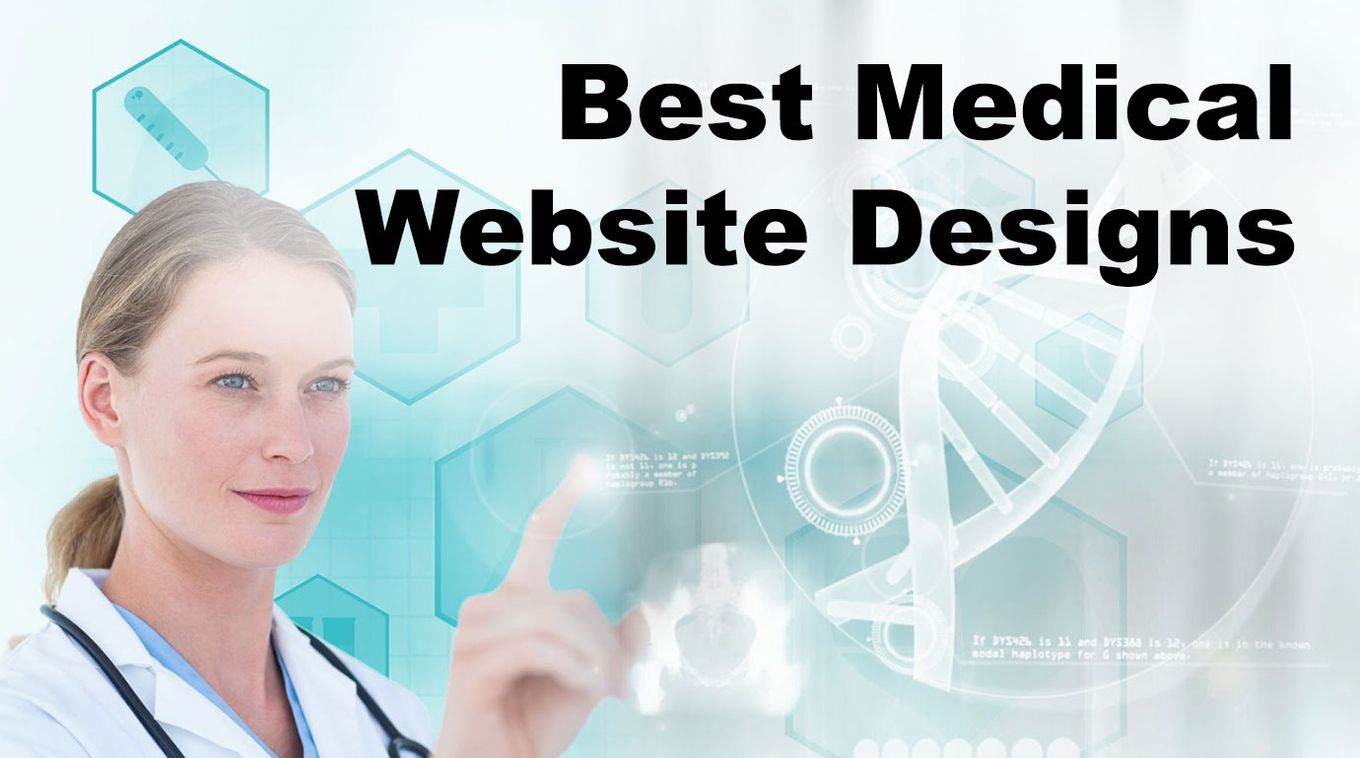 There are certain web design elements you must consider when building a medical website. Typically, the best medical websites portray authority, safety, and reliability, making their visitors (patients and potential patients) trust them even more.
Therefore, the big question is, what are the examples of the best website design for medical practice? Let's go straight into them!
The first on our list is Icarus medical website. This design offers a quite unique full-screen experience. A design that will for sure impress the visitors and provide them with easy-to-use navigation.
This cleverly chosen design makes it easy to display images and videos on full-screen and provides the visitor with a simple layout. The website looks more like a PowerPoint presentation with different full-screen sections that make the content easy to digest.
The full-screen experience is with no doubt what makes this page stand out from the rest. A great choice to provide a modern-looking website and the perfect design to showcase use beautiful images or videos.
You can replicate this effect by using fullPage.js full-screen snap scrolling component, a JavaScript component also available for WordPress editors like Gutenberg and Elementor.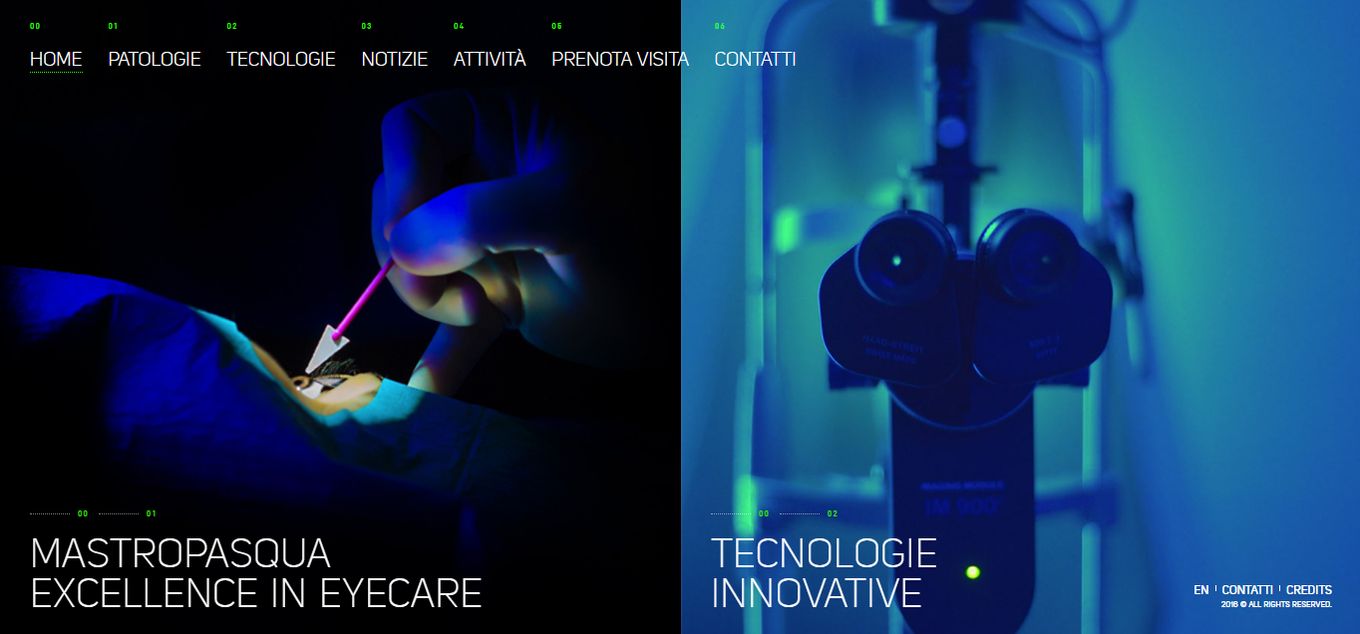 Oculistica Mastropasqua features an interactive full-background header video. This approach typically amuses visitors, making them interested in more of your content. Interestingly, the implemented video doesn't affect the website's loading time.
Learn how to create a video background using CSS and HTML to engage your visitors like the Oculistica website.
Other impressive features of the Oculistica Mastropasqua medical website design are the well-timed animations, mouse hover effects, and characterized user-friendliness.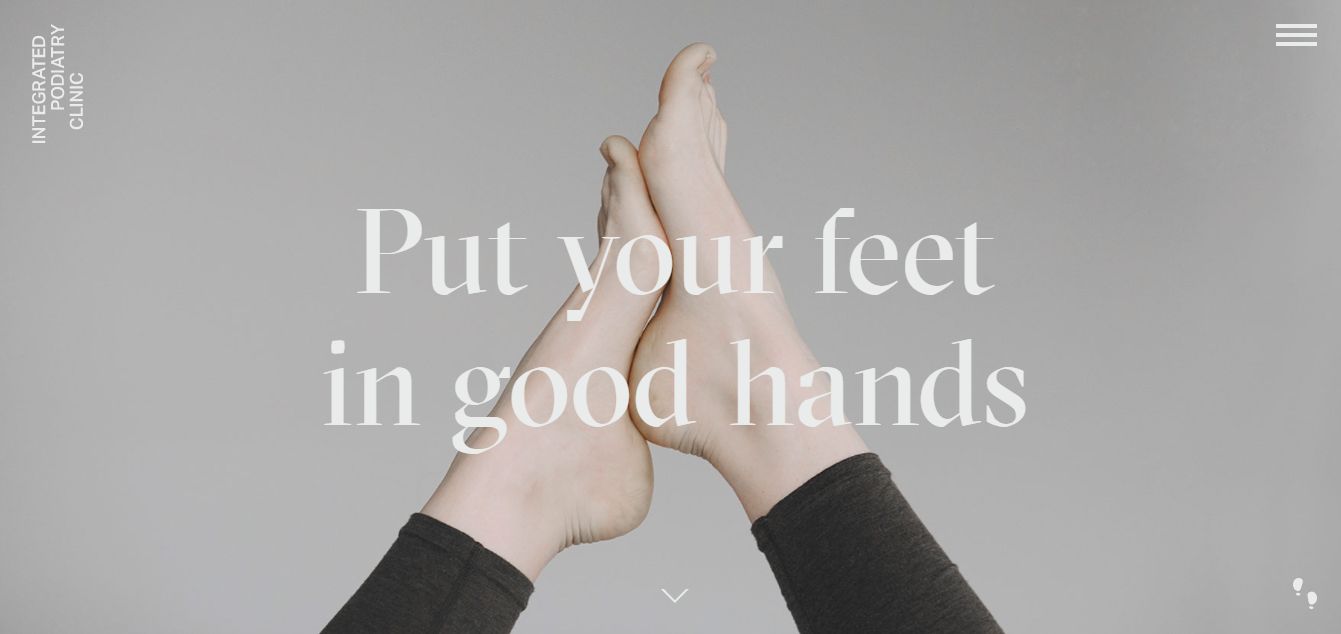 Integrated Podiatry Clinic explores a unique website design for medical practice: their use of bold and large fonts alongside minimalistic yet modern elements distinguishes the site from other medical websites. Minimalistic websites like this help generate relaxing feelings in the patient.
Check out here other top minimal website designs that will make your users feel at home!
The layout used also supports the needs of their target audience: patients obviously seek comfort, and the website layout does just that! Most importantly, the user interface is also simple and straightforward to understand, thanks to the very few navigation options included in its design.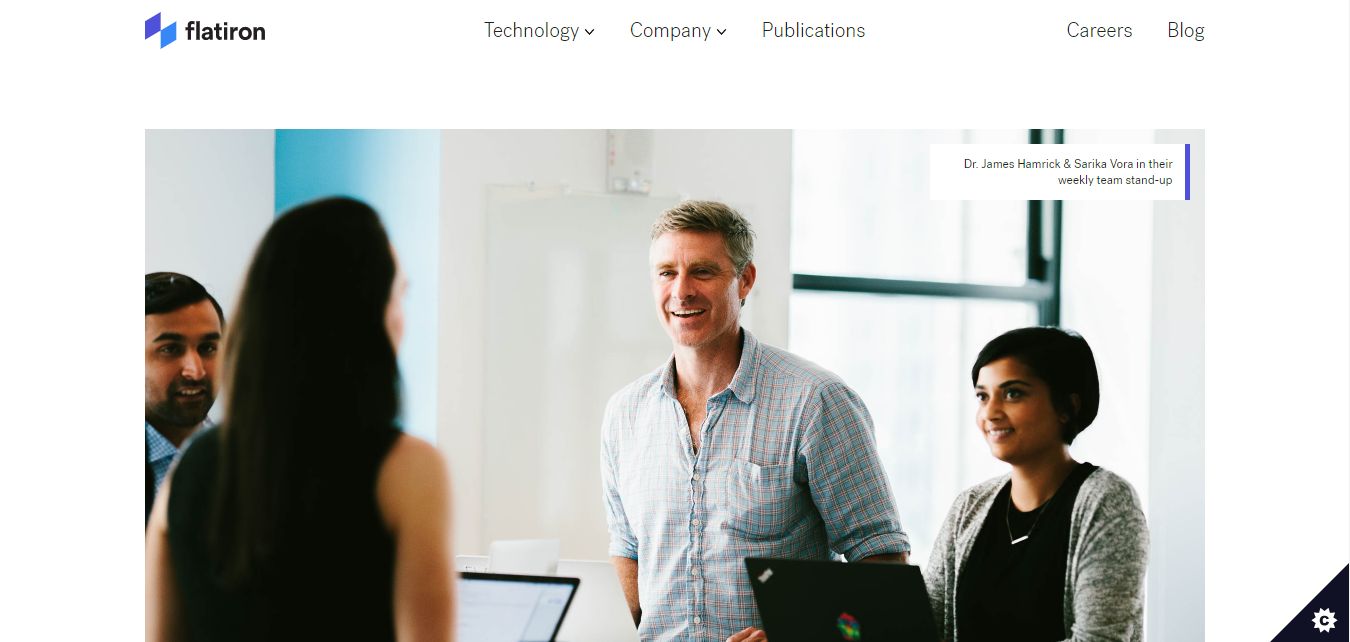 This medical practice website design employs parallax scrolling, an amusing effect that makes web navigation exciting and never dull, regardless of the type of content displayed on the website. Flatiron Health creates a balance between being stylistic and being extra and ensures they didn't cross the line.
Read this article to learn how to replicate the parallax scrolling effect using CSS only on your website.
Their smooth and clean design complements the stylistic homepage layout – this approach is typically employed to make your visitors dig deeper into your site. Generally, Flatiron Health's website appears professional and convincing, capable of grabbing visitors' attention at first glance.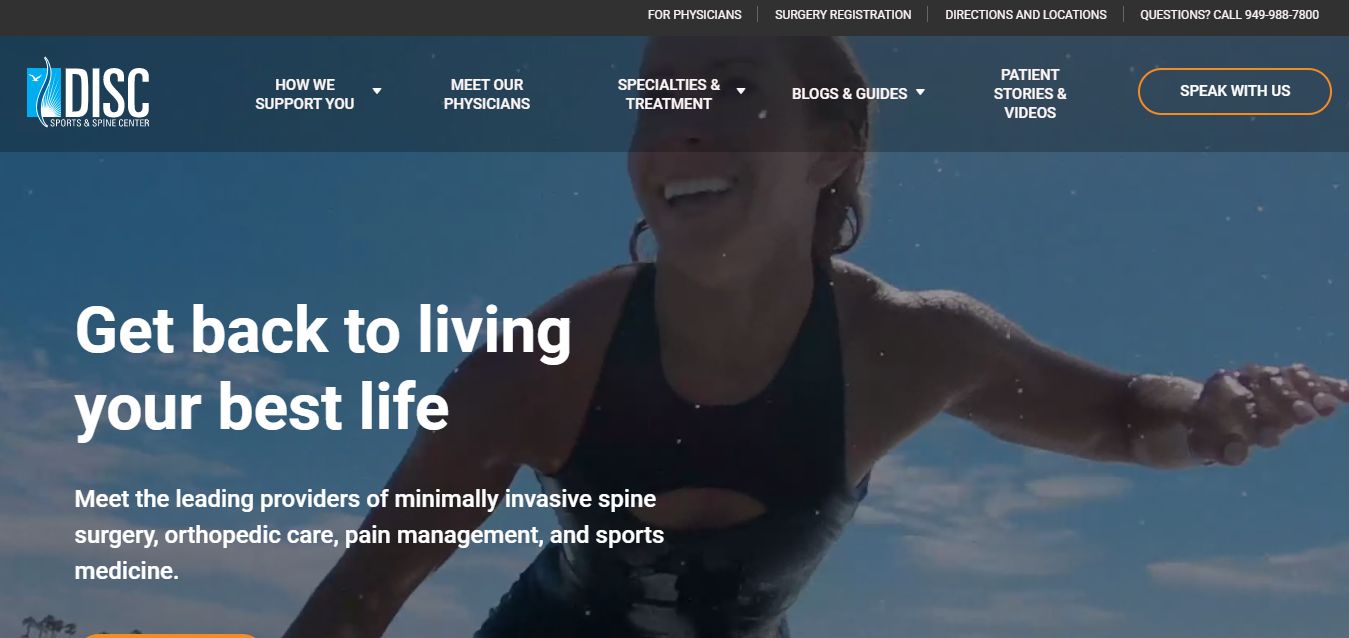 This is a clean and easy-to-follow medical practice website design. The Disc Sports & Pain Center focuses on using interactive videos to communicate with its target audience. If you offer a defined medical service, the web design approach used in this website is strongly recommended.
From their layout, this medical center has streamlined the type of patients they treat. The brilliant use of whitespace and blue text color is also noteworthy, making a memorable statement of their hospitality, reliability, and calm approach to treating their patients.
The website layout allows room for multiple ad copies, making it ideal for lead generation, too.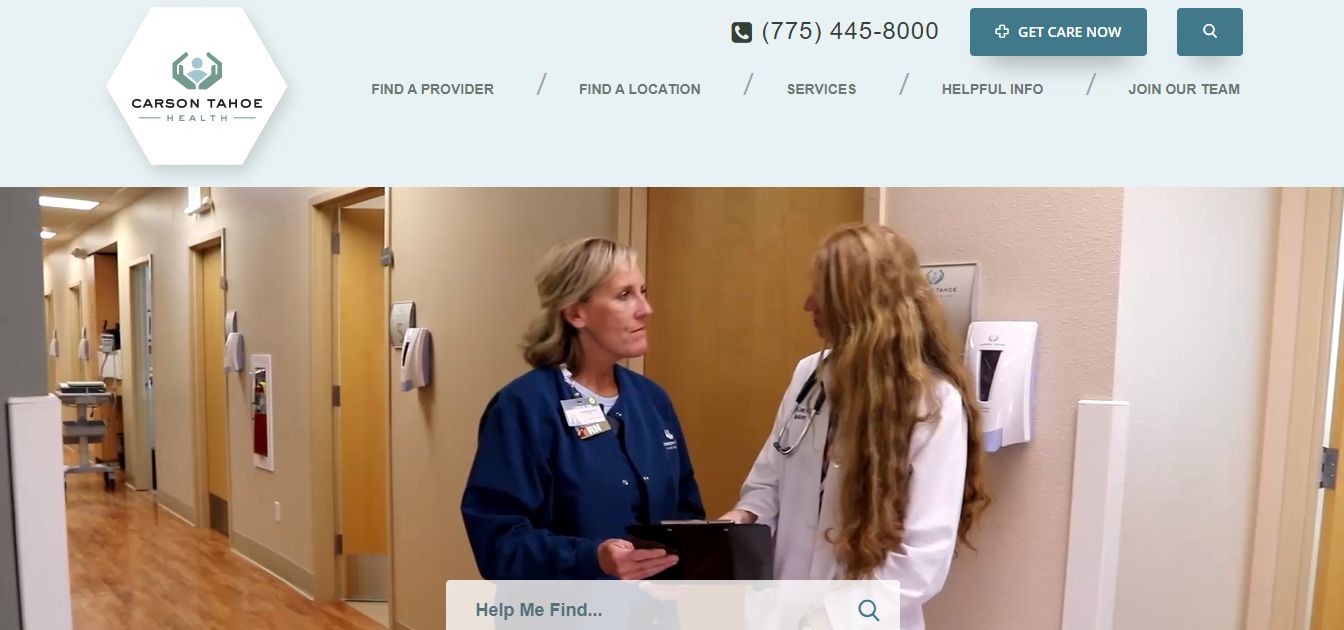 The Carson Tahoe Health website design for medical practice features hospitality-related colors, a clean design, and innovative videos, making the site engaging and pleasurable to visit. The use of muted core colors, images with color overlays, basic shapes, and multi-colored icons significantly contribute to the excellent user experience this medical website offers.
Also, the Carson Tahoe Website is easy to navigate and use. It helps their visitors find the nearest location for medical care and how to get there.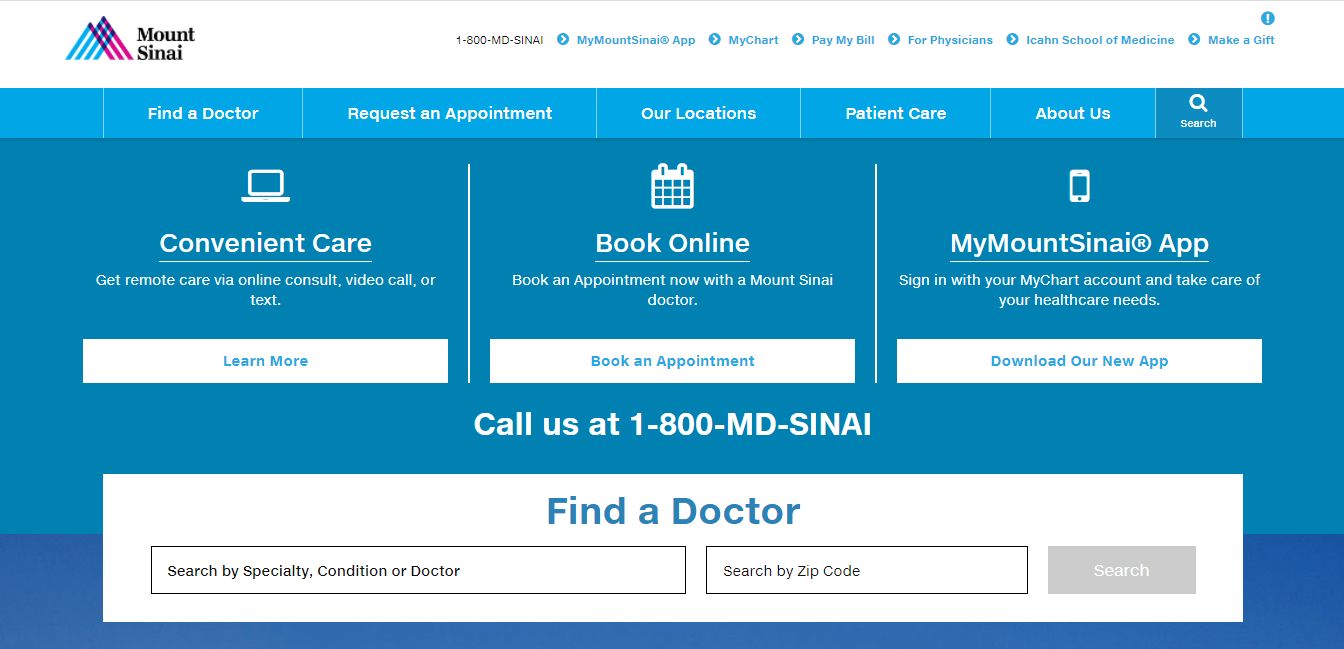 The Mount Sinai website is another excellent choice for any medical practice website design. This website explores a white background to set the mood for its users. Interestingly, white is typically associated with the hospital environment – so their use of whitespace appropriately prepares visitors for what to expect on the site.
Mount Sinai also features a sparing tint of blue, complementing the dominant white background color. This represents reliability, calmness, and serenity, major properties a medical website design must include.
Apart from the brilliant use of color, this medical website also includes an easy-to-navigate and easy-to-understand user interface, making visitors find what they are looking for as quickly as possible. This includes finding a doctor, making payments, etc.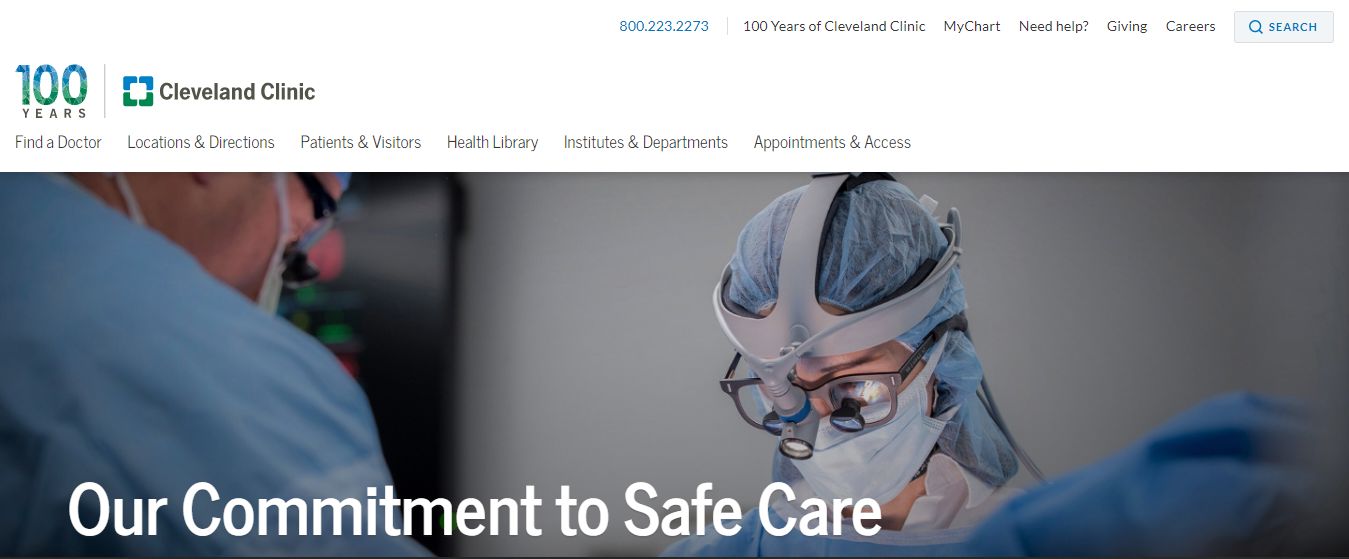 Like Mount Sinai's medical website design, Cleveland Clinic also employs the same white and blue choice of colors. However, unlike Mount Sinai, it also includes an addition of green to create a somewhat soothing effect to grab visitors' attention very quickly to engage their website. Green is also associated with growth, good health, and wellness.
Related article: Examples Of Great Wellness Websites
The typography used for Cleveland Clinic is worthy of mention. It gives the website a professional and assuring look that would make potential patients believe they are in the hands of trusted and reliable medical professionals.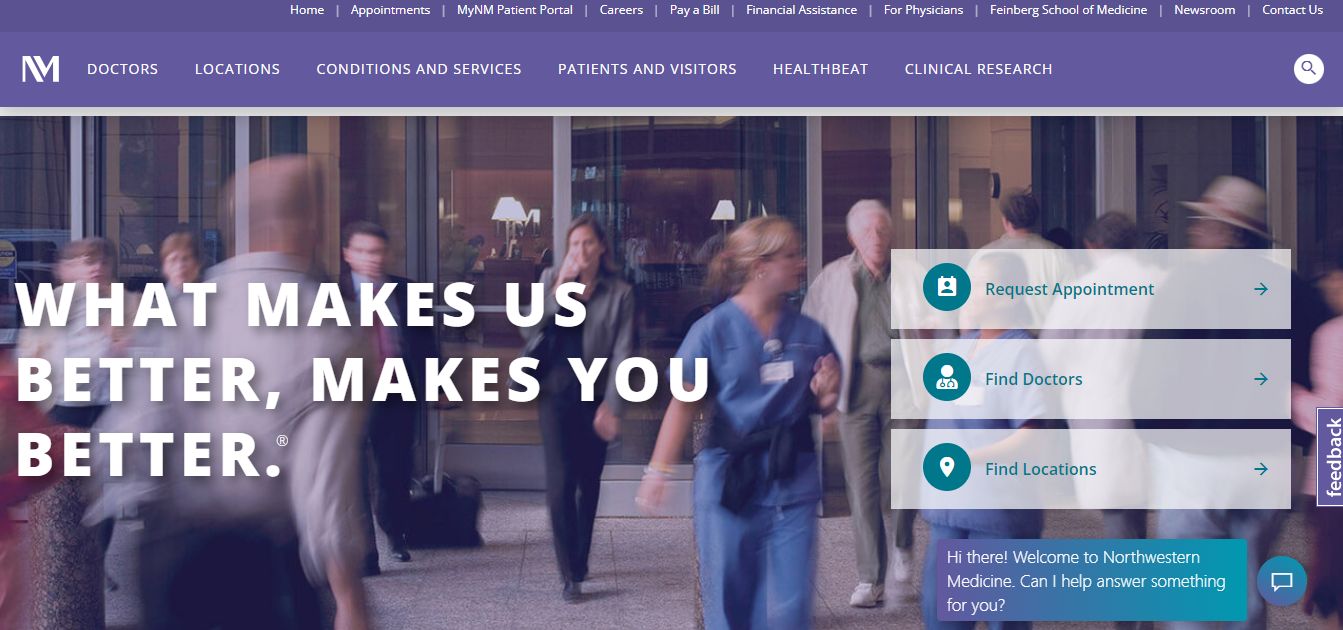 Although featuring a relatively simple website design for medical practice, the Northwestern Medicine medical website design portrays brilliance. The medical website shows simplicity and creativity, creating a charming effect on visitors to become their patients – this design is recommended for lead generation.
Their color scheme is also unique: a combination of white and purple depicts royalty and bravery, letting potential patients know that they aren't only focused on ensuring your overall well-being and take pride in our quality-of-service delivery.
Northwestern Medicine's website is easy to navigate, thanks to the fixed header design, clean design, user friendly, and also includes a direct layout, pointing visitors to what they should do on the page.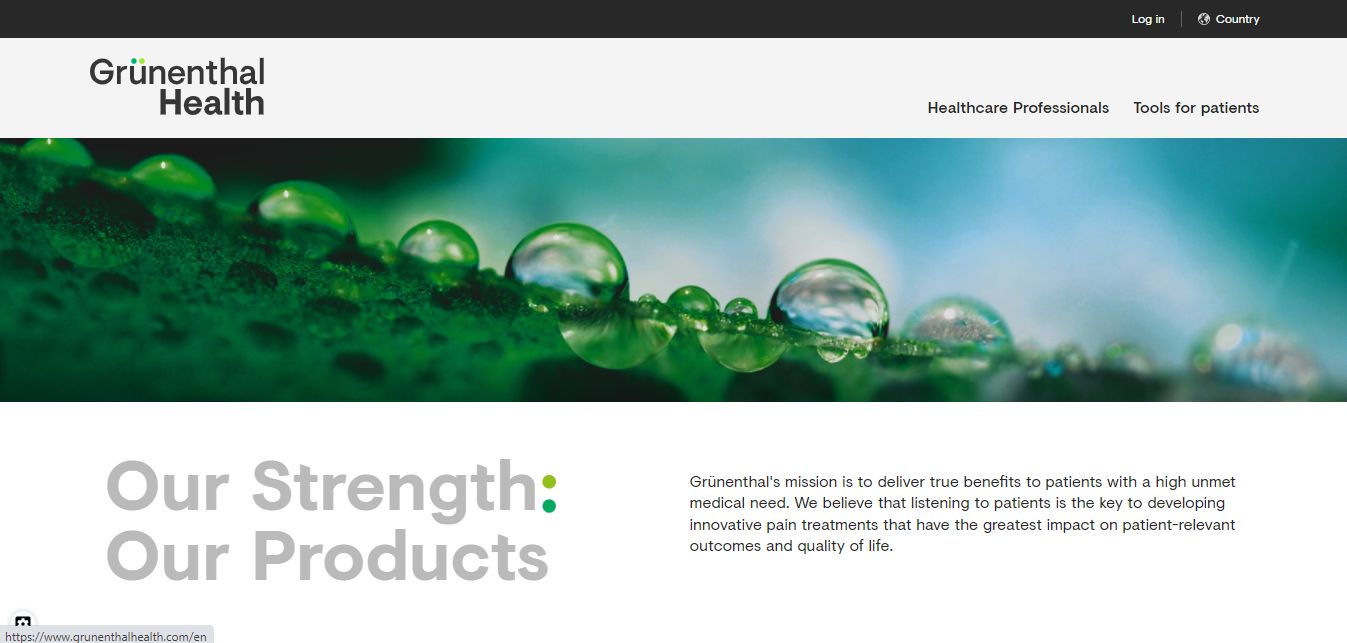 The last on our list of the best website design for medical practices is the Grunenthal Health website. This website features an extremely simple and minimalistic design, perfectly combining whitespace and textual content without risking the monotony of readers.
The light-gray solid background explored in the header and footer section of the website also creates a somewhat attention-grabbing effect for visitors to delve even deeper into the site's subpages.
Grunenthal Health's medical website design proves that minimalism in design doesn't translate to boringness.
How To Create a Brilliant Website Design for Medical Practice
The best way to create a brilliant medical website is to ensure the following features are included in your design:
Clean and modern design elements. Keep your design elements clean, clear, and well organized. Brilliant use of white space and other modern design elements, such as hamburger menu, clean and bold typography, strong color palettes, hero images, etc. are good solutions.
Easy navigation and search functions. Another important part of a brilliant medical website design is its navigation functions. Understand that a sick person wouldn't want to struggle when finding information on your website...
Engaging and interactive layout. An interactive website layout typically encourages better visitor engagement and, of course, in the long run, lets you reach your conversion goals.
Responsive design. Responsiveness ensures your website fits perfectly into all screen types and sizes. Making your medical website design responsive ensures an excellent user experience on all devices**.**
The medical website design examples reviewed in this article illustrate the guidelines an excellent website for medical practices should follow. Generally, your medical practice website design should combine the features discussed above.
One way to achieve all these features is using a theme or a library that helps you create your website. For example, fullpage.js would help you create a responsive one-page website, clean, modern, and easy to navigate through.
Apart from impressing your users, it will also help you save time, ensure perfect and desired results, while adding brilliant scrolling effects to your site. Check it out!
Conclusion on Medical Website Designs
Sadly, several private hospitals have unattractive and uninformative websites, consequently costing them potential patients.
We don't want you to fall victim to this same website design for medical practice errors; we hope the top 10 medical website design examples explored in this article will help you find the perfect inspiration for your website.
Noticeably, the medical website designs mentioned here focus on the brilliant use of whitespace, user-friendliness, easy navigation, alongside other design philosophies that makes them top and worthy of replication. Did we miss anything out? Don't hesitate to share with us via the comment section.
Related Articles
Join 2,000+ readers and learn something new every month!
Get notified about new blog posts, tips, tricks, fullPage.js news etc.
RSS feed