One Page Website VS Multiple Pages [ Which is better ]
Go trendy or traditional? Content-packed or minimalist? One page versus multi page website design, which one should you use? This may look tricky but with better understanding, you will be able to maximize your page design according to how you want your website to work for you. Like with other things, design should be aligned with your purpose.
I like small and cute cups but since I love gulping down coffee, I prefer gigantic mugs (yes, exaggerating a bit here, lol). It should be the same with building and designing your website. In this article, we will discuss the advantages and disadvantages of one page websites vs multiple pages design for you to know which one you should use.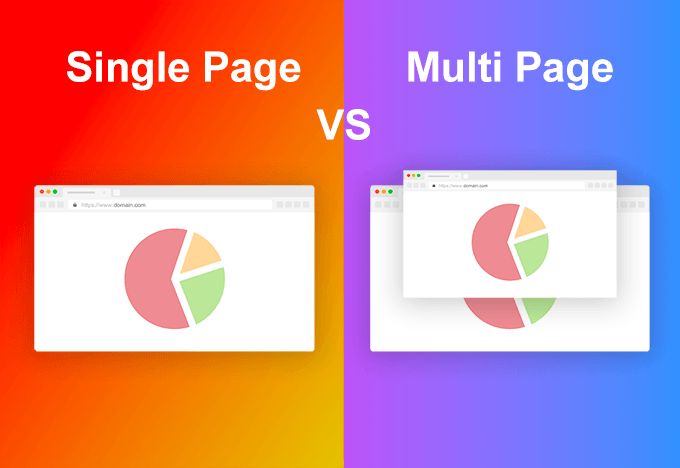 One Page or Multi Pages Website?
Before hopping into designing or updating your website style, you can start by asking these questions first:
What is the purpose/ goal of this website?
What will be the contents of the site?
How will you make navigation easy for your users?
How will you make the site informative and beneficial to your visitors?
Now, let's understand one page website vs multiple pages designs.
One Page Design
A single page website contains only one HTML page, with no additional internal pages or links. From being able to tell a story to its fluidity in navigation, let's see what else it has to offer.
Pros
Straightforward and Clean - The simplicity and modernity of single page designs can be used to your advantage by drawing attention and interest from its visitors. Also, since it is more fluid, navigation is easy, users just need to scroll up and down to see everything. You can even customize scrolling effects. Single Page websites are less cluttered so it promotes focus. With its narrow view, you can maximize promoting the single goal you have in mind. When combined with the proper elements, you can motivate your customers/ visitors to respond to your Call To Action. This has been proved by many through a higher conversion rate.

Works Great for Mobile - Aside from looking good on any device, the simple, uncluttered UI makes Single Page design very responsive on mobile browsers and easier to navigate. No need to go back and forth pages, which is not really enjoyable when you are browsing on your phone.

Simpler to Develop and Maintain - Trust the numbers: fewer pages, less design, and maintenance work needed. Websites with a Single page design will also have less content to update.
Cons
Not SEO-Friendly - As previously mentioned, Single page websites have less content, which is not very helpful with Search Engine Optimization. You will not be able to maximize the use of keywords so it will be very challenging to do that. Plus, you only have one URL link to work with, which affects Google Analytics and the number of times your page will appear as search results.

Limited Scalability - If you are seeking to grow your brand or business, it will be hard to expand a website using a Single Page design. You may want to add more words, content, or sections, but visitors will unlikely scroll through the end of a very long page.

Navigation - This may still vary from case to case. As I have mentioned before, browsing a single page website on mobile may be easier, but some users/ visitors may find it hard to navigate or even annoying especially if they have to go back to the top to view the menu. Recommendations are to put Back to Top links for this matter.
Best for:
- Landing Pages
- Event Promotion
- Portfolio
Examples Of Single Page Websites
Multi Page Website Design
One page website vs multiple pages design: if you have a wide variety of products and content you need to put on your website, a multi page website design should be your go-to. There is a reason why, though Single-page designs have become very common nowadays, many still opt to use the traditional/ multi-page layout. You may put different links and sub-pages which can be easily navigated through the Main Menu, so even if you have tons of information you need to put on your website, it will still be organized and not look cluttered.
Pros
Unlimited Scalability- If you need to expand your business and/ or services, there are lots of pages (or just add more pages) to place your content. There is no limit to growing your website in size.

Familiar and Easy to Navigate - Since it has been around for some time already, a multi page designed website is more familiar to users and can be easily navigated through the header menu.

Powerful SEO Capabilities - If you are aiming to optimize your website through keywords and/or long-tail keywords, a Multi page design is surely the one for you. You may put different SEO-driven content on different pages. There is literally more room for you to play with so this is obviously an advantage over using single page design. You also have lots of pages that may show up on Search Engine Results Pages.
Cons
Requires More Maintenance Effort - There are more pages and links to maintain, so there is more work that needs to be done to maintain multi page websites. If you need to rebrand, you have lots of pages to update.

Bounce Rate - Attracting visitors is one thing, and keeping them is another. If not maintained properly, too much content can be cluttered to the audience and may cause confusion to some. To counter this, you need to make sure to keep your target audience engaged by producing quality content.

Harder to adapt to mobile - Multi-level menus are not very fun to navigate with when using mobile. Yes, it will work out, but not be very much enjoyable to visitors. Another way is to make a different layout to use for the web and for mobile, but again, it is more time-consuming and costly, and you need to watch out for design consistency on both platforms.
Best For:
- e-Commerce
- Reference/ Resource Websites
- e-Learning Websites
Examples Of Multi Page Websites
Conclusion
As we can see, there is really no definite answer as to which one is superior or better. In the end, the choice between single page or multi page design is really up to you and depends on the kind of website you want to build. You need to thoroughly consider what you and/or your business goals are, and what your website will be for. Think of how you want your visitors to use and enjoy it and how your website will stand out.
If you want to create a single page design, you can consider using components like fullPage.js if you are looking for a power-point/slides kind of website. They can have a great impact on your visitors and, when used wisely, can result in a beautiful and simple-to-navigate website.
Related articles
Join 2,000+ readers and learn something new every month!
Get notified about new blog posts, tips, tricks, fullPage.js news etc.
RSS feed