10 Most Used Types of Websites [With Examples]
There are over 1 billion live websites on the internet today, a whole range of different types of websites and communities surrounding them.
Each website provides value and content towards a specific area on the internet, not all websites are created equally - Different designs and layouts are used to attract different types of audiences, something which we will learn about in this article.
With all the different types of websites out there, they are following different styles, structures, website layouts, and formats - Let's introduce you to some of the best types that we can pick apart and find the best one for you.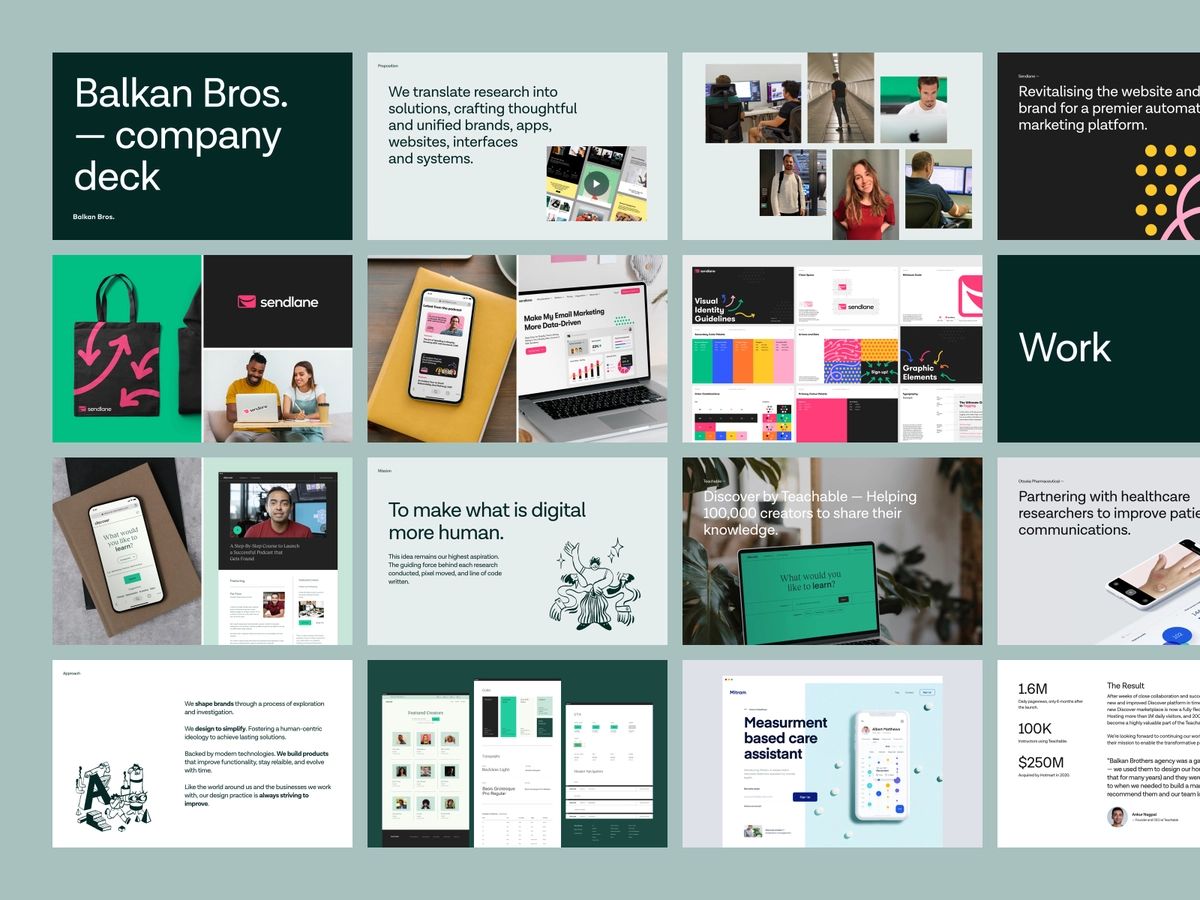 Different Types of Websites & Designs Examples
To get a quick overview of what to expect, here are our top 10 best types of websites and with examples:
Each different type of website allows us to explore them and understand what makes them good for the purpose they have. These are some of the most popular and amazing designs and layouts used today.
1. Landing Pages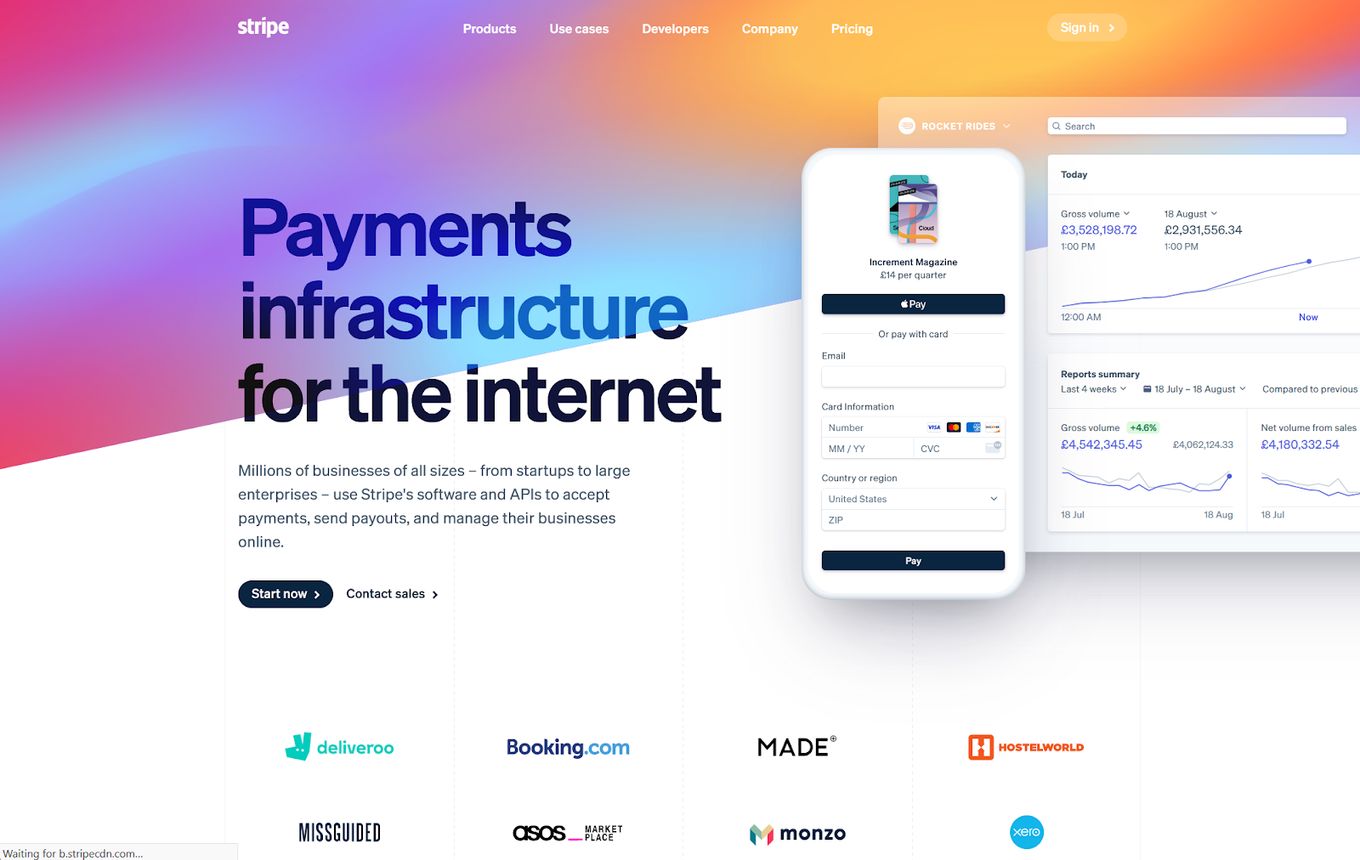 Landing pages are the first type of website we will explore. A landing page is what users see the first time they access a website. It is very important because it will determine if they stay or not.
One of the most famous websites that have a gorgeous landing page is the Stripe website - Within the software and financial world, this website is well known for its amazing design and layout.
The design is very exciting and interesting to look at, with lovely use of colors and a minimalist feel as well.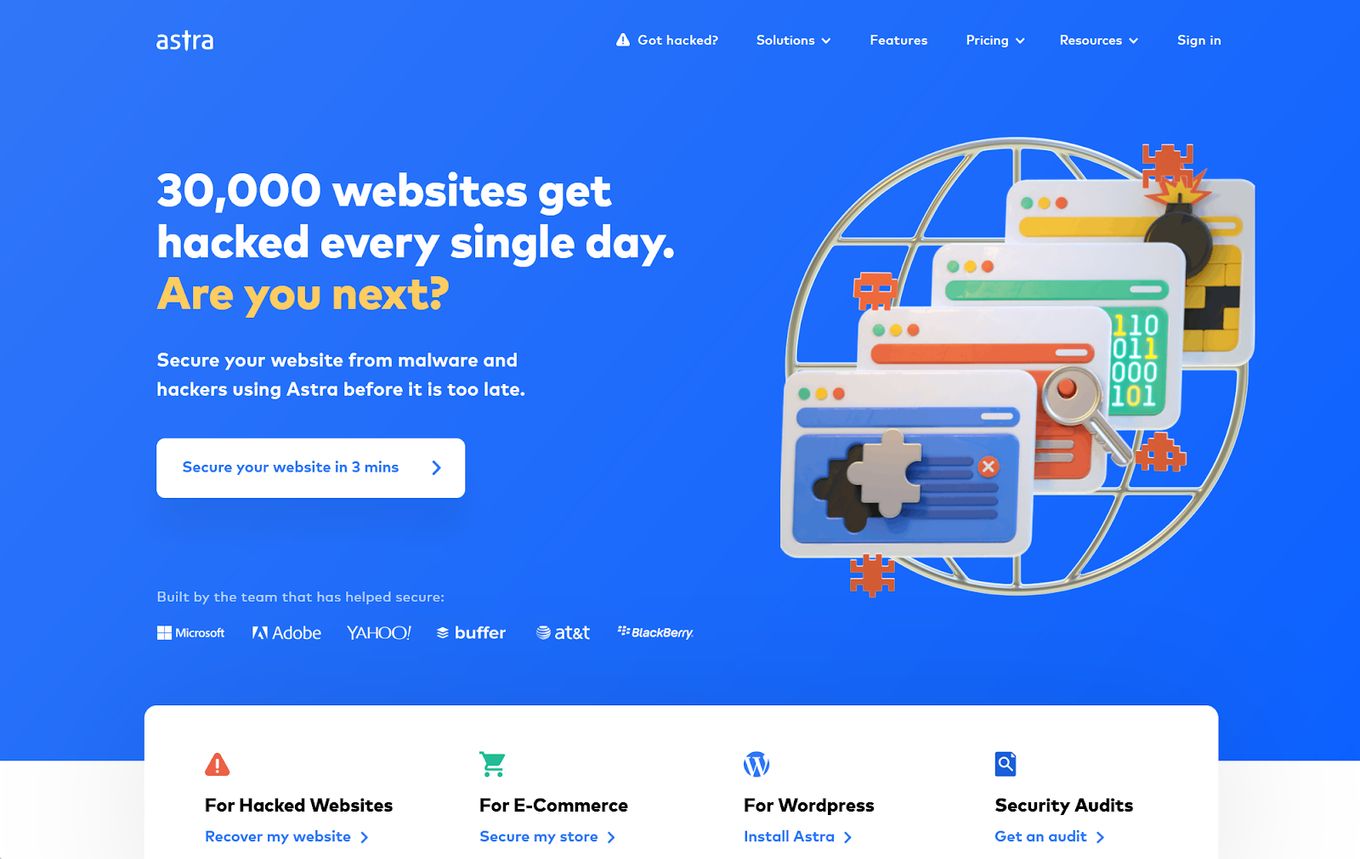 Another example of a beautifully made landing page, it follows the best standards when it comes to this type of website - We have some simple headings and the main CTA (Call To Action), something to guide the user.
The landing page is so important for any service or product landing website. Users see much every day, so make sure yours stands out for your specific audience.
If you are looking to create an amazing and interactive landing page to really wow your users, you have to try fullPage.js or check the list of free and paid landing pages for WordPress!
FullPage.js is a JavaScript library that you can use to create impressive full-screen websites, something that will work really well for a landing page. With its many extensions, you can surely build something unique. And it is also available for Elementor and Gutenberg!
2. Blogs
Personal content is always interesting and lots of people around the world have hobbies, careers, sports, or projects that they write about online. This is the type of website you need if you want to express yourself and share your ideas - this all comes with some amazing designs as well, just like this exact website!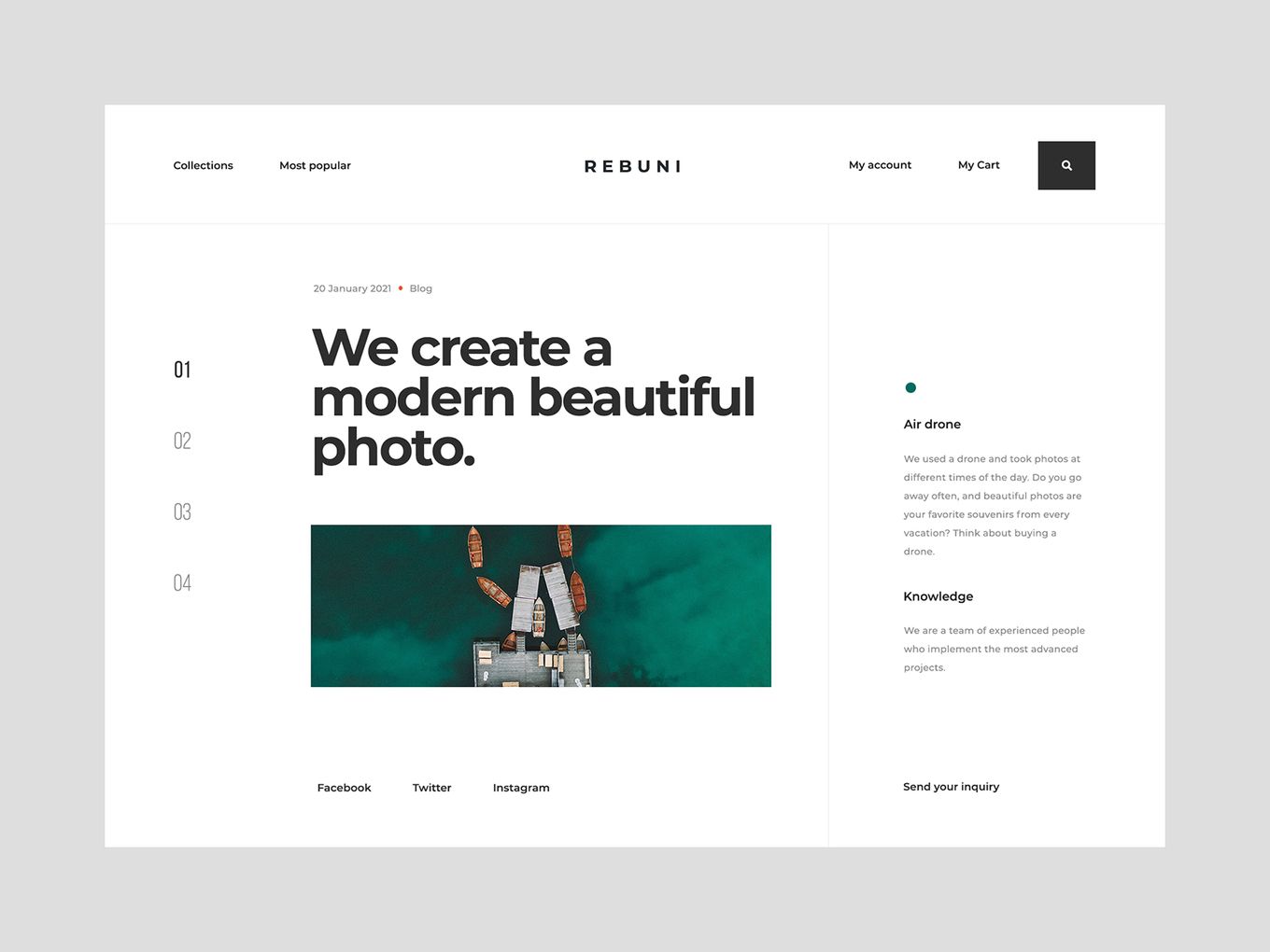 Software developer blogs are very popular on the internet and this one is a great example of a successful design. It displays so many good features, the layout is in the style of a code editor like Visual Studio - In the center we have the open file, the left side is our navigation, and the UI buttons are on the far left. This design speaks well towards developers and software people.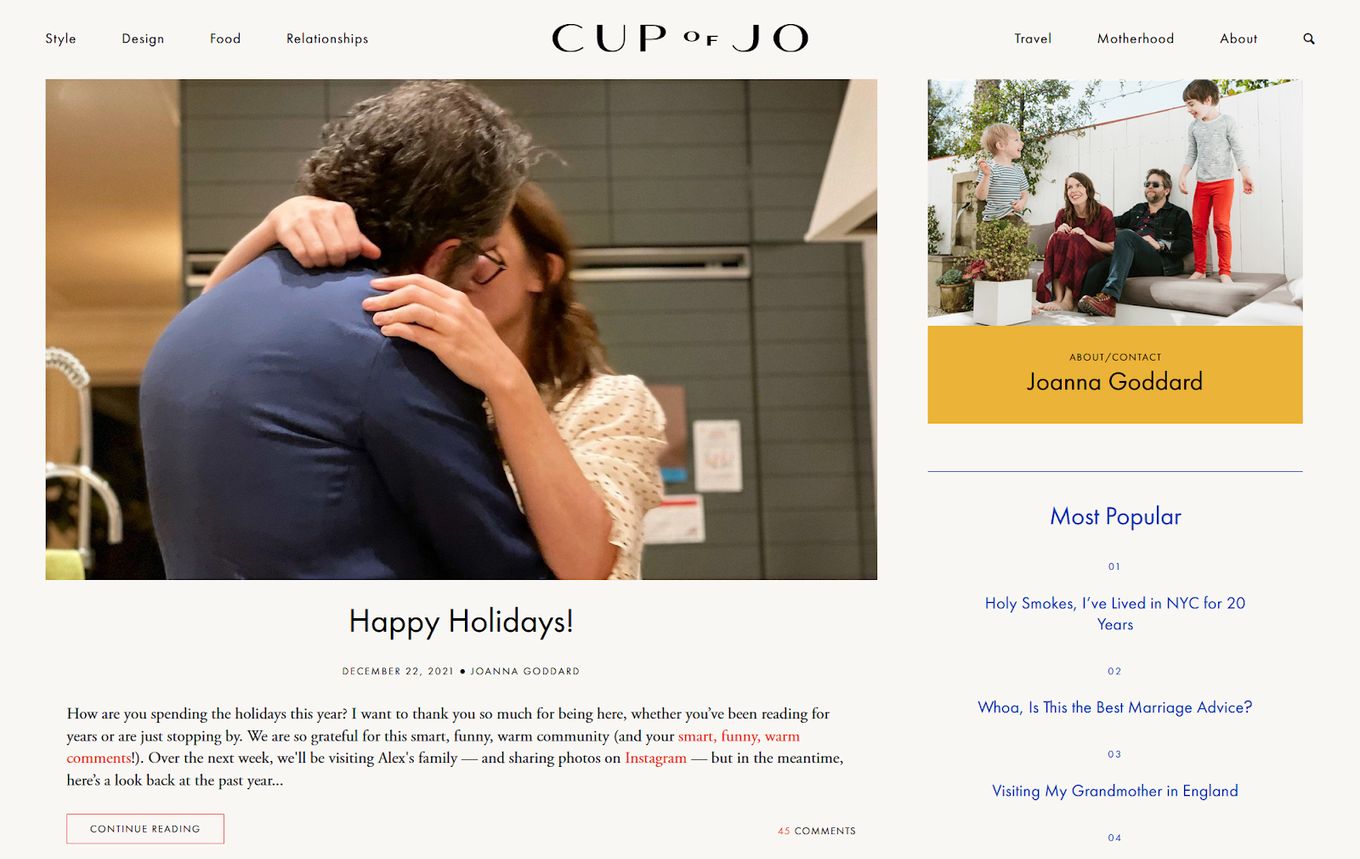 Going to the other end of the scale now, this blog example is a more personal design, not related to software development. It is using a layout that more resembles a news website - We have an easy-to-use navigation header and each blog is shown below as you scroll down the page.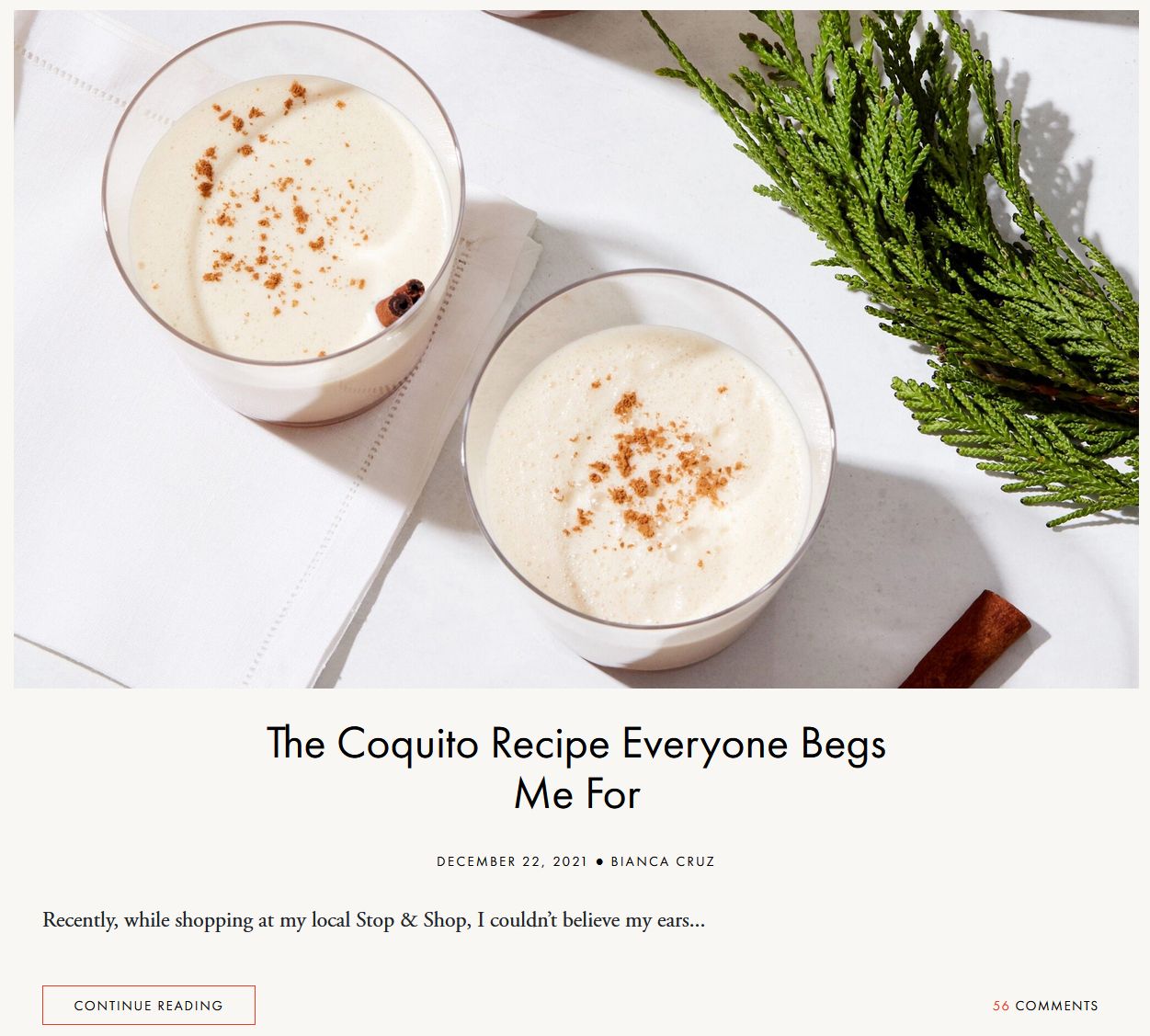 Using a large high-resolution image to attract readers, each post has useful buttons and even a CTA (Call To Action) to guide the reader to click the blog post and read it.
The whole site design is very elegant and easy on the eye; the personal touch is lovely and it makes you feel like you are experiencing part of their life.
3. Portfolio Pages
Video from https://www.lizandrewsphotography.com.au/
Online portfolios are very popular, there are many themes and website templates available. For example, it is very common to see photography portfolios.
People create portfolios to show off their work and gain new interests or clients. If you run any kind of creative business, you will surely want an online portfolio page.
A great example of a wonderful and fully-featured portfolio theme is Themify Ultra Theme. Create stunning full-page experiences and really make your work look exciting and take advantage of the whole screen.
You can build a website to show off not just your work but include a full-screen testimonial page, a customer stories page and even a services page, the possibilities are endless with this design, and with it being extremely popular in the portfolio world, you can't go wrong.
4. Personal Websites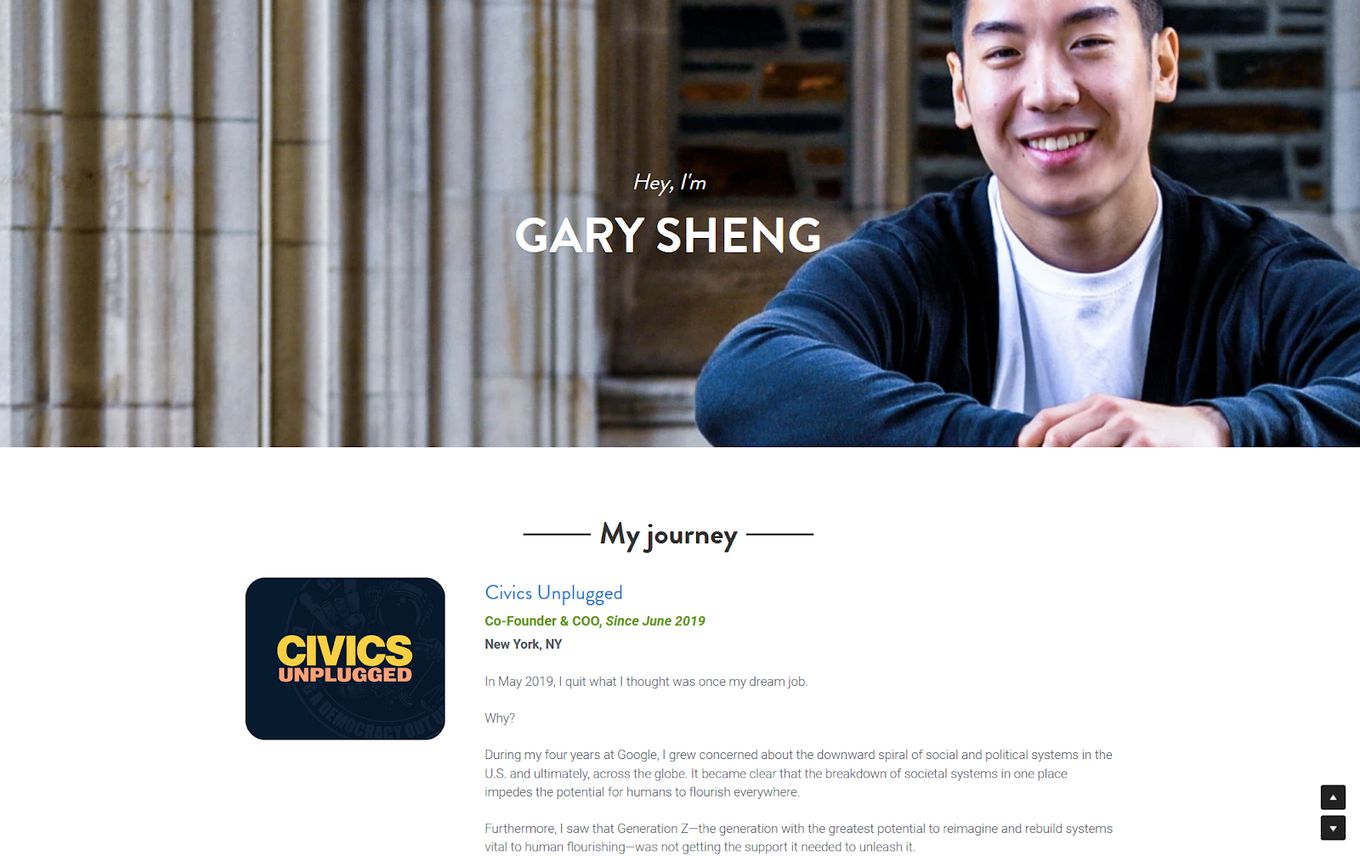 You may be thinking this type of website is similar to blogs. While it is in some respects, a personal website is much different: they have a different purpose and goal.
A personal website is used to showcase one's career, general life, and relevant links to stuff they have worked on. A lot of people use a personal website as a virtual resume/CV to show off easily online - As shown by our example above.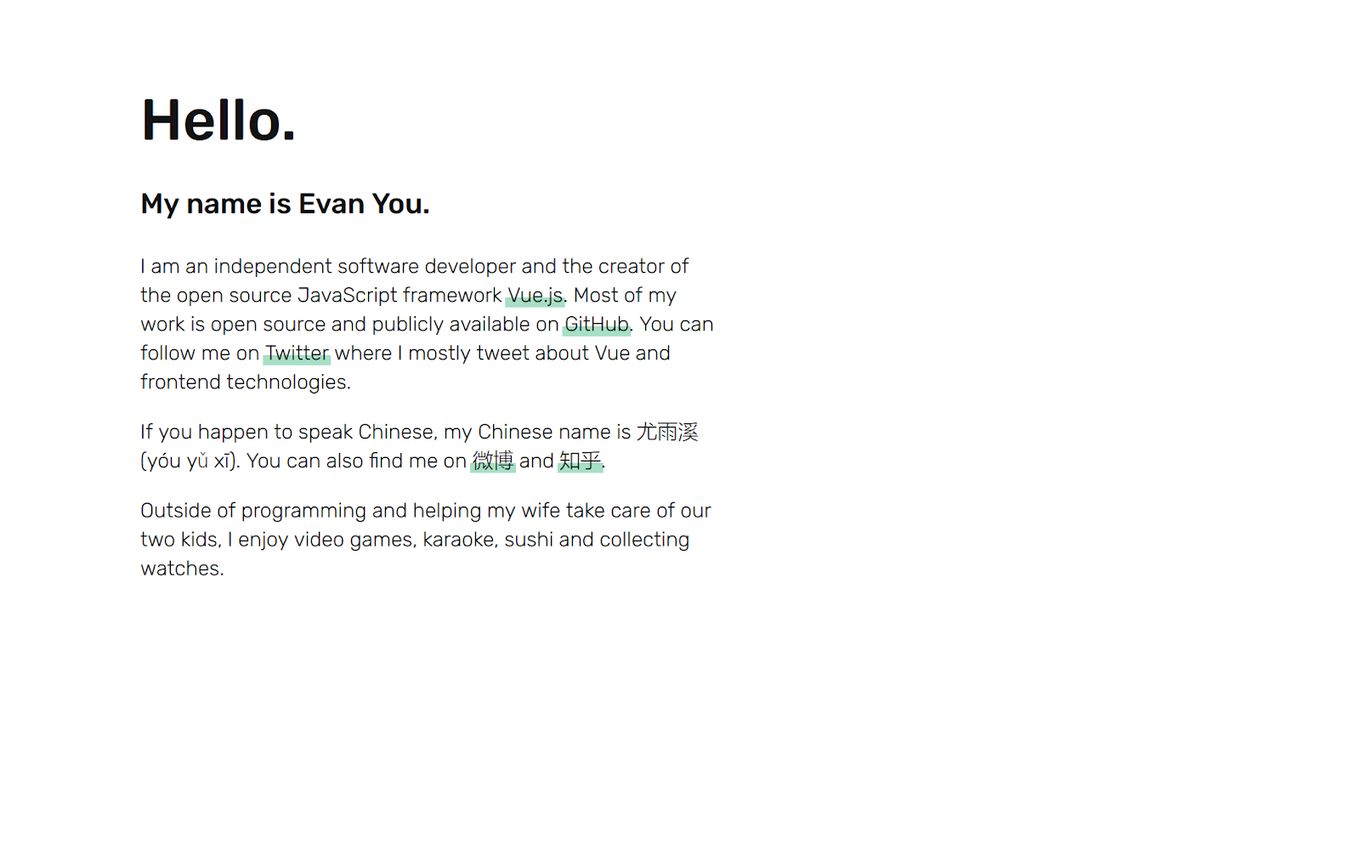 If you are planning to make a personal website, you may want to check our list of 10 awesome personal website templates.
Some people even just use their personal website as a simple "about me" page, linking to social media, their work or other online profiles like this one above.
5. eCommerce Sites
    Your browser does not support the video tag.
    </video>
</a>

This type of website is extremely popular across the world. Thousands of small businesses rely on eCommerce websites to promote and sell their products - even large companies are going direct and operating their own eCommerce platform.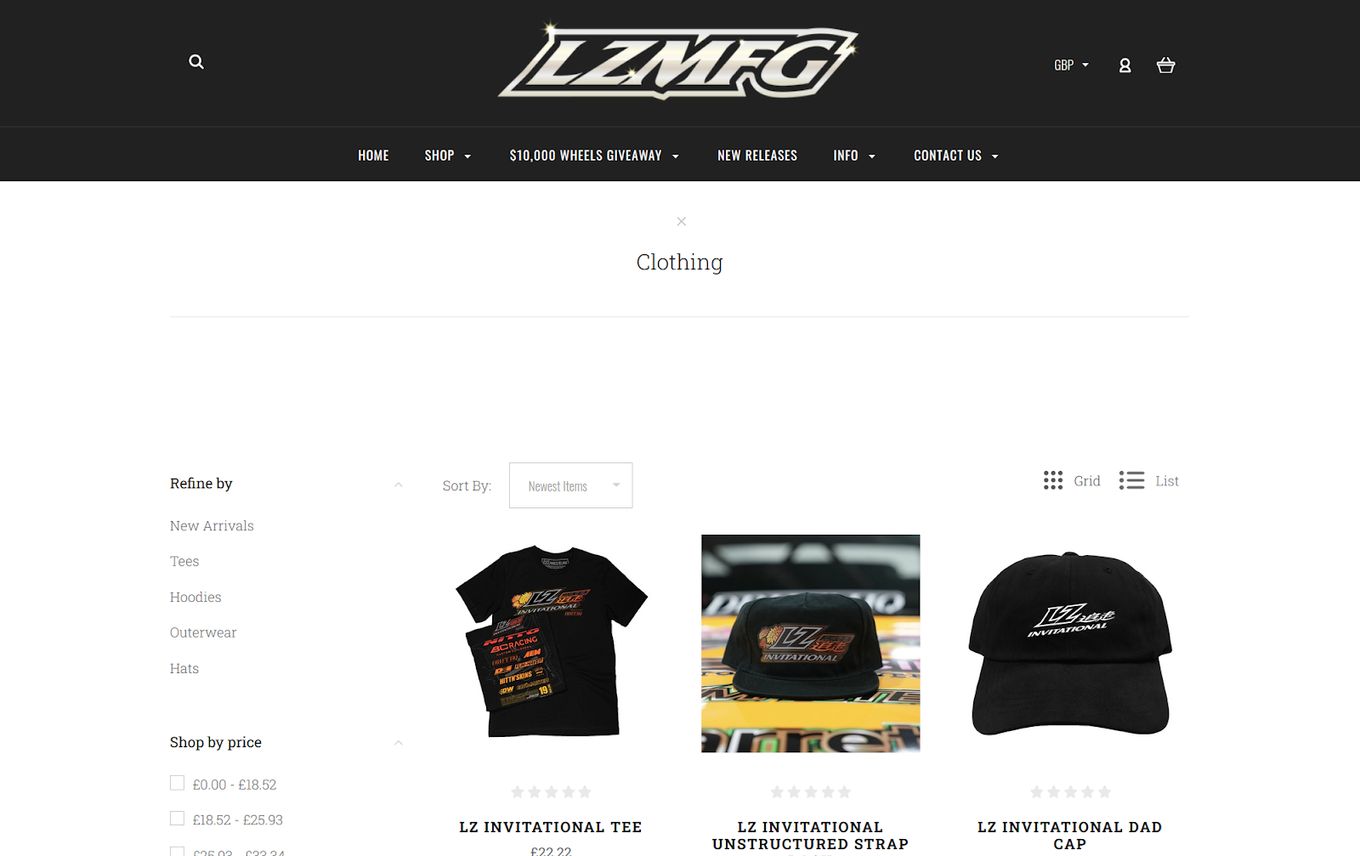 They all have their own layouts but some of the most popular structures are the product grid, where products are shown in a rigid layout and have around 25 - 50 products displayed per page.
Some websites include a product slider that displays your products in the form of a carousel. WooCommerce, for example, includes a lot of plugins for creating product sliders.
These kinds of websites are popular not only with established clothing brands but also with established YouTubers or social influencers who sell their merchandise and products online.
WordPress and Shopify are well-known platforms for eCommerce websites. See the WordPress vs Shopify comparison if you want to know which one to choose.
6. Documentation Websites
It is very important to have excellent documentation, this kind of subject is very relevant in the software and open source world - but it could be the same for any kind of documentation.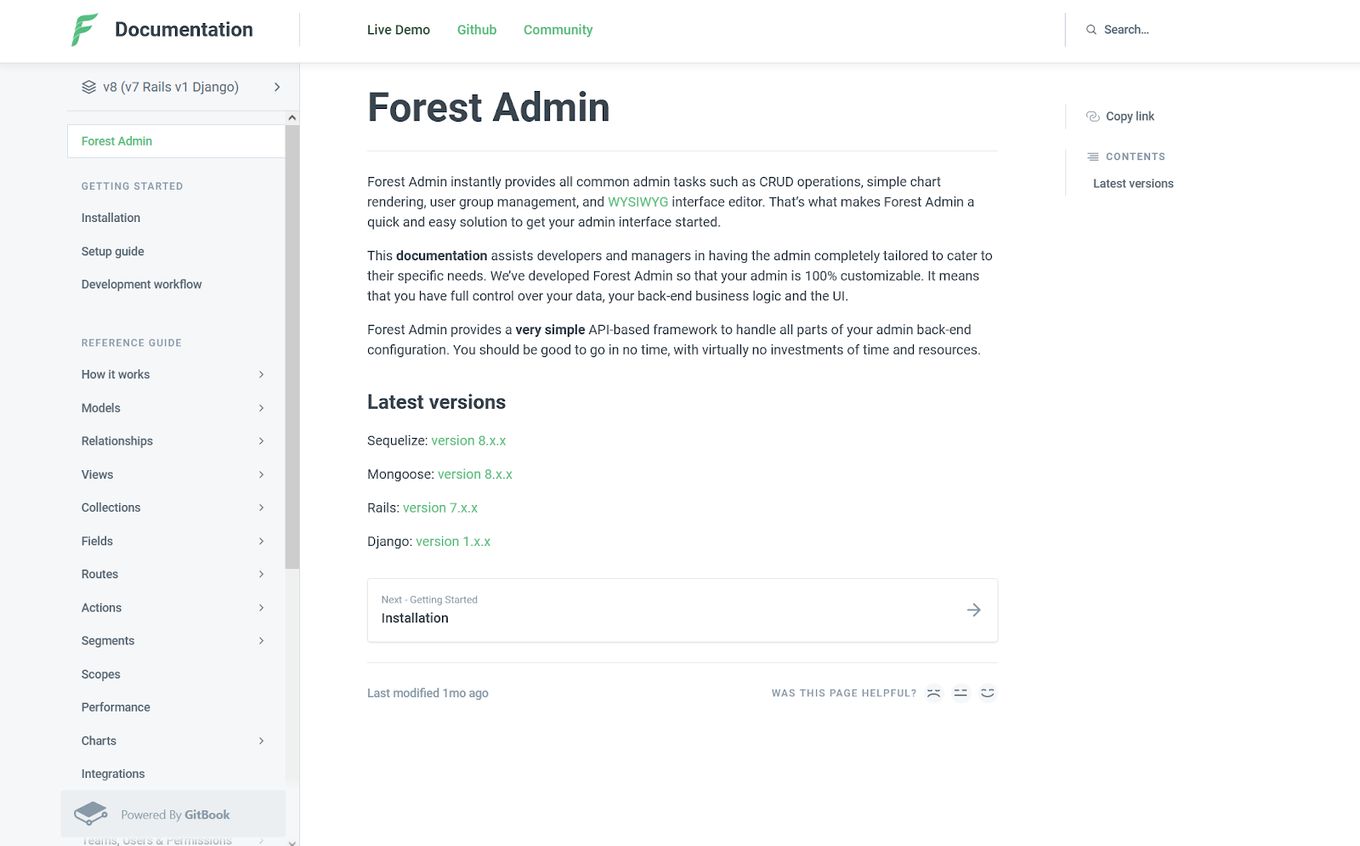 Good documentation shall be easy to navigate. Usually, documentation will be quite lengthy and will require a unique navigation section to help guide the user through many pages and sub-pages.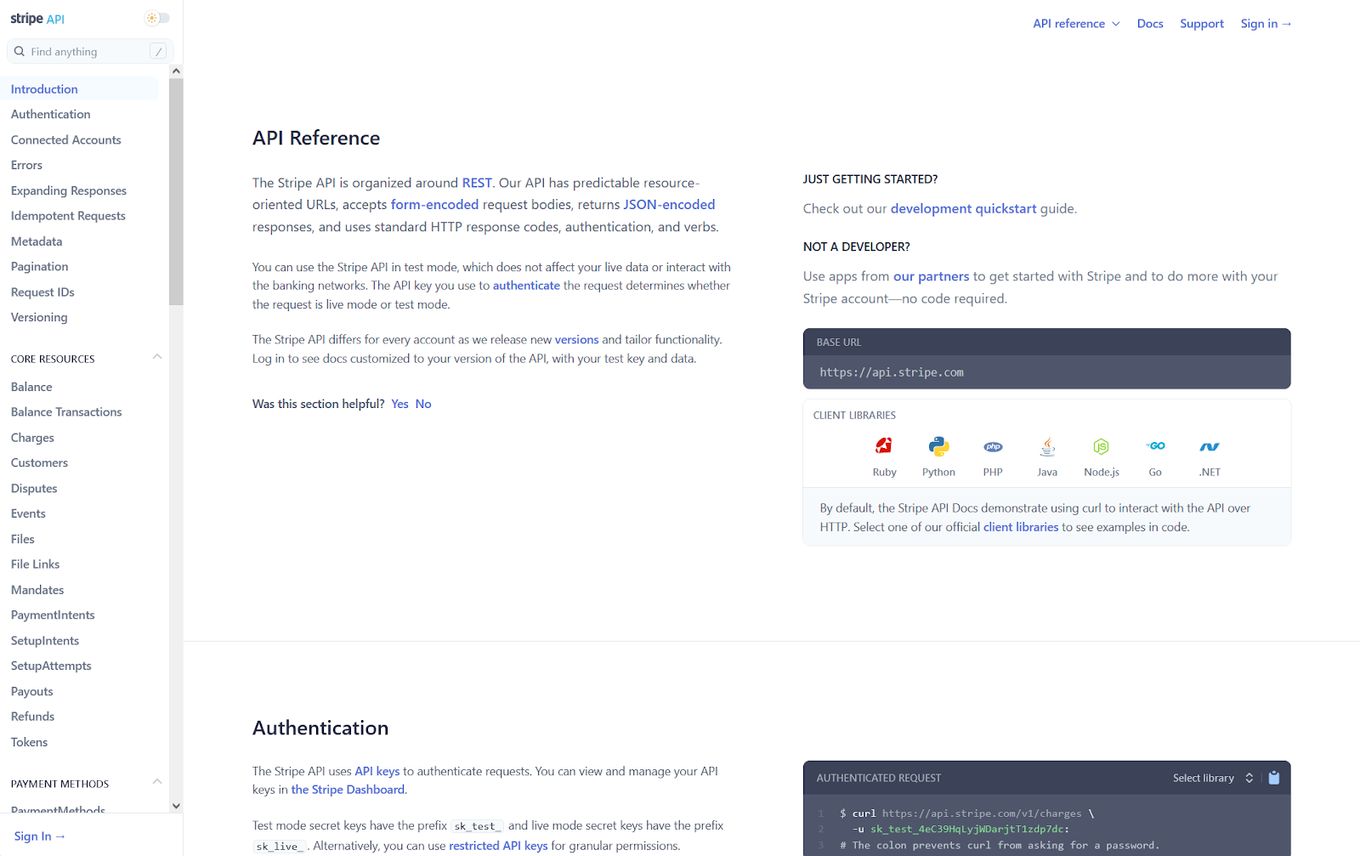 Users will want the documentation to feel unrestrictive and comfortable to use. Complicated information needs to be presented in an elegant way to make it easy for the user to follow.
The two examples we have shown are what great documentation looks like: standard, straightforward navigation menu on the left and well-spaced content on each page.
7. Community Forums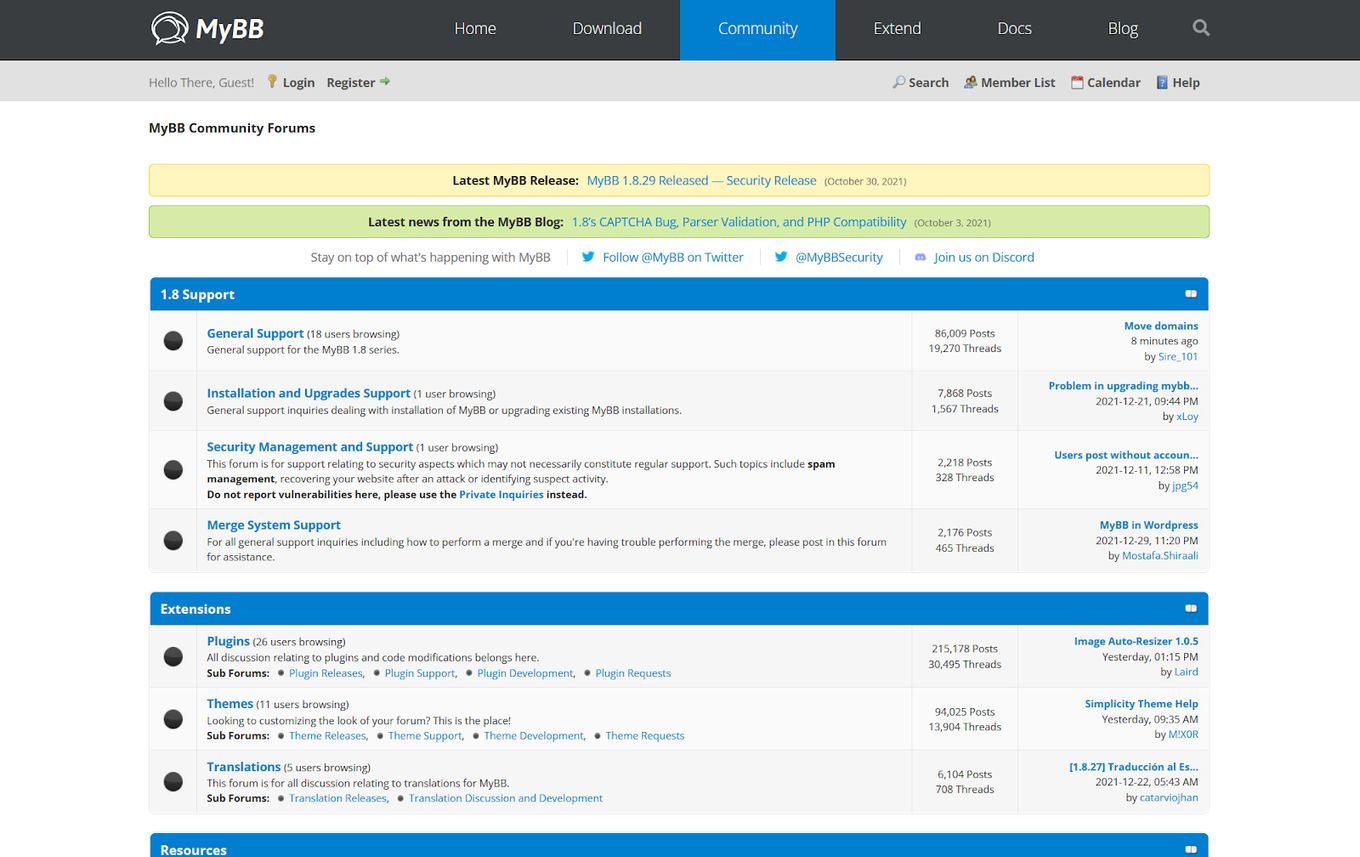 Community forums are a type of interactive website where people can discuss and communicate around a specific topic, project, hobby, etc. They are the original front page of the internet before Reddit.
Over the years, community forums have taken many different approaches to style and layout. The most famous one above, the board layout.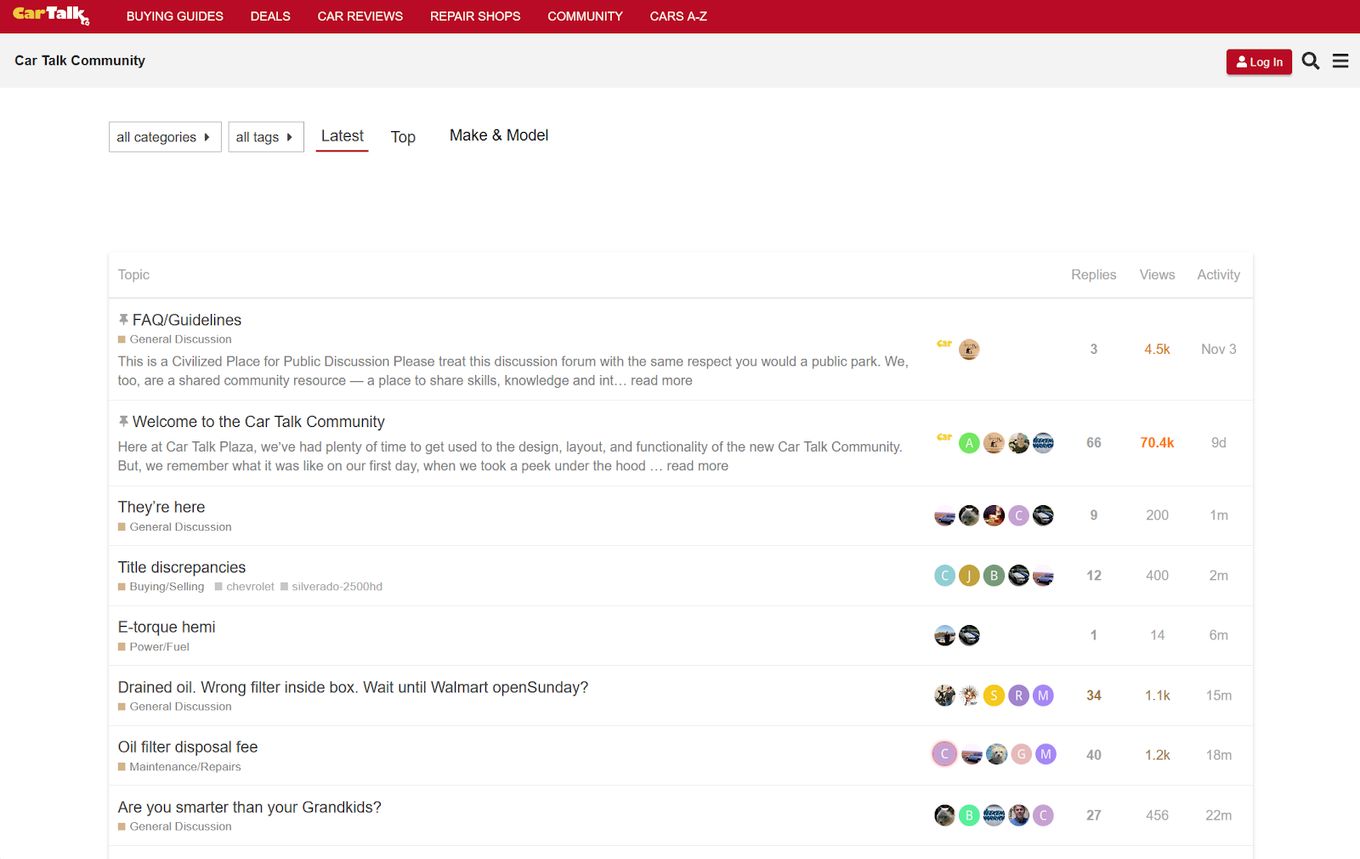 Another popular change has been the movement away from the traditional board style, towards the chat or thread design, as shown above. It allows for someone to read posts as if they were reading a normal chat message, instead of boards these kinds of posts are categorized by tags or topics.
8. Portal Websites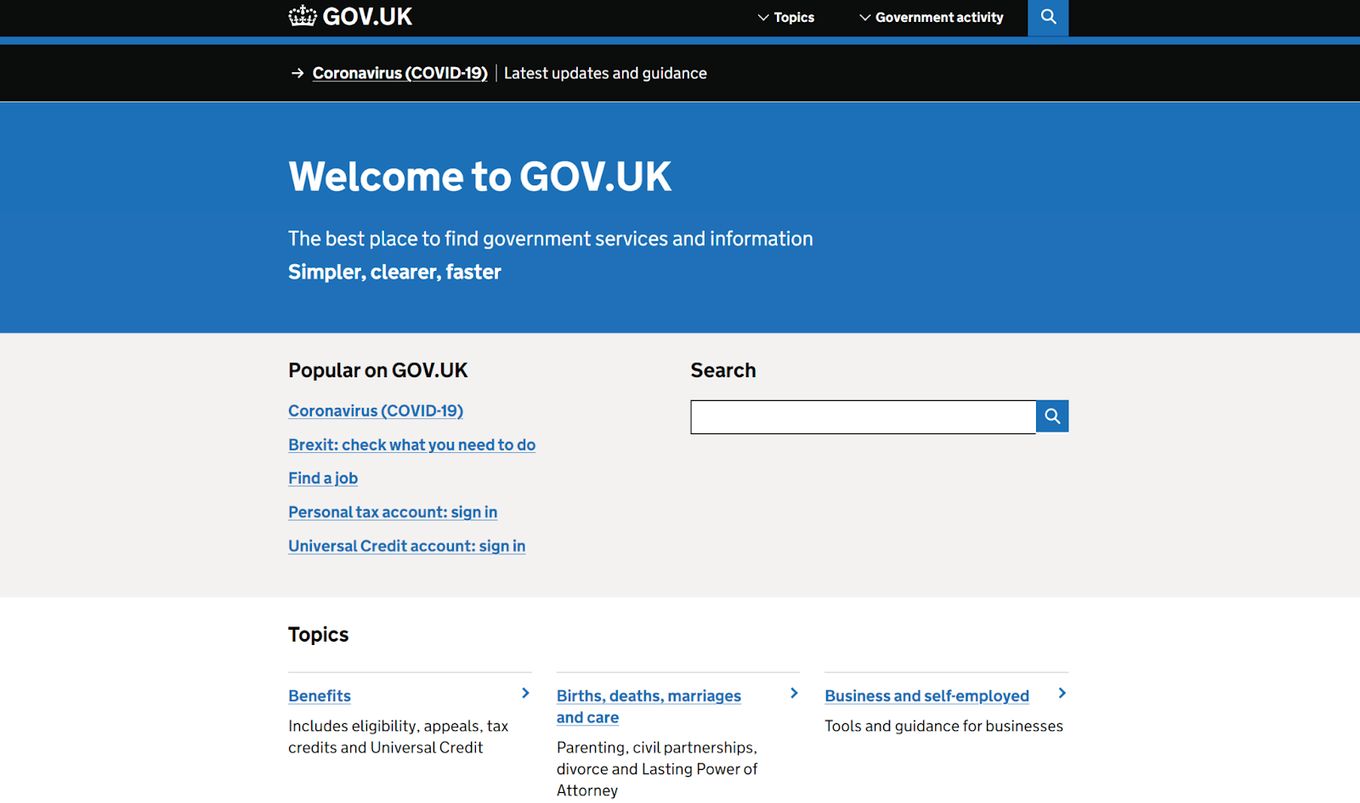 A portal website is a type of website which links to many other topics or pages - Usually, the main portal website is the homepage for many sub-category websites. For example, the UK government site is a portal into the many departments and organizations within the UK.
Portal websites can be on the same domain or external to the original site. A search feature is very useful if there are hundreds of pages.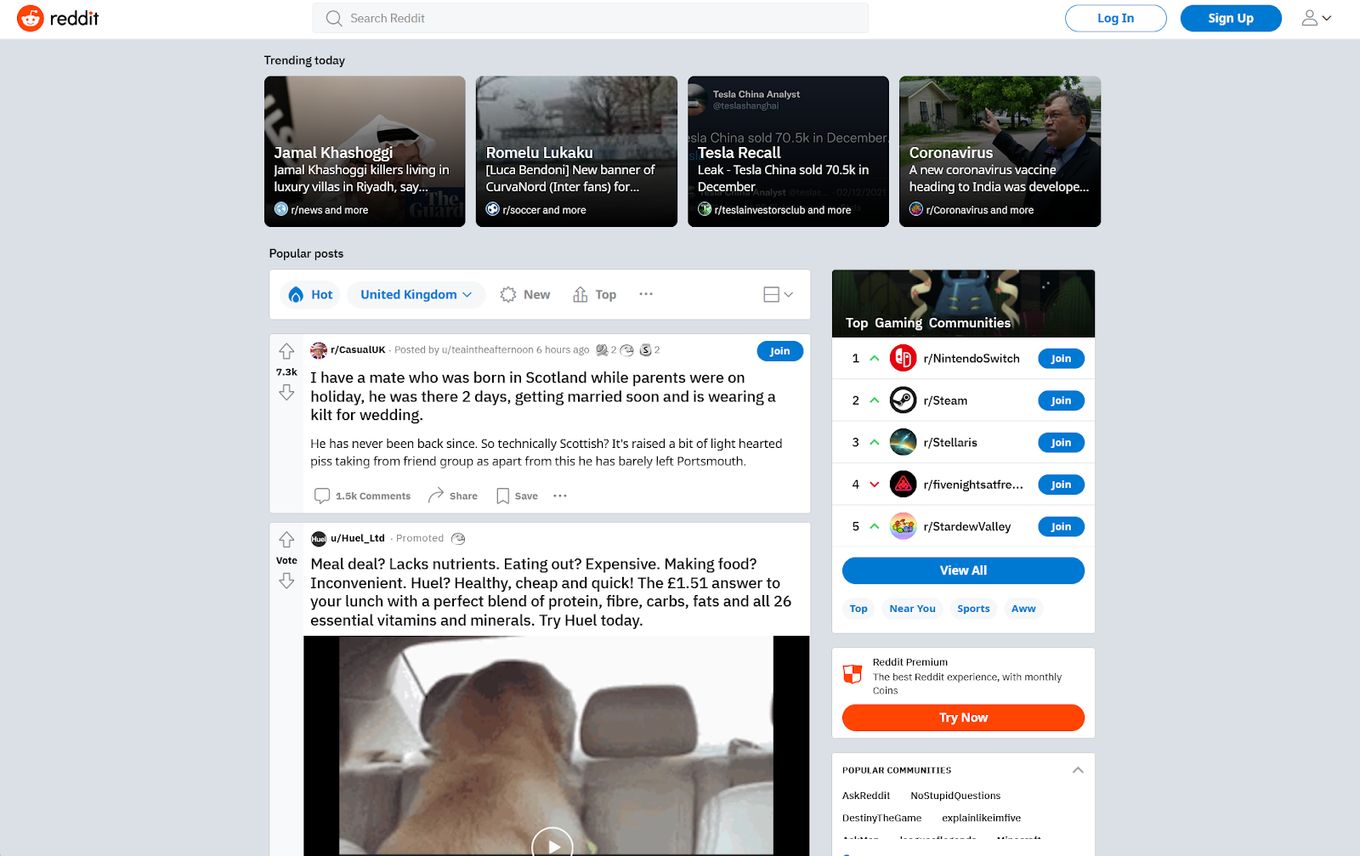 While news websites or news search engines like Yahoo or MSN are good examples, for portal sites a modern take can be Reddit - It links to both internal and external subsites/content, it is referred to as the front page of the internet.
9. Search Engines
We can't forget a type of website that pretty much everyone will have used more than once a day: search engines. Search engines power the internet, they provide us access to websites across the world via keywords. The most famous and well-known one is Google.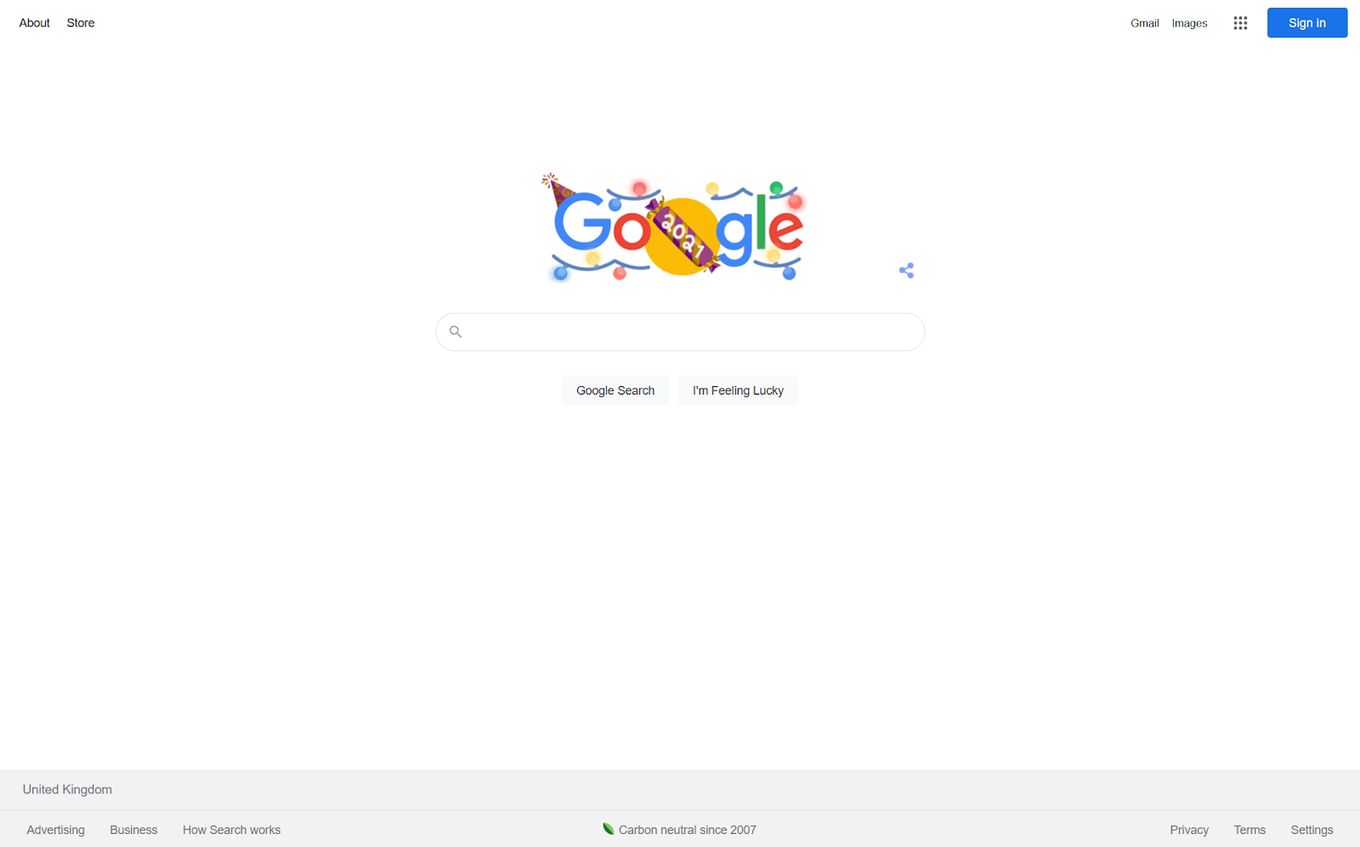 These types of websites need to be very easy to use, unrestrictive and forgiving, if people get frustrated they will leave and find another search engine, so someone like Google is well known for speed and simplicity.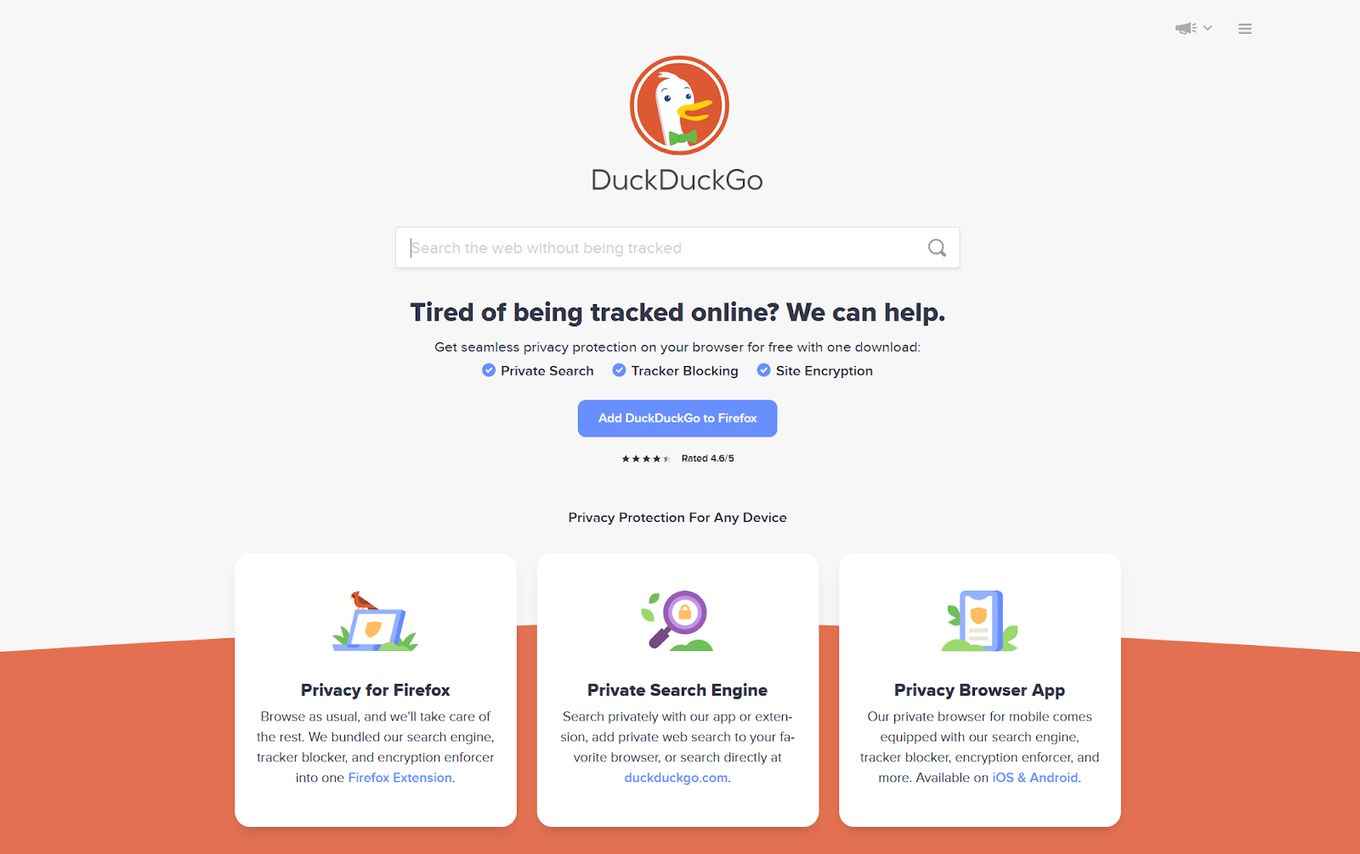 A search engine though is hard to iterate on, because you want the site to be simple, that is what makes a good search engine, it just needs to do one job and do it well. However, others have gone down the more privacy-focused route, like DuckDuckGo here.
10. Crowdfunding Sites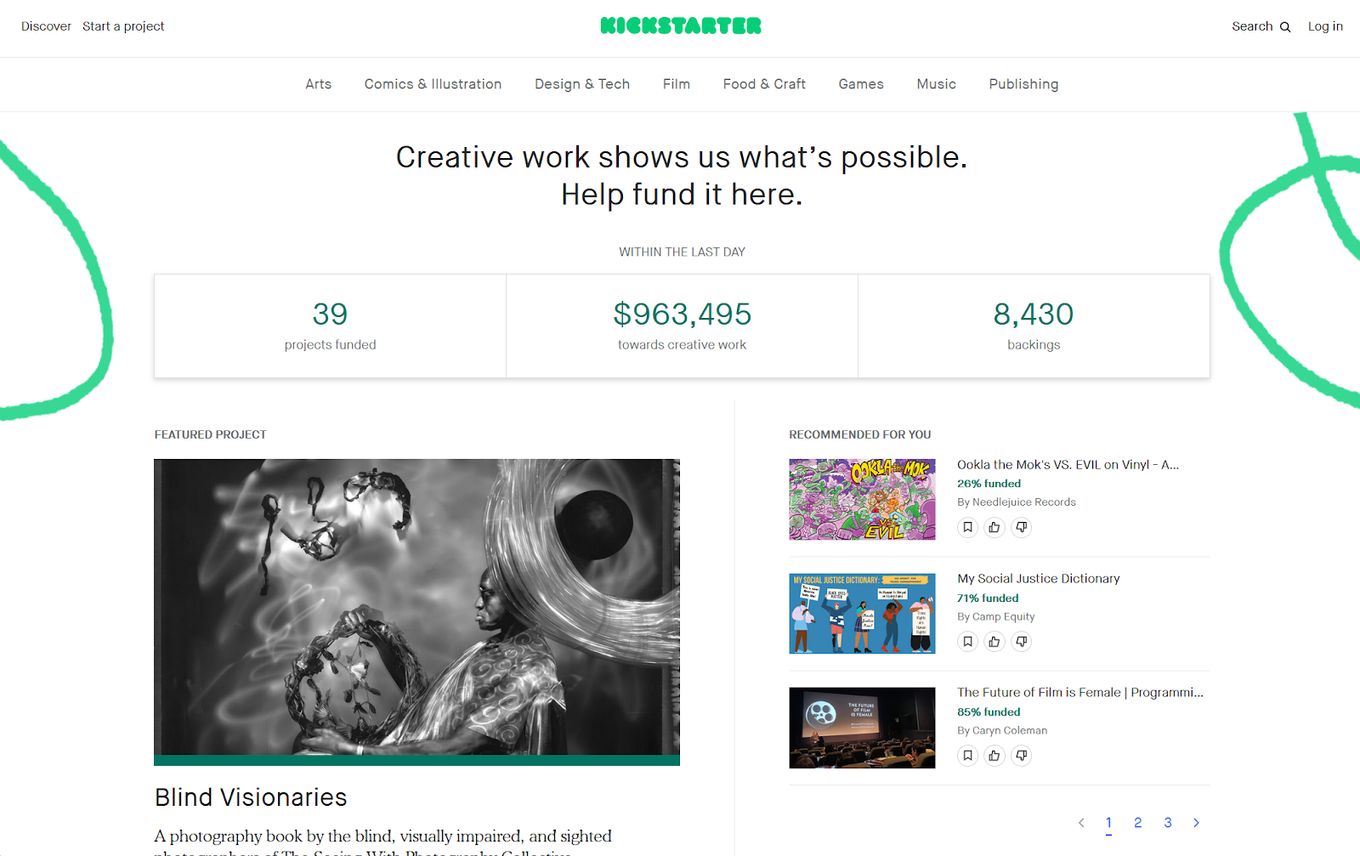 Something which has become extremely popular is crowdfunding, sometimes known as crowdsourcing as well. It allows a community to gather money together in order to fund a project or service.
A project or service that is looking for crowdfunding opportunities will usually give back to the community through the use of a tiered system. Each tier goes up in price and allows the user to gain more perks.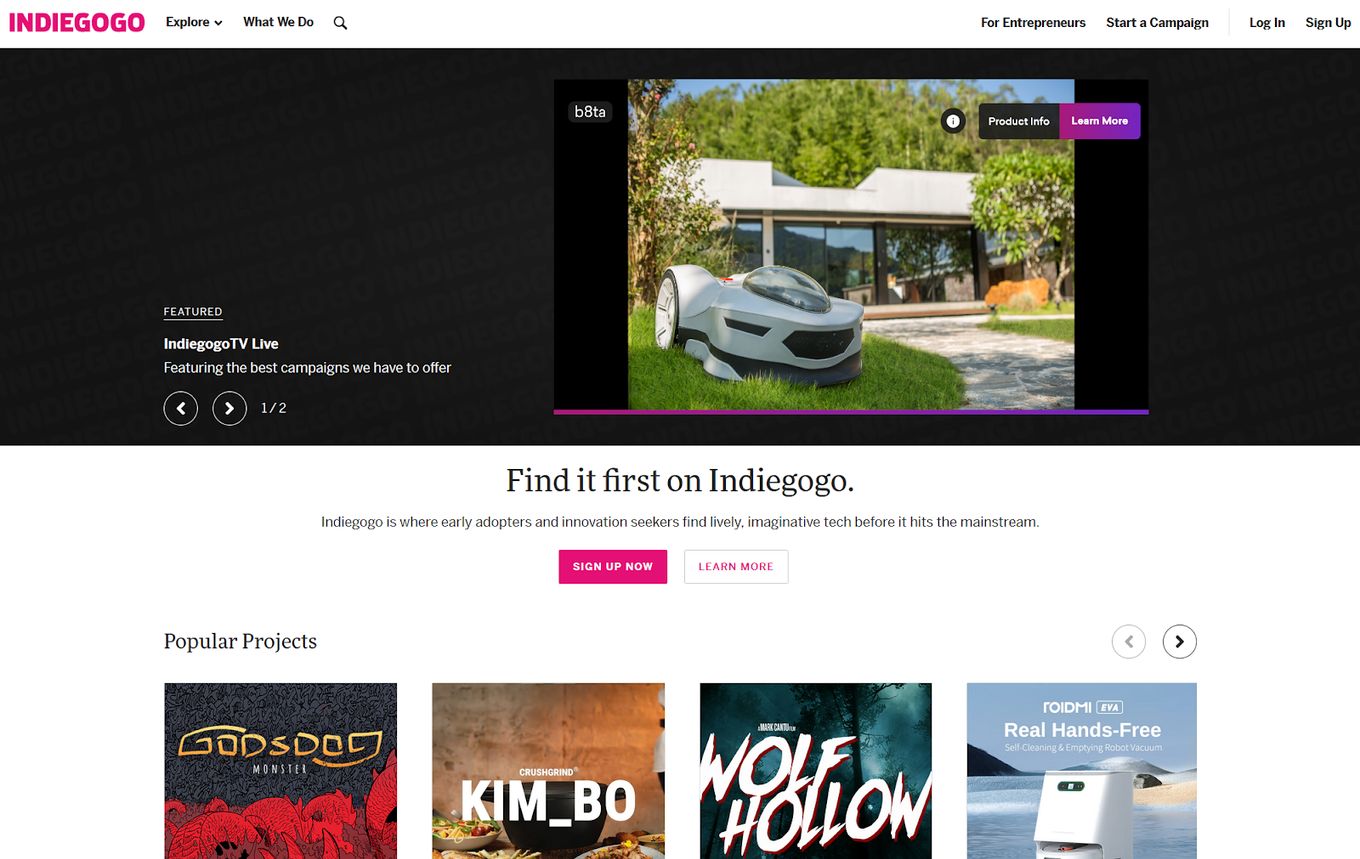 The content posted to these types of websites will include product/service videos and pictures, some range of introduction and description of the product, and a story about why someone should fund a project.
Final Thoughts
It's really interesting to see all the different designs that different types of websites use. They can't all use the same layout or structure as they serve different needs. It is also extremely dependent on the target audience as well: the design of a website changes depending on its audience.
Hopefully, one of the designs here inspires you and motivates you to build a particular website type. Always consider the goal and purpose of the site when designing one. Check the examples of the different kinds of websites here and understand what they have done to pull off their design.
Earlier on I mentioned fullPage.js - A JavaScript library that you can use to create impressive full-screen websites with its many extensions. You can surely build something unique with it. And it is also available for Elementor and Gutenberg! Check it out!
Related Articles

About the author:
Luke Embrey is a full-stack developer, BSc in Computer Science and based in the UK.
You can find out more about him at https://lukeembrey.com/
Join 2,000+ readers and learn something new every month!
Get notified about new blog posts, tips, tricks, fullPage.js news etc.
RSS feed