10 Top Website Builders for Photographers [2022]
Using the best website builder for artists can help you attract more clients looking to work with you. The first thing a potential client may see is your website and it is important to impress them.
Even if your photography skills are amazing but your website design is poor, a client is going to think your service isn't as professional as someone else who has their photography website design perfect.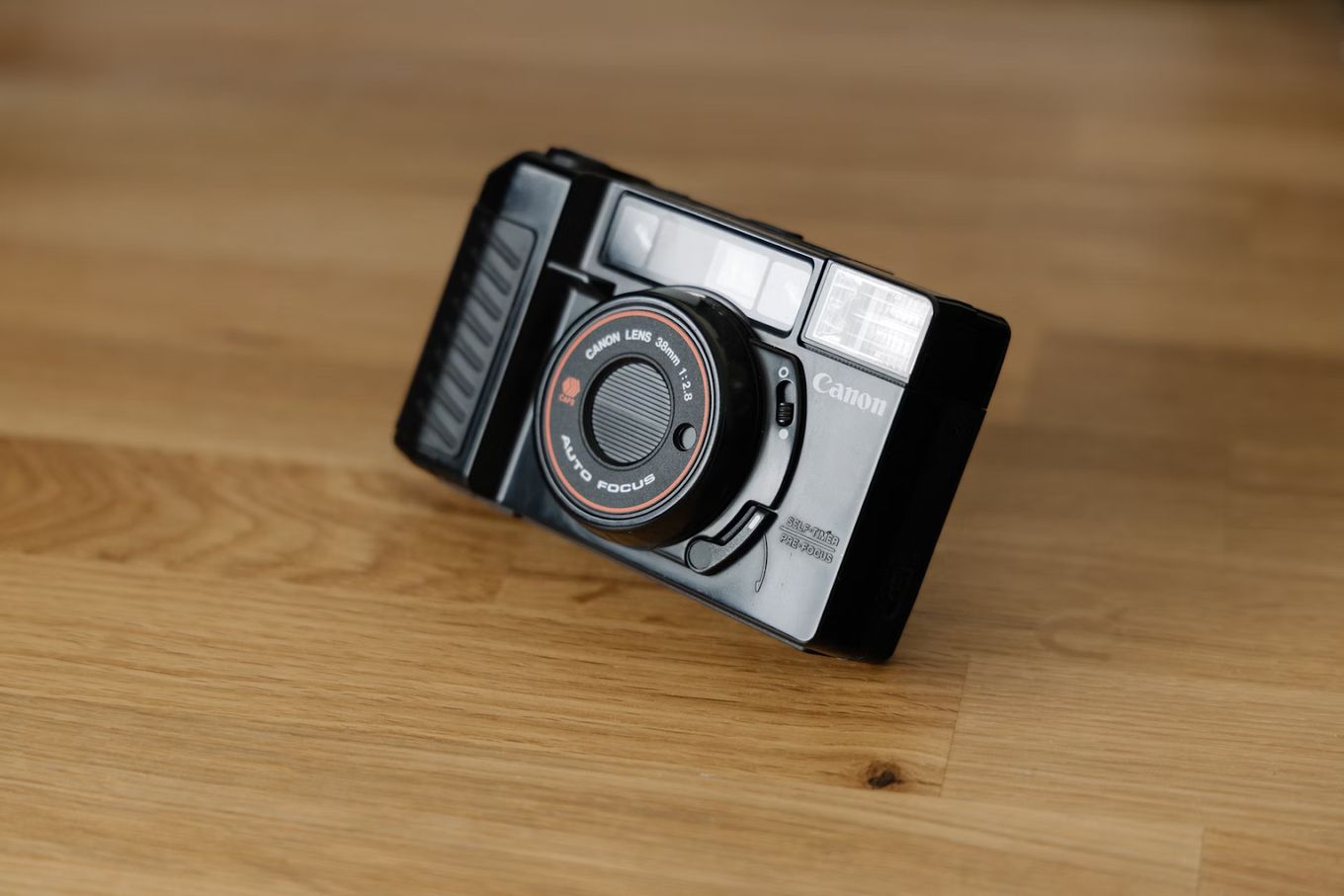 Is It Important To Have A Photography Website?
Yes, it is. Having a photography website - no matter your skill level - is a must in today's world. Even if you are not looking to attract professional clients or bookings, just having your personal space to upload and showcase your work is vital.
Start building your photography website with one of the Best Templates for Photographers available in 2022!
It is so important for an artist to get your work online. Social media is vital, but having your own photography portfolio to display your art or photos makes your service look more professional. Having a website makes it easy for people to search your photos and follow your journey.
That is why a lot of creatives are looking for the best tools and we intend to help you find the best website builder for artists as well. There is more than one great website builder, so let's go through them and find the best website builder for photographers.
Top 5 Best Website Builders For Photographers
All of the examples here can be used to create your photography portfolio for a photography service website - you don't necessarily need to know how to code, even though the examples are chosen allow you in some way to do some coding, the main focus is simplicity and drag-and-drop builders.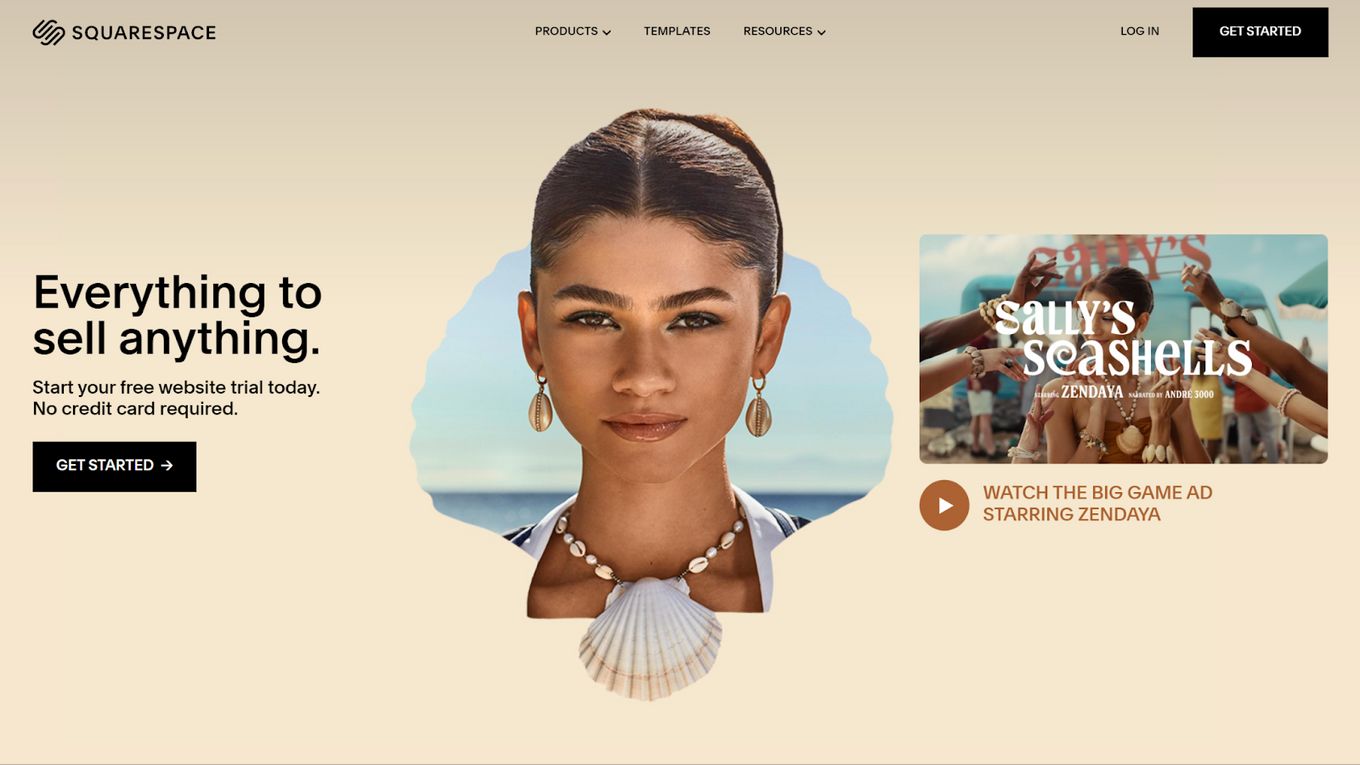 Free Version: No
Starting at: $10
Squarespace is a website-building platform that is aimed at creatives and artists. When you are looking for the best website builder for photographers, Squarespace aims to tick all the boxes.
You can expect to browse beautiful custom templates, be able to customize the theme and template to your liking and it comes with built-in eCommerce features.
While being one of the website builders for photographers that isn't free, the templates are high quality, they have a specific space for photography templates and the drag-n-drop builder is designed to be easy to use with useful pop-ups to help you as you use it.
Check out our list with the best Squarespace templates. And if you are considering using more generic builders for your site, check out the best website builders for portfolios.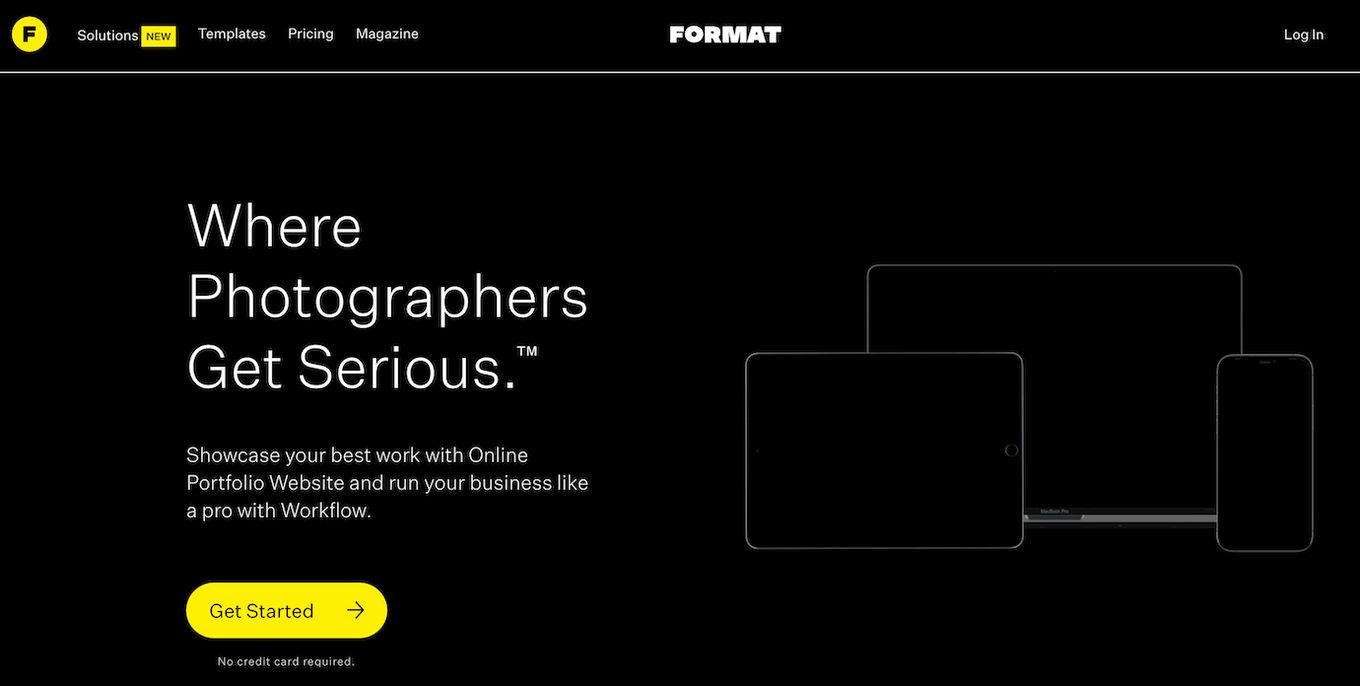 Free Version: Trial 14 days
Starting at: $7/month billed annually
Format is different than other websites builders because it's a builder specifically designed for photographers. This means that it will cover the most common use cases for photography portfolios making things easier and more straightforward than other generic website builders.
On top of that, this no-code builder has a community of 50,000 photographers from around 190 countries. It has been out there for more than 10 years proving to be a robust solution for photographers.
It integrates with eCommerce making it easy to sell your own photos. It also supports video, comes with blog integrations, image protection, Lightroom integration, support 24/7, and sharing capabilities.
Format is a great all-in-one solution for those without coding skills who want to get things out quickly and get a great set of features to deal with photographs and clients.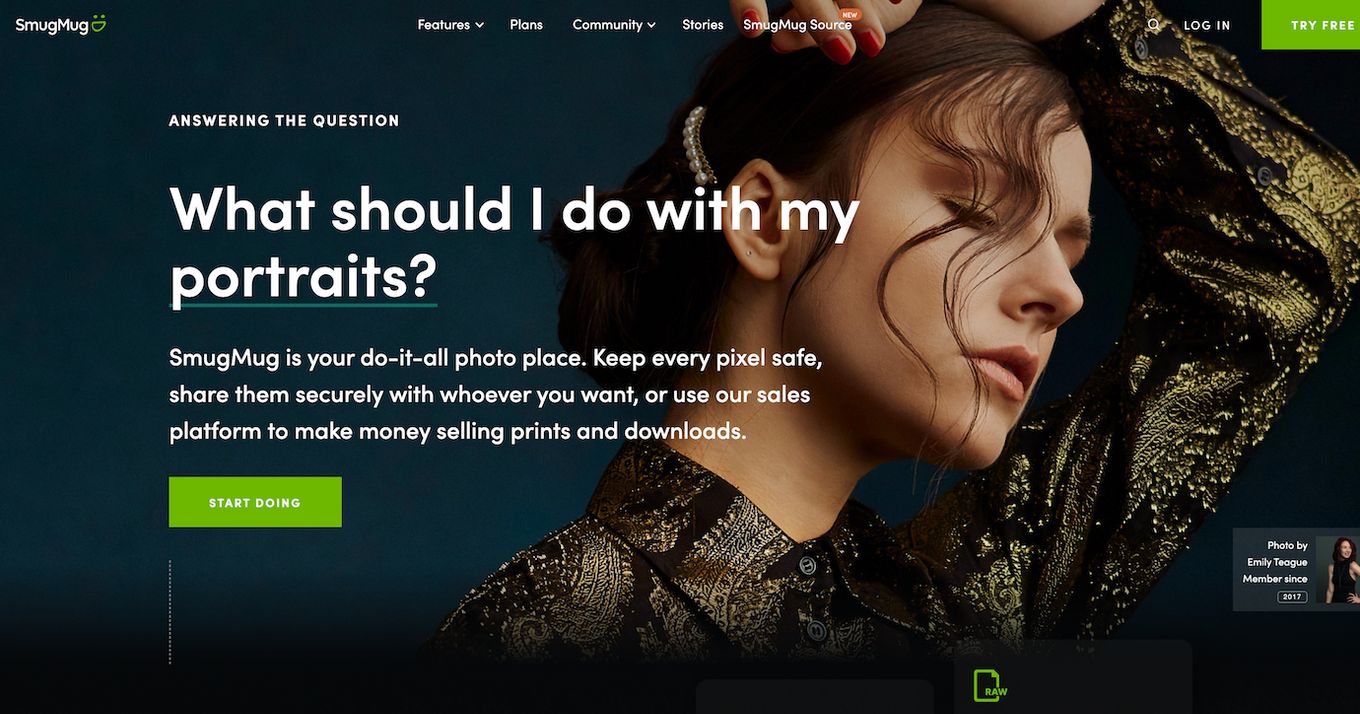 Free Version: 14 days Free Trial
Starting at: $11/month
Smugmug is a specific website builder for photography websites, just like Format. If you are into photography the name might be familiar to you, as Smugmug acquired Flickr, the popular photography community, a few years ago.
This makes it especially easy to use for non-coders and allows you to enjoy features that are designed just for photographers. Features like photo sharing, online storage, RAW format management, watermark protection, and printing.
As most website builders nowadays, it comes with eCommerce integration allowing you to sell your pictures, client management, marketing features such as coupons and promotions, and privacy settings.
Affiliate disclosure: we earn commissions if you shop through the Smugmug links above.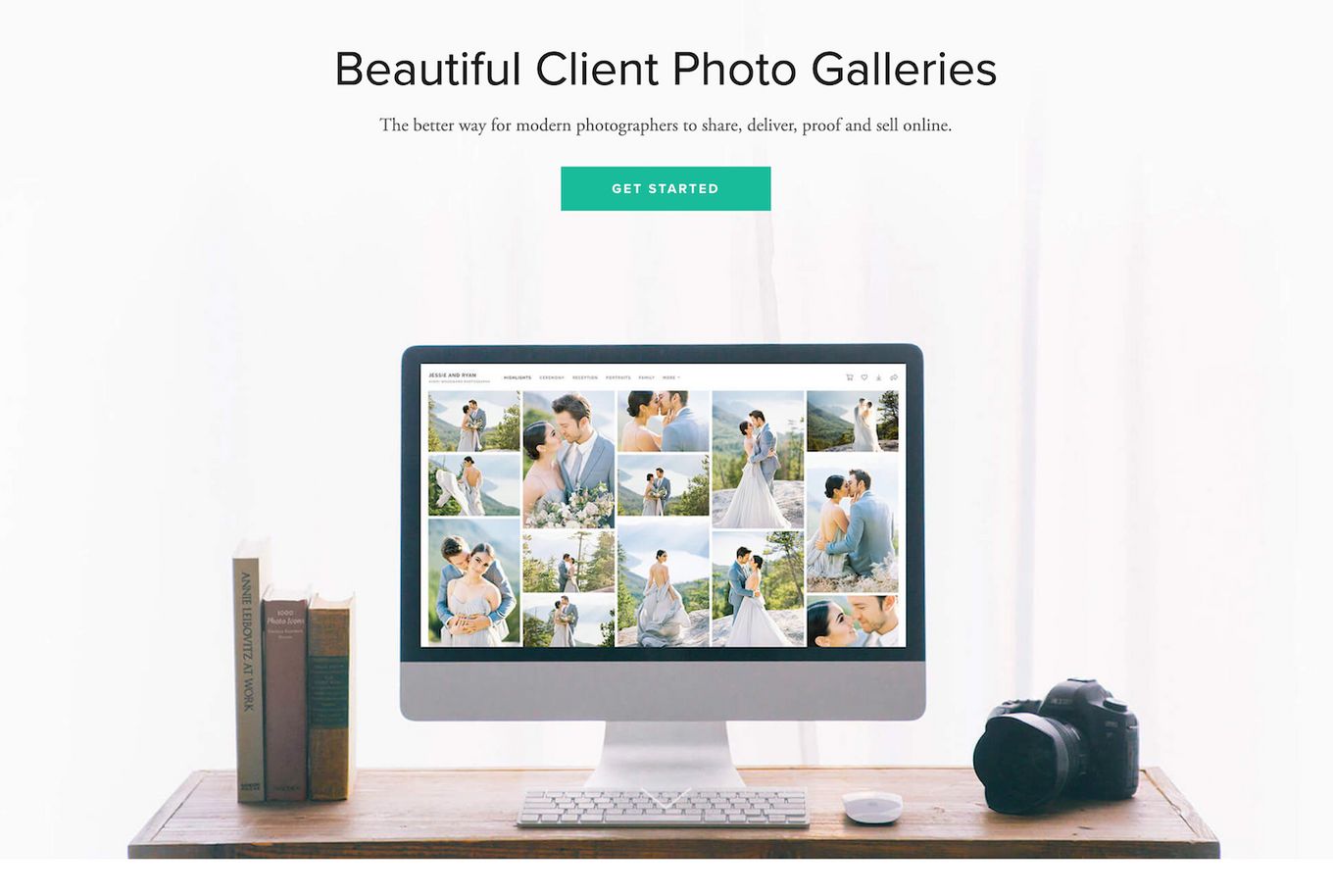 Free Version: Yes
Starting at: $8/month for the "Basic" plan
Pixieset is another website builder designed for photographers. A no-code tool that will make it extremely easy for you to create a beautiful website to showcase and sell your photos.
It comes with plenty of templates and it allows you to create a website, a client's gallery, a studio manager, or a store. Check their examples to get a better idea.
It comes with a client management tool that allows you to create invoices for your clients and manage contracts and forms so you won't even need to leave the editor for those tasks.
It has a modern look and feel, and although it is more simple than other web editors, is perfect for those who want to have something up and running in no time.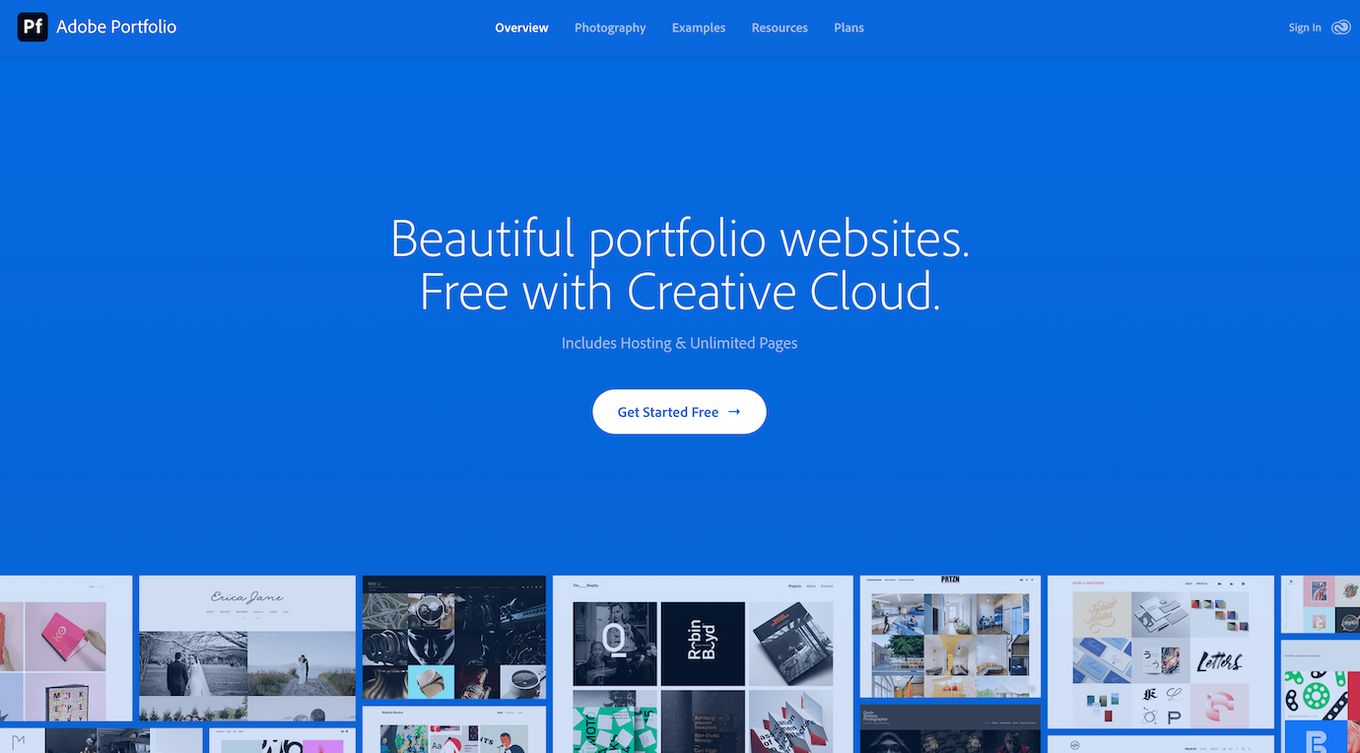 Free Version: No
Starting at: $9.98/month (Included in Creative Cloud)
Adobe Creative Cloud comes with a portfolio website builder which is ideal for photographers to showcase and share their images.
Although it is not designed only for photographers, it comes with pretty good features for those as it is part of the Creative Cloud where designers and photographers are the majority.
Check out some of their example websites for photographers to get a better idea of what Adobe Portfolio is capable of.
It is a bit more limited than others as it won't come with eCommerce integration and selling won't be an option provided out-of-the-box. It won't include some other photography-specific features.
It comes with a few themes, supports password protection to keep your photography private, a custom domain, and a full-screen lightbox.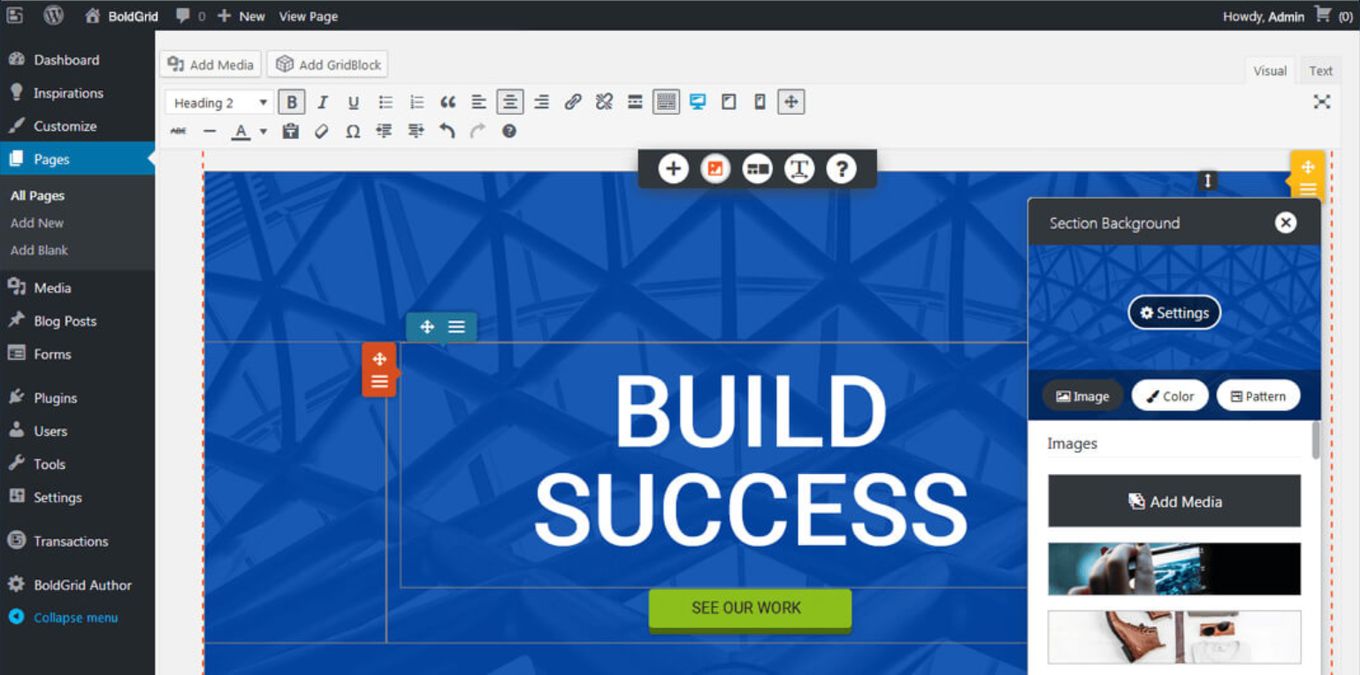 Free Version: Yes
Starting at: $3 for the personal plan
WordPress is a platform that has a whopping share of 43% of the top 10 million websites. It is a free and open-source project with millions of developers worldwide that use it.
There are numerous available plugins and themes available to use, both free and paid premium. If you can think of it, the chances are that someone has already made a plugin or theme you can use. The community side of WordPress is huge.
People have used WordPress to create amazing websites from the wide range of available photography templates - the amount of resources means it will be easy to make something.
You can turn WordPress into a complete and easy drag-n-drop website builder for photographers by using Elementor or Divi builders.
A great example of a plugin that is perfect for photographers is fullPage.js - A feature-rich JavaScript component that provides you a quick way to create stunning and impressive full-screen scrollable websites. Compatible with WordPress website builders like Gutenberg and Elementor. It will allow you to stand out from the rest creating unique navigation and a full-screen website that will come in handy to show off your photos.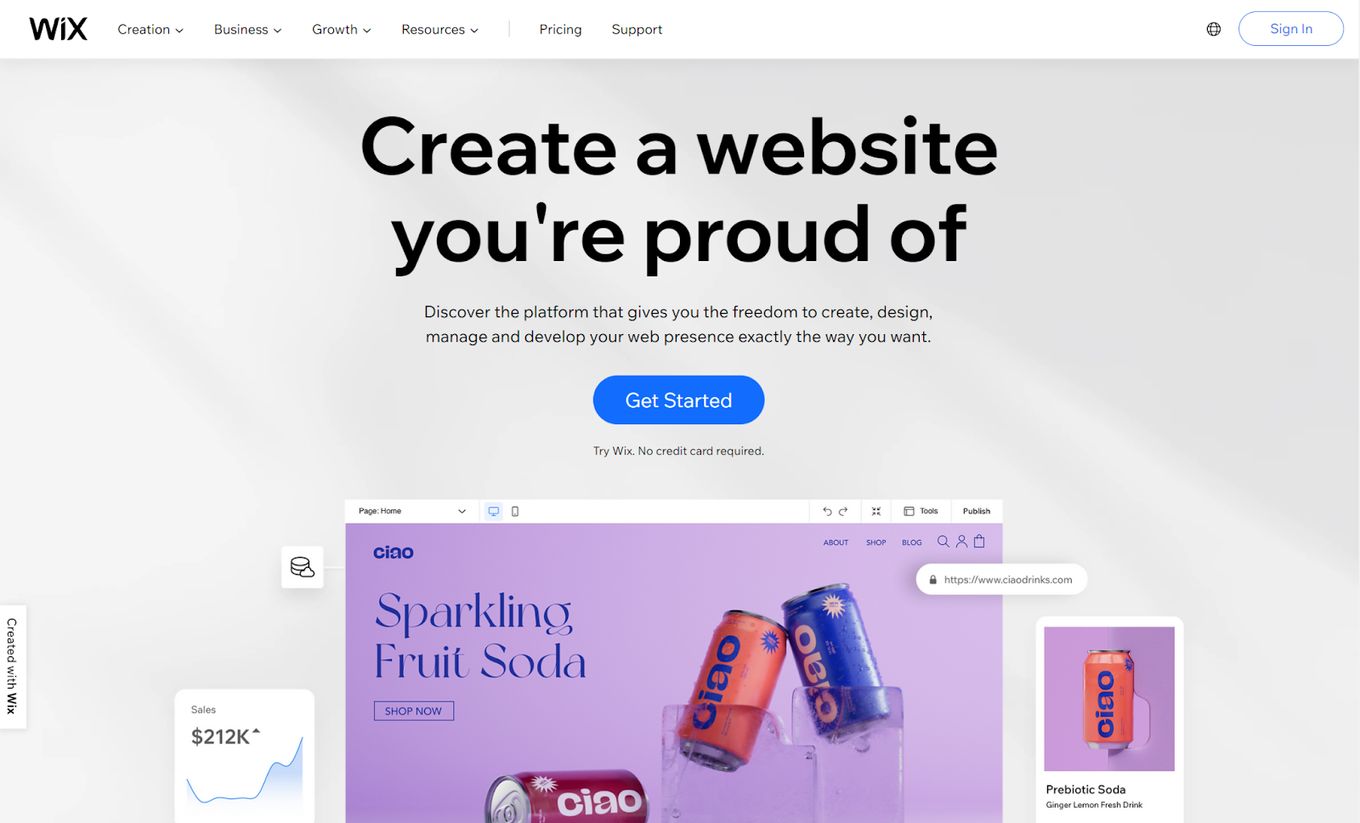 Free Version: Yes
Starting at: $3.50
Wix offers a much cheaper solution compared to all the others but you can still create a professional photography website.
Wix is focused on being easy to use. The entry to the product is very quick because you can do quite a lot with the free version - to at least get you started but you will surely want to select a paid plan to advance your website further.
One great thing about Wix is their ADI (Artificial Design Intelligence), you will get asked questions about the website you want to build, and from your answers, the ADI will help generate a working website for you. Definitely a good website builder for photographers.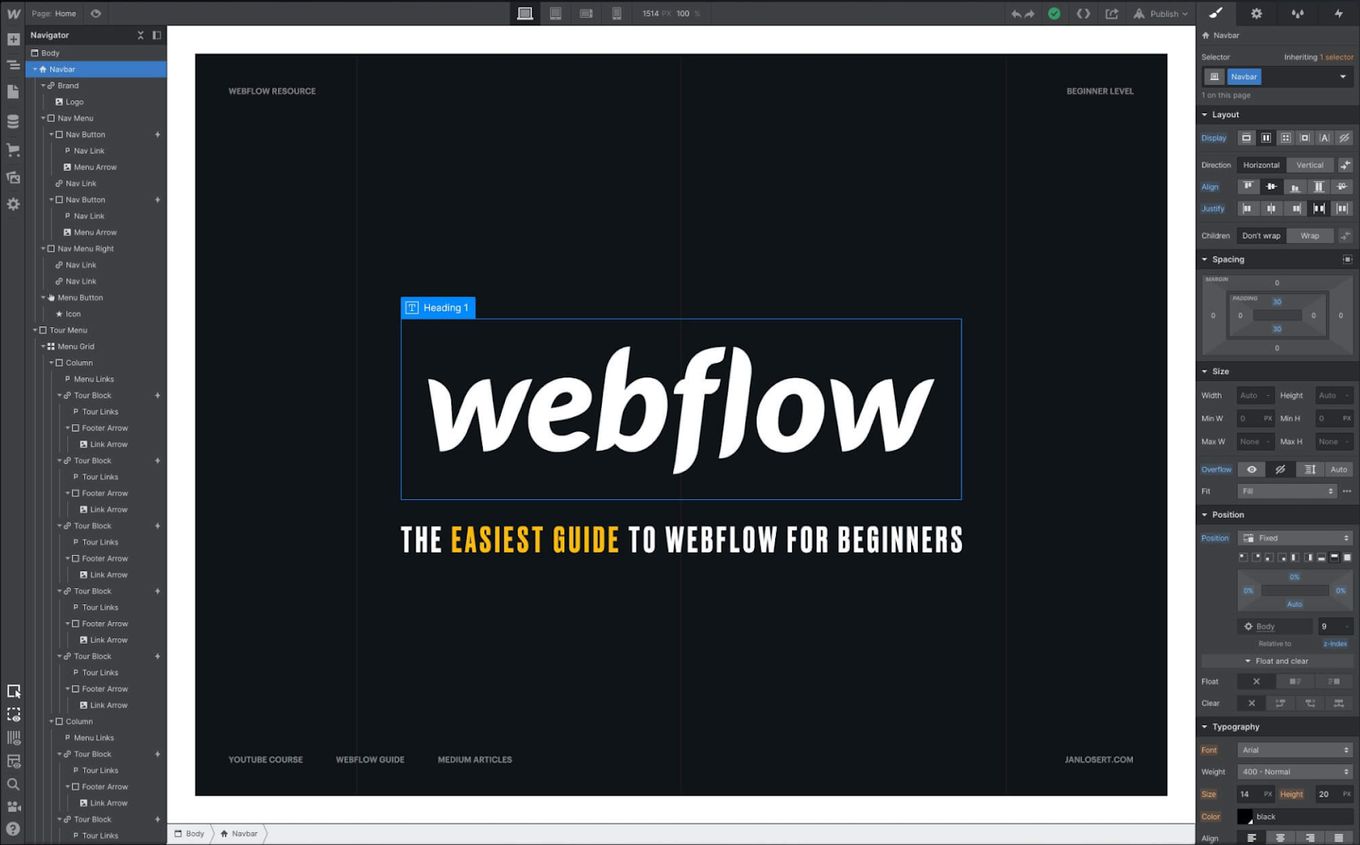 Free Version: Yes
Starting at: $12
If you are looking for a more managed solution, this one's for you. All the server hosting and website building features are already thought out - you can just focus on building.
Webflow is focused on being a no-code solution: everything is designed to be easy and provide you with a platform to create amazing websites.
This is a great builder for photographers because there are webflow photography templates that you can use to get started and Webflow handles caching your content for you, so users won't experience any slow website loading.
However, bear in mind that Webflow is not a web builder focused on photographers but developers. Therefore, building a webpage with it won't be as straightforward as with other more specific tools for photographers.
Interested in fullscreen website design? The amazing fullPage.js JavaScript component is also available for Webflow. Just clone this FullPage.js Webflow Example and you'll have a great starting point to create your fullscreen photography website. Check how to use fullPage.js in Webflow for more info.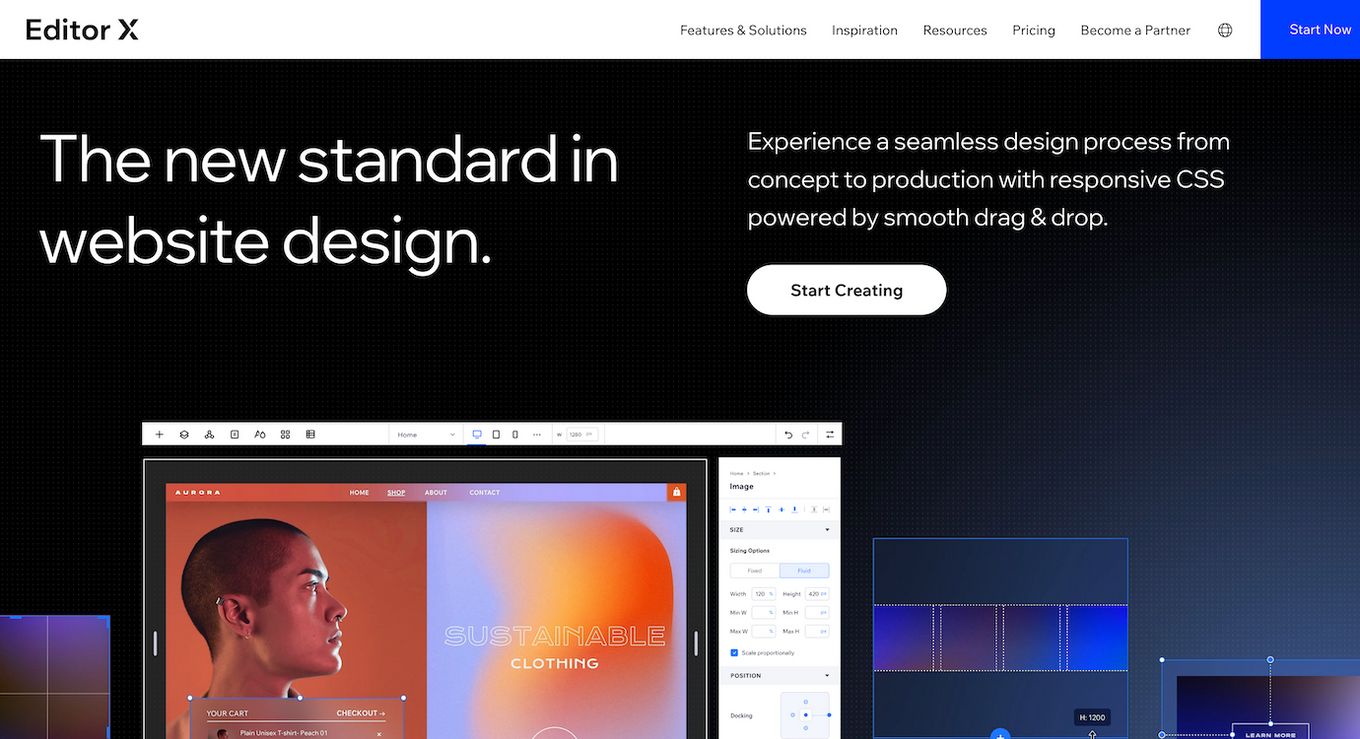 Free Version: No
Starting at: $17/month
EditorX is a fantastic generic web builder that will also provide you with a way to create photography websites. It's a website editor on the same line as Webflow and will require some more developing knowledge from your side.
Being a generic website builder, it is not specifically designed with photographers in mind and therefore it won't come with some more specific features. However, this doesn't mean it can't be used to create beautiful websites for photographers!
In their showroom you can see a couple of website inspirations for photographers. This way you can get a better idea of what EditorX is capable of.
EditorX comes with a team collaboration feature, eCommerce integration, blog integration, events, memberships, subscriptions, a powerful content manager (CMS), a community of creators, chat, and advanced web developing techniques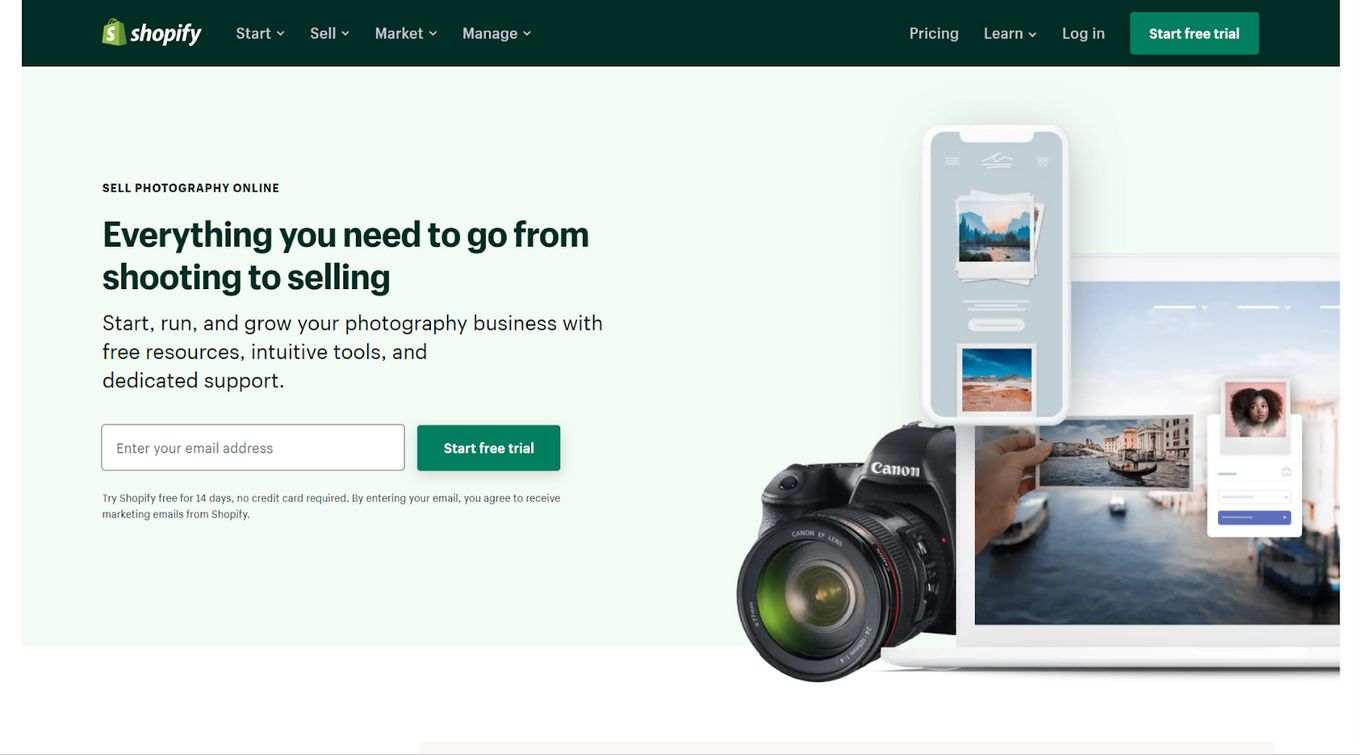 Free Version: No
Starting at: $29
Shopify is the best website builder for photographers looking to sell their work online. It is also great for being the best website builder for artists looking to sell their work to customers.
As the name suggests, it is a shopping platform but also a fantastic website builder for artists. You can build a website to sell all sorts of things, like frames, prints or digital art, photo books, workshops, etc.
You can use a wide range of third-party integrations to link with social media accounts to expand your reach. Shopify is a central all-in-one solution to set up a store and integrate with the most powerful sites like Facebook to connect to more users.
Is Wix Or Squarespace Better For Photographers?
Wix may be a better choice if you are only looking to begin your photography website. The reasons are two: its low cost and its range of basic templates to get you started.
Wix is a fantastic website builder for photographers. It is very popular for that use. Wix has over 800 templates to choose from and they have a very low entry on the cost to get started.
Whereas, Squarespace is a more fully-featured platform that includes eCommerce features, providing you with the tools to sell online and keep your website on the same platform.
Is WordPress Good For Photographers?
Yes, WordPress comes with a huge community. You have access to thousands of free and paid themes, as well as plugins that can be used to add additional functionality.
You can self-host WordPress, so you are free to choose a cloud provider that fits your budget and not be restricted by the website. You get total access to your WordPress admin dashboard and won't have to pay extra for additional users or pages, etc.
You don't need to worry about SEO either, it is all built-in and easy to add meta tags on pages.
What is the best Website Builder for Photographers?
The best website builder for photographers is the one that best adapts to your needs. If you want a custom-made website you should go for powerful tools like Webflow. If you want to release your photos fast and have total control over them, using web editors like Format will likely be your best choice.
No matter your skill level or goals, it is important to have your website for photography. Even if you are just using it to keep track of your work, in the future you may wish to expand, especially if you are active.
Having a photography website already set up is a big step and something you won't need to worry about later on when things could get busy - it is also best to start early with your photos and create history as early as you can.
With all the different website builders out there, there is something for everyone when it comes to the best website builder for photographers. If you need something that gives you lots of freedom and the ability to edit code, WordPress is great. Or if you are not experienced with coding or web design, Webflow will work wonders for you.
Related Articles

About the author:
Luke Embrey is a full-stack developer, BSc in Computer Science and based in the UK.
You can find out more about him at https://lukeembrey.com/
Join 2,000+ readers and learn something new every month!
Get notified about new blog posts, tips, tricks, fullPage.js news etc.
RSS feed