How to Refund a Game on PS5 [Step-by-Step Guide]
Have you purchased a PS5 game only to realize it was the wrong version or changed your mind? **Can you refund that game on PS5?**Thanks to PlayStation's refund policy, you can get your money back if you meet specific standards.
Discover how you can get a game refund on PS5, and the conditions set by the company's policy.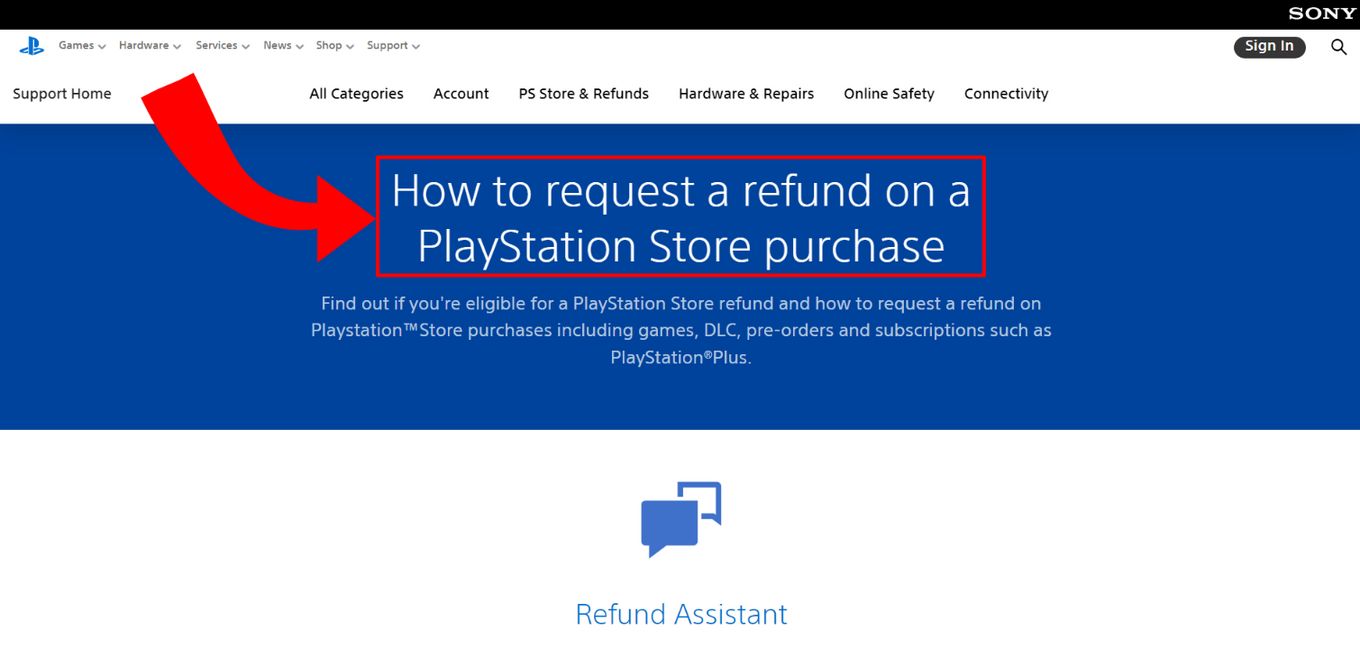 Can You Refund A Game On PS5?
Yes, getting a full refund for your PS5 game is possible, but there are specific criteria the purchased game has to meet before a refund is approved. There are also conditions that you have to meet to be eligible for a refund.
14-day Refund Policy. You should send a refund request within 14 days of purchasing the game from the PlayStation store to be eligible.
Not Having Streamed Or Downloaded The Game. Once you do it, it automatically becomes non-refundable. If you already have, the company can only provide you with a refund if the game is faulty.
Check out the official PS5 refund policy if you want to get the legal details.
How To Refund A Game On PS5
Now that you know that you can refund a game on PS4, let's see how to get a refund for a game:
Method 1: 'Request Refund' Button
This is the fastest method to refund a game on PS5.
Go to the refund requests webpage on the company's support website and click on the "Request Refund" button.

The Support Bot will ask you if you are the owner of the account for the Playstation Network that was charged. Click on "Yes"

The Support Bot will want to know why you want a refund. Select your reason. In this case, click on "Return a game or add-on"

Select the reason why you want a refund. We recommend selecting "I've changed my mind", as it will avoid more unnecessary questions.

The Bot will ask you if you have already streamed or downloaded the content. Click "No". Otherwise, you may not be eligible for a refund.

Enter the days that have passed since you purchased the game.

The Bot will provide you with a Support ID. Copy it. Now you can choose between being contacted by chat or by phone. We recommend by phone, as you can try to persuade the operator better than by chat.
Method 2: Contact PlayStation Support (Especially for UK Customers)
This method is a bit longer than the previous one. It is valid, especially, for those who wonder how to refund a game on PS5 when you are based in the UK.
Go to the refund requests webpage on the company's support website.

Once there, scroll down and select the "Games & add-ons option". Remember that you will only be eligible for a refund if you request the refund before 14 days from the purchase and you didn't download or stream the content.

Click on the blue 'Contact PlayStation Support' button to officially start the PS5 game refund process. Once you click the blue button, you'll be redirected to the contact support page.

Click on the 'PS Store & Refunds' option from the different issues. The choice has a distinct PlayStation logo on a bag.

In the dropdown list that appears, click on 'PlayStation Store refunds' and continue.

Now you will have different options depending if you are located in the US or UK.

For US-based Customers

The website provides two options for its US-based customers at the bottom of the page: "Refund Assistant" and "Live Chat." We recommend The 'Refund Assistant' option because you'll get a fast, straightforward answer regarding your circumstance.

However, you won't be directly connected to an agent at first. You'll first have to answer some questions asked by a chatbot. This is essential to ensure you connect to a live agent that deals with your exact issue.

It's also better than the live chat because it's available 24/7, while the 'Live Chat' is only accessible between 6:00 PM and 5:00 AM.

For UK-based customers

After clicking 'PlayStation Store refunds' from the different topic issues listed, an 'Email Us' option will appear at the bottom.

Once you click the 'Email Us' button, you'll be redirected to a form that allows you to fill out the conditions that have caused you to prompt a refund.

After that, you'll be presented with another form that will need you to fill out personal information such as your name, PlayStation ID, and email address.

Below these details, PlayStation will require you to enter more specific information like the date of purchase, transaction ID, and product name. Your transaction ID is found on the PS5 console.

Click on the 'Account Management' icon in the console's settings to access your transaction history menu. You'll find a broken-down list of purchases and the corresponding transaction ID there.

To complete the form, enter a more detailed description in the 'Request Details' section. It would help if you gave more information to help the company decide on your refund request.

Once done, submit the form. You'll almost immediately receive an automated confirmation email to show that the request has been received. If the request is accepted, you'll receive another email indicating that the money has been successfully refunded.

Please note that any refunds are made through the initial payment method. However, this might not be the case for all payment methods, including:

Bancontact (MisterCash)
Money vouchers
Paysafecard

In these cases, you'll receive in-store credit. This means that you'll have the money in your PlayStation account and can use it to purchase games, add-ons, or subscriptions on the website.
So that's it, this is how to refund a game on PS5.
How Long Is The Wait After Requesting A Refund On A PS5 Game?
Once PlayStation receives your request, it is processed for up to 10 business days. Depending on your chosen bank's processing time, it can take another seven business days to receive the refund after the company processes the request.
How Can I Check my Transaction ID?
PlayStation transaction history is readily available on your console. Each transaction has an ID that makes it easier to keep track of in case of any issues, including refunds. Visit the PlayStation website and click on the "PS Store & Refunds" option.
A list option will appear at the bottom of the page. Select the 'Purchases & PS Store' icon to view a dropdown menu.
Click the 'How to check PlayStation Store transaction history' option. This will redirect you to another webpage where you'll find in-depth information that may be useful for your problem.
References
Related Articles
Join 2,000+ readers and learn something new every month!
Get notified about new blog posts, tips, tricks, fullPage.js news etc.
RSS feed