Are you looking for ways to watch antenna TV on your Roku without an Internet connection? Or are you curious how an antenna TV can complement your Roku experience?
We'll discuss all the details you need to know about watching antenna TV on Roku without the Internet and provide you with details on why your antenna TV isn't working.
Finally, we will explain how to connect your Roku remote to your TV without WiFi.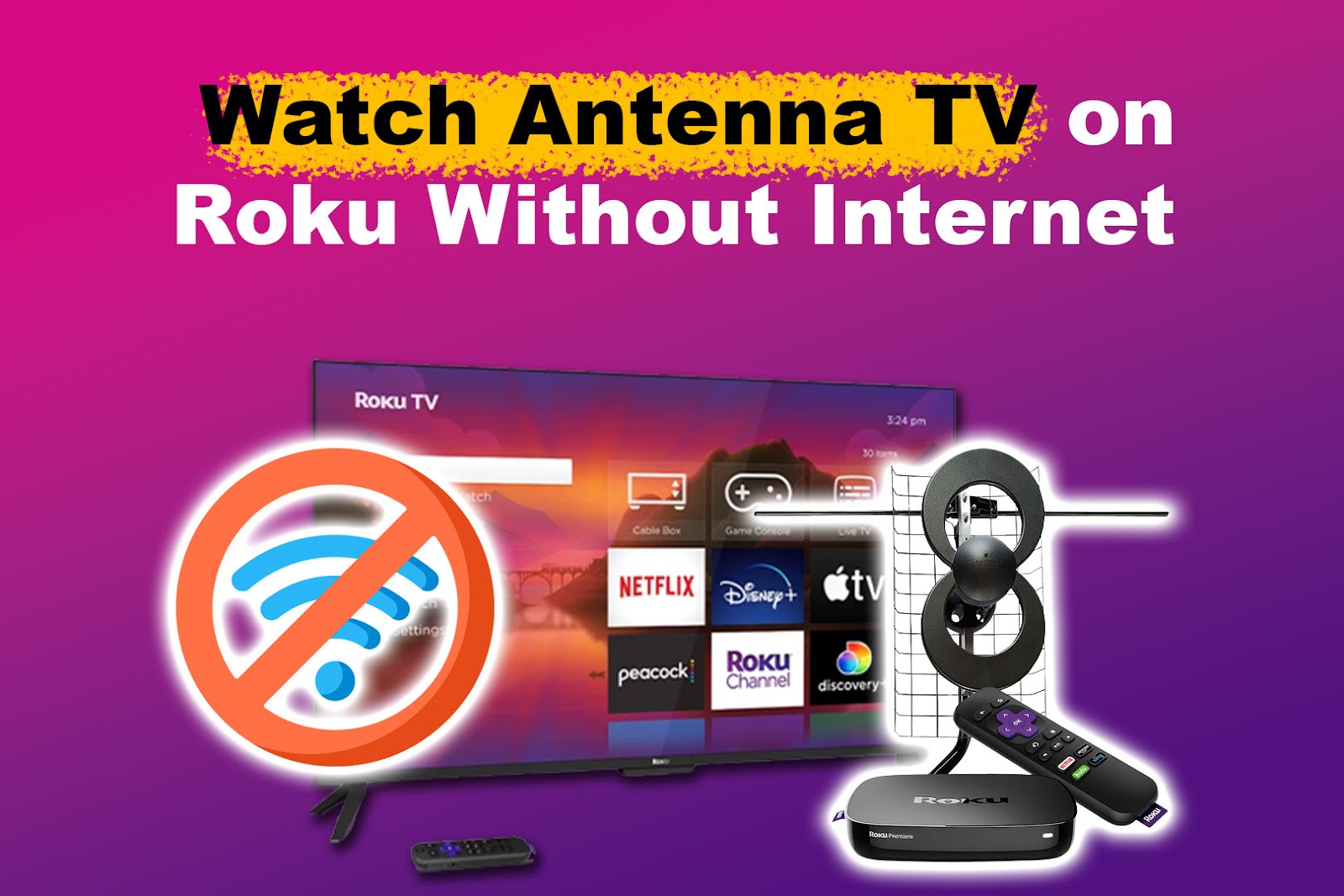 What Kind of Antenna Do You Need for a Roku TV?
You need an HDTV antenna with a coaxial cable for your Roku TV. The antenna can either be an outdoor or an indoor one. You can select one based on where you are and how much space you have. Roku suggests a selection of HDTV antennas to be purchased at Walmart or Amazon.
An HDTV antenna with a coaxial cable receives HDTV signals and comes with a cable to connect to your TV or other equipment. Indoor antennas are compact, placed indoors near a window, and work best in areas with strong signals or closer towers.
Outdoor antennas are larger, mounted outside on a roof or pole, and can pick up signals from farther distances.
Where Can You Find the Antenna Input on Your Roku TV?
The antenna input on your Roku TV is on the back or side of your TV. It is a port named "ANT IN" or "CABLE IN". The coaxial cable of your HDTV antenna should be connected to this port. After securing the cable, use your Roku TV remote to access the "Antenna TV" or "TV Input" menu and scan for available channels.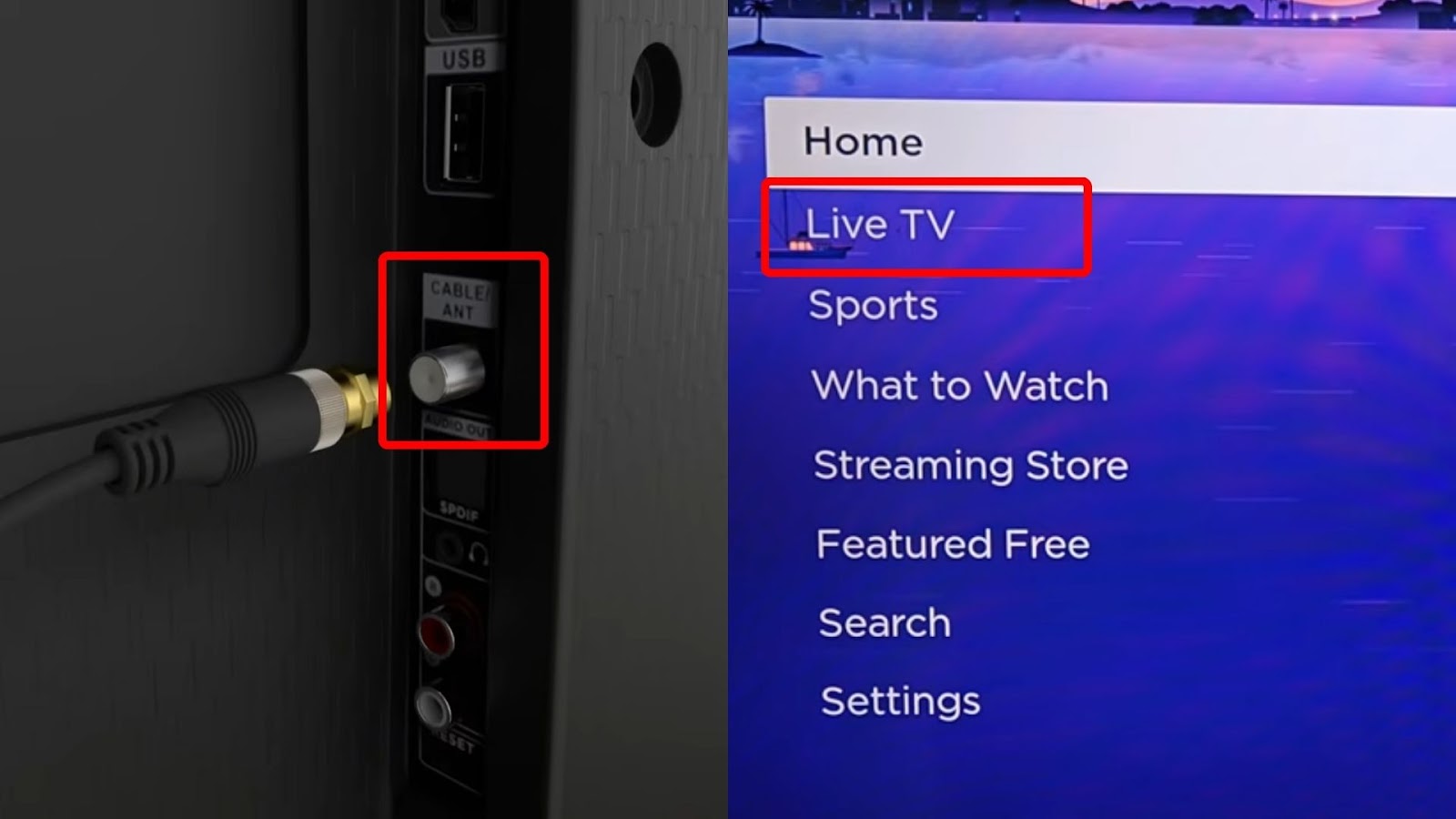 To find the antenna input on Roku TV software, press the Home button, navigate to "Live TV," and select "Antenna TV" or "TV Input."
Check Roku Support for details on setting up the Live TV input on your Roku TV and our article on how to change input on Roku TV.
How to Watch Antenna TV on Roku Without Internet
Here are the methods to watch antenna TV on Roku without the Internet:
Method 1. Connect to a Cable TV Source
Before we dive in, the cable input's location will depend on your Roku TV's model. Also, the cable box receiver can use HDMI, coaxial cable, or AV cables. The steps below will be using an HDMI cable.
Note: You need a Roku remote, cable box or satellite receiver, and an HDMI cable.
These are the steps to connect to a cable TV source:
Step 1. Turn off your Roku TV.
Step 2. Locate the HDMI port at the back of your Roku TV.

Step 3. Connect the HDMI cable of your cable receiver to your Roku TV.

Step 4. Turn on your Roku TV using the remote.

Step 5. Select the HDMI port where you connected the cable.

Step 6. Start watching channels.
The Roku TV should automatically detect the signal if the cable receiver is powered on and the HDMI cable is connected correctly.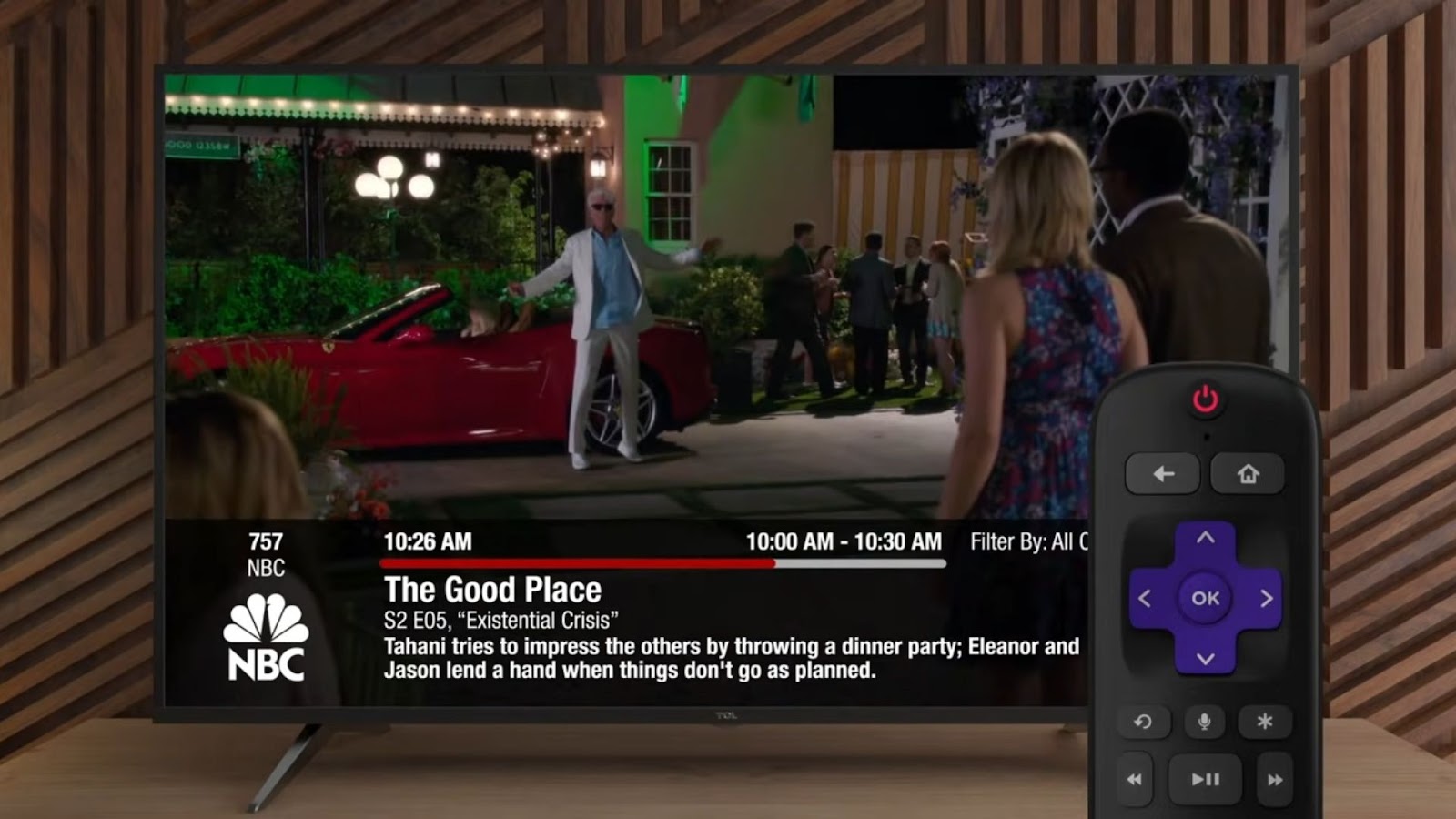 You can check this video tutorial if you want to skip the "Home" screen and go straight to the cable box input every time you turn on your Roku TV,
For more information on connecting your cable or satellite receiver to your TV, visit TCL support.
Method 2. Connect to an HDTV Antenna
Before we start, you must have your Roku remote and coaxial cable.
Tip: If you're using a 300-ohm twin-lead cable, use a 300-75-ohm adapter.
Step 1. Power off your TV.
Step 2. Locate the antenna port and connect the coaxial cable to your TV.
You need to ensure that it's secured tightly.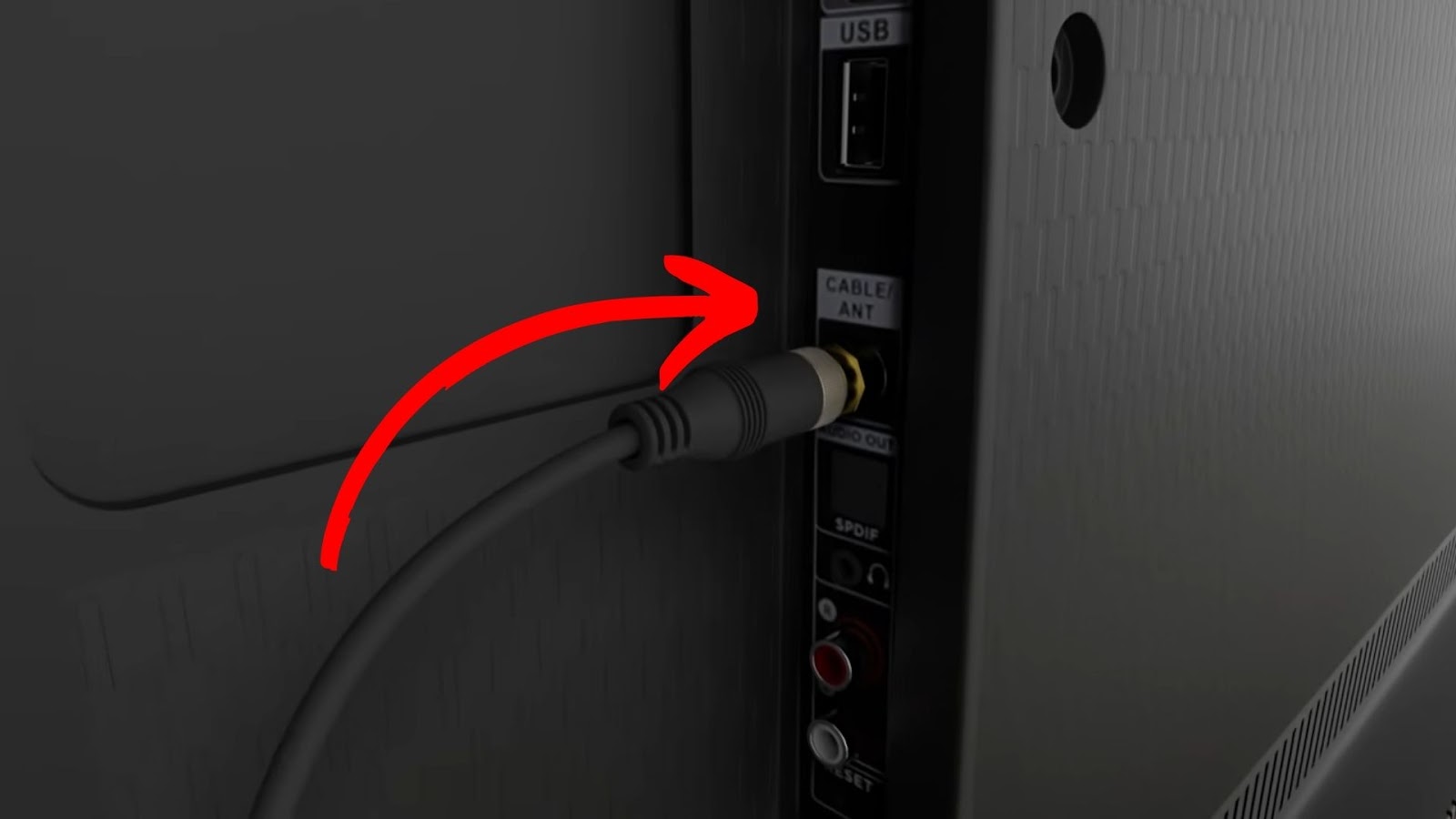 Step 3. Power on your TV.
Use your remote to do this.
Step 4. Go to "Home > Antenna".

If the "Antenna TV" is missing, check out Roku Support on the steps you should take.

Step 5. Set up the antenna by following the on-screen instructions.

Step 6. Set up "Live TV pause" if you want.
Note that this step is optional, and you'll need a compatible flash drive with at least 16GB of storage for this to work. If you don't want to set this up, just click "Done".
You can now enjoy watching antenna TV on Roku without the Internet!
What Channels Can You Watch on Roku Without Internet?
The channels you can watch on Roku without the Internet are Live TV channels such as Fox, ABC News, NBC News, CBS, etc. You can check the Federal Communications Commission's DTV Reception Maps to know which specific channels you can watch at your location.
Simply enter your address, zip code, city, etc., and find out which channels are available in your region.
Why Won't Roku TV Pick Up Your Antenna Channels?
These are the reasons your Roku TV won't pick up your antenna channels:
Electronic Interference.
Electronic devices may interfere with the antenna signal. Check for nearby electronic devices or metal objects that could cause interference with the antenna.

Damaged Antenna and Coaxial Cable.
Ensure that the antenna and the coaxial cable are in good condition without any visible damage or wear. Consider replacing them if issues arise.

Too Far From Broadcast Towers.
Even if you have an antenna, you need to ensure you're nearby broadcast towers, or if you're far away, you should choose the suitable antenna to help you out.
Physical Obstacles.
Physical obstructions won't allow you to watch antenna TV on Roku without the Internet. Ensure no obstructions are blocking the antenna signal, and relocate to broadcast towers for a more precise line of sight.
Roku TV Needs Factory Reset.
Reset your Roku TV to factory settings to restore all settings to their original state. This might fix any issue you're facing with the antenna. Make sure to back up any critical data or settings before proceeding. (If you have issues with WiFi after the reset, read this article.
Note that troubleshooting antenna channels on your Roku TV can vary based on your location, terrain, and environment. Experiment with different setups or seek professional advice. If issues persist, contact Roku's customer support.
How to Connect Roku Remote to TV Without WiFi
To connect your Roku remote to your TV without the WiFi, you need to use your TV buttons to navigate the screen menus. You can connect the remote by setting up a new device in the "Remote & Devices" menu.
For this to work, you must first check if your Roku TV has physical buttons.
Roku Support provides information on what remote your Roku device uses.
Watch Antenna TV on Your Roku Now
Watching antenna TV on Roku without an Internet connection is a great way to enjoy your favorite channels without a cable subscription.
You can use a cable TV source or an HDTV antenna to connect to your Roku TV. Additionally, Roku offers a wide range of Live TV channels you can watch without an Internet connection. 
Now, you don't need an Internet connection to enjoy your Roku experience. You just need the proper cables and devices to make it work.
Related Articles