Webflow: All The Answers You Need
Webflow is huge nowadays. However, it is not the kind of tools web developers and designers are traditionally used to. And because of that, there are people with many questions about Webflow's platform, pricing, and usage.
This article will provide answers to the most common questions about Webflow. If any it's not in the list below, add a comment and we'll add it to the list.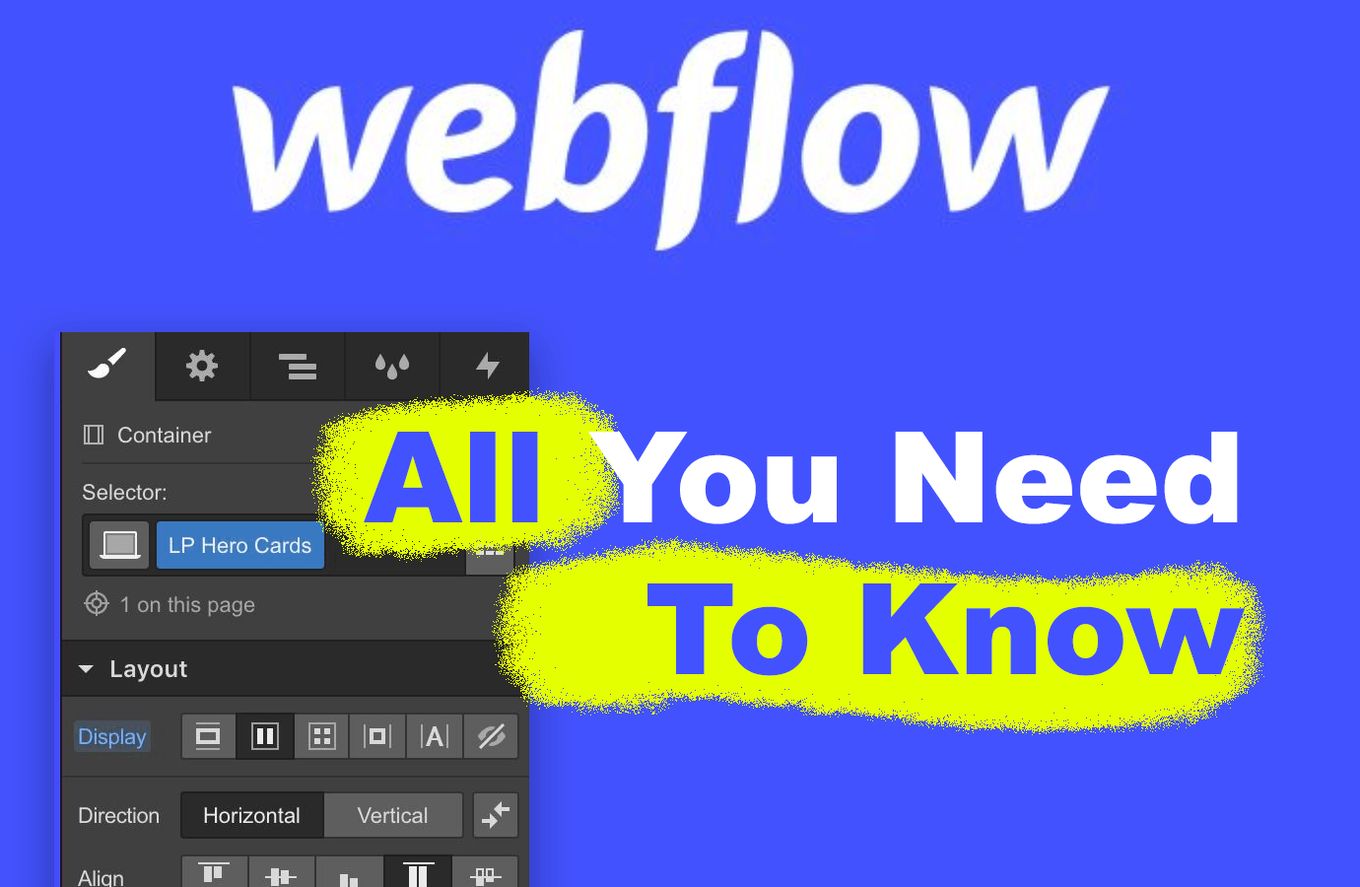 What is Webflow?
Webflow is an online web development editor and platform that provides a fast and easy way to design, build and launch modern websites. It is an all-in-one platform that provides hosting and comes with CMS (Content Management System) and eCommerce integration.
Webflow is a no-code tool and therefore almost everything can be achieved directly through its visual interface.
In Webflow you can re-use styles for different elements, clone projects from other developers, purchase templates, host your pages, and get paid.
How much is Webflow?
Webflow Basic Site Plan starts at $12 and provides 1 page with up to 100 pages, 50GB of CDN bandwidth, 25.000 visits, and 100 form submissions.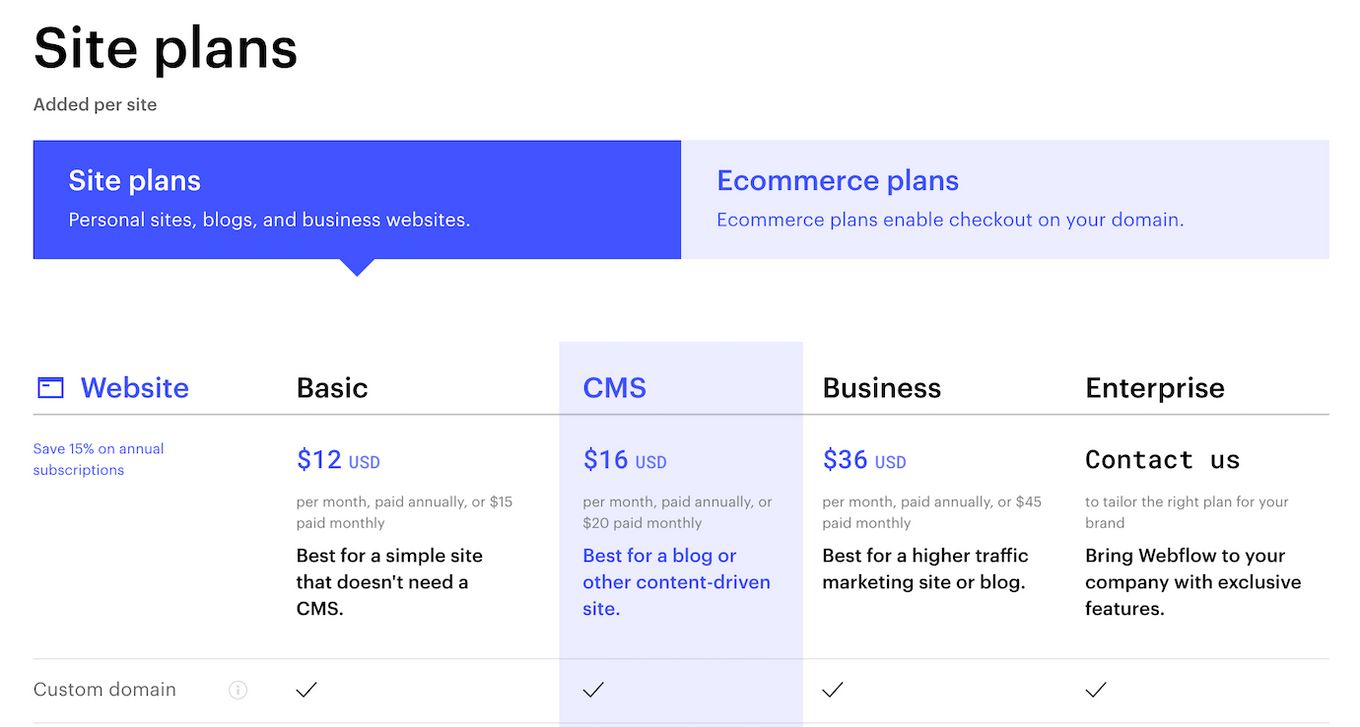 If you decide to use the Personal Plan then you can start using Webflow for free under the Starter tier for the Account plans. However, that won't include the hosting service.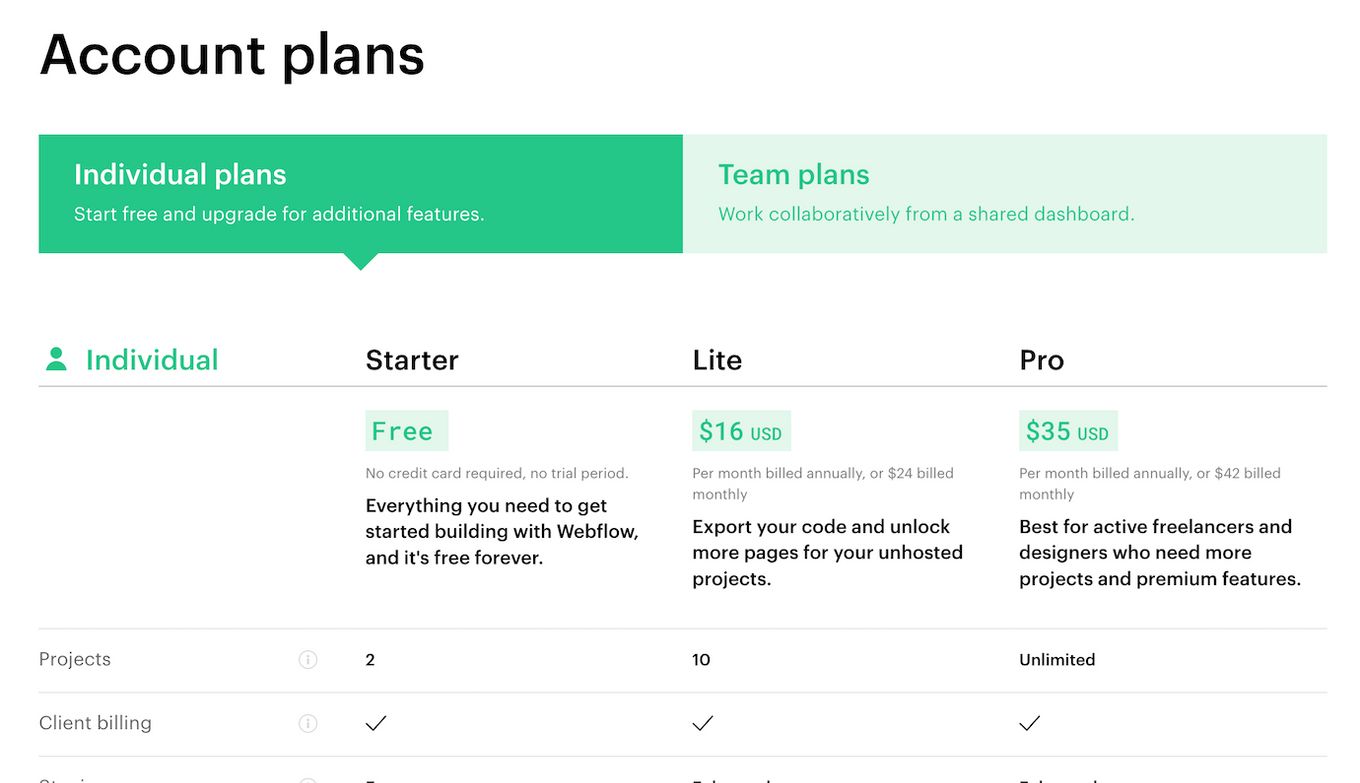 What is CMS Webflow?
Webflow CMS (Webflow Content Management System) is the system that provides Webflow to manage dynamic content around your pages, such as articles, images, and texts.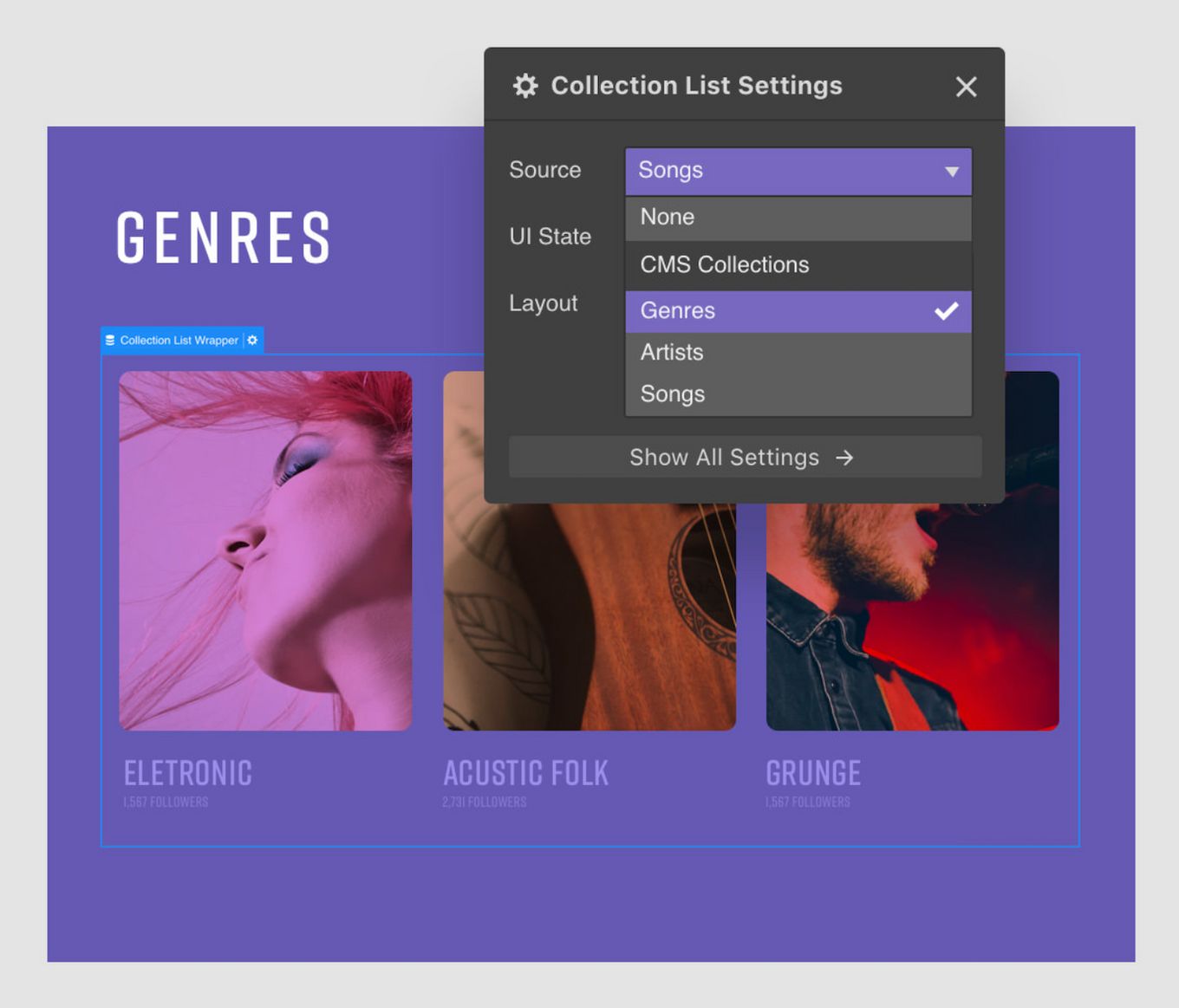 Webflow organized the content in different "collections". Where collections can be any kind of content sharing similar properties and usually listed together. For example blog posts, images, authors, features, categories, etc.
Each item in the collection contains different fields that can be customized.
For example, we can have a collection of "students" and we can define the fields "Full Name", "Phone" and "Avatar" for each of them.
How does Webflow work?
Webflow works under two different plans. The "Site plans" provide hosting and forms and the "Personal plans" don't. Depending on what plan you choose you'll be able to make different use of Webflow.
It also contains a CMS that provides much more flexibility when it comes to showing dynamic content on the page or having an organized structure of information, such as members, authors, job posts, etc.
Why use Webflow?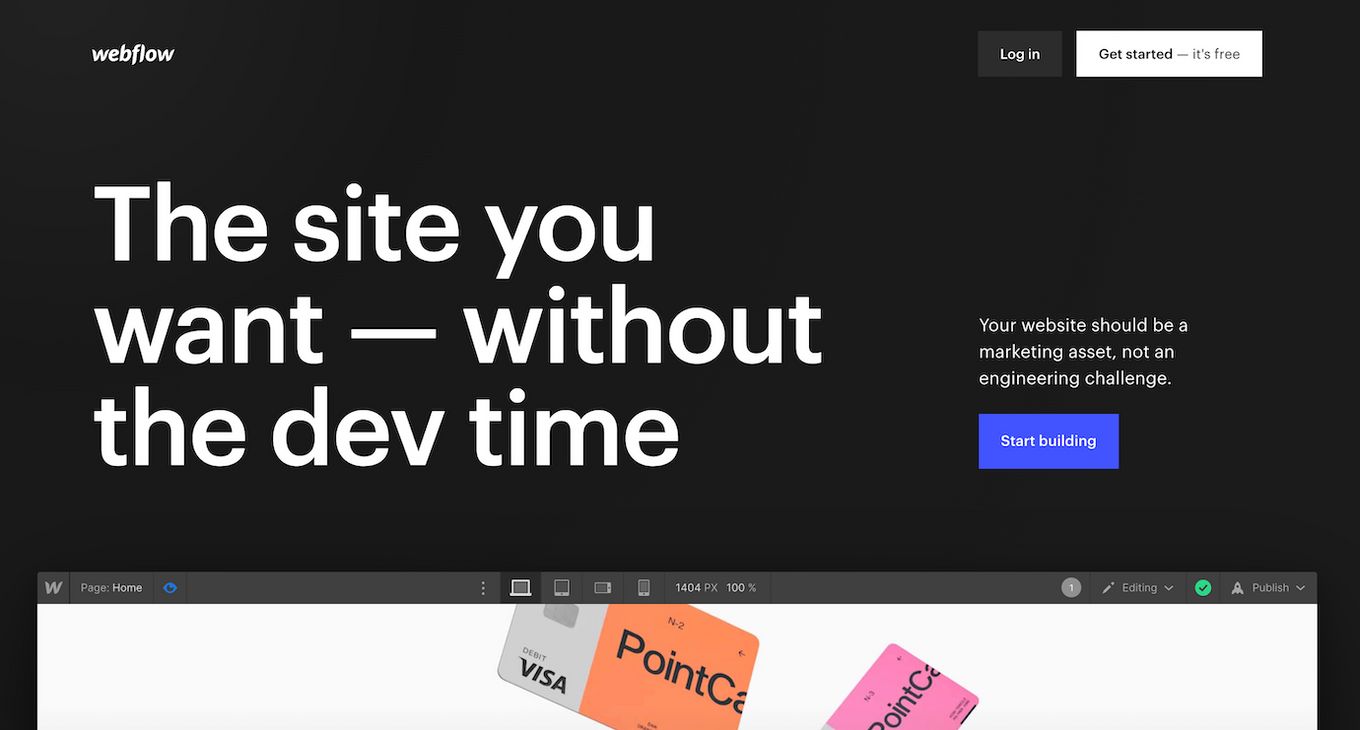 Webflow is a great tool to use for non-developers and web designers. It speeds up the developing process and provides a way to create websites without having to know how to code.
Additionally, using Webflow is perfect for those looking for an all-in-one solution, where hosting, CMS, and designer tools are all included in a single product.
With Webflow there's no need to configure a server, set up a database, or install any kind of third-party plugins. It's all provided by Webflow out-of-the-box.
Why Webflow is better than WordPress?
Webflow can be better than WordPress depending on the use case. Some argue what makes it better than WordPress is not having to deal with hosting, and the design freedom you get on Webflow.
If you want to get into more details, see our article on the Webflow vs WordPress comparisson.
Is Webflow good for beginners?
Webflow can be used for beginners but usually, a basic knowledge of HTML and CSS is required to speed up the learning curve. Although Webflow is a no-code tool, some certain properties and features can only be understood with a basic knowledge of the way websites works.
Having said this, Webflow is ideal for beginners in the sense that it offers them a way to create a fully working website within the same platform. From design to hosting or content management.
It's an all-in-one solution that beginners will love. There's no need to look for third-party plugins, hosting, or design solutions. Webflow provides it all.
Additionally, once you get used to the interface and the basic functionality it can look less overwhelming than other solutions such as WordPress.
How do I start learning Webflow?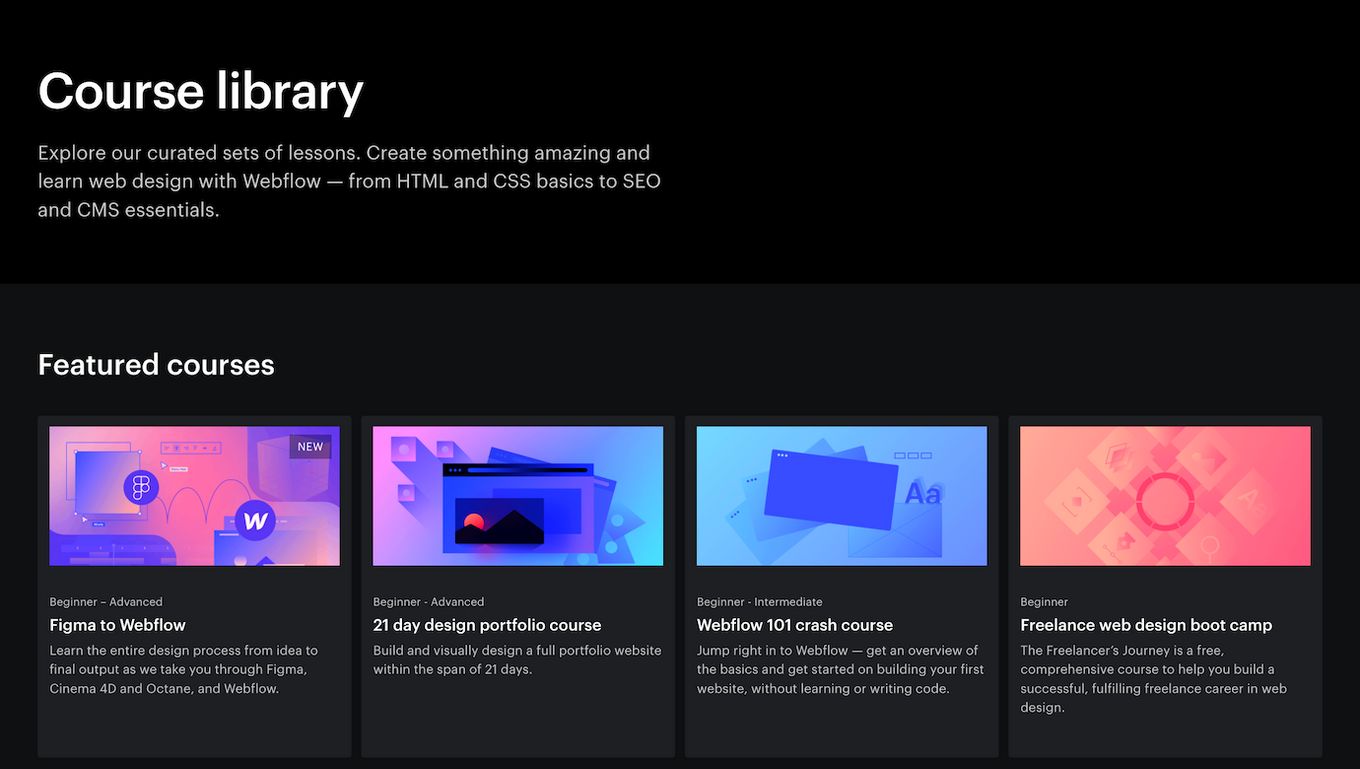 The easiest way to learn Webflow is by creating your first page with it. You can start for free and try it yourself and, if you need help, you can use the Webflow University courses.
Additionally, you'll be able to find a variety of tutorials on Webflow's Youtube channel and any third-party tutorials.
How to use Webflow?
To start using Webflow follow the following steps:
1- Sign up and create your user
2- Click on New website from your Dashboard.
3- Choose a starter template or a Blank Site.
4- Open the Editor
5- Once you are happy with the changes Publish the site on the top right corner.
What's the difference between Webflow and WordPress?
Both platforms are very similar in the sense that both provide a CMS (Content Management System) to organize and structure the information.
Although Webflow was first developed with static pages in mind, things have changed and it can provide very similar functionality to some WordPress sites.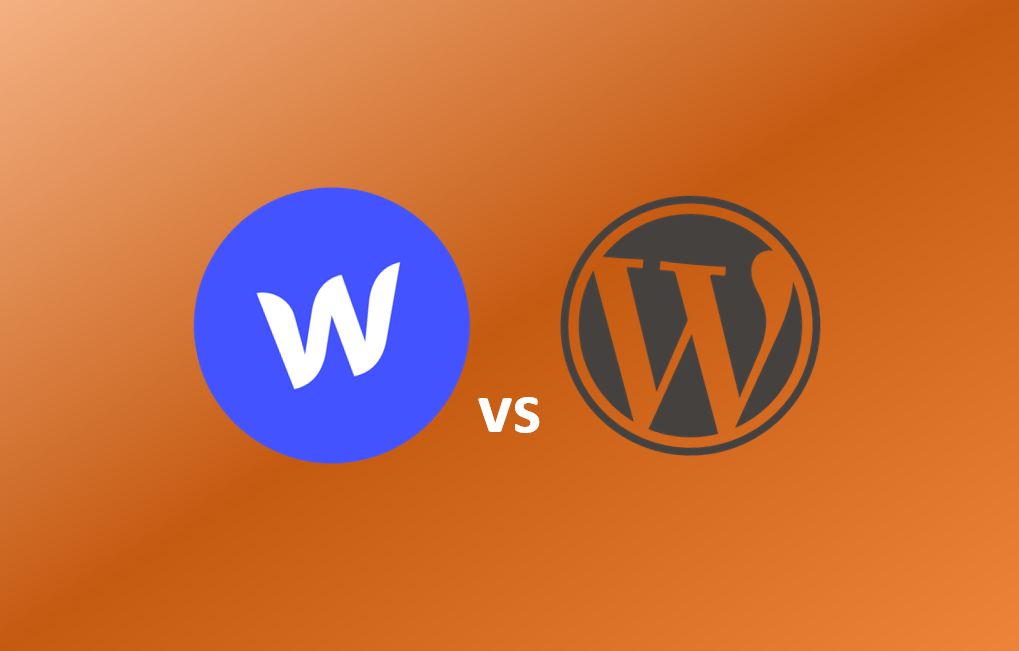 Some of the main differences between Webflow and WordPress are the following:
WordPress is free and open-source.
WordPress has an extensive selection of plugins.
Webflow is a service, while WordPress can be self-hosted.
Webflow provides more control over design.
Webflow provides an SSL certificate. WordPress doesn't.
Webflow integrates eCommerce out-of-the-box. WordPress requires a third-party plugin.
Webflow is limited to its tools. WordPress not.
Here's a more complete comparison between WordPress and Webflow.
Can you Code in Webflow?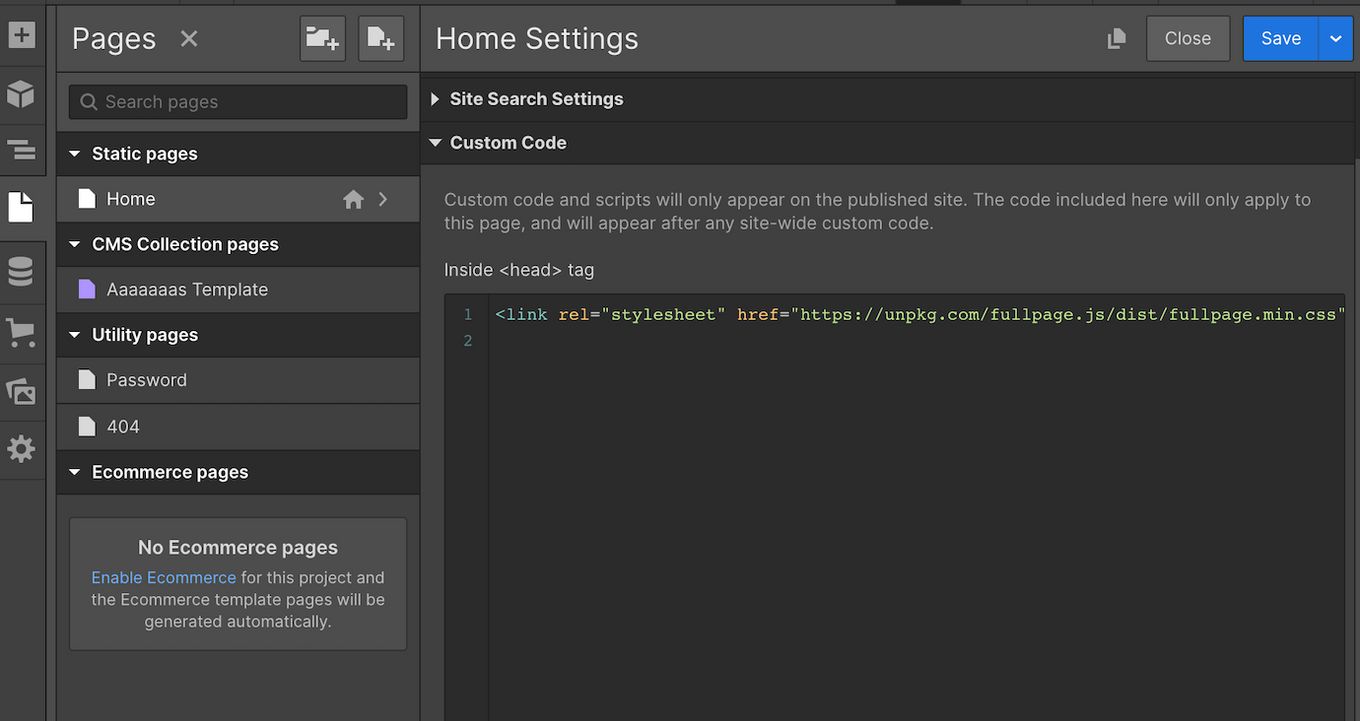 Yes. Webflow allows the inclusion of HTML, CSS, and JavaScript code on the <head> and before the closing </body> tag of the page. Webflow calls it Custom code and it is limited to 10,000 characters.
It supports the following kind of code:
Link Tag (<link>)
Meta Tag (<meta>)
Style tags (<style>)
Script tags (<script>)
Webflow also includes jQuery version 3.3.1 at the time of this article.
What is Webflow designer?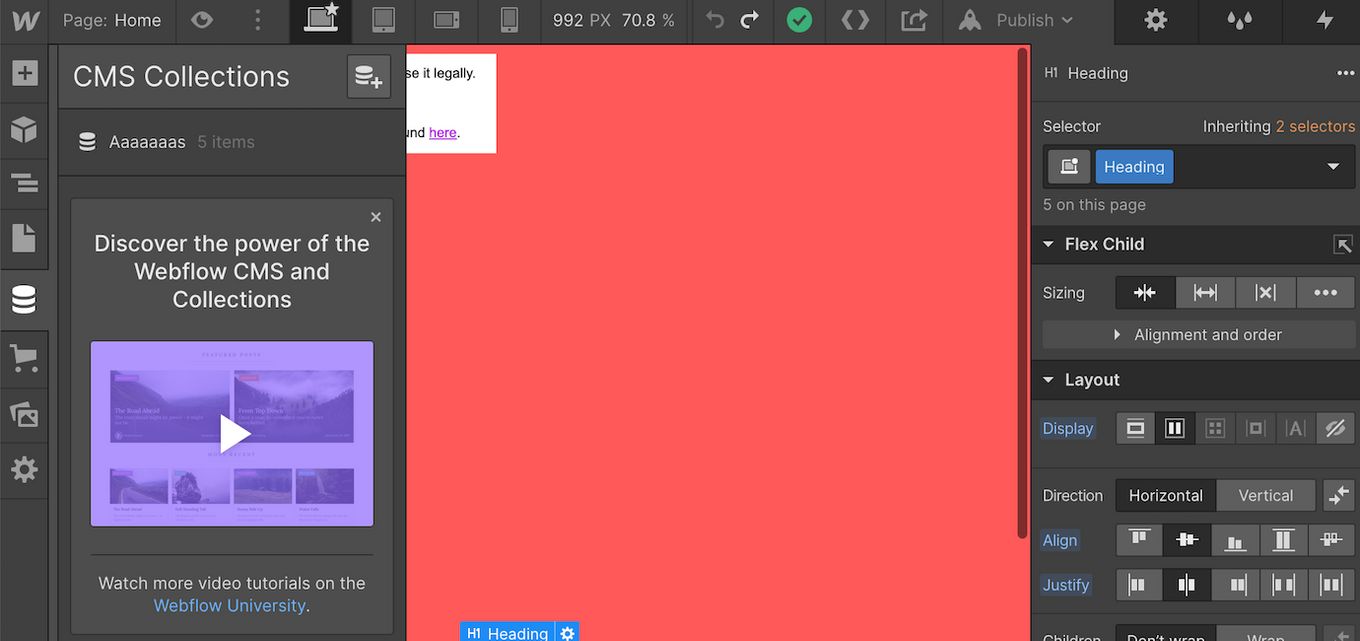 The designer of Webflow is the main part of the platform where you can create the website's structure and design. It is where you'll be manipulating the HTML and CSS and designing the page without writing code.
Can I use plugins with Webflow?
No. Webflow comes with what they call "plugins or integrations" but those are not plugins, instead, they are "lessons" on how to integrate third-party tools in Webflow. Usually by making use of Webflow's custom code.
You can look for plugins on the Webflow integrations and plugins page.
How to do SEO in Webflow?
Webflow comes ready to be optimal for SEO. You will only have to make sure to meet the same criteria as any other website.
All you have to do is make sure you include:
Meta Title (Under 60 characters)
Meta Description (To grab the visitors attention)
H1 and H2 elements (To emphasize the page topic)
Short URLs
XML Sitemap (auto-generated by Webflow)
Alt text for images (alternative text for images)
All these can be adjusted through the Webflow designer.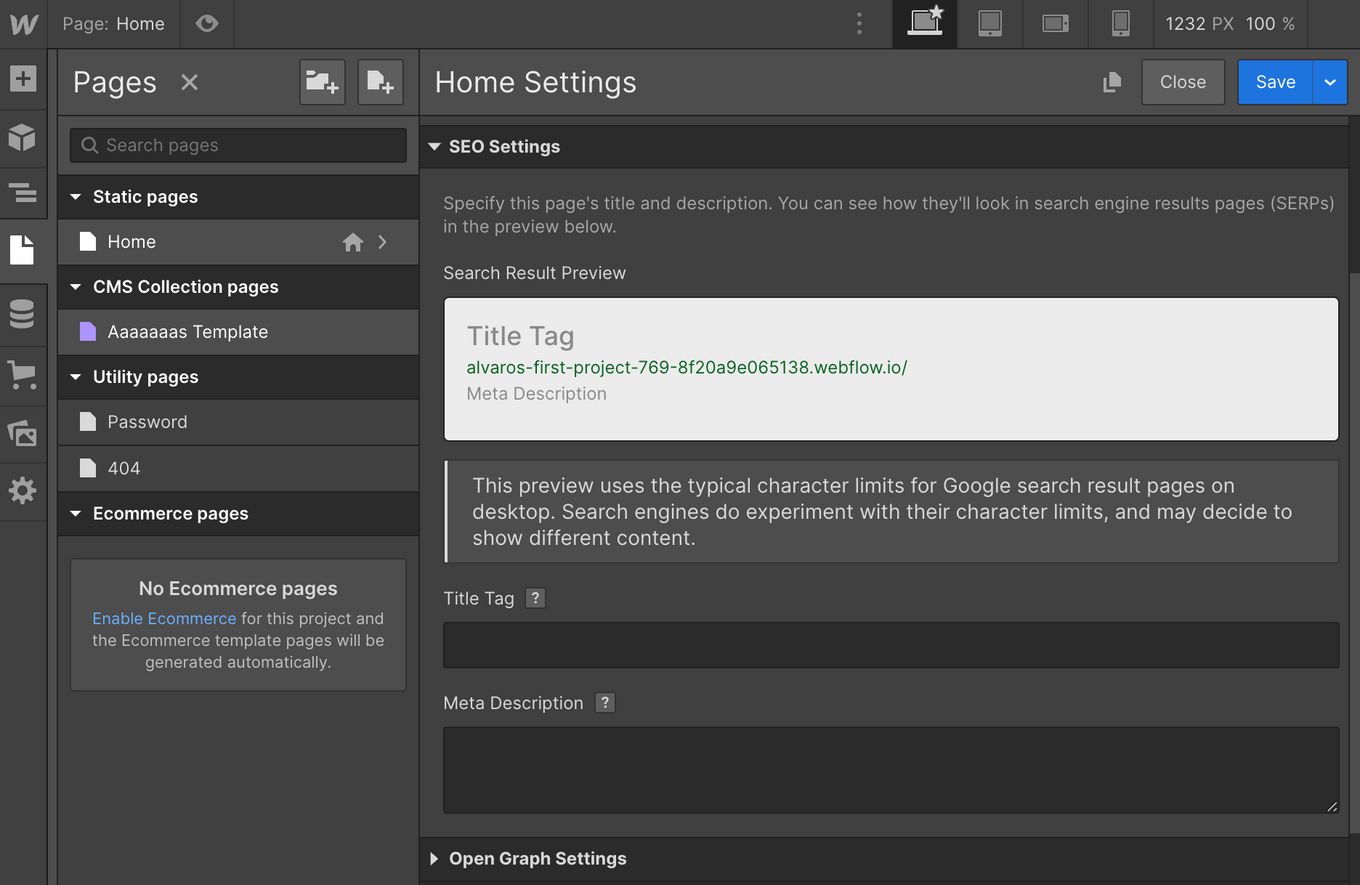 You can add Google Analytics to measure your visits.
Does Webflow integrate with stripe?
Yes. Webflow supports Stripe integration. It won't include any form or field to configure it within Webflow, but it allows you to link to the payment page that you can create directly with Stripe (Check out Stripe Checkout builder).
Can I integrate Webflow with PayPal?
Yes. Webflow supports Paypal integration. It won't include any form or field to configure it within Webflow, but it allows you to link to the payment page that you can create directly with Paypal (Check out Stripe Checkout builder).
Learn more about Paypal Integration.
Does webflow have Ecommerce integration?
Yes, Webflow comes with great support for Ecommerce websites. With Webflow you'll be able to sell both physical and digital products like on many other Ecommerce platforms.
One of the main advantages of using Webflow for your Ecommerce business is that you'll have total control over the design aspect.
Check out this list with great Webflow Ecommerce websites and these webflow templates with Ecommerce ingeation.
How can I make money with Webflow?
You can make money with Webflow by:
Creating templates to sell in Webflow's marketplace
Creating websites for clients.
Creating courses on how to use Webflow.
Creating eBooks on how to use Webflow.
Selling products or services on your Webflow's page.
How does Webflow make money?
Webflow's revenue comes from their customers through different paid plans and paid templates commissions. The Site Plans start at $12/month and the Account Plans start at no cost for individuals.
Customers will choose the plan depending on the features they need, the kind of customer they are (individual, team), and the page usage.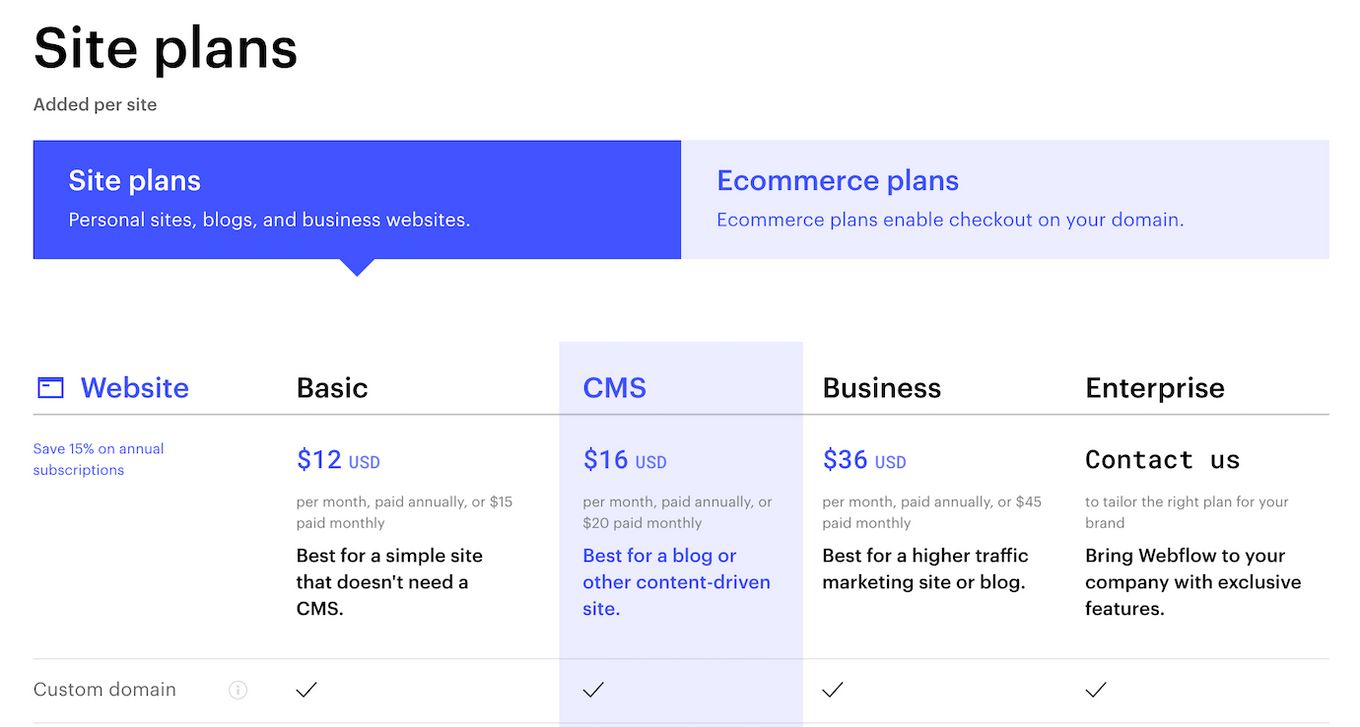 Templates commissions are not static and they go from 80% to 60% of the sales. Read more.
To keep on the 80% tier you must build at least 1 template per month. Otherwise, you'll move to the 60% tier.

What is Webflow's revenue?
Webflow made $66M of revenue in 2020, quite an increase compared to $20M in 2019. The numbers of 2021 are not yet known.
How do I link Google Analytics with Webflow?
Copy your Analytics Tracking ID from Google Analytics.
Go to your dashboard in Webflow.
Access the "Settings" option for your Webflow page.
Click on the "Integration" tab.
Paste your Google Universal Analytics Tracking ID.
Here's a video explanation from Webflow:
How do I host a Webflow website?
To host a webpage in Webflow you'll need to:
Create a Free Personal Account.
Create a page.
Get a paid Webflow's Site Plan.
Buy a domain or use an existing one.
Connect the domain with your page.
The "Basic" Site plan includes hosting for 1 single website with up to 100 different pages. So that's a good starter.
How do I add robots.txt to Webflow?
Go to your dashboard.
Access the "Settings" option for your Webflow page.
Go to the SEO tab.
You'll find the "robots.txt" option under "Indexing"
If you don't have a Site Plan, buy one.
Can I sell templates in Webflow?
Yes, you can sell templates in Webflow through their templates marketplace. Templates can not contain any Webflow's custom code and should meet very specific criteria regarding design, layout, responsiveness, experience, personal skills, and customer focus.
Sellers get 80% of the sale price as long as they create 1 new template per month. Otherwise, they'll get 60% of the total sales.
Can I resell Webflow templates?
No. Templates should be exclusive to Webflow's marketplace. Webflow submission guidelines state clear that reselling a template is not allowed.
Are there free Webflow templates?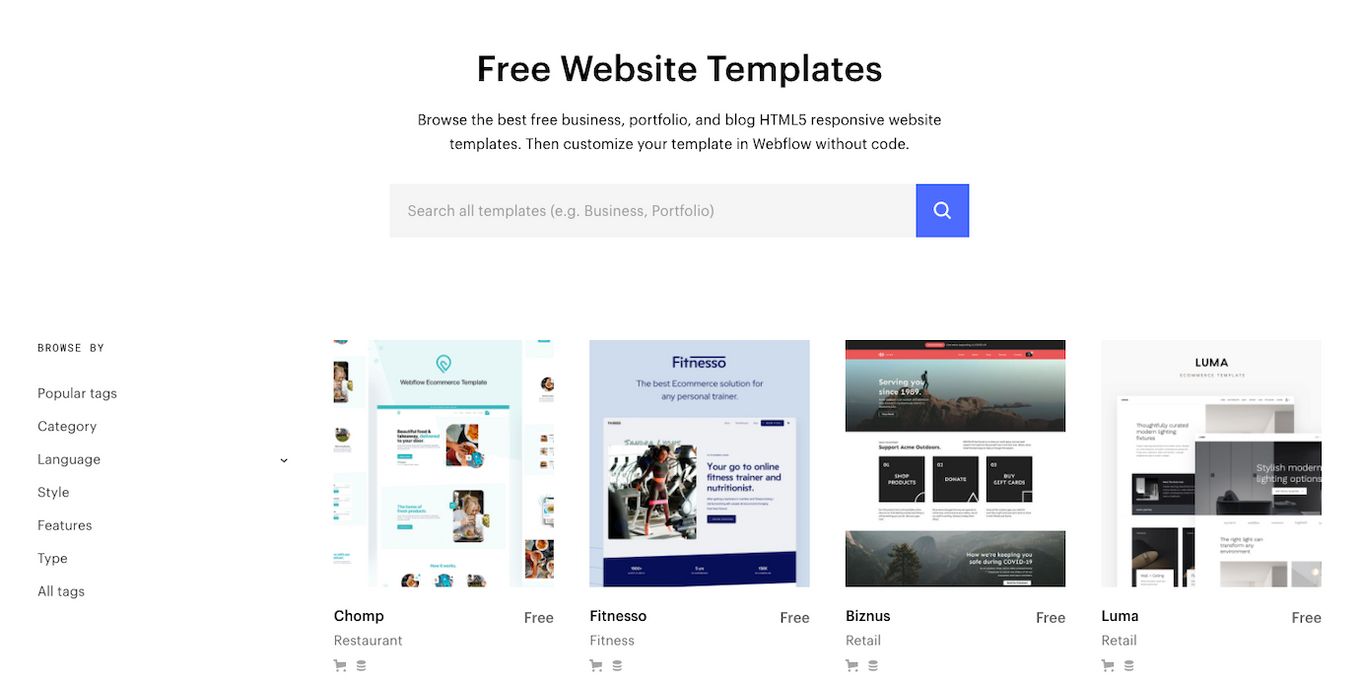 Yes, Webflow has free templates in their marketplace. You can check them out here.
Additionally, you can check the clonable projects of different people and use them as your starting point or as an inspiration for your new website design.
How do I create a Webflow template?
To create a Webflow template you have to first submit your application as a template designer. If you get accepted then you will be able to create a new page and offer it as a template as long as it meets the template requirements.
You can read more about the template requirements here.
Can I self-host Webflow?
Yes, you can self host a website designed in Webflow as long as you first export the site from Webflow. Only static HTML pages can be exported and dynamic content (CMS items and pages) cannot be exported.
To export a site you'll need to buy an Individual Account Plan under the Lite or Pro tiers or a Team plan.
Once you have your HTML and CSS files you'll be able to upload them to any other host of your choice.
Related articles
Join 2,000+ readers and learn something new every month!
Get notified about new blog posts, tips, tricks, fullPage.js news etc.
RSS feed