Does Oculus Work With PS5?
The Oculus Quest 2 (rebranded to Meta Quest 2) is one of the best virtual reality (VR) devices. It's popular among gamers since it doesn't require much set-up or additional wires. But does the oculus work with popular gaming consoles like the PlayStation 5?
In this post, we'll talk about whether the Oculus Quest 2 does work with PS5 as well as what VR headset is compatible with PS5.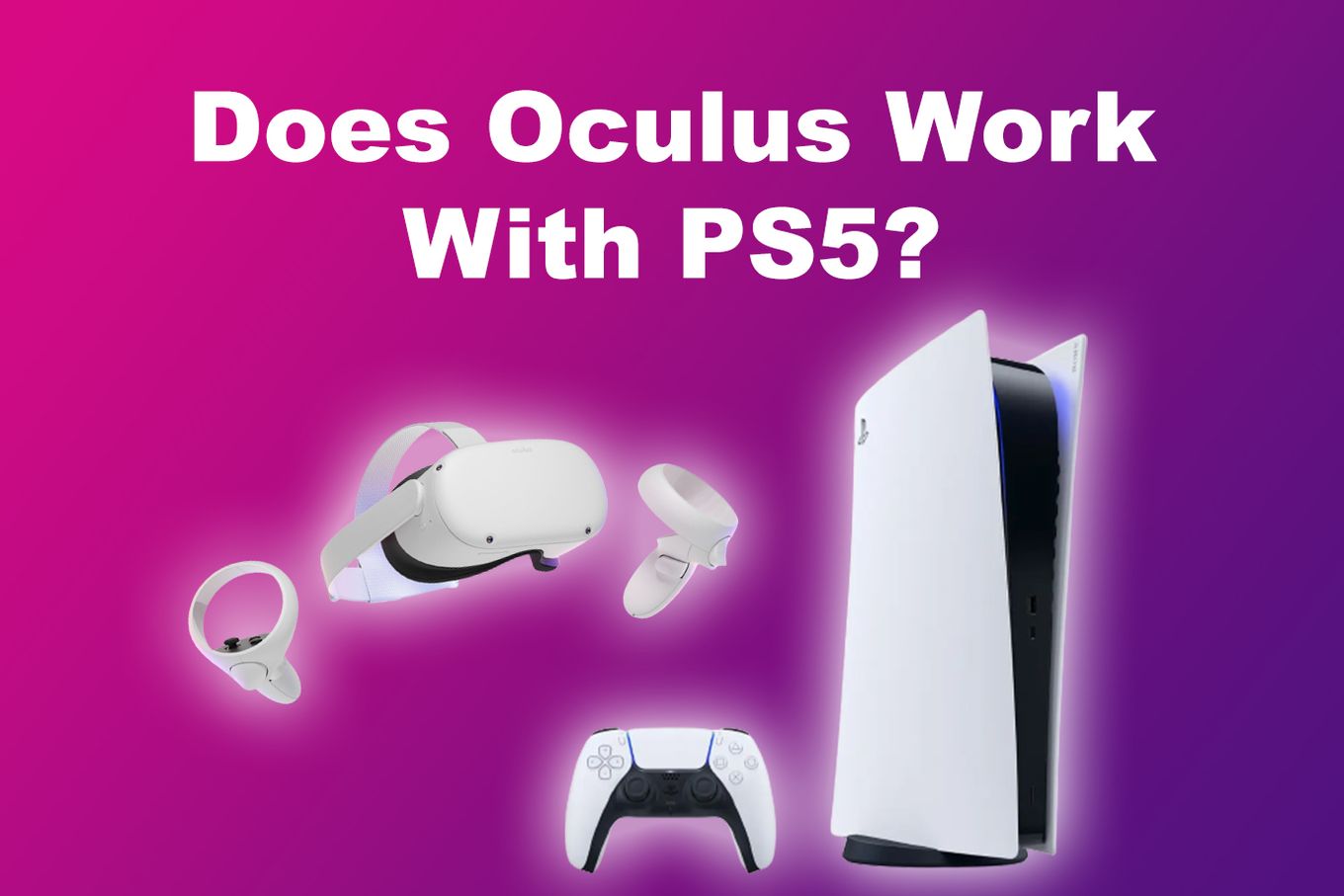 What Is the Oculus Quest 2?
The Oculus Quest 2 claims to be the most advanced virtual reality headset designed for gaming and immersive experiences. Now named "Meta Quest 2", Oculus Quest 2 can run apps and games wirelessly with its internal sensors and cameras located in front. It eliminates the need to dock the user's phone or be tethered to a computer.
Oculus Quest 2 has a slicker and more intuitive design than its predecessor Quest 1. But there isn't much difference in terms of capabilities and function between the Oculus Quest 1 and Oculus Quest 2. As for the specs, the second version has better specs.
Does the Oculus Work with PS5?
No, the Oculus 2 does not work with the PS5. This is not surprising since Sony already released the new version of its own headset, the PSVR 2, last February 2023. Naturally, the PlayStation manufacturer would prefer for PS users to use their VR headsets. Likewise, Oculus is not offering any support for its pairing with a PlayStation.
The Quest 2 is also designed to work primarily with a PC instead of gaming consoles like PlayStation. There are, however, workarounds you can use to make the Oculus work with PS5, although these are quite limited.
How to Connect Oculus Quest 2 to PS5
You can't play PSVR games on the Oculus 2 but what you can do is emulate a monitor or TV on the Oculus Quest 2 to play PS5 games. Here are two ways to make the Oculus Quest 2 work with PS5.
Method #1: Connecting Oculus Quest 2 to PS5 Using Virtual Desktop
Note: to follow these steps we recommend using two PS5 accounts. The primary one will be for the "dual sense controller" so you can play with the controller in VR. The secondary account will be to configure the "Remote Play" app. Then you will change to the primary account. This process is required for using the controller with VR.
Step 1. Download & install the "**Remote Play**" application on your computer.

Step 2. Enable "Remote Play" on your PS5.

Go to "Home Screen > Settings > System > Remote Play > Enable Remote Play".

Step 3. Enable your Internet connection on PS5 rest mode.

Go to "Power Saving > Features Available in Rest Mode > Enable Turning on PS5 from Network".

Step 4. Launch "Remote Play" on your PC and log in with your secondary PS5 account.

Step 5. Select the PS5 console.

Step 6. Wait until you see the PS5 home screen displayed on your PC. Then quit.

Step 7. Connect Oculus Quest 2 to your computer using USB-3 cable.

Choose "Deny" when asked to "allow access to data" and "Enable" in the dialogue box.

Step 8. Download "Virtual Desktop" software on your computer.

Step 9. Add your "Oculus Username" so it connects to your Quest 2.

Step 10. Launch the Oculus Quest App & select the "Virtual Desktop" app.

Step 11. Connect to the computer.

Step 12. Open PS Remote Play and click the Controller ID number.

Step 13. Hit the PS button and select your PS5 primary account that uses the controller.

This allows you to use the Dual Sense Controller with VR.

Step 14. Hit the PS button again and press "home" in the menu bar.
Method #2: Connecting Oculus Quest 2 to Your PS5 Using SideQuest
You can also make Oculus work with PS5 using SideQuest.
Step 1. Download and Install the "SideQuest App" on your computer.

Step 2. Enable "Developer Mode" by going to dashboard.oculus.com and registering an organization.

Click "Create" and put a random name for your organization. Remember to verify your organization accounts with a credit card and two-factor authorization.

Step 3. Power on your Oculus Quest 2.

Step 4. Download & open the "Meta Quest app" on your phone or tablet.

Step 5. Go to "Devices" and toggle on the "Developer Mode".

Step 6. Connect your "Quest" to the PC using USB-C. Put on your Quest.

Step 7. Allow "USB debugging" as well as "Access to data".

Step 8. Start using your Oculus Quest 2!
How to Change VR Environment When Connected to PS5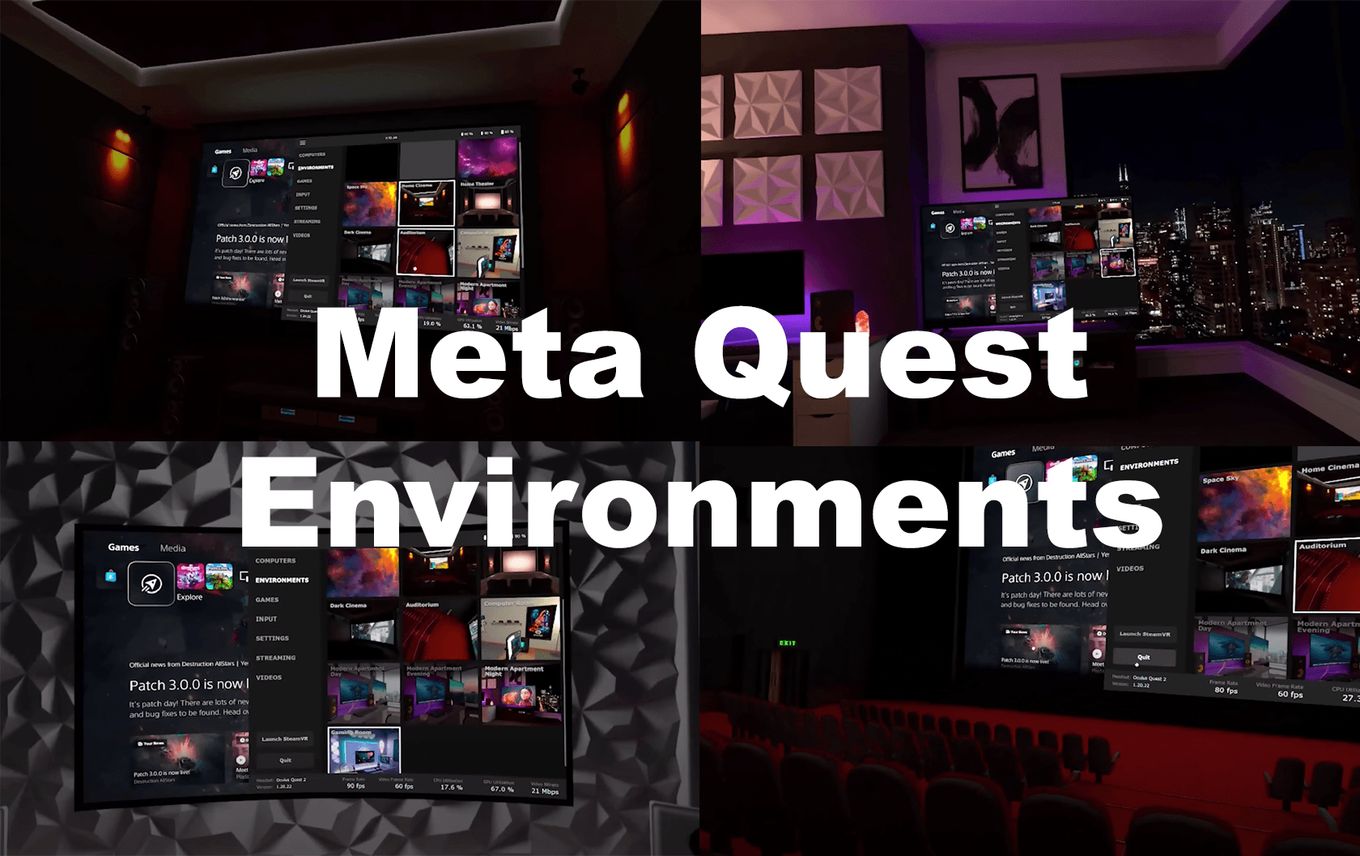 On Oculus there's a way to change the environment or surrounding the screen when you are browsing apps or on the main menu. It's quite a nice feature to give another vibe and quite simple to use. To change the VR environment on Oculus do the following:
Step 1. Go to "Environments".

Step 2. Click on your preferred environment.
Why Is the Oculus Quest 2 Not Supported With the PS5?
The company behind PlayStation, Sony, won't support the Oculus Quest 2 because it tries to promote its own VR system, the PSVR. Naturally, Sony wants players to use their products rather than have PS users buy from other manufacturers. Supporting other virtual reality systems like Oculus Quest would mean lost sales for Sony.
Plus, the Oculus Quest 2 is designed for use with a computer instead of a gaming console, which means simply plugging it into a PlayStation is useless.
If you intend to use the Quest 2 with a PS5, then you'll have to find other ways to make the two work together such as installing third-party apps.
Is the Oculus Quest 2 Better Than PSVR?
Oculus Quest 2 is better than PSVR since it has top-notch hardware while the PlayStation VR is already outdated. Consider that PSVR is already to be phased out and soon to be replaced by the PVSR 2. Oculus Quest 2 is also wireless while the PSVR is tethered by a wired connection.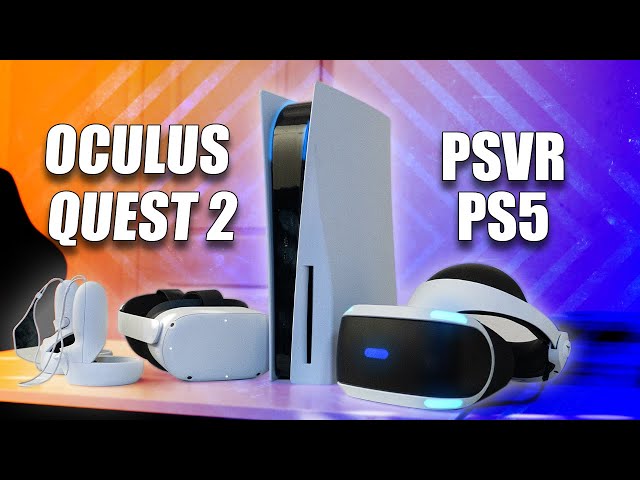 Oculus Quest 2 boasts an impressive collection of VR games but is missing several of the exclusive games for PSVR. Quest 2 also comes out cheaper when you consider the controllers, console, and headset required for the PSVR.
What VR Headset Is Compatible With the PS5?
The PSVR and the PSVR 2 are the only VR headsets compatible with the PlayStation 5. The PSVR 2 only works with PS5 and can be connected to the PS5 using a USB-C connector. It is also compatible with PS4 game consoles but you will need an adaptor that you can order from Sony.
The PlayStation virtual reality system is a closed system totally controlled by Sony. This means that third-party developers find it very difficult to develop virtual reality hardware compatible with the PlayStation.
Can You Use the Oculus as the Screen for PS5?
Yes, you can use the Oculus as your screen for the PlayStation 5 if you use third-party applications. The Virtual Desktop and the PS Remote Play apps are two of the apps you can use. The Virtual Desktop lets you mirror your PlayStation Remote Play screen to the Oculus Quest Screen.
You can also side-load the PS Remote Play Application, which then lets you use it like a mobile device. Oculus Quest 2 works with Android, which is why you can control your PlayStation game console using your Android phone.
PS5 Does Not Work With Oculus Quest 2
The PlayStation 5 does not support Oculus Quest 2 because Sony prefers to sell their own VR headset, the PSVR. There are workarounds you can use to make Oculus Quest 2 work with PS5 but they can be quite complicated to work out.
If you want an easier time connecting a VR headset to PS5, then consider getting the PSVR 2.
Related Articles
Join 2,000+ readers and learn something new every month!
Get notified about new blog posts, tips, tricks, fullPage.js news etc.
RSS feed