10 Best Photography Website Templates [2022]
You've just started your dream career as a freelance photographer, and you're living your passion in color and black and white. How exciting!
The first thing you need to consider to grow your photography business is how customers will find you. A website is a perfect way to showcase your photography services. You'll want to start your photography website by researching the best photography website templates. Analyzing them can help you choose the best templates based on your needs but also the needs of your potential clients.
Let's examine the top 10 photographer website templates for your discovery in 2021.
What Is A Photography Website Template?
Photography templates are pre-made websites that best highlight the skill and work of a photographer. Photographer website templates help photographers captivate an audience, unfold a brand story, and deve lop relationships, but most importantly, secure business.
Templates are an easier and faster alternative to creating a website from scratch as you can essentially plug in your content and photography.
You can find all kinds of templates, from landing page templates for Boostrap to more niche-specific ones such as web developer portfolio templates or photography websites templates which are the ones we'll be focusing on in this article.
What Makes The Best Photography Template?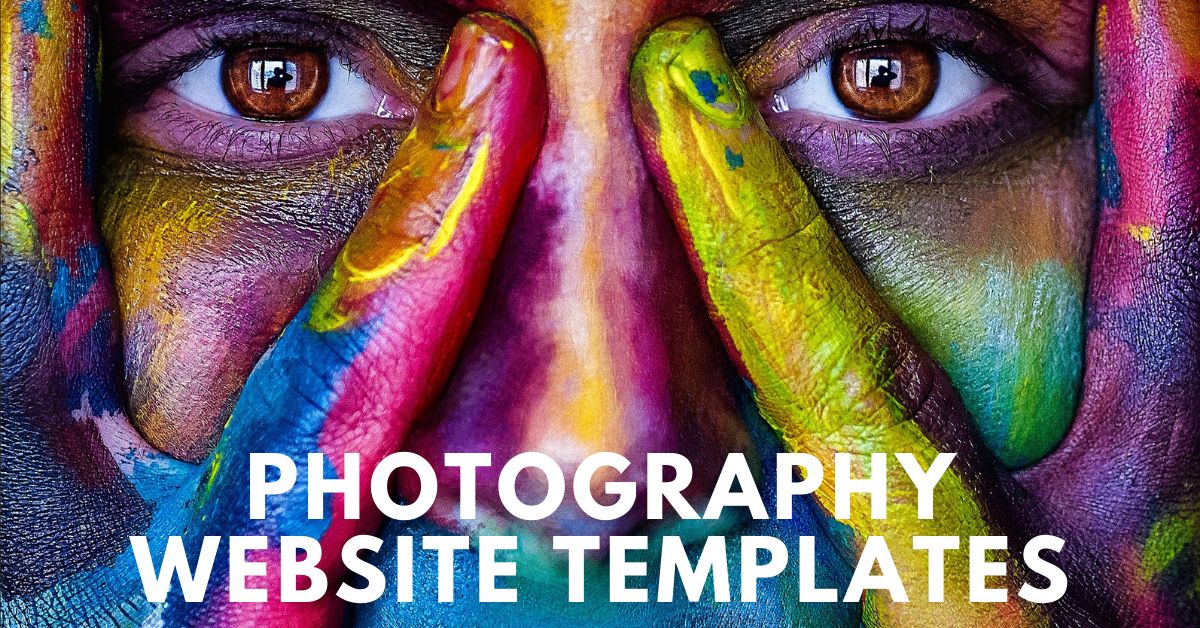 Great photographer website templates entail several striking elements that are relatively easy to remember:
1- A stunning and detailed gallery of your work
2- A compelling about us page
3- A contact us page
4- A great blog with lots of helpful information
5- An easy to navigate interface
Okay, so what exactly are the best photography website templates in 2021? Read on!
10 Best Photography Templates
Minimalistic one-page template. Clean and professional.
This template emphasizes your gallery in a clean, professional delivery. It draws attention to the important moments and memories you captured on behalf of your clients.
An added benefit to minimalistic photography templates is that it loads a little faster as it doesn't use many plugins that a bulkier template offers.
Fullpane is one of our favorite photography website templates, as it allows you to craft stunning visuals alongside compelling blog content. Fullpane offers various layouts and customizable animation and posts.
In case you are wondering if you can use the snap scrolling effect without this template, sure you can! Fullpane makes use of the fullPage.js JavaScript component to create such a beautiful effect. So, if you want to integrate this into your current WordPress template you can still do it by using the fullPage.js plugin for Elementor or Gutenberg.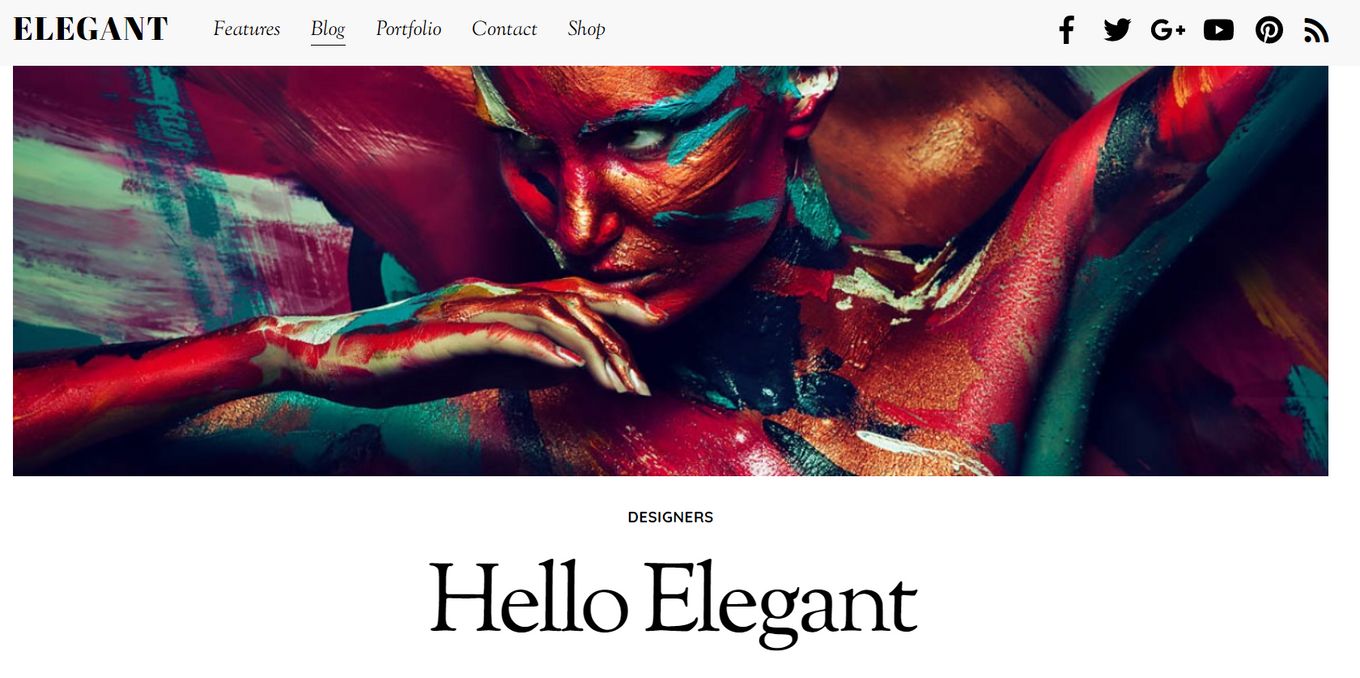 Elegant and classy template for classic photographers.
This photography website template is understated for a reason as it resonates class and elegance with audiences alike. In a multifunctional theme that eliminates slow-speed animations, the focal point of the Elegant theme is, in fact, your content.
Functionality is accessible across various devices, and with many added features and benefits, such as the new image filter, the Elegant theme is the perfect way to highlight photography portfolios websites.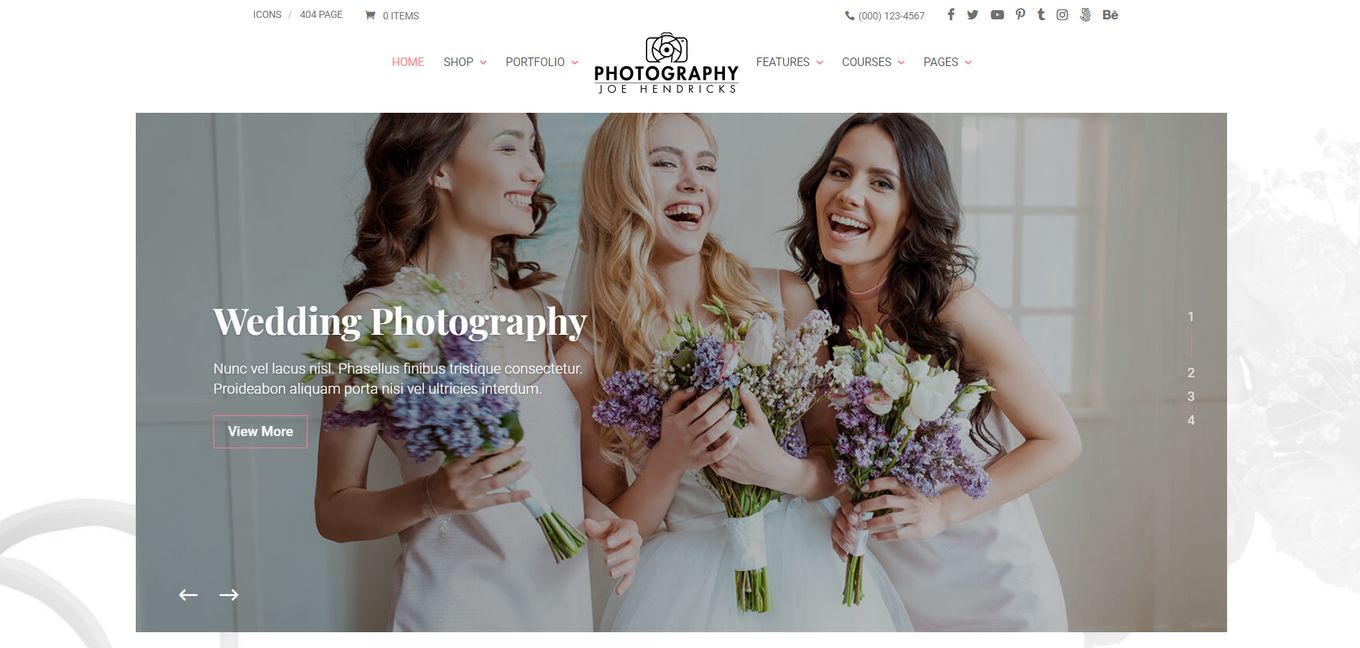 Stunning photography eCommerce template with photo gallery, portfolio, and digital store.
Divi Photography theme offers a one-stop-shop for the budding photography business owner. Grow your portfolio, add a digital store, and book appointments seamlessly using the Child theme.
Features include over 100 pre-made website layouts, image carousels, online course capabilities, a custom blog, and much more. Users can organize their images by project, style, or gallery with four robust portfolio pages highlighting your expertise in a beautifully stunning visual aesthetic for your photography website.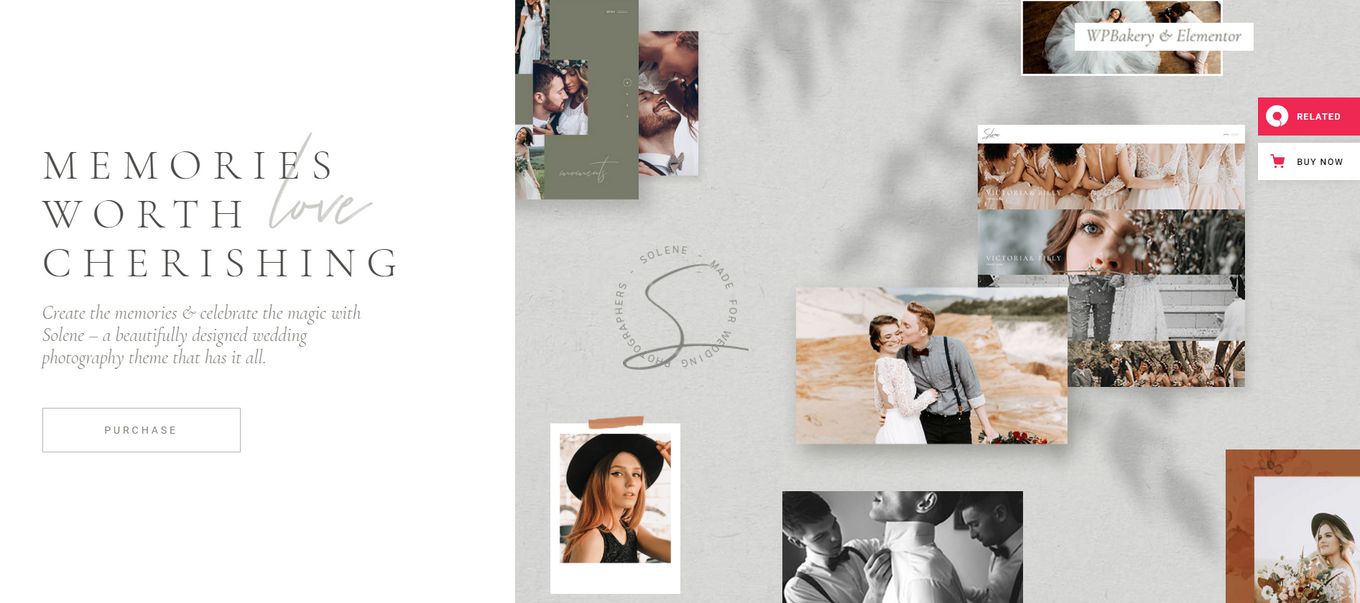 Responsive template with social media integration. Designed for wedding photographers.
Solene is a responsive wedding photography website template. Solene allows users to highlight their work while selling services, relaying information in a comprehensive blog, and showcasing their remarkable photography talent. This photography website template also offers a social media integration that is second to none and can help spread the word about your website and services.
Wedding photography is a great way to demonstrate the versatility of your work and can appeal to many different people seeking your services. Great wedding photography templates are the best approach to highlighting how you can help people spotlight important times in their lives.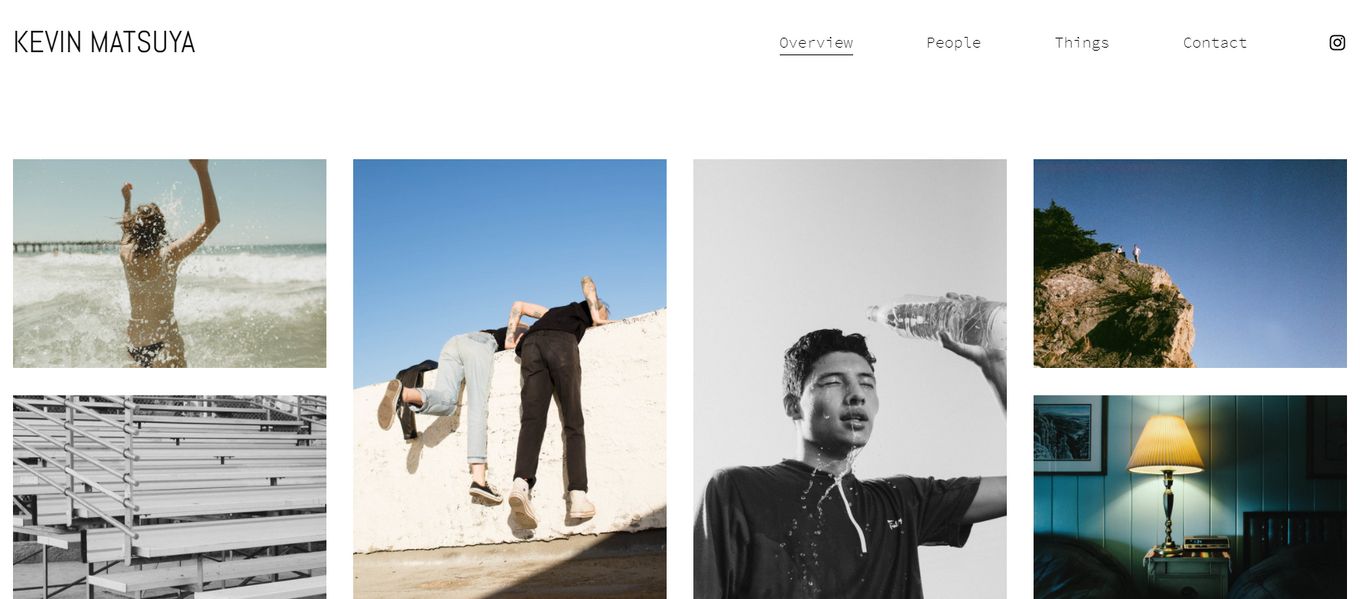 Clean and classic photography website template.
You may be looking for engaging photography website templates with a classic look blocked off by white spacing. If so, the Matsuya photography template may suit your needs.
The Matsuya template is crafted so that your audience can click on individual images to open an on-page slideshow of that particular image gallery. Offering a minimalist style with a modern, fresh approach, it's easy to navigate and highly interactive and engaging.
If you are into Squarespace, check out this list of great photography templates for Squarespace!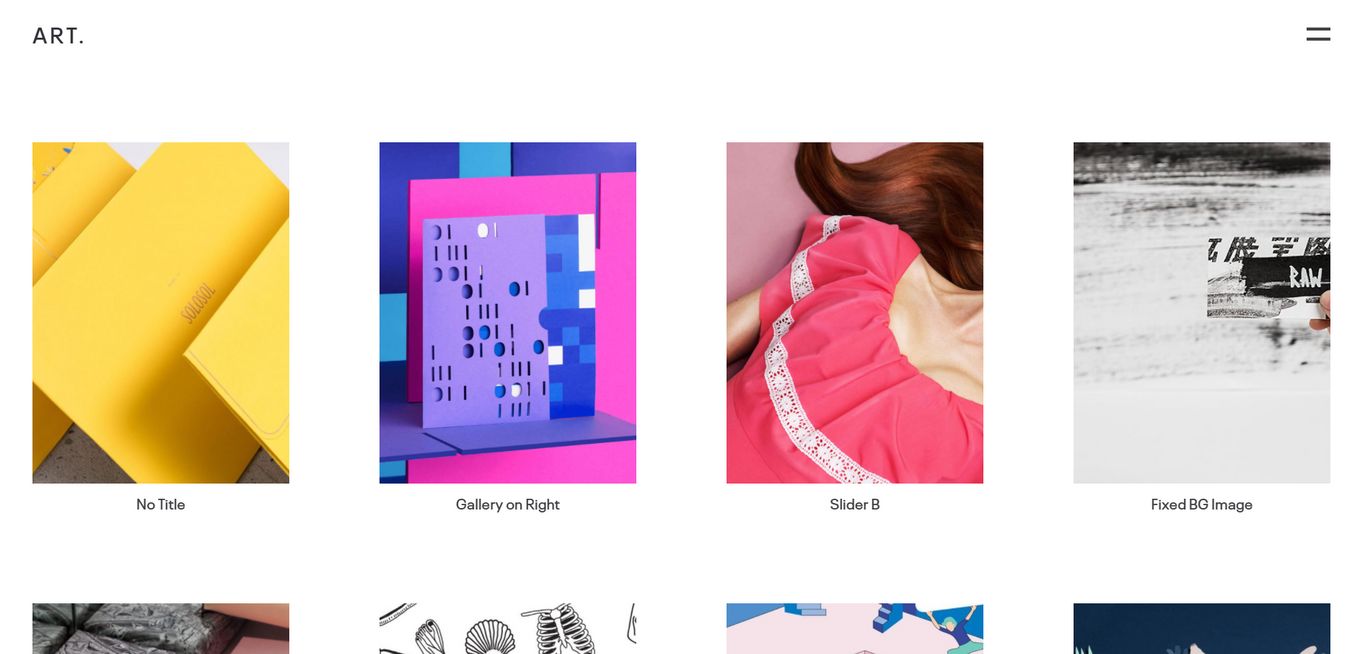 Modern design template with a great variety of layouts for creative photographers.
Clients looking for a modern concept may look for creative photography website templates that highlight photography skills in a striking manner.
Not to be mistaken for a minimalist website photography template, Art offers a strikingly simple approach while delivering various visual options to captivate your prospects' attention.
The Art website template offers a large selection of layouts, blog styles, headers, and more to personalize and attract your niche market. With unique features like scrolling animations and lazy image load, this photography website template captures attention and helps leave a lasting impression on your audience.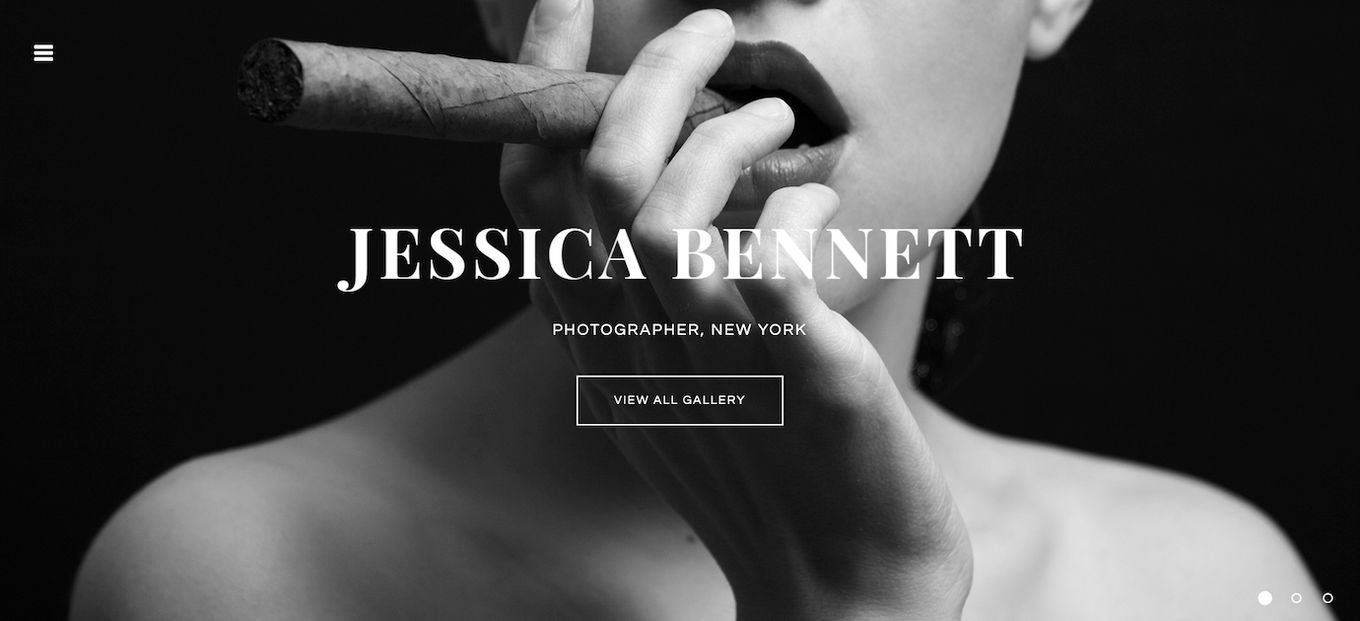 Photography Portfolio. Simple and business-oriented.
If you're looking for highly efficient and organized photographer website templates, the Intense template may be for you. This photography portfolio website template offers a beautiful way to filter by different categories and add the picture details when previewing each photo.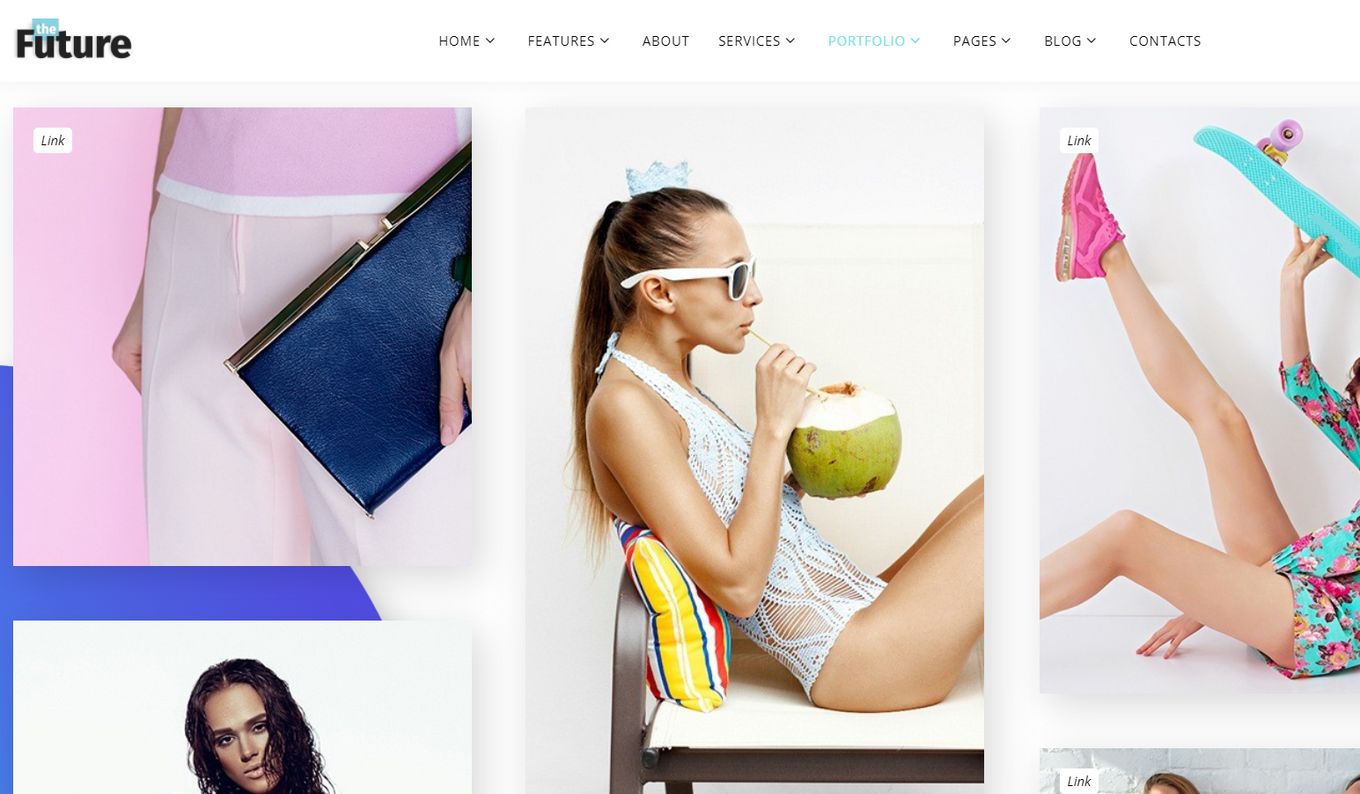 Fully customizable template. Flexibility and simplicity hand by hand.
Sited as a "top-rated web design multi-purpose HTML5 template," theFuture website template is explicitly designed for creatives and photographers alike. theFuture website photography template allows the user to select from seven homepage versions, headers, and footers.
You'll have complete control of the aesthetic of your website in the smooth, seamless delivery of your projects and work. Offering over 60 ready-to-use pages and a vast selection of UI elements and blocks, theFuture provides flexibility for any photographer looking to create a remarkable website experience for its audience.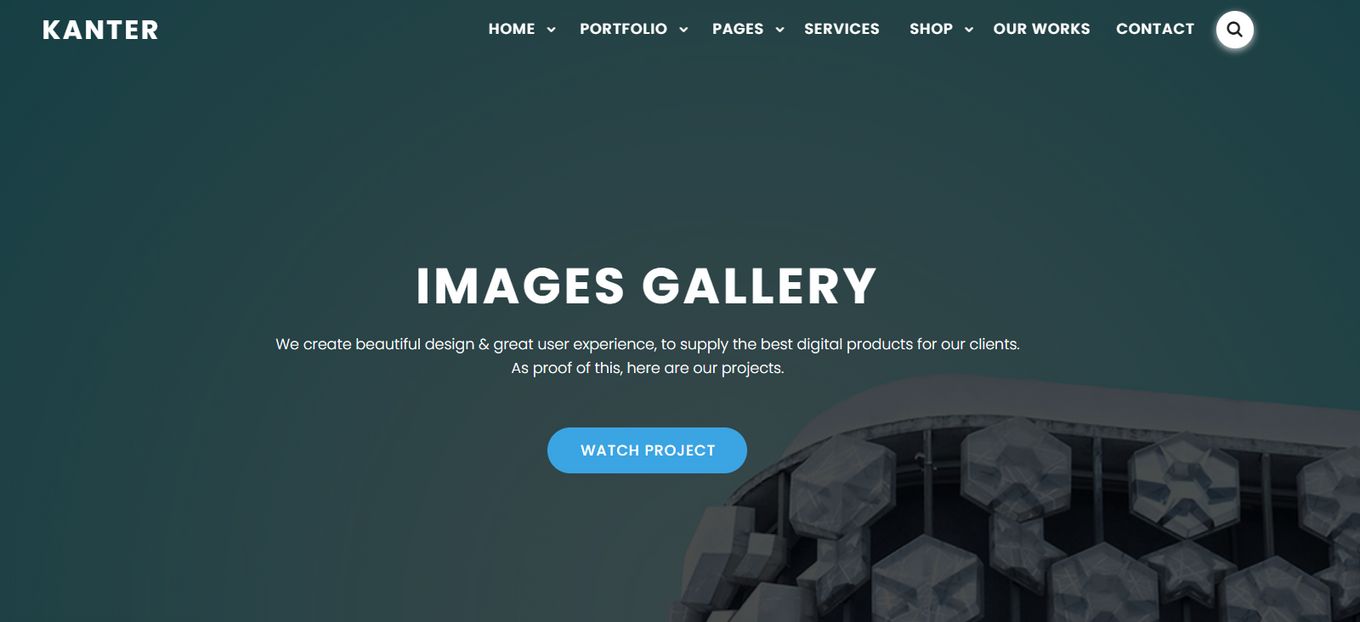 Easy-to-configure photography website template with multiple themes to choose from.
Kanter simplifies the portfolio experience allowing you to engage your customers in a feature-rich approach. You'll be able to alter your photography website template design without affecting or altering any code, and you can choose from well over ten different themes and styles with under 50 pre-made options. A touch slider feature allows your site visitor to seamlessly review your portfolio to view your vast selection of work.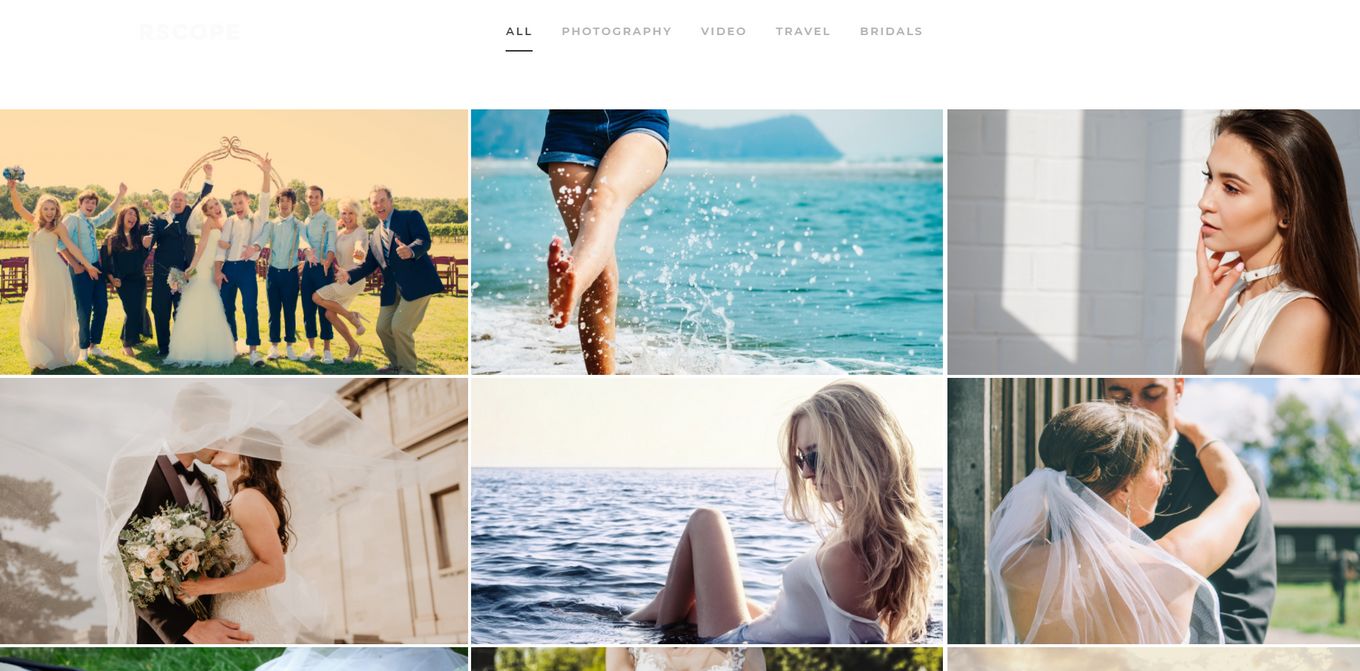 Interactive template with animation and scrolling options.
Pre-designed HTML photographer website templates may offer the best interactive layouts for you and your customers. Easily add unique sliders, pop-up galleries, animations, and an array of benefits with the Oroscope interactive template that can highlight your talent and work in a unique approach.
With many animation and scrolling options, you can direct your audience to engage in your content and hopefully remain on your page longer.
Summary
Researching the best photography website templates can help you find the best template to showcase your work, build a trusted community, provide helpful information to your audience, and help you convert prospects more efficiently.
One way to achieve a visually stunning presentation the visitor is sure to remember is by creating fullscreen photography websites. An easy way to create this kind of website is using the fullPage.js library.
A highly sought-after benefit of fullPage.js is that it is a JavaScript component that can be used as a stand-alone option to create full-screen stunning sliders on your website. You'll simply code basic HTML to use it.
And, if you're one of the many clients using WordPress, you can easily use fullPage as a plugin in Elementor and Guenber without the requirement to code Javascript at all. You'll be left with stunning imagery that truly captivates your best talent and that helps you convert those browsers to buyers.
We hope you found this article helpful!
What is your favorite photography website template? Tell us in the comments below.
Related articles
Join 2,000+ readers and learn something new every month!
Get notified about new blog posts, tips, tricks, fullPage.js news etc.
RSS feed