A WordPress slider plugin can help you to display the main content of your website and can improve the user experience significantly.
Check out what is a slider? if you still need some more clarification on this.
There are many slider plugins available for WordPress. They differ in features, prices, and functionality. With a wide range of slider options, how do you know which one is the best WordPress slider for your needs?
How to Choose the Right WordPress Slider Plugin?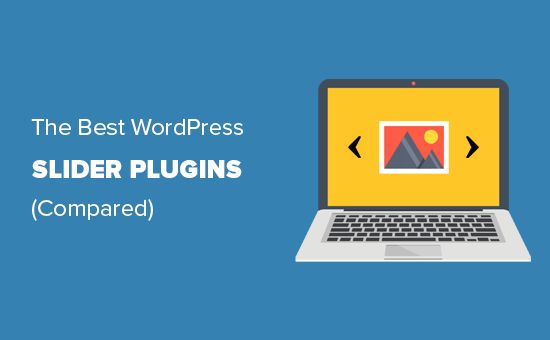 It's crucial to choose the right slider plugin for your WordPress website. Adding a slideshow plugin can indeed be a nice addition to your site. But, it can also go wrong depending on which plugin you're using.
You'll have to pay special attention to your page's responsiveness, accessibility, and loading speed. So to help to decide on choosing great WP slider plugins, we've listed down the things you need to consider.
Is the slider customizable?
There might be different kinds of content you want to use for your WP slider plugins. Sometimes you might need a fully customizable one and many others you won't. But in case you are not sure, choose one that gives you total control over the content.
This way, whether you want to create an image slider, or a carousel slider or a testimonial slider, you'll be able to do so with the same component.
A good WordPress carousel slider plugin is something that will let you edit almost every detail. Refrain from choosing the ones that make you stuck with pre-made designs if you want to have freedom in how you want to use the slider.
Is the slider responsive?
In this new age, it's not just about computers. People are very often using mobile devices to access the internet, too. We need to make sure that all your visitors can have a superb user experience when visiting your site. So choose a WordPress slider plugin that can automatically adapt to different screen sizes and that is touch compatible.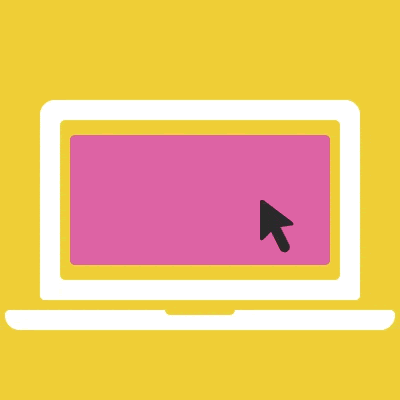 Does the slider comes with support?
Lastly, you'll want to double-check how will the company provide support to existing clients. Do they respond to clients' concerns? How long does it take them to respond? Are they friendly towards their users? Are they professional in dealing with issues?
One of the best ways to evaluate customer support is to check how long the company has existed and what do their current users tell about them. Check customer reviews and you'll get a better understanding of how they deal with customer support. If they do have blogs and videos that teach you how to use their product, that's also a great sign to consider.
Does the slider load fast?
Some sliders can tremendously increase your page's loading time. You've gotta be careful not to choose a very heavy plugin. Make sure the plugin is lightweight so your visitors won't suffer the consequences.
Maintaining your website's speed guarantees an above-average user experience and a good SEO score. So, when choosing a slider plugin, always go with the lightweight one.
What's the price of the slider?
Price is also a key factor to consider. There are some free WordPress slider plugins but they usually offer limited features or no support at all.
If you're on a budget but still want to get a slider plugin with great functionality and support, check out our list below. We've listed the top 10 WordPress slideshow plugins based on responsiveness, customizability, speed, and price.
10 Best WordPress Slider Plugins
To save you some time in looking for the best slider plugins for WordPress websites, we've compiled our favorite plugins for your reference:
Price: $39 [one-time payment]
When we're talking about a full-screen slider plugin, nothing can beat fullPage.js. It has made a reputation as one of the best full-screen slideshows, not just for Elementor, but also for Gutenberg editor and for web development in general, as it is also available for frameworks like React, Vue, or Angular and as a standalone library.
The best thing about the fullPage plugin for WordPress is that it isn't just a single effect. It's a fully customizable fullscreen slider that comes with over 50 different configurations. You can add anything you want on each section/slide and, on top of that, it also provides paid extensions to enhance or change the default effect. Needless to say, it's fully responsive too.
You'll love the unique experience you can create with a slider of this kind. It works by scrolling the whole page when the visitor uses the mouse wheel, trackpad, or keyboard to scroll. It's ideal for storytelling, marketing, and pages with beautiful visuals. No wonder why companies like Dreamworks, Sony, or Mcdonald's have used it in their sites!
You can enjoy fullPage slider for WordPress for only $39. It's a one-time payment! With all its features and top-quality premium support, it's a great deal. Oh, and it's super lightweight! 👍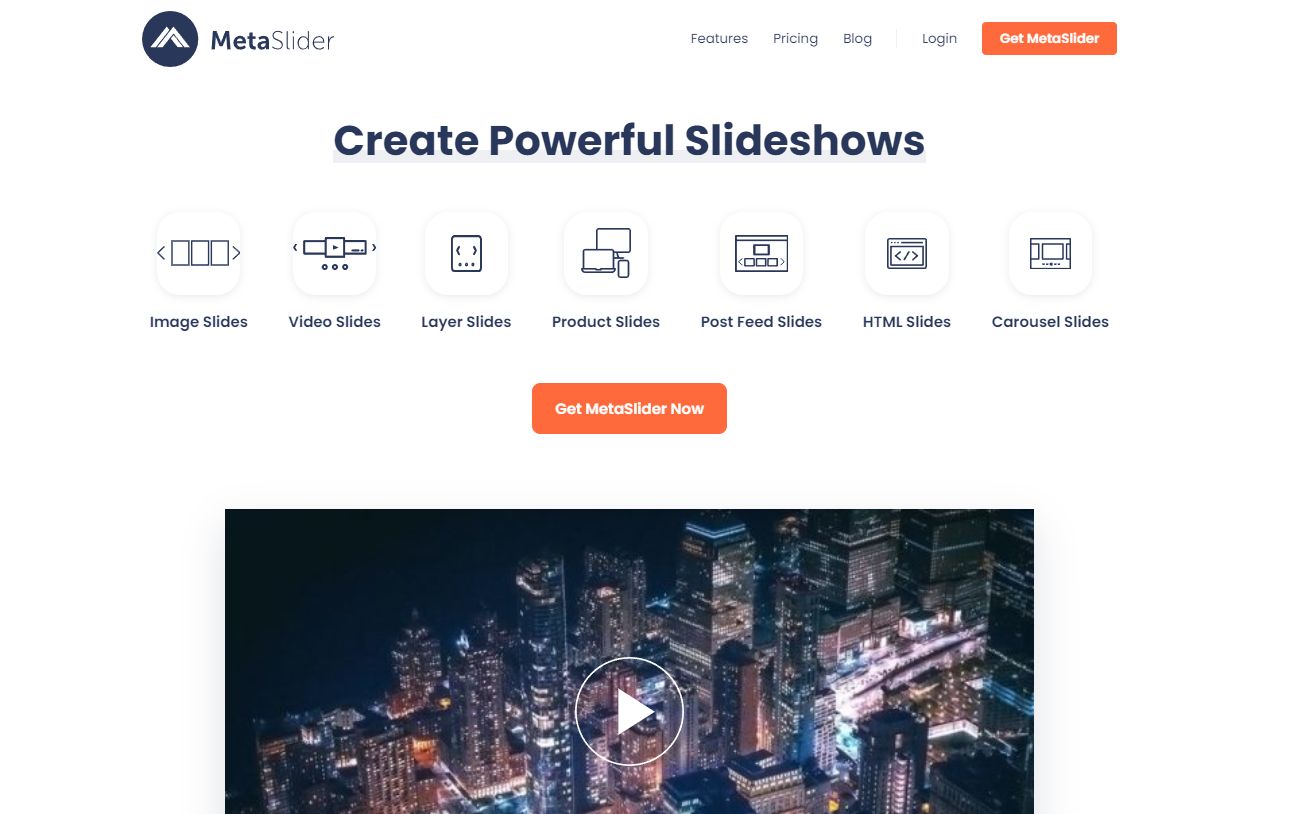 Price: free or $39.50 per year
MetaSlider is also a plugin to consider, especially because you can try the free version before moving to the premium one. The free version won't include
It's super easy to use as it takes care of all the technicality for you. You can create a WordPress carousel slider, product slider, image gallery/video slider, and other types of slideshows with drag-and-drop.
It's a bit more limited in the sense that you won't be able to freely customize what you show on each slide, as you are tied to specific layouts. But that's what makes it simple to use too! It's clearly a much more simple plugin than many others, but it might be enough to fit your needs.
This plugin is also available for Gutenberg editors. And just like fullPage, MetaSlider is also responsive.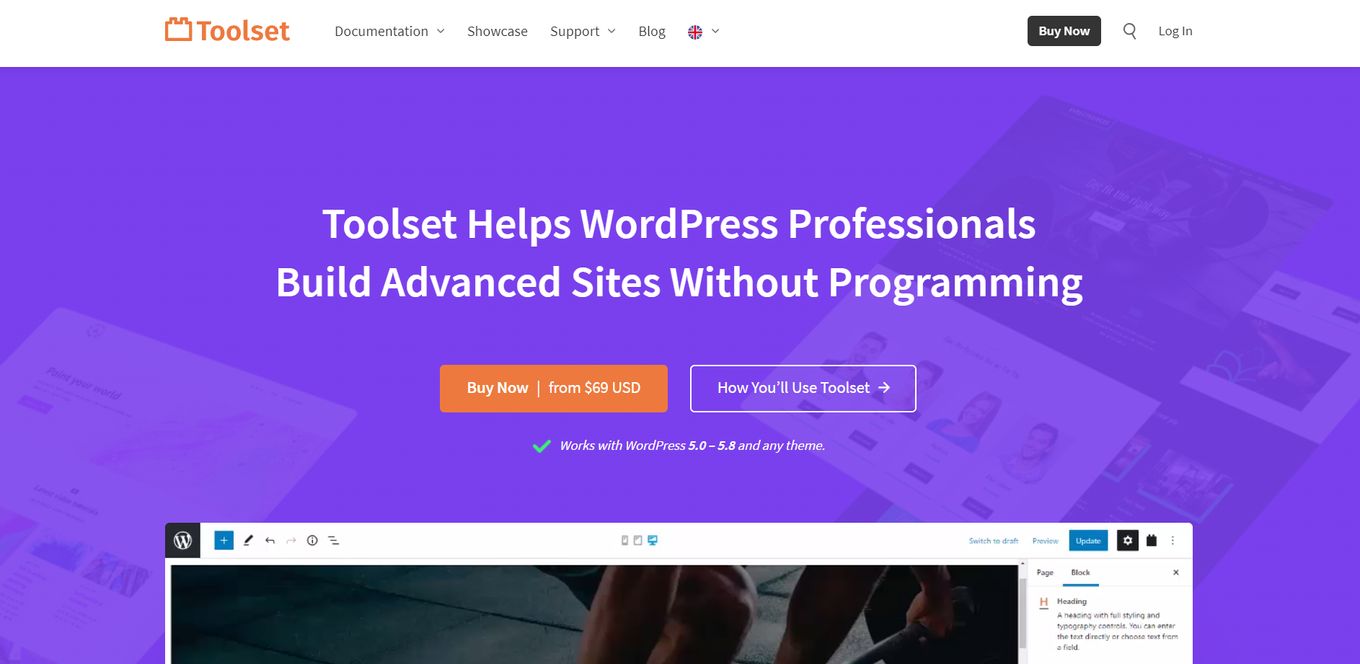 Price: $69 per year
You can build functional websites with slides without coding through the Toolset plugin for WordPress. One of the best things about this WP slider plugin is that it lets you create add dynamic content into the slider. You can use it on Custom Post Types, Fields, and Taxonomies.
When it comes to customizability, you have total control over how to style the slides and the content. You also don't have to worry if you're new to WordPress and to these kinds of plugins as it's very easy to use.
It contains a few layouts you can choose from and a few specific ones for Real Estate websites, E-Commerce, or memberships.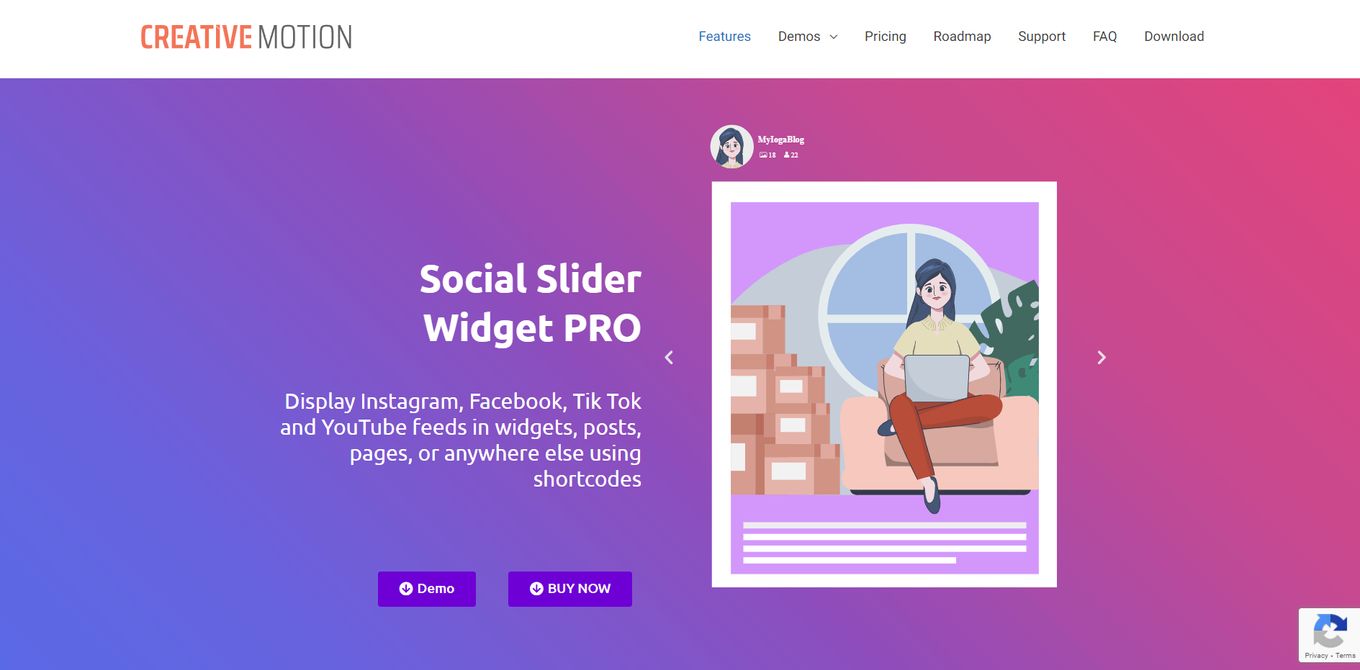 Price: $29 per year
With Social Slider Widget Pro, you can display Facebook, Instagram, Tik Tok, and YouTube feeds in pages, posts, widgets, and other places. We can now say goodbye to the responsibility of always updating your photos on your website. You can now post recent photos from Instagram automatically with this WordPress carousel plugin.
It's a plugin that is focused solely on social media content. Therefore it's a bit limited in this aspect and it probably won't be your first option if you want to create a slider with any other kind of content.
Ideal if you want to show social media content in a modern and interactive way.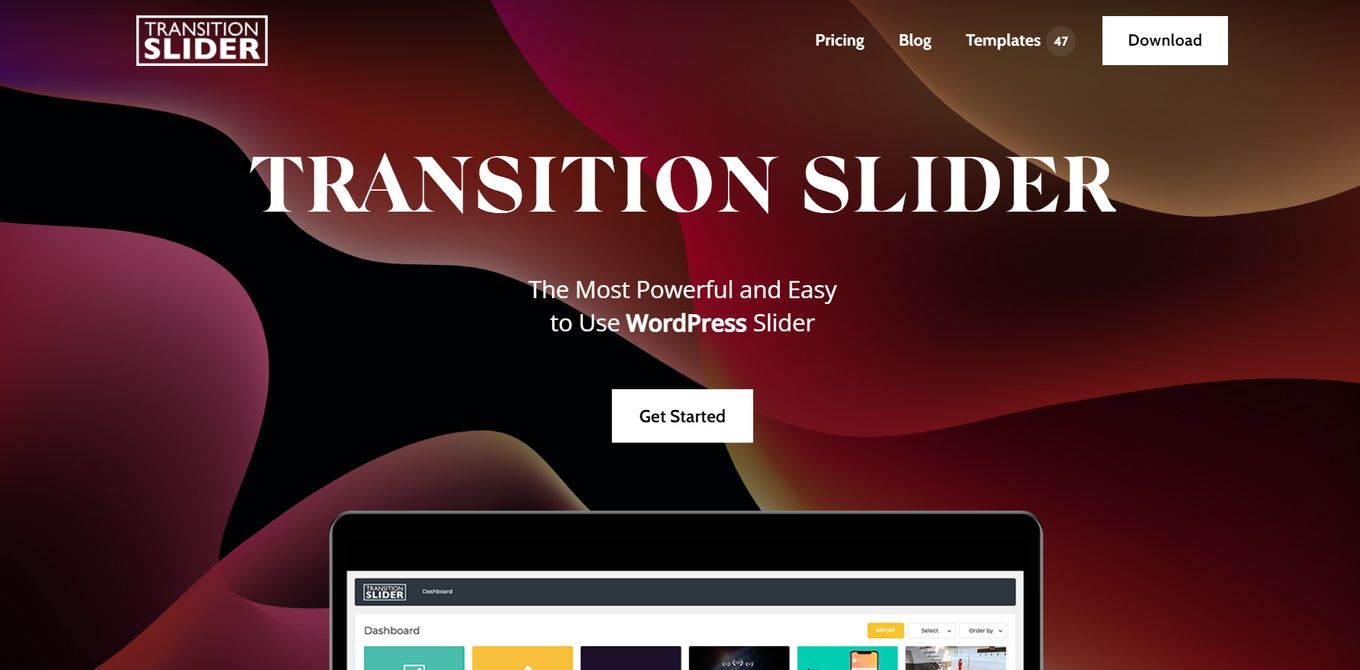 Price: $35 one-time payment
Just like fullPage.js, Transition Slider only charges you once and you can already enjoy using the plugin for a lifetime! It also offers flexibility that lets you add any content into the sliders.
This WP slideshow plugin comes with eye-catching effects that can make your website look even more stunning. Some of the effects it offers are blur fade, blur flash, crossfade, roll, slide, twirl, and zoom.
Unlike other slides, Transition Slider makes use of the <canvas> element to create more sophisticated visual effects on the background images.
It also comes with a few predefined templates you can re-use.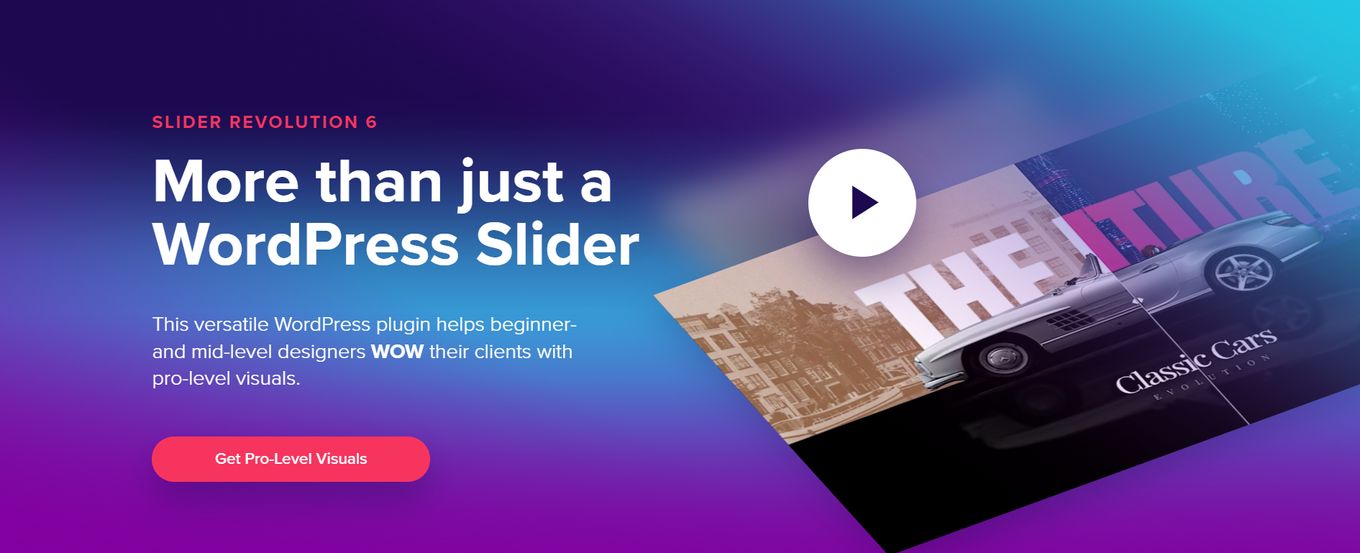 Price: $29 per year for 1 website.
There's no special skill required to create pro-level visuals. The only thing you need is a professional WordPress plugin like Slider Revolution.
With more than 2,000 element libraries, it offers a wide range of choices on how you want your page to look. Users love how they can create and customize their slides so easily. They are in awe of the animations, designs, and special effects that come with this plugin. Perfect plugin for a testimonial or gallery slider.
Slider Revolution is a complex component. Probably as complex as it gets. It might b a bit daunting at first and you might get a bit overwhelmed with the number of options and the complexity of it all.
Unlike other plugins, Slider Revolution uses a totally different interface from WordPress. This can negatively impact the learning curve and the time it takes for you to build a simple slider. Something to consider too when choosing a new plugin.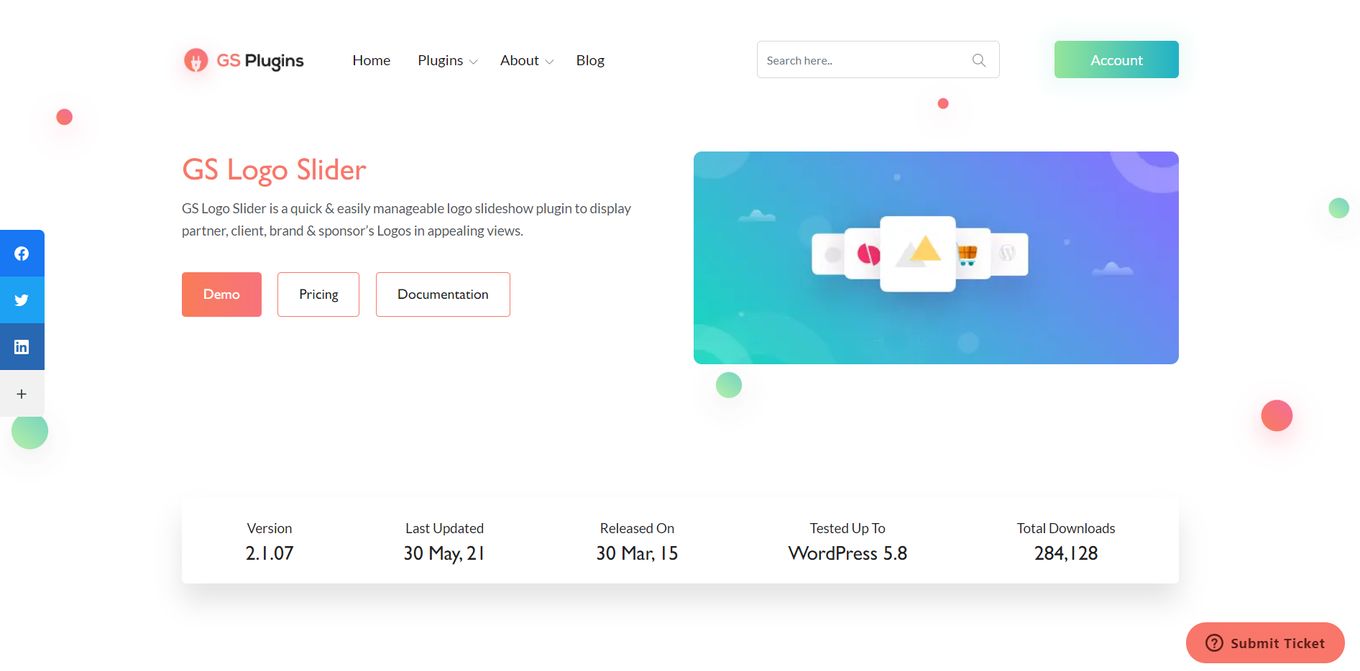 Price: $30 per year
Offering a great selection of features, GS Logo Slider is named as one of the best plugins to display logos in a modern way using WordPress. It's very easy to use – a great option for beginners. Despite its simplicity, it's very powerful and flexible.
While this WP slideshow plugin can be used for other purposes, this is specially designed to contain just logos. A logo is an important part of any business. Many people can identify a brand just by solely looking at the logo. GS Logo Slider solves a very specific problem, showing logos within a carousel, and it does it elegantly and simply.
Ideal to show logos on a carousel.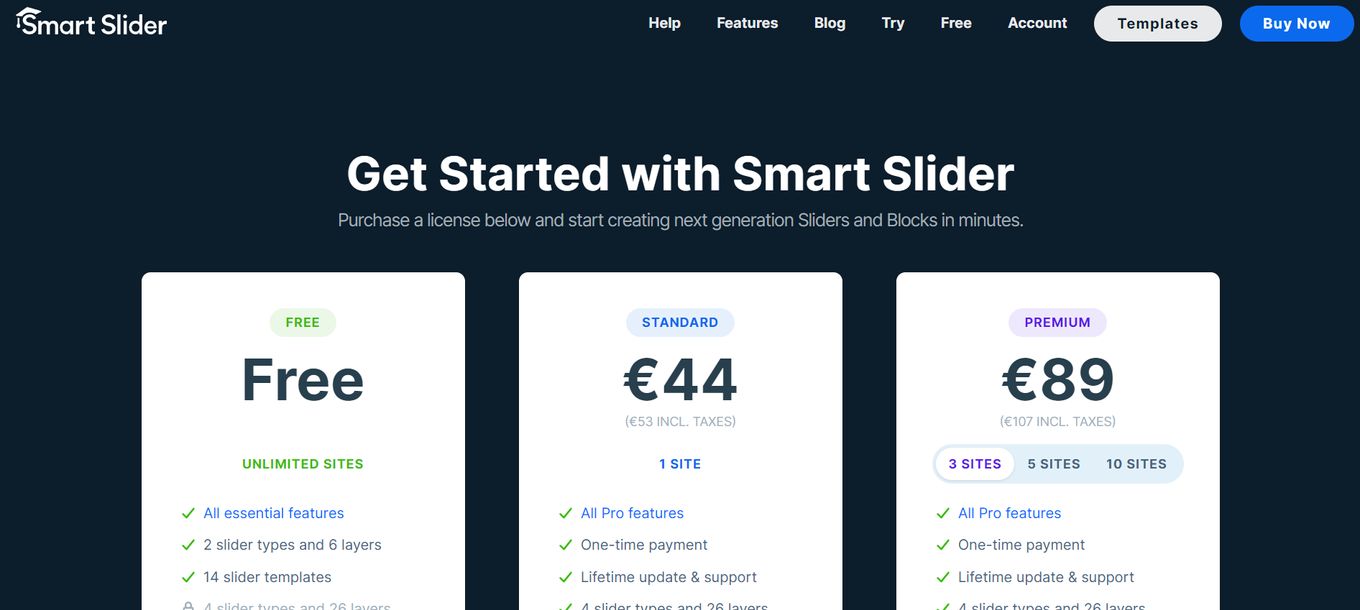 Price: free or $49 one-time payment
Another high-performing WordPress slider plugin is Smart Slider 3. It's also responsive. Thus, you don't have to worry about how your slides will look on different screen sizes.
It has a free version which is a bit more restricted but totally usable too.
Smart Slider provides tons of templates and has a very simple interface, which makes it ideal even for beginners. It's very simple to use and thanks to the templates you can have a beautiful slider in a matter of minutes.
It supports dynamic integrations on the Pro version, puts the extra effort into performance and it has good documentation and a Youtube Channel where they post tutorials.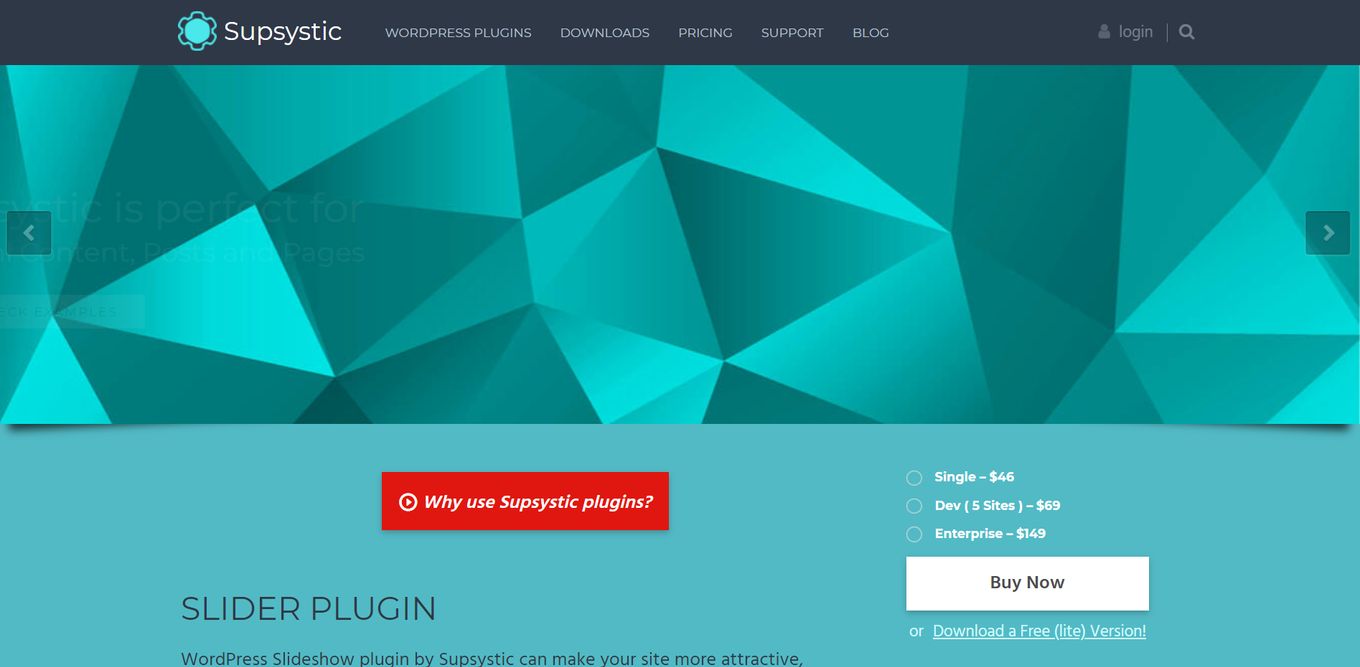 Price: $46 per year
Another easy-to-use and full-responsive slider plugin for WordPress is Supsystic. You can create visually appealing carousel sliders for both images and videos easily. Gone are the days when you needed to know how to write complex codes to bring a responsive slider into life.
Supsystic is an SEO-friendly plugin. It also lets you add captions to your slider so you can improve your SEO score even with the use of a slider.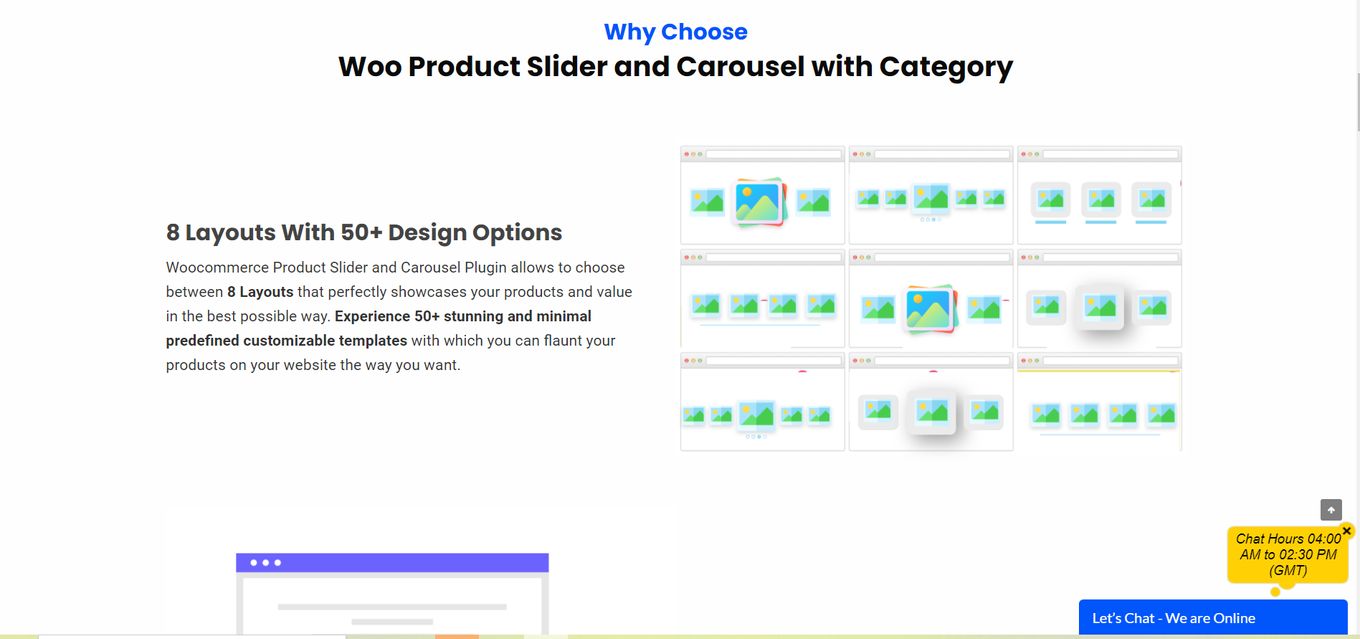 Price: $119 per year
This WordPress plugin offers sliders that are all optimized for SEO. You can use the sliders to influence your rank on search engines. With this plugin, you'll get eight layout options and 50+ design options.
This WP slider plugin is best for showcasing products and ratings of products. And most importantly, it comes with seamless integration with any page builder of your choice – Elementor, Gutenberg, Beaver, Siteorigin, and more.
If you like this plugin, we recommend these WooCommerce Product Sliders plugins that we selected for you.
Which Is the Best Slider Plugin for WordPress?
I wouldn't say there's a single best one as it all depends on your needs, but if you want to know which is our most favorite WordPress slider plugin on the list, it would be fullPage.js.
It's available for both Elementor and Guttenberg editors). Many things set the fullPage slider apart from the others. It's definitely a unique slider among its kind!
However, if you are not into full-screen sliders and need a powerful one, then you can go for Slider Revolution. Those are pretty complete too and will for sure satisfy all your needs.
Related articles: