8 Testimonial Slider Examples [WordPress]
Before seeing the great WordPress testimonial sliders that we have selected for you, we should first understand what a testimonial slider is and why they are so important nowadays.
What Is A Testimonial Slider?
It's an easy way to showcase product reviews or customer feedback to potential new clients visiting your website.
It helps increase trust and word of mouth when potential customers see real reviews or feedback from existing happy clients.
Why Are Customer Testimonials Important?
Testimonial sliders empower your service to be more trustworthy and help new clients make better decisions by knowing that you provided a great service and that customers are happy to talk about it publicly.
A testimonial slider can help show off specific features, the service overall or customer support in their time of need.
Advantages of Showcasing Testimonials
No matter what kind of website you operate, nothing works better than real customer feedback when trying to persuade new clients to buy your product or service. If you have happy customers, why not take advantage of their good words?
Showcasing testimonials is a fantastic way to add social proof that your service or product works and does what it needs, you build trust and transparency with customers. It helps new clients make a decision based on existing experiences and they are more likely to try your product or service.
An attractive slider of customer testimonials will help persuade those hesitant customers and that's what we are going to explore…
Let's explore some of the best testimonial sliders in the WordPress market today and help you understand when to use them.
8 Amazing WordPress Testimonial Sliders

With over 30,00 active installations Easy Testimonials is an easy-to-use WordPress plugin that works nicely with Gutenberg. This plugin works well with Gutenberg blocks and the Gutenberg editor, so it is quick to get interested in your site without much effort.
Something else which is compatible with Gutenberg is fullPage.js - A similar project with effects that might be of interest to you for slider animations.
Like many slider projects they have to be fully responsive and mobile-friendly and this one ticks that box. You can also customise the slider animation and transition effects and it's quick to embed on a post or page just like the name suggests.
The options panel is easy to use and allows you to set up categories to manage multiple testimonials across your website. You can even import from over 200 file types as well.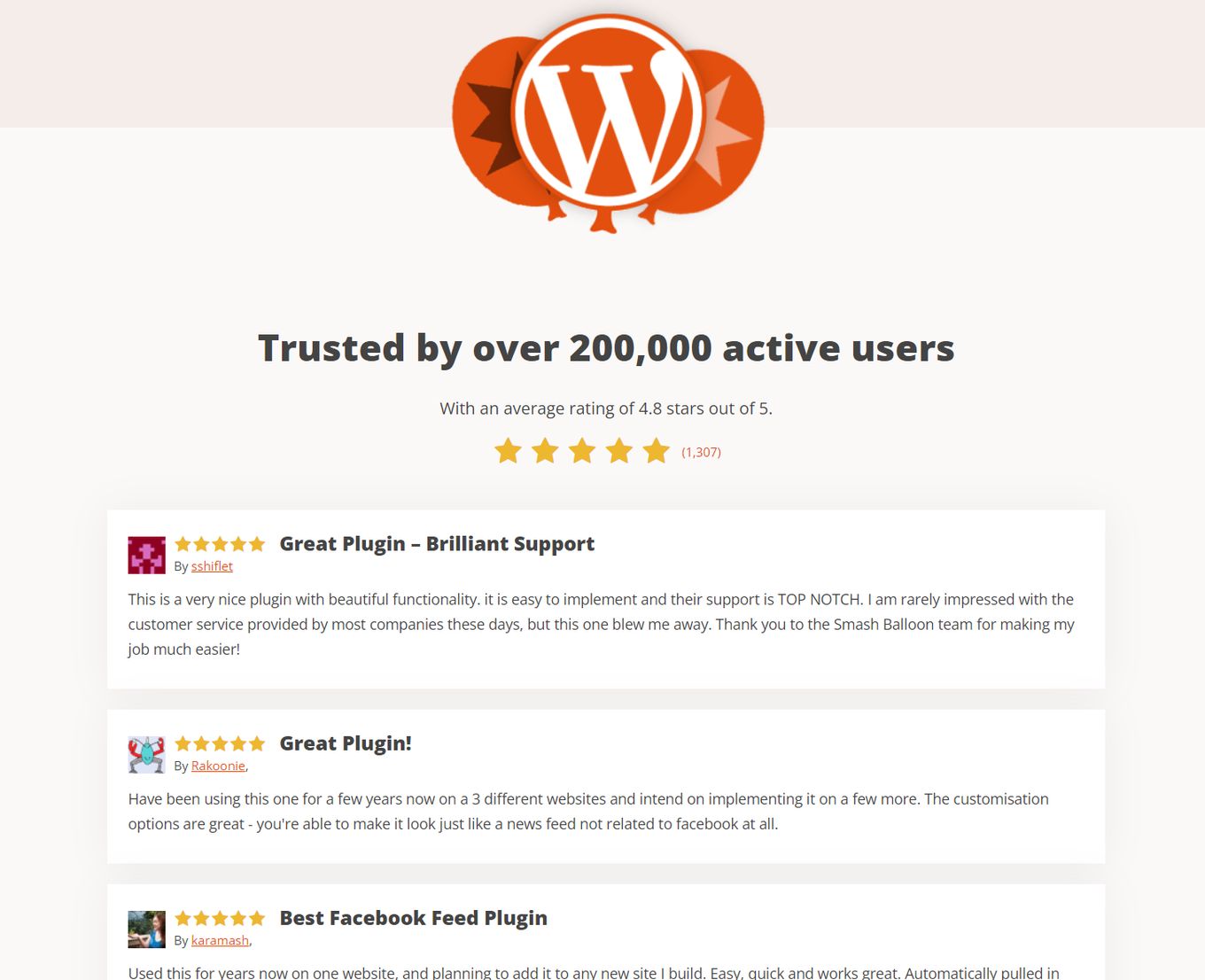 Everyone has Facebook or at least knows what it is, so as one of the biggest platforms in the world, a lot of businesses have their own product or service Facebook page.
With this plugin you can take advantage of your public Facebook customer reviews and turn them into rendered elements on your website by only using a quick to use shortcode like [custom-facebook-feed type=reviews]
This enables you to take advantage of your already existing reviews from Facebook and link back to real profiles, real people. You can then easily use the plugins carousel/slider feature to display them in a different layout.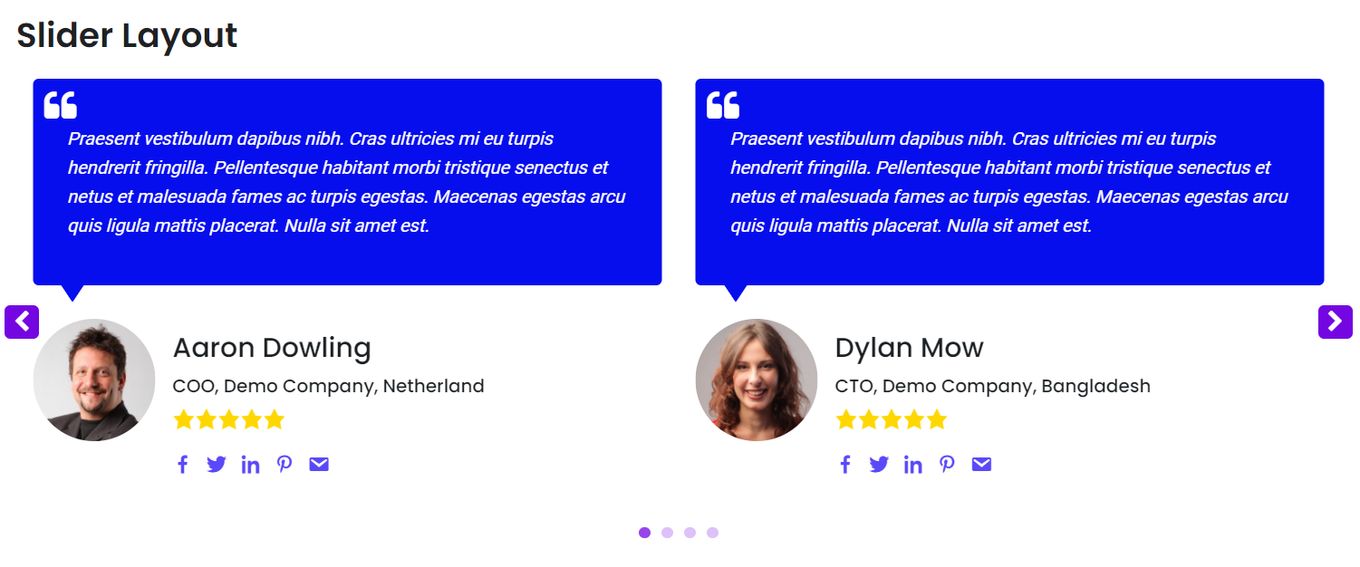 For professional-looking and easy-to-use WordPress testimonial sliders, this plugin is a great addition to showcase customer feedback. You can include reviews from many different sources and include a short bio about each customer, giving credibility to their words.
It has many different layouts such as a grid, slider, isotope filter and is mobile-friendly, fully responsive for any device.
You can customise the testimonial slider to your liking and it can be used with easy-to-use shortcodes. And its appearance can be adjusted to fit your branding and style.
This plugin is flexible with the type of content that is displayed within the slider, you can choose between text-only or include profile pictures or add custom elements. It even gives you the ability to select the display order of the testimonials by a range of different inputs.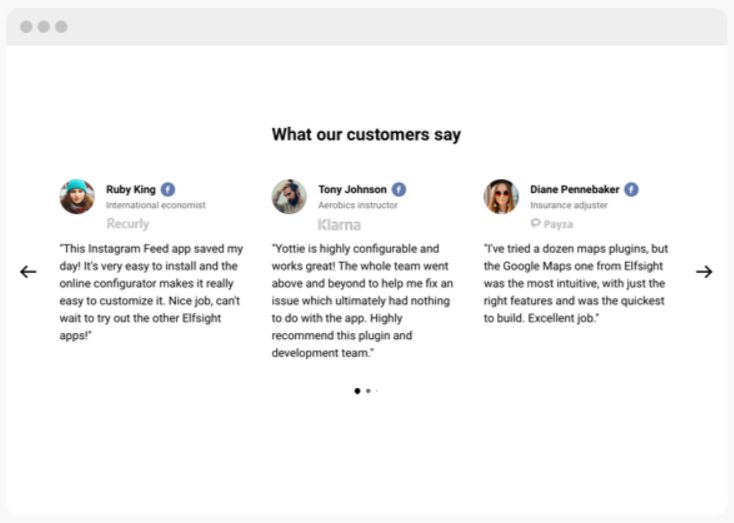 A WordPress testimonial slider plugin to display customer reviews. This plugin has a more minimalistic look to its style and comes across as very modern, which could be a great addition to your website.
As a premium plugin it comes with many features and free installation support. It gives you access to free updates as well.
An easy way to embed customer feedback from different sources and showcase credibility with a short profile.
You can link feedback to the original source like Twitter or Facebook. It comes with a range of different templates and display options. For example you can set up a slider, rotrator, carousel etc.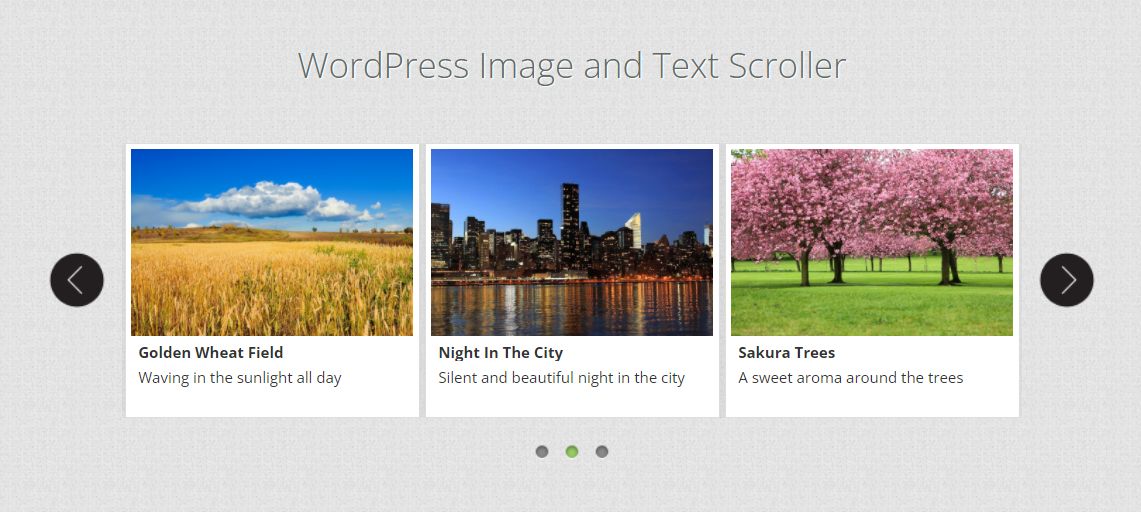 A more basic slider example but if you feel comfortable adding your own styling with CSS, it can be used to create something that fits your branding and style without the hassle of working with an existing structure.
It has many examples to work from on its website, so it is easy to view and understand how each slider works, allowing you to adjust it to fit your requirements.
This one also comes with other features such as hover effects and flip animations.
Each slider is mobile-friendly and you have a lot of control over structure and style with each card, so this project is very flexible to work from.
From the demo page, you can see how the slider is used for different use cases and it has great documentation as well.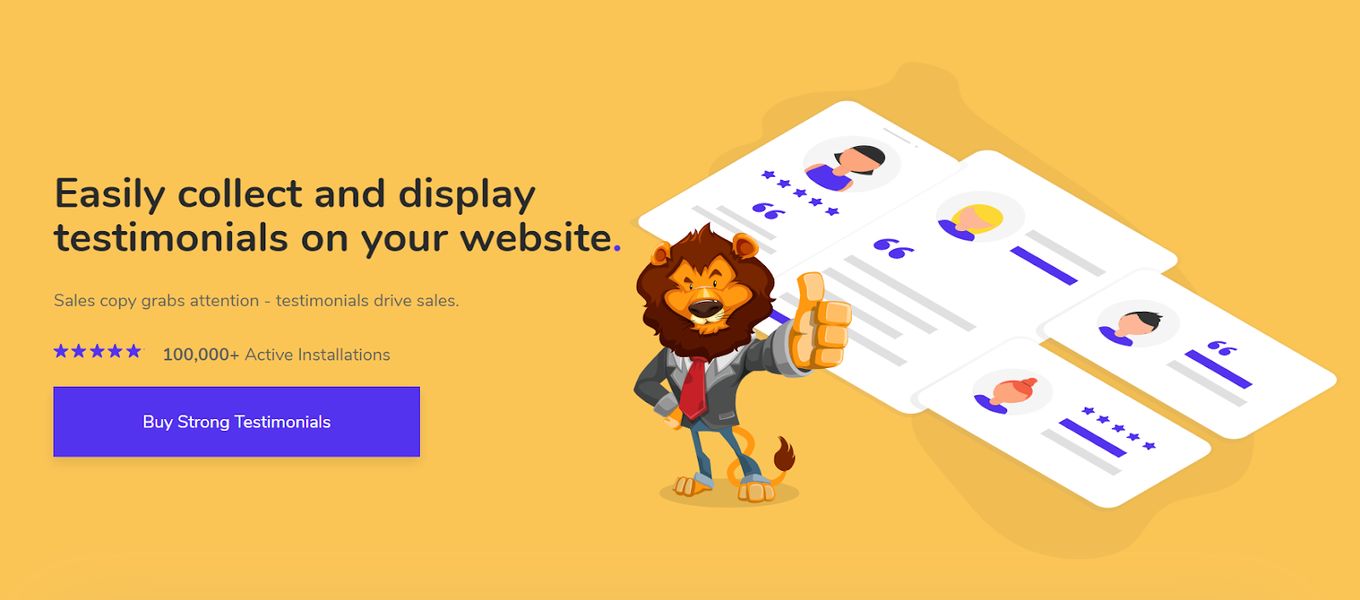 Another extremely popular testimonial WordPress slider plugin which has over 100,000 active installations, in a few simple steps you can start collecting and showcasing customer feedback.
This plugin has a long-standing history of over 4 years of active development and features that were refined from user feedback, so it definitely has its strong points as the name suggests.
It can import reviews from many different sources like Facebook, Google and WooCommerce, etc.
You can sit back and relax and let this plugin automate everything for you, automatically importing new customer reviews so your showcase is always up-to-date and never stale.
Built-in support with anti-spam protection to stop annoying reviews which could harm the credibility of your website.
Comes with both light and dark versions and can easily be embedded into your existing theme and branding. Use the built-in testimonial submission form to collect direct feedback to keep your reviews fresh and trigger backend emails to notify admins.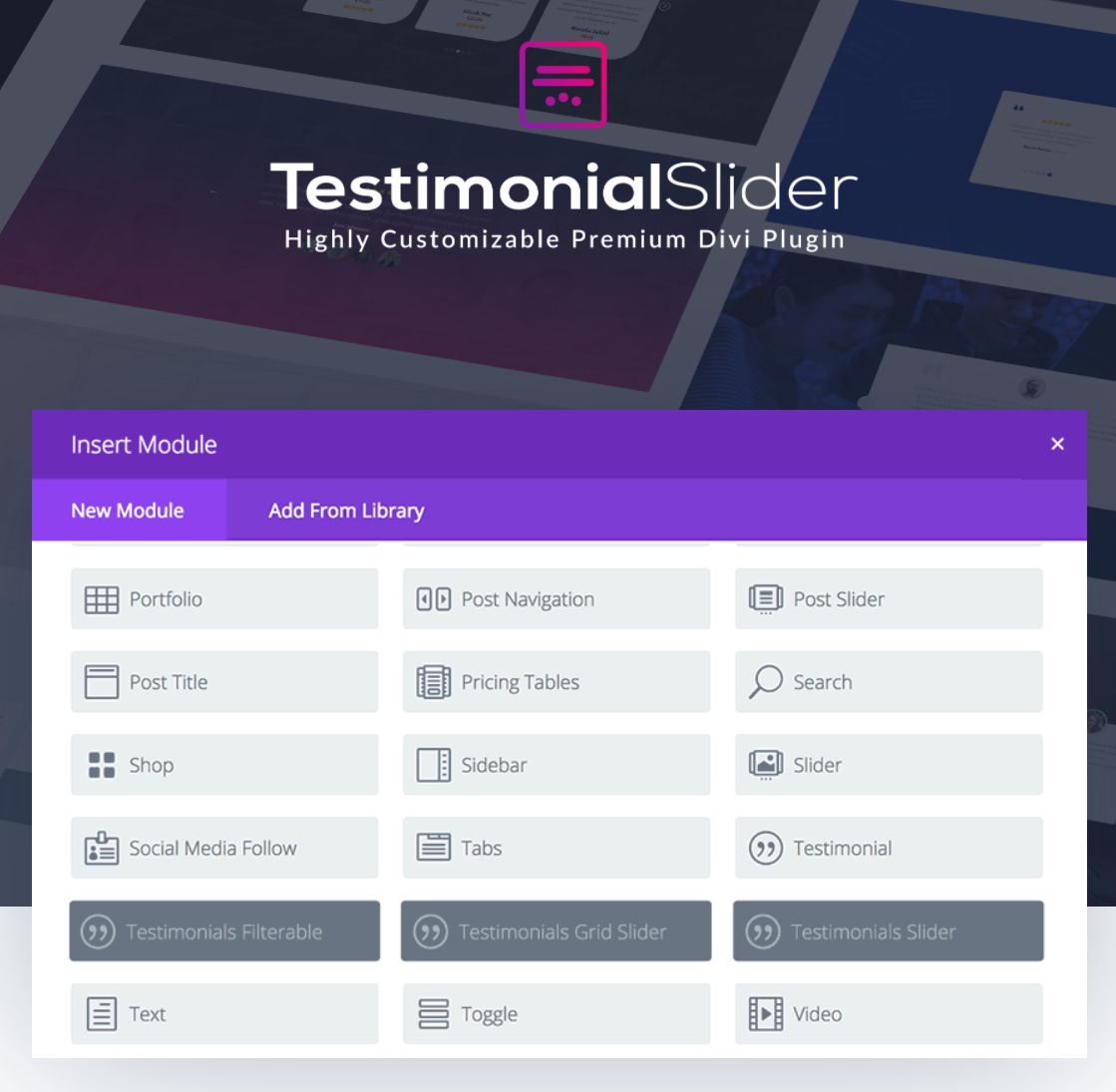 A highly customisable testimonial slider plugin which integrates into the WordPress Divi theme. This plugin makes it easy to display customer reviews with different layouts like a grid or sliders.
Works with the Divi builder modules, making it easy to place on any page on your site with many options to customise its look and style.
It has a very intuitive interface which you can use to manage your customer reviews, there is support for customer profiles and images to increase credibility.
This one allows you to use existing form plugins so you can automatically collect new testimonials from customers. It supports forms like Caldera Forms, Gravity Forms and Contact Form 7.
For a simple and minimalist design, this plugin is a great example of how easy it is to get testimonials on your website. It uses a slider which can be easily customised and adjusted to fit your branding.
Everything is responsive and touch-friendly, so it will show up correctly on a range of devices.
You have full control over things like autoplay features, pause, hover effects and looping speed, etc. If you have a lot of reviews to showcase this plugin has been designed to display a large number of reviews, it allows an unlimited number of cards in the slider.
Conclusion
All of the examples here are a great way to get started with showcasing customer reviews, if you have happy customers, you should ask them to submit a review.
And with WordPress being one of the biggest website platforms, there are many testimonial sliders plugins to choose from. It is easy to integrate these useful sliders into existing page designs or revamp your entire page structure and choose a complete full with sliders built-in.
A good testimonial slider will always be mobile friendly and fully responsive, you want each customer review to be easy to read and display properly on any device. Hopefully our examples have led you in the right place and fit your design needs.
Customer reviews help build trust and any online business should really consider and a slider can help save space and keep visitors engaged.
Related Articles

About the author:
Luke Embrey is a full-stack developer, BSc in Computer Science and based in the UK.
You can find out more about him at https://lukeembrey.com/
Join 2,000+ readers and learn something new every month!
Get notified about new blog posts, tips, tricks, fullPage.js news etc.
RSS feed